We use affiliate links. If you buy something through the links on this page, we may earn a commission at no cost to you. Learn more.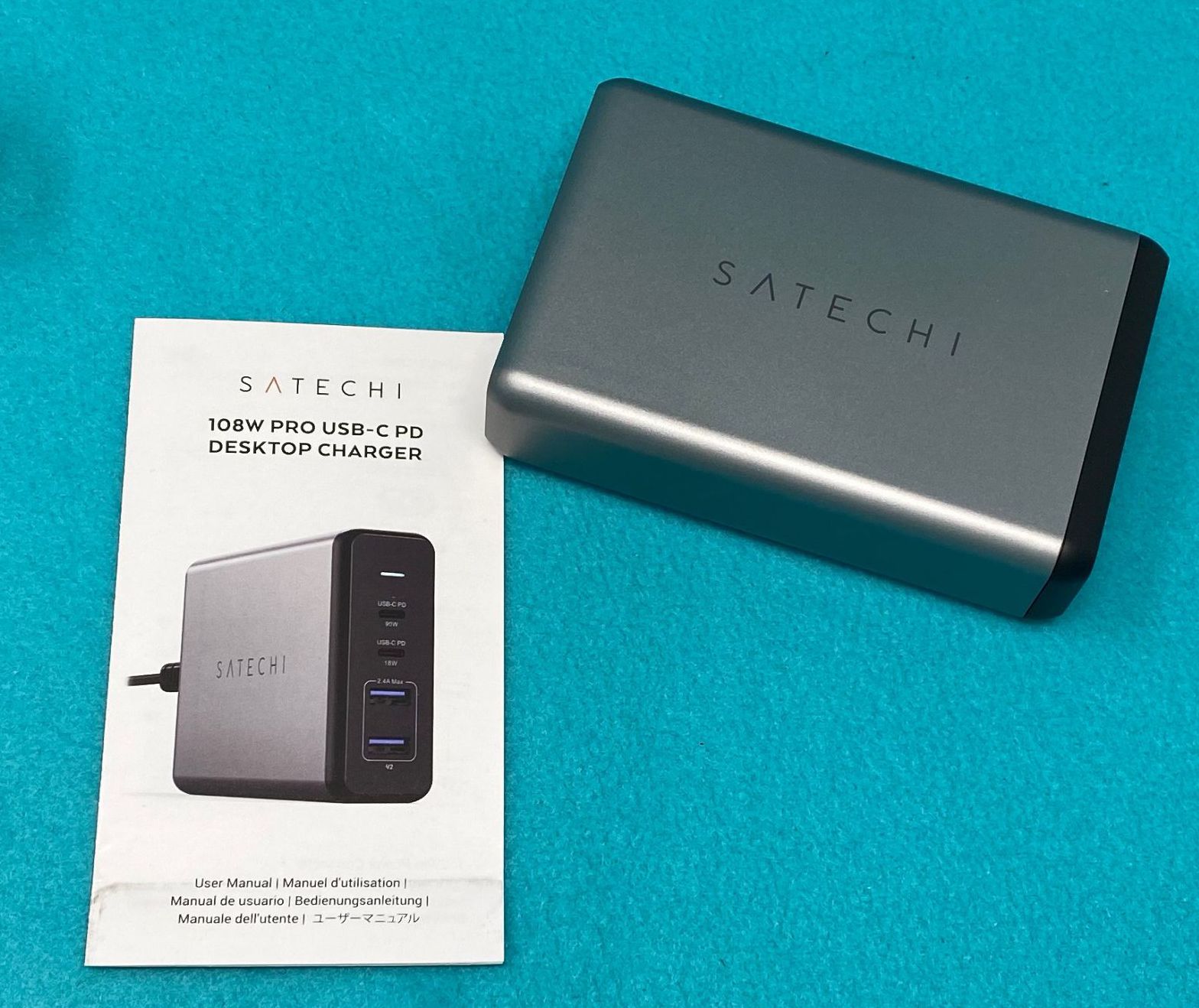 REVIEW – In the past few months, I think it's safe to say we've all had to make adjustments to our workplace and home workstations. For many, this is something new, but for others (myself included), it presented a chance to update some behind-the-scenes items, like the power chargers that I'm keeping on various work locations around the house. Good time for me to get the Satechi 108Watt Pro USB-C PD desktop charger. Read on to see how this little gem has wormed it's way onto my desk – and other places in my home.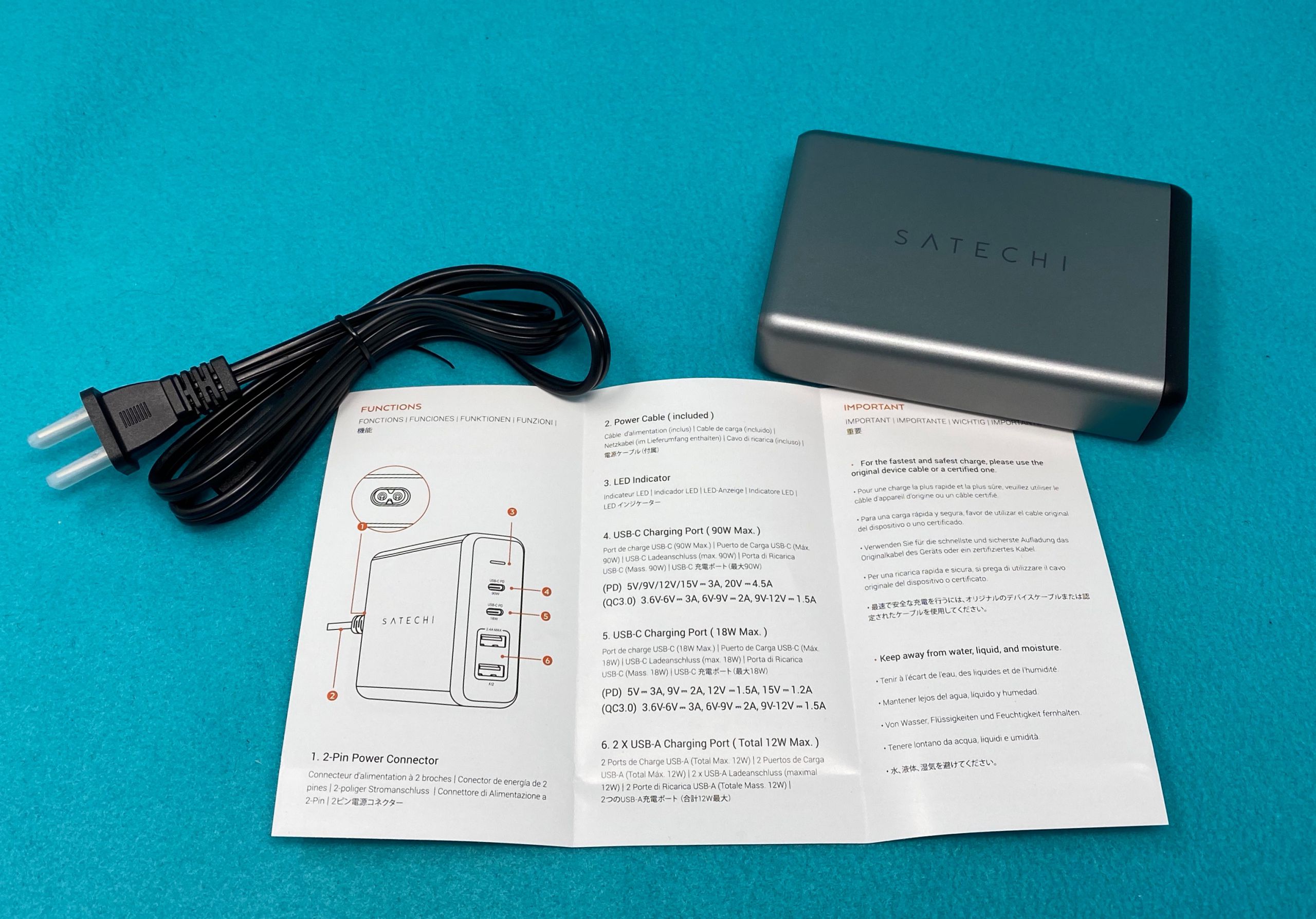 What is it?
A small-ish desktop charger with 2 standard USB 2.5-5 watt ports and two USB-C (Power Delivery capable) ports, one of which will fulfill up to 90W needs. That'll power your new 16" MacBook Pro or similar.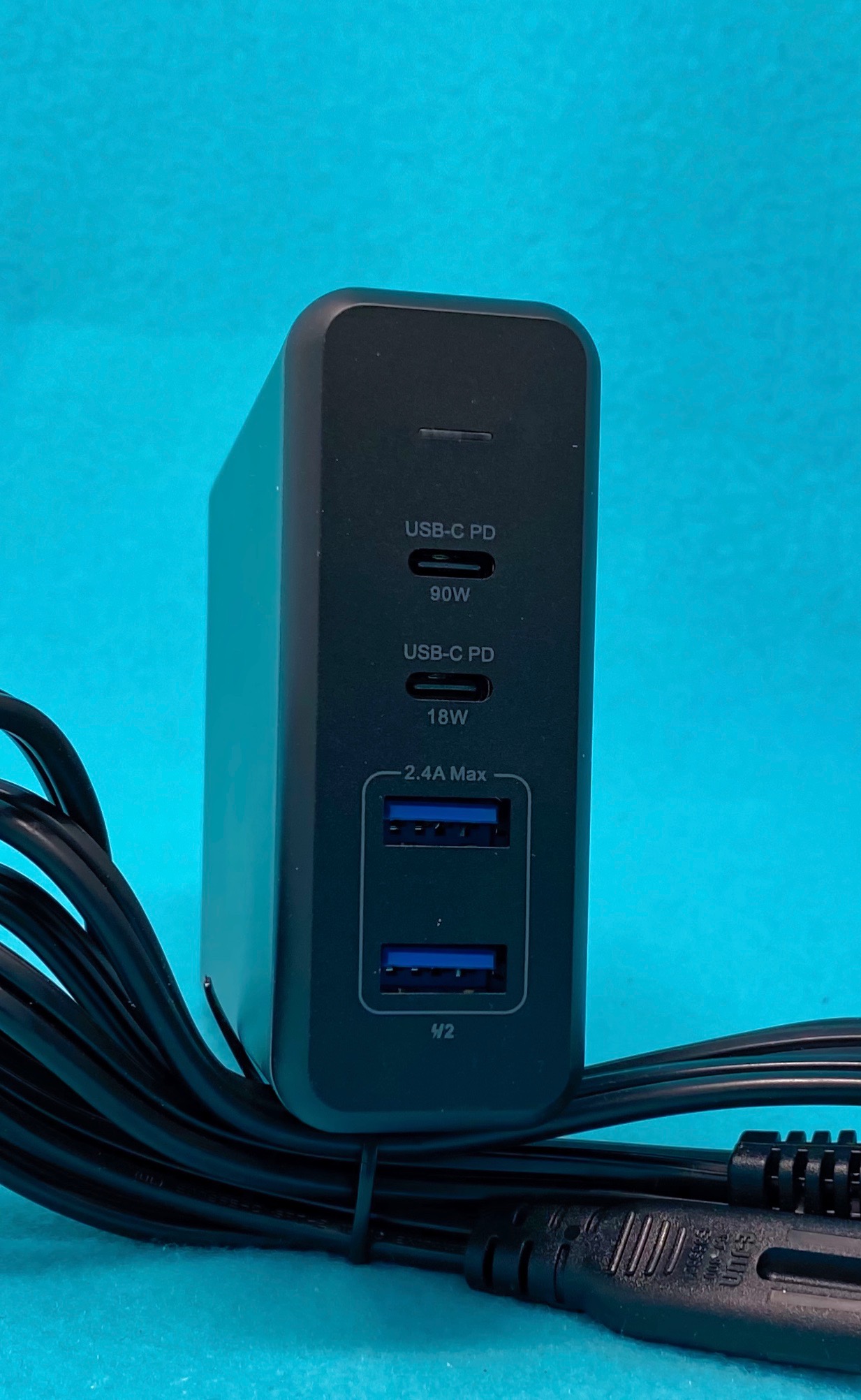 What's in the box?
Charger
US-pronged 4' long AC power cord
paperwork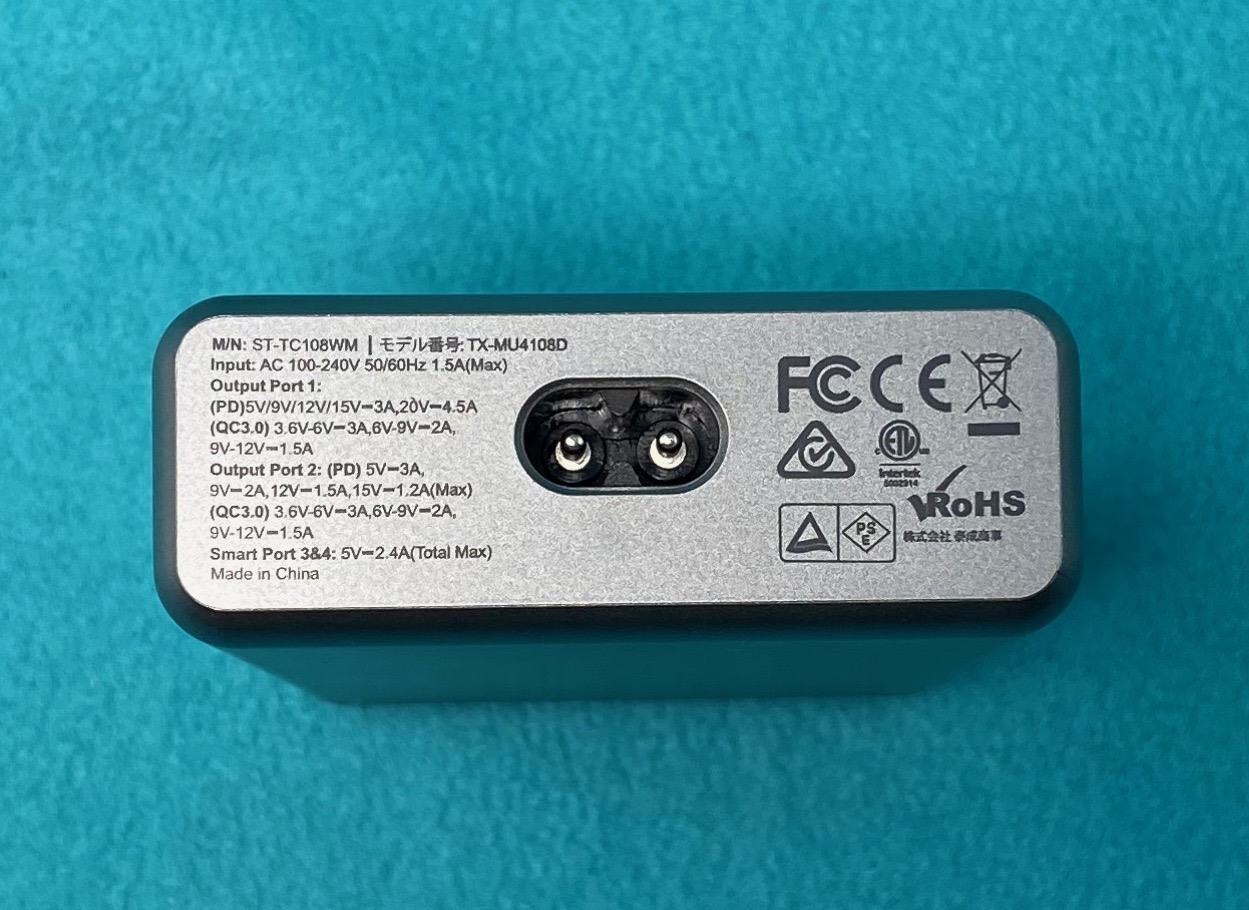 Hardware specs
Power input AC 100-240V 50/60Hz 1.5A (Max)
Cable length: 4 Ft
4.75 x 1.19 x 3.13 inches
14.7 oz
1 x USB-C PD port (90W)
1 x USB-C PD port (18W)
2 x USB-A ports (total 12W)
Design and features
The charger itself is hard plastic – a black front piece with a contrasting grey shell around the electronics. There are other models that Satechi has in various fashion colors, but this unit is only available in black with grey. (Maybe that's because it's the "Pro" model?) At 4.75" x 1.19" x 3.13", it's not much larger than a MacBook charger, and the figure-eight cord can be found online with plugs for other power systems/countries easily. The 100-240V 50/60Hz input is fine for most countries, but are you planning on traveling internationally anytime soon? Really?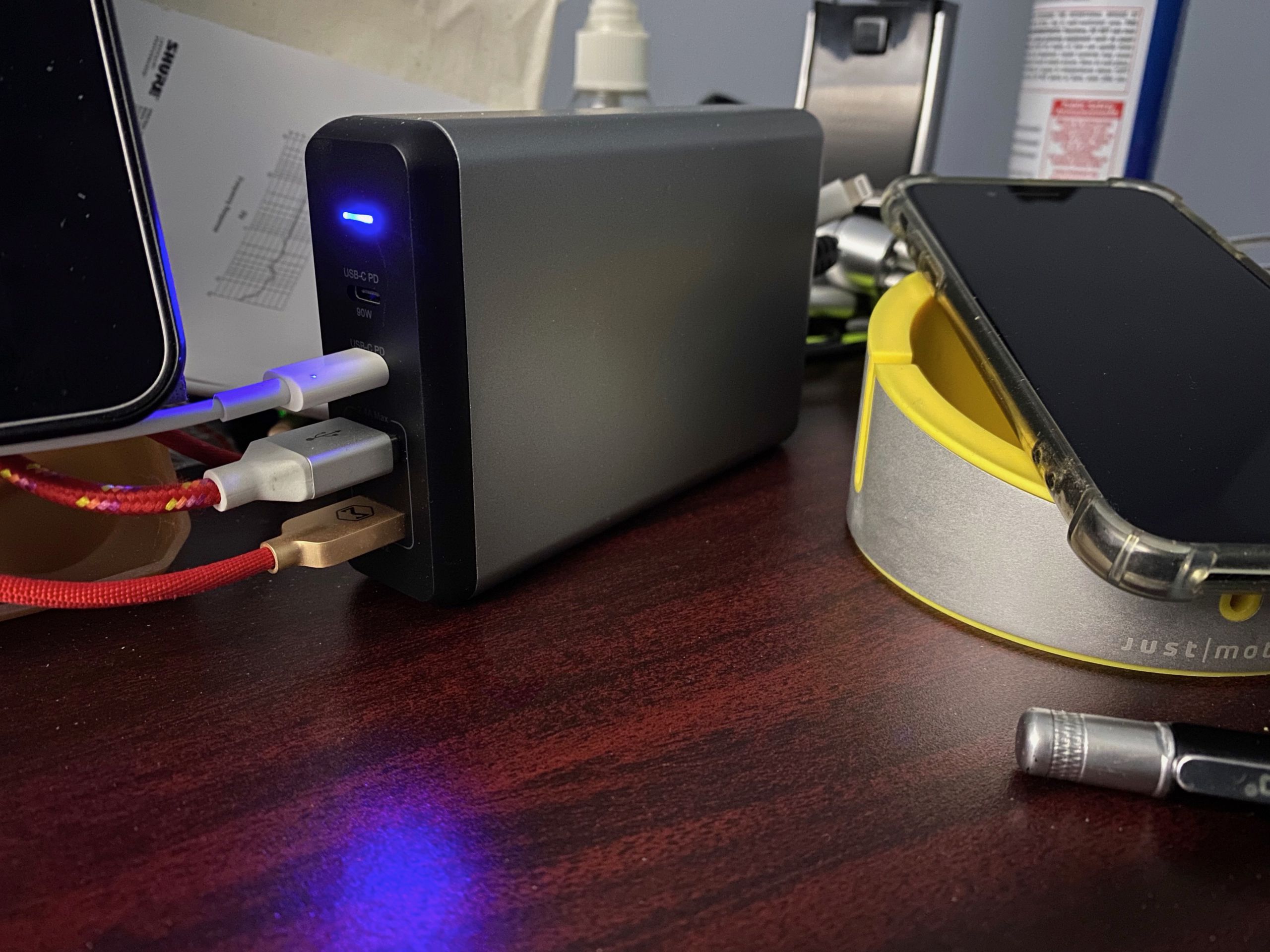 Performance
The charger functions very well, although, like all high-powered electronics, it tends to be quite warm while in heavy use. Also, irritatingly, there is a bright blue LED on the face that cannot be turned off. I've been hiding it behind one of my devices, but once I start leaving the house again, I will probably get the gaffer's tape and retrofit a lens blocker. (I've pulled it out from behind an iPad for the shot above. Note the blue glowing reflection on the desk!)
At first, I thought the device wasn't performing well, as my two iPads (original pro and 10.9" pro) didn't really charge very fast. Then I realized I was only using the USB-A ports, which top out at 5 Watts. I was charging them with the equivalence of an iPhone charger! I rustled up a USB-C to Lightning cable, and things really picked up speed! I'm looking forward to getting my new iPad Pro with the USB-C<=>USB-C cable next week!
What I like
Very small, yet provides power for a variety of items.
Clear markings of which ports have which outputs.
World-ready power capable.
What I'd change
Piercing, eyeball-searing blue power LED on the front. sigh
Final thoughts
Normally, power bricks are something we take for granted. But during this pandemic stay-at-home time, I've found them to be constantly in motion throughout the house. With 3/4 adults using all manner of electronics to work from home (well, one is Essential Personnel in healthcare and forays out into the world 4 days a week), finding a private place to engage in whichever online meeting is happening has ranged from various bedrooms, the front porch and the back deck, the living room, den, dining room – basically, everywhere except the laundry room and bathrooms! Having this unit, which can top up phones while powering laptops or higher-end tablets, has been a godsend.
Price: $79.99
Where to buy: Company WebStore or Amazon
Source: The sample of this product was provided by Satechi.