We use affiliate links. If you buy something through the links on this page, we may earn a commission at no cost to you. Learn more.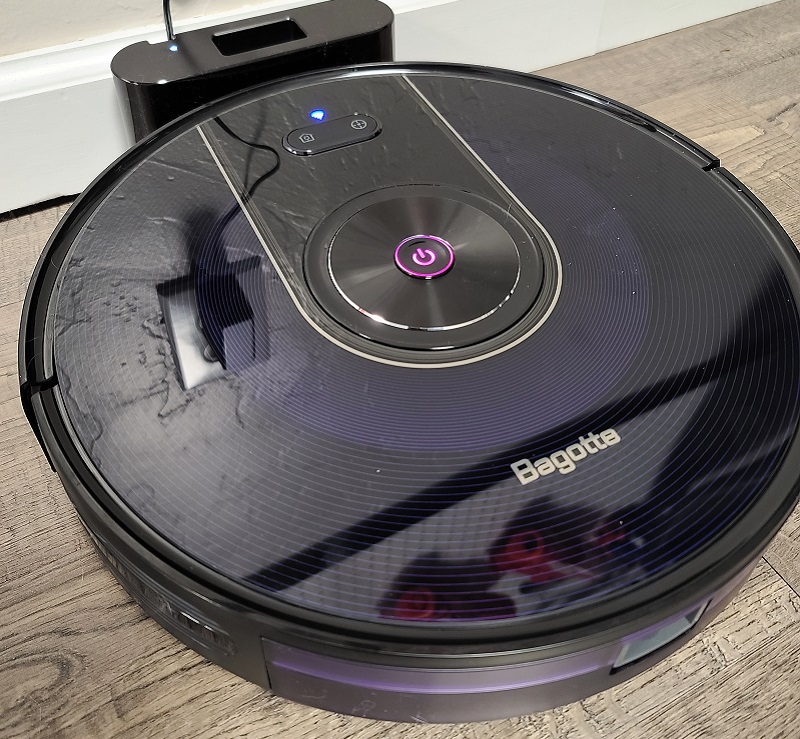 REVIEW – I haven't used a robot vacuum since the early robot-vacuum days, and my memories are full of random missed spots and attempted robot-suicide as it flung itself down our hardwood stairs fairly regularly.  Bagotta sent over their BG800 Robot vacuum to review, so we'll see if nearly 2 decades of research and technology advances make any difference.
What is it?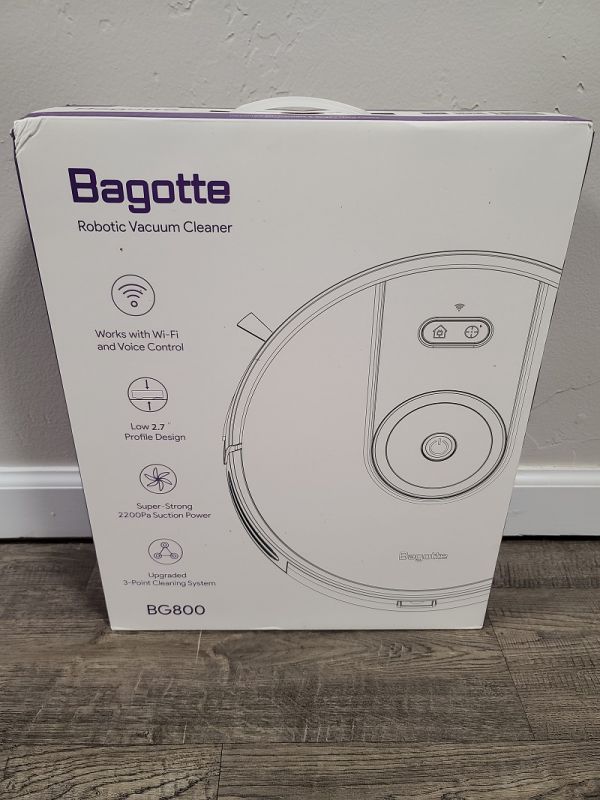 The Bagotte BG800 Robot vacuum promises exceptional and smart vacuuming of hard floors and carpeted areas.  It boasts a higher-than-average suction power, Voice-Assistant (Google/Alexa) integration, smartphone and physical remote control, scheduling, and a slew of other "smart" features.  It claims a runtime of up to 120 minutes on low power.  It has multiple sensor technologies including infrared sensors, edge sensors, and a physical bumper to navigate obstacles and avoid falls.
What's in the box?

One Bagotte BG800 Robot vacuum
One "Home" charging station
Power Adaptor for the charging station
Long Boundary strip to block off areas (and 3m tape to secure)
Cleaning/Maintenance tool
1 Extra Filter
4 Edge brushes
RF Remote Control (including batteries)
Owners Manual
Hardware specs
Navigation: Gyroscopes and Optical Motion tracking + 14 Infrared Sensors
MAX Suction Power: 2200PA
Max Runtime: 120 Mins (@ low suction)
Charging Time: 5-6 Hours
Battery type: DC 14.4V Li-ion 2600mAh
Dustbin Capacity: 0.6L
Edge Detection
Noise: 55dB
Height: 2.7 Inches
Design and features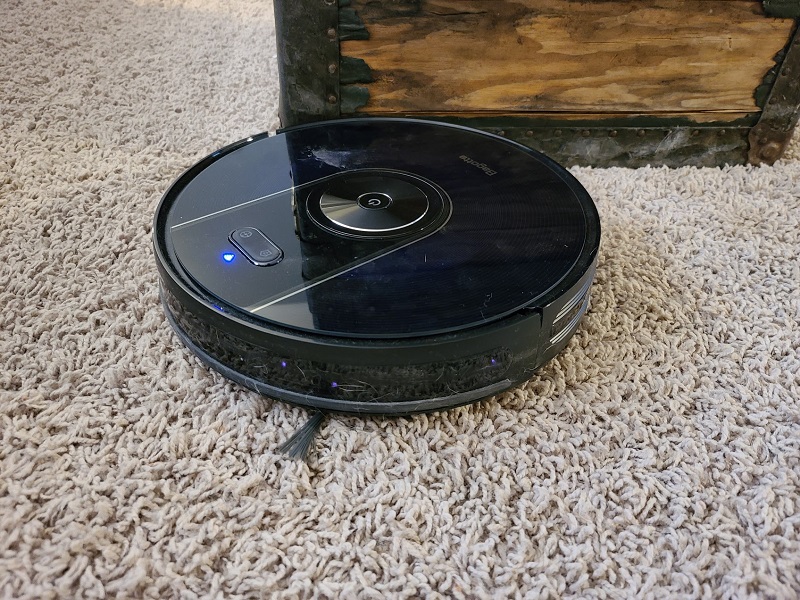 As you can see, the design is a pretty standard disc shape.  I appreciate the easy controls, the middle power button simply starts the auto-clean setting, or pauses it if pressed while running.  There is also a spot clean button and a return-home button, both of which were handy.  The glossy finish looked nice for about 3 seconds, until it attracted every loose pet hair in the room.  This is easily cleaned with a wet paper towel or cloth, but it's too bad the clean design is a dust/hair magnet.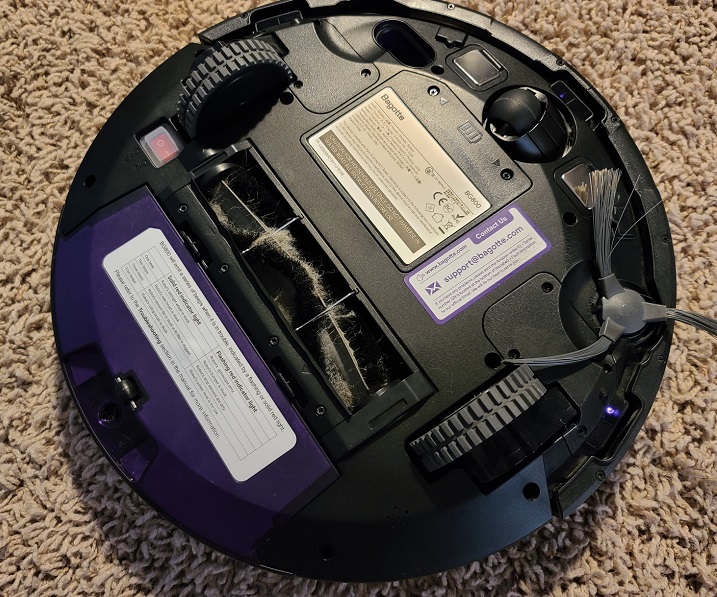 Here on the underside we see the wheels, a power on/off switch, sensors, the edge brush, battery compartment, and the brush roller.  I found the roller to be fairly easy to de-hair with the included tool, and it also can be fully removed for more intense hair tangles.  The cleaning on carpet was much better than the old robot vacuum I tried years ago, but is definitely not as good as our super-high-suction Shark vacuum.  After a few weeks of use, I've settled into a routine of doing manual vacuuming once a month instead of every week, and running this robot vacuum once or twice a week.  It's been nice to eliminate 75% of a weekly chore and still enjoy clean floors.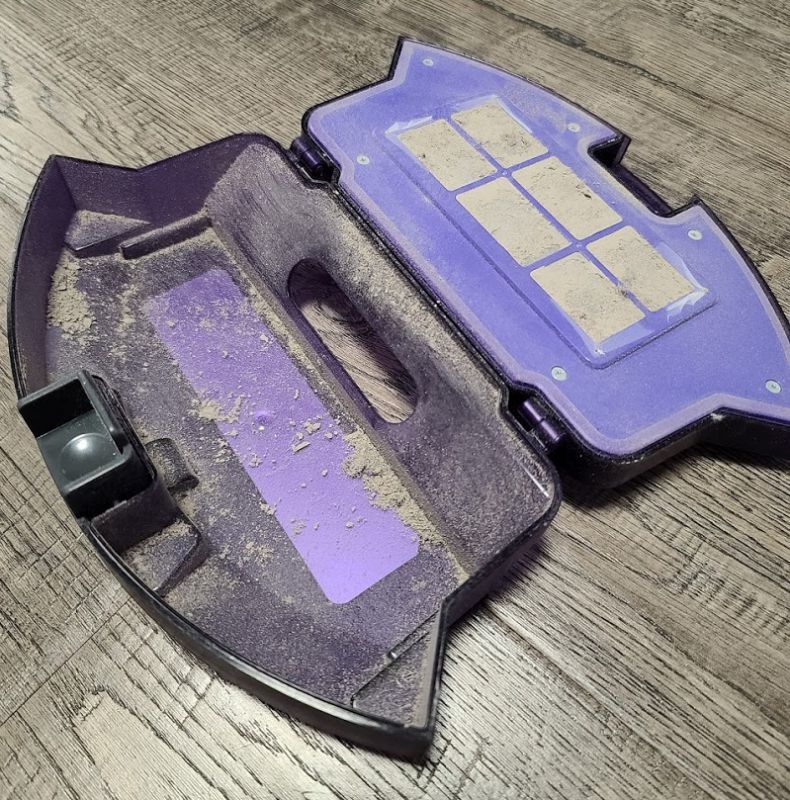 A simple push lever makes the dust bin very easy to remove and dump.  I wish it had a bit more capacity, on dirty floors it had to be dumped mid-cleaning (something you can't check on the app, requires you to manually remove and open to see where it's at.  The filter is very easy to remove and clean/replace.
Installation and setup
The timelapse above shows the first time I've plugged the Bagotte BG800 into the wall, and then simply hit the Start/Stop button.  I was immediately impressed with the consistency of its pattern, which would become even more apparent when I tested it on carpeted areas.  The robot does a good job of keeping passes at 90 degree angles to each other, so especially on carpet when it's done it often looks like someone had used a standard vacuum cleaner on it.
It wasn't perfect in the corners, but it was definitely better than the old Roomba I'm comparing it against.  Here's the before shot of a corner where I purposely swept extra debris to give it a challenge (or is my office always this messy?  You decide!):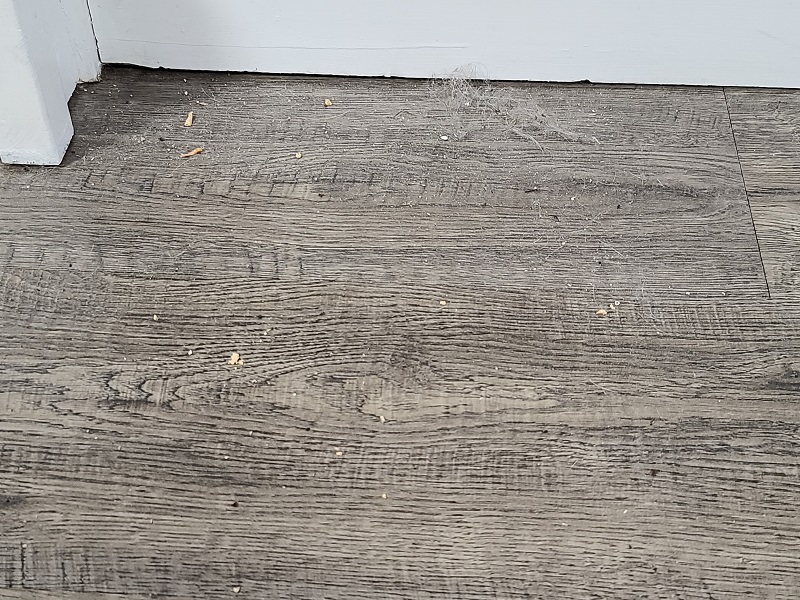 And here's the after-1-cleaning-cycle result: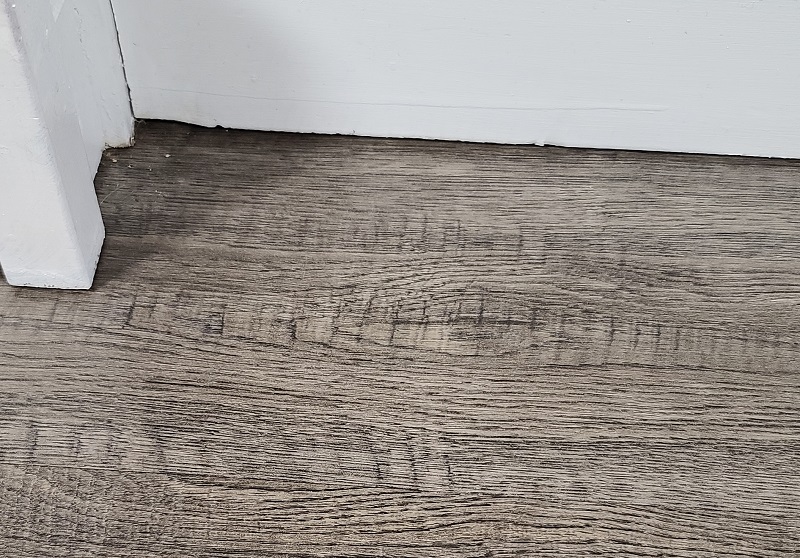 On hard floors, this little robot did great, only missing a bit of dust in the corners (which is nearly as hard to get with a normal vacuum, usually I have to spot-clean with an attachment to get difficult corners like this.  The overall noise was less than expected as well, just a quiet whir and muted blowing air.  It did get snagged on a cable, you have to clear any loose fabrics or cables from its path, including under furniture that it will scoot under.
The company website and manual mention a water tank attachment for mopping, which is definitely intriguing. Unfortunately, I wasn't able to test with this, but it's nice to have that option if you need it.
App
After this first test cycle, I downloaded the app (available on IOS and Android, tested on Android), which was quick and easy.  Once some basic setup steps (like entering wifi passwords), you're presented with a basic control screen.  Options from here include setting up a cleaning schedule – the robot can be programmed to run daily or on certain days of the week at a time of your choice.  You can also run a cycle with different settings, I especially appreciated the Edge cycle, that seemed to be my most needed extra cleaning after regular cycles.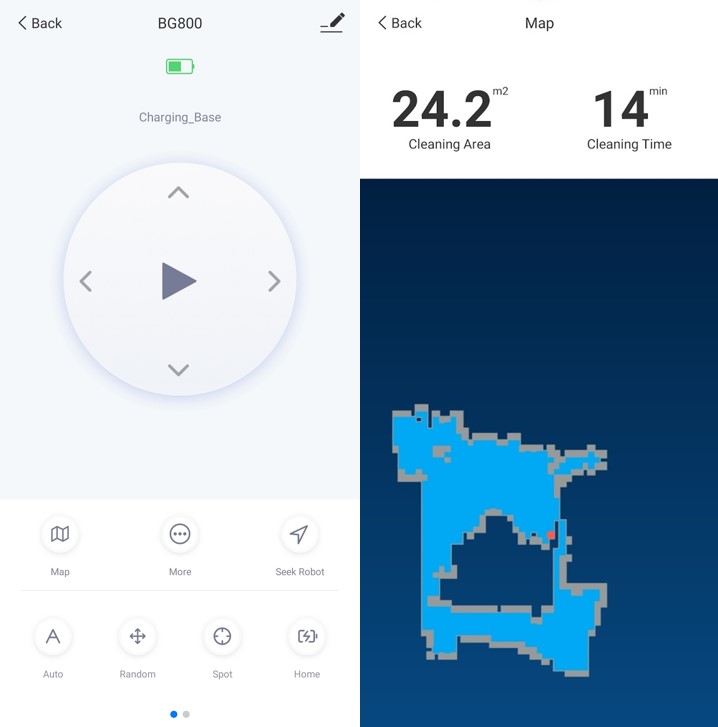 As you can see, the "mapping" feature is a bit … abstract, but it roughly represents our kitchen and living room area.  I didn't find it particularly useful, but it's there if that's something important for you.  The app also reports service life on replaceable parts like the edge-brush and filter.
I tried out the Google Assistant integration, which allowed me to say "OK Google, turn on Frank" (I named my Bagotte BG800 Robot vacuum "Frank").  It was fairly easy to login and connect the app to Google Assistant, just a couple of screens and allowed permissions.
What I like
Efficient cleaning of even large rooms
Quiet
Easy controls on the vacuum
Easy to use App
What I'd change
I'd prefer if it would do all the edges first, then clean the rest
Inability to deal with cords or fabrics meant I couldn't use the automation
Larger dustbin – it was crammed full after one cycle in a ~400 sq. ft. room
Final thoughts
If you're in the market for a robot vacuum, I think the Bagotte BG800 Robot vacuum is a solid pick.  I had only minor issues with it (judging from Amazon and other reviews on competing models, all my minor complaints are mentioned on other models as well).  I definitely like the convenience of having clean floors with the push of a button.  The robot vacuum category has definitely come a long way from the suicidal-robot days of my past.  I'm glad the result of my testing wasn't random stripes through the carpet with many obvious missed spots.
Price: $269.99
Where to buy: Amazon
Source: The sample for this review was provided by Bagotte.