We use affiliate links. If you buy something through the links on this page, we may earn a commission at no cost to you. Learn more.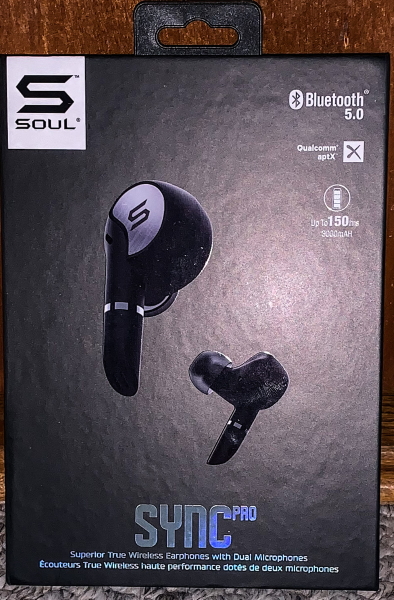 REVIEW – It has been quite some time since I reviewed earbuds. I did get my hands on my own pair of Apple Airpods and decided to test and review these Sync Pro earbuds by Soul, to see how they compare other than being similar in physical design.
What is it?
The Sync Pro wireless earphones by Soul feature dual microphones designed to capture voice clearly. They also feature Qualcomm® cVc™ noise cancellation technology to cancel out ambient noise and touch controls that allow you to take calls, change tracks, activate voice commands Siri® and Google Assitance™ and more. Included with the earphones is a portable external charging case supported by USB Type-C charging, and the ability to provide charging for other gadgets.
What's in the box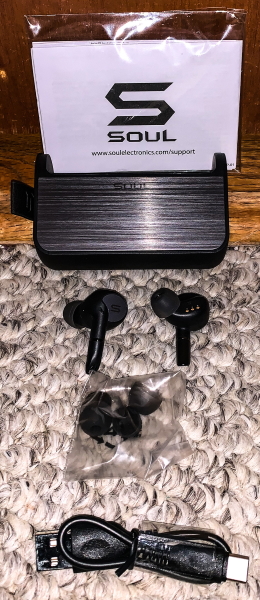 1 x Soul Pro Earbuds (pair)
1 x Charging/Storage Case
4 x Pairs of Memory Foam Ear Tips
1 x USB-C Charging Cable
1 x User Manual
Design and features
Specifications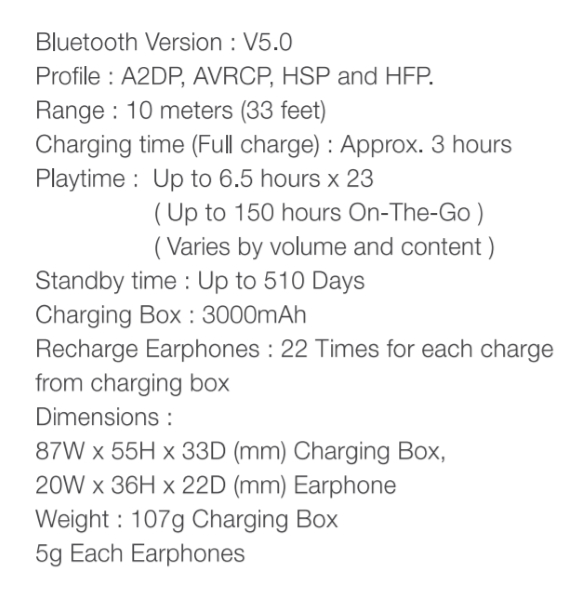 When you open the charging case the 2 earbuds sit snugly in their charging slots. In this orientation that in my opinion is the normal way to open the case, the right earbud is on the left and the left earbud on the right. The surface that has the "S" logo is a touch surface and is used to control them.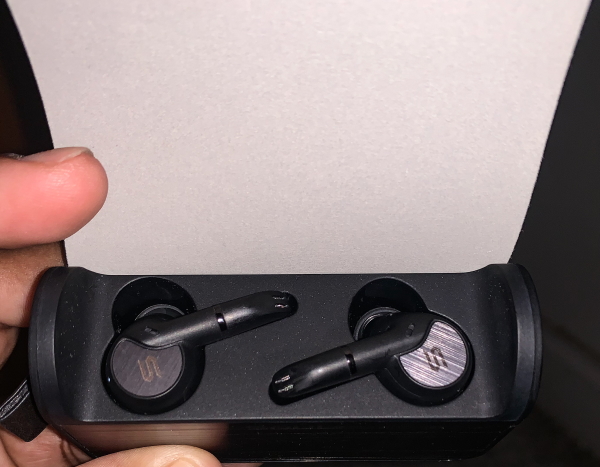 On the side of the charging case there is the USB-C charging port, the 4 LED charging indicator lights that represent the level of charge at 25% for each LED. There is also a reset button.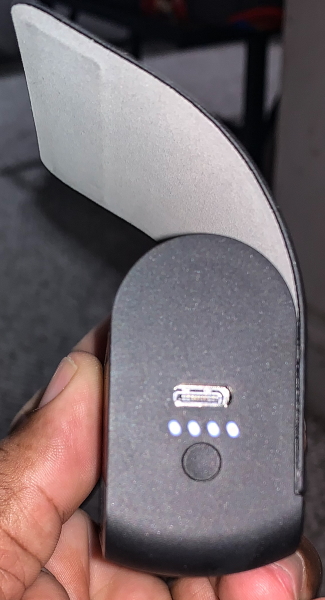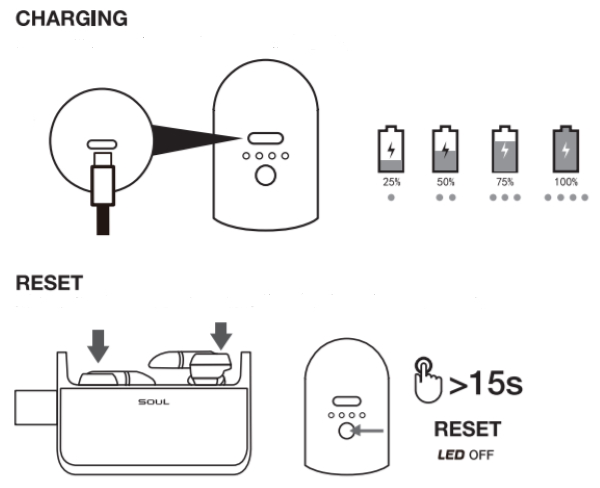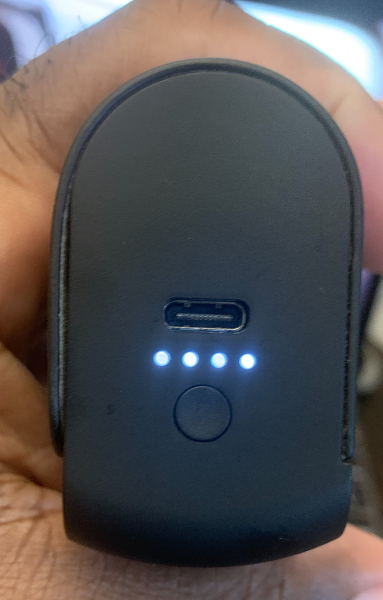 Performance
As with any wireless earbuds, when you first receive them, you should charge them fully. Once they are charged, when you first take them out of their charging case, they automatically go into pairing mode and show up in the Bluetooth selections on your phone. Once paired, they automatically connect to that device each time you take them out of the charging case. However, I did find that on a few occasions, only one earbud would pair, and I would have to put the one that did not pair back into the case and remove it again. It would then pair.
When listening to music, these earbuds perform very well. The lows, mids, and highs are very well balanced and the maximum volume is more than adequate while never overwhelming. I was able to use the Ear Tips that came preinstalled on the earbuds.
I listened to several genres including Contemporary Jazz, Easy Listening, The Classics, Gospel, etc., and I enjoyed the sound across all of the genres. There was no discernable distortion in any frequency range.
The following diagram shows how to use them via the touch surface: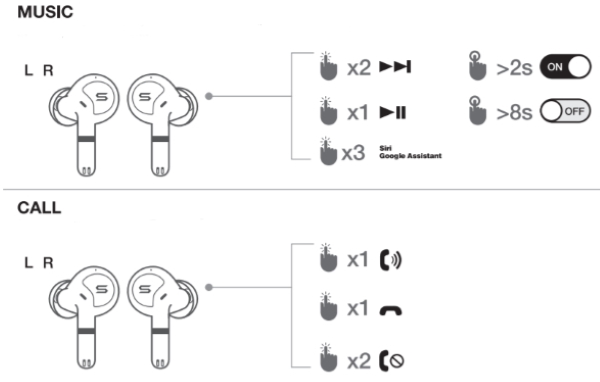 The call quality is quite good for both parties on regular phone calls but seemed a bit sketchy when using Skype. However, since applications like Skype are dependent on the internet quality of both parties, I cannot list this is as an issue for these earbuds. However, I did find that when I walked away from my phone, the connectivity range before distortion was much less than the Apple Airpods.
These earbuds do fit quite comfortably in my ears and I have not experienced any fatigue after wearing them for a few hours.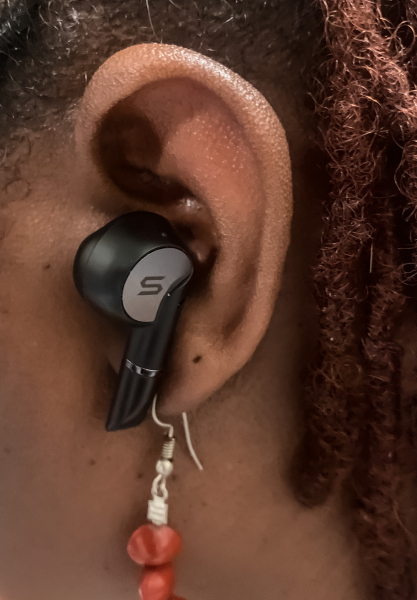 What I like
Nice build quality
Nice sound
Decent phone connection and clarity
Decent use time per charge
They work with both Siri and the Google Assistant. (I have reviewed many that only work with one or the other)
What I'd change
They need more consistent Bluetooth performance
Final thoughts
As I mentioned at the beginning of this review, my goal for this review was not only to test the capabilities of these earbuds but also to compare them to the Apple Airpods since their physical designs are similar. The Soul Sync Pro true wireless earbuds are quite good overall, with their only real downfall being their less than 1oo% solid Bluetooth connectivity at ranges that should be acceptable. That is where the Apple Airpods win. I still give them a well done albeit not perfect.
Price: $129.99
Where to buy: Soul Electronics
Source: The sample for this review was provided by Soul.