We use affiliate links. If you buy something through the links on this page, we may earn a commission at no cost to you. Learn more.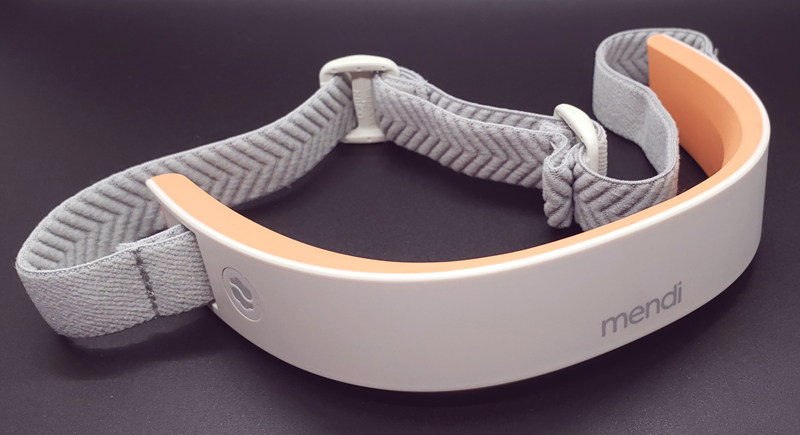 CROWDFUNDING REVIEW – Everyone knows that working out – lifting weights, running, etcetera, is the way to make your muscles healthier and stronger.  We all possess one body part that you simply cannot exercise in that way – our brain.  Wouldn't it be great if there was a way to exercise our brain similarly?  Science says we can. Unlike heading down to your local gym and picking up some weights, you need to head to your local clinic and have medical professionals hook you up to a gazillion-dollar neurofeedback machine.  But what if you could help your brain break a sweat in the comfort of your own home?  Enter Mendi.  Let's take a look at it.
What is it?
Mendi, the combination of the headset and the software, is a neurofeedback system designed for home use. Think of it as a form of meditation that provides direct feedback on its effectiveness.  From Mendi's website:
Just like the muscles in your body, your brain can be trained. The more you train it, the more you can learn to control your brain activity and reach new heights in brain performance.
Neuroplasticity is the ability to naturally strengthen your brain. By training and strengthening your brain, you can create new pathways that allow for more mental flexibility and higher function.
With Mendi, advanced sensors measure your brain activity. Your brain activity is then visualized in a fun and easy to use training app. By training with Mendi, you effectively strengthen the Prefrontal Cortex (PFC) area of your brain, which controls your brain's pathways.
More from the Mendi Facebook Q&A:
The Mendi hardware is based on functional near-infrared spectroscopy (fNIRS) technology which, among other things, measures blood flow and oxygenation in the prefrontal cortex (PFC). Reduced blood flow (hypoperfusion) in the PFC is correlated with various brain disorders and unwanted symptoms, such as ADHD and emotional control deficit. Using neurofeedback, we can train the brain to voluntarily regulate blood flow to the PFC.
The headset emits an infrared light which monitors activity in the front of your brain. The app provides exercises to train your brain, requiring focus and calm to control the game, and subsequently increasing activity in your PFC. While the headset measures your progress, it's really all about the software that stimulates your brain and delivers results.
There are many recent and ongoing studies in the scientific community focused on the benefits of fNIRS neurofeedback (an innovative combination of technology and methodology).
So Mendi is a brain exercise device that is designed to help you improve focus and overall brain performance by improving the blood flow and blood-oxygen levels in your prefrontal cortex.
What's in the box?
I was sent a pre-release version, so what will be included in the box is still changing.  My box contained only the Mendi device. Production devices will also include a charging cord. The specific design of the headset may be slightly different in the production version.
Hardware specs
Weight: 2 ounces
Power: Micro-USB rechargeable – possibly USB-C in the production unit
Battery life: approximately 90 minutes based on my testing
Strap: soft cloth elastic and adjustable for size
Design and features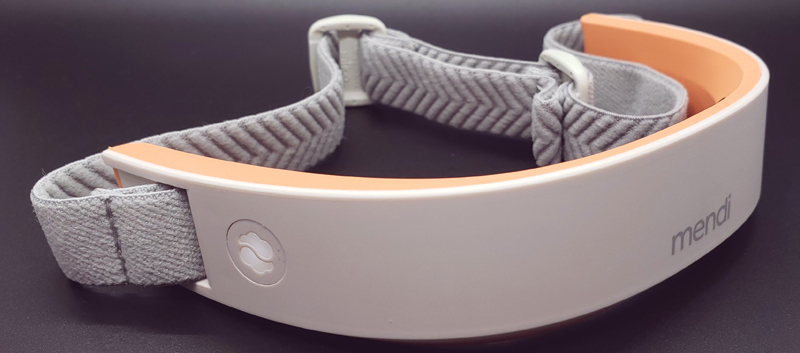 The device itself is made of soft-touch plastic.  I want to reiterate that I received a pre-production sample – actually version 3.  Version 4 is in the works, but I don't have any details on what is changing.  Suffice it to say that they are refining the design based on feedback and it appears that each iteration is getting better.
Inside the front of the headband, we find the three sensors.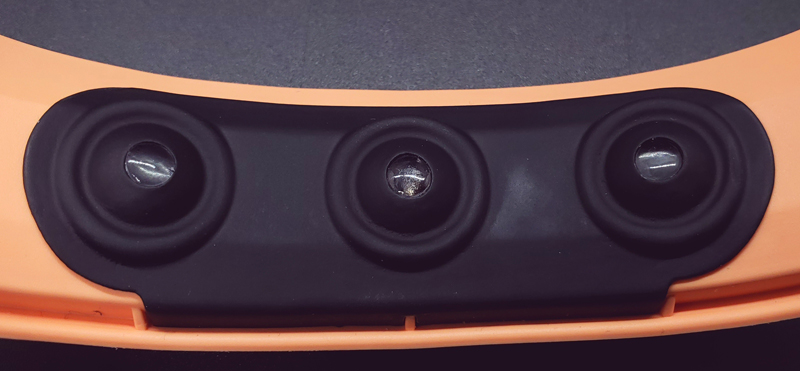 Each is mounted on a springy base that allows them to press into your forehead to make good contact without applying uncomfortable pressure. These sensors allow Mendi to measure blood flow and oxygenation in the PFC.
The headset is wireless and rechargeable.  The micro-USB charging port is found on the left end of the headset. There is some discussion that it may be replaced with a USB-C port in the production unit, but that is not guaranteed.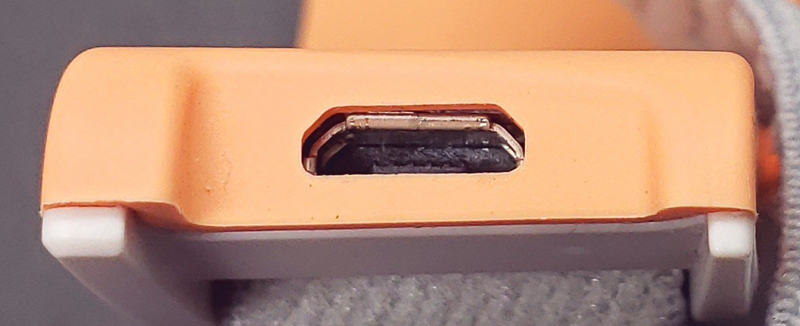 Powering up Mendi is as simple as pressing the power button with the Mendi logo on the right side of the headset.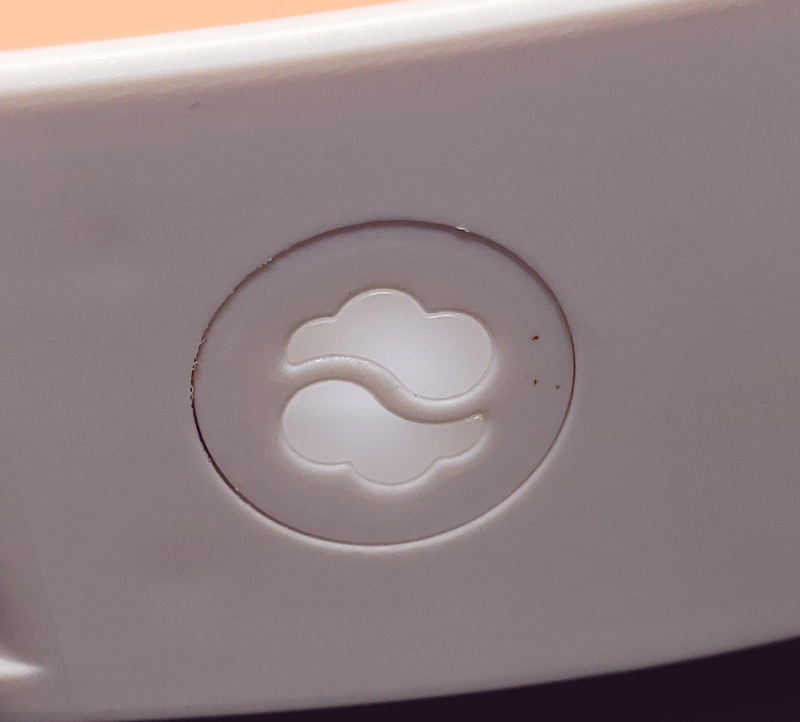 The logo pulses slowly until it connects with the IOS or Android app on your phone or iPad. You can press the button again to turn Mendi off. Mendi also powers off automatically when you exit the Mendi app.
Here I am modeling Mendi.  You wear it so that the band rests just above your eyebrows. Do I look smarter?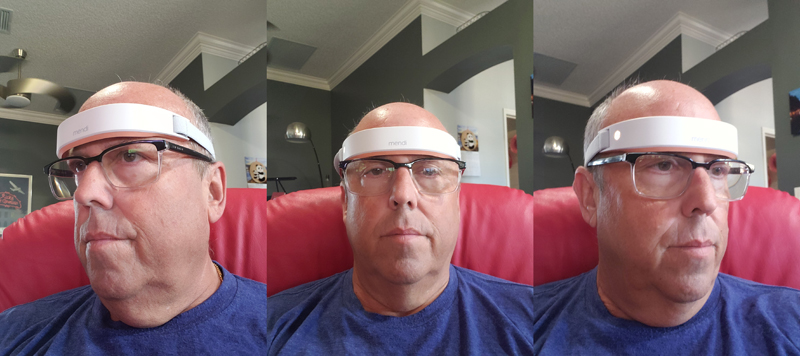 Setup
Setup involves charging the Mendi and installing the app on your IOS or Android device. There is no account setup.  The app is supposed to support multiple user profiles once it is released, so there will be a profile setup as part of the app setup.
Performance
Let's talk a little (very little) about the science behind this.  The underlying technology is called functional Near-InfraRed Spectroscopy (fNIRS).  The idea is that activating the PFC results in changes to blood flow in that region in terms of flow and oxygenation. By employing light sources, like the ones in the sensors, these changes can be measured and tied to activity in the PFC.  Mendi, with its hardware and software, can measure and quantify these changes in the PFC. It calls those changes energy, increase and flow. Here are their descriptions of each metric.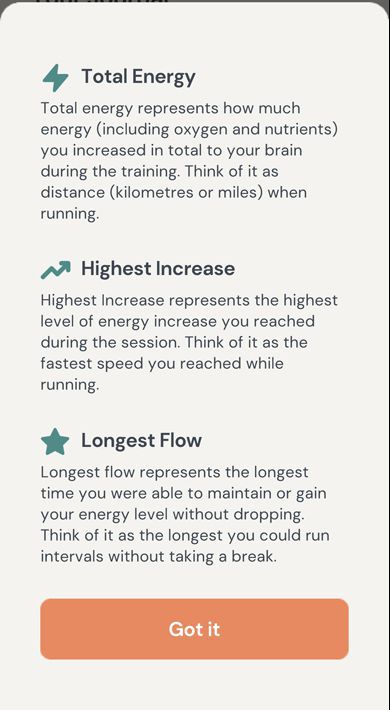 To get started, you put on the headset.  It should be snug, but not tight.  If it is too loose, the game will tell you there is a weak signal and to be calm and not move.  I found that slightly tightening the headset eliminated that message.  Firing up the game on my phone shows a splash screen and then confirms that the headset is connected and shows the battery level. The sole included game is simple – you focus on a ball. When you properly focus, it causes changes in your PFC, increasing blood flow and oxygenation. Mendi detects these changes and the ball rises.
The game allows you to do sessions of 2, 3, 5, 7, 10, 12, or 15 minutes.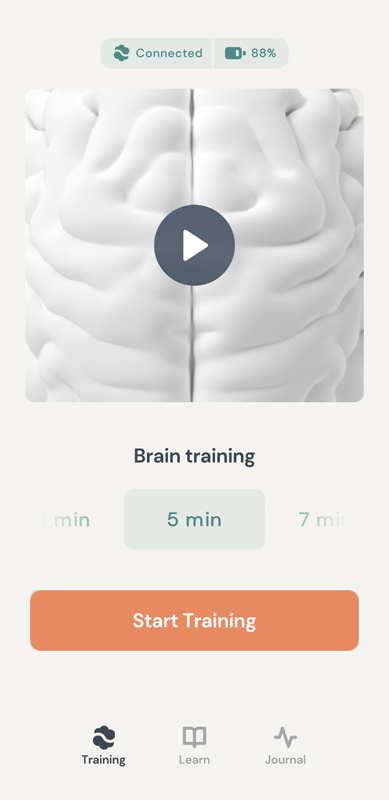 You focus the ball and try to relax and not think about anything.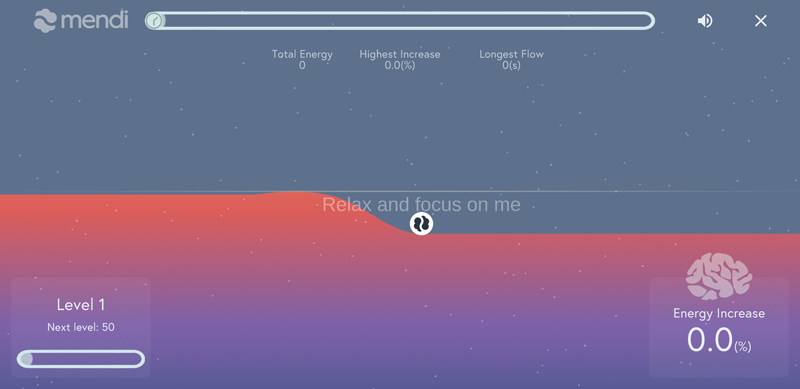 As your focus improves, the ball goes up.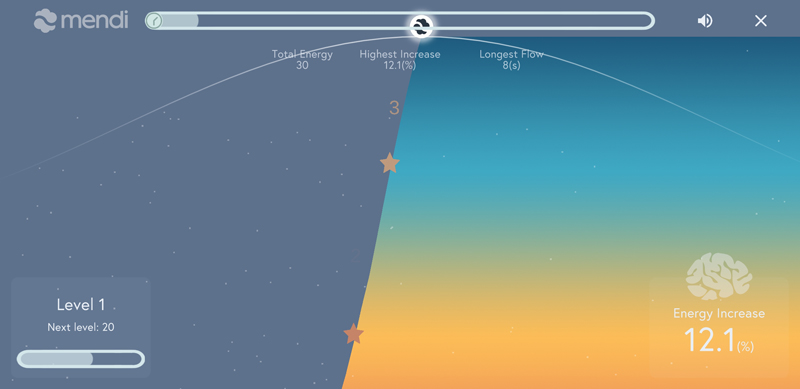 As you lose focus, the ball goes down.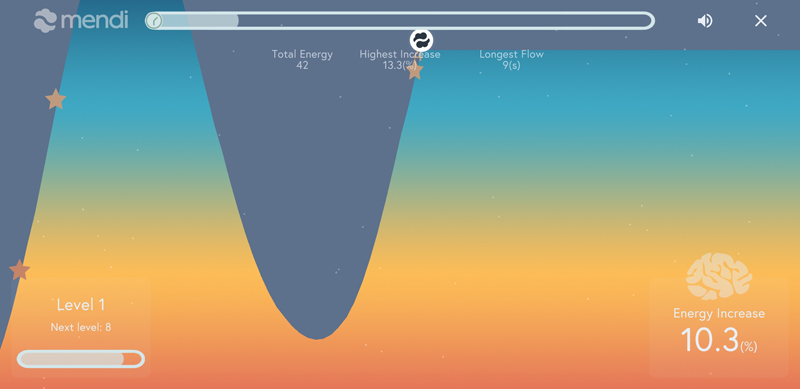 When the session is over, the game congratulates you for your hard work.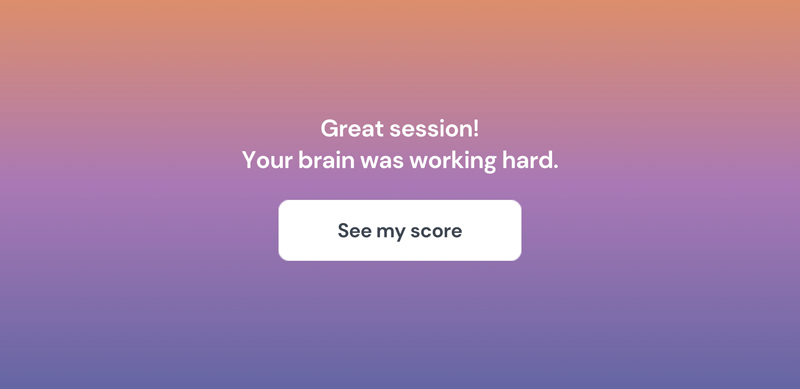 It then shows you a summary of your results and the scores for each of the three metrics.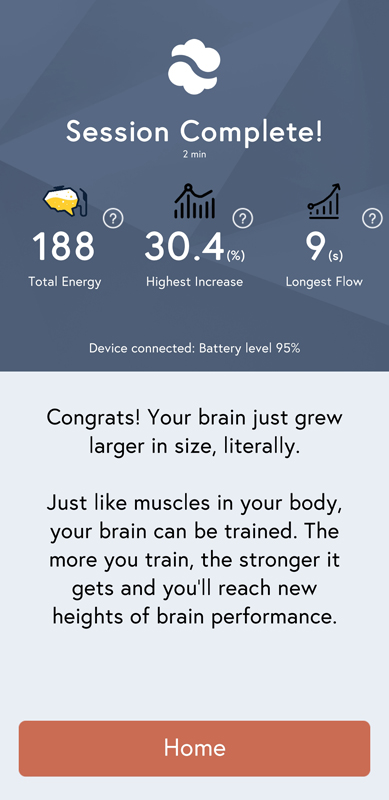 A note – the screenshots above were from the app version that I installed.  Mid-review, the app updated and the look is slightly different.  I didn't capture new screenshots as the app will be updated again before the production release.
The journal function tracks all your sessions.  The idea is that as you use the device, just like muscle exercise, you should see improvements in brain function.
Here are all my Mendi sessions.  As you can see – I have been able to achieve longer flows and energy increases suggesting that I am getting better at focusing.  It doesn't work every day, but the trend is improving.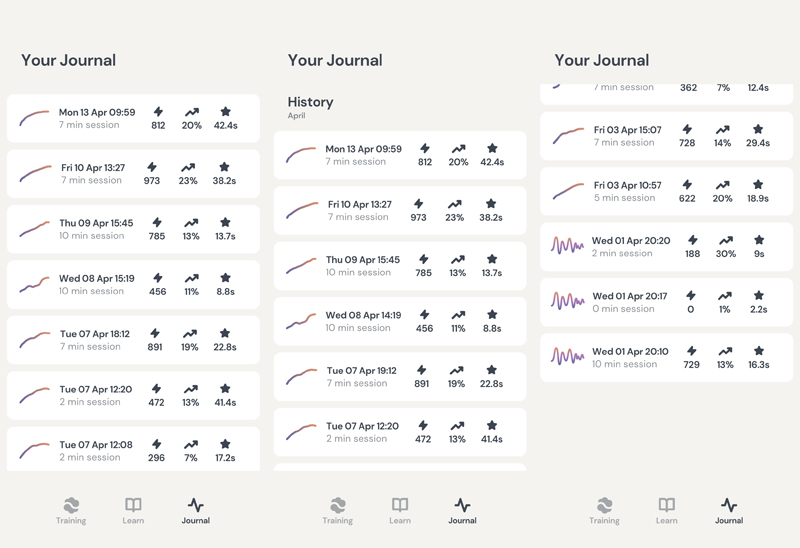 Longer flows mean more brain stamina and improved ability to maintain focus without a break.  Higher increases indicate improved ability to gain focus quickly.  Improved energy indicates an overall improvement in long-term brain stamina.
Here's a sample of the gameplay.  I started a two-minute session.  I'll apologize for the video quality. The camera I was using simply can't focus this close, and getting far enough to focus well made the video too small to be useful. At about 1:45, I deliberately looked away to lose focus.  You can see what happens.
Once again, a reminder – this is a pre-release version of both the hardware and the software.  The software updated in the middle of my review and is being updated pretty much continuously. In the version I tested, there was no facility for tracking multiple users.  The Mendi folks tell me that the release version will be able to track multiple users, so one Mendi can be used by a whole family.  They say that the software will remain free and there will be no ongoing costs.  The purchase price for the hardware is the extent of the cost of the Mendi solution.
The Mendi folks talk about using Mendi two to three times per week over several weeks to begin to see results.  I only had two weeks to complete this review, so I used Mendi once or twice daily for two weeks.  And, what exactly are these "results" supposed to look like?  That's part of the issue – it's different for everyone.
One other aspect of this pre-release version is that it is exactly one thing – focus on the ball and make it go up.  They state that they are continuing to add features to the software, so the assumption is that there are plans for multiple types of games that focus on different specific brain improvement techniques.
As I continued using Mendi over the two weeks I had to use it, I did see improvements in my numbers.  Has that translated to anything practically noticeable to either my wife or me?
OK – stay with me here.
I'm retired.  I live in Florida.  So…I golf.  Do golf well?  No.  But I still enjoy myself, and trust me, the worst day I have had on the golf course is still way better than the best day I ever had at work.  On a typical championship golf course with a par of 72, I typically shoot in the mid-90s.  On executive par 3/4 courses with a par of 27-29, lately, I have been shooting in the high 30s.  I've been in a slump and haven't been able to figure it out.  Of course, lessons aren't in the cards now, with COVID-19, so it is what it is.  Enter Mendi.  Over the past few days, I have seen a marked improvement in my golf game.  My scores on executive 9-hole courses have gone from 10-12 over par to 4-6 over par.  My scores on 18-hole championship courses have gone from the mid to high 90s to the low 80s.  I even shot the front nine at only two over par a few days ago.
OK – is all this Mendi-related?  Honestly, I have no idea. I have been using Mendi for a bit over a week.  According to them, it can take several weeks to see results.  Athletes use neurofeedback sessions to help them improve focus and performance.  While the term "athlete" must be used extremely loosely when referring to me, I am seeing a marked improvement in my golf game and the only change I have made is using Mendi.
What I like
Comfortable
One-time purchase with no ongoing fees
Support for multiple users (coming before release)
Immediate feedback
What I'd change
I'd prefer a USB-C charging port versus the pre-release micro-USB port
Additional games in the software – that may happen  before the production release
Support for multiple users should be added to the app
Final thoughts
I was excited to test Mendi.  There are so many health and fitness devices marketed for home use that are really just a way to separate you from your money.  I was skeptical about Mendi and thought it might fall into that category.  After a couple of weeks using Mendi, I am skeptical, but I am skeptical of my original skepticism.  My golf game continues to be better, and I have no other way to explain that than Mendi. I plan to continue to use Mendi and see whether over the long run I see other positive changes.  For now, at least, let's say that I am a semi-skeptical believer in neurofeedback, and Mendi's ability to deliver that to a home user at a reasonable price.
Price: Early Kickstarter backers can get a Mendi for $299.  Full retail will be $499.
Where to buy: Mendi is only available via Kickstarter. with an August-October delivery target.
Source: The sample of this product was provided by Mendi.