We use affiliate links. If you buy something through the links on this page, we may earn a commission at no cost to you. Learn more.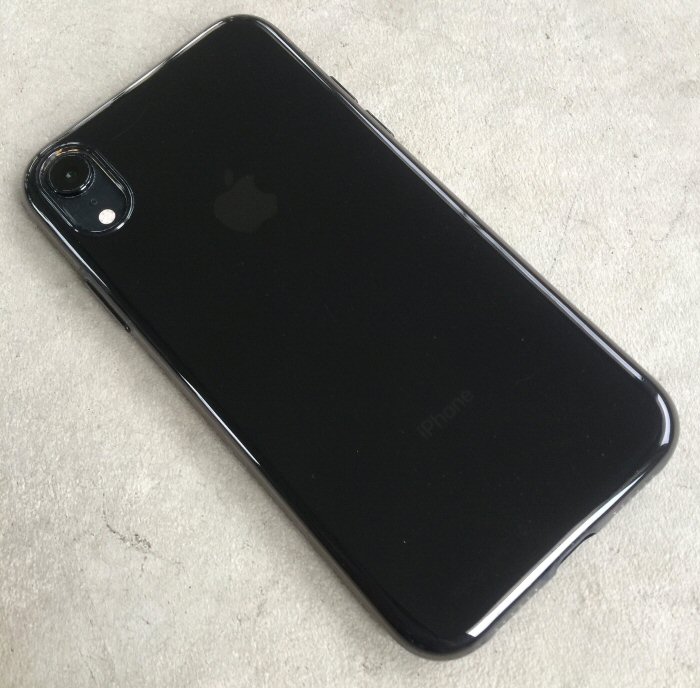 REVIEW – I've had a case on my iPhone going all the way back to my iPhone 3GS.  Not only does a case provide some measure of protection from bumps and scratches, but it also allows you to express your individual style.  I've run the gamut from uber-protective, Iron Man armor type cases to ultra-minimalist, barely-there skins, and generally speaking, I prefer something in between.  Recently I've reviewed several products from Bastion I was quite impressed with each of them, so when they offered to send one of their iPhone cases to review, I promptly agreed.  Let's check it out.
What is it?
The Bastion TPU Gel Slim is a case for the iPhone XR.
What's in the box?
The only item in the box (or in this case, the protective envelope), was the Bastion case.
Hardware specs
Material = Bayer TPU (Thermoplastic Polyurethane)
Dimensions = 7.9 x 4.3 x 0.1 inches
Weight =0.8 ounces
Options
The available options for this case were a bit confusing to sort out.  Per the Amazon page where this case is available for purchase, the following colors are available, each for $5.99:
Black Clear – glossy finish in a dark brown tinted color (reviewed here)
HD Crystal Clear – glossy finish that is fully transparent
Purple – matte finish that is opaque and looks quite blue on the site, not purple at all
Additionally, the site has some images that appear to show matte opaque white, matte opaque pink, matte opaque black, matte translucent black, and matte translucent white options, but only the three versions listed above were for sale
Design and features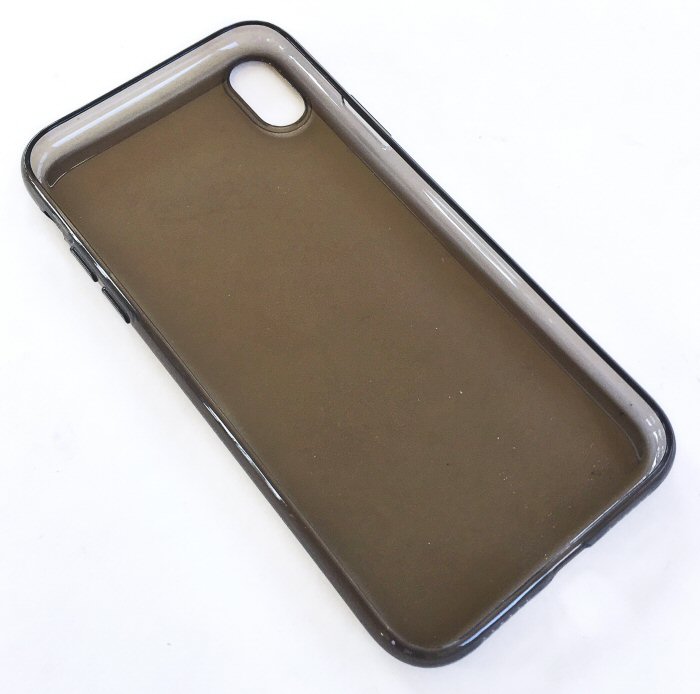 My initial impression of the Bastion case was that, despite is being described as "Black Clear," it was really more of brown color as seen in these images.  More on this later.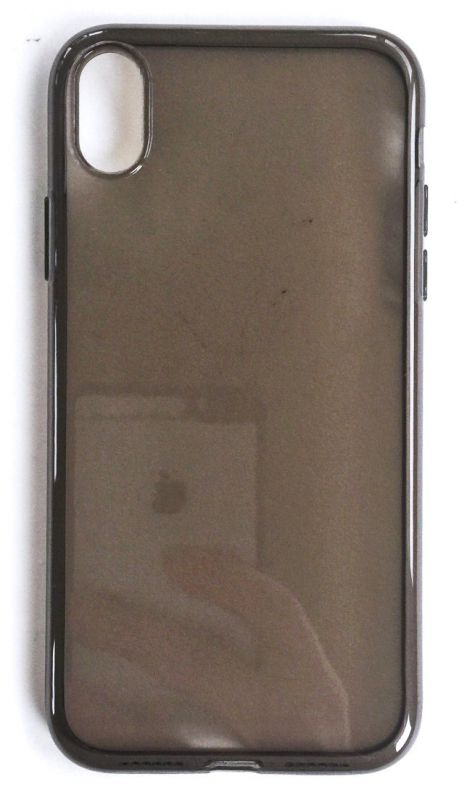 The Bastion case did not have any sort of branding whatsoever.  I'm not a fan of large, highly visible branding (especially when it detracts from the product's aesthetics), so I do appreciate this, and if a non-branded case is your preference, this case has none.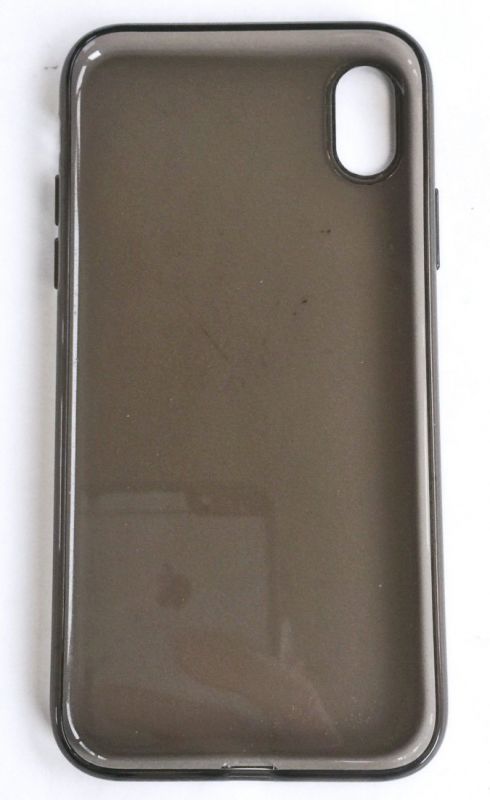 The inside of the case has a texture on its surface that Bastion describes as "interior mesh back" made up of "Micro-Dot Technology."  At first, I was very skeptical, but upon very close inspection, I could see and feel this texture on the inside of the case back.  It looks a bit like a pattern of millions of tiny bumps and is so slight that I couldn't get my camera to actually capture a photo of if.  Bastion claims that this texturing on the inside back of the case prevents air bubbles and watermarks from forming between the iPhone and the case, and I have to say that this does seem to be true—at no time did I ever notice either of those phenomena occurring.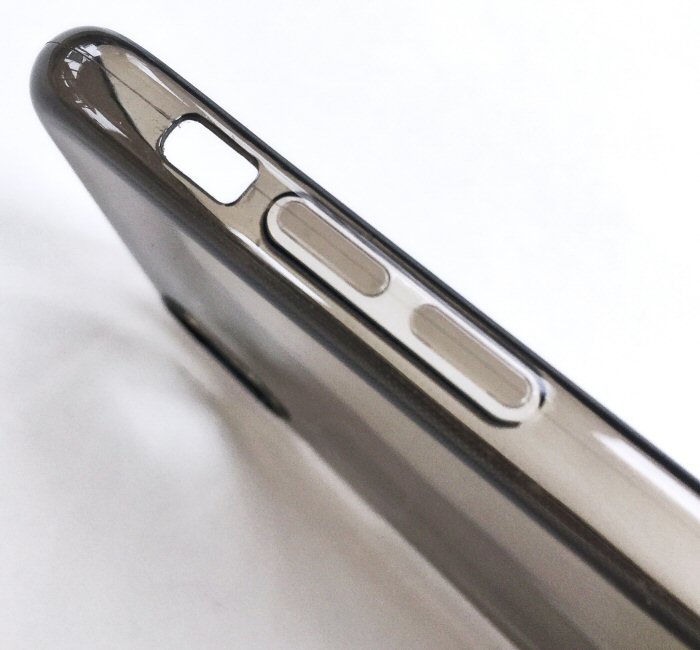 The Bastion case has a cutout for the Ring/Silent switch and button covers for the Up/Down Volume buttons.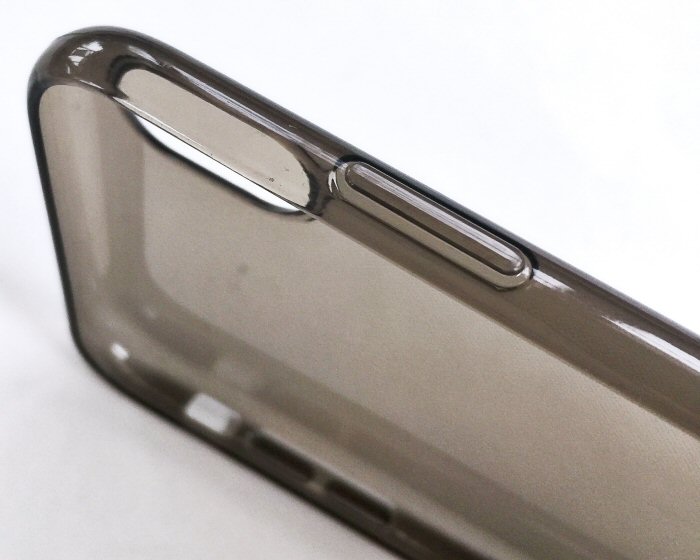 The case also has a button cover over the Side button.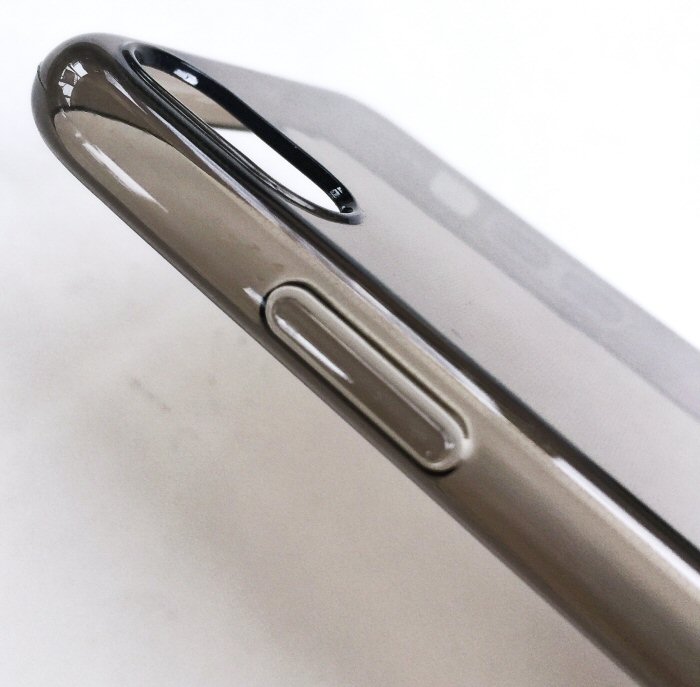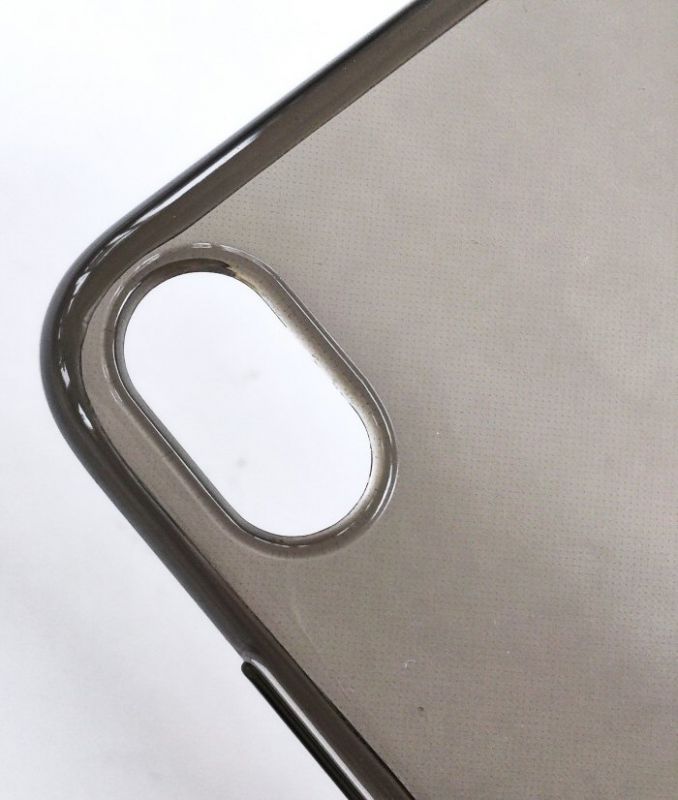 The rear of the case has a camera lens/flash cutout with a raised lip, which I'll describe in more detail below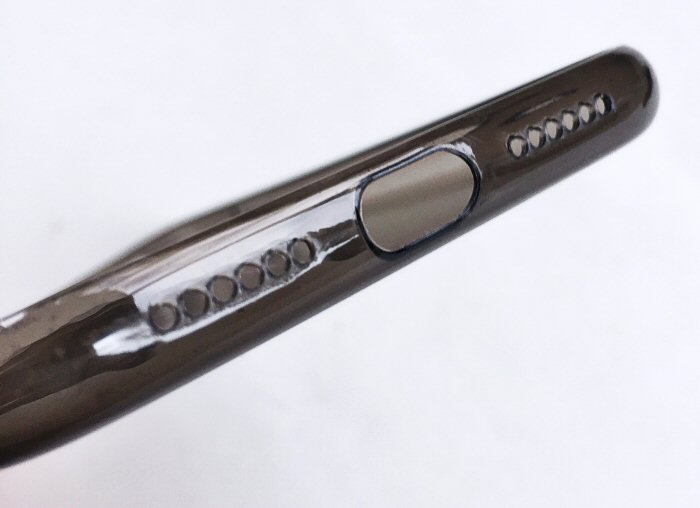 At the bottom of the case, there are left and right speaker grill cutouts (a tiny circular cutout for each of the iPhone's speaker holes), as well as an oval-shaped Lightning port cutout in the center.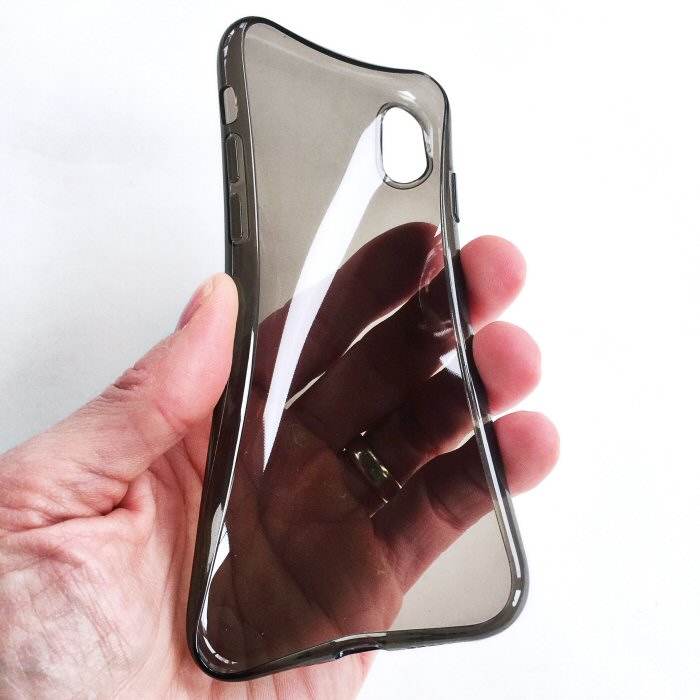 The case is made from a TPU (Thermoplastic Polyurethane) material that is extremely glossy on all surfaces.  I thought this would make the case a fingerprint magnet, but surprisingly this was not as true as I'd expected, however, it can be a bit slippery to grip.  The material is fairly flexible, but not particularly stretchy, properties which help make it easy to install, but prevent it from stretching out over time.  I also found the combination of the material itself and its glossy surface finish to be very scratch-resistant.  I also had no issues with wireless Qi charging while my iPhone XR was in the Bastion case.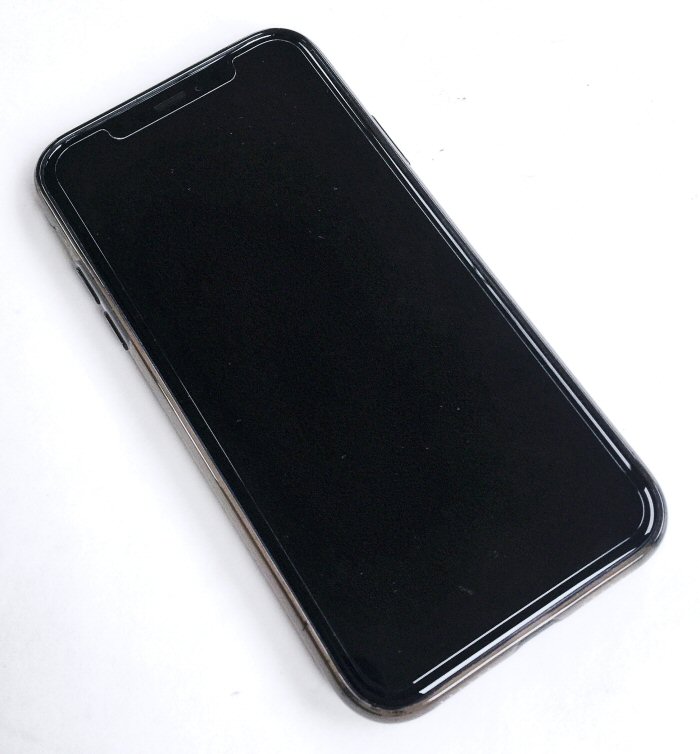 Next, let's take a look at the case with my iPhone XR placed inside it.  Inserting the iPhone XR into the case was not difficult; I just slide the bottom of the iPhone inside the case, then pressed the top of the iPhone into the case while carefully ensuring that the corners fit around it.  The case also provides an approximately 1mm raised "lip" of protection to the iPhone's screen for times when the phone is placed face-down on a surface.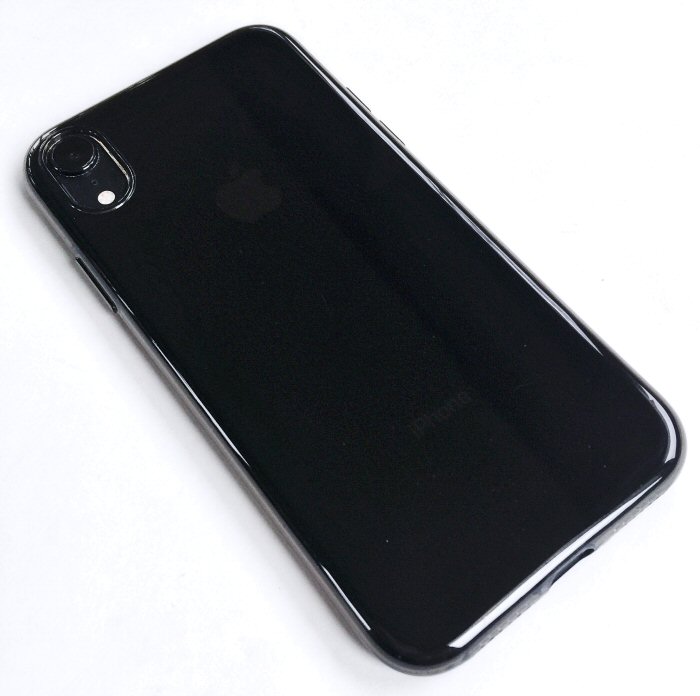 My iPhone XR is black in color and the first thing I noticed after placing it inside the Bastion case was that, despite the case having a bit of a brown color, this didn't seem to matter much—it looked black when the black iPhone was placed inside it.  However, if you have an iPhone XR in a different color, I suspect that this case might give your iPhone a brownish tint.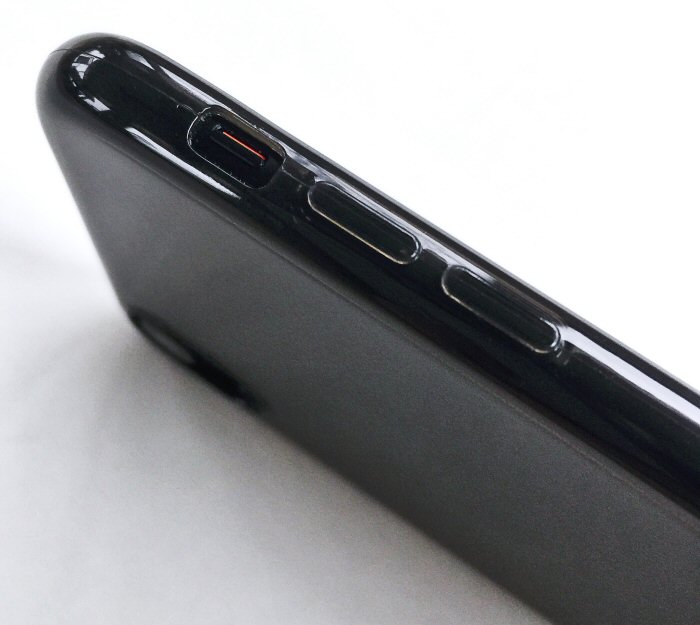 The case's Ring/silent switch cutout is very precisely placed to fairly easily allow access to the switch while still protecting it from accidentally being switched.  The Volume Up/Down button covers are also perfectly placed to fit over the buttons.  The button covers are fully functional and fairly tactile, meaning that you can feel the button clicks when you press them, but the clickiness is not particularly pronounced.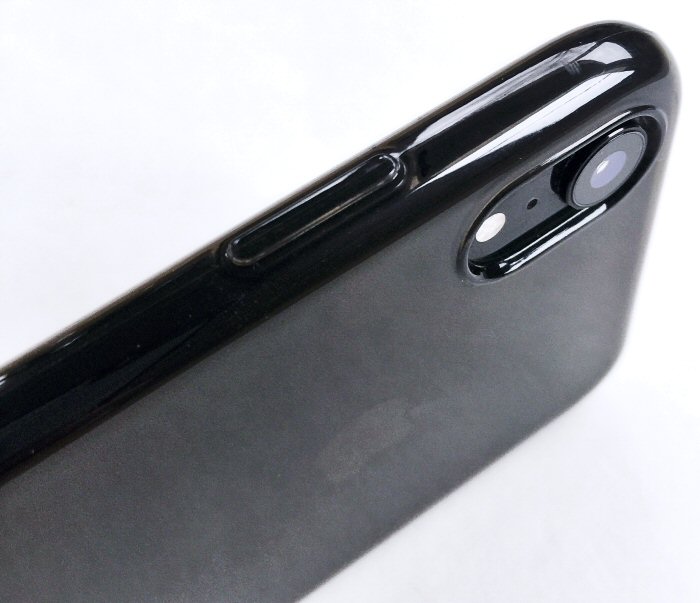 The Side Button cover is a similar situation to the Volume Up/Down button covers described above with respect to their tactile feel.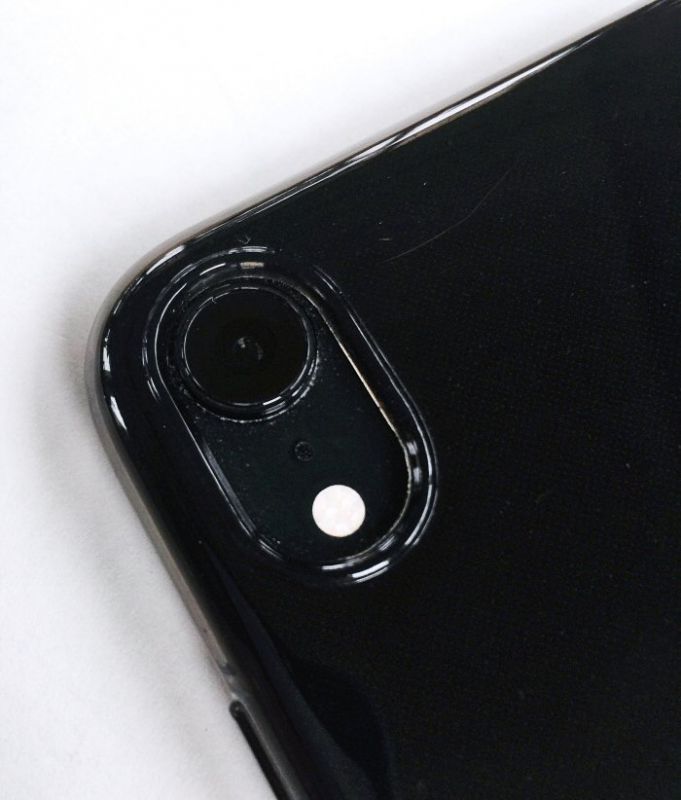 The case's oval-shaped, rear cutout is precisely placed for the iPhone  XR's cameral lens and flash.  This cutout also includes a 1mm high lip around its perimeter, which helps protect the iPhone XR's protruding lens especially when the iPhone is placed on a surface, which is probably most of the time for nearly all of us.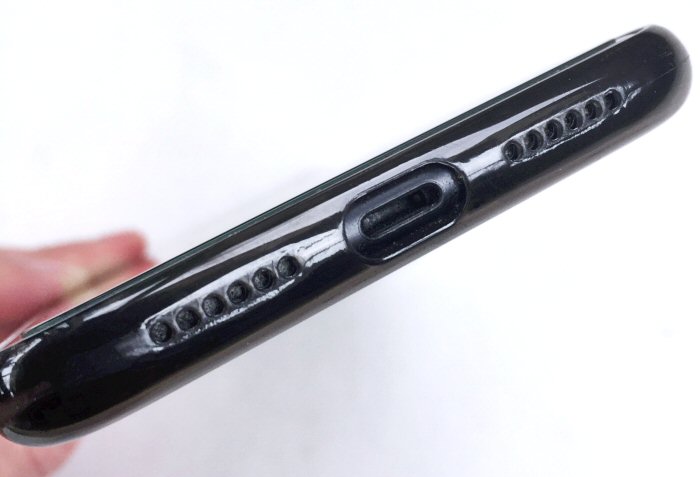 The speaker grille cutouts are aligned directly over the iPhone's speaker holes so they don't restrict the iPhone's sound when played through its external speakers.  The oval-shaped cutout for the Lightning port is large enough to accommodate all but the largest charging cable plugs.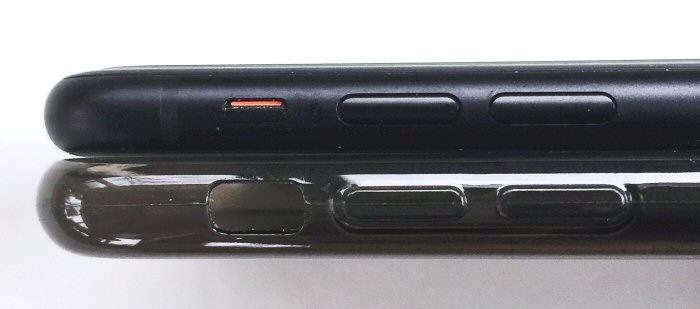 Bastion calls this a "slim" case, and although it is not as thin as some of the more "skin"-like cases on the market, it is quite slim and form-fitting, being only a bit over 1mm thick.  In the phone above, I've placed my iPhone XR on top and the case beneath it to illustrate the thickness of the case.  The upside to a case this thin is that it doesn't add excess bulk to the iPhone, while the downside is that it doesn't provide as much shock absorption or bump protection as a thicker case.  If you tend to drop your iPhone a lot, this may not be the case for you.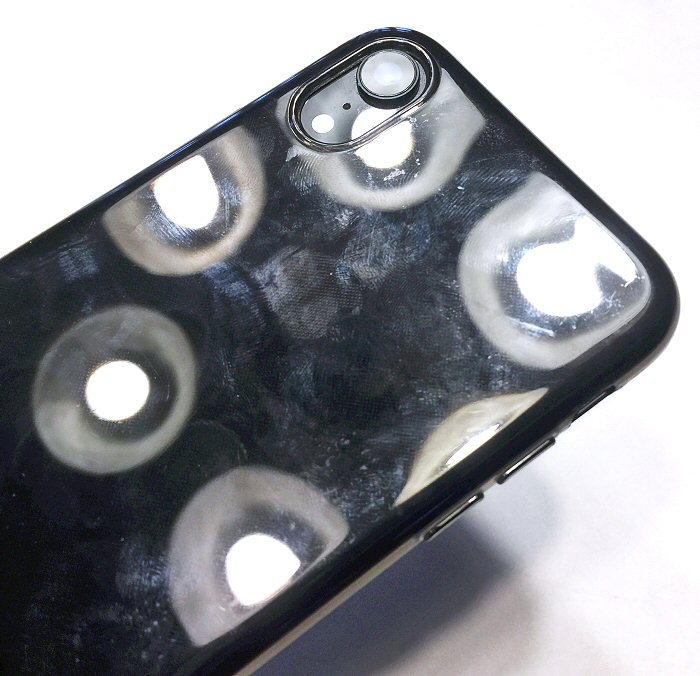 Despite the product page describing the case with such terms as "anti-fingerprint" and "anti-smudge," I found this to be untrue.  This is a very smooth, glossy case, and such surfaces will nearly always be fingerprint and smudge magnets.  It's just a fact of life.  In this sense, the Bastion case is not much different from many other very smooth, glossy cases.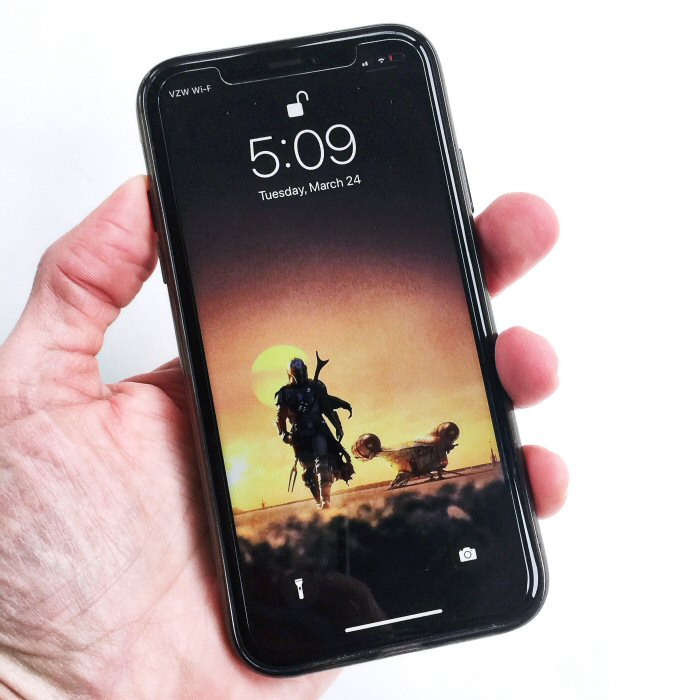 As mentioned above, the Bastion case is fairly thin, which helps the iPhone XR retain its slender width and thickness.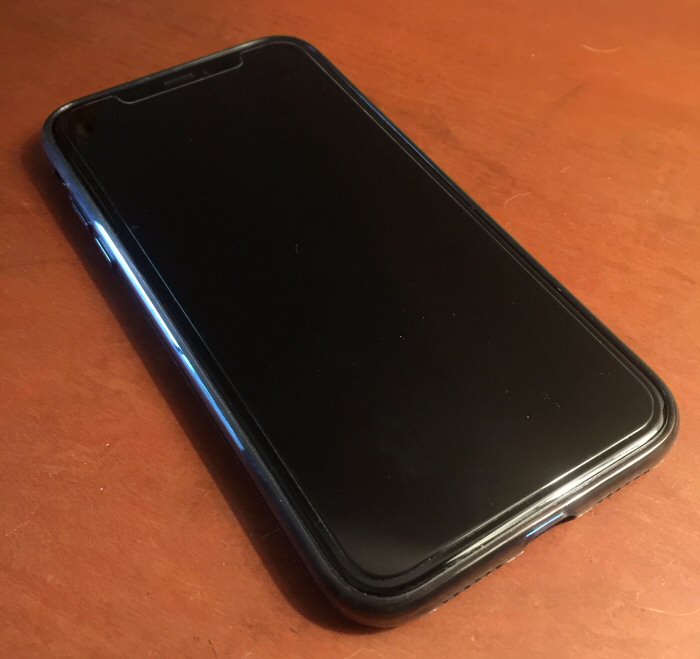 What I like
Slim fit but still gives some bump protection
Sleek, glossy look
Precise cutouts and button covers
Very affordable price
What I'd change
Make it more of a gray tint rather than brownish tint
Prone to fingerprints and smudges
Final thoughts
I was quite pleasantly surprised by how much I like the Bastion TPU Gel  Slim iPhone XR Case.  It is quite slim so it adds very little bulk to the iPhone and its glossy TPU material is surprisingly resistant to and scratches but is a bit of fingerprint and smudge magnet.  All of its cutouts and button covers are well-placed and functional and the overall look is very sleek.  Perhaps most surprising is its very affordable price of $5.99.  If you have been considering a new iPhone case, the Bastion TPU Gel Slim iPhone XR Case is worth a look.
Price: $5.99
Where to buy: Amazon
Source: The sample of this product was provided by Bastion.