We use affiliate links. If you buy something through the links on this page, we may earn a commission at no cost to you. Learn more.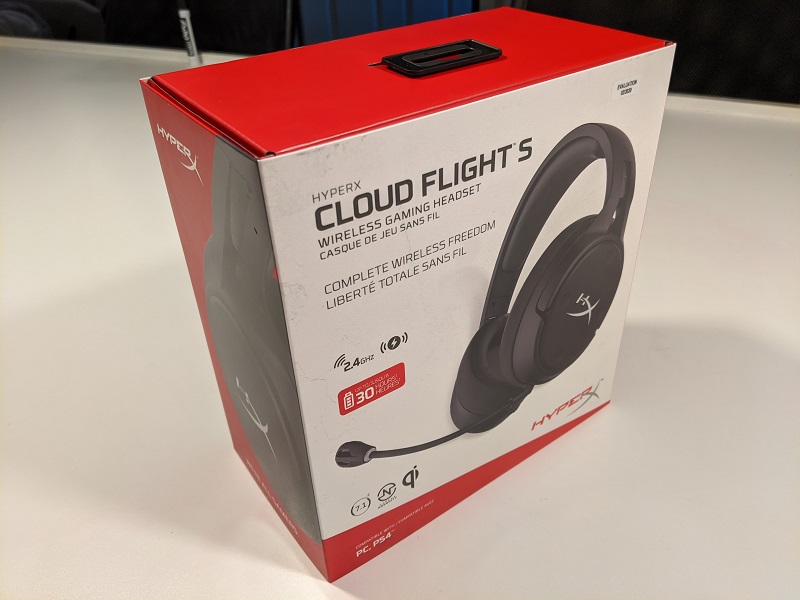 REVIEW – Headphones are one of the most widely varying products I've used over the years, with many different features and focuses between brands and types.  The HyperX Cloud Flight S Wireless Gaming headset promises premium audio quality with the added benefit of wireless charging.  I've used everything from ~$20 headsets in college, to $200+ audiophile sets, so let's see how these perform!
What is it?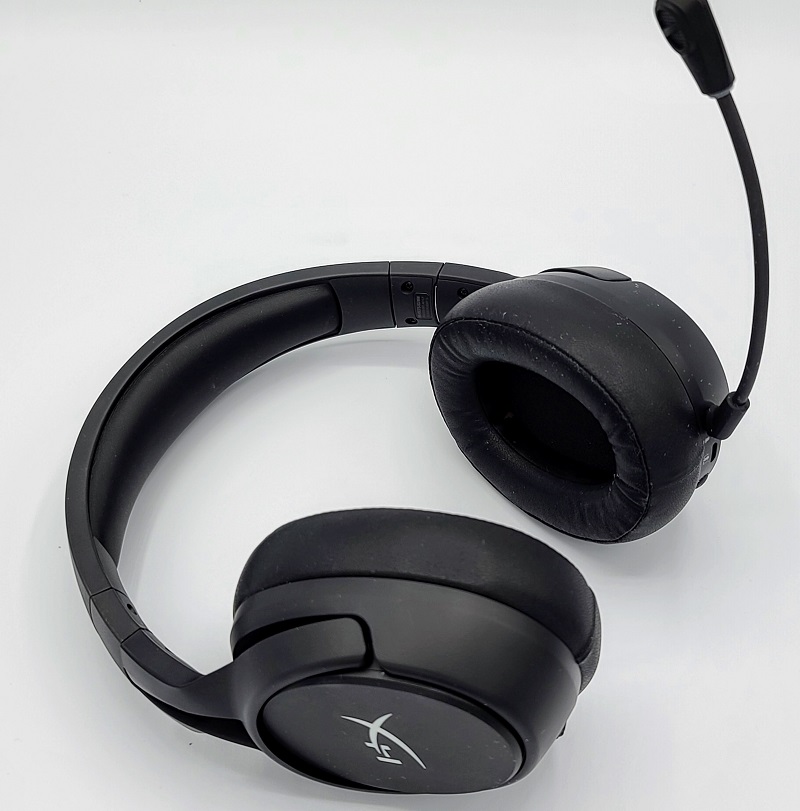 The HyperX Cloud Flight S Wireless Gaming headset is a high quality surround sound gaming headset with a detachable microphone.  This uses a USB dongle (about the size of an average thumbdrive) for wireless connectivity to Windows PC and Sony Playstation 4 gaming consoles.  It's been designed to deliver high quality sound with low latency, and in-game chat with the microphone.  It also has an estimated 30+ hours battery life so you won't have gaming sessions interrupted.  It also has Qi-compatible wireless charging, and HyperX has released a charging station specifically for this headset which they provided for review as well (though it's not included with the headset purchase).
What's in the box?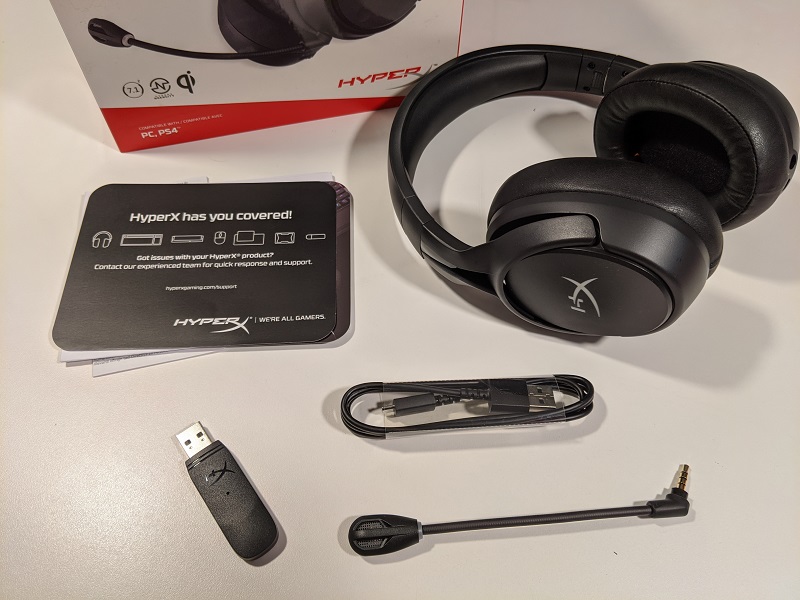 HyperX Cloud Flight S Wireless Gaming headset
Detachable microphone with LED ring (mute indicator)
USB dongle for PC or PS4
Micro-USB charging cable
User Quick Guide
Hardware specs
Driver: Dynamic 50 mm with neodymium magnets
Type: Circumaural, Closed back
Frequency response: 10Hz-20kHz
Impedance: 32 Ω
Sound pressure level: 99.5dBSPL/mW at 1kHz
T.H.D.: <1%
Weight: 310g
Weight with mic: 320g
Battery life: 30 hours
Wireless type: 2.4 GHz
Wireless range: up to 20 meters
Microphone element: Electret condenser microphone
Microphone Polar pattern: Bi-directional, Noise-cancelling
Microphone frequency response: 50Hz-18kHz
Microphone sensitivity: -40.5dBV (1V/Pa at 1kHz)
Design and features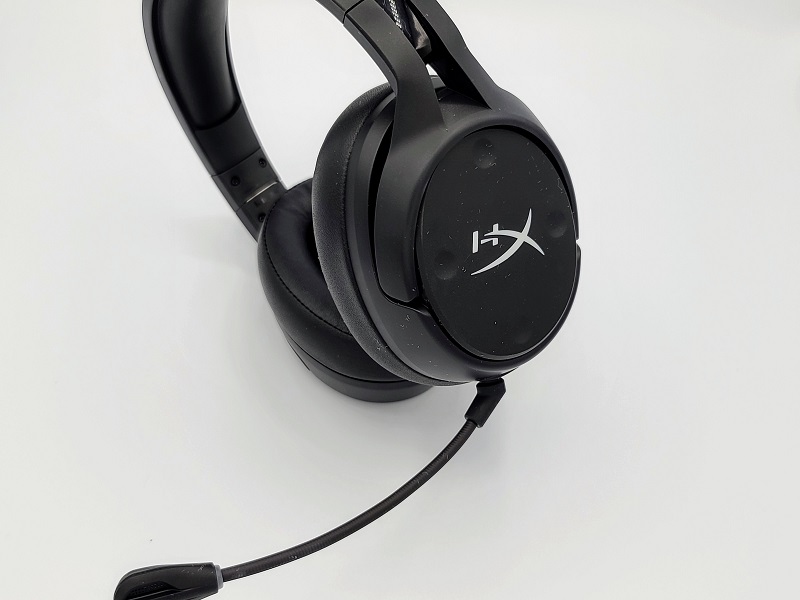 This headset has a very clean design for a gamer-focused model, with no loud colors or strange accents.  A white HyperX logo is on each earcup.  The left ear has 4 buttons shown above, which can be customized in the nGenuity software (optional).  These are, by default: Mute microphone, adjust game volume up, adjust chat volume up, and "Sidetone" (which loops the microphone input into the sound output so you can hear your own voice).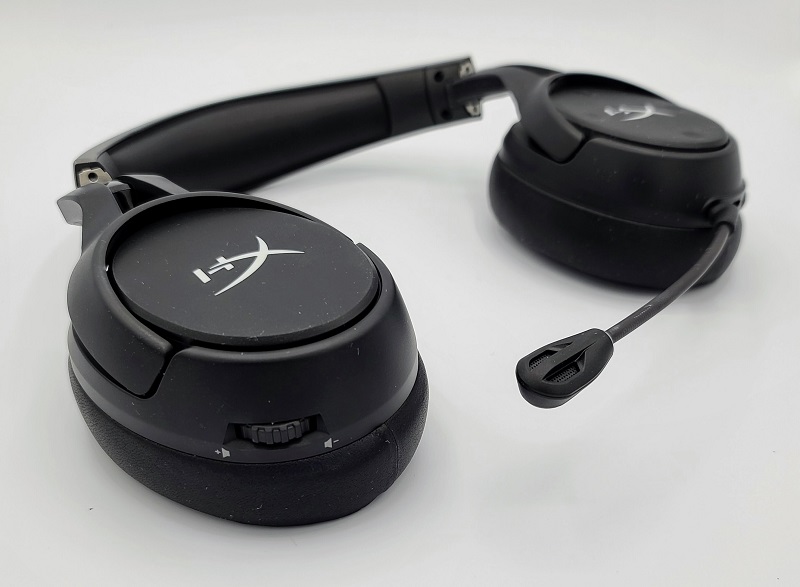 Both earcups rotate 90 degrees, which is very nice for taking them off and resting on your neck, as well as aiding in placement for wireless charging.  On the right earcup is a volume dial and no other controls.  The microphone itself has a nice LED ring light that glows red when the microphone is muted (which was always easily visible for me).  This is very nice to have a visual cue for the microphone status.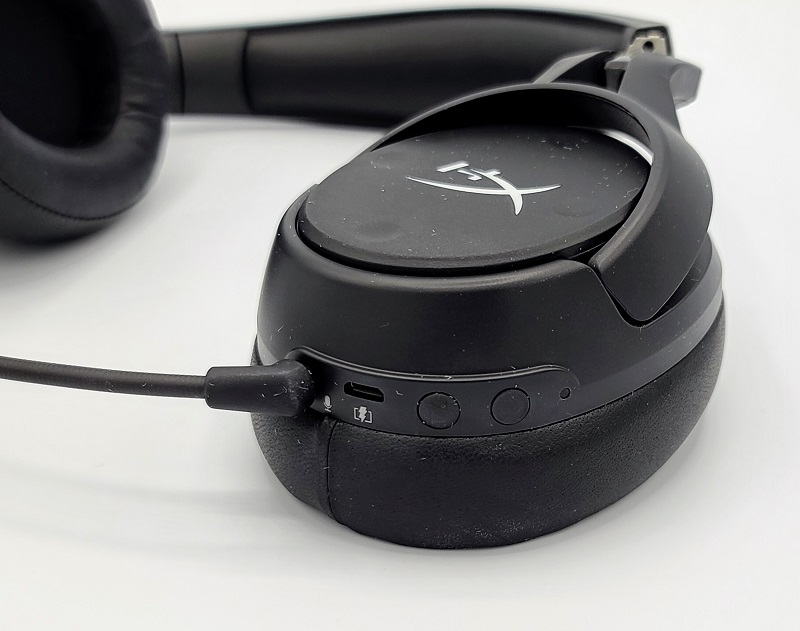 Under the left earcup is the detachable microphone, wired charging port (micro-USB), 7.1 Surround/Stereo toggle button, Power on/off button, and power/status LED light.  I found the buttons to be fairly easy to find once I got used to them, the first few sessions I had to do a bit of hunting but once familiarized they were easy.  The surround button bumps out, while the power button is flat, making it very easy to tell by feel which is which.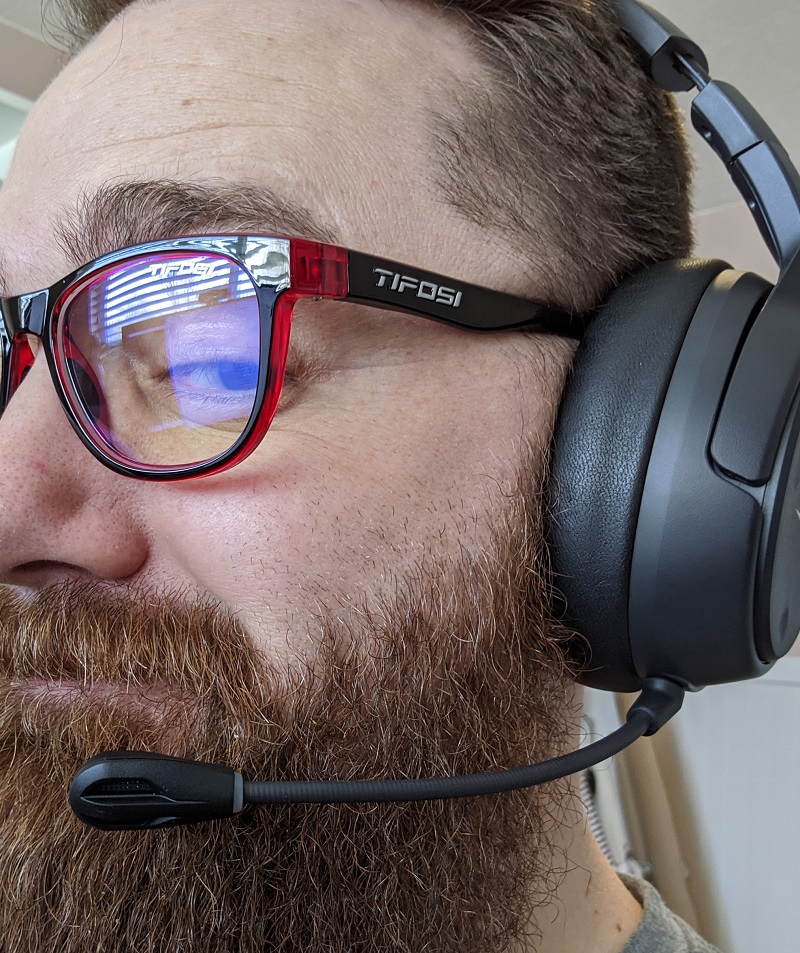 The comfort was great for me, I could use these for 4+ hours without removing them.  Most headsets start to cause some discomfort after only a few hours for me, these were among the best I've tried.  My partner however found these less comfortable than my HyperX Cloud Alpha wired headset, so headset fit will definitely vary depending on head size and shape.  Crucially, no part of the drivers or earcups put pressure on my ears, with some prior headsets even a light touch can cause pain within minutes for me.  The headband has what seems to be memory foam padding, and for me it was perfect.  The band is adjustable, and seems to have a nice range of adjustability.  The microphone quality was good but not great.  I may have been spoiled by my previous HyperX Cloud Alpha's microphone – it has the best headset microphone quality that I've used so far, so switching to the Cloud S wireless was a bit of a step down.  Game buddies remarked that I sounded completely normal, there's no interference or bad "popping" with normal microphone placement, volume is good.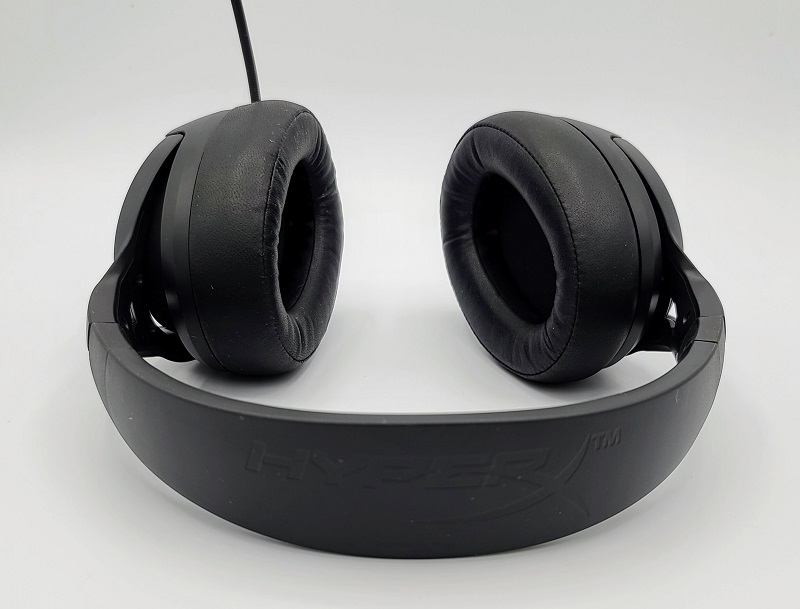 The audio quality was much better than I expected.  I've been using a wired HyperX Cloud Alpha as my primary headset for a while, and it has fantastic audio quality.  I didn't expect a wireless headset to come close, other wireless headsets I've used have had interference or noticeably lower quality than wired versions.  The HyperX Cloud Flight S Wireless Gaming headset had sound quality as good or better than the Cloud Alpha's.  I was very impressed with the range of sound, the rich bass and crystal clear higher notes were delightful.  At volumes near my comfort limit there was no distortion at all, the entire sound spectrum remained clear and full.  I have also never used a virtual 7.1 surround product that I liked, but the HyperX Cloud Flight S Wireless Gaming headset has a good 7.1 surround sound profile.  Toggled on, I was easily able to locate enemies by footsteps in games like Call of Duty: Modern Warfare, The Division 2, and Battlefield V.  The increased stereo separation effect even improved music, though this will probably vary by taste and person.  I rarely heard any interference (a common problem with wireless headsets).  There were a couple times that I could hear extremely faint static from something, but even having multiple wireless devices nearby (cell phones, tablets, wireless mice, bluetooth devices) didn't cause any noticeable interference.  The few times I did hear the faint buzzing didn't correlate to any particular device proximity, and I really had to strain to hear it.
Installation and setup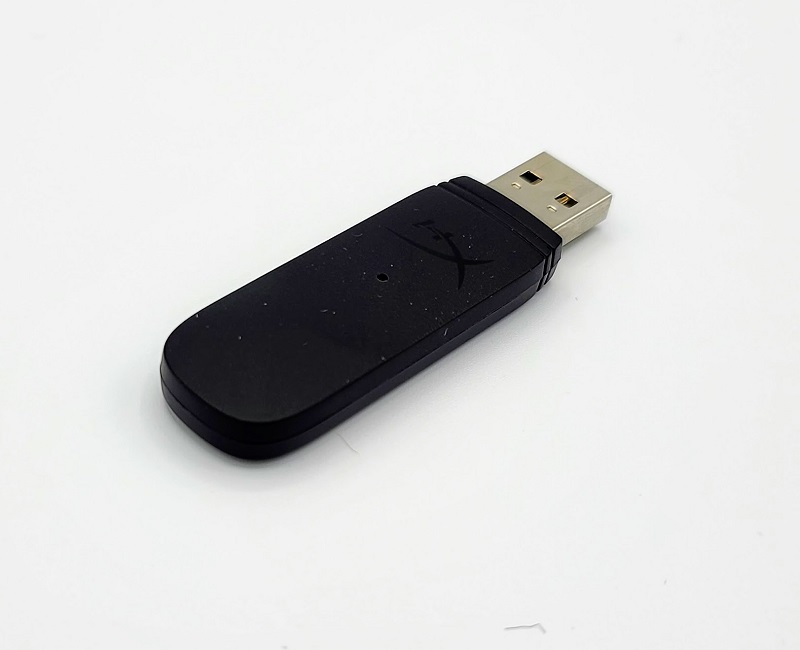 Installation is as simple as plugging in the USB dongle to your PC or Playstation 4.   Once the dongle is plugged in, you simply hold the power button until you hear the beep (or see the LED turn on green on the headset if you're not wearing them).  On PC, 2 audio devices are created, HyperX Game and Hyper X Chat, which you should set to Audio Default and Communications Default respectively in Settings (there is a quick user guide included in the box with these steps).  I tested this on 2 computers, and they both set these defaults by themselves.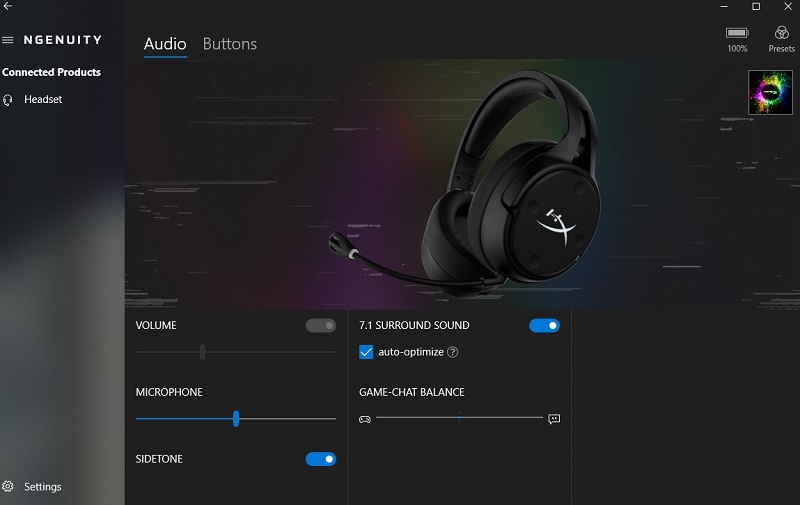 On PC, there is software from HyperX to customize things, but it's not required. It is well designed software, allowing for direct control of each setting mentioned above.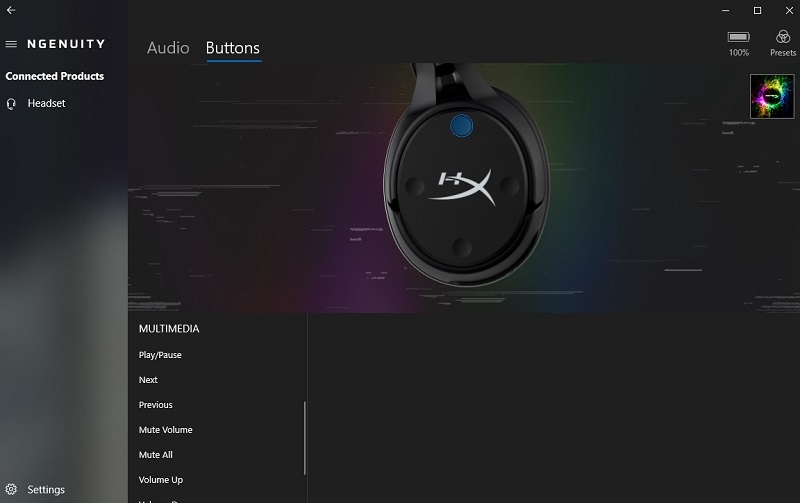 Each of the 4 earcup side buttons can be mapped to different functions, I changed my "sidetone" button to Play/Pause.  I appreciated this functionality, it's always annoying to have a dedicated function button that you never use.
Optional Wireless Charger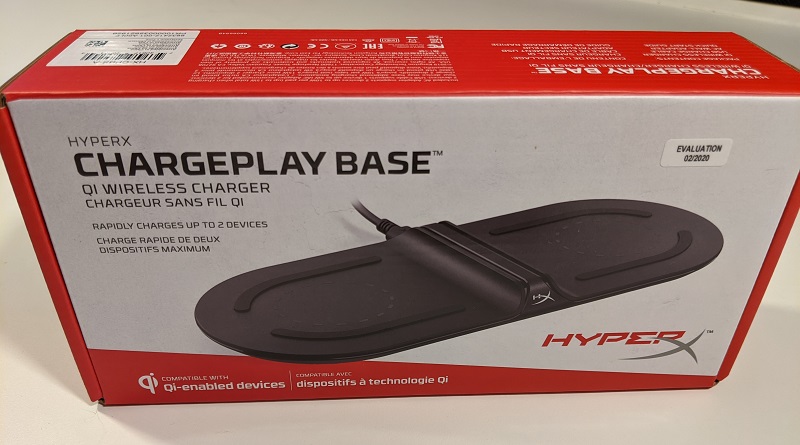 HyperX provided me with the Chargeplay Base Qi wireless charger (sold separately).  I tested wireless charging on several Qi wireless charging pads I had lying around, and it worked perfectly with all of them, so if you already have one you should be good.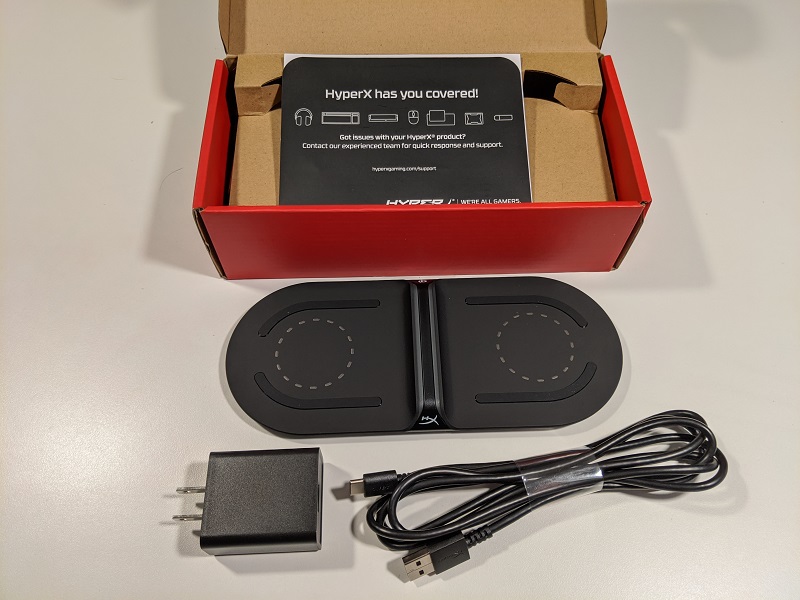 Included in the box was the HyperX Chargeplay Qi wireless charger, a power adaptor, and a USB C cable.
Wireless Charger specs
Number of devices: 2 Qi-enabled Devices
Qi Output: Up to 15W total
Indicators: 2 LED indicators
AC Adaptor: 24W (5V/3A; 9V/2A; 12V/2A)
Cable Type: USB Type-C
Cable Length: 1.8 M
Wireless Charger setup and use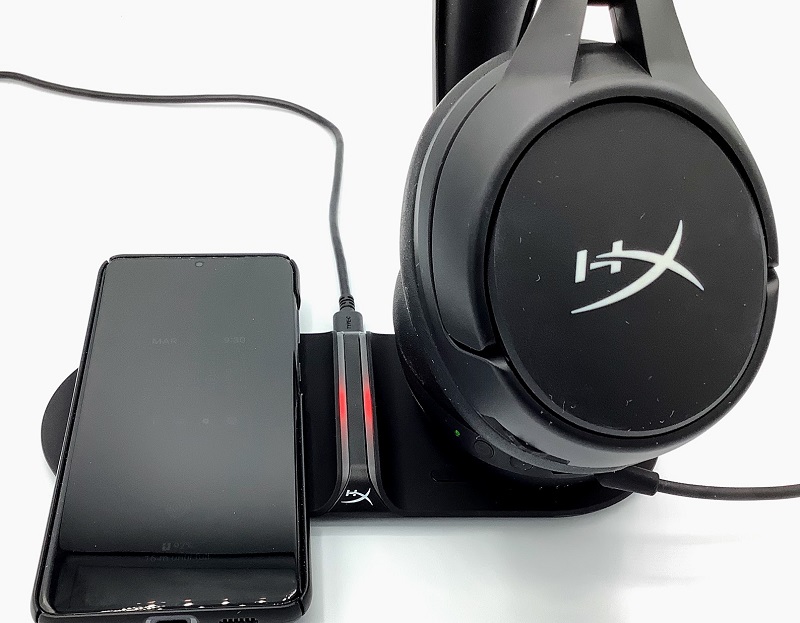 Setup is extremely simple: just plug the adaptor into the power outlet and connect the USB cable to the HyperX Chargeplay Qi wireless charger.  I tested wireless charging with phones, mice, earbuds, and of course the HyperX Cloud Flight S Wireless Gaming headset.  This would be a perfect complement to the HyperX Pulsefire Dart Wireless Gaming Mouse or any similar device. All devices worked well, though it was detected as standard-speed charging rather than fast-charging with my Samsung Galaxy S20 Ultra.  I love that the headset is weight balanced to stand on it's side while charging, though you can also lay it flat with the rotating earcups.  I also appreciate the large-but-not-too-bright charging indicators, they glow when charging a device, blink if the device isn't centered properly or an issue is detected,  and turn off when charged.
What I like
Audio performance
Comfort
Easy and intuitive controls
Wireless charging
What I'd change
Wired charging should be USB-C on the headset
Microphone quality was fine, but they have a better microphone on the HyperX Cloud Alpha, wish they'd used that one here
Final thoughts
It was a delight to review this headset, and it's since become my daily-driver.  The audio quality, comfort, and game performance are fantastic.  This is one device I definitely recommend if you're looking for superior performance and comfort.
Price: $159.99 for the headset, $59.99 for the charging base
Where to buy: HyperX Gaming and Amazon
Source: The sample for this review was provided by HyperX Gaming.