We use affiliate links. If you buy something through the links on this page, we may earn a commission at no cost to you. Learn more.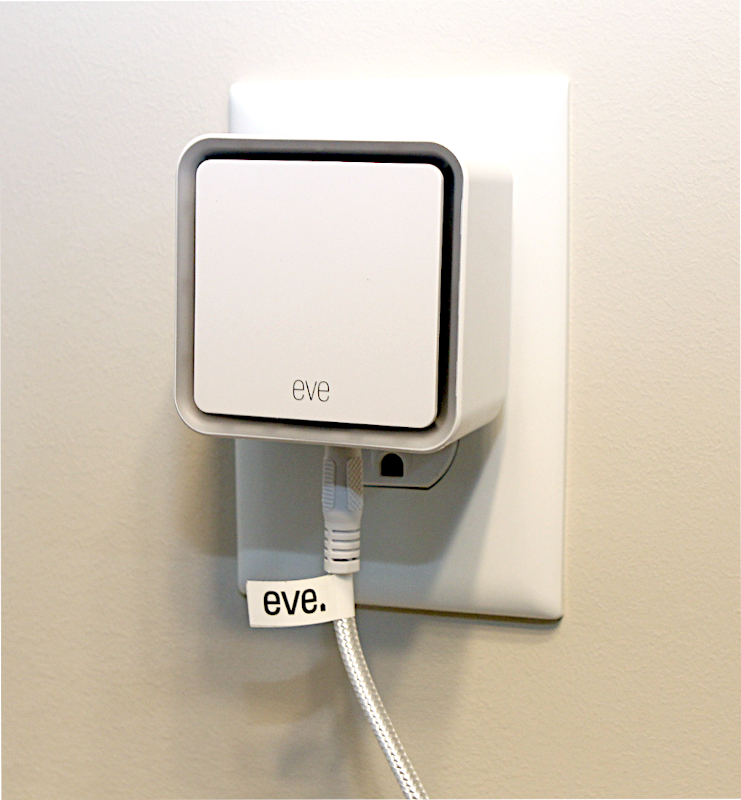 Review – We recently moved into a new, single-story house.  When I first installed our washing machine in the laundry room, I failed to tighten the water drain hose on the back of the washer.  Thankfully I was keeping an eye on it during our first load and quickly realized my mistake before too much water could escape onto the floor.  Right about then I realized that our laundry room didn't have a drain in the floor.  If one of the hoses started to leak or if the bottom rusted out, it might be hours before I realized it.  As most of flooring in our house is hardwood, this could be a really big, really expensive mess.  Problems like these are exactly the reason that Eve created the Water Guard.
What is it?
The Water Guard is a connected water leak detector.  It's a sensor that can detect when it comes into contact with water and alert you of the problem visually, audibly, and via an app on your iPhone or iPad.
What's in the box?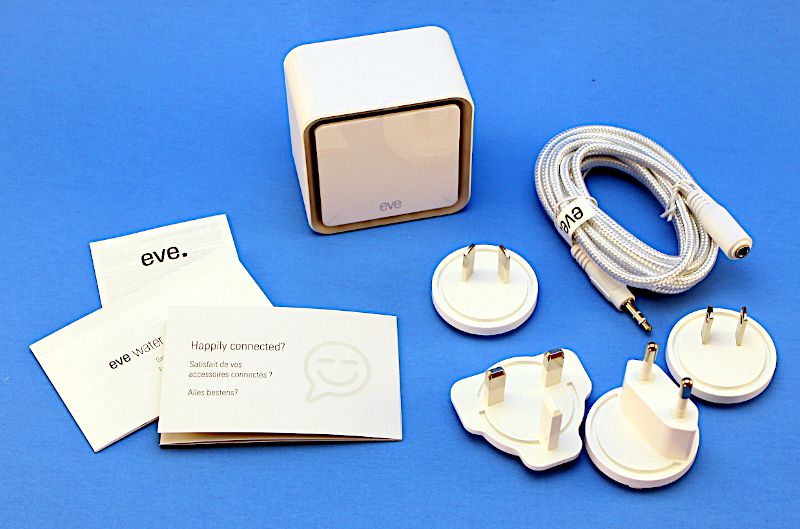 The Water Guard with sensing cable
4 different power adapters, including 1 for the US
A "Get Started" guide
A customer service card
Safety instructions (written a font too small to read)
Hardware specs
2.5 x 2.5 x 2 in
6.5 ft sensing cable
100 dB siren
Support for Apple HomeKit
Requires iOS 13.3 or later
Bluetooth Low Energy
Design and features
The Water Guard has a chic, minimalistic look.  It's all white and nearly a cube in shape, and it looks like something that Apple might have designed.  Of course, its style is unlikely to be appreciated, as it's designed to be placed in out-of-the-way places like under the sink, in the garage by your water heater, or in the attic near your air conditioning unit.  The basic idea of Eve's sensor is simple:  Put it anywhere you might have a water leak.  If a leak happens, the Water Guard will sense it and alert you, giving you time to shut off the water as soon as possible and minimize the damage.  The Water Guard must be plugged into an outlet in order to work.  While there's an outlet in my laundry room, which is where I'm using it, there are not any outlets under my kitchen or bathroom sinks. Depending upon where you plan to use the Water Guard, you may need to hire an electrician to hook up an outlet for you.  The Water Guard is exclusively designed to work with HomeKit; there's no support for Android or other systems.
Installation and setup
The Water Guard comes nicely packaged in a small, white box.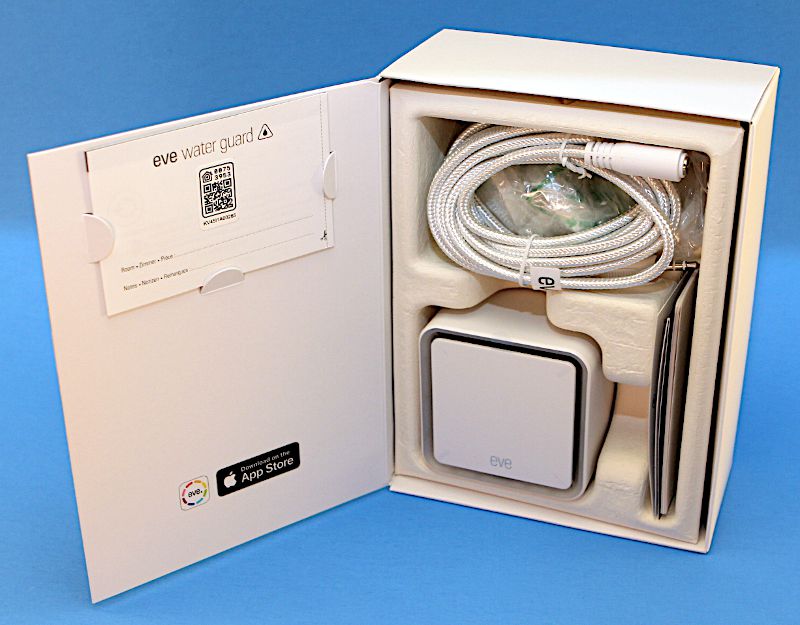 Although the setup instructions in the "Get Started" guide are a bit terse for my preferences, it was not difficult to get the Water Guard up and running.  First, I connected the sensing cable to the socket in the bottom and the US power adapter to the back and then plugged it into an outlet.  For testing purposes, I plugged it into the outlet in our bathroom and draped the sensor through the bathroom sink.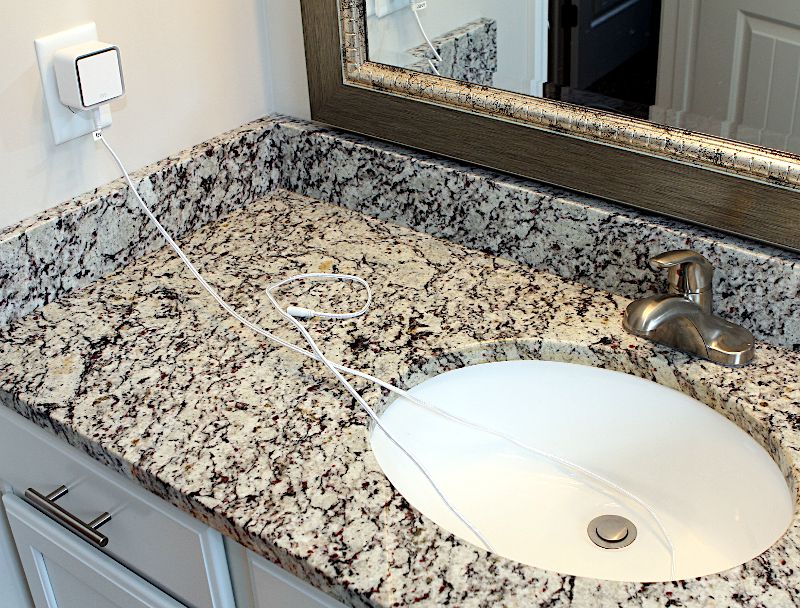 Second, I downloaded the Eve app from Apple's app store.  If you just search for "Eve," you'll find the wrong app; search for "Eve for Homekit" instead.  Third, I used the app to find the Water Guard and add it as an accessory.  Now the Water Guard was ready to be tested!
Testing
I began with the Alarm Test in Eve's app.  I found the sensor in the app, pressed the "Start Alarm Test" button, and then turned on the water.  Sure enough, the Water Guard sensed the water, beeped at me, and flashed red, and the app informed me that the test was successful.  The sensing cable looks pretty much like a fat version of the braided cable used by my Glorious Model D mouse, yet it can sense water!  This is pretty cool!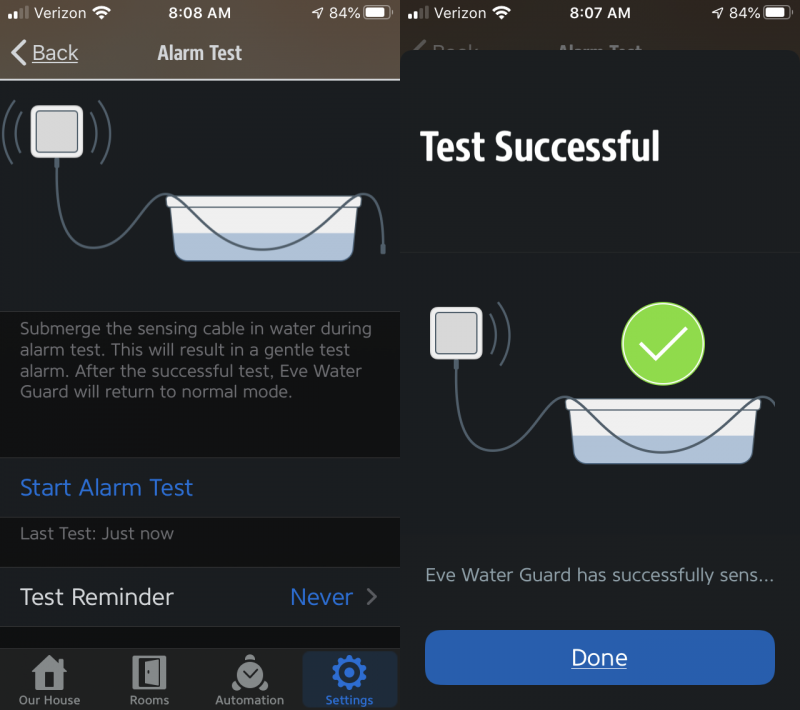 Eve's App
When I first started the Eve app, it asked permission to have access to all my HomeKit data, which is normally a security yikes!  I really don't want Eve (or any other company) to have access to my other HomeKit products and data. When companies collect more of your personal data than they need, they typically do so in order to sell it as profile data to other vendors.  It's good to know that Eve asserts that they do not collect or sell personal data.  Their website says, "Eve accessories are exclusively HomeKit-enabled. Your personal data is under no circumstances captured, saved to a cloud, or sold. Even when accessing your home remotely via your home hub, all data is end-to-end encrypted and stored on your iPhone or iPad."  I approve!  I'm really glad that Eve doesn't require me to setup an account or save my data to the cloud.  I wish that all companies that make IoT devices would follow Eve's example.  You can read more about Eve's privacy policies on their website.
The Eve app is functional and offers many of the same features as Apple's Home app, but for the most part its look-and-feel is a lot clunkier, like a poor man's version of the same app.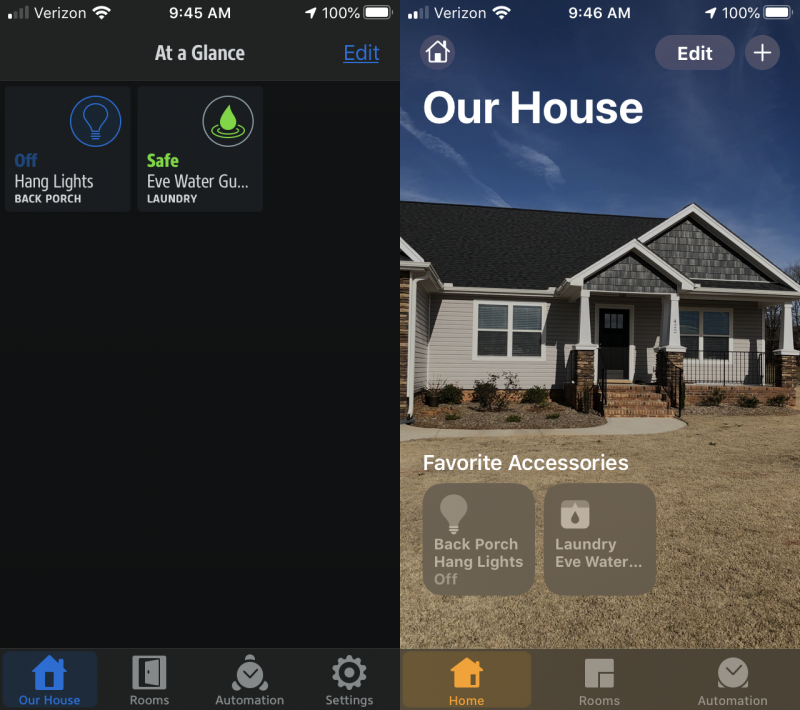 I was, however, able to find four features in Eve's app that are not found in the Home app.  One, there's the Alarm Test feature that I mentioned previously.  This works, though the only difference from testing it normally is that the alarm is quieter.  Two, there's an option to turn off the alarm, but this can also be done by unplugging the Water Guard.  Three, there's a digital copy of the "Get Started" guide. Four, there's a reminder to test the Water Guard every one, three, six, or twelve months.  This later is a handy feature, as it provides a way for me to periodically make sure that the gadget is still functioning as intended.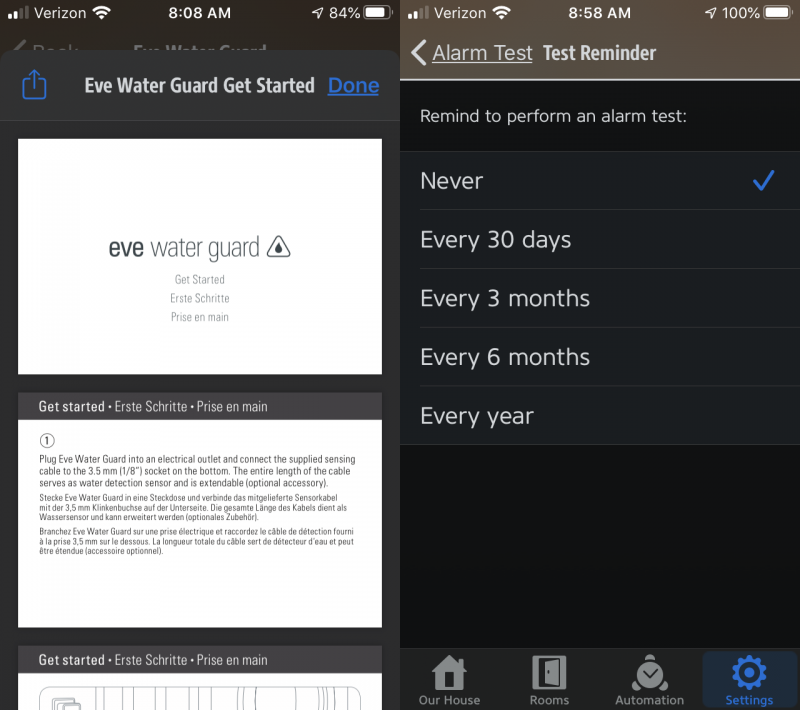 Personally, I didn't consider these four features to be that substantive, so I uninstalled the Eve app.  It's just easier for me to manage all my HomeKit devices in one place using Apple's Home app.  The good news is that the Water Guard works great either way, so you have the flexibility to keep the Eve app or delete it.
Performance
With Eve's app deleted, I added the Water Guard as an accessary to my Home app and assigned it to a new room, the Laundry Room.  I tested the Water Guard once again (though I physically did the testing in the bathroom sink).  Shortly after, the Water Guard began emitting a piercing alarm sound and flashing a red light.  There's no doubt that anyone in the house would know that there's a problem that should be dealt with now, even if they were sleeping!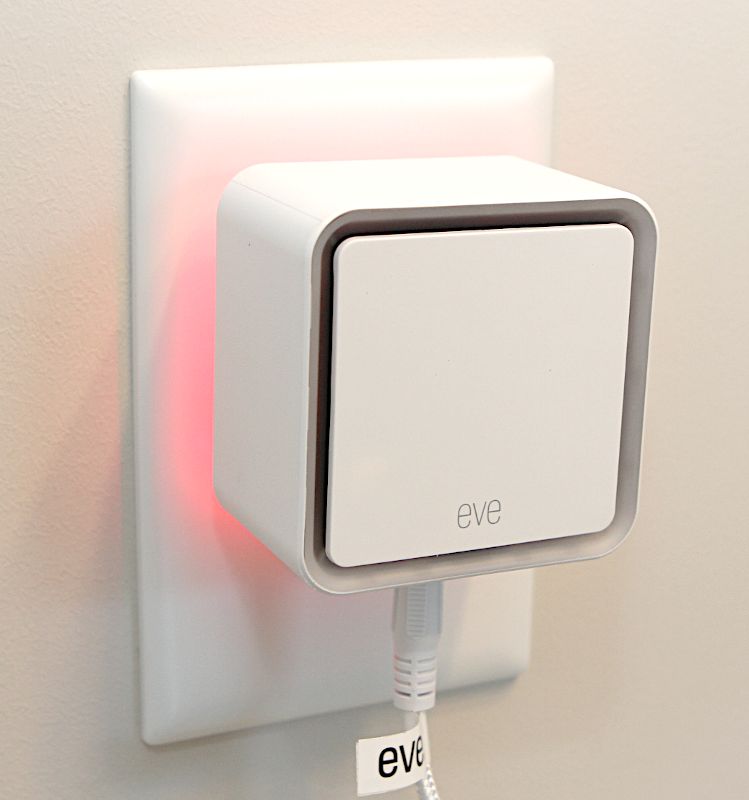 Additionally, I received a notification on my iPad, which functions as my HomeKit hub, that a leak had been detected in the Laundry room.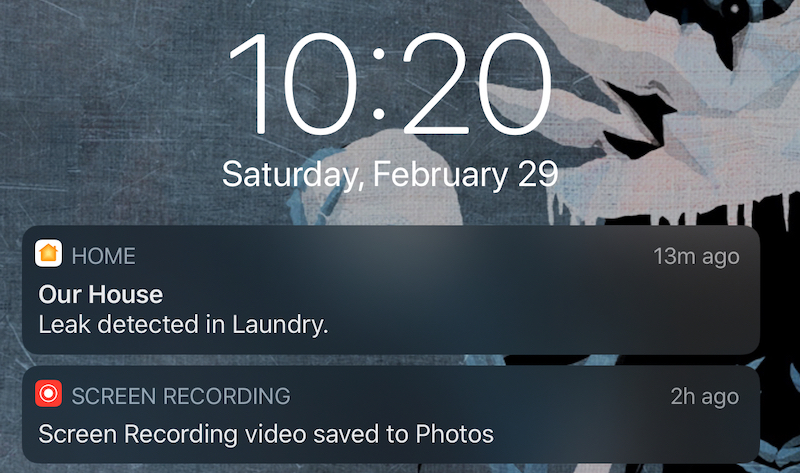 After these initial tests, I conducted a series of other tests.  I put just the tip in; I immersed the whole cable.  I soaked it fast; I soaked it slow.  Every variation I could think of.  In every test, the Water Guard sensed the water and sounded the alarm.  Generally, it only took 3 or 4 seconds, and the slowest time was 10 seconds. After testing, I installed the Water Guard in my laundry room, running the sensing cable on the floor around and under the washing machine.  Hopefully I won't hear its alarm again until the next time I'm ready to test it.
Extra Features
Suppose the Water Guard senses a leak.  If it does, I'd have to run to my laundry room and manually turn off my washing machine.  Wouldn't it be nice if there was a way to have it turn off automatically?  I could if I paired it with an Eve Energy, which is a smart plug and power meter.  Using the Home app, I could create an automation that turns off the Energy, and thus my washing machine, whenever a leak is detected.  That's a smart combination.
The cable that comes with the Water Guard is 6.5 feet long, which is probably long enough for most people.  If, however, you need a longer cable, perhaps to cover both the kitchen sink and the dishwasher, you can buy additional cables for $19.95 each from Eve.  Each extension plugs into the end of the previous cable, extending it by another 6.5 feet.
What I like
Stylish design
HomeKit integration
Loud, piercing alarm
What I'd change
Improve the look and feel of the app, or make the extra features available in the Home app
Final thoughts
In our last house, we had a water leak that caused extensive damage before we even realized that there was a problem.  This is an experience that we are not eager to repeat, so I'm super happy to have Eve's Water Guard ready to detect any leaks that might occur in our laundry room.  I really like this sensor, both how it looks and how it works, as well as its support for HomeKit.  I certainly approve of the privacy policy.  If you have any concerns about water leaks in your house, and if you have an iPhone or an iPad, I recommend that you pick up a Water Guard or two.
UPDATE (21 September 2020) – It happened!  I made chili for dinner tonight, and my wife and I ate it while watching Antonio Banderas in the Mask of Zorro.  All of the sudden we heard a piercing, beeping sound!  It took us a moment to realize that it was the Water Guard.  We ran into the laundry room where my wife had been washing a load of darks, and I pulled the Guard out of the wall and lifted it up for inspection.  It was indeed wet, albeit not much.  My wife turned off the washer, while I pushed my way around and behind it.  Sure enough, there was some water on the floor, though less than a hand towel's worth.  At this moment, we were both super grateful to have a Water Guard.  If it hadn't alerted us, there's no telling how much water would have leaked out.  After a bit of investigation, I could tell that water had been leaking near the top of the tub.  My wife found the original receipt back from 2013, so this appliance is seven years old.  I think tomorrow we'll head to Lowe's and find a replacement.  That's an unexpected expense for us, but it's a whole lot better than having to call our insurance company because we need a water mitigation company!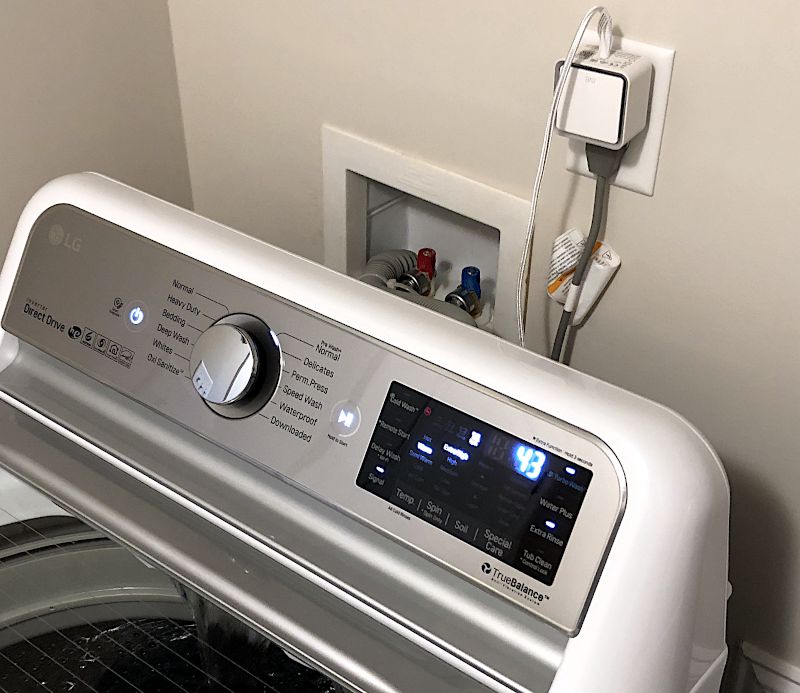 UPDATE (1 October 2020) – The new washing machine arrived today.  After the guys from Home Depot finished hooking everything up and started a test run, the first thing I did was plug in the Water Guard and run the sensing cable down and under the machine.  Peace of mind.
Price:  $79.95
Where to buy:  Eve's online store or Amazon
Source: The sample for this review was provided by Eve.