We use affiliate links. If you buy something through the links on this page, we may earn a commission at no cost to you. Learn more.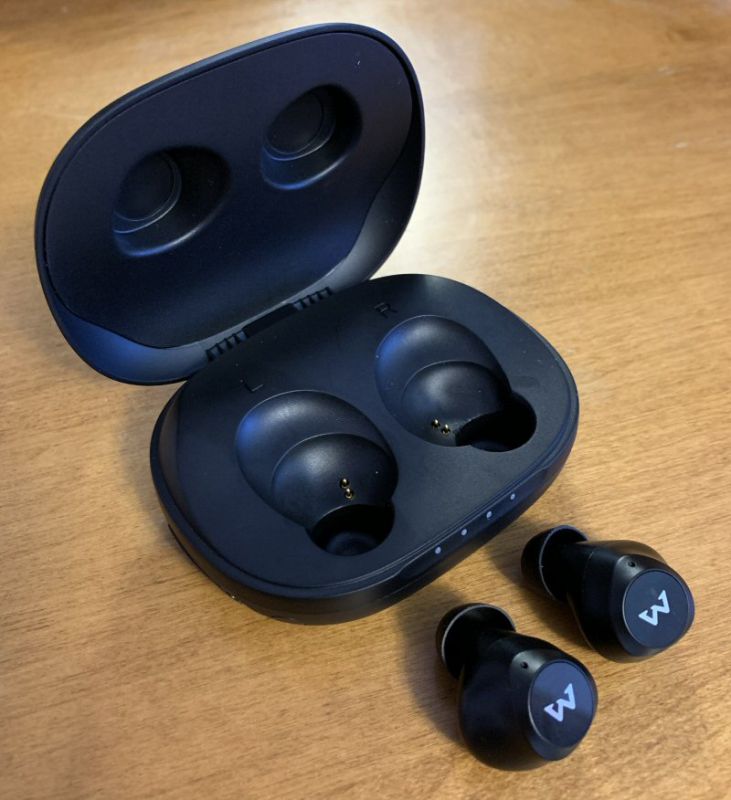 REVIEW – For some time now, I've been reviewing Bluetooth wireless earbuds with the hope of finding a product that performs well and meets all of my needs, at least my perceived ones.   The Mpow M20 True Wireless Earbuds looked pretty promising, with their ergonomic shape and contoured charging case.  Let's check it out.
What is it?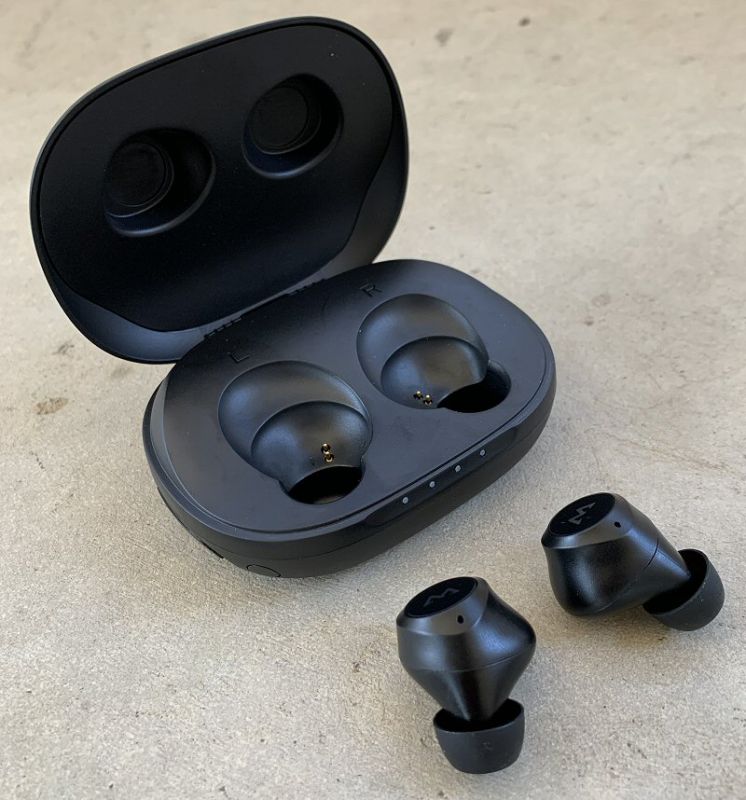 The Mpow M20 Wireless Earbuds are true wireless Bluetooth earbuds plus a charging case that can also be used to charge other devices.
What's in the box?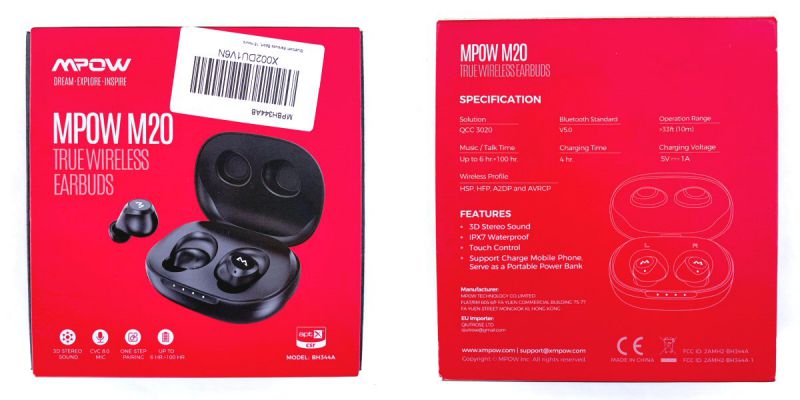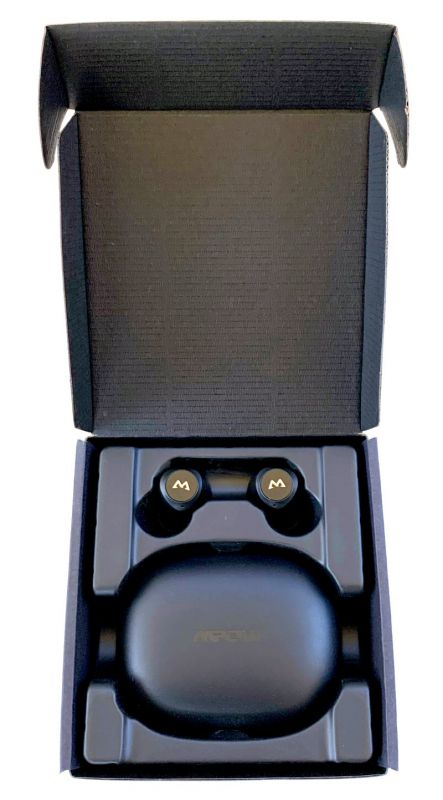 Product packaging is shown in the images above.  The packaging held the product securely and all packaging components are recyclable.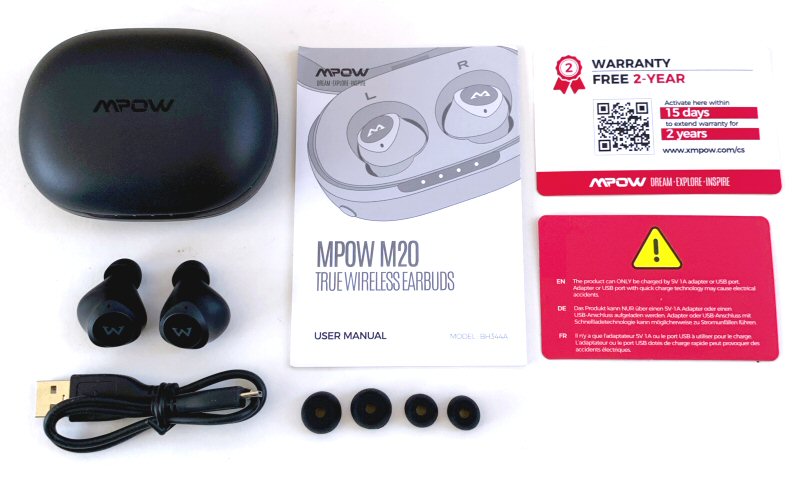 The Mpow M20 True Wireless Earbuds includes the following items:
Never miss one of our posts again. Sent MON, WED, and FRI with the latest gadget reviews and news!
Earbuds (right and left)
3 pairs of silicone ear tips in small, medium, and large sizes
Charging case
Micro USB charging cable
User manual
2-year Warranty card
Warning card ("Product can ONLY be charged via 5V 1A adapter or USB port. Adapter or USB port with quick charge technology may cause electrical accidents."  Yikes.
Hardware specs
Earbud battery life = 6 hours on a single full charge (10-minute fast charge technology gives 2 hours of life)
Earbud battery life using 2600mAH charging case = up to 16 additional recharges provides an additional 100 hours
AptX Stereo Bass Sound
Qualcomm Bluetooth 5.0 chip
LDS antenna
Qualcomm CVC8.0 Noise Cancellation Technology
IPX7 waterproof level
Touch control buttons
Twin mode and mono mode (right and left earbuds can be used independently)
Design and features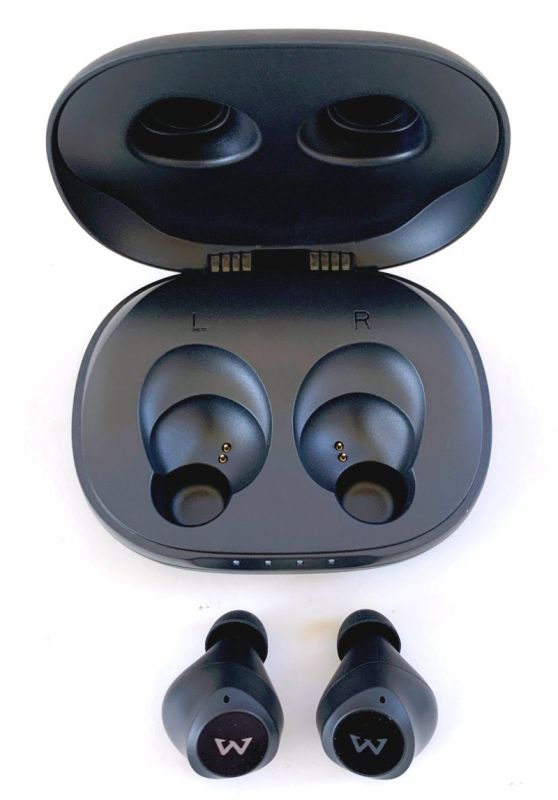 My initial impression of the Mpow M20 earbuds was that the earbuds themselves and the charging case looked and felt a bit on the cheapish side.  However, I am always willing to at least temporarily overlook first impressions that are not particularly positive in the hope that further evaluation will either prove them incorrect or performance will overpower these initially perceived shortcomings.
Pairing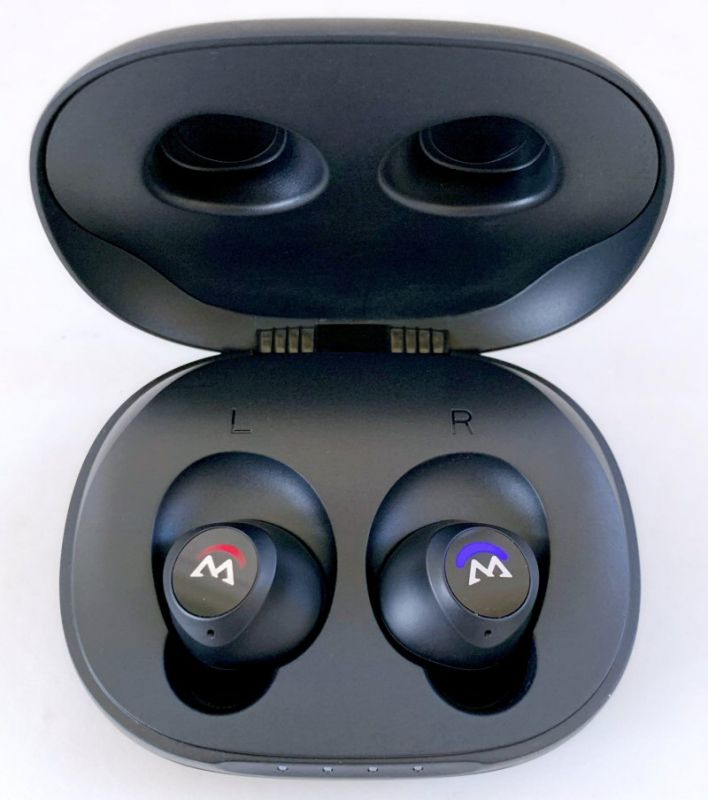 Upon first opening the lid of the clamshell-style charging case, I noticed that the earbuds each feature a sort of parenthesis, or ")"-shaped LED light above the Mpow stylized "M" logo.  These LEDs were alternating blue and red colors, which I suspected was related to the initial pairing process of the earbuds to a device.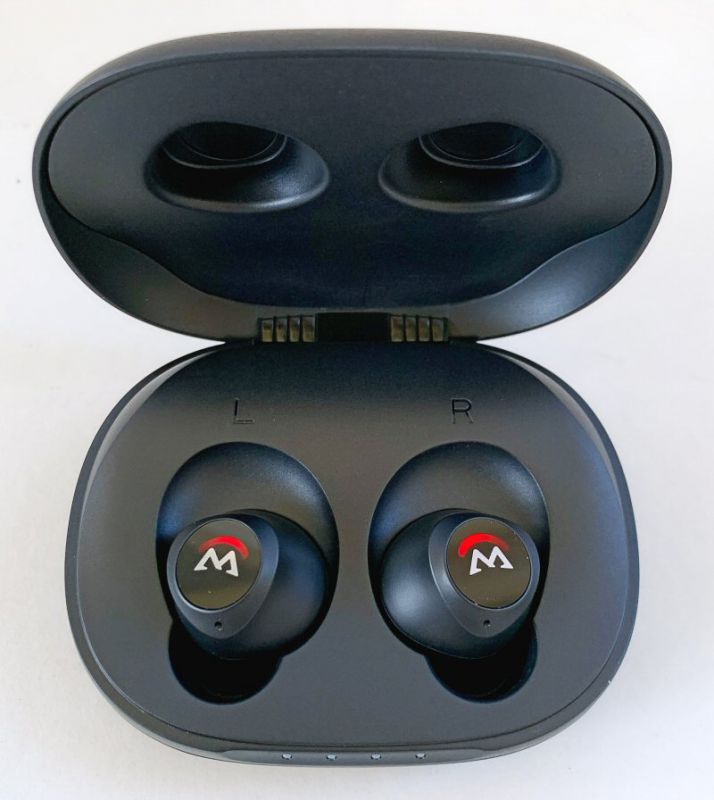 Initial pairing of the Mpow M20 earbuds to my iPhone XR proved to be quite simple since the earbuds were already in pairing mode upon first opening the charging case. I entered my iPhone's Bluetooth settings then selected "Mpow M20" and pairing was complete.  At that point, the LEDs stopped alternating blue and red and stayed red, indicating that they were paired and had begun charging in the case.  However, they earbuds did not remain paired.  I found that about a third of the time when I removed the earbuds from the case, they had lost the paired connection and to re-connect it to my iPhone XR, I had to power them off, power them back on, them manually re-pair them.  This was frustrating and is unfortunately something that has been common to every pair of Bluetooth true wireless earbud products that I've reviewed thus far.
Additionally, the charging case includes magnetic connections that assists the earbuds to find their respective spots in the case every time.
Earbuds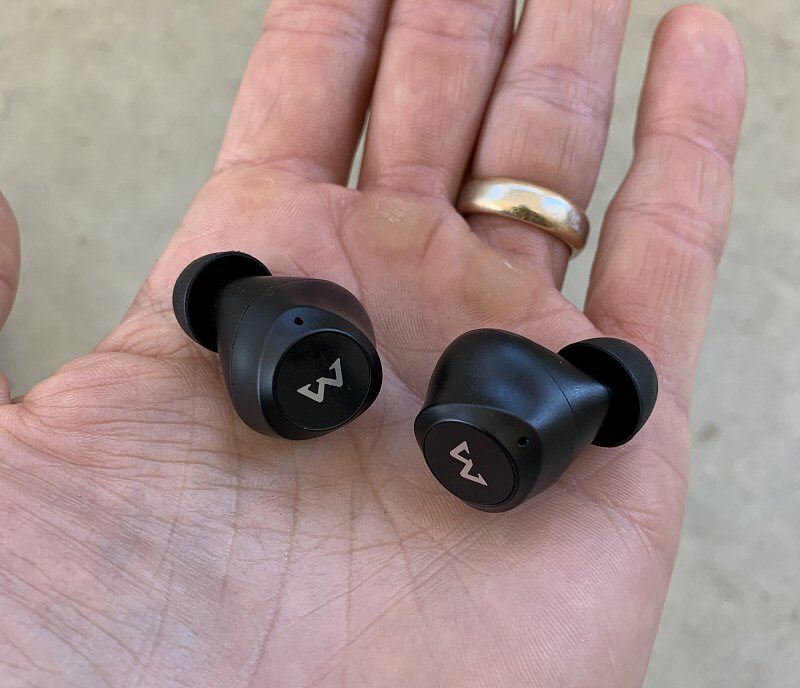 The M20 earbuds have some interesting controls.  Rather than having more pronounced buttons, they have more of what I would call "touch controls," which are the large circles on the front of the earbuds that sport the Mpow "M" logo.  They don't really need to be pressed like a normal button, but more of simply tapped.  More on this functionality below.  Additionally, in the photo about you can see two tiny holes just below the touch controls, which are microphones that are part of the Qualcomm CVC8.0 Noise Cancellation Technology.
The earbuds have a contoured, low-profile, ergonomic shape.  This gave me hope that they would stay in my ears during exercise—I tend to do a lot of PT-style training that involves a lot of up/down and side-to-side type movements, plus I tend to sweat a lot and I have large ear canals.  This combination has meant that the true wireless earbuds that I've tried in the past have fallen short on staying in my ears during exercise to varying degrees.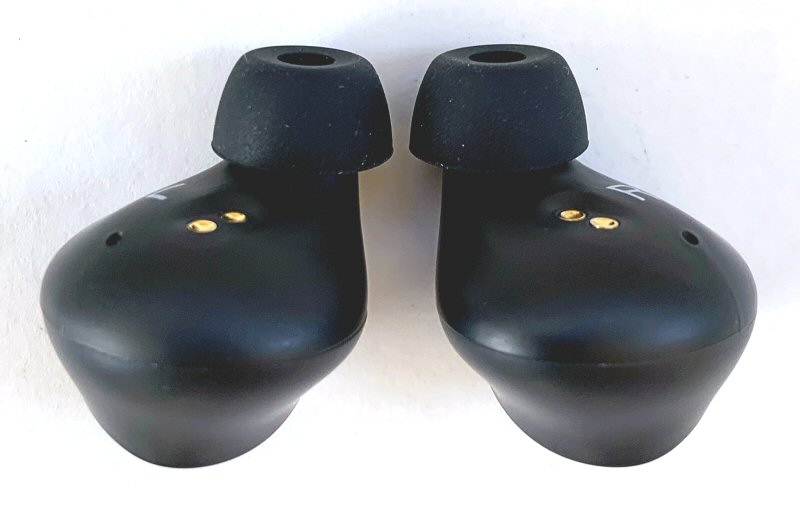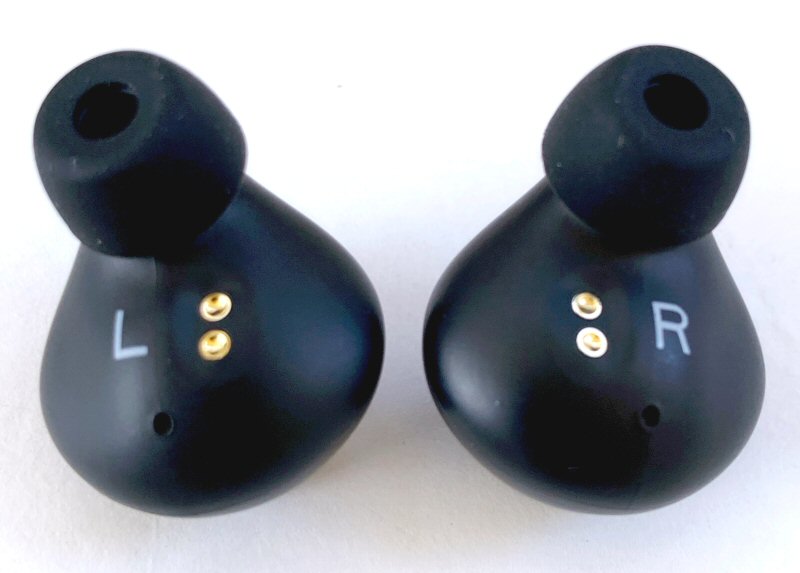 Each earbud has two tiny gold circles that are points where they make contact with mating pins inside the charging case, which provides the ability to recharge them.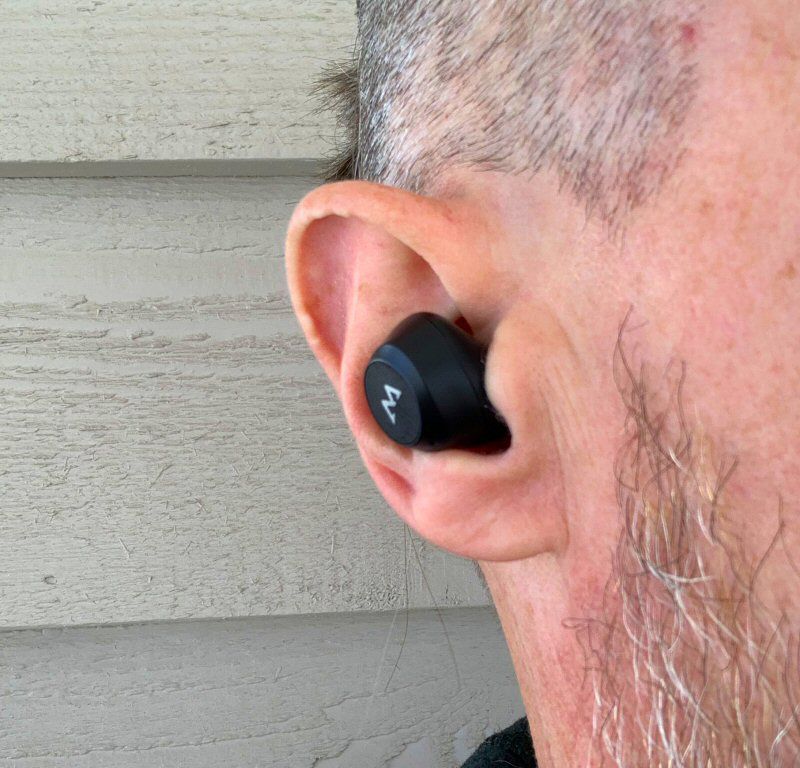 Because I have large ear canals, I installed the largest of the three sizes of silicone ear tips on the M20 earbuds.  The earbuds have a contoured, ergonomic shape that, when combined with the largest size of silicone tips and a slight twist into position, fit quite well in my ears; even better initially than any true wireless earbuds that I've previously tried.  This fit, combined with the M20's Qualcomm CVC8.0 Noise Cancellation Technology was a very effective for me, both when using them during exercise as well as just sitting at my desk while at work—-they really do block ambient sound well and their AptX Stereo Bass Sound provides deep bass in a very small package.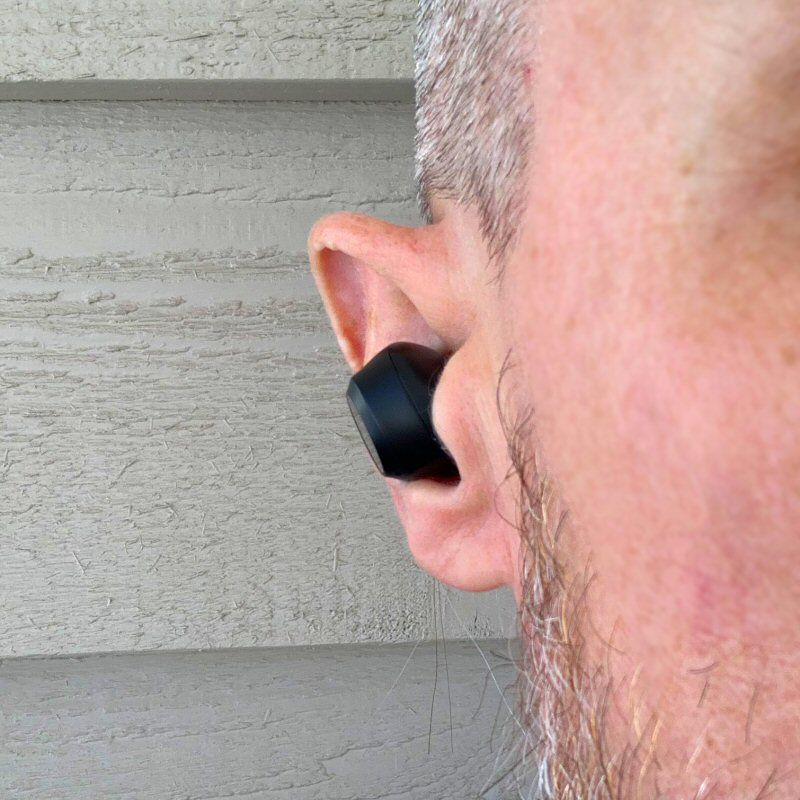 The M20 earbuds are also fairly low-profile, which to me means they don't excessively protrude from my ears.  They are also quite lightweight for their size, which means that they don't have a lot of extra mass that would allow gravity or inertia to pull them out of my ears even after working up a significant sweat while exercising.  Although I didn't have an opportunity to try them in the rain, their IPX7 water resistance rating kept them fully functional despite torrents or workout-induced sweat.
Music controls
Volume up – Press and hold Right earbud button
Volume down – Press and hold Left earbud button
Next/Previous track – Double-press either Right or Left earbud button
Play/Pause – Press either Right or Left earbud button once
Phone controls
Answer call/Hang up call – Press Right or Left earbud button once
Reject call – Hold Right or Left earbud button for 1 second
Siri activation –  Triple-press Right earbud button once
I found the M20's music and phone controls to be a bit challenging to use.  It was difficult to differentiate between the various single press/double press/long press actions required for the various actions which I think may have been related to the functionality of the touch controls.  Frustratingly, I never quite got the hang of it.
Charging case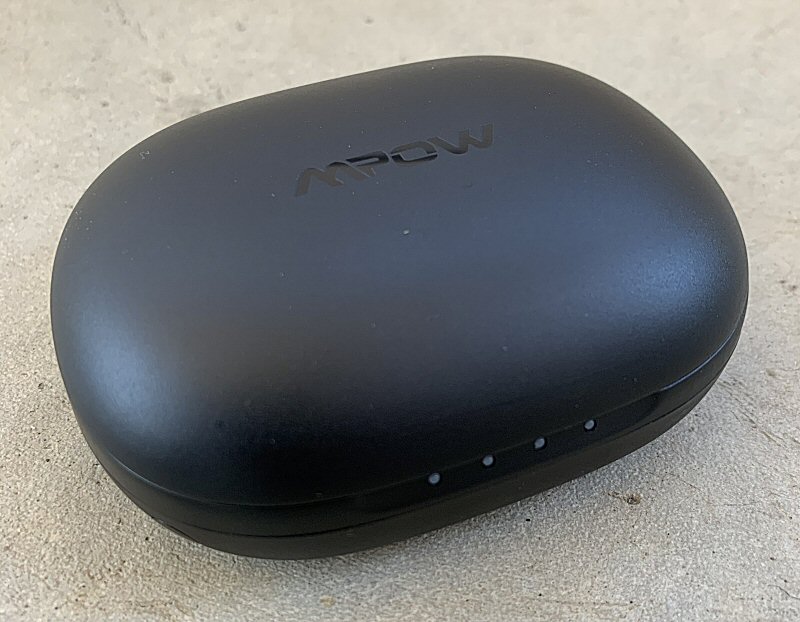 The M20's charging case has a shape that I would describe as that of a rounded oval or flattened egg.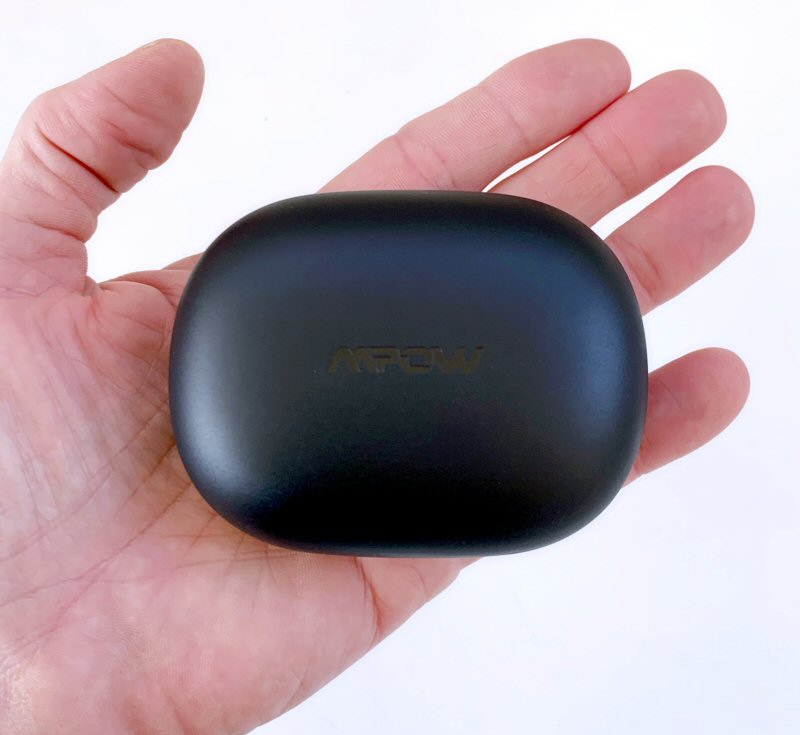 The case is quite large compared to most other charging earbud charging cases, but because of its very rounded shape and the fact that its internal battery can be used to charge other devices, I was willing to overlook its relatively large size.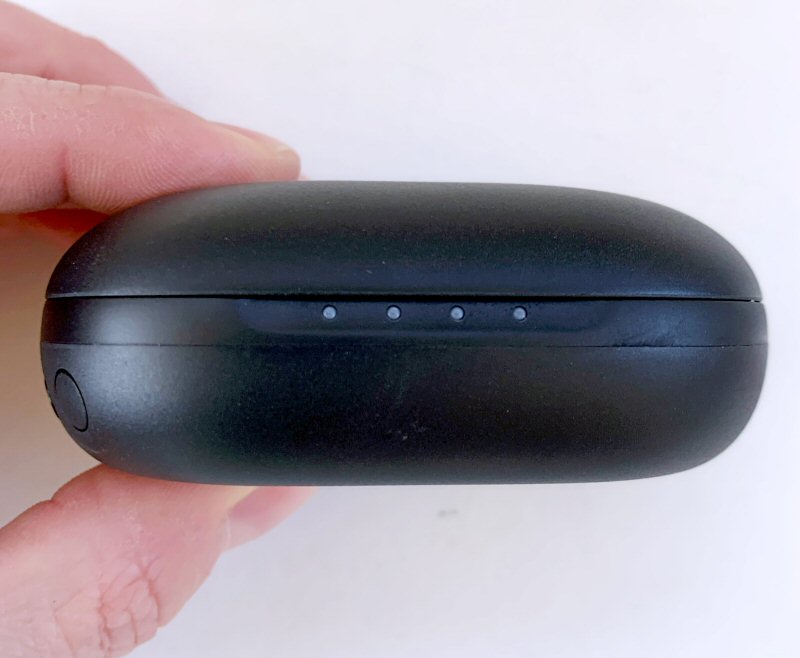 The front of the charging case features four tiny LEDs.

The right side of the M20's charging case has a micro USB port that is used to charge the case itself.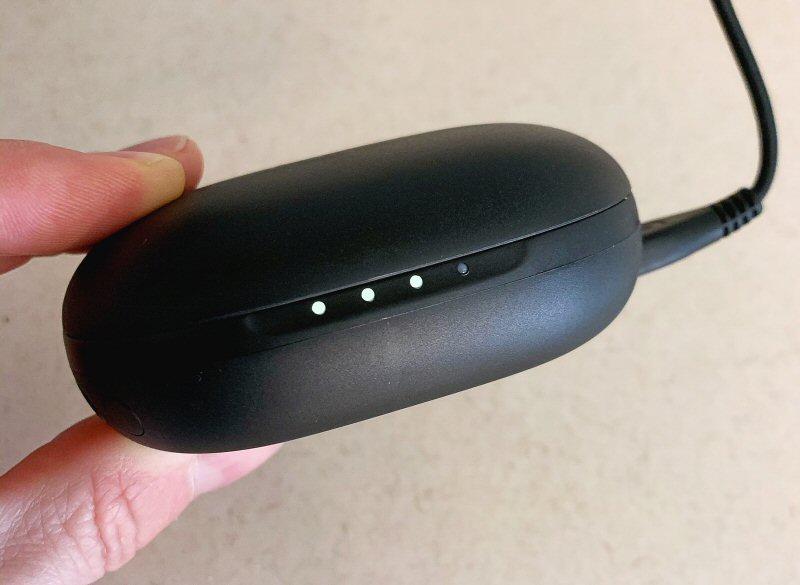 While charging, the four small LEDs on the front of the charging case illuminate to indicate the charge level of the case's internal battery.  The battery life of the M20 earbuds themselves was impressive—on a full charge, I routinely got over 2 hours of life from the earbuds.  But the charging case's battery life was bordering on incredible.  Mpow bills the charging case as giving up to an additional 16 charges for a total of up to additional hours of life for the earbuds.  I'm not sure I experienced that much extra life for the earbuds, but I definitely got several multiple full charges for the earbuds from the charging case.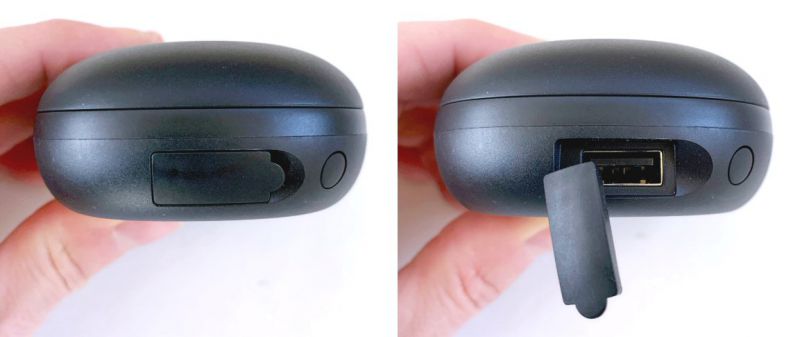 The left side of the charging case has two features.  One is a cover that protects a full-sized USB port, which can be used to charge another device from the charging case's internal battery.  The other feature on this side of the charging case is a small round button that serves two purposes.  First, when pressed, the LEDs on the front of the charging case are illuminated to indicate the battery case's current charge level.  Second, if another device is plugged into the charging case so that it can be charged, pressing the button begins the flow of power from the charging case to the device begin charged.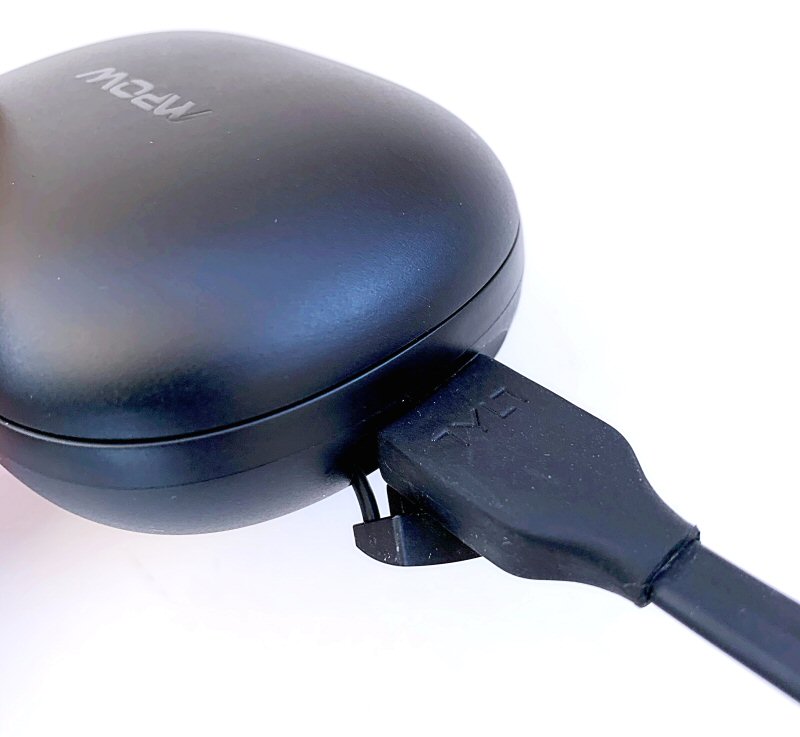 Any standard-sized USB cable can be plugged into the M20's charging case and used to charge another device.  Above, I have plugged a TYLT SYNCABLE-DUO Charge and Sync Cable.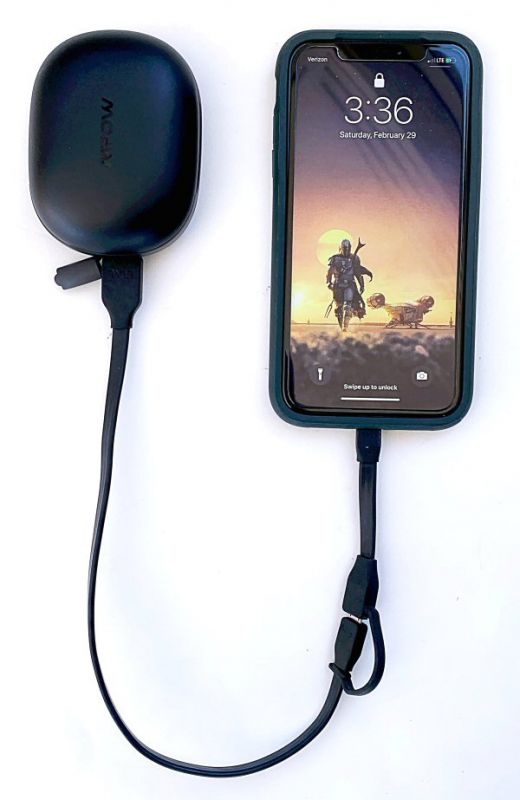 At full charge, I was above to use the M20's charging case to give my iPhone XR an approximately 25% charge before the charging case's battery was empty.  I'd conclude that the M20's charging case can be used to power your smartphone in a pinch or as an emergency backup, but it is not powerful enough to regularly serve as a way to charge your phone.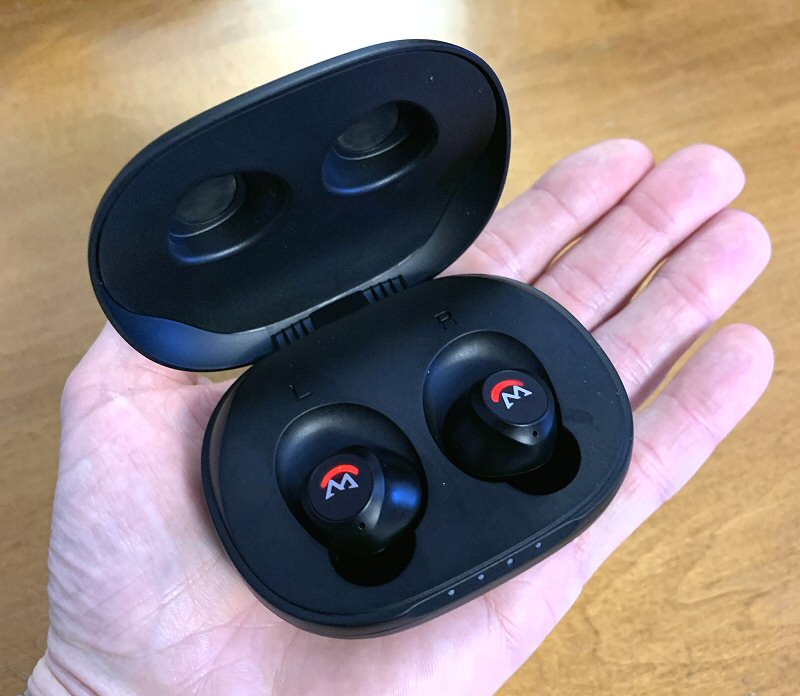 What I like
Stayed in my ears during intense exercise better than any of the previous true wireless earbuds I've tried yet
Good sound and excellent ambient noise cancellation/blocking
Earbuds are low profile and don't excessively stick out of my ears
Charging case can also be used to charge a smartphone or other device in an emergency
What I'd change
The charging case could be a bit smaller
The touch controls are difficult to use
I had to manually re-pair the earbuds about a third of the time I used them
Final thoughts
Overall, I generally liked the features and performance of the Mpow M20 True Wireless Earbuds.  They are lightweight and their ergonomically-contoured shape helps them fit in even my quite large ear canals well, plus they stayed in my ears during heavy exercise with lots of sweat.  They have a great sound and their ambient noise blocking capability is impressive.  Their battery life is impressive and this is further augmented by the charging case, which not only provides hours upon hours of additional charge to the earbuds but can also be used to charge other items in a pinch.  However, their touch controls were difficult to use and I often had to manually re-pair them to my iPhone. While the $49.99 price tag is reasonable, keep these shortcomings in mind if you are considering purchasing the Mpow M20 earbuds.
Price: $49.99
Where to buy: Amazon
Source: The sample for this review was provided by xmpow.com