We use affiliate links. If you buy something through the links on this page, we may earn a commission at no cost to you. Learn more.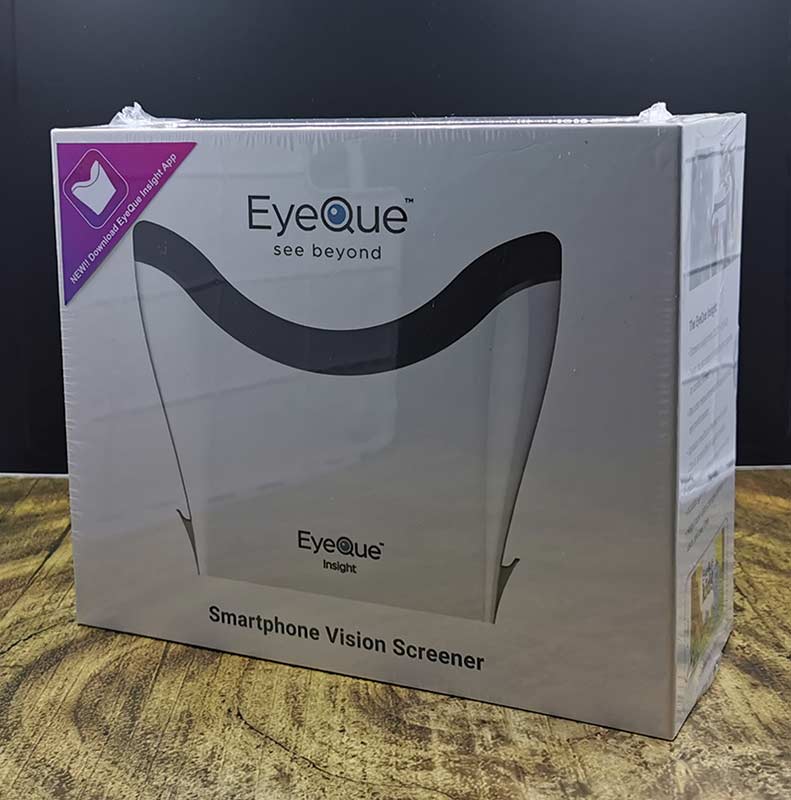 REVIEW – Do you have 20/20 vision? Have you worn the same pair of glasses for a while and wonder if you are still seeing 20/20? One way to find out is to get an appointment with your eye doctor. Another way to check is to do a quick test is with the EyeQue Insight smartphone vision screener. Let's take a look at it – literally.
What is it?
The EyeQue Insight is a small headset similar to the virtual reality goggles that we've reviewed before. But instead of playing games, this headset works with your smartphone to screen your vision with 3 different vision tests.
What's in the box?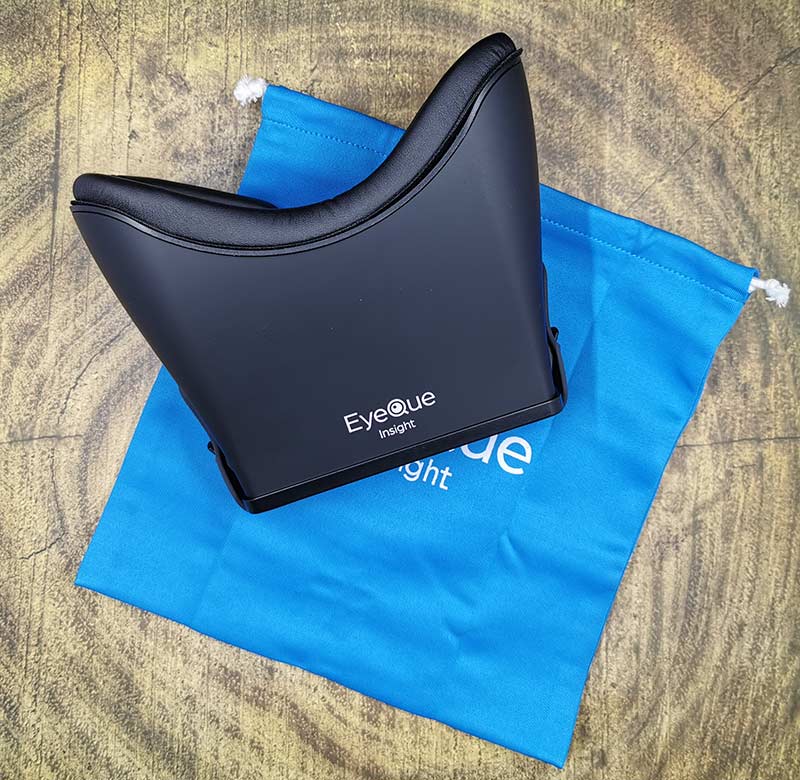 EyeQue Insight headset
Storage pouch
Design and features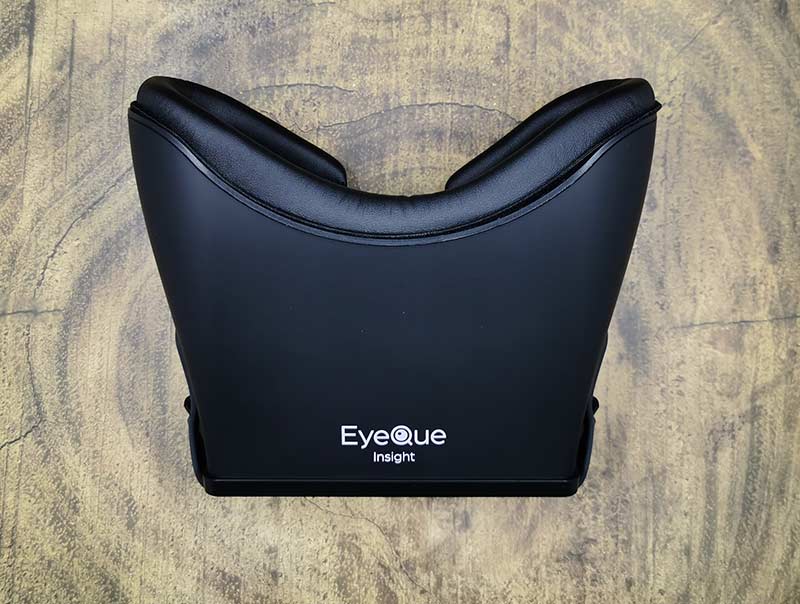 As already mentioned, the EyeQue Insight is a headset that is similar to a virtual reality headset. It is made of black plastic and has a padded opening for your face/eyes and a strap to hold your phone against the opposite end.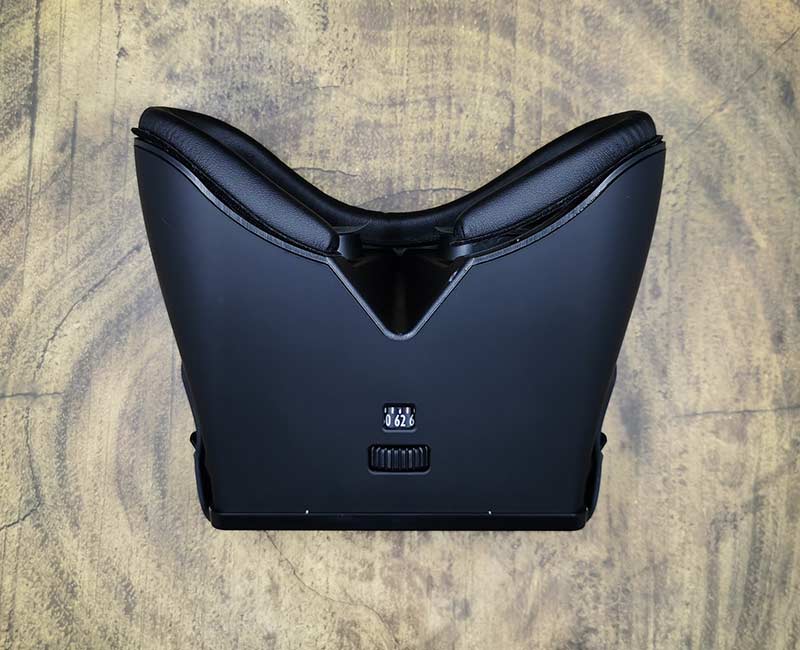 On the bottom of the Insight is a pupillary distance dial that you'll need to set for the measurement between your two pupils.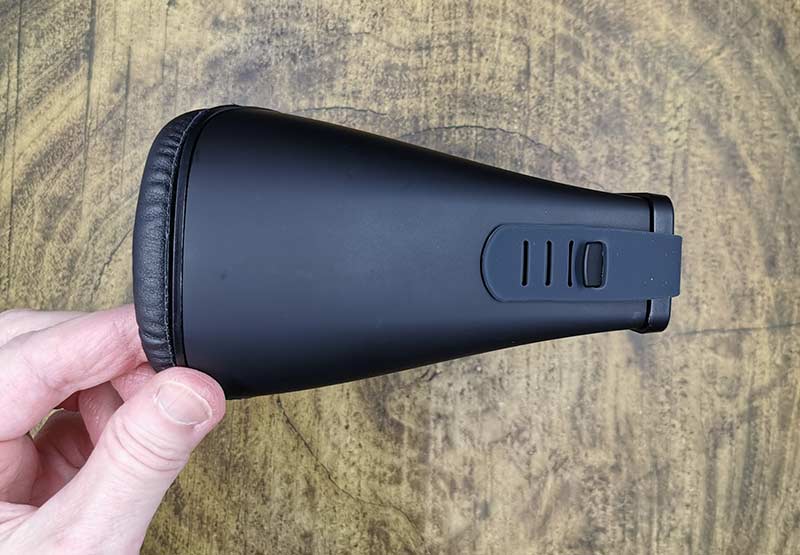 On each side of the headset is a hook for the strap that secures the phone.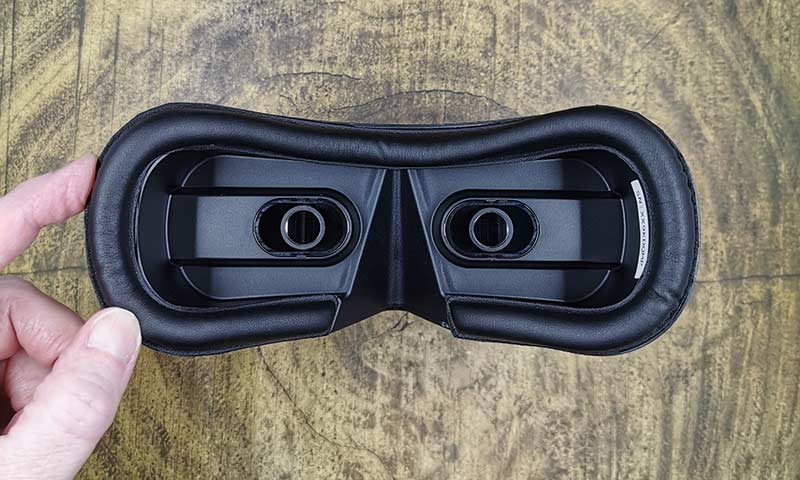 Inside the unit are two lenses and a slot for your nose. The headset is close to 6 inches wide which should be wide enough that you can use it with while you're wearing your glasses. I had no problems doing the tests while wearing my glasses.
The other end of the Insight has two sticky tabs that grab the Android or iPhone's display to keep it from sliding around. The phone is positioned so that the top part of the screen can be seen through the headset and the bottom part is exposed so that you can use your finger to swipe during the tests.
App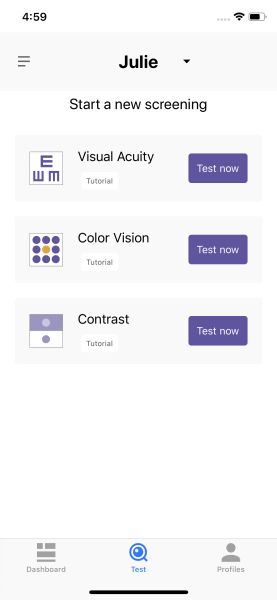 To do a vision check with the EyeQue Insight, you'll need to install the mobile app. You'll be instructed to use your phone to measure the distance between your pupils and then set that measurement on the headset itself. Once that is done, you're ready to do the eye tests which include visual acuity test, color vision test, and a contrast test.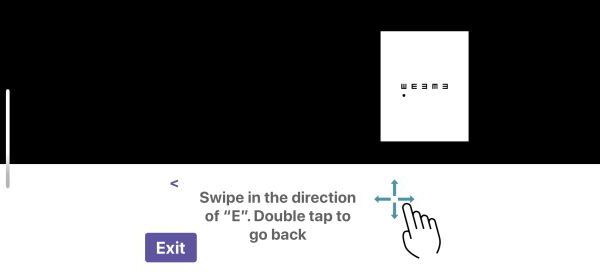 All of the tests are similar in that they show the uppercase letter E in different orientations. It's your job to swipe in the direction of the E's legs. For example, if you see a standard letter E, you would swipe to the right. If the E was on it's back, you would swipe up and so on.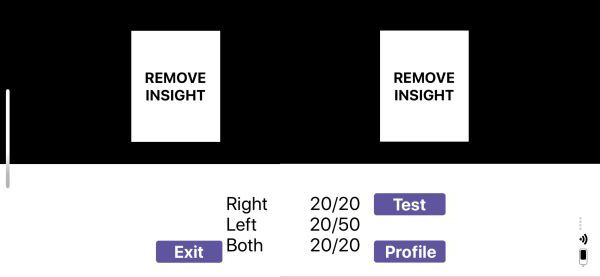 The tests just take a few minutes and you're giving the results immediately.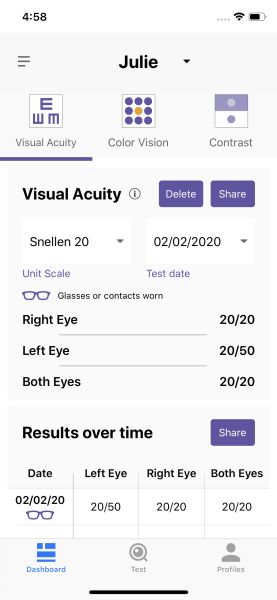 The visual acuity test is the one that most people will do on a frequent basis because it can be used to see if you're glasses are no longer allowing you to see 20/20. Note that this device does NOT tell you what your glasses prescription should be if you were to buy a pair of glasses. EyeQue's VisionCheck is another product that does provide that info.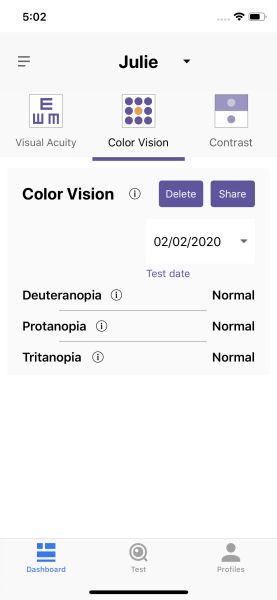 The color vision test helps you determine if you have a form of color blindness.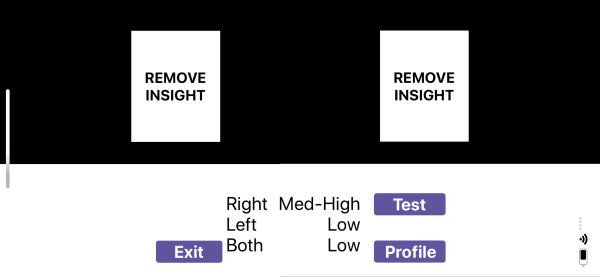 The contrast test is designed to test the ability to distinguish fine increments of light and dark. Results can indicate if you might have certain conditions such as cataracts or glaucoma.
The problem with the contrast test is that it just says low, medium, or high, but doesn't actually tell you what those readings mean or indicate so I have no idea with my low and medium readings really mean.
What I like
Easy and fun to use
Doesn't require batteries
What I'd change
Provide more info on test results
Final thoughts
Going to an eye doctor on a regular basis (I go once a year) should be part of your yearly wellness appointments just like going for a yearly physical with an ENT doctor. That said, having a device like the EyeQue Insight for quick verification that your current glasses or contacts are still providing you with clear vision can save you from heading to the eye doctor multiple times per year.
Price: $89.00
Where to buy: Amazon
Source: The sample for this review was provided by EyeQue.