We use affiliate links. If you buy something through the links on this page, we may earn a commission at no cost to you. Learn more.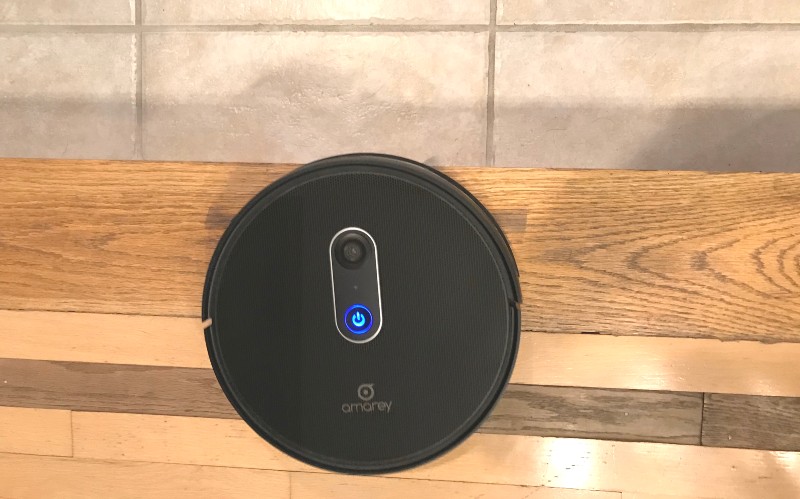 REVIEW – The Amarey A980 robotic vacuum works well and is intuitive to use. But be cautious if you plan to take advantage of the scheduling feature.
What is it?
This robotic vacuum is easy to set up. It does a good job cleaning, avoiding getting stuck and alerting you to any issues. Unfortunately, the app never worked for us, so we couldn't use the scheduling and smart mapping options.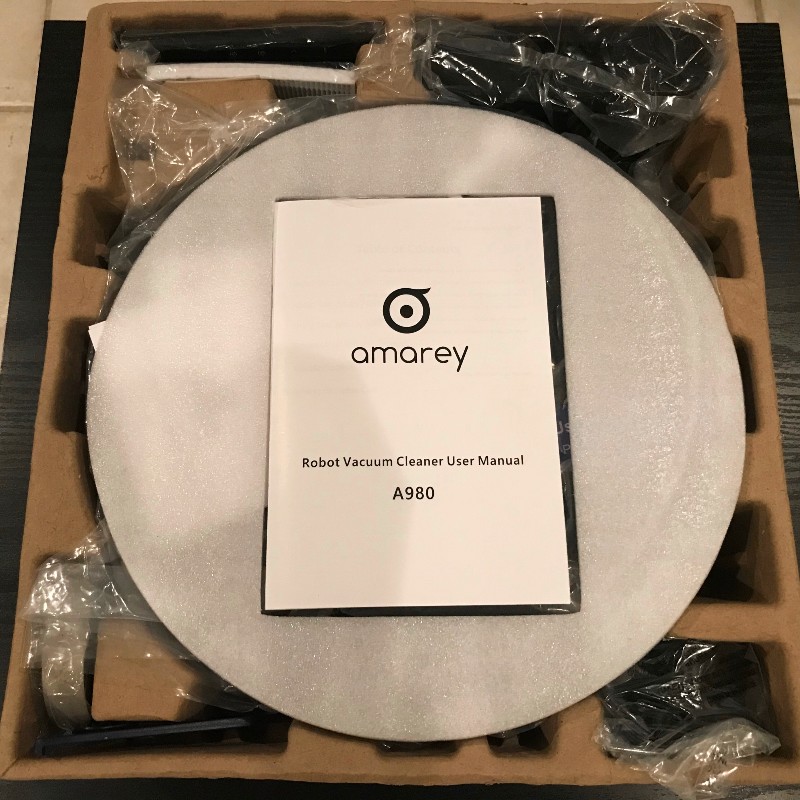 What's in the box?
Amarey A980 vacuum

Charging dock

4 side brushes

Power adapter

Cleaning tool

Remote control and 4 AAA batteries

Sponge filter

HEPA filter

Boundary strip (6 feet)

Hardware specs
Product dimensions: 12.7 x 12.7 x 3 inches

Item weight: 9.6 pounds

Shipping weight: 9.6 pounds

Manufacturer: Amarey

ASIN: B07X7ZMVM5

Item model number: A980

Batteries: 1 2600mAh included (4 AAA batteries for remote, included)

Dust bin capacity: 0.5L

Cleaning modes: auto, edge, spot, schedule, smart area

Adapter input voltage: AC 100, 240V

Rated power: 24W

Noise: <60dB
Design and features
Setup
Once you unpack the robovac, first you must remove the protective strips and stickers. A blue pointing-finger sticker reminds you to turn the power button "On" right away.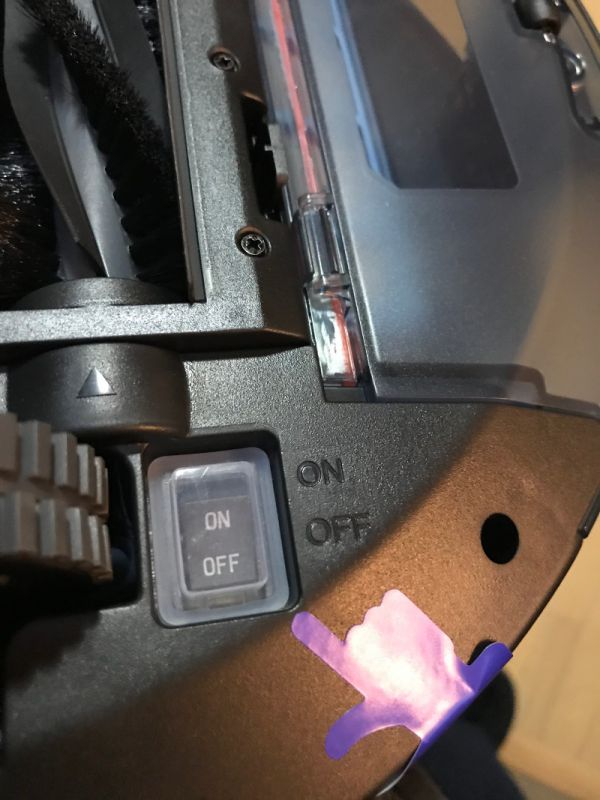 Next, you attach the side brushes by flipping over the vacuum and popping them into place.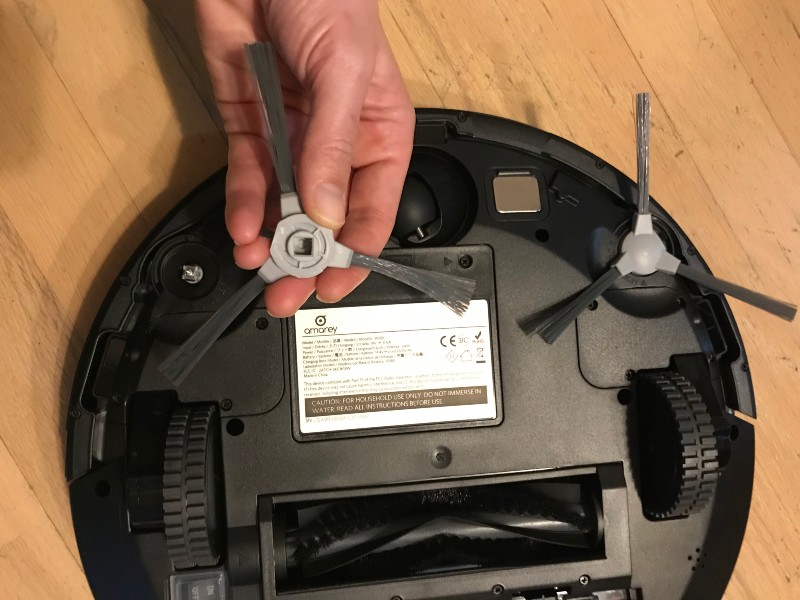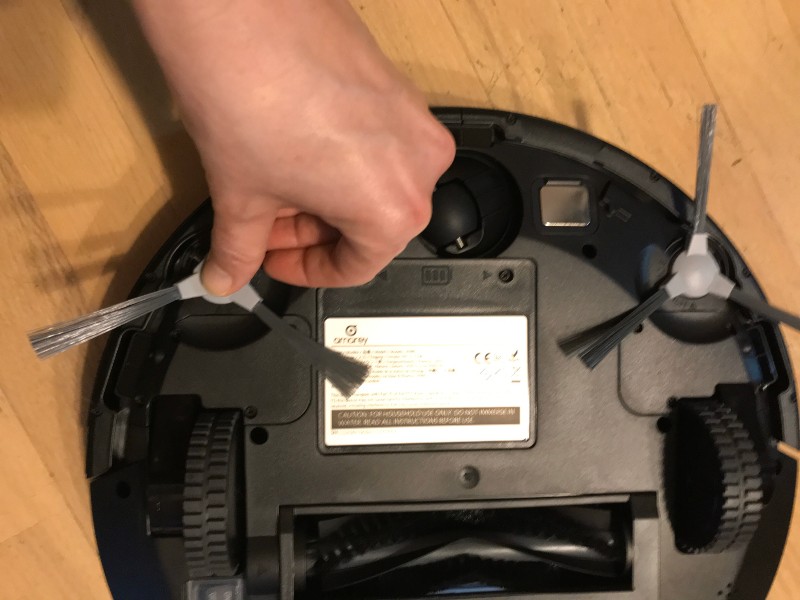 Finally, you put it on the charging doc, making sure to match up the metal charging points. You'll hear a beep once it's properly in place. The initial charge takes about 4.5 hours, and you'll know it's done when the power button turns blue.
The power indicator is:
Off when it's in sleep mode

Solid blue in standby or fully charged mode, as well as when it's cleaning

Solid pink when it's returning to the charging dock

"Breathing" pink when charging

Blinking red when in error mode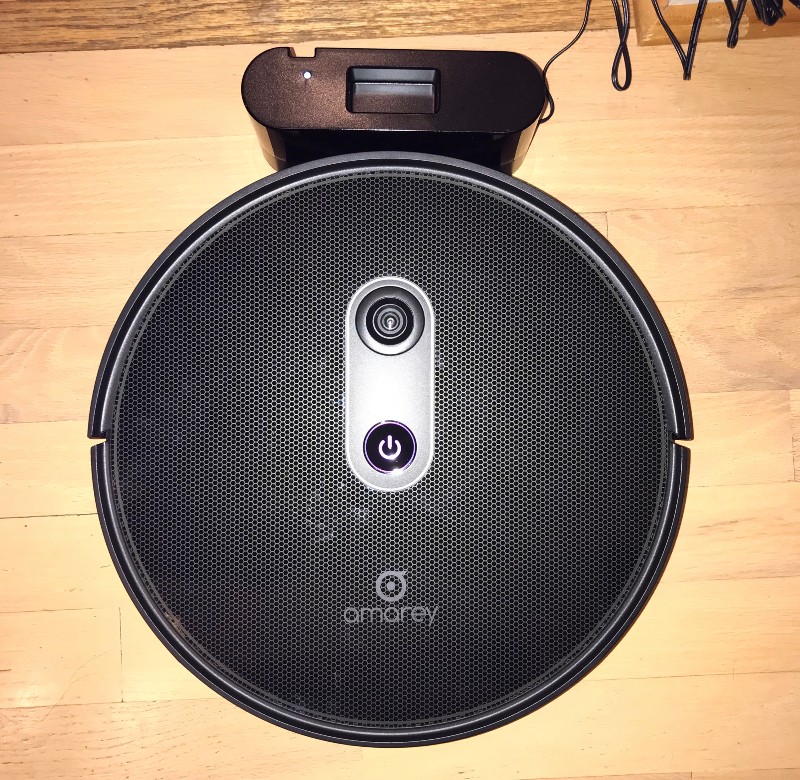 Performance
The vacuum worked great. It cleaned very well and wasn't nearly as loud as a traditional vacuum.
It was thoughtful of the manufacturer to include boundary tape for areas where you don't want the robot treading, but the sensors were so good—and I have a lot of weird little steps and ledges in my tri-level house—that we didn't have a single spot that required boundaries. The sensors always made sure the vacuum stopped in time.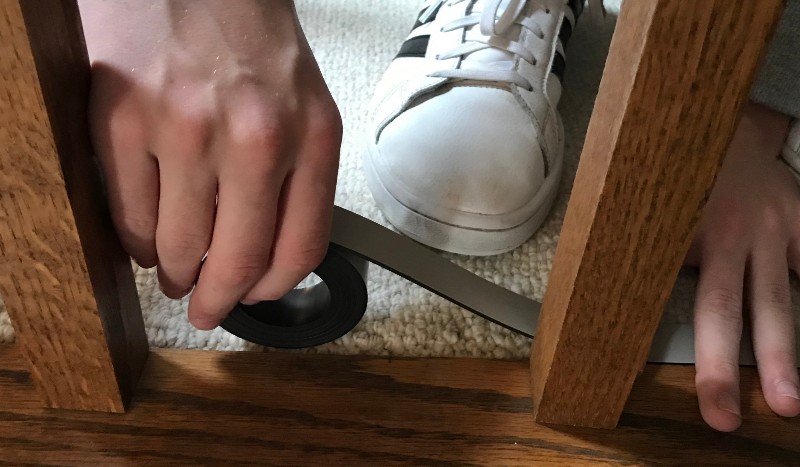 However, I can see how boundary tape would be useful, especially if, for example, you have an area with a delicate rug or power cords that create a hazard you don't want to constantly be moving.
To start the vacuum, I usually just press the power button and it begins auto cleaning. But you can also use the remote and have it:
Auto clean with the "Auto button"
Adjust the suction power with the fan-looking button on the upper right
Manually direct it with the arrows and go/pause button

Spot clean, the swirly button in the middle/left, to have it concentrate on a small area

Edge clean, middle right, to have it intensely clean along the walls and furniture legs

Send it to the charging dock with the home button on the lower left

Connect to the wifi (this didn't work for us)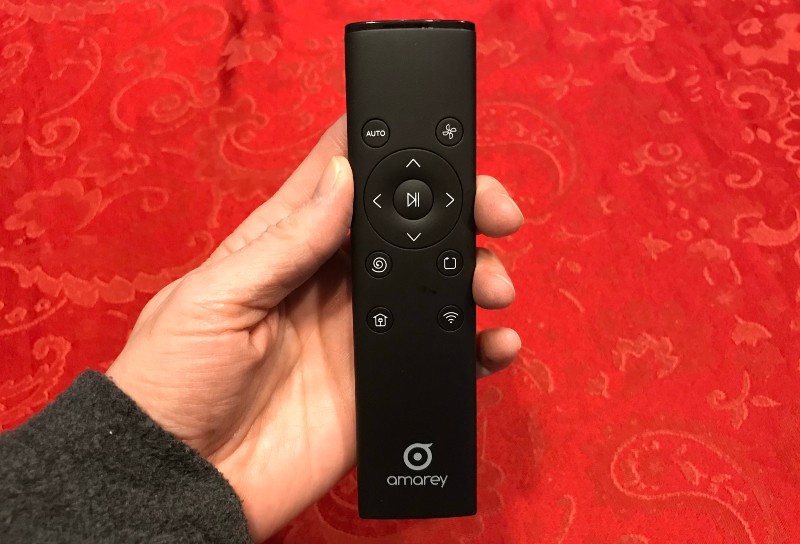 When it runs low on batteries during a cleaning session, it will automatically head for home. But if your charging dock is on another floor, of course, you'll have to carry it. It's less than 10 pounds, so carrying it isn't a problem.
When you lift up this vacuum, it talks to you! The first time it did this, my whole family cracked up as the vacuum (in a female voice) altered us, "I am suspended in the air!"
At other times, she told us to check her wheels, bumpers and rolling brush, which was hugely helpful. It's easy for hair to get twisted up in the rolling brush so tight that it doesn't roll anymore. With my previous robovac, it would just simply stop rolling until we figured out the problem. It was great to have the vacuum itself tell us what was going on.
Compared to the previous robotic vacuum we've used, this one also didn't get stuck nearly as much. We have a section where three different flooring types intersect (carpet, wood and tile), and our other vacuum would panic and freeze every time it went there. The Amarey A980 breezes past it without issue.
Same for tight corners, such as under the entertainment center or beneath the lazy susan cabinet. We used to have to block those off for our other vacuum, which always got stuck in those places. This vacuum has yet to get stuck, except for when we accidentally left a phone cord within its reach, which is our fault and not the vacuum's!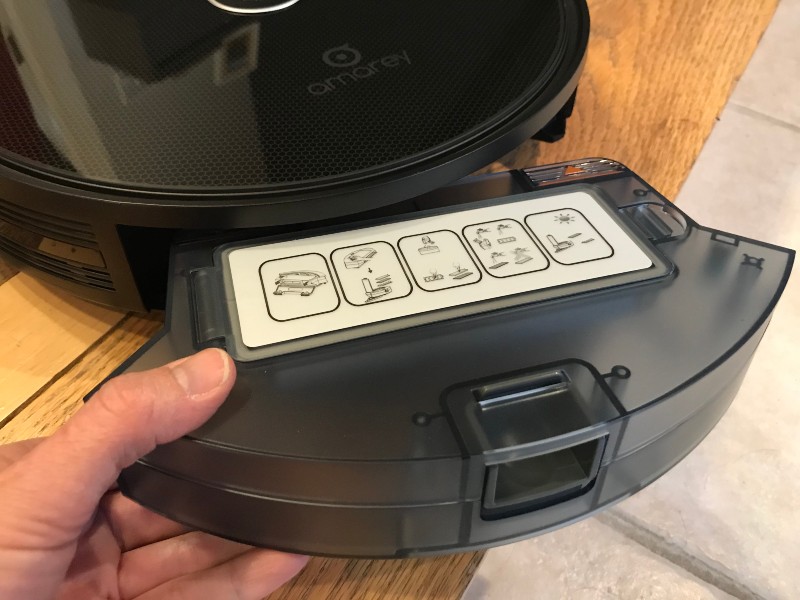 Emptying the dustbin was very easy. You simply press in the release latch and it slides right out. Then, on the dustbin, you push back on the two red arrows to empty it into a garbage can.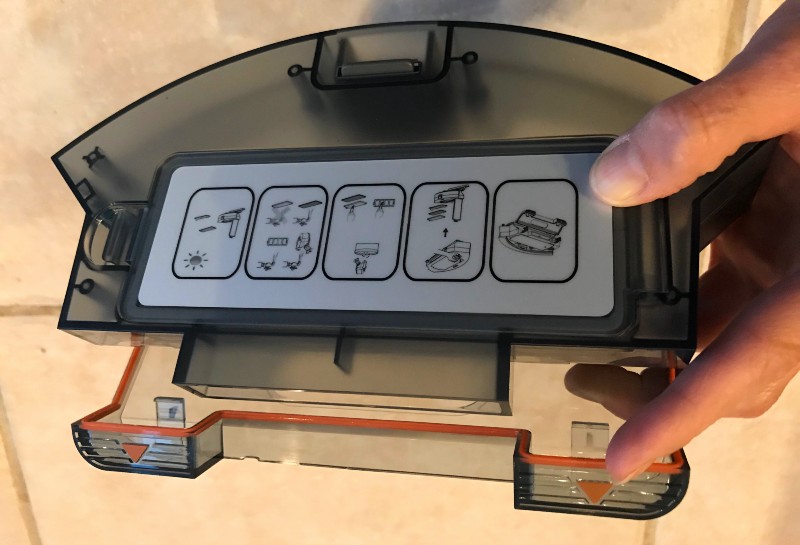 App
Unfortunately, we couldn't get the app to work. First, be careful to download the correct app, "Ankobot pro" and not "Amarey Pro." It's extra confusing because after you download "Ankobot Pro," under the icon it will display the words "Amarey Pro" (as you can see further below).

The idea is to hold down the power button on the vacuum until the blue wifi light is flashing quickly. Then you add your account information and select your device on the app, enter your wifi password and it will blink slowly while connecting and turn solid once connected.
Our issue was that it never could find our wifi. Even when, on the few occasions it let us manually enter our wifi information, it never connected. Based on the app's ratings and reviews, I know we're not the only ones to have this problem.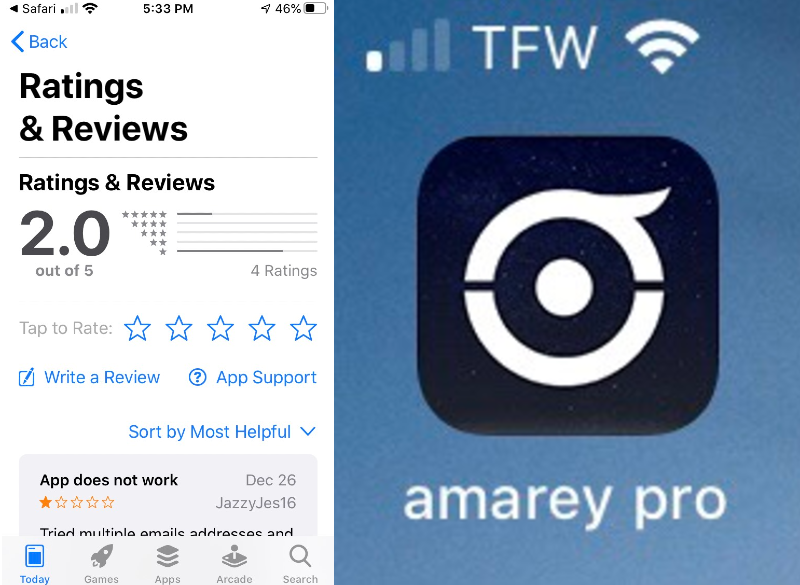 I sent an email to their customer support mailbox ([email protected]) and received a reply one day later with troubleshooting instructions and tutorial videos. However, after following their instructions and even deleting and reinstalling our account, it wouldn't connect.
What I like
Voice notifications to quickly and easily diagnose issues

It doesn't get stuck in tight/awkward spaces
What I'd change
Fix the app, which would allow us to use the mapping and scheduling features
Final thoughts
This is a powerful vacuum with some useful features for a good price. However,  be wary if you're counting on an auto-clean schedule and/or custom mapping because the app is required for those features, and the app doesn't work for everyone.
Price: $279.99
Where to buy: Amazon
Source: The sample of this product was provided by Amarey.