We use affiliate links. If you buy something through the links on this page, we may earn a commission at no cost to you. Learn more.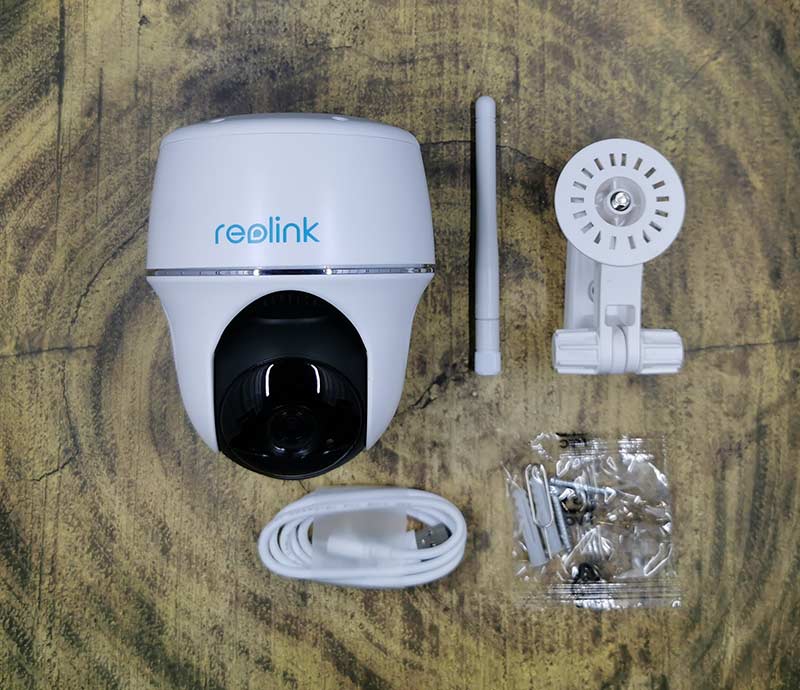 REVIEW – Our family, home, and the contents inside our home are incredibly important. People want to keep an eye on what's going on at home even when they aren't there and that's why there are so many security cameras on the market. Choosing a camera can be difficult when there are so many to choose from. I've been trying to find an outdoor camera that won't require hardwiring to power and the latest one that I've had the opportunity to test is the Reolink Argus PT. Let's take a look.
What is it?
The Reolink Argus PT is a wireless security camera that has been designed for use outdoors (although it will work inside as well). It features a rechargeable battery that charges by USB or an optional solar panel.
What's in the box?
Reolink Argus PT
Mounting bracket and hardware
micro USB charging cable
Optional solar panel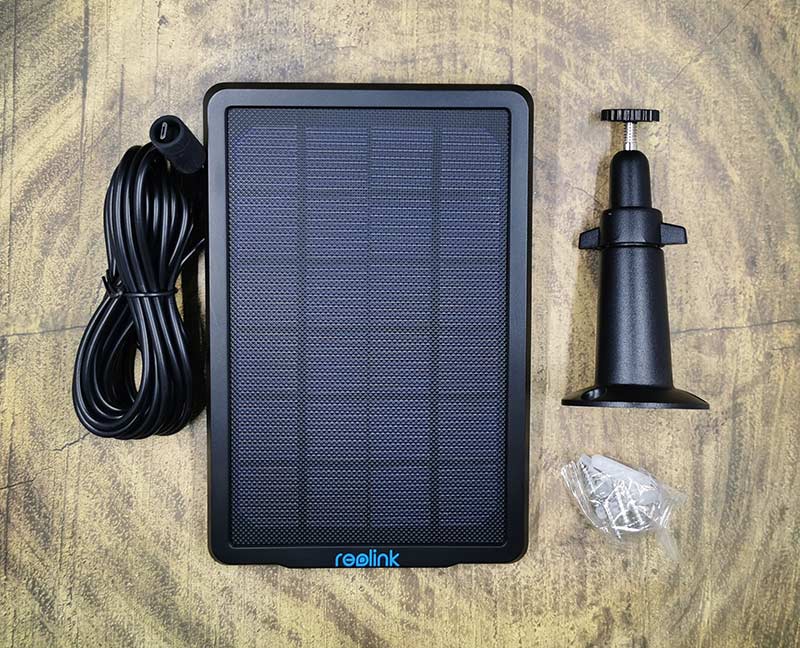 Solar panel
Mount and hardware
Design and features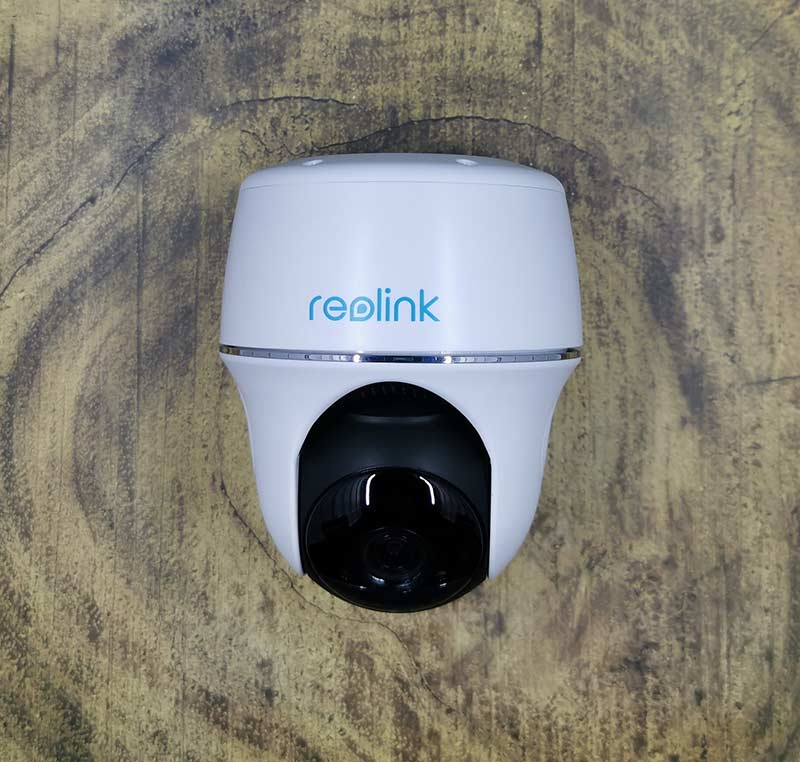 I'm assuming that the PT in the Reolink Argus PT name stands for pan and tilt which is a main feature of this outdoor security camera.
The camera has a white plastic case with a revolving/tilting black camera that hangs from the base. Not pictured is the micro SD card slot that is located on the outside of the camera "eyeball". Note that a micro SD card is not included with the camera. It's up to you to add one. The card is used to store video clips when motion is detected. Without a memory card, you'll be unable to see what triggered a motion event.
On the back of the camera, you'll find a connector for the wireless antenna, a power switch, and a micro USB connector to charge the camera's internal battery. The micro USB connector is also where you'll plug in the solar panel.
Never miss one of our posts again. Sent MON, WED, and FRI with the latest gadget reviews and news!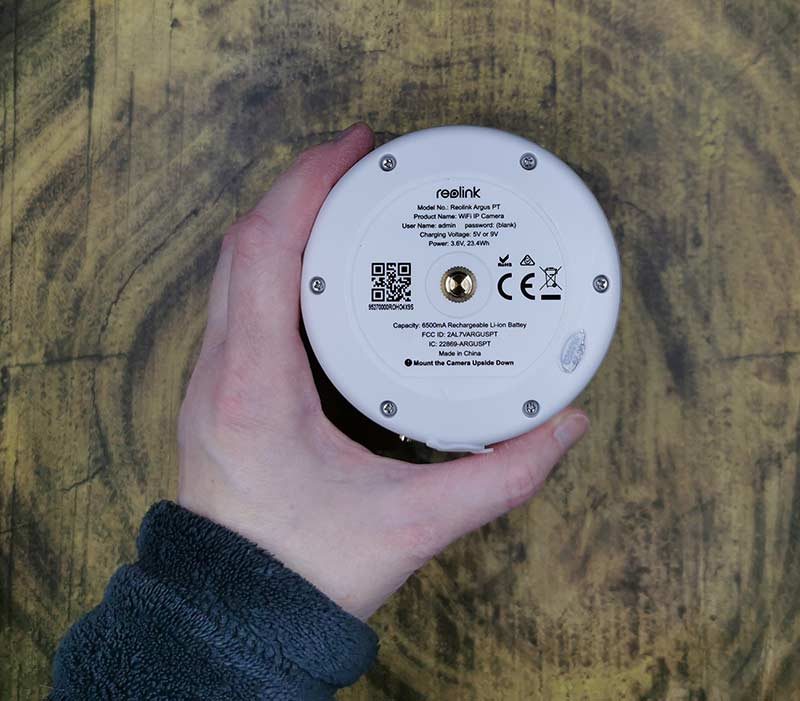 On the base of the Argus PT, you'll find a threaded socket for the included mounting bracket.
Installation and setup
Installing the camera requires you to find a place to mount the bracket. You can also set the camera on a flat surface and flip the image inside the app.
If you opted for the solar panel, you'll need to make sure the location where you setup up the camera and panel is a place that receives ample sunlight.
You'll also need to install the Reolink app on your phone or tablet and follow the prompts to setup the camera. This is really easy and just requires you to connect to your home's 2.4Ghz WiFi network.
App
The Reolink app's user interface is pretty straightforward. The main screen shows a static view of the cameras and then tapping the image will take you into the live view where you can use icons to listen, talk, take pics, video, see previous motion clips, and use an on-screen joystick to pan, tilt, and zoom the live image.
Motion clip duration time can be customized from 8, 15, or 30 second clips.
During the install process, there was an option to create scenes. I skipped past this part and have been unable to find it ever since so I'm not quite sure what you can do with this feature other than customizing the alarm settings for multiple cameras.
Speaking of alarm settings, you can set the app to email you when motion is detected, popup notification on your phone, and even sound a siren from the camera itself. I somehow had activated the siren setting on the first night I set up the camera. When Jeanne came home, she opened the door and kept asking what was going on outside, that something was going crazy. Turned out to be the camera, so that's something to keep in mind when you set it up.
Video quality and motion detection sensitivity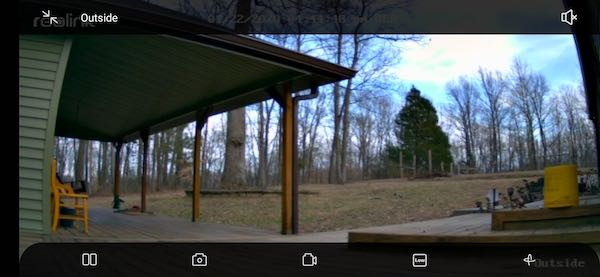 The Reolink Argus PT's video/image quality is decent as you can see the above screenshot which shows a daytime image from the camera.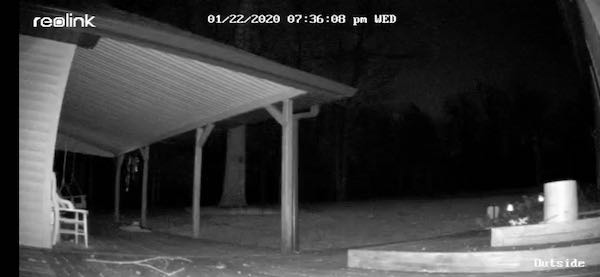 Here's the same viewpoint, only at night. As you can see, the IR is strong enough to let you see the tree in the distance.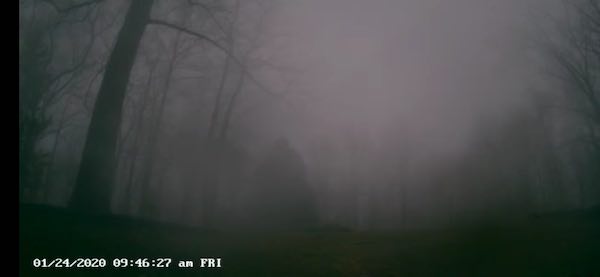 But it's not all rainbows and unicorns. The second day that I had the camera, I brought up the live view and the whole image was fogged over.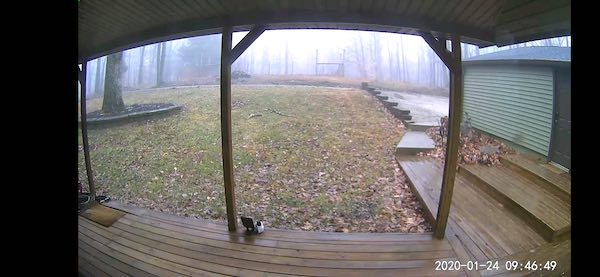 I brought up one of my other cameras (not Reolink), which was pointed in the same direction as the Argus PT and as you can see, it's not THAT foggy. From the look of the Argus PT, I think the camera had a condensation issue. It took a day and a half for that to clear up and it's not happened again (so far). I actually remember this same problem happening with another Reolink camera that I had reviewed in the past.
Another problem that I observed with this camera is that the motion alert notifications are not consistent when it comes to how quickly they are sent. Sometimes, the alert will show up on my phone within seconds after I walk by the camera and at other times, it can take a few minutes. This is my main concern with this camera since it doesn't record 24/7 footage and only records up to 30 second clips. By the time you are able to tune in to see what happened, the person/thing may be long gone.
What I like
Easy to set up
Solar power means never having to worry about the battery
What I'd change
Improve alert notification speed
Add automatic pan to follow objects
Final thoughts
I like the Reolink Argus PT security camera because it's easy to set up and doesn't require frequent battery recharges because it is powered by a solar panel. Even during a week of cloudy days, the camera's battery level status continues to show 100% full. I also like the pan and tilt features along with the image quality (when it's not fogged over). The only thing I don't like about this camera is that I can't completely count on the motion alert notifications and since that's the most important feature of a security camera, it's impossible to fully recommend this camera.
Price: $139.99 (camera), $24.99 (solar panel)
Where to buy: Reolink and Amazon
Source: The sample for this review was provided by Reolink.