We use affiliate links. If you buy something through the links on this page, we may earn a commission at no cost to you. Learn more.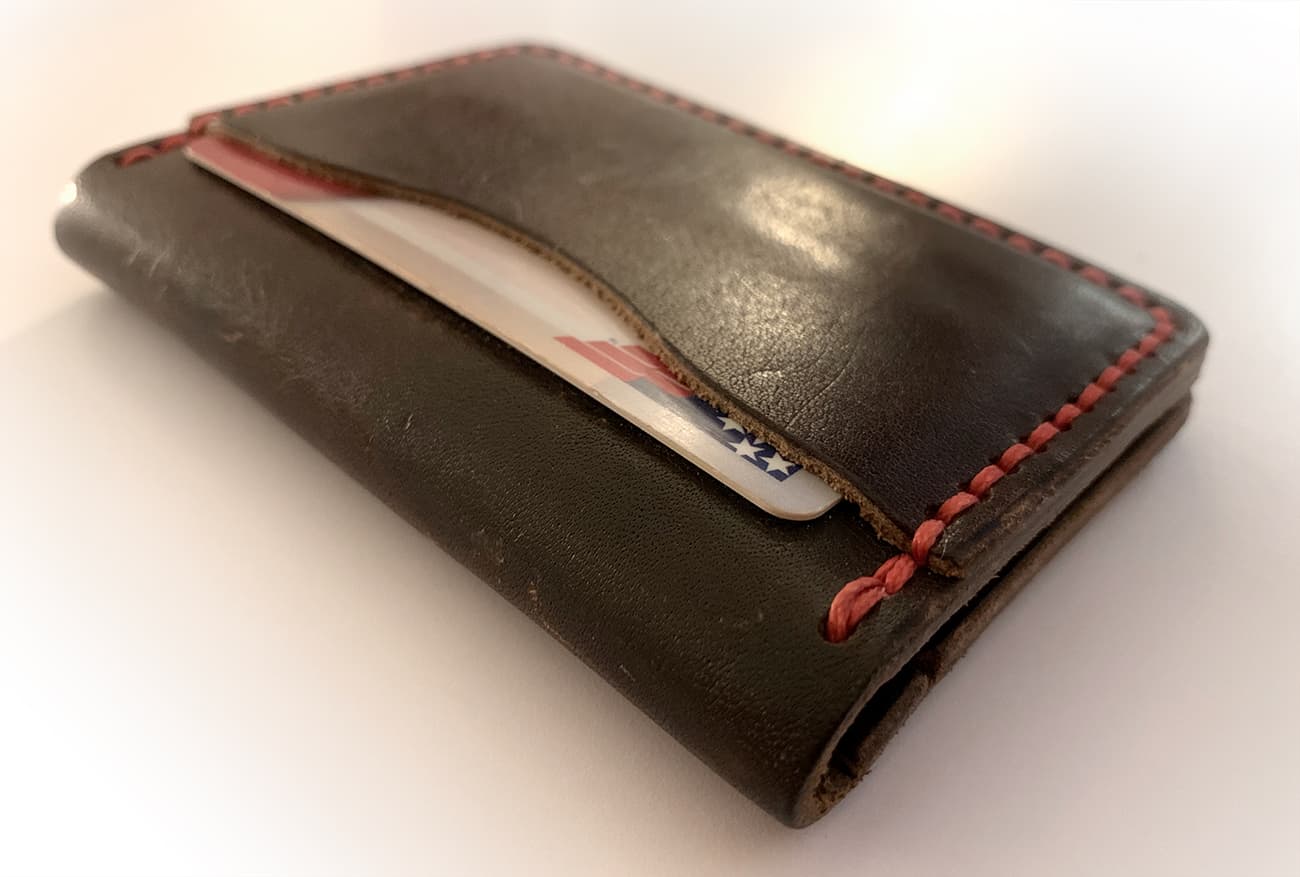 REVIEW – There's just something about the feel of full-grain leather in your hands that invokes a sense of longevity, and the master leatherworkers at Popov Leatherhave developed a perfect front-pocket bifold with their 5-Card Leather Wallet.
What is it?
Popov Leather's 5-card leather wallet is, as you would guess, a leather wallet with room for (at least) 5 cards. This bi-fold wallet features 4 internal and 1 external card slots and is made from durable full grain leather and hand-stitched with thick Tiger thread.
What's in the box?
Hardware specs
Made from USA Horween® Derby full grain leather — a durable leather that will develop a rich patina over time.
Lifetime guarantee means we stand behind every wallet we make.
Burnished and Polished edges show attention to detail in our work.
Hand-sewn with durable Tiger Thread: will never unravel or come apart.
5 card slots that can fit many cards in each pocket.
Wide enough to hold folded cash inside, easily hold up to 10 bills.
Perfect for your front pocket carry with dimensions of: 2.9″ x 4.17″ x 0.4″
Design and features
I've been a big fan of compact, front-pocket wallets forever, now. I'm a minimalist at heart, so the idea of the paper tidbit stuffed, inch-thick, back pocket "dad wallet" sounds like a literal nightmare.
Right off the top, I'm going to say that Popov Leather's 5-Card Wallet is as close to the perfect front pocket carry wallet I have come across.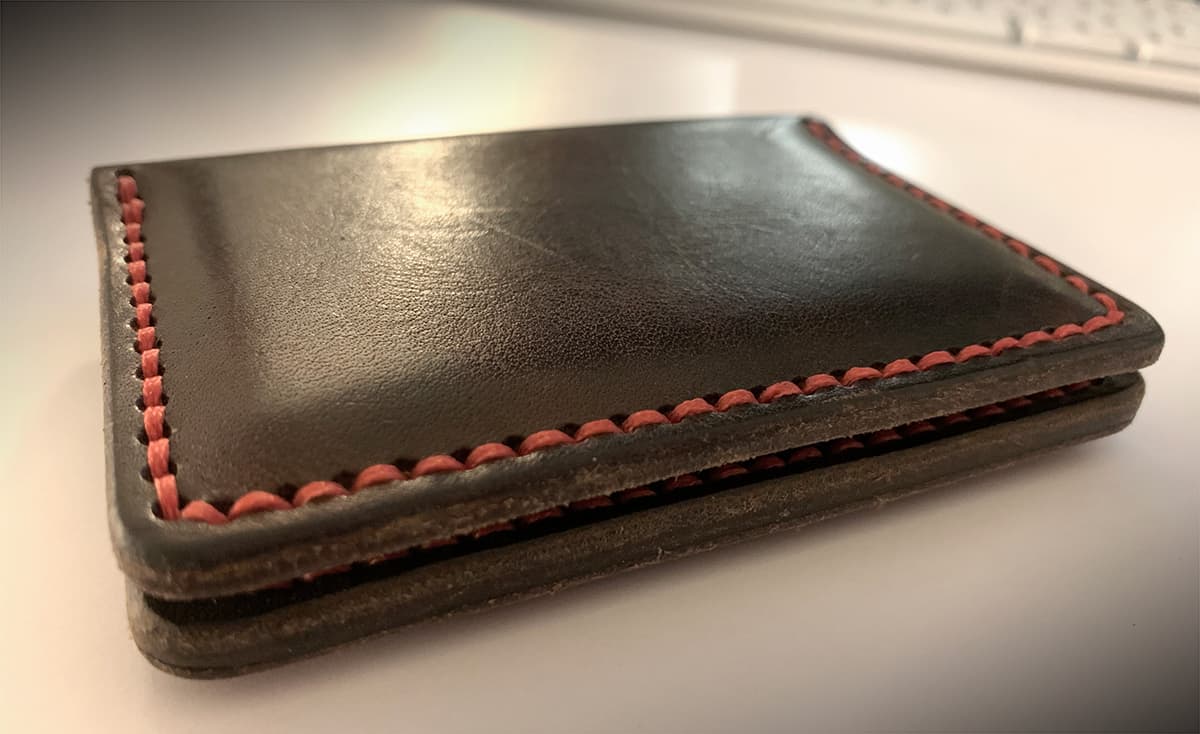 It's made from very thick, full grain leather, hand-stitched with "Tiger Thread," which is a waxed, polyester sewing thread coveted for its durability and strength. The leather itself is stunning and, if you're into that sort of thing, smells amazing.
The 5-Card Wallet is purposely designed to be minimalistic. If you're someone who absolutely needs to carry around more than 5-8 cards, plus a bunch of folding money, in addition to coupons, receipts, parking passes and extraneous other bits of paper, this may not be the wallet for you. I would say you could only fit at most 2 cards per pocket on the inside and 1 card on the outside slot, and even fewer cards if you're used to carrying a small stack of bills.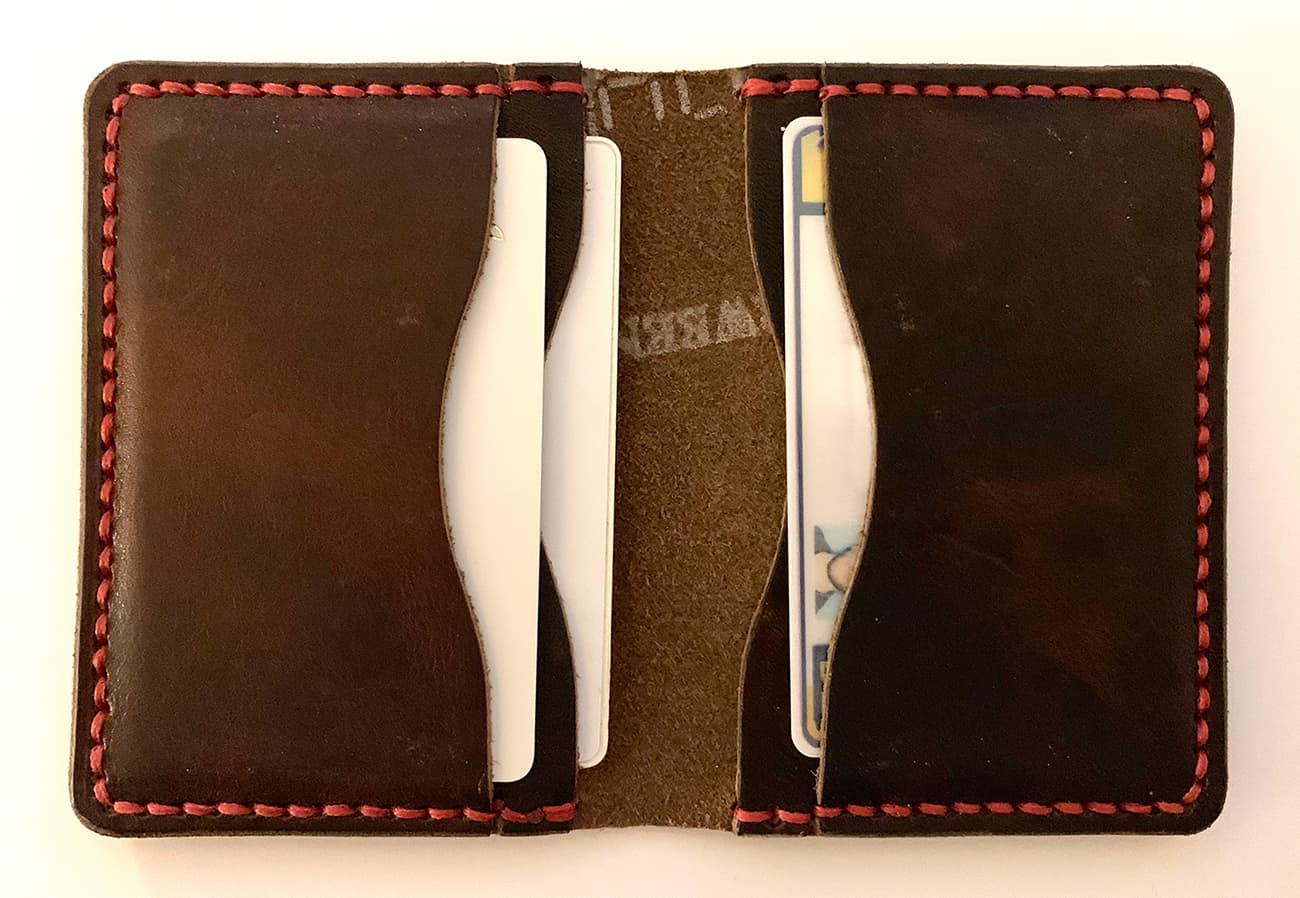 Maybe I'm just lucky, but I usually only need to carry between 4-5 cards with me, including the keycard for my office building. I almost never carry cash. So you can see why this configuration is right up my alley.
The thick, full grain leather they chose for the wallet's construction is supple. When laid open on a flat surface, it stays flat and doesn't curl back toward a closed state. It also stays closed and doesn't bend toward being open. It's hard to explain in words, but you know how when some wallets of cheaper leather quality sort of want to always spring open in your hands? This wallet just sort of reacts how you want it to.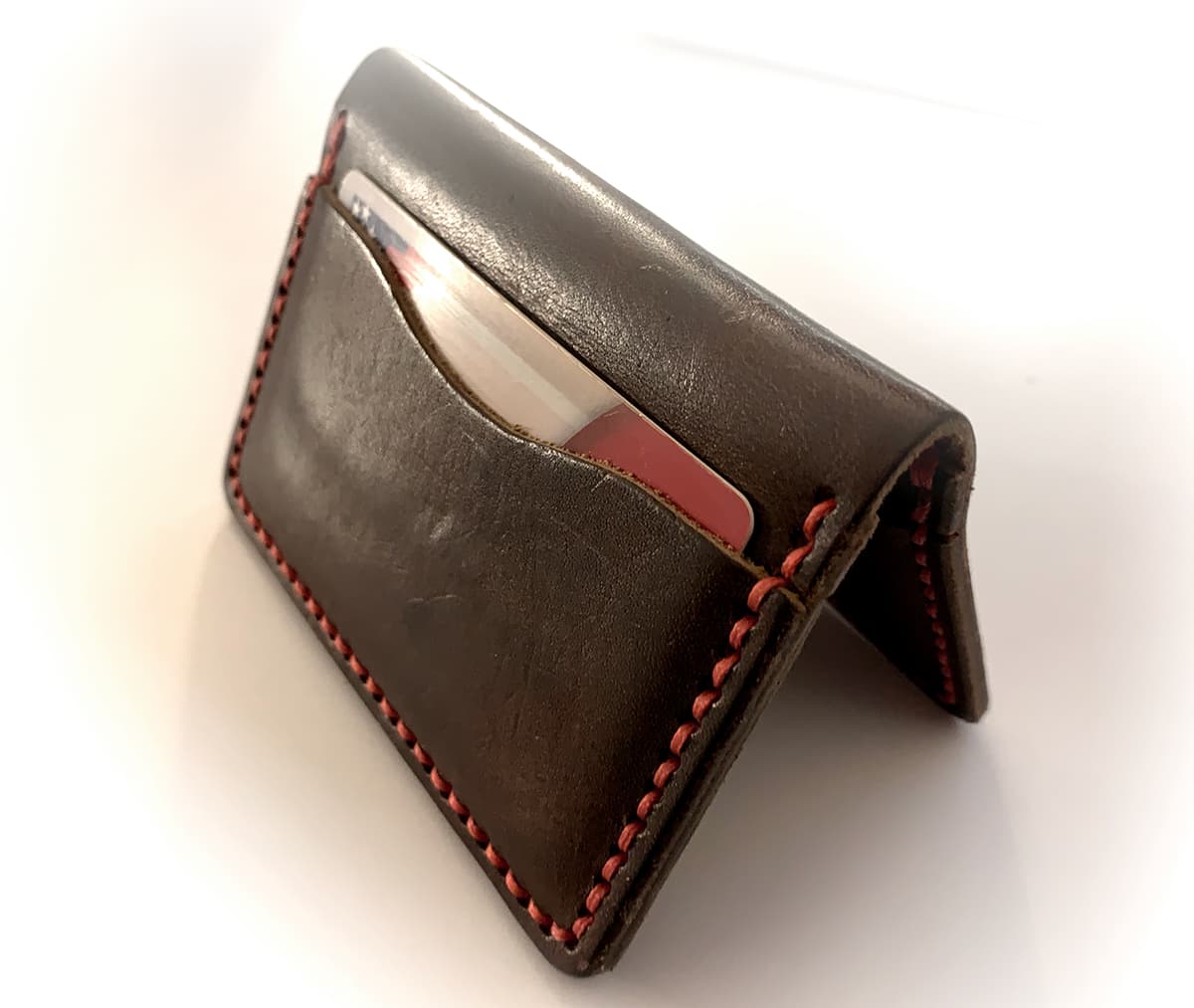 Even though I've only been using the wallet for about 25 days, it's still in the same state it was when I opened it. There was no "breaking in" period, and it feels like something you'd be able to hang on to for a lifetime.
Popov was kind enough to include a small tin of their leather soap ($9 on their website) as well. I haven't even gotten a chance to use it, yet, because the wallet still looks brand new, but I have a feeling it will come in handy when some of that initial luster wears off.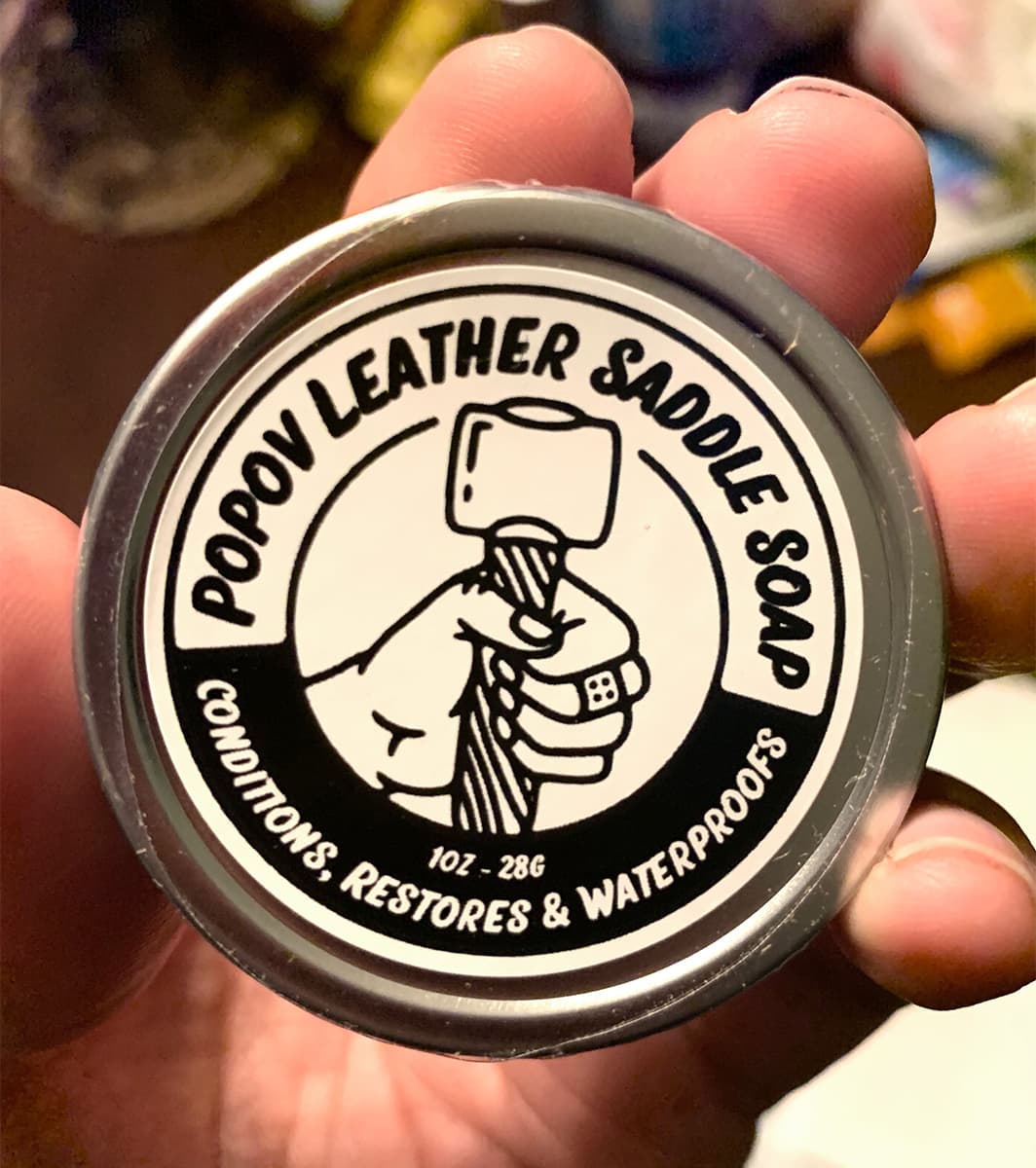 In daily use, the only knock I could give this wallet is when I uncharacteristically carried more than 1 card in a slot for testing purposes. It was a little hard to pull out just one card from a slot without pulling out both cards. If anything, it's all the more reason to pare down your everyday carry and reevaluate what you really need to carry on your person at a given moment.
Even then, the slots will loosen up slightly over time, depending on how much you feel you need to stuff into the wallet.
What I like
top-notch materials
hand stitching
wide, stay-flat fold
What I'd change
Final thoughts
Dare I say it, if you're the kind of person who only needs to carry a few cards plus some cash, this wallet is damn near perfect. And with a price tag just shy of $70, it's quite affordable for the quality you're getting.
Price: $69
Where to buy: You can pick up your own 5-card leather wallet in Heritage Brown or several other leather and thread color combinations directly from Popov's website. They also offer free shipping on $50+ orders and 10% off your first order when signing up for their newsletter.
Source: The sample of this product was provided by Popov Leather.