We use affiliate links. If you buy something through the links on this page, we may earn a commission at no cost to you. Learn more.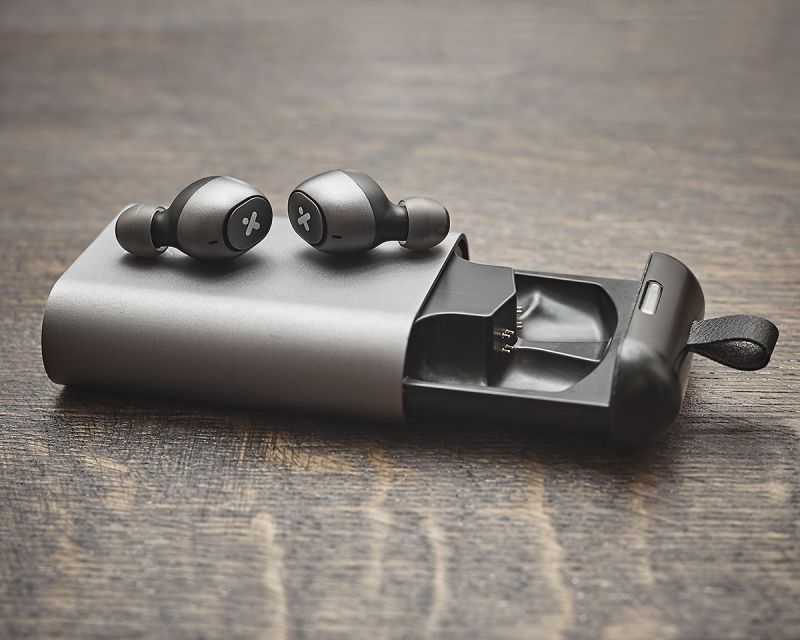 REVIEW – While wireless earbuds are just as popular as wireless headphones, there are plenty of decent brands to choose from. However, just because a pair of earbuds have a popular or trendy name to it doesn't make it the right ones for you. You have to think about the sound quality, comfort, features, and more importantly, battery life. It seems like no matter how great and exciting the earbuds are, they won't be that great if their battery capacity is less than average causing you to constantly recharge them. So, if you are looking for a pair of earbuds that not only have spectacular battery life but also have amazing sound, then your best bet is to look into the Liberty+ True Wireless XOUNDPODS Earbuds from X-mini.
What is it?
The Liberty+ earbuds from X-mini are lightweight, wireless sweat and water resistant Bluetooth earbuds with a very generous amount of a nine hour battery life packed into them. Add the extra battery life from the included charging case and you're looking at around 54 hours of battery life which is amazing for wireless earbuds.
What's in the box?
List contents – you can remove this heading and section if it doesn't apply to your review.
2 Liberty wireless earbuds
Charging case
S-M-L silicon eartips
 MicroUSB cable
Quick User Guide
Hardware specs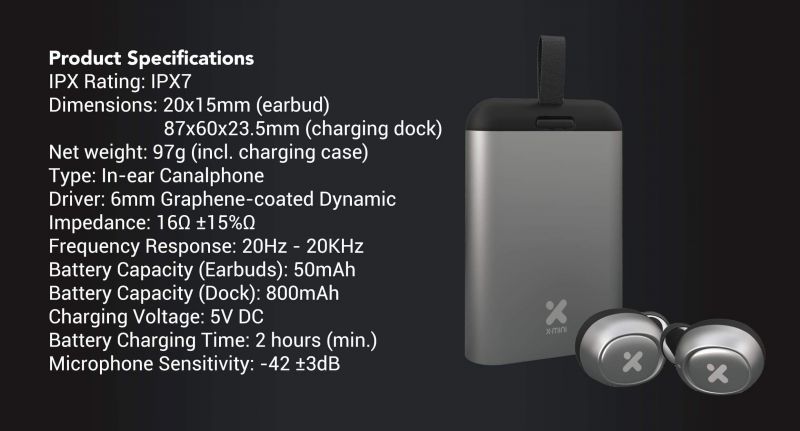 Design and features
The Liberty+ XOUNDPODS are Bluetooth wireless earbuds with an amazing battery life of nine hours on a single charge, they are sweat and water-resistant, they are Bluetooth 5.0 compliant, and they have what few earbuds do have which is a generous amount of mids and bass.  Maybe it has to do with the earbuds X-Bass. Don't get me wrong, you won't get booming bass with the Liberty's 6mm Graphene-coated Dynamic drivers but you will notice the difference. You may not feel the bass but you will hear the bass.
In this, I mean that when I listen to music with these earbuds I can hear the separations of the mids and bass in music, whereas in several wireless earbuds I have used I couldn't hear the bass. It seemed like there was no depth in the music with the other earbuds. Kind of like the high and lows were all on one frequency. When I first heard music through the Liberty+ earbuds I was genuinely surprised. Right away I could hear the dynamic range in the songs I was playing. Usually, with earbuds, you generally hear the sound on the high ends and not really on the low ends.  But when I started using the Liberty+ earbuds, right away I could hear different ranges in the music. And that is what made these earbuds stand out from the rest.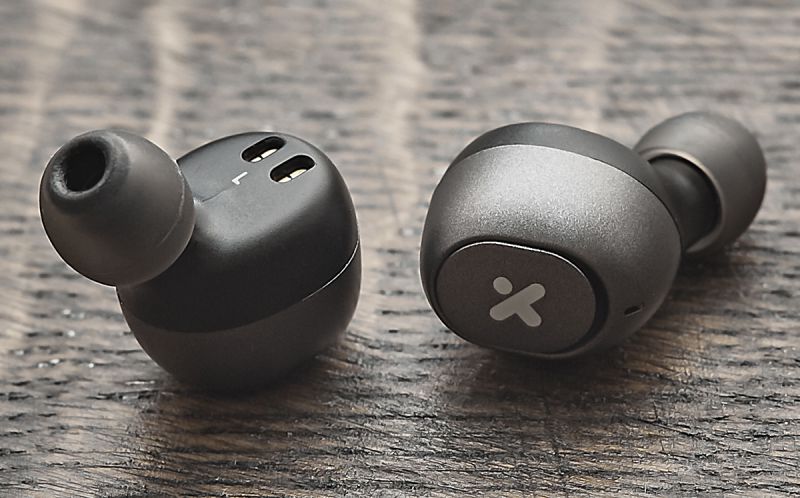 Although the Liberty+ has the form factor of similar wireless earbuds I like that the sides of the earbuds, otherwise known as the Multi-Function Button (MFB), which control some earbud operations such as Pause and Play, are clickable and not touch operated. I like this feature because on other earbuds that I have used that have touch side buttons they tend to be too sensitive which can be annoying if you keep accidentally pausing your music when you adjust the earbuds. Which the Liberty+, you won't accidentally pause your music because you have to press hard enough to do so.
However, I am torn a bit because pressing the Liberty+ side button can push the earbuds more into your ear if you press too hard. So, you have to sort of hold the earbud with your fingertips while you press the button to prevent this. The reason I don't like this is because I don't want the earbuds to block out any outside ambient sound. For me, these earbuds already block too much outside noise so I have to adjust the earbuds to stay loose in my ears so I can hear my surroundings better. That's just a quirk I have with earbuds and headphones. I still like to be able to hear things around me for safety reasons.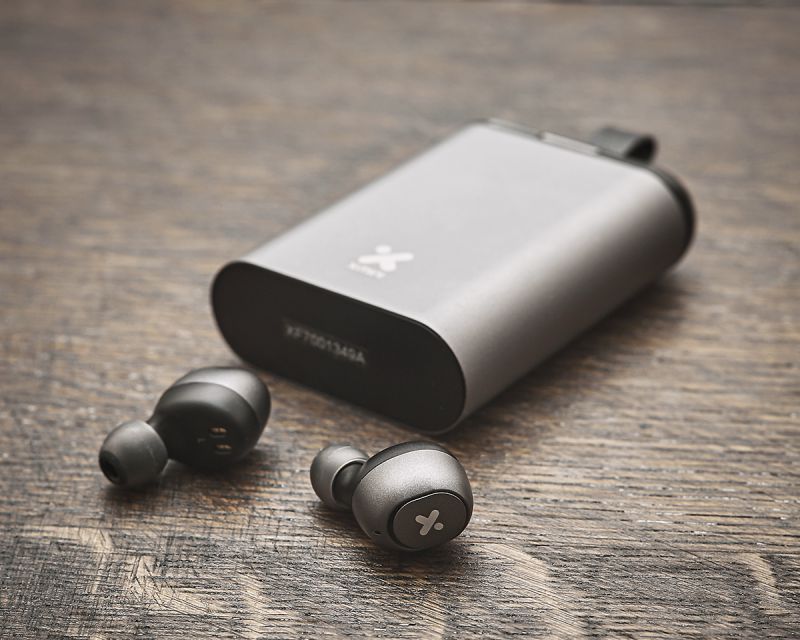 Fortunately, you don't have to rely on your smartphone or media device to control the volume with these earbuds, you are able to control the volume by pressing the LEFT side earbud button TWICE to increase the Volume and press the Left side earbud button THREE times to decrease the Volume. To PAUSE and PLAY, you just press the LEFT  side earbud button ONCE.
With the RIGHT side earbud, you can jump to the Next or Previous song. With the RIGHT side earbud, you press the earbud button TWICE to go to the next song and you press it THREE times to go to the previous song. The Liberty+ earbuds use HSP, HFP, A2DP, and AVRCP Bluetooth profiles.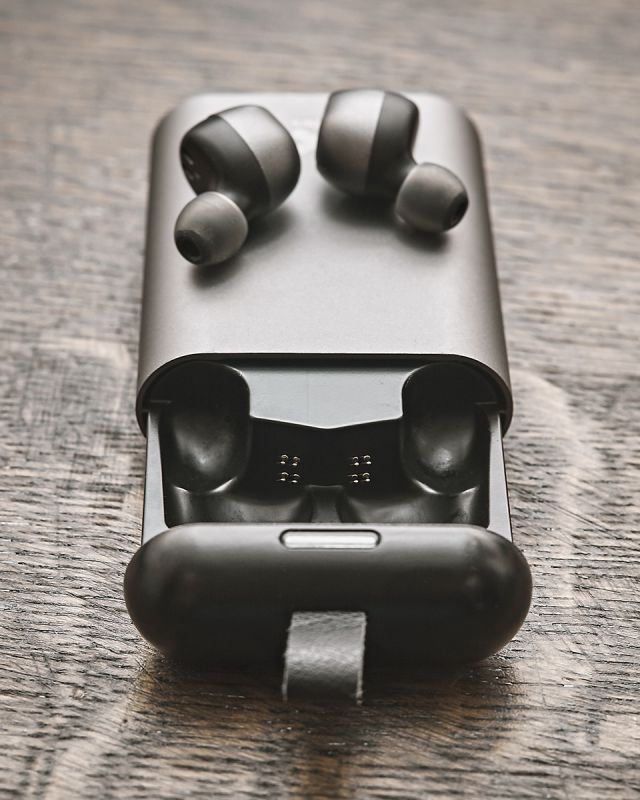 Since we are on the topics of pressing earbud buttons, you can ANSWER or REJECT a call with either Left or Right side earbud button. You press either side button to ANSWER or END a call and press and hold either side earbud for 1 SECOND to reject an incoming call.
If you're wondering about call quality, just know that it sounds just as good as the music quality. Call quality was crisp and clear and I didn't have any dropouts or any echoing during the calls. Callers on the other end could hear me just as well. They said that it didn't sound like I was on handsfree.
Each earbud is equipped with ceramic antennas for a more stable connection. You can use each earbud independently for handsfree calling or independently for listening to music.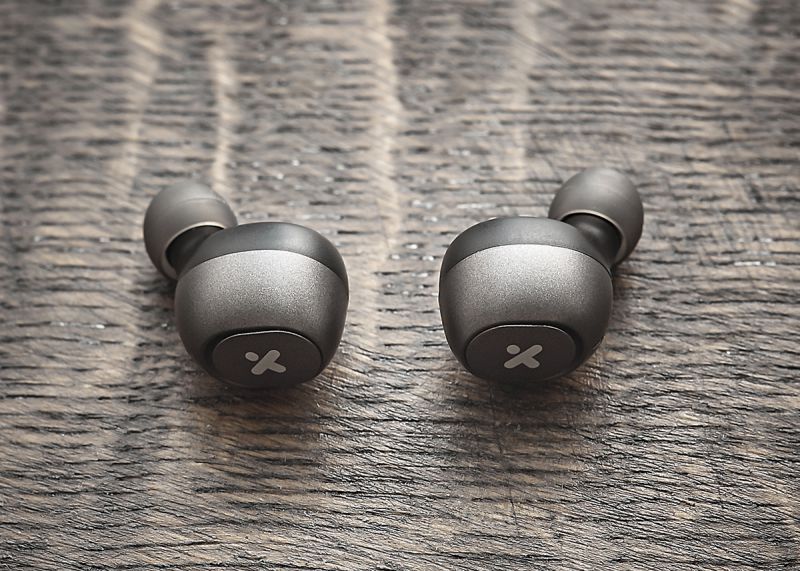 The Liberty+ earbuds have an IPX7 rating so they are ideal for wearing while you are sweating from a long and vigorous run on a sunny day or sweating profusely while lifting the heavy weights at the gym.  Either way, they are perfect for any intense workout that you can throw at them since they are virtually splash-proof. Keep in mind that headphones and earbuds that are IPX7 rated roughly means that a device is protected from accidental submersion in 1 meter, or 3 feet, or water for up to 30 minutes.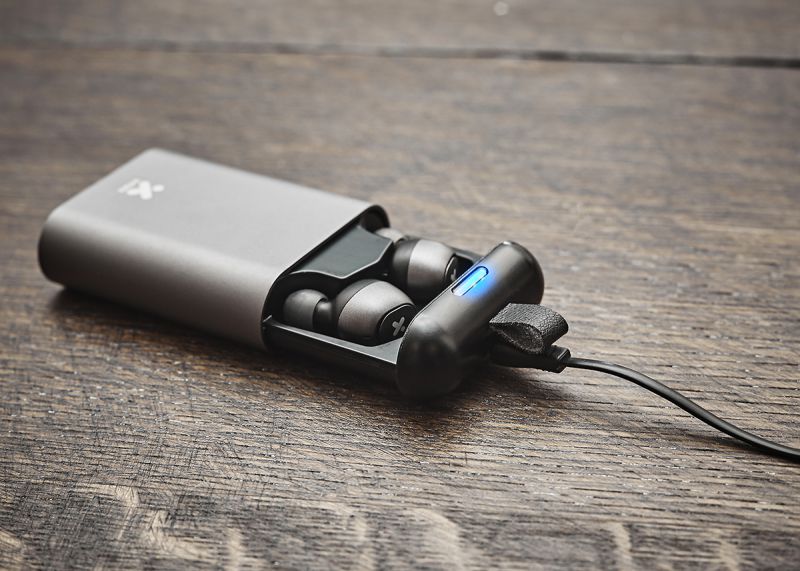 The Charging case, also known as the charging dock, not only charges the Liberty+ earbuds but also stores them when not in use. I like the shape and form of the charging case because it is not so bulky and can easily slip into your backpack, purse, briefcase, or other bag. You can probably slip them into your pants pocket as well. This sturdy metal charging case slides open to reveal the charging cradle that you set the earbuds into charge and store. It has a fast charge of 15 minutes for a 2 hour playback. It takes about 2 hours for the earbuds to fully charge.
The charging case has LED lights to display the status of the battery level for the case. 4 lit LED's indicates 100% charged. 3 LED lights indicates 75% remaining. 2 LED lights indicates 50% remaining, and 1 LED light indicates 25% battery left.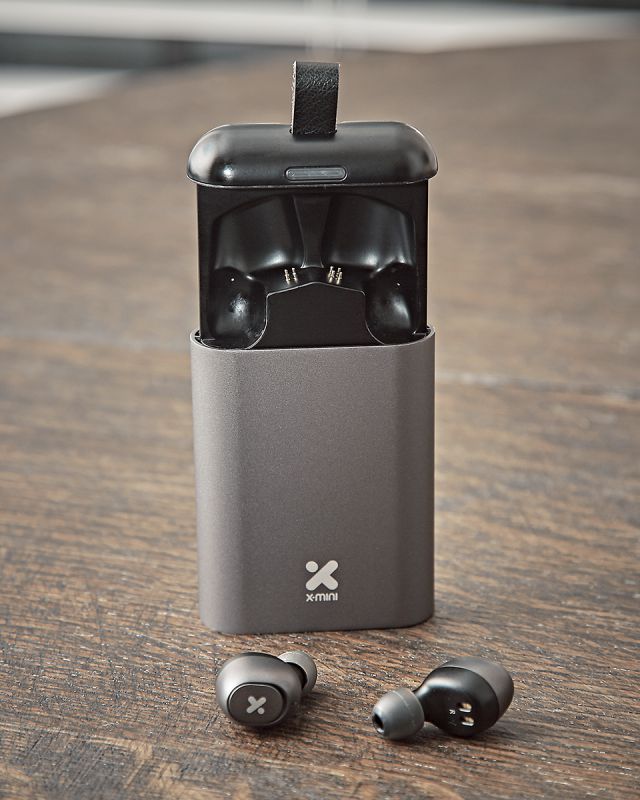 What I like
Extra long battery life
Clickable Multi-Function Button
Great sound with X-Bass
Lightweight
What I'd change
Hearing more outside ambient sound

Final thoughts
When it comes to wireless products, battery life is a major key factor. Extended battery life for wireless earbuds is something that has long been needed and X-mini has done a fantastic job of providing this. There are still plenty of wireless earbuds in the market that only provides a fraction of battery life than what the Liberty+ has to offer.  Along with the generous battery life, the Liberty+ are sweat and water-resistant, have great sound quality, and is Bluetooth 5.0 compatible. These earbuds can go all day and then some. There is nothing worse than when your battery goes out on your wireless earbuds or headphones, especially just as you start to use them. You either should have charged them before you wore them or have earbuds with a longer battery life. Because even if you charge the earbuds before you use them, it isn;'t going to do you any good if the battery only lasts a few hours and you need them for a much longer time.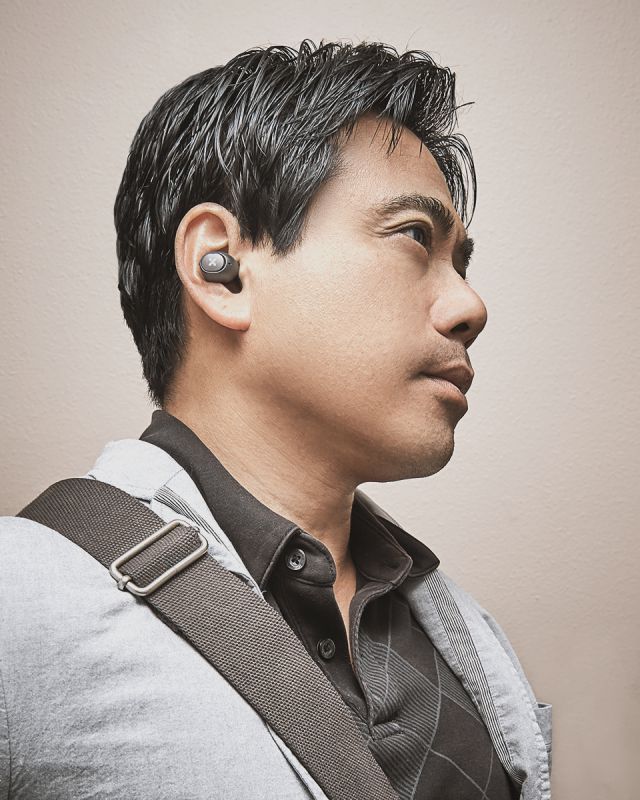 The Liberty+ earbuds from X-mini solves this battery problem by allowing you to literally go all day on one single charge. And with the addition of the charging case you can go all week with these headphones either while you hit the gym, go for a run, or sit back and relax while listening to your favorite music, podcast, or audiobook. It seems more likely that you will run out of things to listen to before you run out of battery with the Liberty+ earbuds.
Price: $89.90
Where to buy: X-mini.com
Source: The sample of this product was provided by X-mini.