We use affiliate links. If you buy something through the links on this page, we may earn a commission at no cost to you. Learn more.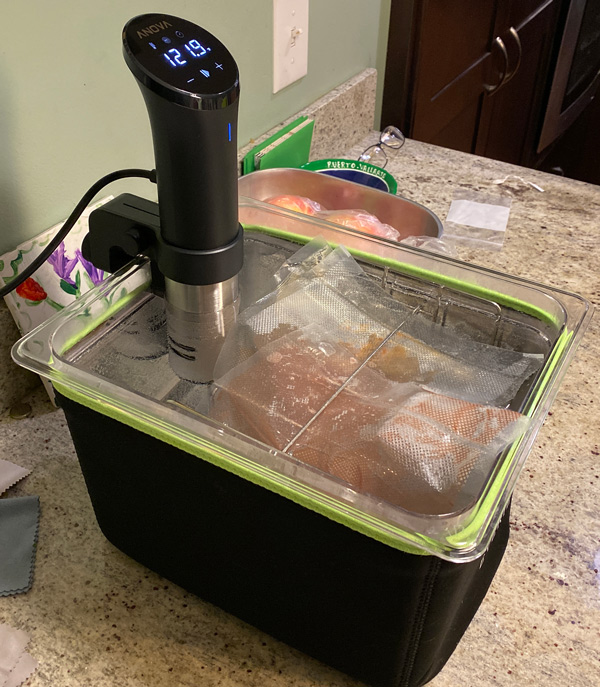 REVIEW – Earlier this year I got the opportunity to review Anova's flagship sous vide cooker: the Precision Pro. It is a professional grade, restaurant quality piece of cooking tech…but for many, it's probably a bit of overkill in the average kitchen. Recently Anova has released its latest home sous vide cooker, the updated Precision Cooker. It is a smaller, more powerful/advanced version of their original. I am definitely a fan of sous vide cooking and have been looking forward to trying Anova's most recent sous vide cooker to see how it compares to the Pro.
For those who do not know, sous vide  (pronounced sue-veed and means "under vacuum" in French) is a cooking technique that involves vacuum-sealing food in a bag then submerging it in a water bath allowing for precise temperature control giving you consistent, high quality, near perfect results.
What is it?
Anova's all-new Precision Cooker is an upgrade from their original with improved connectivity, greater power, and better water resistance, all in a smaller, more compact design.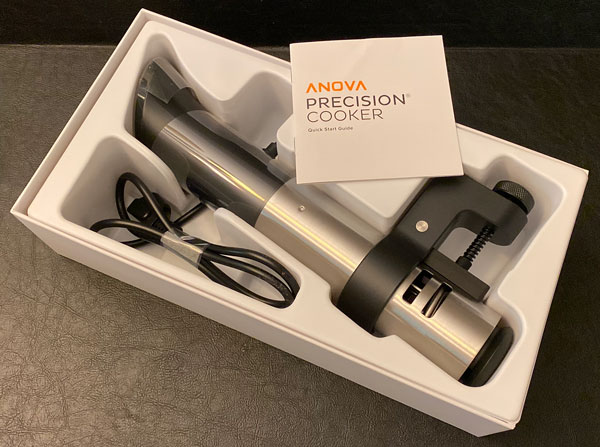 What's in the box?
The only thing in the box is the sous vide cooker and instruction manual.
Anova Precision (Sous Vide) Cooker
Manual
Hardware specs
Performance:
– Power: 1000 Watts
– Flow Rate: 8 Liters/min
Durability:
– Plastic & stainless steel
– IPX7 water and splash resistant
Precision:
– Temperature Accuracy: +/- 0.1˚C (0.2˚F)
– Temperature Range: 0˚-92˚C (32˚-197˚F)
Usability:
– Manual time and temperature controls
– Adjustable & detachable clamp
– Removable skirt
Size:
– 325mm (12.8″) Height
– 0.7 kg / 1.6 lbs
Container Size:
– Min water line: 65 mm
– Max water line: 153 mm
Connectivity:
– WiFi 802.11 b/g/n 2.4 GHz
– iOS and Android app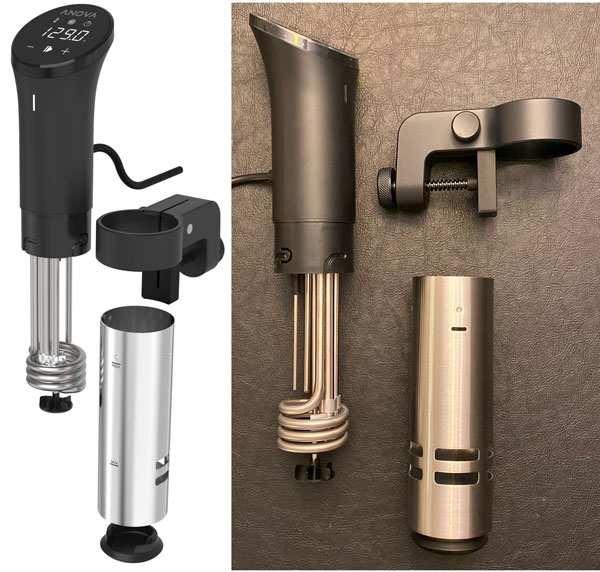 Design and features
The Anova Precision Cooker is a sous vide cooker engineered/manufactured with much of the same materials, tech, and features of Anova's Pro but designed with the home chef in mind. It's very well constructed, precision-machined, and made from metal and stainless steel parts. The Precision Cooker has three components: the main control/heating device, metal protective skirt, and mounting clamp.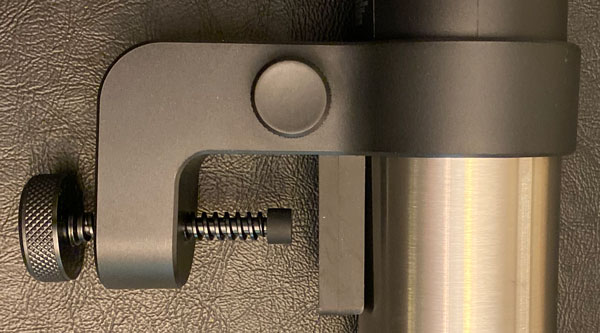 The detachable mounting clamp is made from a hard, dense plastic that slides over the metal skirt and locks into place.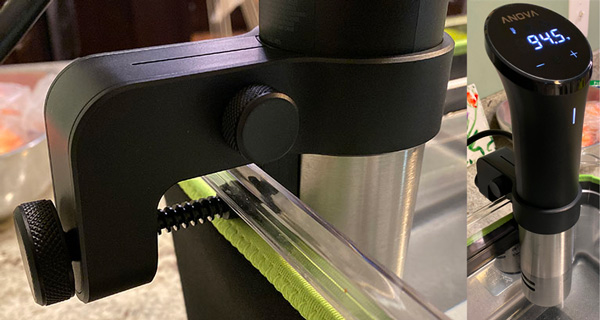 The clamp is adjustable enabling the sous vide cooker to be raised or lowered based on the shape/size of the cooking vessel. It can also be twisted in the mount for a better view/management of the touchscreen.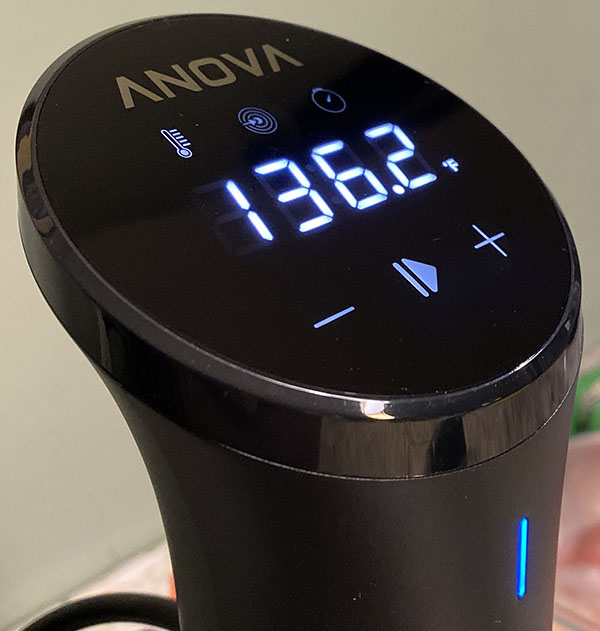 The Anova Precision Cooker has a bright and responsive touchscreen enabling you to set your temperature, time, and monitor progress. Using the touchscreen to set the time and temperature is easy and intuitive.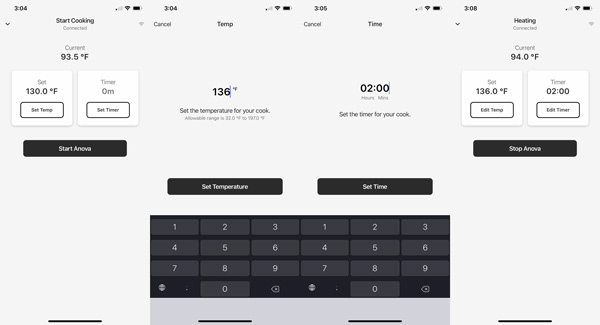 Though using the Anova app was even easier than using the Precision's touchscreen. The app walks you through the first step of getting the Precision Cooker connected to your WiFi. Once everything is communicating to the cloud, setting temperature and cooking time is a snap. The app also monitors the temperature and time remaining, notifying you when your meal is done.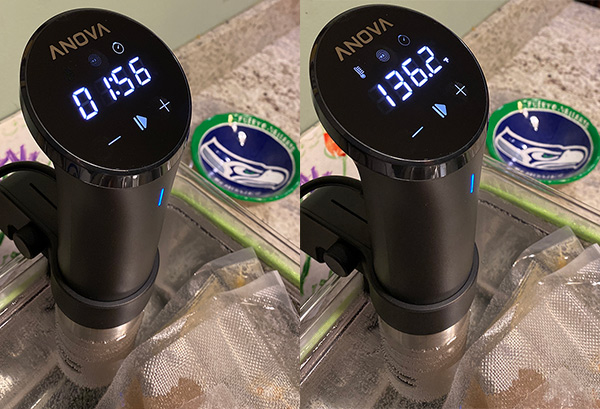 Once operational, the screen switches between time remaining and water temperature. There is also a speaker in the rear of the Precision Cooker that also lets you know when your cooking temperature is reached and timer is done.
Performance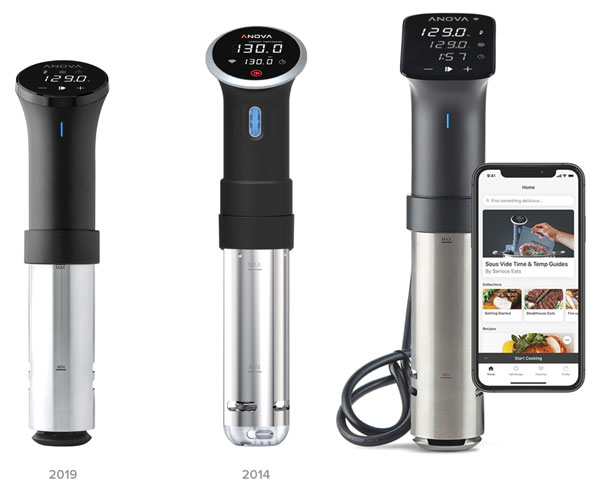 The latest version of the Anova Precision Cooker is more drawer friendly than any of its brethren, past or present. Its smaller form factor helps it fit into tighter spaces. That said, many if not all of our kitchen drawers and cabinets are very dangerous places. I'm pretty AR and repackage my Precision Pro before putting it away because I don't want the cooker damaged or touchscreen marred up. That said, it would be nice if Anova offered some sort of storage case for their sous vide cookers.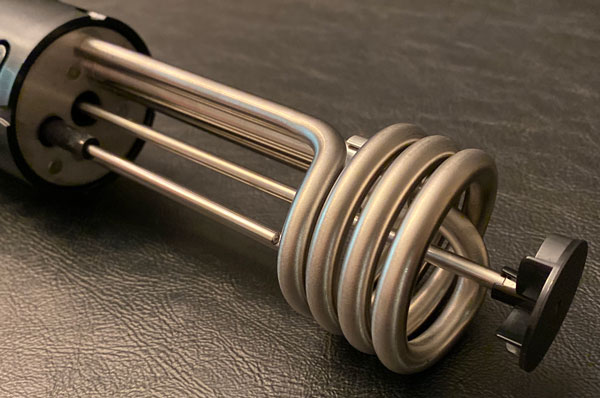 The new Anova Precision Cooker is engineered with greater performance in mind: 1000 watts of heating power with a 8 liters/min flow rate. Inside the stainless steel protective housing is an array of heating, monitoring, and circulating hardware. These components combine to not only heat the water quickly and effectively but keep it at a very precise temperature set-point. The integrated temperature probe is accurate to +/- 0.1˚C.

The Precision Cooker has a temperature range of 0 ̊ – 92 ̊ C  / 32 – 197 ̊ F . As I mentioned, the heating coil heats the water bath to the desired temperature then keeps it locked onto that set point throughout cooking. Cause the temperature difference between rare, medium-rare, medium, etc is just a few degrees between doneness levels.
What I like
Excellent design and construction
Made with quality materials
Nice touchscreen controls
Good connectivity options
Well done mobile app with recipes
What I'd change
I do not want to compare the Precision Cooker with the Pro but in general (for how we sous vide cook) I didn't notice any real difference between the two while cooking or in the finished product. Now I'm sure if you owned a restaurant you'd notice the differential in performance pretty quickly.
The Anova Precision Cooker comes with a 100-day money-back guarantee and 2-year warranty.
Final thoughts
Like I stated in my previous Anova Precision (Pro) review, this isn't about sous vide cooking in general but for anyone who hasn't tried it, I highly recommend it. I have cooked steak, chicken, and fish with the new Anova Precision Cooker and every meal turned out perfectly. It removes any of the guesswork and stress of juggling variables of temperature, flame, time, doneness, etc. The Precision Cooker is easy to use by itself and even more so when partnered with the Anova app. In the past year, we have given several of the last generation Precision Cookers as gifts and will most likely give a few of these this Christmas as well.
Price: $199
Where to buy: anovaculinary.com
Source: The sample of this product was provided by Anova.