We use affiliate links. If you buy something through the links on this page, we may earn a commission at no cost to you. Learn more.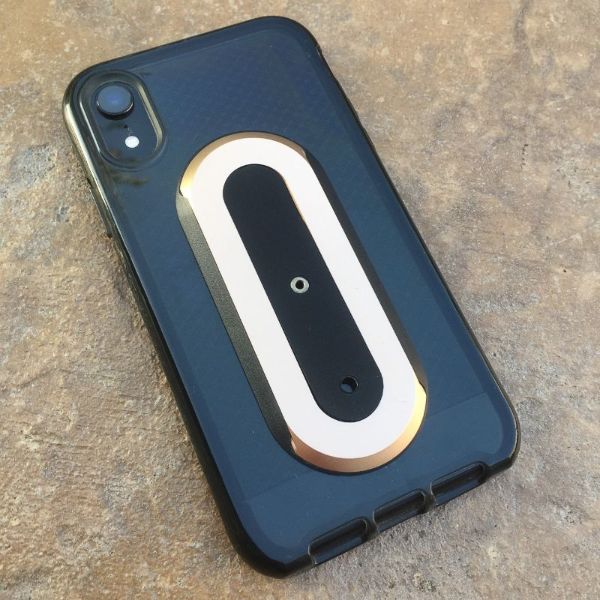 CROWDFUNDING REVIEW – We all have smartphones, yes?  And despite grippy cases, poppy knobs, dangly strap, and other attempts, those smartphones continue to increase in size and therefore are more difficult to hold onto while using them.  And because they also keep increasing in price, it seems like a good idea to keep a solid grip on them, but without overly compromising their styling and ergonomics.  That's where Ohsnap comes in.  With its multitude of features and low-profile styling, it might just be the best phone grip in the history of ever.  Let's take a look.  Gadget on!
What is it?

Ohsnap is a low-profile grip device for your smartphone.  It can attach to objects magnetically, can be removed quickly for wireless charging, and its main feature is a pop-out finger loop (demonstrated above).
What's in the box?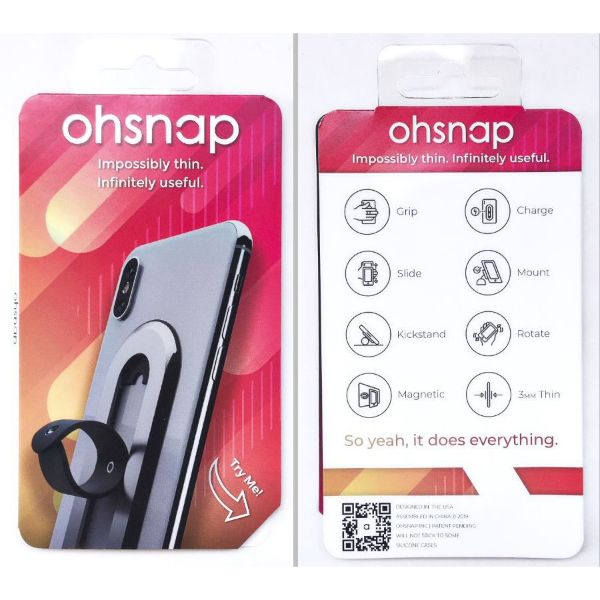 The above and below images show Ohsnap's packaging which seems relatively simple and straightforward.  Until I actually tried to get Ohsnap out of it.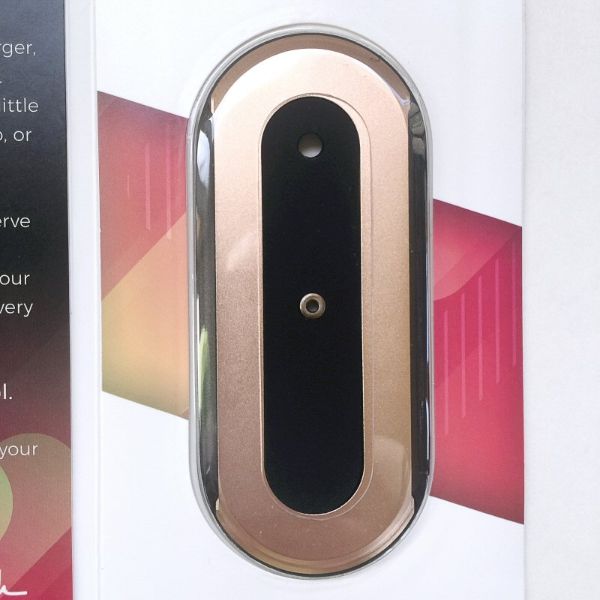 At first I tried to cut the plastic that was holding Ohsnap in, but that was an awkward fail and was taking forever, plus I was starting to scuff up Ohsnap's nicely gold anodized surface in the process.  Eventually, I just took a scissors and cut off the side and top edges of the package to free Ohsnap from its cardboard and plastic prison.
Contents
Hardware specs
Materials = Aluminum, steel, plastic, and silicone.  Plus: magnets!
Design and features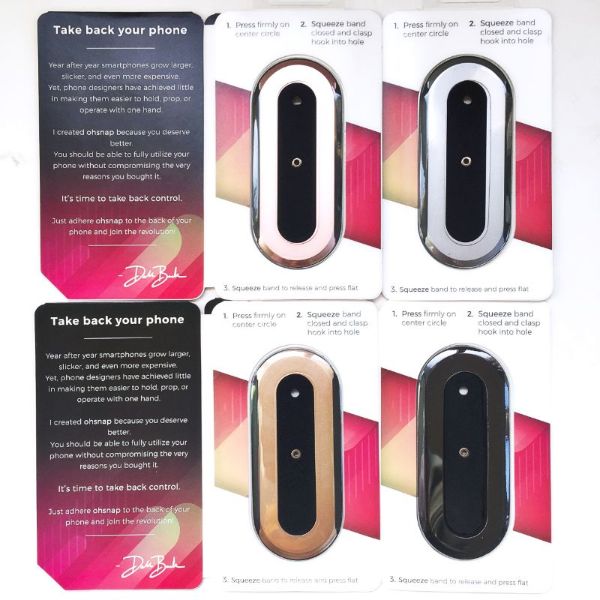 Options
In the Kickstarter campaign, Ohsnap was initially available in the four colors seen above, which are Rose Gold, Space Gray, Gold, and Black.  However, as of this writing, if the campaign funding reaches its final stretch goal of $500,000, the following additional colors will be unlocked: Ruby Red, Cobalt Blue, Kelly Green, Flame Orange, and Very Purple.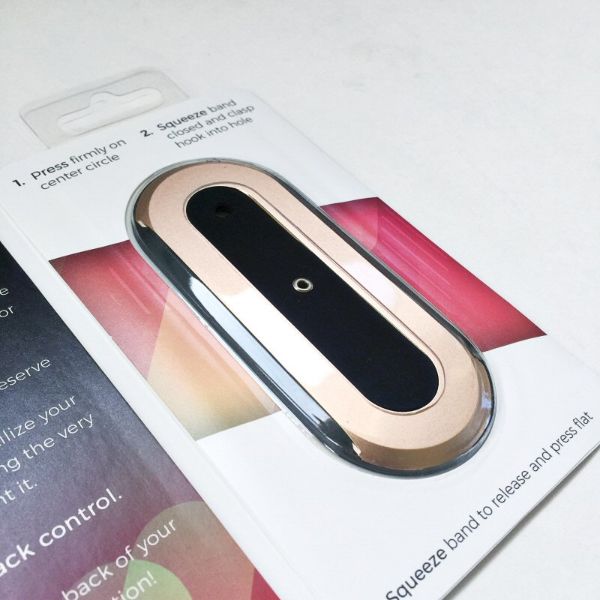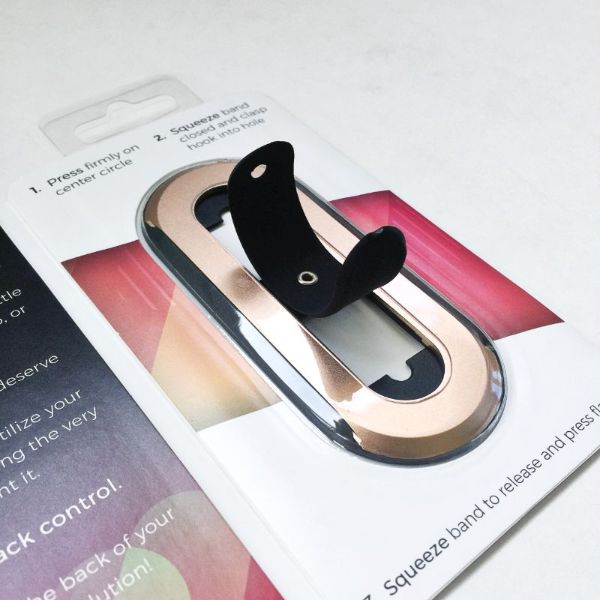 I like that the Ohsnap packaging allows for trying out the product, which of course I did, as seen above.  Pressing on the rivet in the center released the grip strip (which is my name for it) and both of its sides immediately popped up.  More on this and how it works below.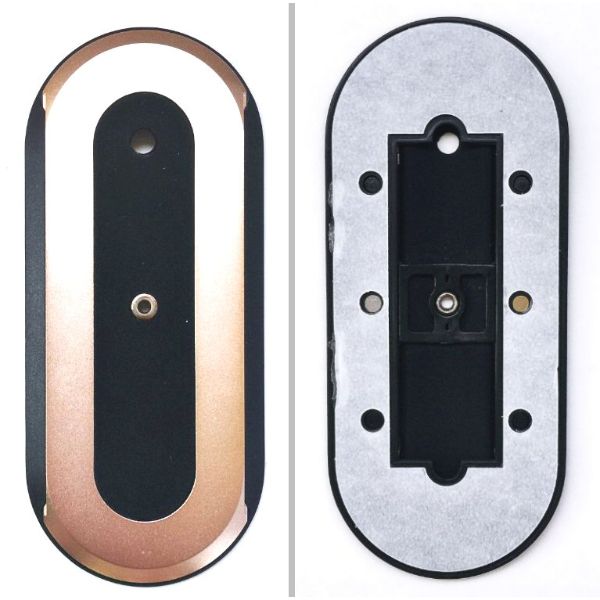 The above photo shows the top and underside of Ohsnap after finally removing it from its packaging,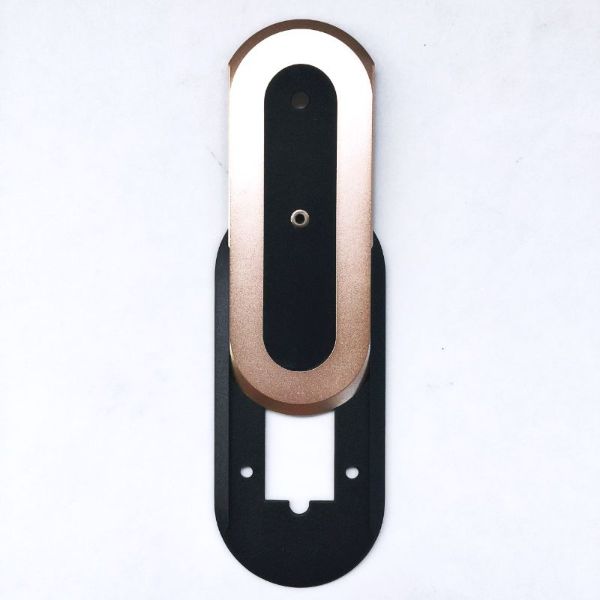 One of Ohsnap's features is that the aluminum top portion can be slide out of the plastic base very easily and quickly.  More on this below as well.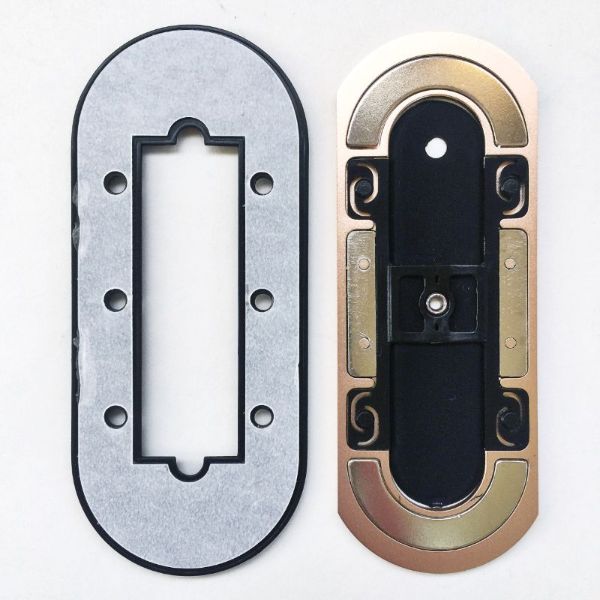 Installing Ohsnap on your phone is quite simple.  Essentially you just remove the adhesive's backing paper and stick it on, with a few additional steps to ensure that it is placed properly.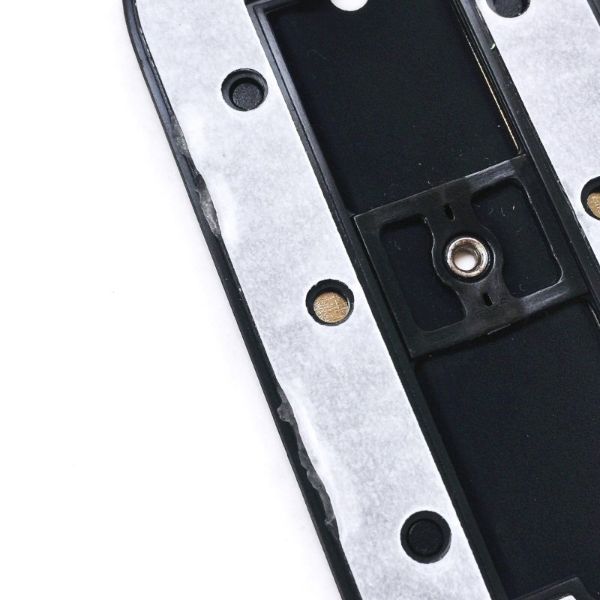 In the photo above, there are a few things to note.  First is the center rivet where the grip strip is attached to the aluminum top portion of Ohsnap.  This is not only an attachment point but allows the grip strip to spin 360 degrees so it can be adjusted to where it is most comfortable for you.  The second thing to note are the rows of holes that are visible which is part of the mechanism that locks the top portion into the base when you slide it in or out.  Third, you can just see along the left edge that both the adhesive and backing paper have been a bit scuffed up, which I suspect was done when I struggled to remove Ohsnap from its package.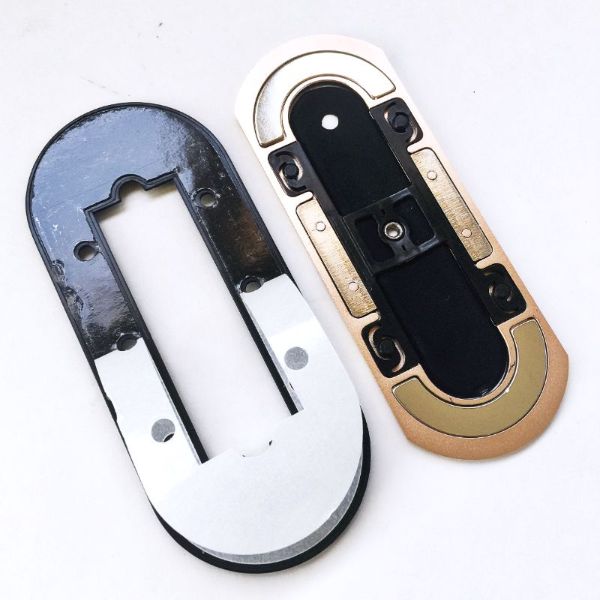 Above, I've peeled away about half of the backing paper from the adhesive.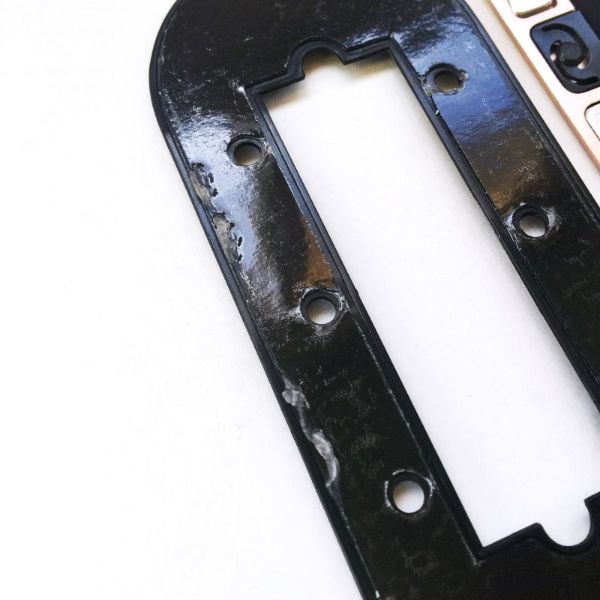 Above, another closeup of the slightly scuffed up adhesive on the left edge.  At this point I was hoping that this would not negatively affect Ohsnap's ability to attach to my phone case.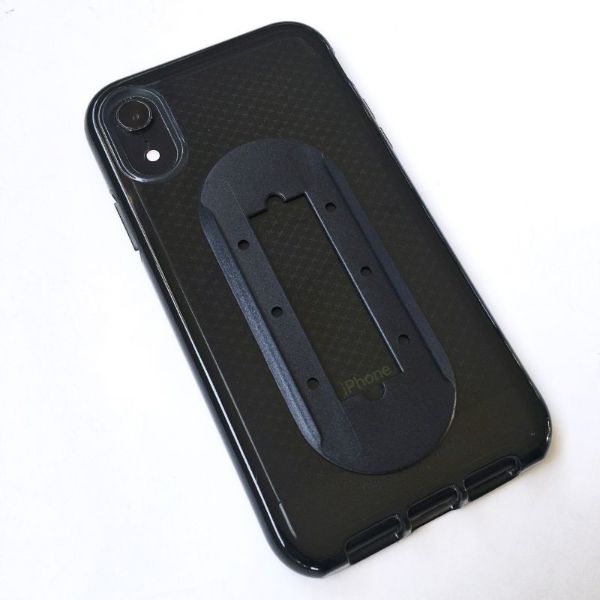 Because I keep my iPhone XR in a black Tech21 Evo Check case, I opted to attach Ohsnap to the back of that.  After peeling back the remainder of the adhesive's backing paper, I followed the instructions and centered Ohsnap to the left and right and placed it near the bottom of the case.  I then pressed firmly but carefully all along the base, ensuring that I was pressing on every part of the base.  The instructions indicated that the base would then need to sit for 2 hours (!) before I could slide the top portion into the base.  So in the meantime, let's take a look at that top part of Ohsnap.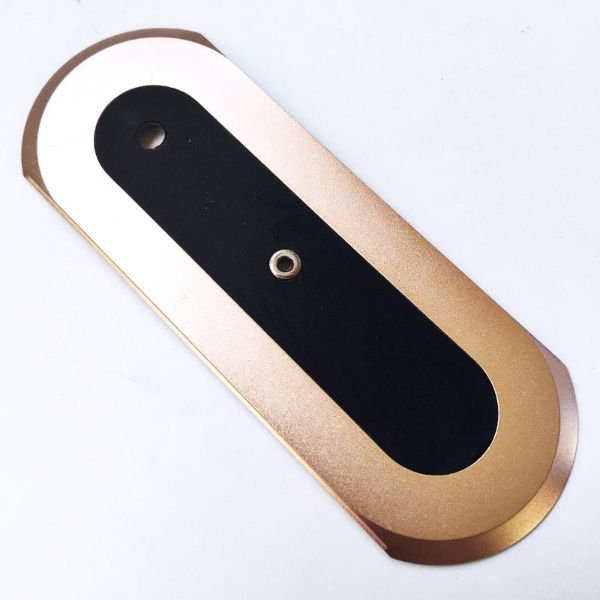 The main feature of Ohsnap, the feature that actually makes it a phone grip, is the long black strip in its center.  This strip normally sits flat and flush within the aluminum oval portion.  The grip strip has a silicone coating that is soft, grippy, and pleasant to the touch.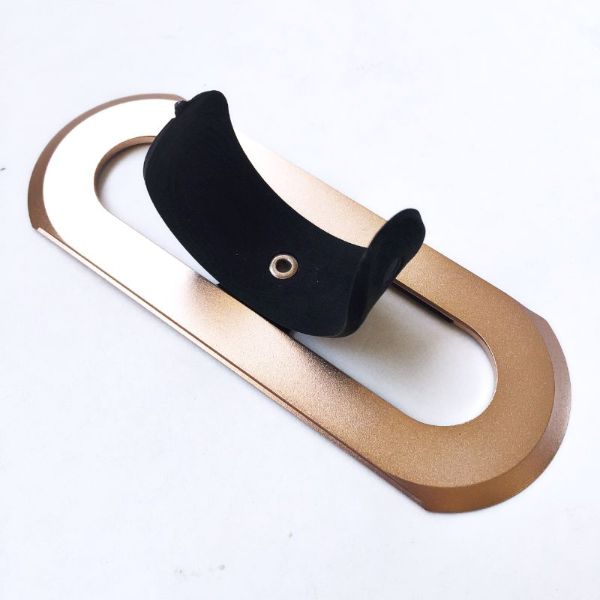 To "activate" the grip strip, simply press on the gold rivet in the grip strip's center and, as described above, both ends of the grip strip immediately pop up.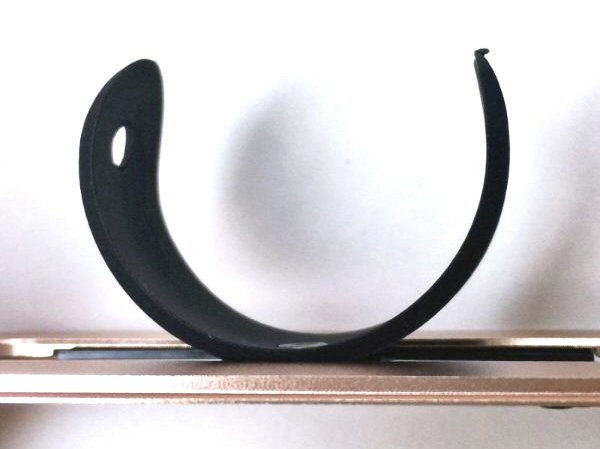 The grip strip pop works because within the grip strip's soft silicone coating lies a bi-metal strip, nearly identical to the "snap" bracelets which were popular a few years ago.  Kudos to the Ohsnap folks for finding a way to utilize the working principle of these bracelets for something that is actually useful.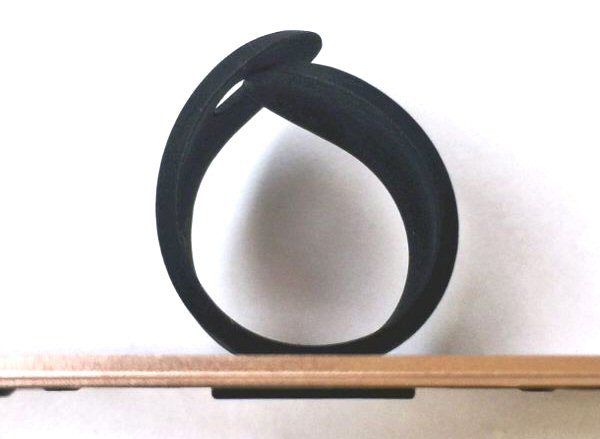 Engaging the steel hook into the hole secures the grip strip into a circular shape that a finger can be slid into, which I'll demonstrate below.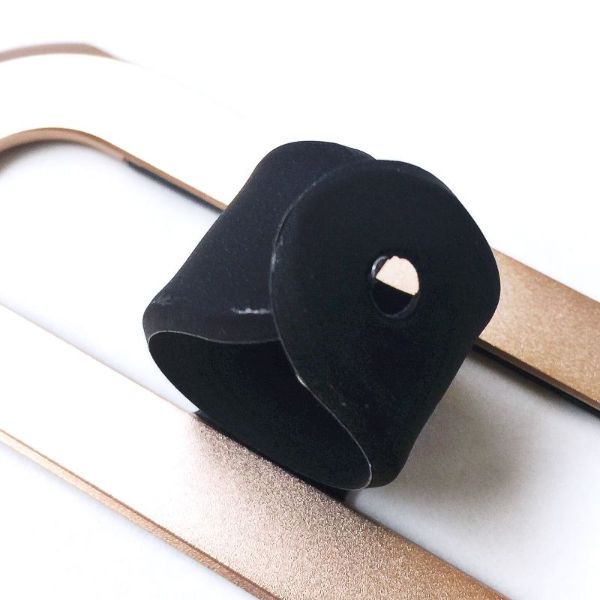 Next, it's easy to bend the ends of the grip strip inward toward themselves and engage the tiny steel hook at the tip of one end with its mating hole in the other end.  The little steel hook is so small and unobtrusive that you might not even notice it is there unless you are told how Ohsnap works.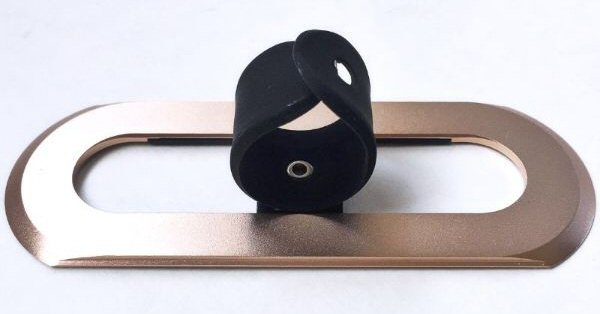 Next let's take a look at the underside of Ohsnap's top component,which is actually quite packed with clever features.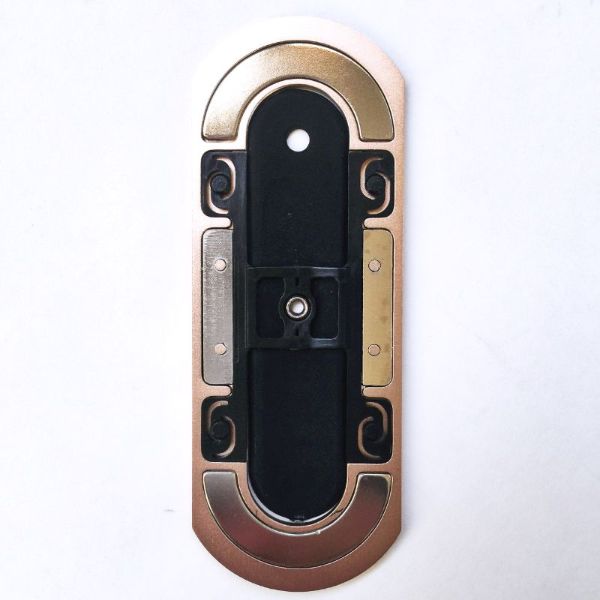 There are four magnets placed at the top and bottom (the semi-circular shapes) as well as on the left and right (the long rectangular shaps with gold dots on them).  These magnets are quite thin which not only helps keep Ohsnap thin, but they are strong enough to easily hold my iPhone XR plus Evo Check case to metal objects, which I'll demonstrate below.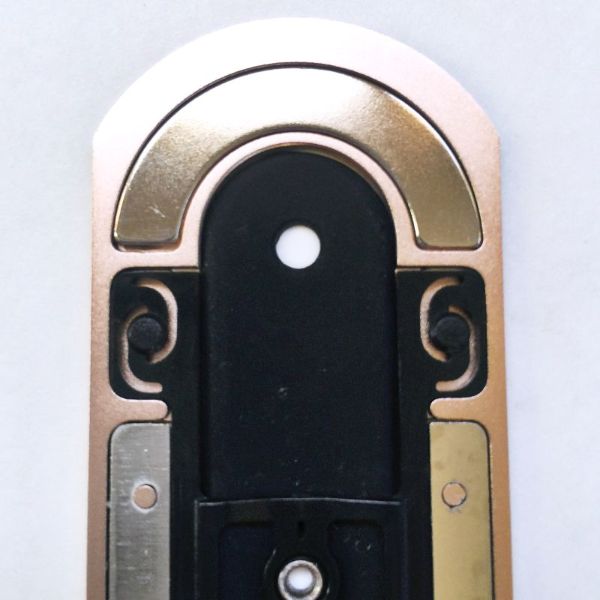 The above closeup shows two of a total of additional very clever features.  Located between the semi-circular magnets on the ends and the long, narrow magnets along the sides are a pair of small black plastic dots that are held by spiral-like "arms."  These are small protrusions held in place by the spiral arms which deflect slightly when the aluminum top portion of Ohsnap is slid into its base.  These small black dots then engage with the pairs of holes along the base and help lock the two components together.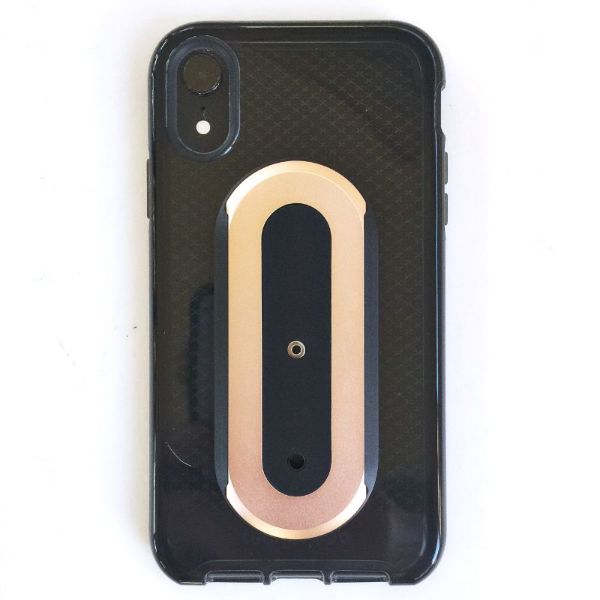 After two hours I finally slid the aluminum top portion into the base, completing the assembly of Ohsnap.  I have to admit, I liked the gold and black look.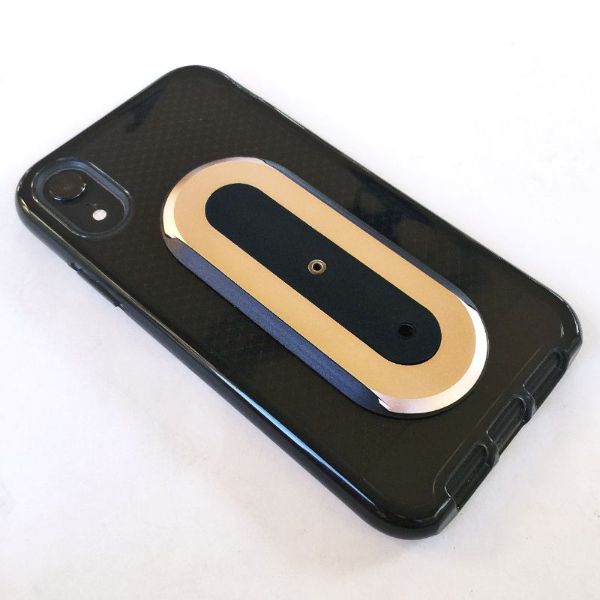 One of the features of Ohsnap that I really appreciate is that it is low profile, which I think makes it much better than a lot of the other phone grip type solutions out there.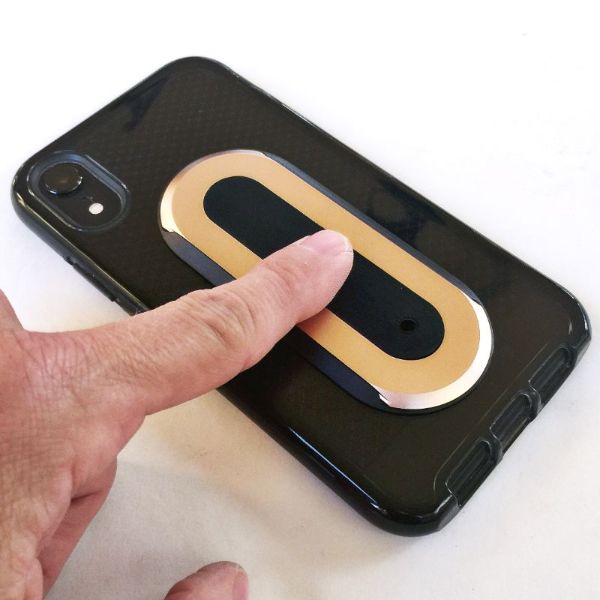 Of course, I immediately had to test the grip strip, which activated easily with the press of my finger.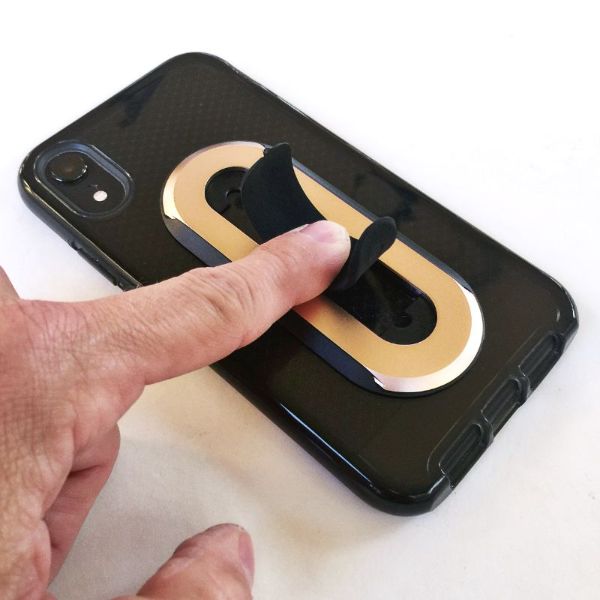 It really doesn't require much force to engage the grip strip, but it does require enough force that the grip strip is unlikely to pop up on its own.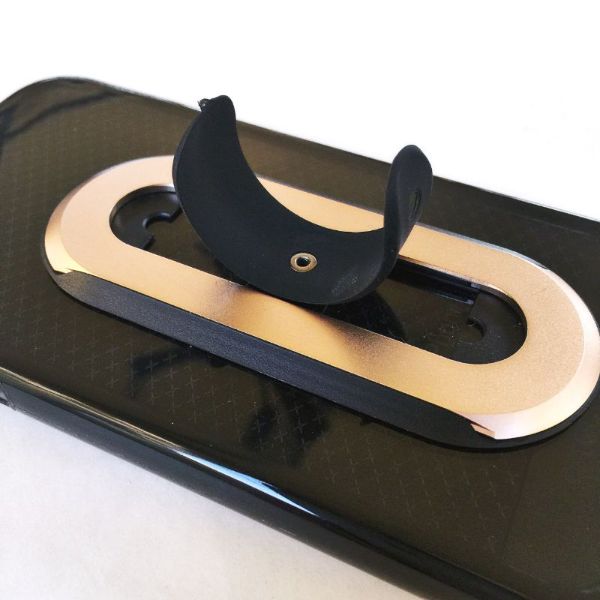 And boom, the grip strip pops up, ready to be used as a grip.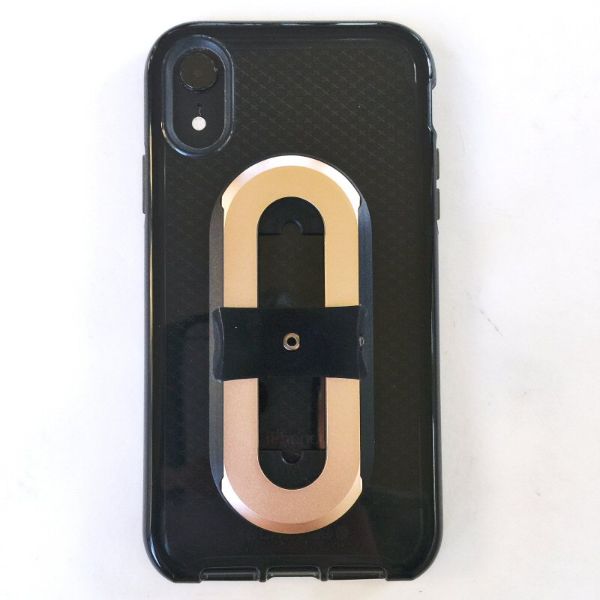 As mentioned above, because the grip strip is attached to Ohsnap with a rivet, it can be rotated 360 degrees to place it into the best position for the user.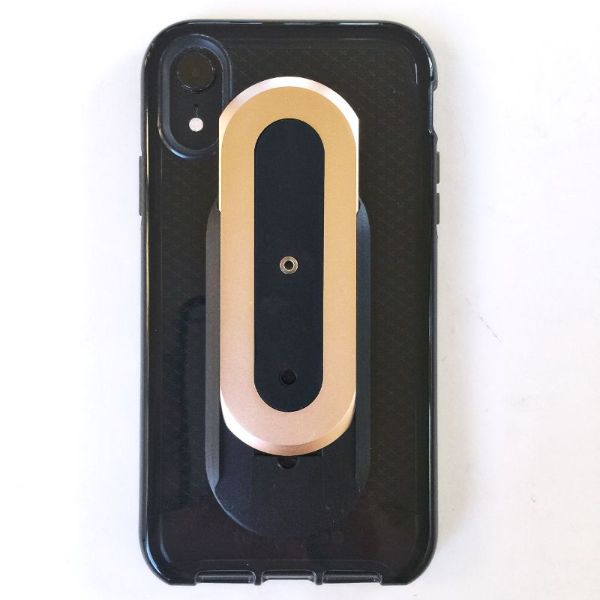 The aluminum top portion of Ohsnap slides in and out with a bit of force, but once you do it two or three times, it becomes second nature.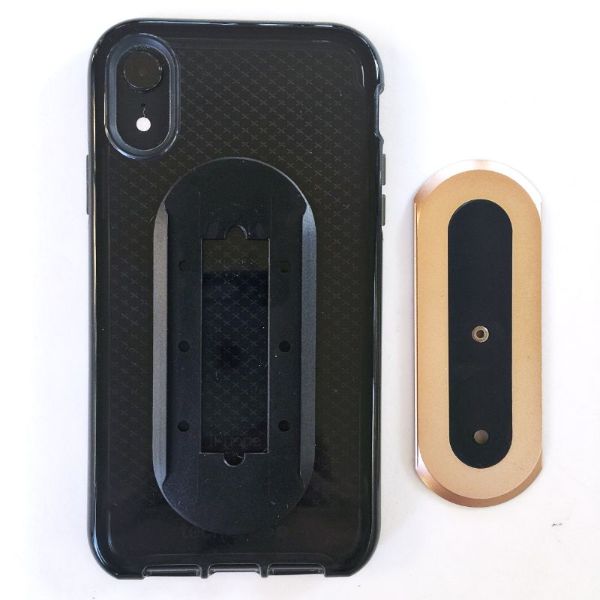 Ohsnap is only about 3mm thick, so it presents a very small profile, not adding much thickness.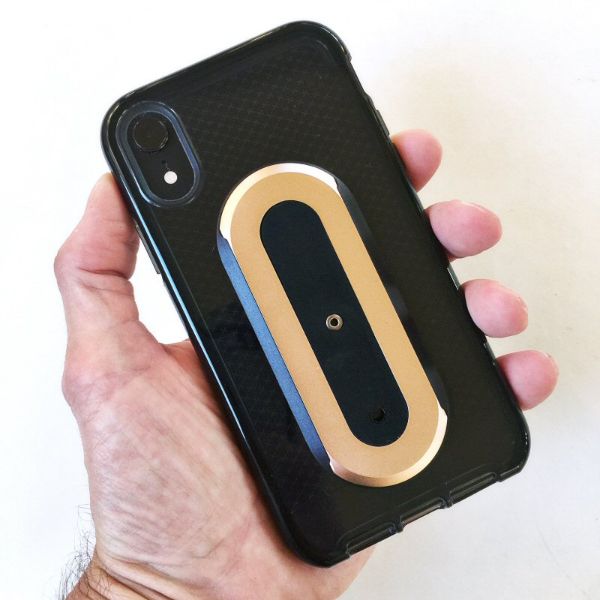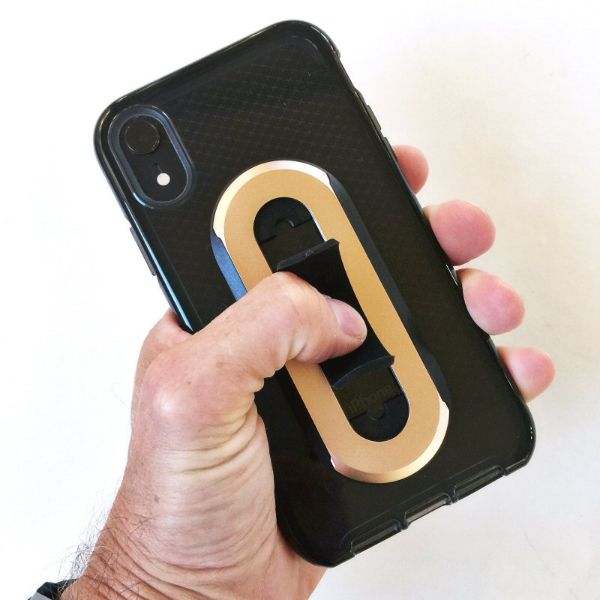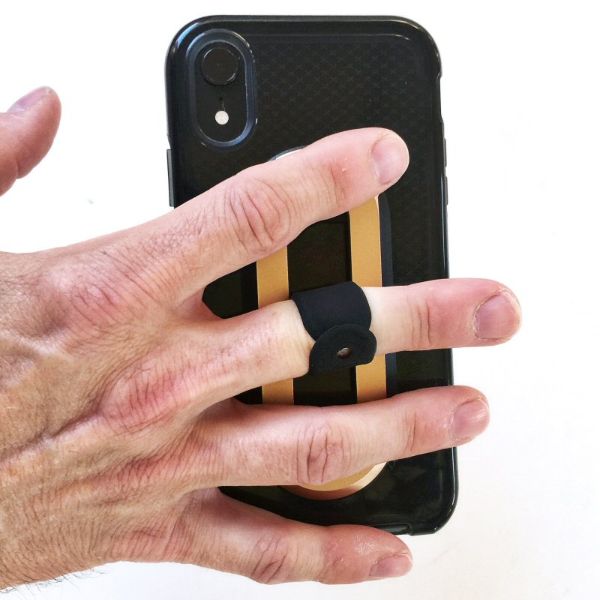 Above is my preferred method of using Ohsnap, with the grip loop around the middle of either my middle or ring finger.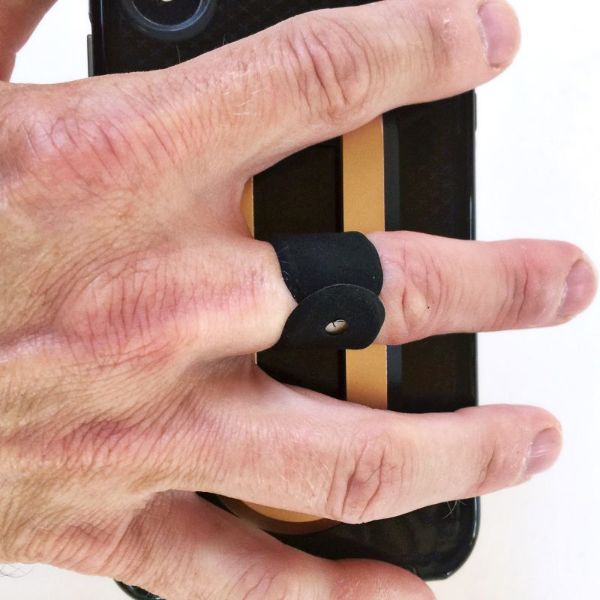 I tried using Ohsnap by putting my finger further into the grip loop, but this was a very tight fit (even for my relatively small fingers) and wasn't my preferred method of use.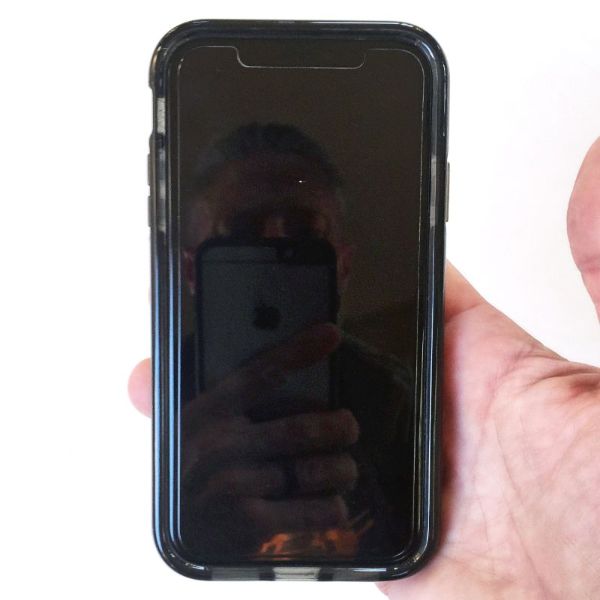 And that's it—Ohsnap allows you to hold your phone in your hand quite securely, and even gives you a bit better ability to reach areas of your phone that you might not otherwise be able to reach easily.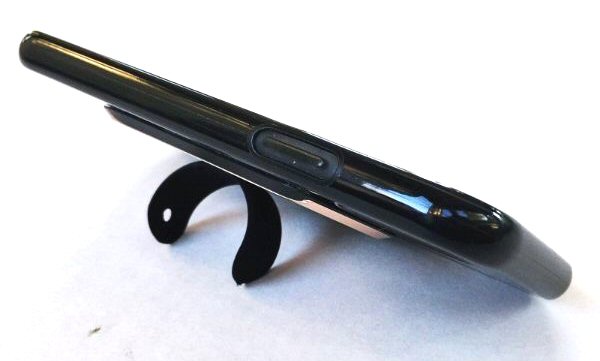 Ohsnap can also act as a phone stand in a pinch, for those times when there is a video that you just have to watch.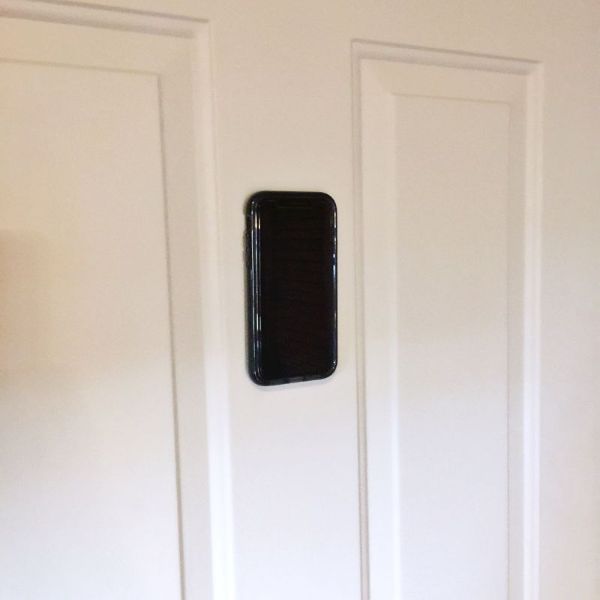 As mentioned above, Ohsnap's magnets allow it to attach to metal objects, like our kitchen door as shown in the photo above.  This comes in handy more often than I expected.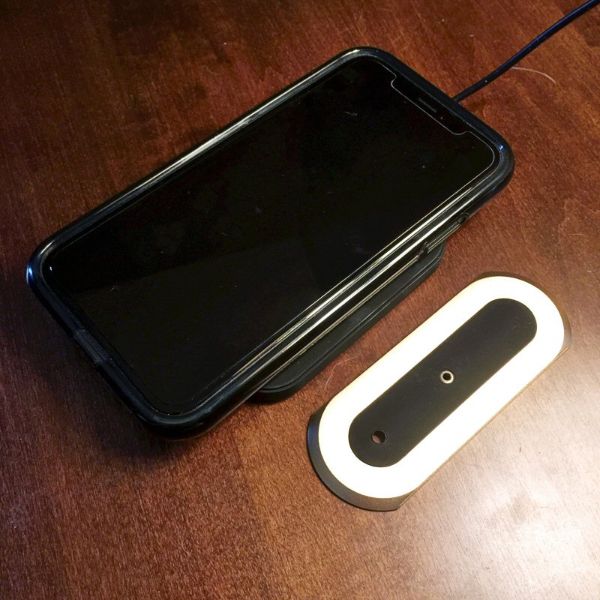 I tried to use Ohsnap with the EasyAcc 10W PU Leather Qi Charging Pad but had no luck.  My suspicion was that Ohsnap's top portion, built of aluminum with its array of magnets, prevented the wireless charging from functioning.  However, I simply slid the aluminum component from Ohsnap's base, laid it off to the side, and the wireless charging worked just fine.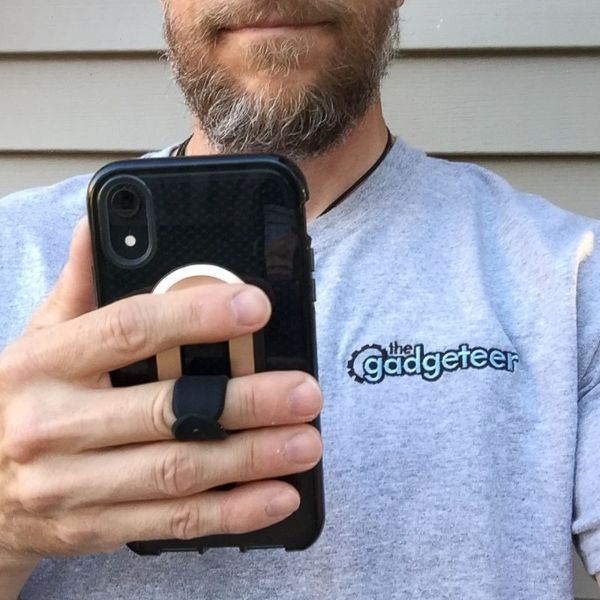 Ohsnap works easily and well.  When I'm out rucking (walking with a weighted backpack), I use Ohsnap to help me hold my phone while I respond to text or change podcasts.  Plus, in the week or so that I've been using it, its adhesive has shown no signs at all of loosening from my Evo Check case's back.  It seems to be attached really well.
What I like
Grip strip is easy to deploy and use
Grip strip loop keeps your phone stable in your hand
Low profile (only 3mm thick)
Top section is removable for wireless charging
Magnetically attaches to metal objects
What I'd change
Final thoughts
Onsnap is a cleverly–designed, well-built, low-profile phone grip that is loaded with features.  From its quickly deployable grip strip that easily wraps around a finger to secure your phone in hand, to its magnetic attachment to metal objects, to its ability to be easily removed from its base until for wireless phone charging, this is a next-generation phone grip.  It only takes a few times using it to get the hang of it and then you may wonder how you've been using your phone all this time without it.
Update 6/14/20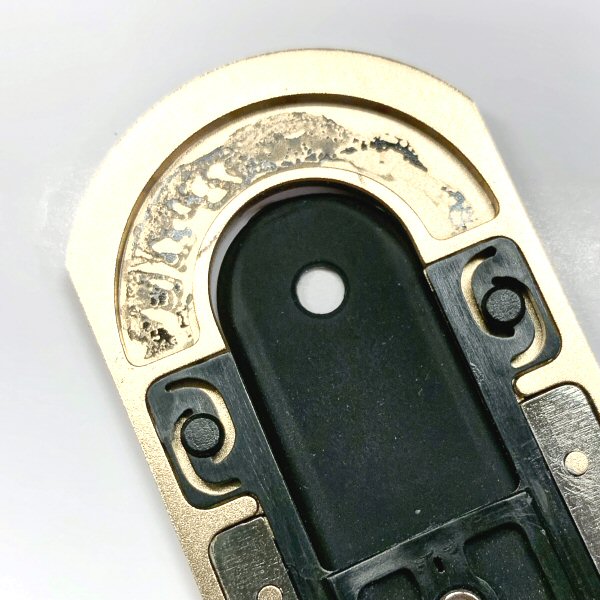 I really wanted to like the Ohsnap Phone Grip and it did seem promising at first. However, just a few weeks after the review was posted, I had my iPhone XR (with Ohsnap attached) in an exterior zipper pocket in my jacket for about 45 minutes of shoveling snow outside in the cold. When I went back inside and pulled out my iPhone, the Ohsnap had sprung out into its deployed position and I could not get the to lay flat again. While trying to fix this issue, I slid the top portion of the Ohsnap from its base, and the magnets started to fall out. Needless to say, I was quite disappointed. I would recommend staying away from Ohsnap.
Price: Pledge packages start at $15 and increase from there
Where to buy: Ohsnap Kickstarter campaign page
Source: The sample of this product was provided by Ohsnap.