We use affiliate links. If you buy something through the links on this page, we may earn a commission at no cost to you. Learn more.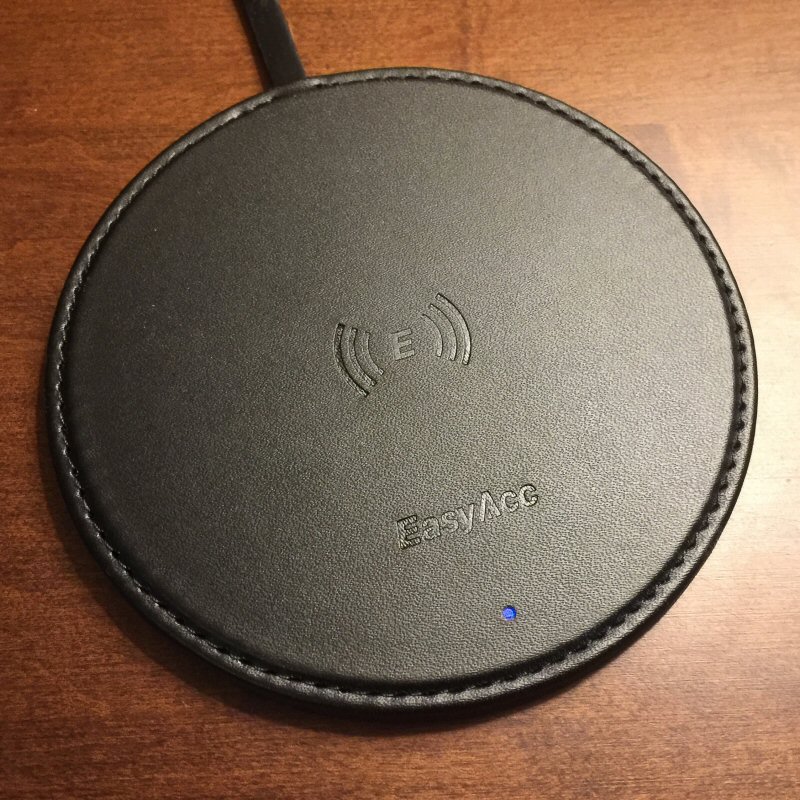 REVIEW – Many chargers for Qi-enabled devices have entered the market in the past few years.  Most have a very simple design and are typically made of plastic with perhaps some metallic components to add a bit of style.  But did you ever wish your Qi charging pad had just a bit more of a sophisticated look?  EasyAcc must have wanted that too, so they designed their PU (Polyurethane) Leather Qi Charging Pad.  Let's take a look.
What is it?
The EasyAcc 10W PU Leather Qi Charging Pad is a charging pad for Qi-enabled devices that is very thin and has an elegant-looking polyurethane leather-like surface on its exterior.
What's in the box?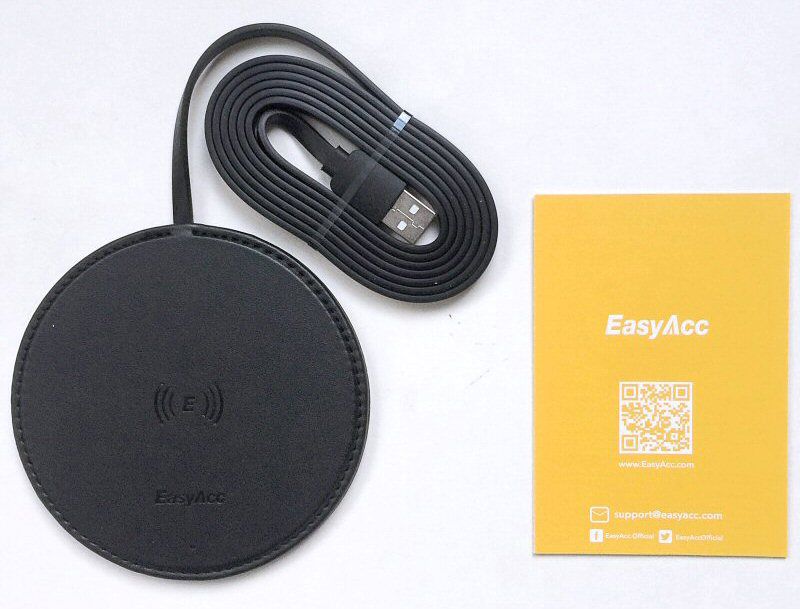 EasyAcc PU Leather Qi Charging Pad (with integrated USB power cable)
Instruction booklet
Hardware specs
Charge modes:

10W quick charge for most Android phones
7.5W mode for Apple iPhones
5W slow charge mode for Pixel devices

Exterior: Polyurethane (PU) leather-like material that is mothproof and antibacterial
Dimensions:

4.25 inches (10.8 cm) in diameter
7/16-inch (6.5mm) thick

Charging cable: 4 feet, 9 inches (57 inches or 145 cm) long integrated USB
Compatibility

Will charge virtually any Qi-enabled device, with a few exceptions
Can charge through cases up to 5mm thick

Built-in protection against overheating, overcharging, and short-circuits
Warranty: 18 months
Design and features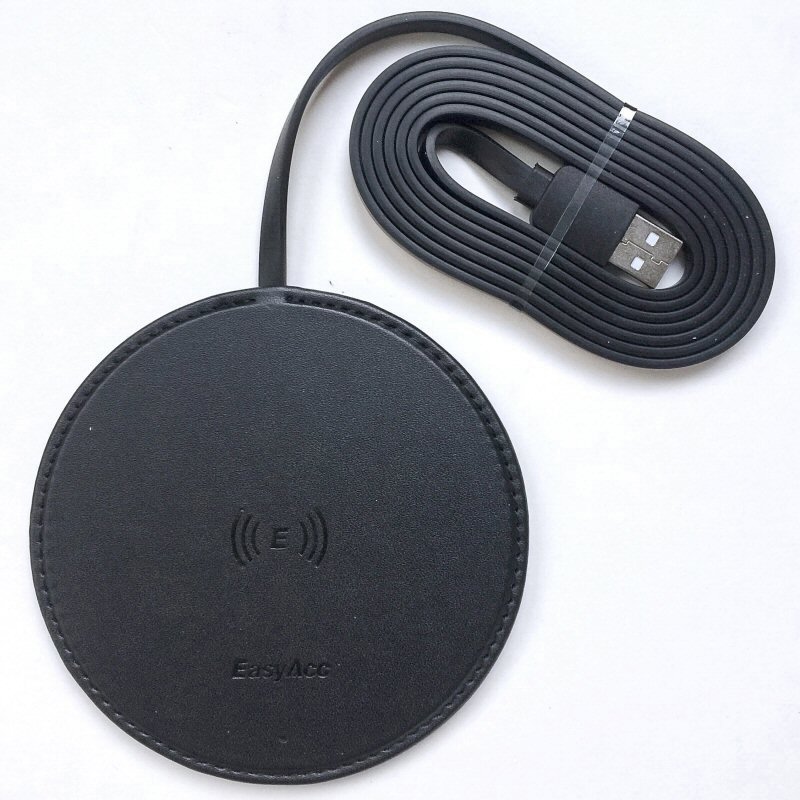 My initial impression of the EasyAcc 10W PU Leather Qi Charging Pad was that its PU leather material was very soft and felt and looked almost like real leather.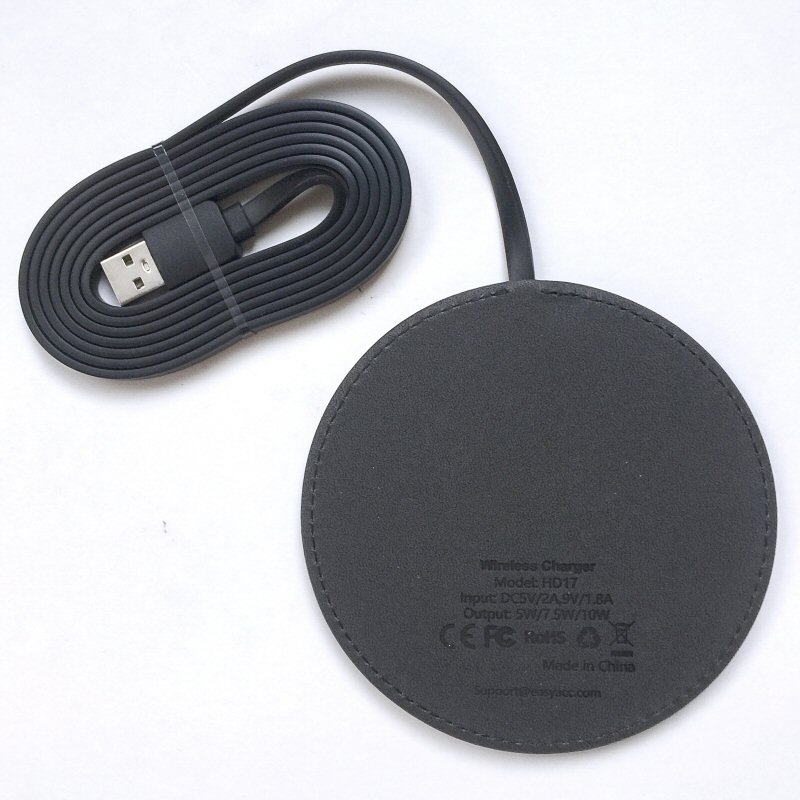 The PU leather material has been applied to both the top and bottom of the charging pad, and it acts as a non-slip surface on both sides of the device, helping to prevent your phone from slipping off its top, as well preventing the charging pad from slipping off smooth surfaces.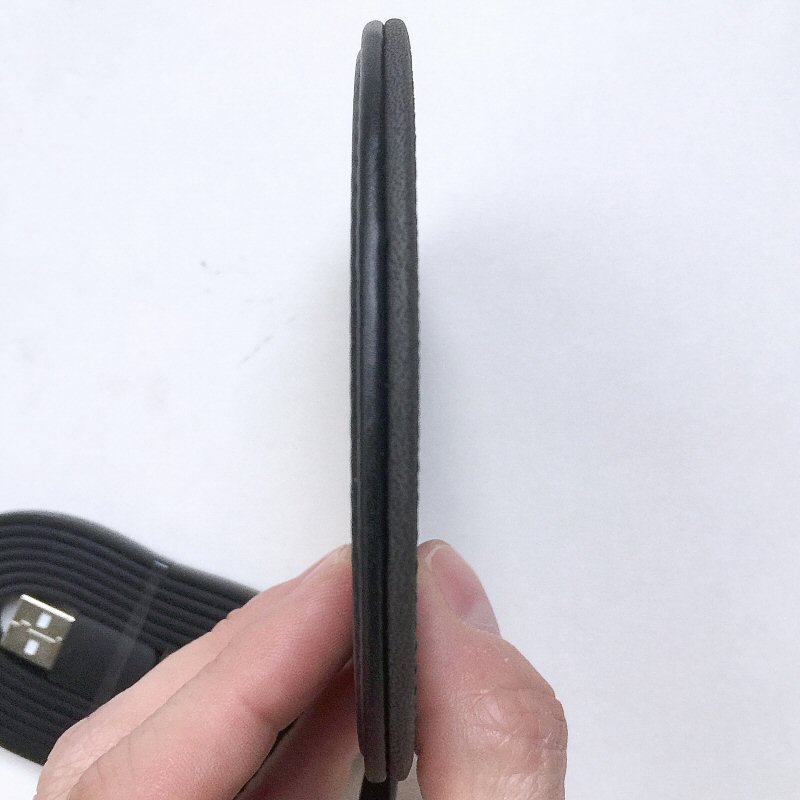 Despite the layers of PU Leather on its top and bottom surface, this is a very thin charging pad at only 6.5mm thick.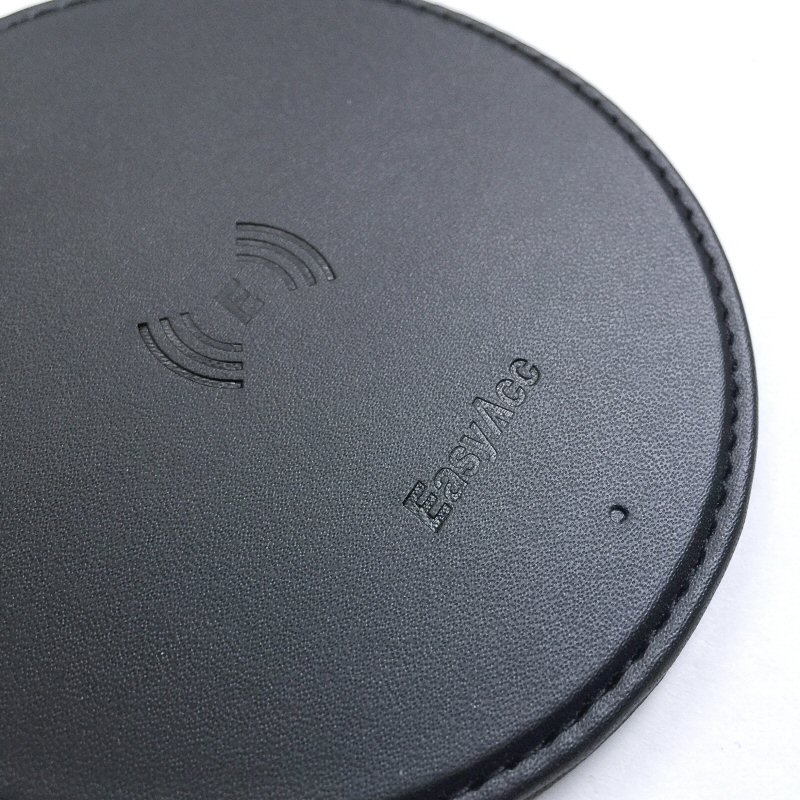 The hand-stitched PU Leather material is of course not actually leather but rather artificial polyurethane leather-like material, which is often abbreviated as PU leather or simply PU.  When PU leather was introduced to the market some years ago, it often had a less than flattering reputation due to it often looking and feeling quite fake and un-leather-like.  However, the design and manufacturing processes that produce PU leather today are much more sophisticated and give this material a much more leather-like appearance and texture along with durability and less expensively than real leather.  In addition, the EasyAcc 10W PU Leather Qi Charging Pad is 100% handmade.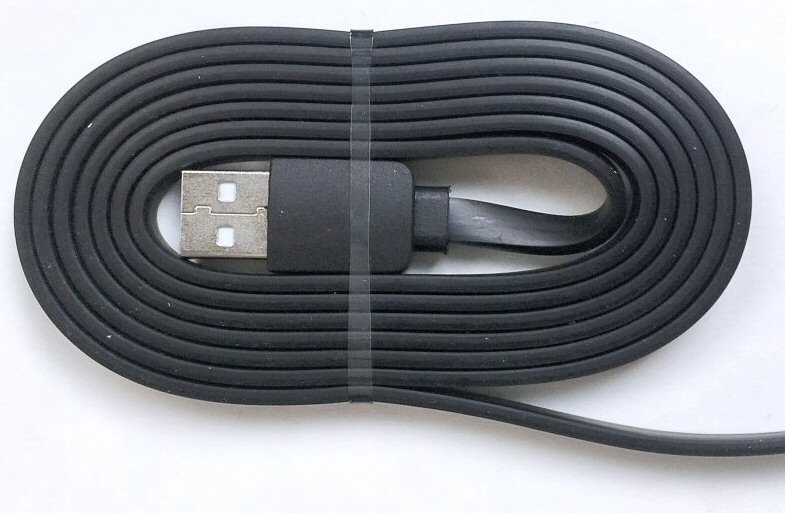 This charging pad's USB power cable is actually integrated directly into the pad itself and is non-removable from the pad.  This helps cut down on the thickness of the pad and also helps give the overall look a more simple, elegant appearance; however, it does require that the cable be plugged into a computer, AC adapter, or another device with a USB port.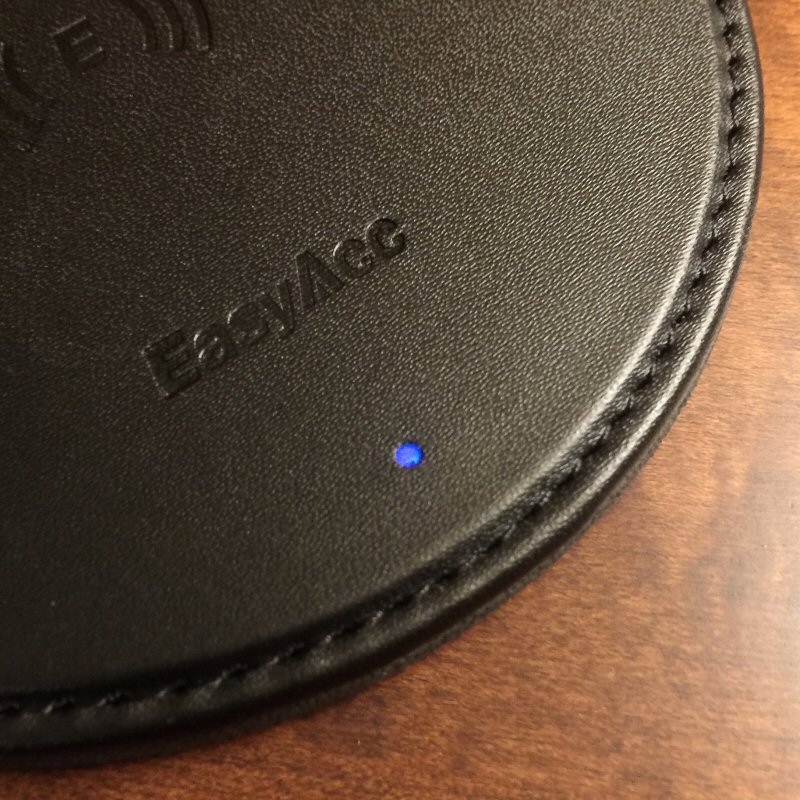 When the pad has been plugged into power but there is no device on it being charged, a tiny LED on the top of the pad glows blue.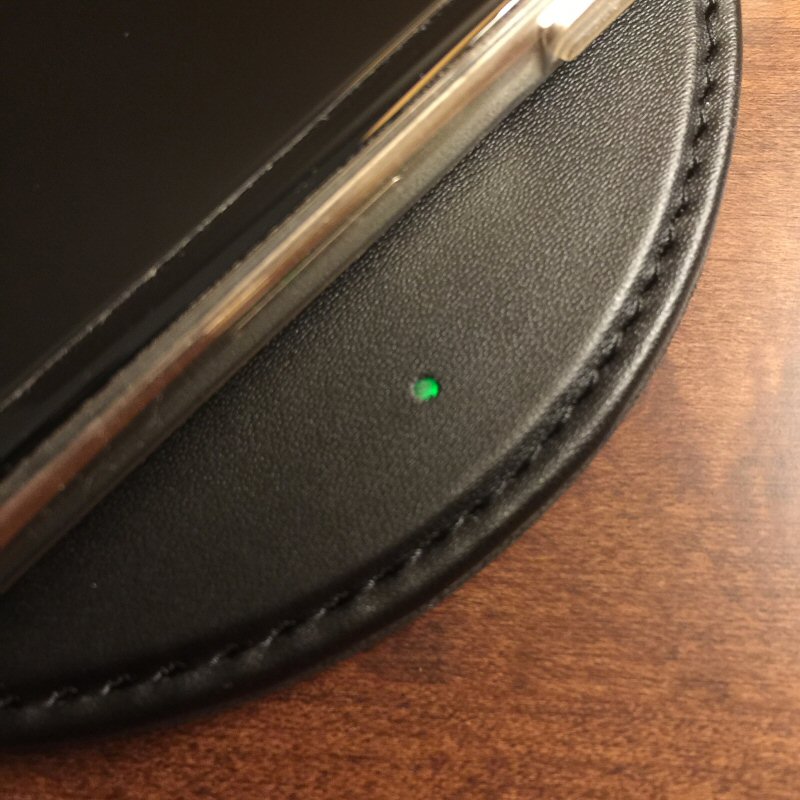 When a Qi-enabled device has been placed upon the charging pad, the tiny blue LED switches to a green glow to indicate that a device is being charged.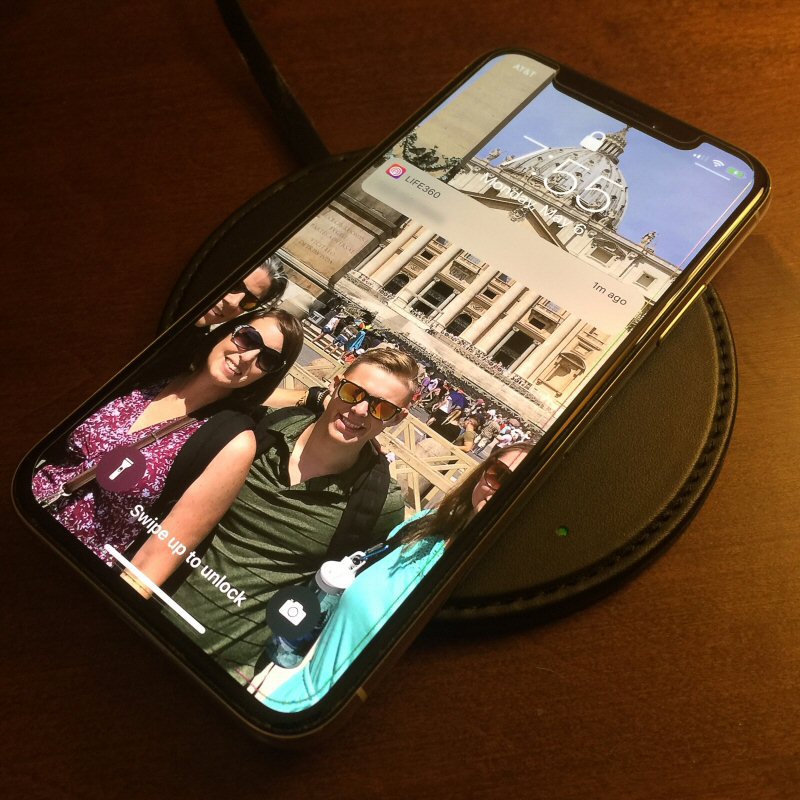 I first used my wife's iPhone X as a test subject (seen in the photos here), and later my daugher's iPhone 8 Plus, and the pad charged both iPhones easily.  This pad also seemed to be a bit less sensitive to having the iPhone positioned in a certain location in order for charging to take place, unlike other charging pads that I have tried that seem to require the device being charged to be in a precise spot on the top of the pad.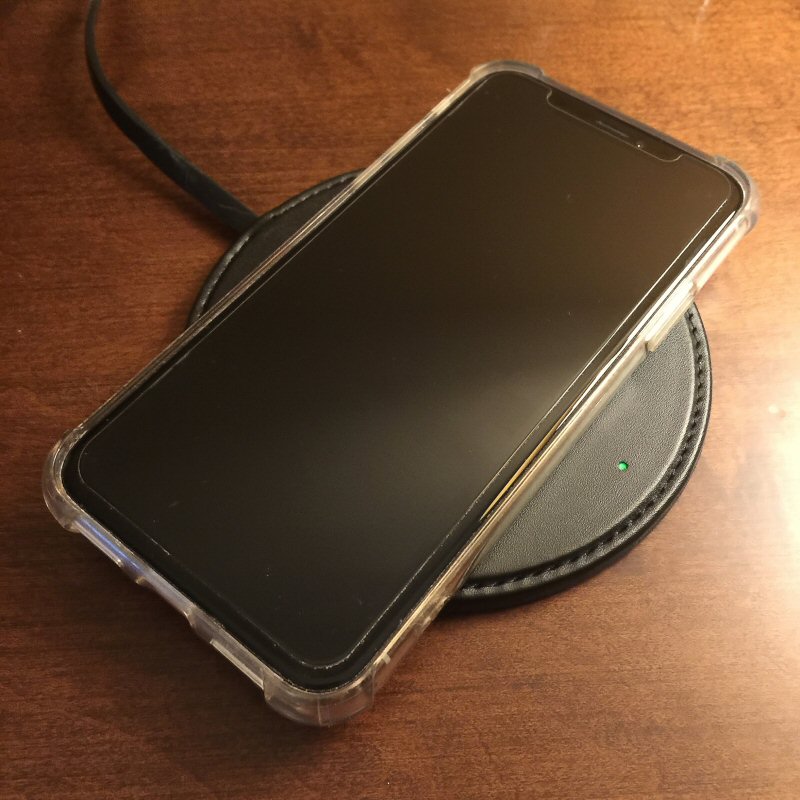 The charging pad was also able to charge my wife's iPhone X and my daughter's iPhone 8 Plus while the iPhones were inside of their protective cases.  This case is about 5mm thick but this did not seem to inhibit charging.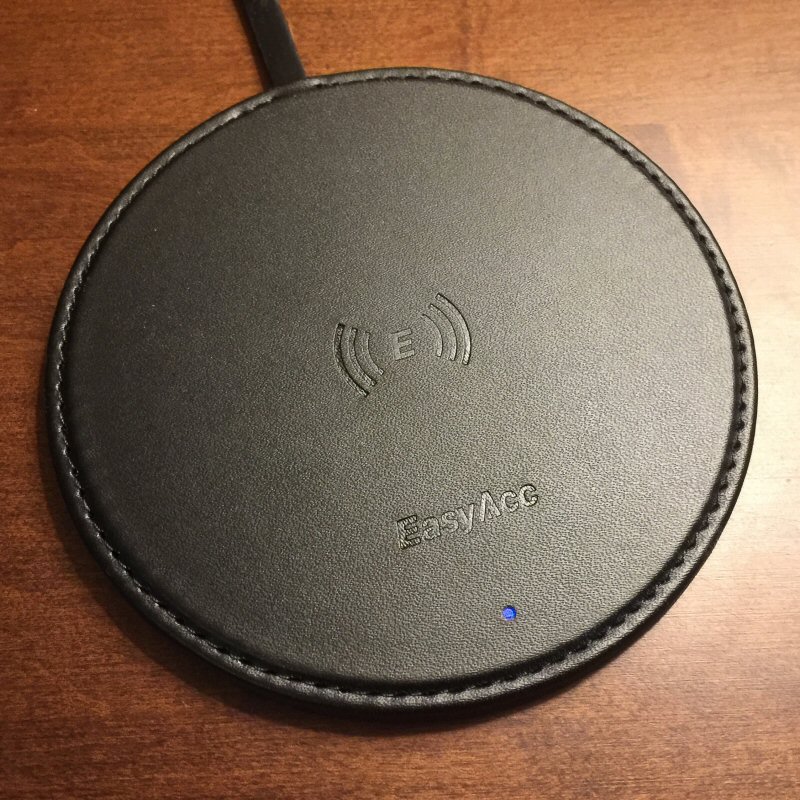 This charger looks quite nice sitting on a nightstand, desk, or just about anywhere you want to use it.
What I like
PU leather material has an elegant appearance and feel
Very thin
PU leather provides a non-slip surface to top and bottom
What needs to be improved
Final thoughts
I was impressed with the EasyAcc 10W PU Leather Qi Charging Pad.  Its leather-like PU material gives it a sophisticated appearance and texture, yet it is quite affordable in price.  It is also very thin and not particularly sensitive to the placement of the device being charged.  If you are in the market for a Qi-enabled charging pad that is affordable and has an elegant look and feel, the EasyAcc 10W PU Leather Qi Charging Pad might be a good option for you.
Update 6/7/20
A well-functioning and classy-looking wireless charger, after the review was posted I passed this product on to my daughter and she used it with her iPhone 8 Plus in her dorm room without issue.
Price: $16.99
Where to buy: Amazon
Source: The sample of this product was provided by EasyAcc.