We use affiliate links. If you buy something through the links on this page, we may earn a commission at no cost to you. Learn more.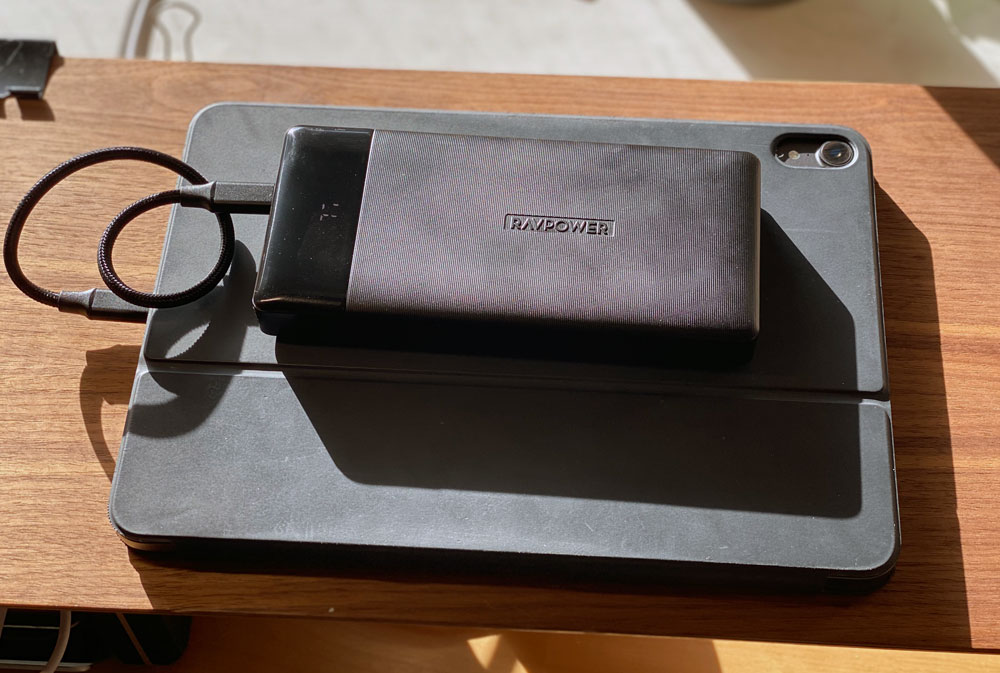 REVIEW – As much as phone, tablet and computer brands might improve technology and increase battery density and performance, there's always going to be a new app or connectivity struggles to drain that same battery much faster than you would like. That's where portable batteries come in very handy. There's lots of variations out there and the RAVPower Portable Charger PD 20,000mAh Input & Output Power Bank is one that caught my attention with it's large capacity and bi-directional Power Delivery capability.
What is it?
The short answer is it's a portable battery. The lengthier answer is it's a 20,000mAh battery with multiple inputs and outputs to allow it to fit into your device ecosystem as best it can. The LED display tells you exactly what percentage of battery is left.
What's in the box?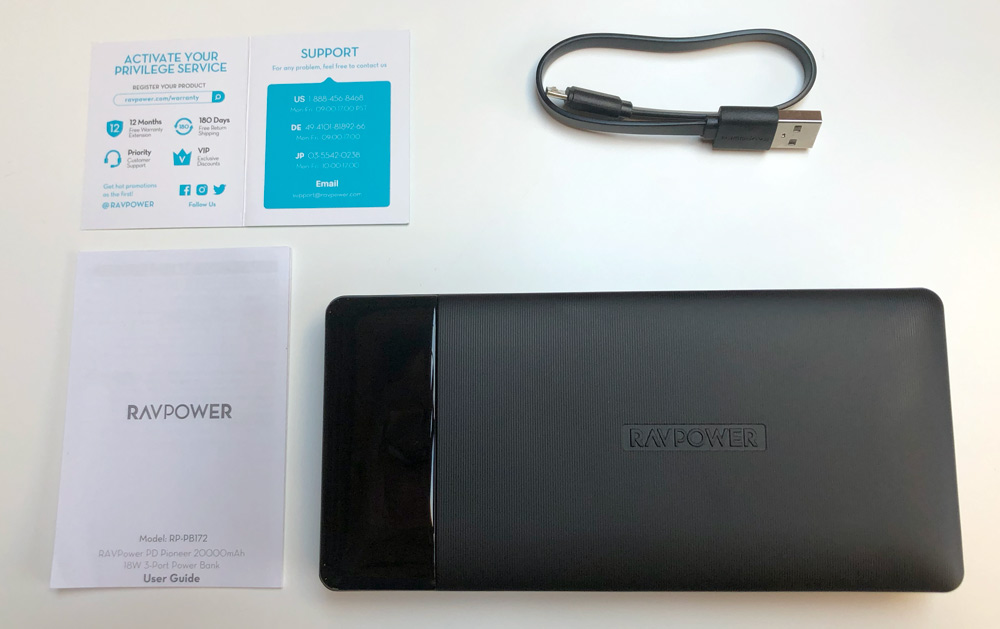 PD 20,000mAh Power Bank
Micro-USB charging cable
User Guide
Hardware specs
Input Ports:
– PD USB-C: 5v~2A, 9v~2A, 12v~1.5A
– Micro-USB: 5v~2A, 9v~2A, 12v~1.5A
– Lightning: 5v~2.1A
Output Ports:
– PD USB-C: 5v~3A, 9v~2A, 12v~1.5A
– USB-A (3.0) QC: 5v~3A, 9v~2A, 12v~1.5A
– USB-A (2.0) iSmart: 5v~2.4A
Total Output: 5v~3A Max
Output Power: 18w
Capacity: 20,000mAh
Dimensions: 1650 x 780 x 23mm or about 6.5 x 3 x 1 inches | 420g or 14.7oz
Display: LED displays battery percentage
Design and features
The RAVPower PD Power Bank is a 1″ thick rectangle with rounded corners and edges. The entire product has a smooth matte black finish except for the face which has a small glossy section next to a subtly ribbed surface with a centered RAVPower logo.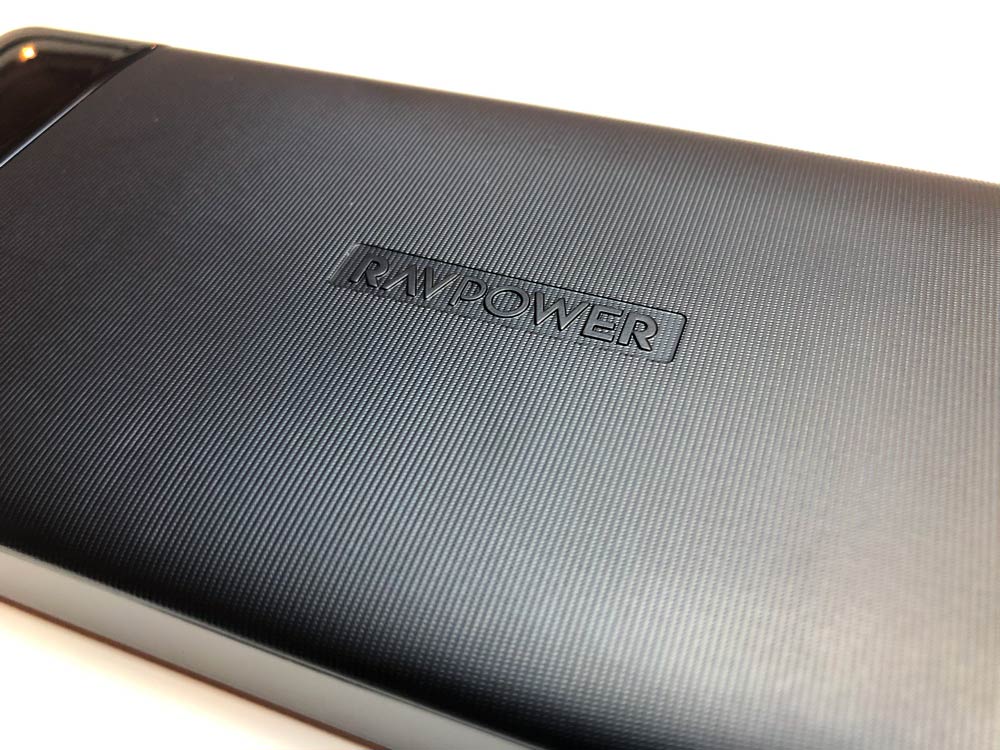 The glossy end hides a display that lights up when you press the power button.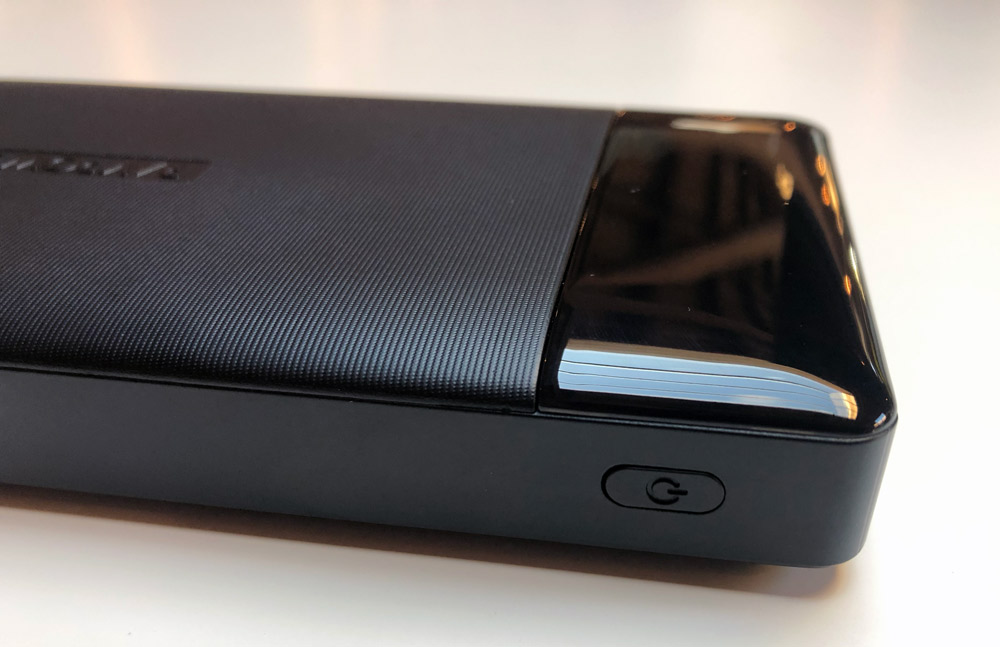 The amount of remaining power is displayed as a percentage which is a lot more detail than decoding a blinking LED or a 4-LED power meter. 65%? No more guessing.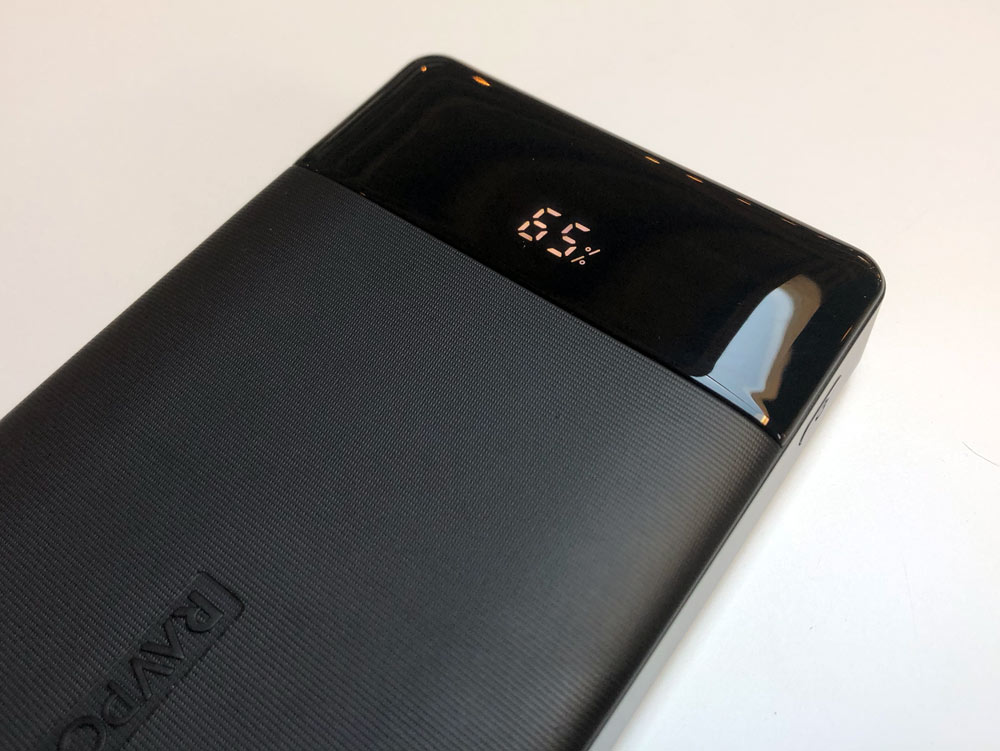 That same end houses all the connection ports. The two on the left are input only. Lightning and Micro-USB. The two on the right are outputs. USB-A QC 3.0 and USB-A iSmart 2.0. The USB-C PD port in the middle is both input and output.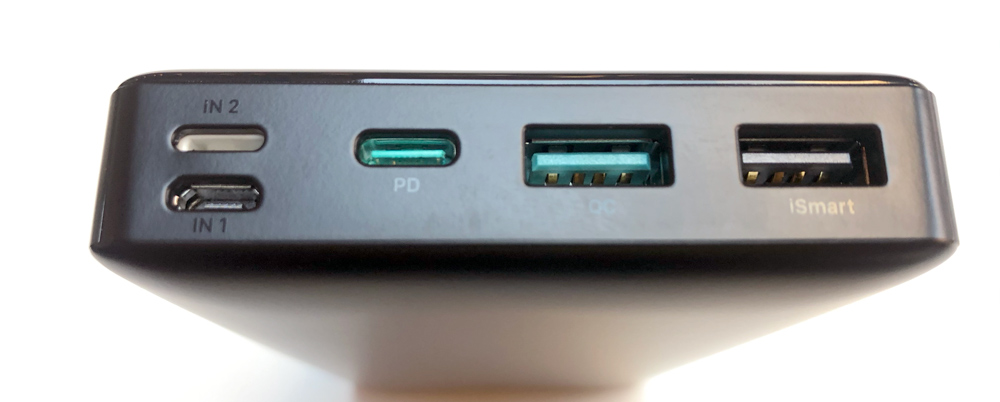 Setup
The PD Power Bank does not come with a wall adapter. This is becoming more common. The devices you want to power up already came with an adapter, and RAVPower's goal is help you minimize what you need to carry around.
The first thing you'll want to do is to top off the charge on the PD Power Bank. You can use the included Micro-USB cable, but if you have a USB-C cable and adapter you'll want to use it as it will up the charging speed to a full 18 watts, significantly reducing charge time. RAVPower claims a full recharge in about 5.4 hours which more or less matches what I saw during the review period.
Performance
There's not a whole lot to cover here because the PD Power Bank just works. That the first necessity of a reliable battery. The main devices I need to power up on the go are a MacBook Pro, iPad Pro and Pamu Slide earbuds (all with USB-C). My iPhone, Apple Watch and Bose Frames (which I use for cycling) all have their own connector cables with USB-A power ends.
The PD Power Bank is able to charge all of these without issue. A single USB-C cable lets me charge the RAVPower, and then recharge any of my USB-C devices. Sure I still have to carry 3 specific cables for my smaller devices, but that's a lot better than 6 specific cables and numerous wall adapters.
The next thing that falls into the 'just works' category is the PD Power Bank starts supplying power upon connection. This is a good thing in my opinion because If it's connected, it's charging. In fact, the only thing the power button does is display the charge level on the unit's display. If you want to stop charging you need to unplug it.
It also has no issue charging multiple devices at the same time with the only caveat being only a single USB-C device can charge at a time unless you have a USB-A to USB-C cable.
It's not a small battery being pretty close to an iPhone Max in length and width, but it should give you plenty of power on the go and the ability to charge multiple things is exactly why you'd want a battery of this size in the first place.
If you're flying anytime soon, TSA allows batteries of 100Wh or less in your checked luggage or carry-on. The RAVPower PD 20,000mAh 18w Power Bank has a Rated Capacity of 66Wh and a Battery Capacity of 74Wh, both of which are under that limit. Here's all that and the input/output ratings all in very hard to read print on the back of the device.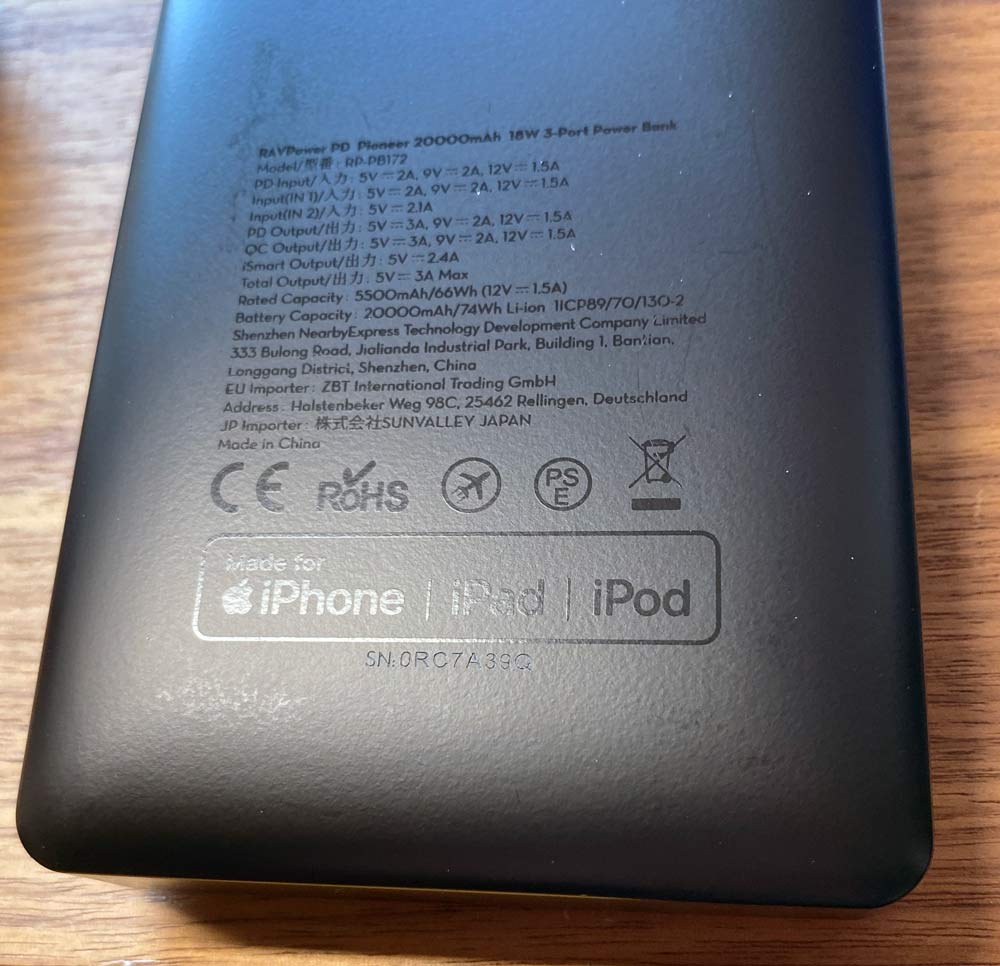 The only thing funky that I saw during use was charging my MacBook Pro while writing this review. Just double-checking some functionality, I connected my MacBook (98% battery) to the RAVPower PD Power Bank via a USB-C cable. I got the chime that the MacBook was charging and so I kept working. A few minutes later, I started hearing a repeating chime every 30 seconds or so. Turns out I was at 100% and my Mac was fluctuating between 99 and 100%.  I haven't been able to recreate the issue and it's actually a pretty unlikely scenario as you most likely won't be using a portable battery when your Mac is full, but I did think it was worth mentioning.
What I like
USB-C to charge the battery
LED percentage display
Multi-device, simultaneous charging
What I'd change
Final thoughts
As I mentioned before, this product just works. The only thing I can find to call out RavPower on is the ridiculously long boring name of this product. And actually, if you look again at the superfine black-on-black printing on the back of the device they call it "RAVPower PD Pioneer" right in the first line. Pioneer is a much better product name. If your kit would benefit from 20,000mAh of back up power you should take a closer look as this is a great value for the dollars.
Price: $49.99
Where to buy: Amazon
Source: The sample of this product was provided by RAVPower