We use affiliate links. If you buy something through the links on this page, we may earn a commission at no cost to you. Learn more.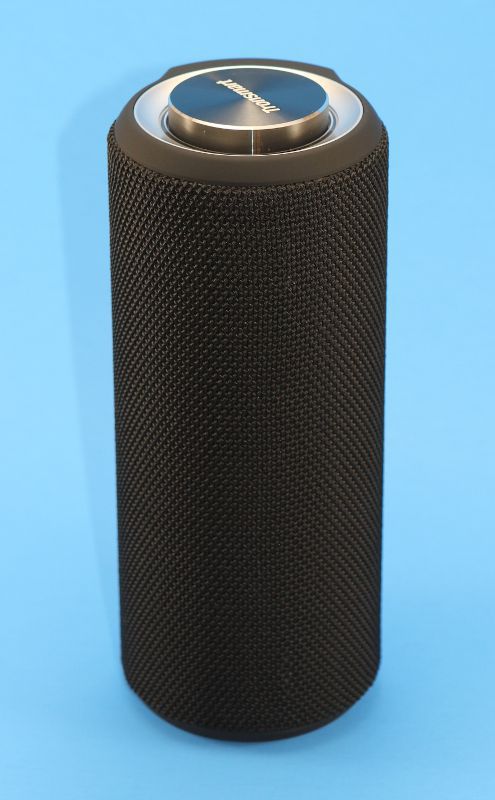 REVIEW – Sometimes I want to consume audio content alone, but often I want to share it with my wife.  We listen to music together while working in the garage, audio books while driving in the car during our vacation, and podcasts while cooking and cleaning in the kitchen.  For times like these, it's nice to have a portable Bluetooth speaker that sounds crystal clear and puts out sufficient volume to be heard over other noises.  Tronsmart's Element T6 Plus is just such a Bluetooth speaker.
What is it?
The Element T6 Plus is a portable Bluetooth speaker with a max output of 40 watts.  It has two color choices:  All black or black and red.
What's in the box?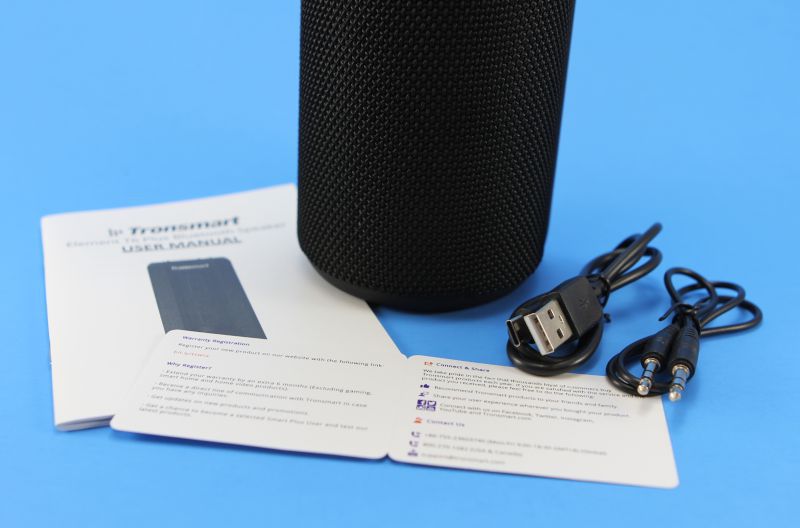 The speaker
A 3.5mm audio cable
A USB C to USB A cable (for charging)
A user manual (with 6 pages of English instructions)
A warranty card
Hardware specs
Max output:  40 watts
Speakers:  A pair of 20 watt full-range stereo loudspeakers
Water Resistance: IPX6
Equalizer:  3 equalizer modes
Connectivity: Bluetooth 5.0
Ports:  Auxiliary in, USB C (for charging), USB A (for power bank and flash drive), micro SD slot
Stereo:  Supports True Wireless Stereo (TWS)
Battery:  Two 3300mAh built-in lithium batteries for up to 15 hours of play time
Charing Time: 3 to 5 hours
Material:  Aluminum and ABS
Size:  3.25 x 8 inches
Weight:  1.5 pounds
Design and features
The Element T6 Plus is shaped like an oversized can of soda.  The body is predominantly a black, metallic grill, and there's a shiny, silver dial on top that's surrounded by a blue ring of light.  It's a design that is both attractive and very durable.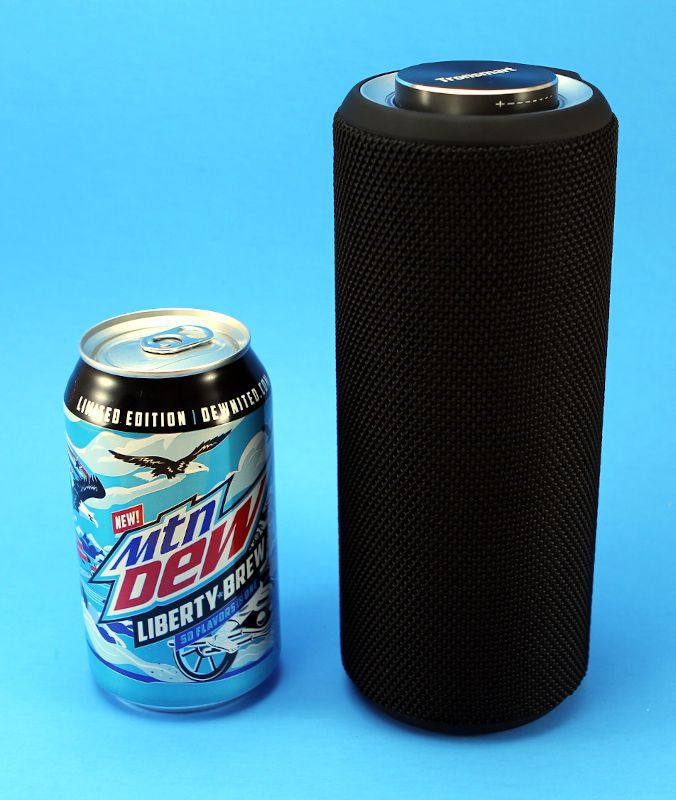 Installation and setup
The first step is to charge the internal lithium battery.  Around back, there's a rubber lid that protects the ports.  I lifted it opened, inserted the USB C side of the included charging cable and plugged the USB A side into my trusty Anker charger. While charging, a small LED on the back turned red; when fully charged, it turned off.  Tronsmart says that it will take 3 to 5 hours to charge, and I found that it took less than 4 hours to charge mine.  The cable is 21 inches long, which is a bit short for my preferences; I wish Transmart had included one twice that long, just for the extra flexibility.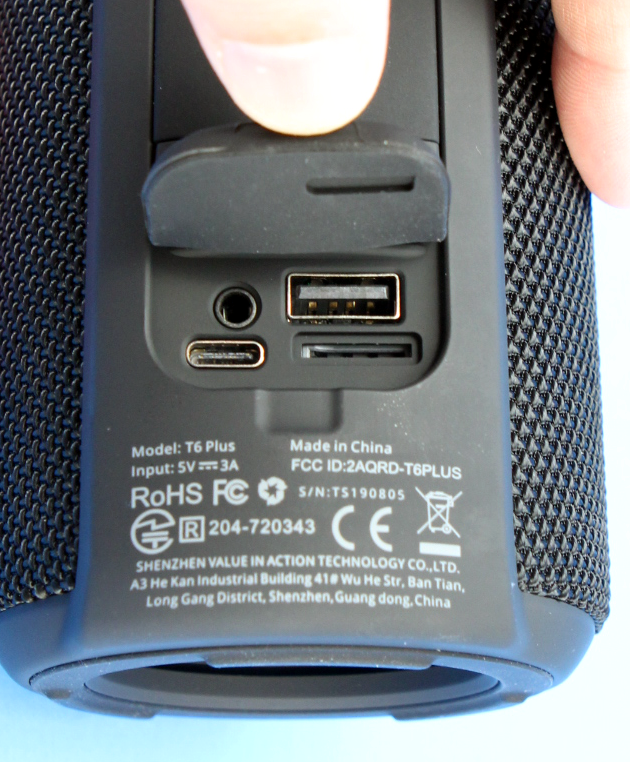 Once the battery is charged, the second step is to turn it on, which is done by holding the on/off button for a 1 second.  A pleasant chime sounded to indicate that the T6 Plus is on, and the blue ring of light began to flash, indicating that it was ready to pair with a music source via Bluetooth.
Never miss one of our posts again. Sent MON, WED, and FRI with the latest gadget reviews and news!
The third step is to open the Bluetooth settings on my iPhone and look for "Tronsmart Element T6 Plus."  I had no trouble pairing with my iPhone 8, my iPad, or my iMac.  Once paired, the blue ring of light shined steadily.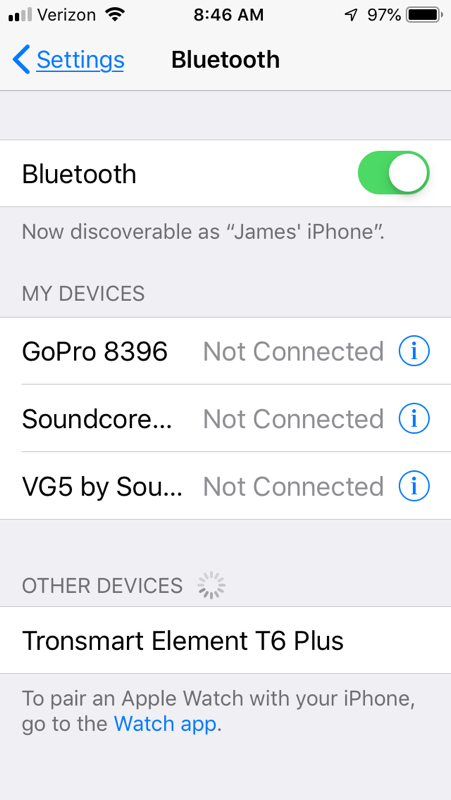 Controls
There are two sets of controls on the T6 Plus.  The first is the control wheel that is on top, which has multiple functions.  When playing music, I can rotate it to increase or decrease the volume, or I can tap it once to pause and again to play.  The wheel spins infinitely, so the T6 Plus will beep twice when it reaches max volume.
When given a long press, the control wheel can be used to activate a activate cellphone's voice-assistant.  I tried this out, and sure enough I could get Siri to tell me the weather or report on the score of the football game.  There is a slight amount of lag, but it's not significant.
The control wheel also functions as a way to answer the phone.  If you're synced via Bluetooth to your phone, and someone calls, you simply press the wheel to answer.  I tested this by having my wife call me, and it worked perfectly, even while playing music. I could stand 10 feet away from the speaker, talk in a soft voice, and my wife could hear me clearly, which means the mic is very sensitive.  The downside, of course, of using the T6 Plus as a speakerphone is that everyone around you will hear your conversations; careful what you say.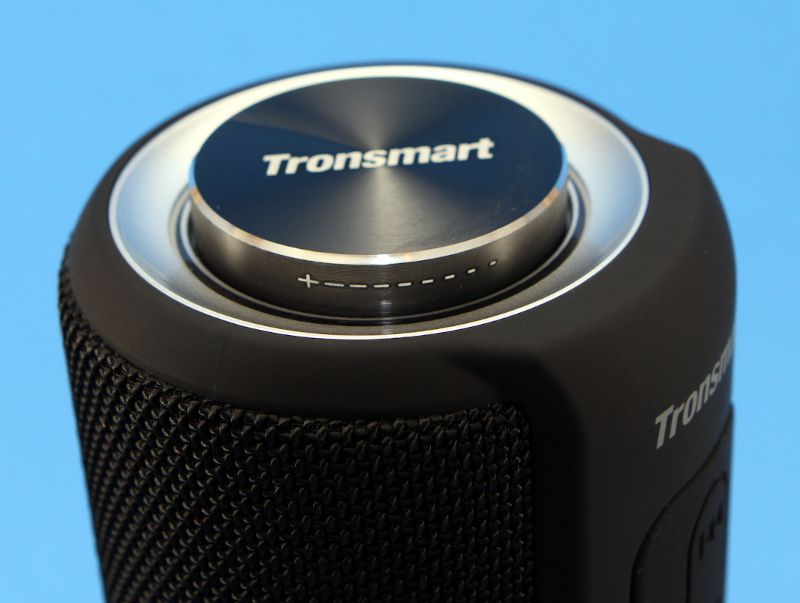 The second set of controls is the rubberized buttons along the back.  They are black and match the color of the back panel.  It's a bit difficult to know which button is which, so I always I had to pick it up and take a close look in the light.  I wish they were a different color or had a unique feel that made it easier to select the right button.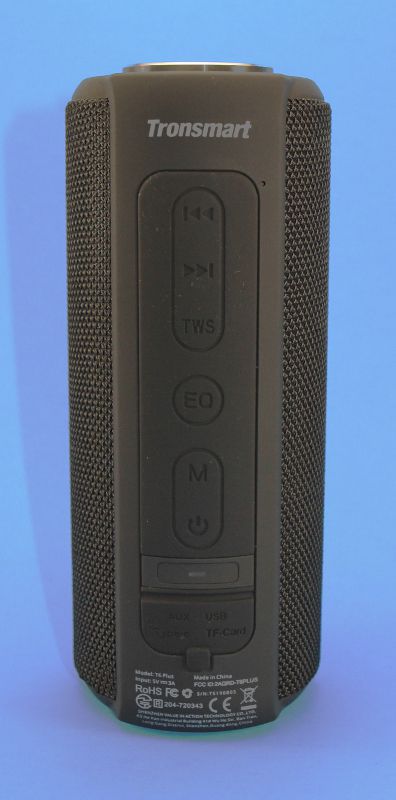 The first two buttons jump to the next or previous track.
The TWS button, which stands for True Wireless Stereo, will pair the T6 Plus with another T6 Plus, thus giving you a right and left speaker for true stereo sound.
The EQ button is for the equalizer.  The T6 Plus doesn't really have an equalizer, not in the classic sense of being able to adjust the frequency components.  Instead, each press of the button alters the amount of bass.  The default setting has no bass, the second setting has some bass, and the third setting has a lot of bass.  The LED on the back changes color to indicate which setting is in effect.
The M button switches between the 4 input sources, Bluetooth, aux-in, micro SD card, and USB flash drive.  While I think most people will simply use the default setting, Bluetooth, because it's far and away the most flexible, it's nice to have choices.  Some people might prefer the micro SD card, simply because it frees up their phone for doing other things.
I used Bluetooth to pair the T6 Plus with multiple audio sources (phone, tablet, and computer), and sometimes when I wanted to use a new source it wouldn't switch because it was already paired with an old source.  It can be a bit of hassle to remember to which source the T6 Plus is currently paired, so Tronsmart has helpfully added a solution:  To unpair it from all devices, I simply hold the M button for 5 seconds.  That's convenient!
The final button is the power button, which turns the speaker on and off.
Performance
All these features are great, but the most important question is always:  How does it sound?  It sounds great!  The highs and mids are always clear and strong.  Even when the base is cranked, it never sounds muddy or distorted.  I'm impressed.
My wife and I listened to lot of vocal tracks with this speaker, both audio books and podcasts.  We found it very easy to hear the people talking, and their voices were clear.  We always used the default equalizer setting, the one without any bass. It even worked great in the car, despite all the noises of the road.
We also listened to a lot of music and a wide variety of genres.  Without exception, we always preferred the equalizer setting with the max bass.  Obviously this added a lot of punch from the bass, but it also made the mids and highs sound richer and fuller without muddying them.  The overall sound of the music was consistently much better.
I suspected that enjoying all that extra bass would come at the cost of some battery life, so I decided to test the battery life.  Tronsmart asserts that the T6 Plus can last up to 15 hours on medium volume; there's no volume indicator to know exactly what is medium, but I ran my tests at a fairly loud setting, perhaps around 75% of max volume, at a perfect level for enjoying good music in my house.  Without any bass, the speaker lasted 9.5 hours; with max bass, it still lasted 8.5 hours.  This is far short of 15 hours but still a long time to enjoy your music with your friends.
There's no visual indicator on the T6 Plus to know precisely how much battery life remains, but when it begins to get low, the LED on back will flash red, and the speaker will beep twice while playing, which is rather annoying.  An alternative way to assess the battery life is to look on a paired smart phone.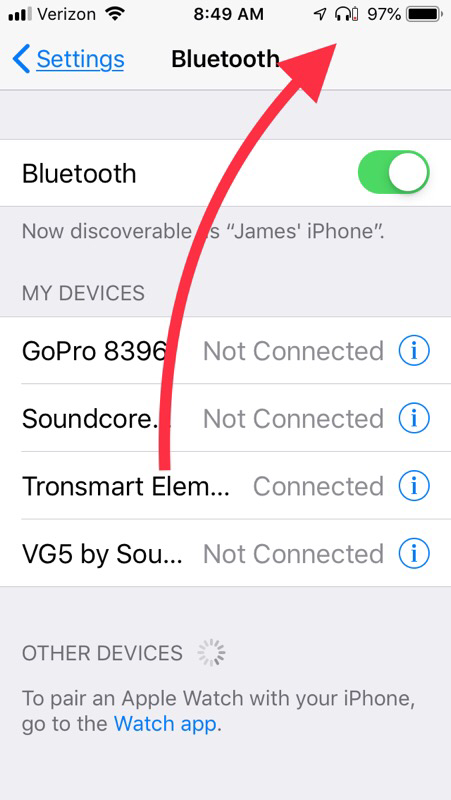 Extra Features
The T6 Plus is rated IPX6, which means you can splash it with water but not immerse it, so feel free to take it to your pool parties.
This speaker can also function as a power bank, allowing you to charge other devices.  This seems like a strange feature to have on Bluetooth speaker, because it will obviously reduce the time you can listen to music. I briefly tested it by using a USB A to Lightning cable to connect my iPhone 8 to the T6 Plus.  Once I turned it on, it began charging my phone.  It's a feature that I don't really plan to use, but it could come in handy someday if I have an emergency.
I think most people will play music from their Bluetooth-connected phone, but if you don't want to drain your battery all day you can put your music on a micro SD card or a USB flash drive.  The manual fails to answer a lot of practical questions concerning these features:
How should I format the drive?
What audio formats are supported?
Is a directory structure supported?
I was able to get both a micros SD card and a USB flash drive working—don't forget to press the M button to switch modes—using FAT32 formatting on a Windows 10 box and MP3 files without any directories.  Other options may or may not be supported.  Keep a couple things in mind:
The T6 Plus will play the songs in file order; there's no random feature.
If you use a USB drive, you will keep the rubber lid open, and thus the T6 Plus won't be water resistant.
The T6 Plus will automatically power off after 1 hour if it has not been paired with a source or has not played any sound.  An hour seems like a long time to wait—10 minutes would be better—but better late than never.
As this gadget is portable, Tronsmart makes a carrying case that you can use to protect it while in transit.  This is a nice touch.
What I like
Rugged yet clean design
Great sound, especially with the extra bass for music
Solid set of extra features
What I'd change
Make the buttons on back easier to identify at a glance
Add information about using the micro SD card and USB flash drive to the manual
Final thoughts
Tronsmart's Element T6 Plus has exceeded my expectations.  It's got clear sound and solid bass.  The design is simple but clean, perfect for the mantle in the living room, the back porch by the pool, or out on the lawn behind the dorm.  If you're looking for a portable Bluetooth speaker that allows you to share music or spoken audio with a friend and won't break the bank, this one should be on your short list.
Update 10/18/20
After I finished reviewing the T6, I gave it to my son.  He's been happily using it in a variety of ways for a year, but this week the battery died.  It won't hold a charge any longer.  Although the battery is rechargeable, it's not replaceable, and so at this point there's nothing we can do but throw the T6 away and get something else.  This rather highlights the problem with gadgets whose batteries cannot be replaced: They must be viewed as temporary, disposable gadgets.
Price:  $69.99 ($14 for the carrying case)
Where to buy:  Amazon (Use Code: R2FZ65QW and save $5. Ends 10/17/2019 11: 59 PM PDT)
Source: The sample for this review was provided by Tronsmart.