We use affiliate links. If you buy something through the links on this page, we may earn a commission at no cost to you. Learn more.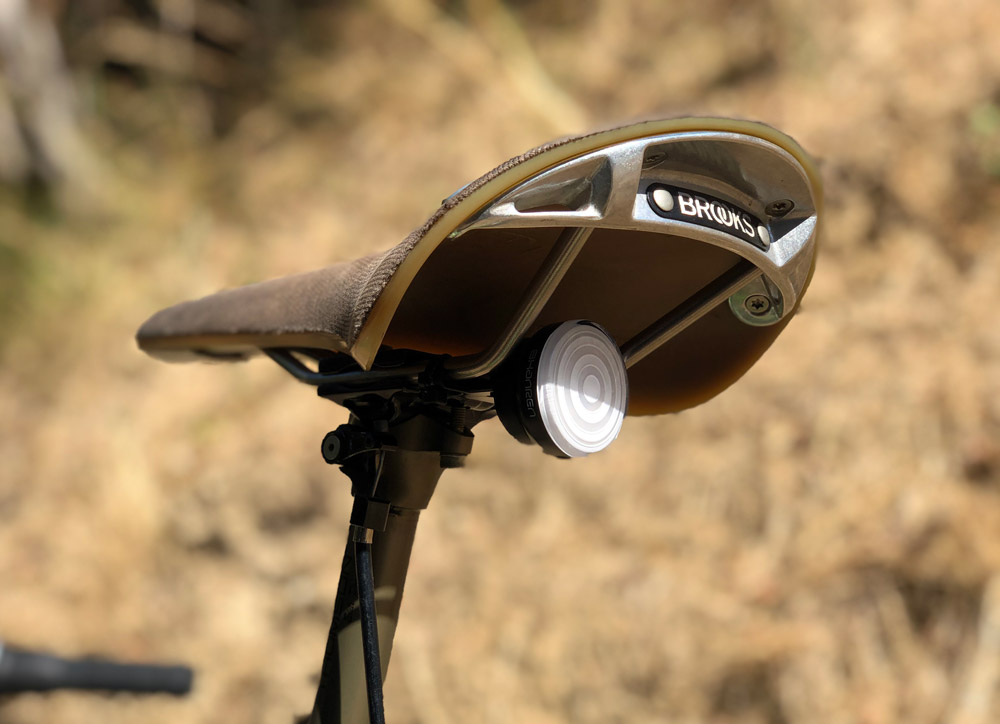 CROWDFUNDING REVIEW – It's easy to dismiss cycling lights as something you only need if riding while it's dark out. In fact, anything you can do to create visibility (flashing lights, pool noodles, etc.) goes a long way towards making sure others are aware you're there. This applies to roads as much as trails, and cars/motorcyles as much as hikers/animals and more. The new Raz-Pro light takes this to task with features that set it apart from the myriad of lights available for cyclists. To the review!
What is it?
Raz-Pro is a compact, rechargeable tail light for cycling with specific control over lighting patterns and colors. It also has some very cool automatic functionality and some features that I haven't seen before that tells me the minds behind this are cyclists themselves.
What's in the box?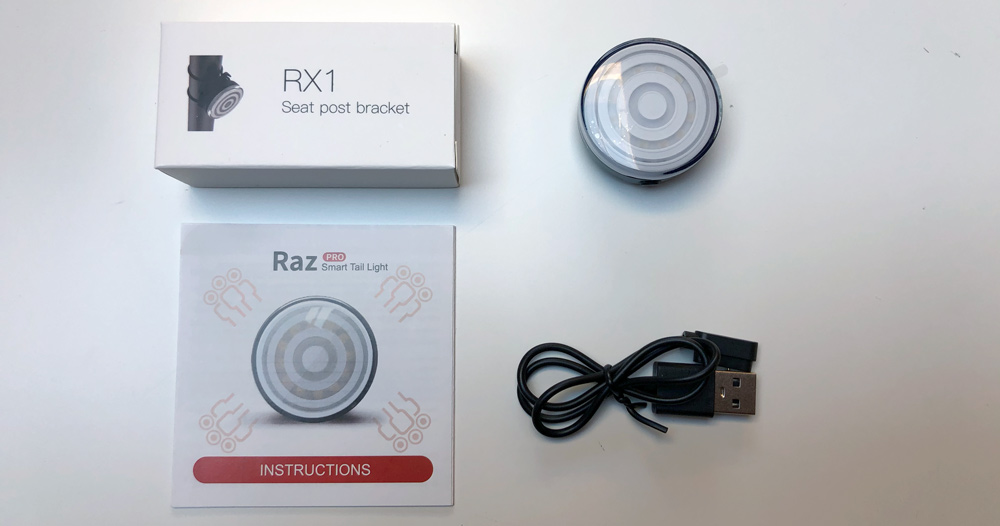 Raz-Pro tail light
Magnetic charging cable (USB-A to proprietary)
RX1 Seat post bracket (Includes mount bracket, seatpost pad, helmet pad and 2 sets of O-rings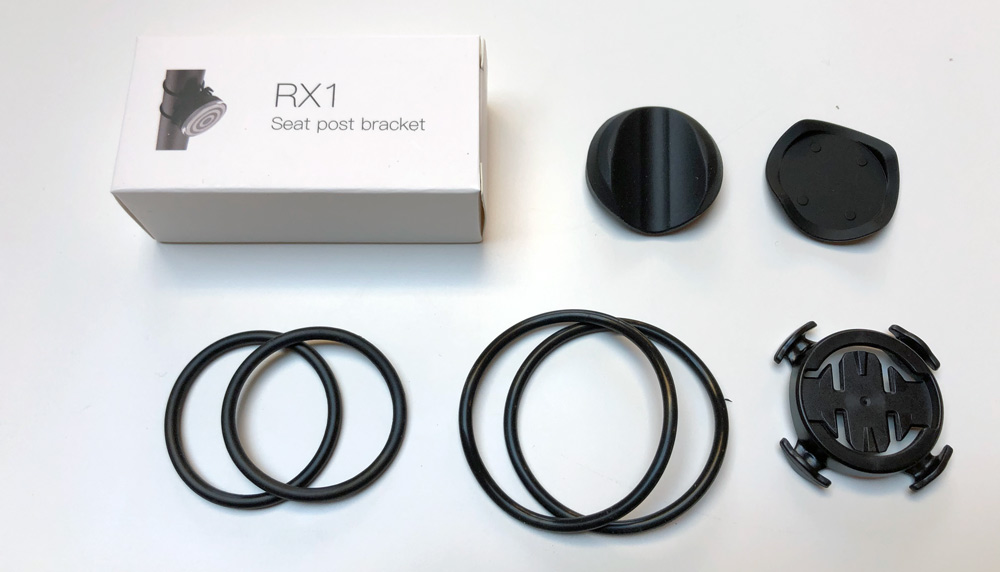 RX2 Saddle bracket (Includes saddle bracket and 4 zipties)
Note: Review sample was pre-production and the packaging may change. RX2 kit was in a separate box outside the main packaging.
Hardware specs
Name: Raz Pro Smart Tail Light
Model: SR-BTL20
Brightness: 60 Lumens (Up to 1000m visibility)
Connection: BLE 4.0
Battery: Rechargeable Li-Ion
Recharge time: 2 Hours
Dimensions: 41mm x 41mm x 19mm and 20g
Run time: 24 hrs in red flash / 46 hrs in red slow flash
OS Support: iOS 7+ / Android 4.3+
Design and features
The Raz-Pro light is about as minimal as it gets. It measures about 41mm in diameter and less than 20mm thick unmounted. There's a single multi-function button that turns the device ON with a single press and then cycles through lighting modes with subsequent presses. A long press turns the light OFF and it remembers the mode you were in on next power on.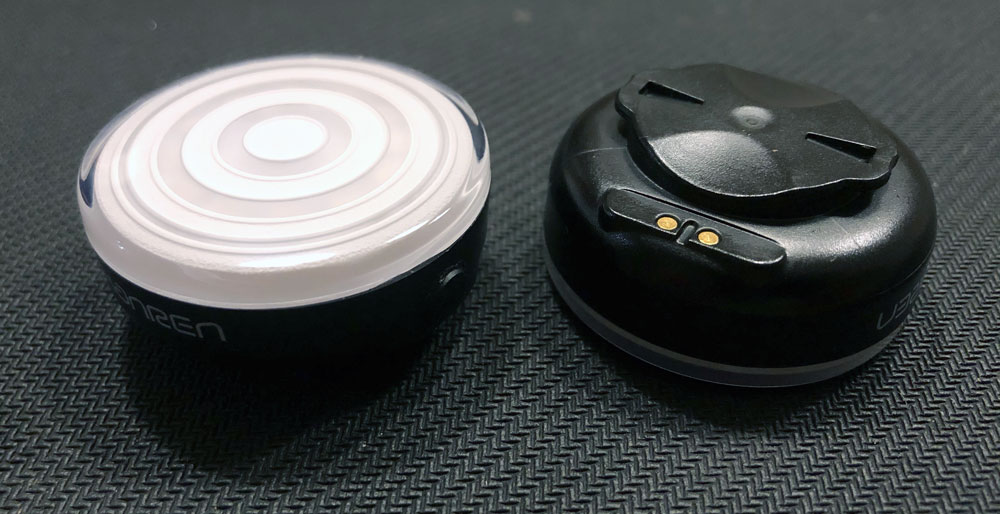 There are two other notable physical features. First is the twist-lock protrusion which docks it into either of the mounts. Second is the small magnetic connector for making charging incredibly easy while avoiding water damage with an open connector port.
Most tail lights have a pretty standard set of features and Raz-Pro has these covered plus a host of others.
EXPECTED FEATURE SET:
– Power/light mode button
– Charging connector
– Mount interface
– 8 Flash modes: Flash, Double Flashes, Three Flashes, Slow Flash, Sustained, SOS, Comet, Fireworm Breathing
ADDITIONAL FEATURE SET:
– Team up: Syncs the blink with other nearby Raz-Pros to increase group visibility or bike/helmet combos
– Braking alert: Accelerometers detect deceleration and switch the light mode to solid indicating braking
– Bump alert: Detects large bumps (potholes, speed bumps) and switches light to solid white to aid cyclists behind you
– Auto wake: Times out after 4 minutes of inactivity and wakes up when it detects motion
– Light sensor: Can automatically turn off or on depending on lighting conditions
APP CONTROL:
– Color: Full color picker
– Flash control: Select only the light modes you want to toggle through with the physical button
– Scenario: Select MTB, Road, Helmet or Front warning light use
– Intelligent control (APP): On/Off control for Braking alert, Light sensing and Vibration alert
– Team Up: Toggle feature on/off  and password control if desired
– Reset and firmware updates
Setup
First you'll want to charge the Raz-Pro fully with the included magnetic charge cable.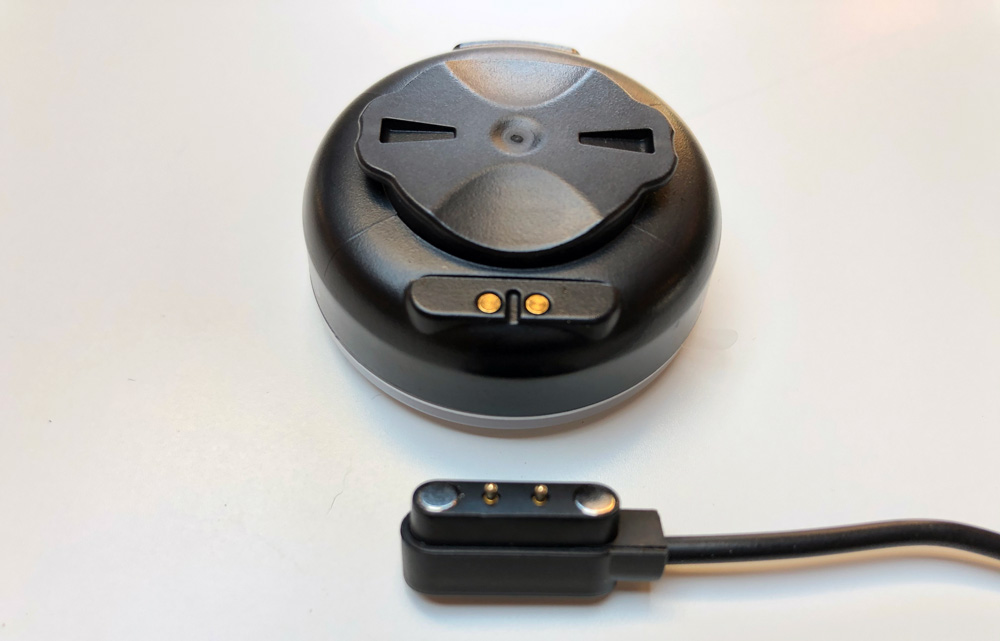 Then pair it to your phone to take advantage of all the sweet features. Download the Shanren Sport App. Create your login and accept only the privacy settings you're comfortable with. Launch the app and click on Devices in the top left. Power on the light and then confirm on your phone when it pops up.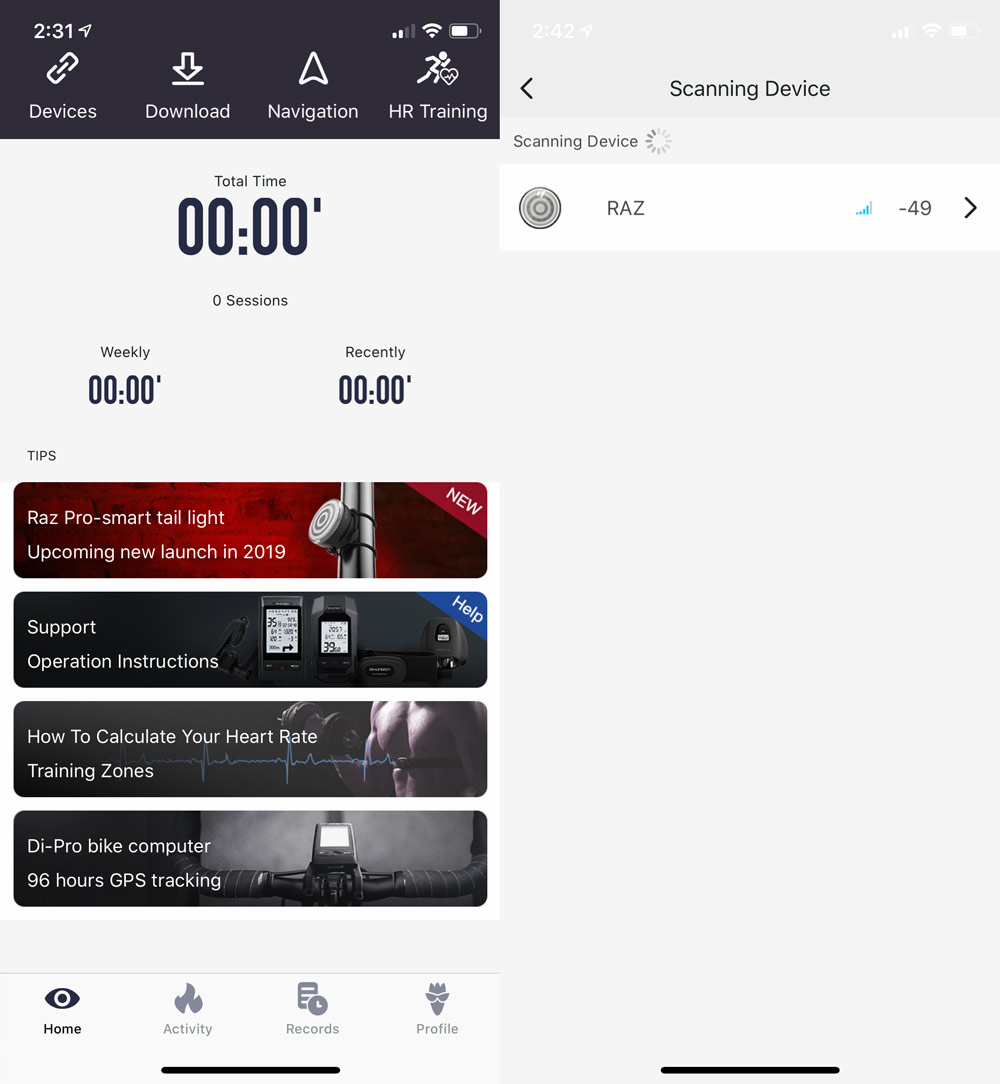 Play around with all the settings as the results are pretty much instantaneous and repeat with a second Raz-Pro if you have one.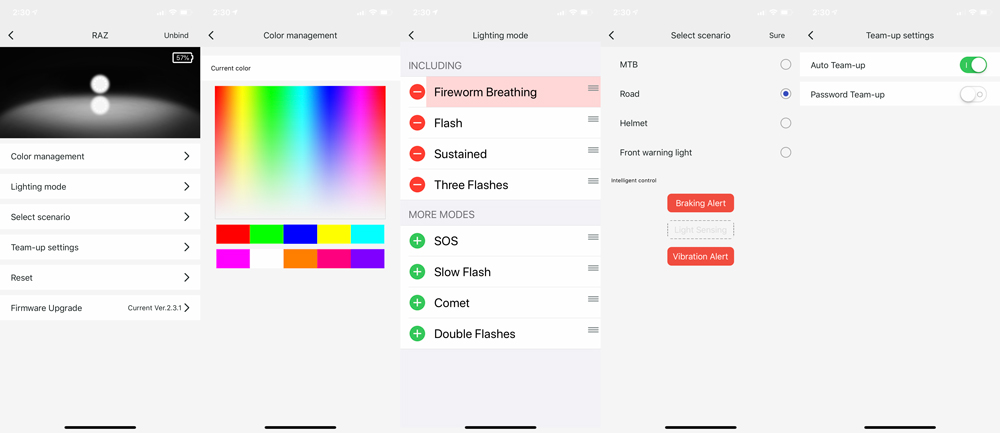 Note: I found that I could not connect to two Raz-Pros individually. If one was already paired, I couldn't add another. If none were paired, both would be found, but clicking into either one then made the other unfindable. Also looks like you cannot currently rename them. Assumption is they'll address issues like these pretty quickly as you may want to set one to helmet and one to road, or have different light colors, etc.
Next you'll want to mount them up. How you mount is up to you.
The seatpost mount is most straightforward. Go ahead and connect your light to the bracket with a twisting motion. Using the larger angled seatpost pad, nest it into the back of the mount and place this on your seatpost with the thicker side down to counteract your seatpost angle.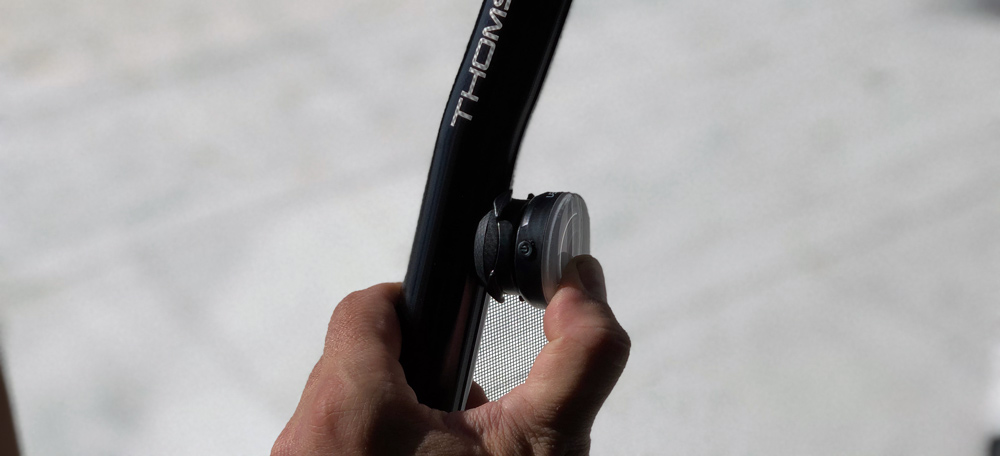 If you'd prefer to have your power button 90º from where it is now, rotate the angled elastomer 90º and check again. Two pairs of elastic O-rings are included to secure the mount to your seatpost. Choose the size that holds securely without too much tension and stretch from one hook around your post to the corresponding side. You're all set!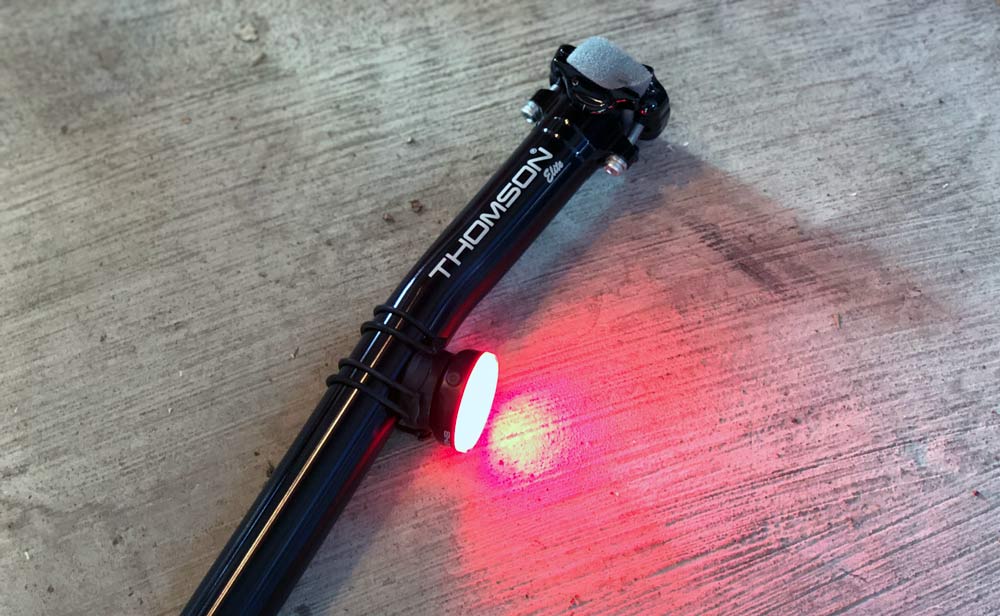 The helmet mount works the same way but you'll need the helmet pad under the mount. This part fits better in one orientation than the other, so turn it 90º if it isn't sitting flush. Take your helmet and find the best location on the back to stretch O-rings through and onto the hooks. My Smith Forefront is pictured below. I had to use two large O-rings tied together for the top edge and one regular for the bottom as the lower portion of my helmet is very thick.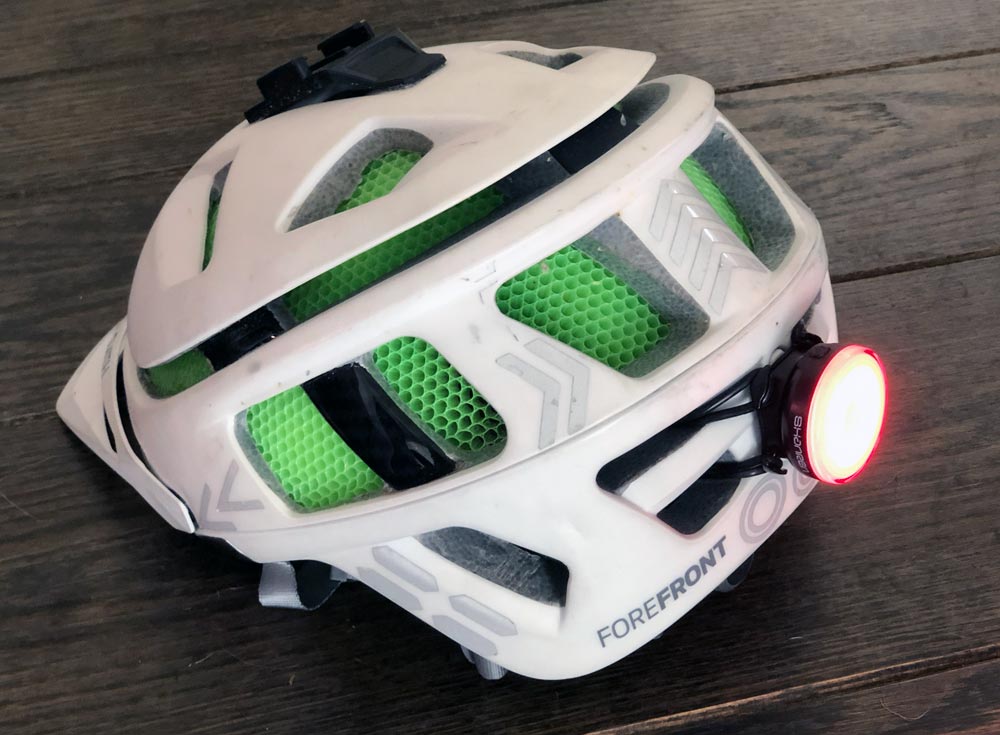 Depending on your helmet style it may work better to use some 3m VHB tape instead. That's what I did here for my Leatt helmet, but I actually unscrewed the saddle mount bracket as it had a flatter profile for taping.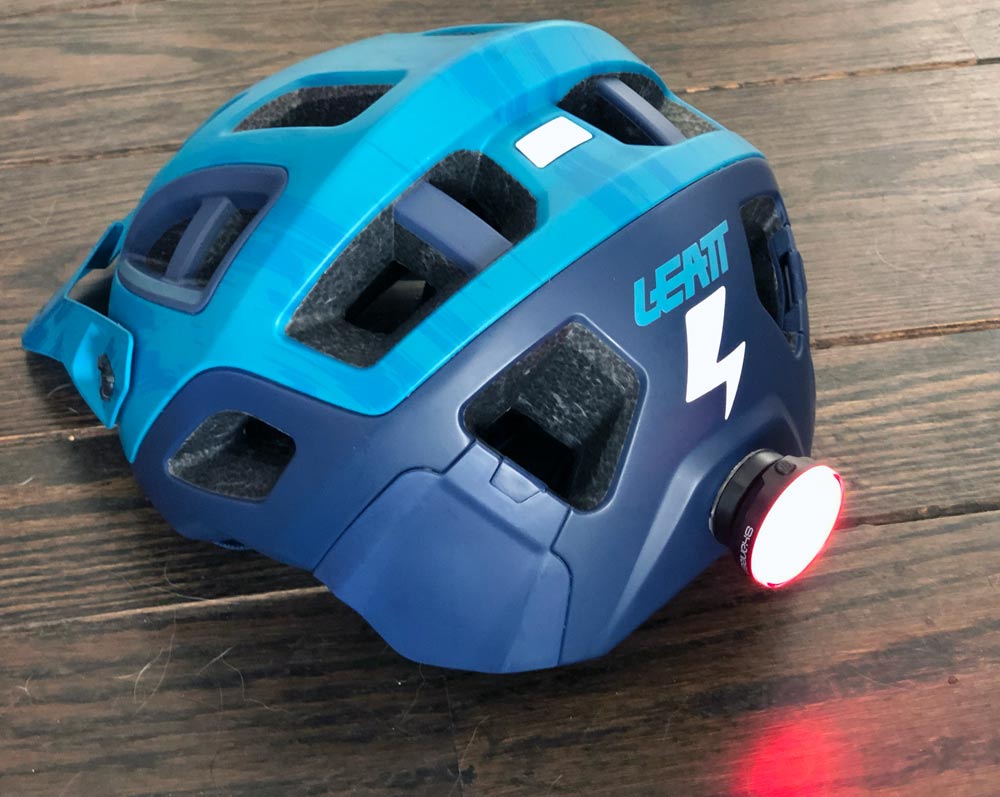 The saddle mount attaches to the rails under your bike seat. Place the mount so the hooks rest on the top of your rails (or underside if obstructed for some reason) and then lash loosely with the included zip-ties. Check your placement and then lock the ties down and trim excess carefully to avoid zip-tie carnage later.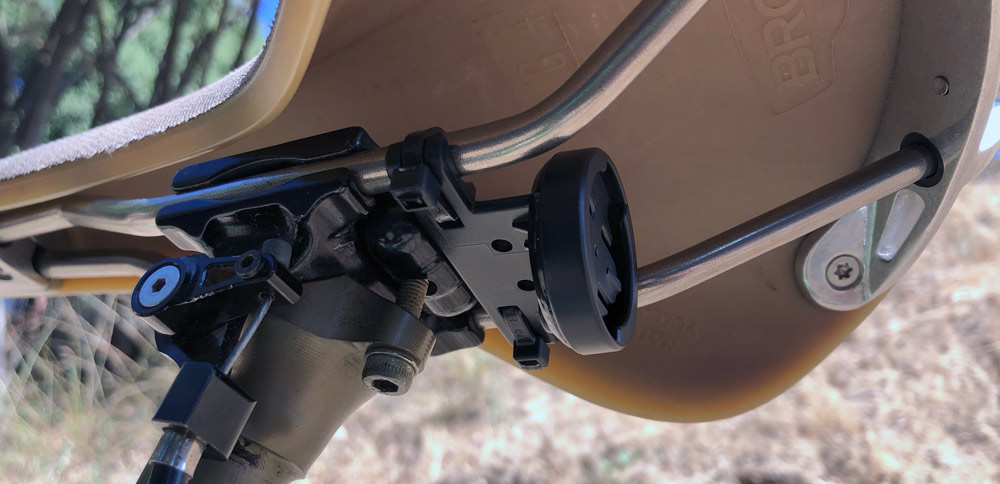 Try them all out to see what works best as you may have some unique scenarios. An example would be that a dropper post might keep the post mount from being the right solution. I found the helmet mount worked on my backpack really well.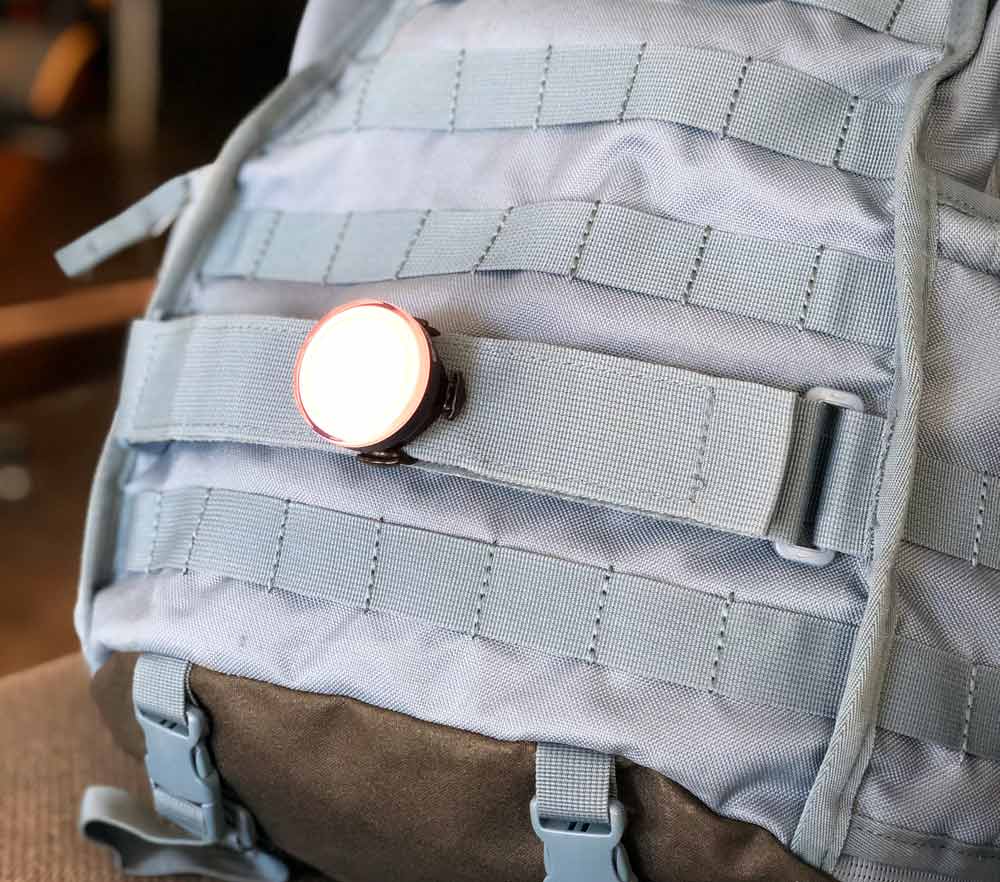 Performance
Let's jump straight to it. These are great! Shanren sent me two Raz-Pros which is super helpful as it's the only way to see the Team Up function in action. Each light does its own thing until they are in close proximity and set to the same blinking mode. Take a look as it's very cool to see.
The next thing I was excited about is the braking detection function. Raz uses a 6 axis accelerometer to detect when you slow down and then turns your light solid like the brake light on a car. I ride in traffic daily and can't tell you how amazing it would be to know instantly that the cyclist in front of me just grabbed a handful of brake. Obviously everyone isn't going to magically have a Raz-Pro overnight, but cyclists tend to ask questions about useful gadgets and I've already been asked what this is and where they can be purchased. This same feature is even more critical if you're in street traffic with cars. Yay safety!
Seeing as how this is a tail light (and mounted behind me where I can't see it), the first thing I did was ride to work with one mounted on my handlebar facing me so that I could witness the braking function. The good news is it works as described. The more rapidly I decelerated the quicker Raz-Pro would switch to a solid red indicator. Does that mean that there's bad news? No, but if you're on roads that aren't silky smooth you get some false positives where it looks like you're braking. I'll chalk that up to better than no indication change of any kind. Every time I was braking, Raz lit up and that's a very good thing.
The other thing I was able to witness on my handlebars was the bump detection. It takes a pretty big bump to trigger this which is again a good thing. I only saw it happen twice and they occurred on a pothole and a rather harsh speed bump. In both cases, the blinking red switched to a solid white for a second or two and then returned to blinking red. I'm unsure of how Raz-Pro would determine the priority of showing braking over bump detection if happening simultaneously, but again, a visible lighting mode change is a welcome improvement over no change at all.
Both of these are a little hard to stage, so here are videos from their site which demonstrate what I've described and confirmed to work as shown. Click on the pic to jump to an animated gif view.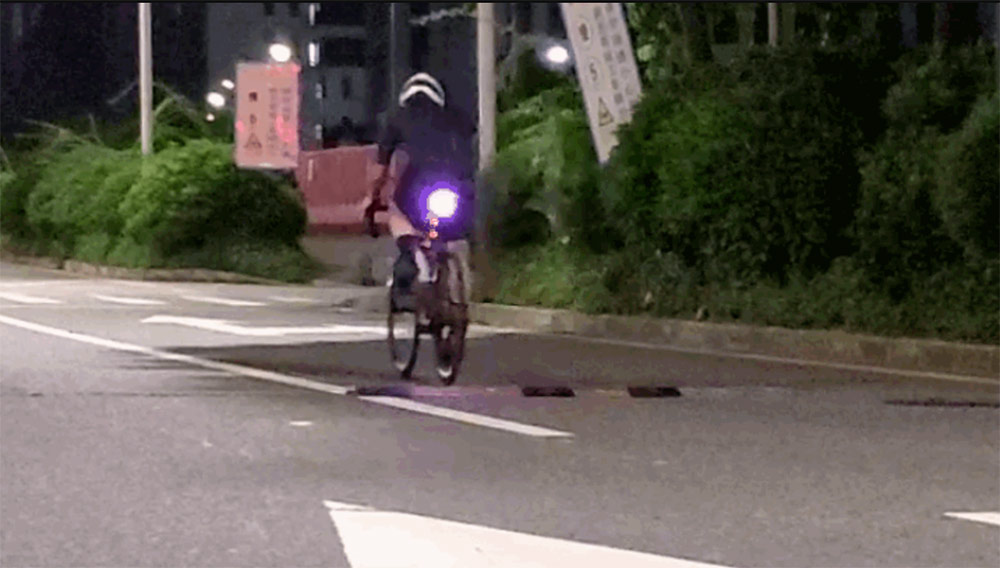 You'll want to play in the App a good bit to understand what it can do and what you can toggle on and off. For instance, I turned off light sensing as I always want lights on while riding, day or night. If you aren't riding with a team or have a single light you can turn off the Team Up and that may save some battery life.
The lights are super easy to disconnect for charging with the half twist, which also means you'll want to get in the habit of taking them with you if you lock your bike up anywhere public. You'll also want to keep track of this cable as it doesn't appear to be a standard of any kind so charging will become an issue if you lose it.
What I like
Small and rechargeable with easy controls
Powerful control of lighting and preferences
Great auto features like braking, bump and team sync
What I'd change
Provide double length O-rings for tricky helmet mounting
Improve the app for multiple Raz-Pros (There's no way this isn't already on the to-do list)
Final thoughts
I have a good number of bike lights, but the Raz Pro just seriously upped the game. Ease of use and performance features are top notch and that's before some game-changing tech. On specs alone, I would have guessed a much higher retail cost, so it's amazing to see it priced at $39.99 and even less if you get in on their Kickstarter now which still has a few weeks to go.
Price: $39.99
Where to buy: Kickstarter
Source: The sample of this product was provided by Shanren Tech.