We use affiliate links. If you buy something through the links on this page, we may earn a commission at no cost to you. Learn more.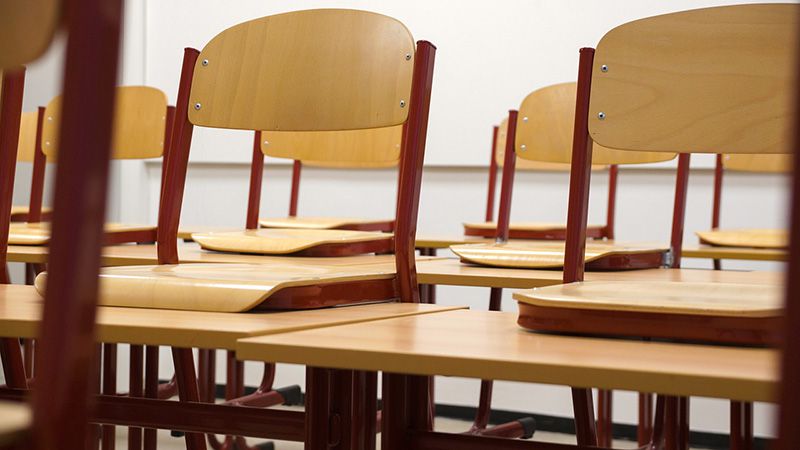 Previously I have reviewed three different gadgets with the intention of giving them to my daughter as she headed off to her first semester of college:  the Osprey Tropos everyday backpack, the Kensington Thunderbolt 3 Nano dock, and the BunkTrunk PhD footlocker.  At the time of these reviews, I believed that each of these would work well and be a help.  Now that she has been at college for 3 weeks, it's time to find out what my daughter thinks of them.  I gave her a call on Discord, and we talked about each gadget, what she liked and what she didn't, what was working well and what was annoying.  At the end, I asked her to rate each one:
2 Thumbs Up – The gadget is great and she uses it a lot
1 Thumb Up – The gadget is good and she uses it some
0 Thumbs Up – The gadget is bad and she doesn't use it
Let's see what she thinks!
Osprey Tropos Everyday Backpack
Overall, my daughter really likes her Tropos; it's a good backpack.  When we picked this particular pack, we picked it because it was one of the larger everyday packs; in fact, it's a guys' pack, which makes it even bigger than the equivalent gals' pack.  She's come to realize that it's way bigger than she needs.  It turns out that she only takes her laptop and a couple books or notebooks to class, and the Tropos has more than enough space for carrying these items.  If she could pick again, she would get a smaller backpack and probably get one designed for gals.  The lesson learned is that sometimes it's good to try before you buy, which is why it's good that Osprey's website has links to local stores.  Despite being big, the Tropos works great.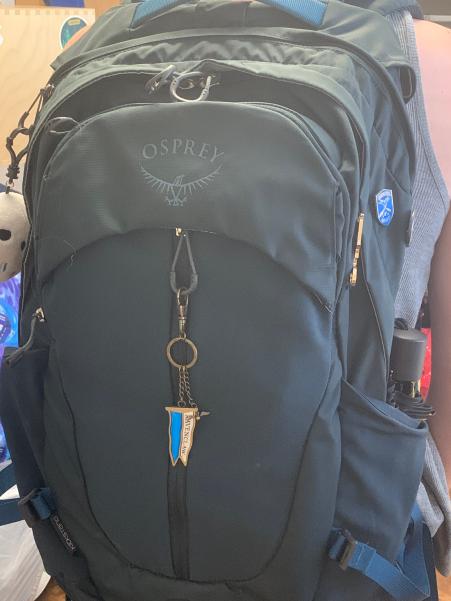 She has found that the Tropos is generally very comfortable, but it can get a bit uncomfortable after extended use.  I suspect that this is mostly due to the fact that she is not used to carrying a pack for long periods of time, and that her tolerance will increase as the semester progresses.
Her favorite feature about the Tropos is the small compartment on top where she carries her phone, headphones, a bottle of Advil, and some quarters for the vending machines. It's super convenient to have this small, dedicated space.  She also found that the kickstand works really well, so long as she has a few books in there, and it's a very useful feature to have in class, as it keeps the Tropos in an upright position beside her desk.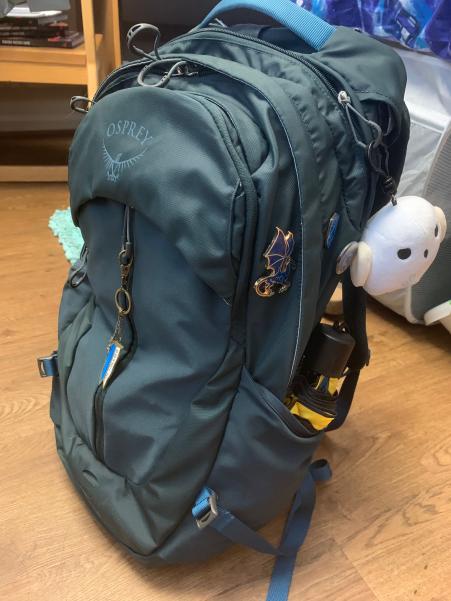 Her biggest disappointment is the Airspeed ventilated backpanel system.  It's designed to keep the backpack off her back and allow some ventilation, thus keeping her back cool.  It doesn't seem to work very well, as she almost always finds that her back is hot and sweaty after a long walk to or from classes.  There's only one thing about the Tropos that annoys her, and it's a small thing.  If she opens the front compartment, where she stores all her pens and pencils, to get a pen, leaves it open, and then she opens the main compartment to get a notebook, the front compartment flops over and her pens and pencils are dumped out onto the floor and scattered everywhere.  This has happened to her 3 times, and it's not a lot of fun.  She showed me a picture of this, and it seems to me that the front compartment lacks the structural integrity to remain upright on its own.  There's probably not a solution for this, so my daughter has simply learned to be careful and not open these 2 compartments at the same time.
In the Tropos review, we had a fair amount of discussion on where to put her laptop.  In the end, she put her laptop in the final compartment, the one that is intended to carry laptops, but to compensate for some of the lack of padding, she put a small towel in the bottom.  This has worked out really well for her, and she's happy with the protection it provides.
Rating:  2 thumbs up!
She loves this backpack and uses it all the time.
Kensington Thunderbolt 3 Nano Dock
Of the three gadgets here, my daughter had the least to say about Kensington's dock, and the reason for this is that it just simply works.  It sits there quietly and unobtrusively doing exactly what she expects it to do.  This sounds kind of boring, but for a gadget like a dock, it's actually high praise.
Her favorite feature is that the USB C port that connects the dock to her MacBook Pro also charges it. That means she only has one cable to plug and unplug when she takes her laptop to and from class, and she finds that to be very convenient.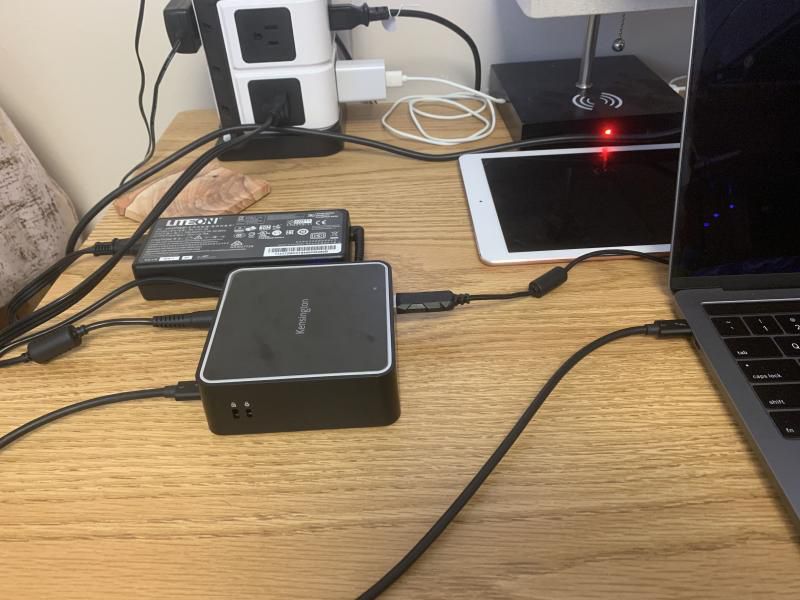 If she could make a change to the Nano Dock she would add a couple more USB A ports.  She has a number of other gadgets that are charged and/or powered by USB, including her iPhone, a set of Beats headphones, a BlueTooth speaker, a wireless mouse, and a small LED lamp, and the extra ports would be handy.  Despite this, she wouldn't trade it for another dock.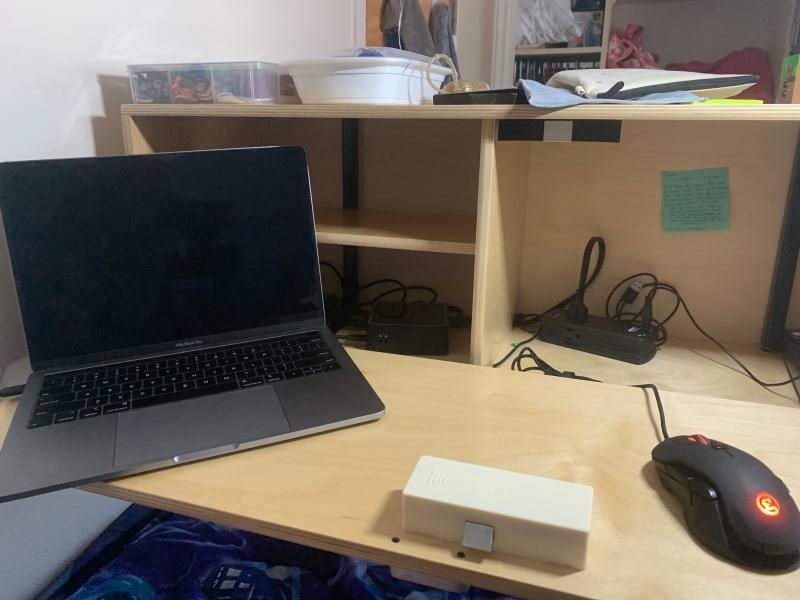 Rating:  2 thumbs up!
I think it's safe to say that my daughter has one of the more tech-savvy setups in her dorm, and she's really happy to have her Kensington Dock sitting in the middle of it.
BunkTrunk PhD Footlocker
When I took my daughter to college, I helped her to install the BunkTrunk over the foot of her bed. She likes it there, and she uses it every day.  When we talked, my daughter was quick to point out the Achilles Heel of this gadget: The metal legs.  As I discussed in the review, they are not sufficiently rigid to hold this footlocker firmly in place; in fact, my daughter described the BunkTrunk as "very wobbly."  She can't put anything tall or fragile on top of it, as climbing in or out of her bed causes it to rock back and forth.
After my daughter mentioned this, I was expecting her to say that she doesn't use her BunkTrunk very much, so I was pleasantly surprised to hear just the opposite.  She uses it every day, primarily for two different reasons. One, she stores her valuables and gadgets in here when she leaves the dorm.  The keypad and lock work great, and she feels that her possessions are safe. Peace of mind is valuable for college kids.
Two, she uses it for a desk. This really surprised me, because of the unsteady legs that I've already mentioned.  Although she can't press or lean on the BunkTrunk, she still finds it very comfortable to sit on her bed, put her laptop on one side and a notebook on the other and then touch-type.  She wishes that the locking mechanism was not right in the middle, as it's very annoying, but she's learned to work around it.  She uses this so much that she often puts the Kensington Dock inside and connects everything together.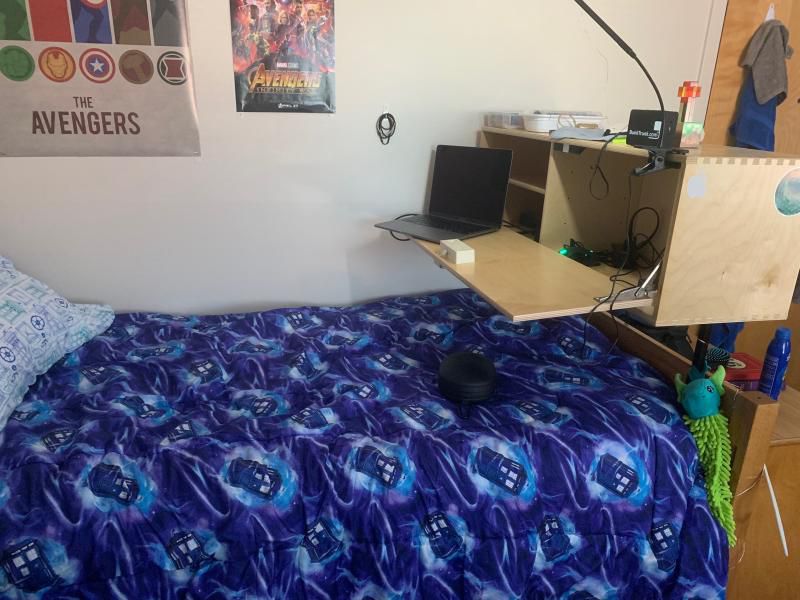 One of the features that she really likes is that the BunkTrunk designers left plenty of room for cables.  The shelf on the left side doesn't go all the way from the front to the back, and the horizontal divide has a slot cut in the back.  This leaves plenty of room for the various cables and cords that connect her gadgets together.
BunkTrunk was gracious and sent us the PhD version of their footlocker, which came with 3 extra items, so we talked about each of them:
LED Lamp – My daughter described this little lamp as "fabulous!"  It's her favorite of the 3 items.  On the one hand, it's a fairly simple, little lamp.  On the other hand, it has some really handy features.  It's a clip-on, so she can connect it anywhere on the BunkTrunk where she needs the light.  It's easy to turn on and off:  Just touch it.  It's bright enough to light up her side of the dorm room, and she recently discovered (by accident) that she can press and hold the lamp in order to adjust the brightness.  If her roommate's asleep, she can dim it down to avoid keeping her awake.  She originally expected that she would use this item the least, but it turns out that she uses it the most.
Powerstrip – The small power strip is another simple item that works well.  She is grateful for the extra USB A ports, as the Kensington dock doesn't quite have as many as she needs.  If she were to make a change to it, she would put all the power outlets on the same side.
Bluetooth Speaker – My daughter doesn't use this speaker very often, mostly because she prefers to use the Beats headphones that came with her MacBook Pro, but when she does, she likes it.  It sounds good and is plenty loud for a small dorm room.  The only problem she had is that cannot connect her MacBook Pro to it; it can't find it via BlueTooth.  The good news is that her iPhone connects to it just fine.
When we installed the BunkTrunk over her bed, I wondered if she would bump it during the night.  She admitted that she has occasionally bumped her feet while moving around at night, but in general, it has not been a problem; it's in a good place.
Let me finish this by saying that her BunkTrunk gets more compliments than the rest of her gadgets combined.  All college kids have backpacks, and the dock is small and unobtrusive, but every girl who comes into her room goes, "Whoa!  Cool!  What is this?"  My daughter explains, and they love the idea.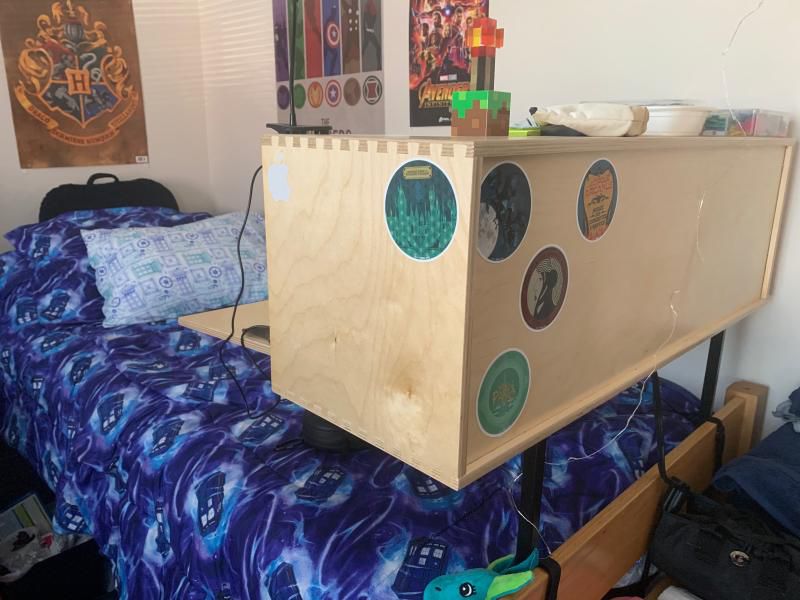 Rating:  2 thumbs up!
My daughter really wishes that the BunkTrunk came with a sturdier pair of legs, but despite this, she loves it and uses it all the time.
Summary
As expected, my daughter is happy with all three of these gadgets, and she's glad they are at college with her.