We use affiliate links. If you buy something through the links on this page, we may earn a commission at no cost to you. Learn more.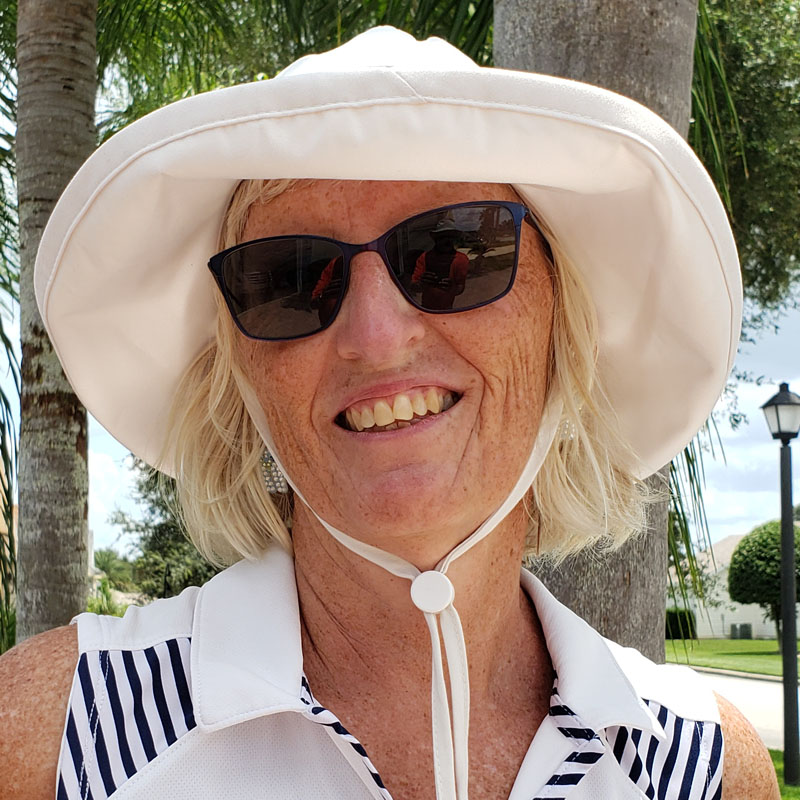 REVIEW – We live in Florida. Florida is known as the sunshine state. Let me tell you, after living in Michigan for most of my life, and in my wife's case, her entire life, the sun down here is a different kind of intense.  We both wear hats nearly all the time when we are outside. Finding a good hat is essential for both comfort and the health of the skin on your head. Wallaroo Hat Company has a large offering of hats for men, women, and children that include UPV 50+ hats.  These hats block more than 97.5% of the sun's UV radiation.  We were sent the Seaside hat for review.  Should it be in your sights as an option for UV protection and stylish looks?  Let's get into it and find out!
What is it?
The Seaside hat is one of Wallaroo's hats designed specifically for women that provides UPF 50+ UV protection.  We were sent the natural version which is an off-white.  It is also available in camel – more of a light brown, or perhaps dark tan.
Specs
Fabric: 100% microfiber with ventilated mesh
Ultraviolet protection factor (UPF): 50+ (fabric blocks 97.5% of ultraviolet rays)
Weight: 2.9oz
Crown size: 58mm
Bill width: 4″ and adjustable
Design and features
First off, the hat is incredibly soft.  When I opened the box, the first thought on my mind was how soft the hat felt.  The 100% microfiber construction feels great with nothing stiff or abrasive. Then, I noticed how light it is.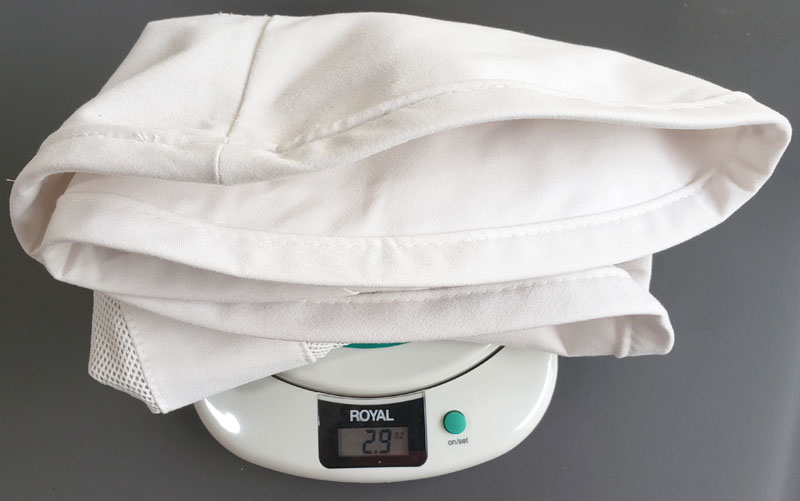 My trusty postal scale shows that it weighs in at a next-to-nothing 2.9 ounces.  That should mean all-day comfort as almost nothing is on your head. But, that next to nothing provides a UPF rating of 50+ so only 2%-2.5% of the sun's UV radiation will hit your noggin. With the 4″ wide brim, your ears and neck will also be protected.
Wallaroo includes a cinch cord in the hat to help you get that perfect fit.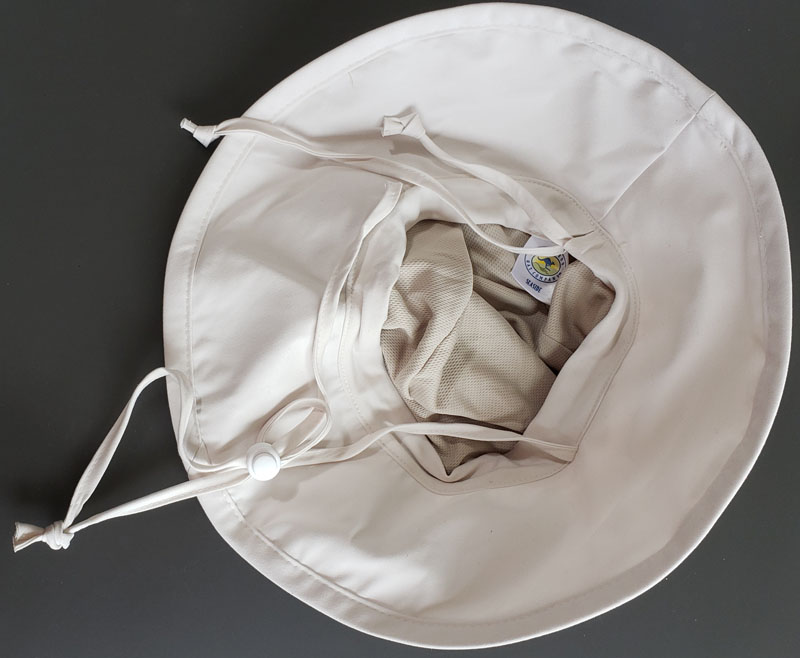 The above photo shows the cinch cord near the label as well as the chin strap with a slider to tighten under your chin in windy conditions.
Never miss one of our posts again. Sent MON, WED, and FRI with the latest gadget reviews and news!
The only exterior branding is a small Wallaroo tag on the back of the hat.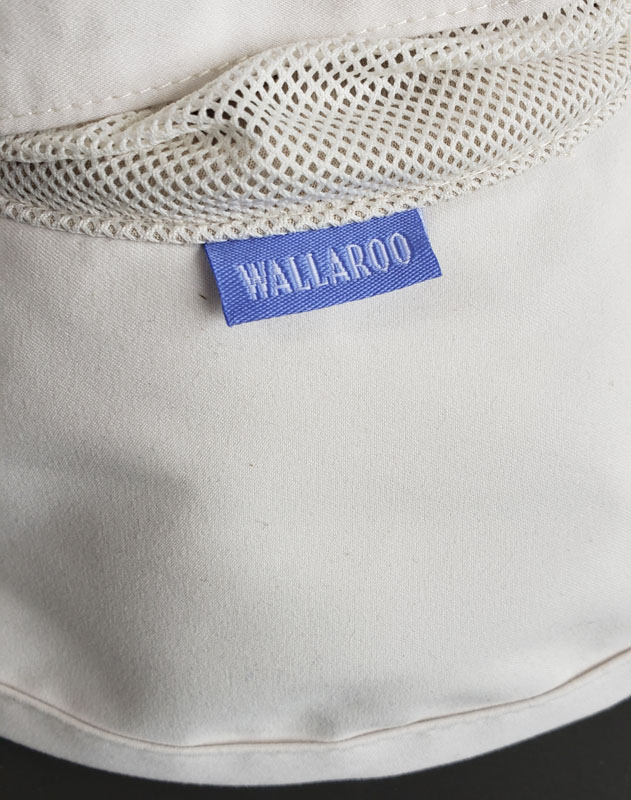 Inside, we find another brand tag.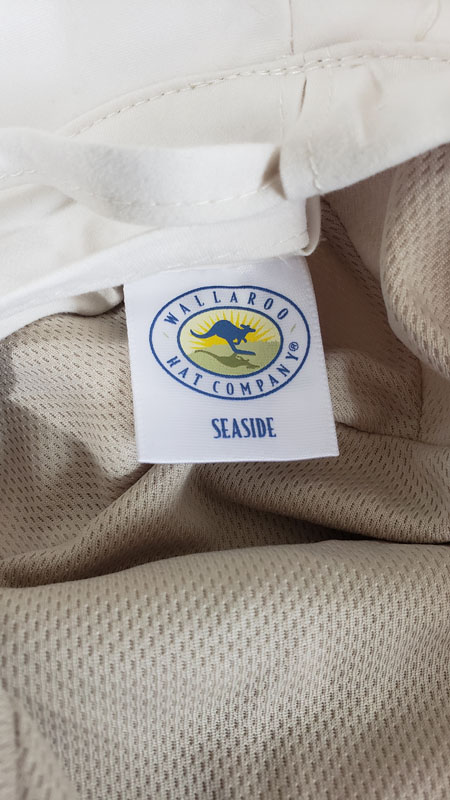 Washing instructions on the back show that hand washing in cold water is recommended.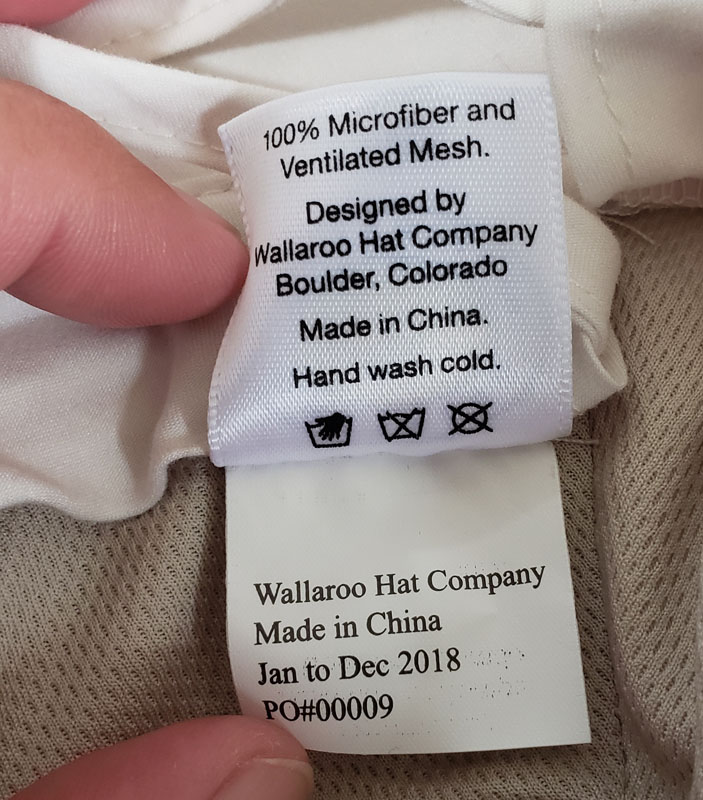 Wallaroo promotes that they are Colorado-based but we see that the hat was made in China.
The hat ships with three tags attached.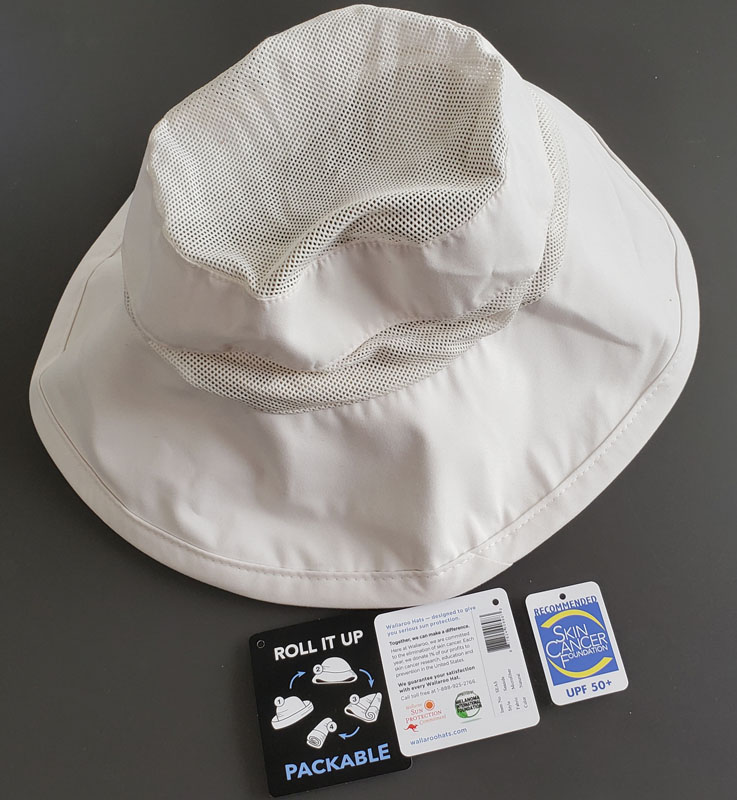 One demonstrates how to pack your hat by rolling it so you avoid wrinkles.  The second shows that they are recommended for their UPF 50+ protection by the Skin Cancer Foundation.  The third has product information and also explains that 1% of company profits are donated to skin cancer research, education, and prevention in the United States.  That's an admirable mission.
Take another look at the photos above and this close-up.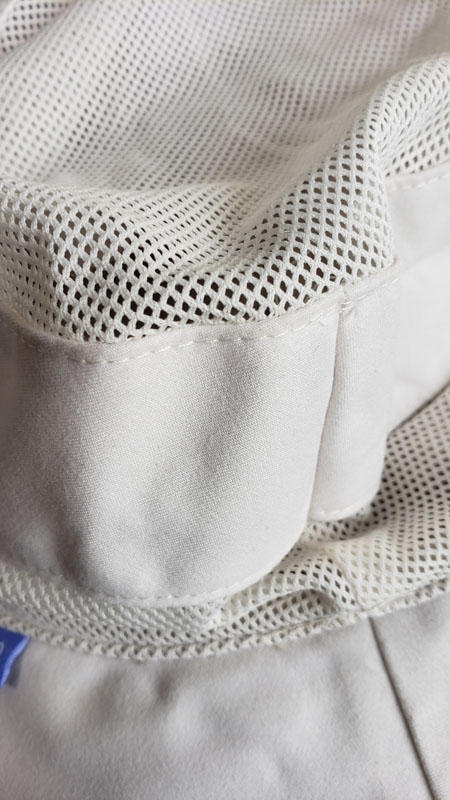 We see a good amount of ventilated mesh integrated into the hat.  A UV protection layer is under each mesh area. This promotes airflow to help keep you cool in the sun while still providing full UV protection.
Performance
I can like this hat all I want to but it is designed for women.  Whether it is worthy of your consideration will rest solely on the opinion of my lovely wife who will be modeling and testing out the hat.
To test the hat, we went and played golf – central Florida style.  That means 93 degrees, 66% humidity and a feels-like of 105 degrees. She liked wearing the hat and used words like "soft" and "comfortable".  In addition, she felt that the hat, with its extensive ventilated mesh, did a good job of helping her feel relatively cool in the blazing Florida sun.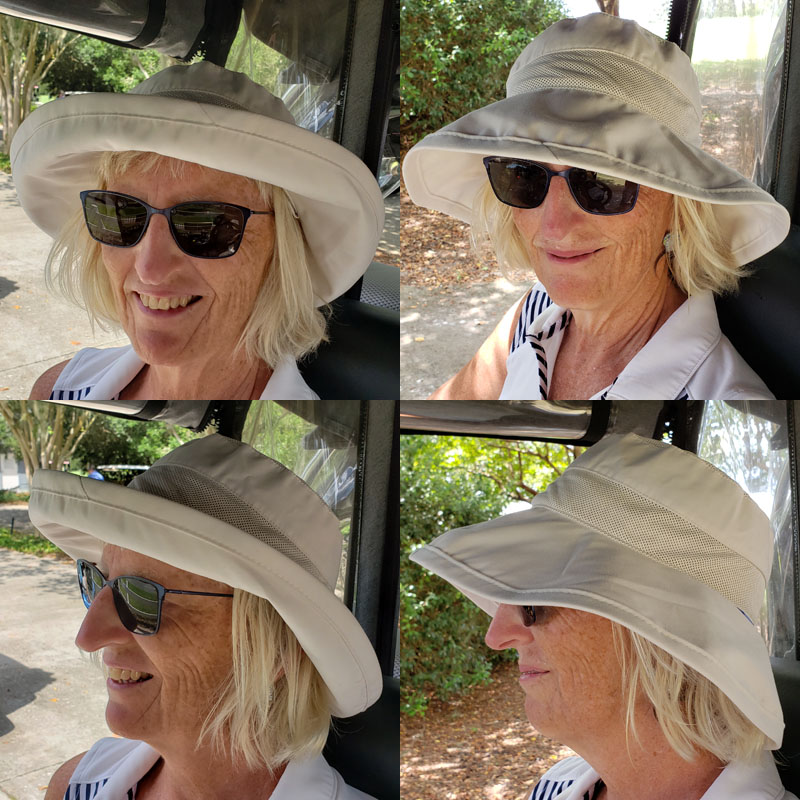 She tried the hat in its two brim modes.  You can roll the brim edge up for a sportier look, or fold it down for more extensive sun coverage and a more relaxed look.  She preferred the rolled-up look, and I had to agree that she looked pretty darn cute, although I might be biased.
For excessively windy conditions, there is a chin strap, which she modeled for me as well.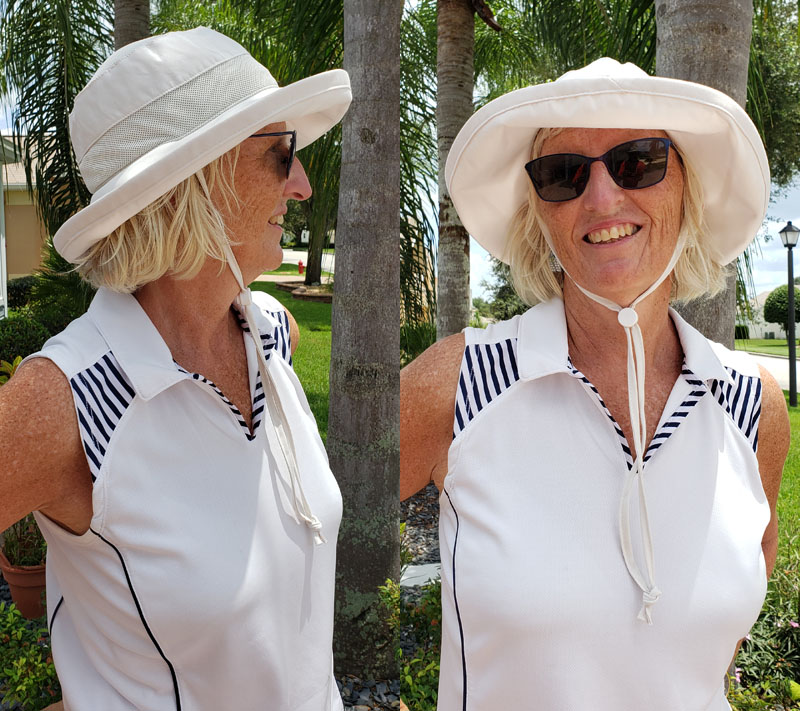 I'm not sure when you would use the chin strap. In a hurricane, perhaps? After golf, we rode home in our golf cart. We live in a huge retirement community and that's how we get around most of the time. Since it was so hot, we left the windshield folded down. I had her drive so I could shoot video of the hat's performance in the wind.  She had just put the hat on and did not even pull the cinch straps tight.  Take a look at the following 10-second video.
We were cruising at about 25MPH and the hat held firm.
Here's another view from the side.  You can really get a sense of how hard the wind was blowing in our faces.
We both were quite impressed.  Cinching the hat will offer even more hold, and the chin strap is there for those times when you're skydiving or running an Indy car with no windscreen.
What we like
Super light and soft
Attractive design
Very good fit and hold, even in windy conditions
Great UV protection
What we'd change
A way to store the chin strap, perhaps a pocket in the inside top of the hat, would be nice
Final thoughts
We were both very impressed with the Wallaroo Seaside hat.  My wife went golfing again the next morning when the temps were in the high 80s and the feels like temps were again well over 100 degrees.  When she came home, she again commented on the softness and comfort of the hat and how well it shielded her from the sun and helped keep her cool. With its great fit, great comfort and terrific UV protection, it is a perfect hat for our Florida active lifestyle.
Price: $50
Where to buy: Direct from Wallaroo and Amazon along with many other retailers.
Source: The sample of this product was provided by Wallaroo Hat Company.