We use affiliate links. If you buy something through the links on this page, we may earn a commission at no cost to you. Learn more.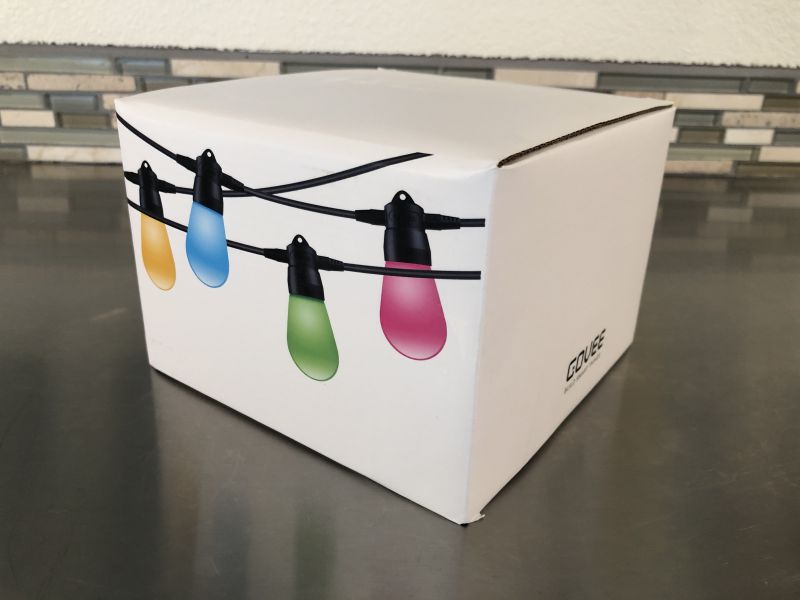 REVIEW – This is my second opportunity to review a Govee product, with my most recent review being their smart LED strip lighting that I used behind my TV. This time, I'm getting to show off the Wifi Smart Outdoor LED String Lights! As much as a fan as I was about the strip lighting, I will say it upfront that I really love these string lights!
What is it?
These are a 6 bulb, remote controlled, LED string light that is rated for outdoor use.
What's in the box?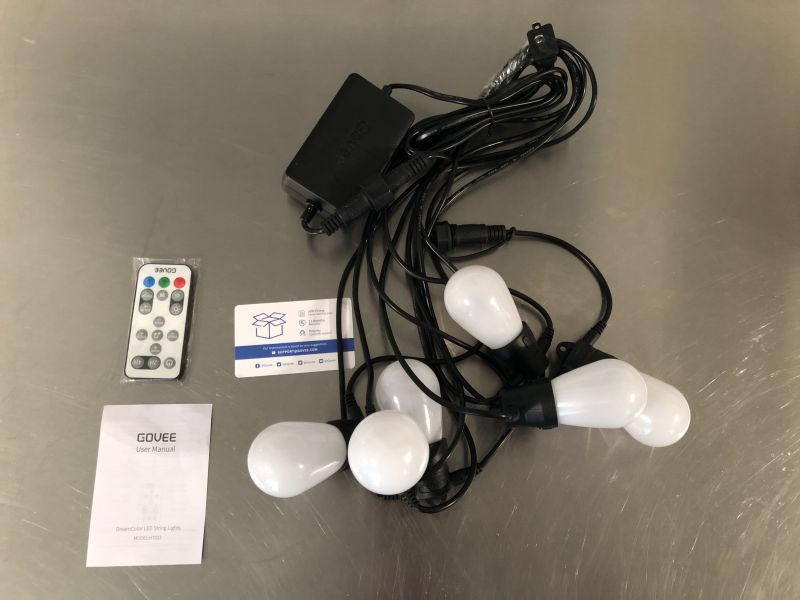 String Lights
Remote Control
Instruction Book & Govee brochure
Design and features
These lights are on a 24′ long string with 6 total bulbs. There is a standard electrical plug. Each bulb can be controlled individually, selected lights can be controlled together or all lights can be controlled at once via the Govee app – which was easy to set up this additional unit into my existing setup of lights from Govee. While it can be controlled via the app, the unit also comes with a remote control that comes in very handy. Since these are multi-color LED's you can adjust the lights to any tone or color that you choose that best fits your situation or preference. Additionally, since it is rated for outdoor use, they can be kept up year-round as well.
Setup
Simply remove from the box, plugin and string them up as you desire. Follow the step-by-step instructions in the app to get it completely set up for Wifi use.
Performance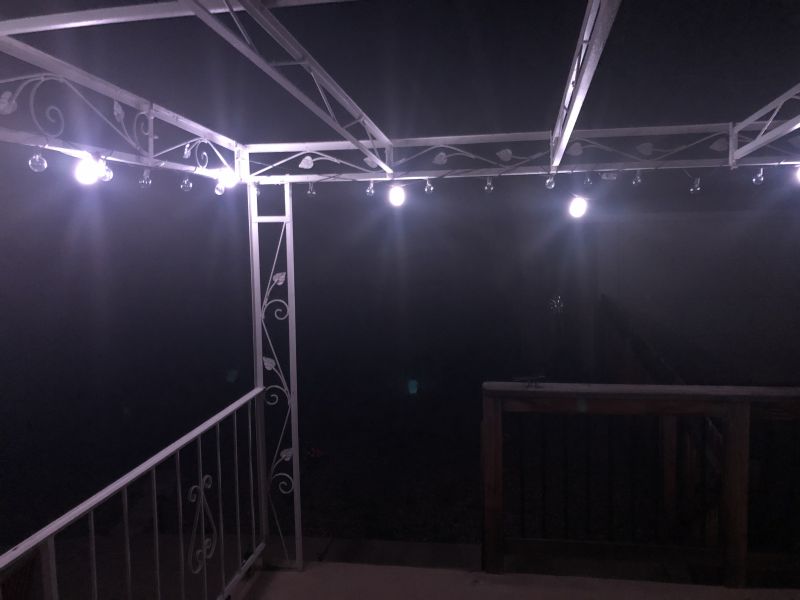 These lights put off a surprising intensity of light for their size and space between each bulb. They illuminate our back patio well, although I will be buying a second strand to connect to it in order to get the rest of the way around our railing. We use these nightly when we let our dogs out for the evening and they provide enough light that we can see them wherever they are at in the back yard as well as on evenings that we are out eating dinner or enjoying some wine. The remote and app make them easy to turn on/off as well as make any color adjustments that we would like. Finally, there is a setting that will allow the lights to "dance" to music that is being played so if you like that sort of thing while having a party, these lights are perfect for you!
What I like
Bright illuminating bulbs – that are still adjustable to lower brightness levels as needed.
Easy install and set-up
Can daisy-chain these together with additional units (up to 4 total) to accommodate larger areas.
What I Would Change
24′ and 6 bulbs sound like a lot, but once installed, it does feel a little short – I would like a couple more bulbs and maybe 30′ for optimal usage – but since you can chain 4 together, this detraction is negated a bit.
Price feels a little bit high at $50 per strand in my opinion, but the quality and functionality are there to balance out the price.
Final thoughts
Overall, I'm two thumbs on these lights, Govee is really doing a great job on these lights and I really like the ease of changing the colors, brightness and various modes/scenes that are pre-programmed in the smartphone app. And as I stated above, we will definitely be adding a second string to get it completely around the patio. For those looking for a quality outdoor LED lighting solution, I'd definitely recommend picking up a string or two or three of these lights!
Price: $49.99
Where to buy: Amazon (20% OFF code: HUC6522O + extra 20% Coupon on Amazon page expires: 08/20/2019 11:59 PM)
Source: The sample of this product was provided by Govee.