We use affiliate links. If you buy something through the links on this page, we may earn a commission at no cost to you. Learn more.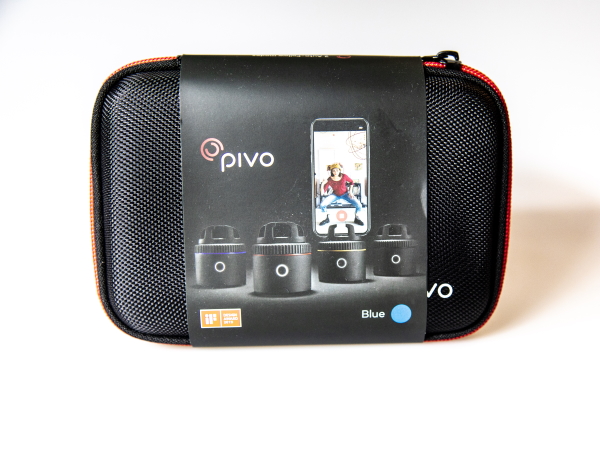 REVIEW – I am usually interested in almost every type of gadget that is designed for videography and/or photography. These days, almost everyone has a smartphone and many people use the built-in features to shoot either videos or to take pictures or both. In response to this popularity, many companies have manufactured various kinds of gadgets to help phone users to get more enjoyment and versatility when shooting. The Pivo Tiny Pod is just that type of gadget.
What is it?
Pivo is a smart interactive pod for smartphone photography and videography. It is built around 12 main features that include 9 quick create modes, 2 auto-follow modes, and 1 multi live streaming mode.
What's in the box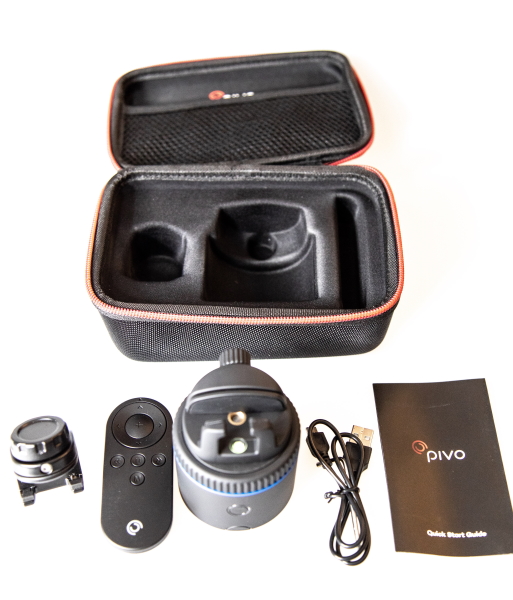 1 x Pivo Pod
1 x Panoramic Mount
1 x Adjustable Mount
1 x Remote Control
! x Micro USB Cable
1 x Travel Case
1 x User Leaflet
Design and features
Specifications
Pivo Pod –
Max Load: 1kg
Bluetooth: BLE 4.0
Rotation Degree: 360 degrees
Speed Rotation: 10s/r-2h/r
Bluetooth: 2402MHz~2480MHz
SRD: 2440MHz
Battery: 500mAh
Charging Method: Micro-USB Part, 5VDC, 0.5A
Charging Time: 1 hour
Working time: 10 hours
Height (without mount): 5 cm / 2 inches
Height (with mount): 7.3 cm / 2.9 inches
Width: 6.3 cm / 2.5 inches
Weight: 176g / 6.2 ounces
Remote Control –
Controller: 2.4GHz RF
Distance: 50ft (15m)
Height: 8.8cm / 2.7 inches
Width: 3.65cm / 1.4 inches
Weight: 30g / 1.0 ounces
Battery: 3V Coin Button Cell
Looking at the Pivo Pod, on one side, there is the grip fastener at the top, the 360-degree rotation gear below that, and a USB charging port at the bottom. Around the body of the Pod, there is a sort of rubberized finish/coating.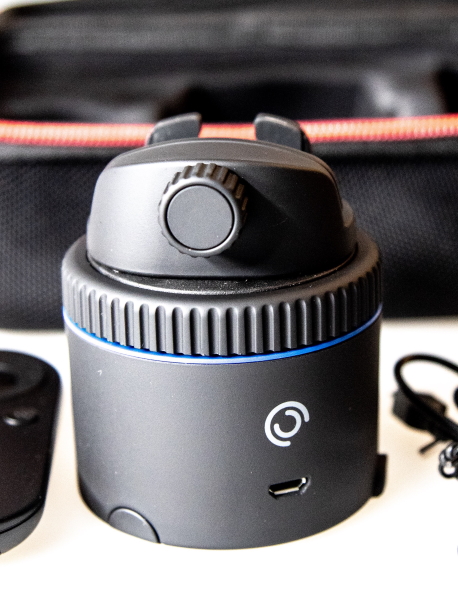 On the opposite side of the Pivo Pod, there is the power button.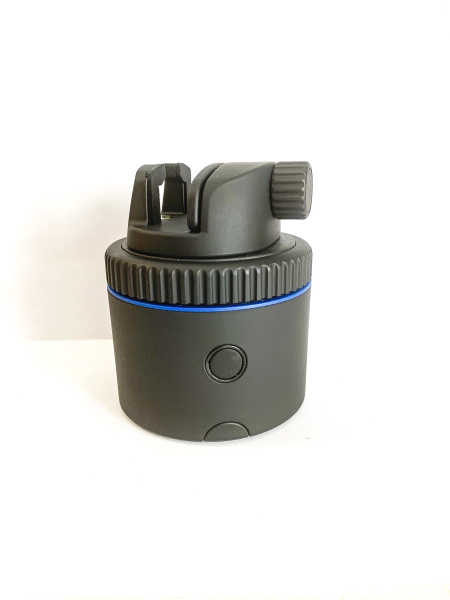 Looking down at the Pivo from the top, there is the smartphone holder/grip and a bubble level.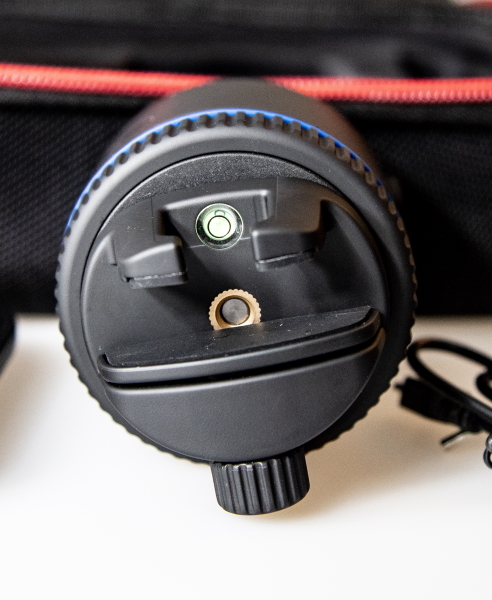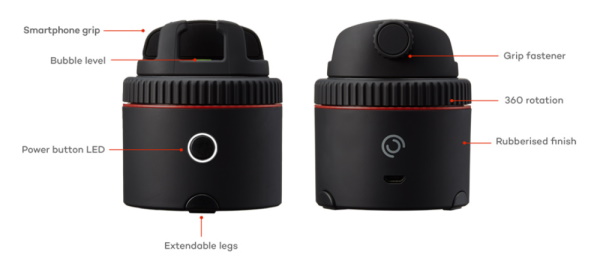 At the bottom/underneath of the Pivo, there is a 1/4-20″ tripod mount and 3 extendable feet.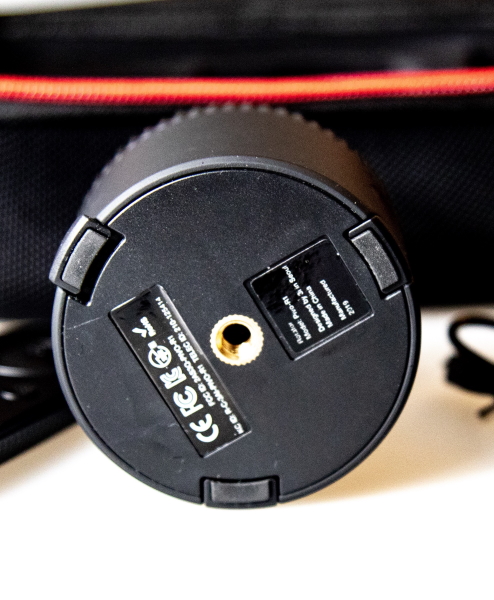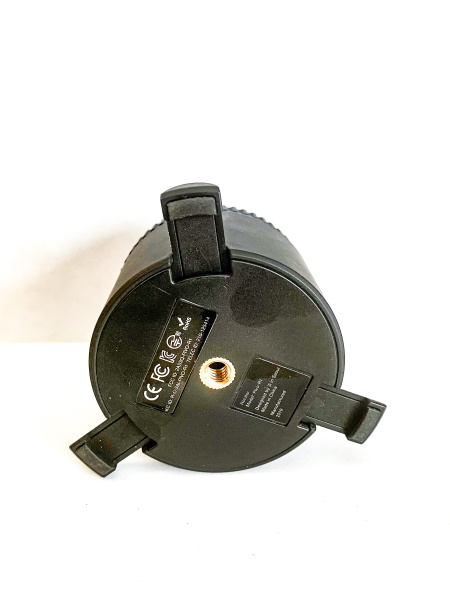 The Pivo Pod also comes with a remote that controls shooting modes, speed, capture and rotation functions.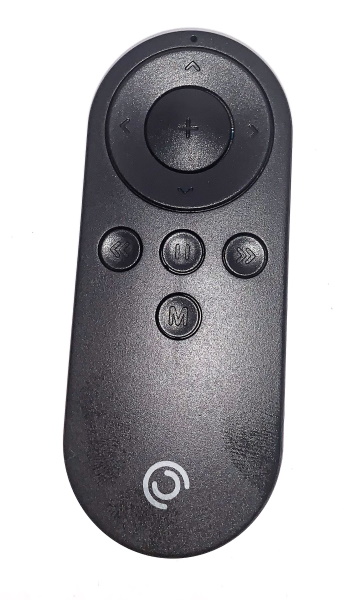 Performance
The Pivo Pod is very easy to set up and use. Just take it out of the box and charge it, download the app and it is ready to go. The app requires that you create an account and then login. It connects via Bluetooth but the app controls the connection. Once you mount the phone into the Pivo you can start recording. You can mount it either vertically or horizontally.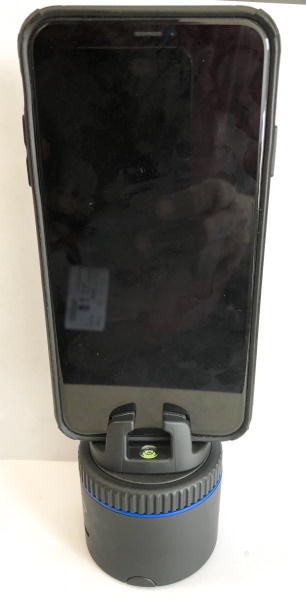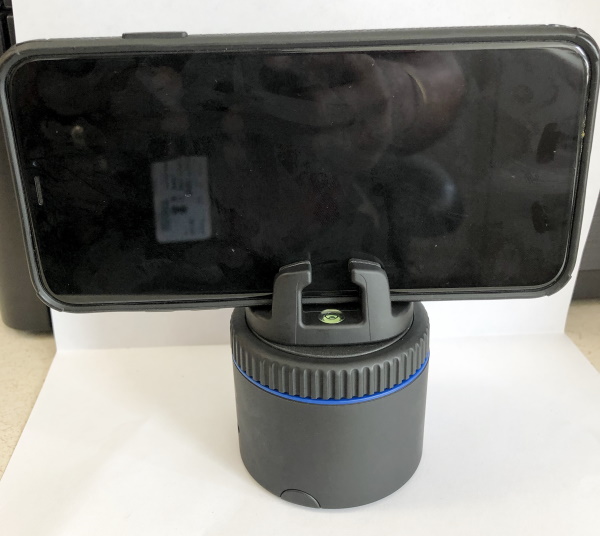 It has several modes that can track in different ways to handle tasks like panoramic or 2 persons back and forth switching or individual movement tracking, timelapse, motion timelapse, etc. Since it is a bit hard to explain and showcase all of its functionality, here is a video to help do so:
The Pivo Pod app is also easy to setup and use. Here are some screenshots from the app:
The following is a short tracking video test that I did from my point of view:
What I like
The compact size
The features and functionality
The versatility
The ease of use
It works with the remote, snapping your fingers and even saying cheese
It uses front and back cameras
What I'd change
It works great so I can't think of anything at the moment.
Final thoughts
I really like the Pivo Pod, especially in my case for shooting product videos and product photography. It shoots 360-degree photos/video. The tracking feature is great and responsive enough that it allows for versatility when shooting video. The remote works well for any distance that I have need. You also have the ability to stream live to popular platforms like Facebook and YouTube, and they have partnered with Ustream to allow streaming to over 30 platforms. I give this device a well done and two thumbs up!!
Price: $199
Where to buy: The Pivo Website and Amazon
Source: The sample for this review was provided by Pivo