We use affiliate links. If you buy something through the links on this page, we may earn a commission at no cost to you. Learn more.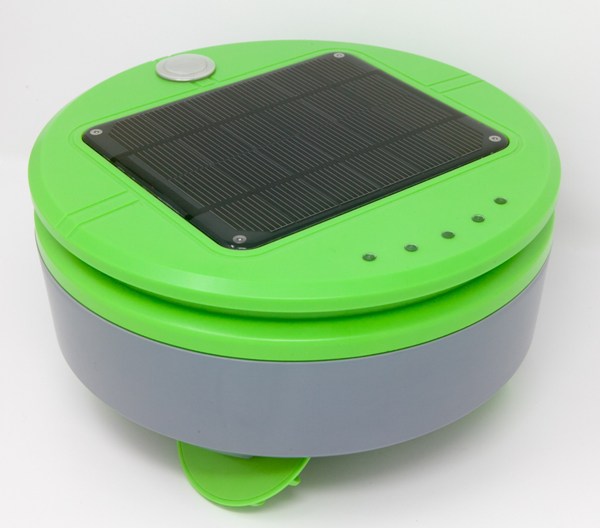 NEWS – As a kid, one of my chores was to help weed the garden. I loathed the task with every cell in my body, so when I finally got around to it, the weeds were well established and even more difficult to remove. Now there's a robot to do the work for people who detest weeding. Tertill is a solar-powered, weather-proof, garden weeding robot that was created by the same guy who created the Roomba, Joe Jones. This robot uses sensors to differentiate tall plants from small germinating plants. When it detects a germinating plant, it cuts it using Tertill's weed trimmer. If you wish to protect your small germinating garden plants, you can use plant collars that the Tertill will detect and avoid.
Even though the Tertill is constantly charging using its solar panel, it uses energy more quickly than the amount gained from the sun so the robot has to stop periodically. In general, it runs for a certain period of time before stopping and recharging, after which it runs again and repeats this process indefinitely. It will charge more slowly on overcast days and run less often but it does still run. So by leaving it in your garden, it will run intermittently throughout the day searching for and cutting down germinating weeds. Tertill is also waterproof so it can stay outside when it rains. It is important to note that the Tertill needs barriers of at least two inches high to prevent the robot from wandering off. Here Tertill, Tertill, Tertill! Where are you, boy?
Now, you might be thinking, "Won't the trimmed weeds just grow back?" The short answer is "Yes." However, in general, when a plant first germinates, it uses the stored food in the seed to feed the plant until it can establish roots and grow leaves to produce its own food. By continually cutting the weed back, it never has a chance to establish itself and produce its own food thus, the seed eventually runs out of stored nutrients and the plant dies.
Tertill measures 11.7″ x 11.7″ x 7.2″, weighs 48 oz., and connects to an Android or iOS app using Bluetooth. The app informs you about the conditions in your garden and what the Tertill has been doing. When you order one, it comes with 10 sets of plant collars, 10 row collars, and five replacement wacker strings all for $299 on the Tertill website. One Tertill should be enough to cover a garden of about 100 square feet.
Want to know more? Here is an informative Kickstarter video that they used to describe the Tertill. The successful campaign ended in 2017.