We use affiliate links. If you buy something through the links on this page, we may earn a commission at no cost to you. Learn more.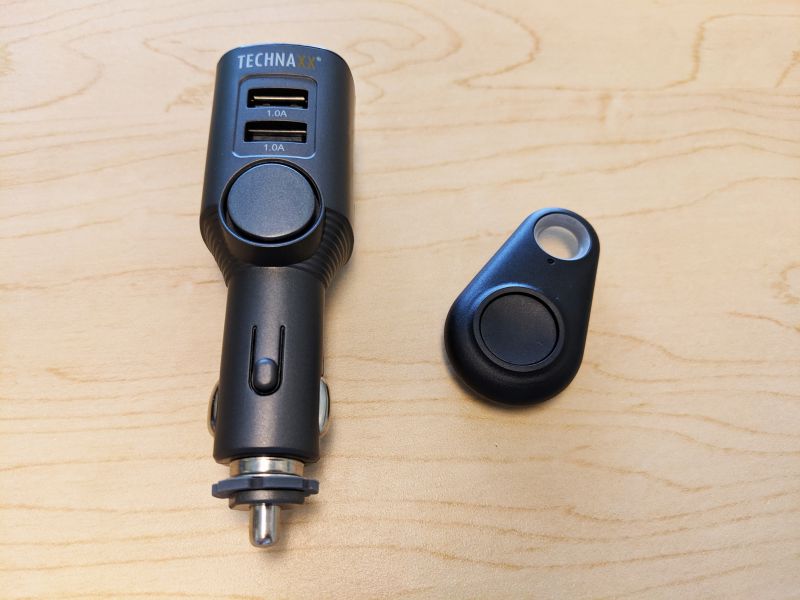 REVIEW – I recently moved to a city that has a very high incidence of vehicle break-ins, and while my 2007 Toyota FJ Cruiser isn't exactly showroom quality, I do worry about its well-being each night. I don't worry so much that I'd be willing to spend very much money to address the situation though. Enter the very affordable, $49.99 Technaxx TX-100 Car Alarm.
What is it?
The Technaxx TX-100 Car Alarm is basically a two-port USB car charger that has a passive infrared (PIR) motion detector, 110dB siren, and rechargeable battery all built in. While you drive, the Technaxx charges itself via your car's cigarette lighter and works as a standard USB car charger. Once your car is turned off though, the TX-100 is powered by an internal battery and you can activate its alarm functions with a paired remote control. Any motion within the car, such as a door opening or window breaking, triggers an ear-piercing siren.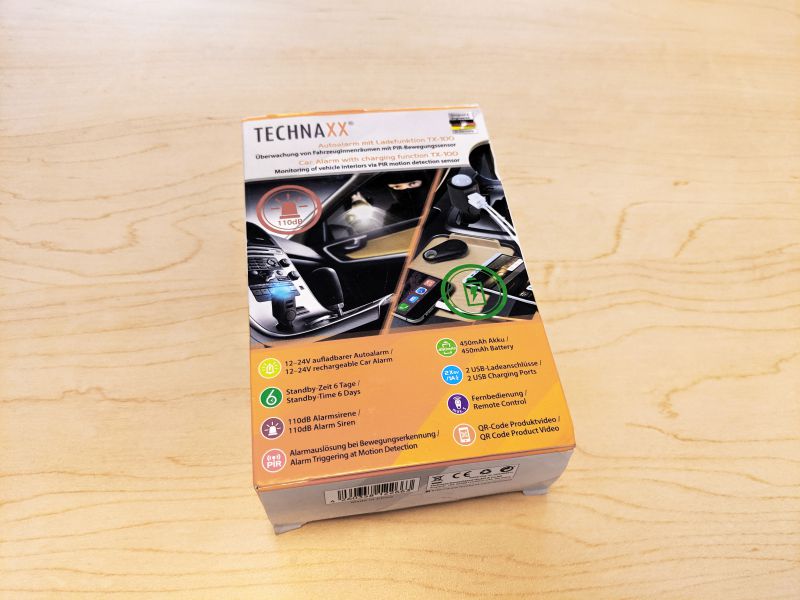 The Technaxx TX-100 comes in a small box with details listed in both English and German. The box has a cutaway view so you can examine the unit, and the interior flap lists the device specs in four more languages.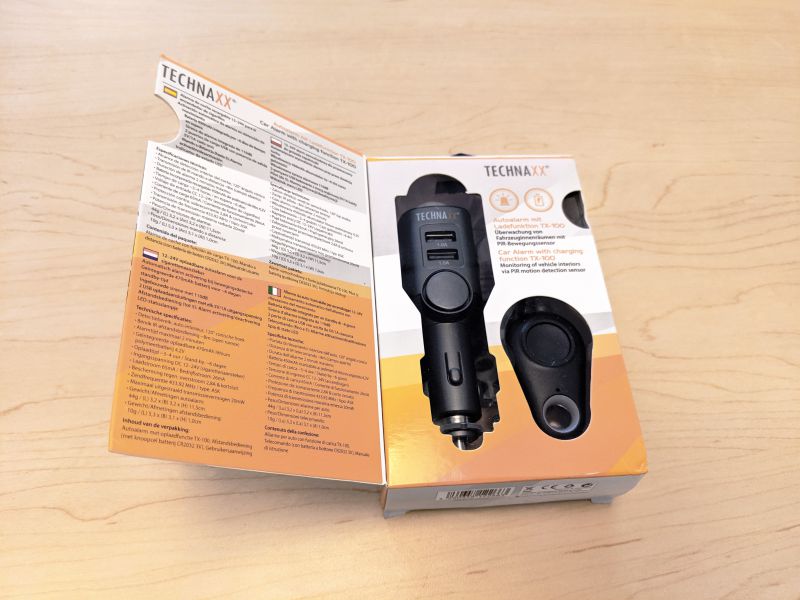 What's in the box?
1 Technaxx TX-100 Car Alarm
1 Remote control with CR2032 battery
1 User manual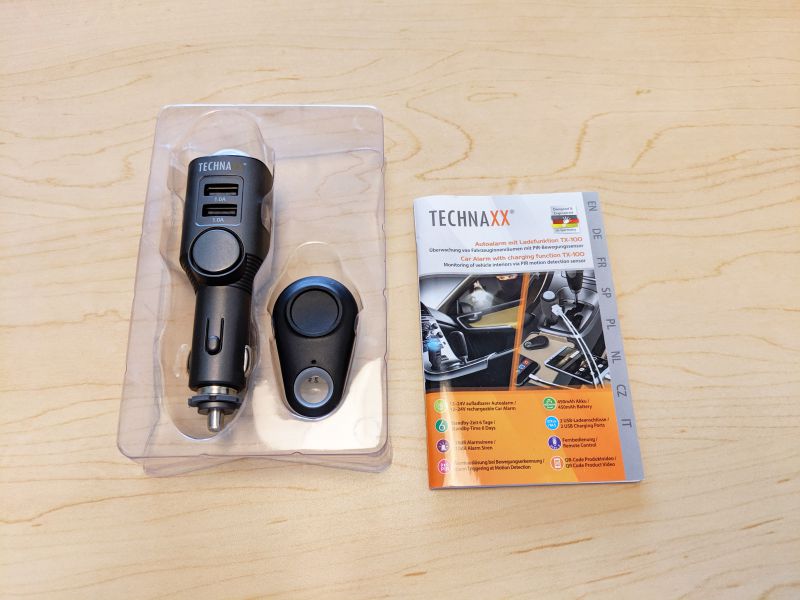 Hardware specs
Detection range: Car interior, 120° cone angle
Remote control distance: 8m (open areas)
Alarm time: 2 minutes maximum
Alarm loudness: 110dB
USB charging ports: 2 5V/1A ports
TX-100 battery: Built-in rechargeable 450mAh lithium polymer battery
Remote control battery: Included CR2032 battery
Charging time: 3–4 hours
Battery standby: 6 days
Input voltage: DC 12–24V (cigarette lighter socket)
Charging current: 65mA
Operating current: 26mA
Over current protection: 2.8A
Maximum transmission power: 20mW
Transmission frequency: 433,92 MHz
Dimensions:

TX-100: 1.25 in (L) x 1.25 in (W) x 4.52 in (H)
Remote control: 2 in (L) x 1.22 in (W) x .4 in (H)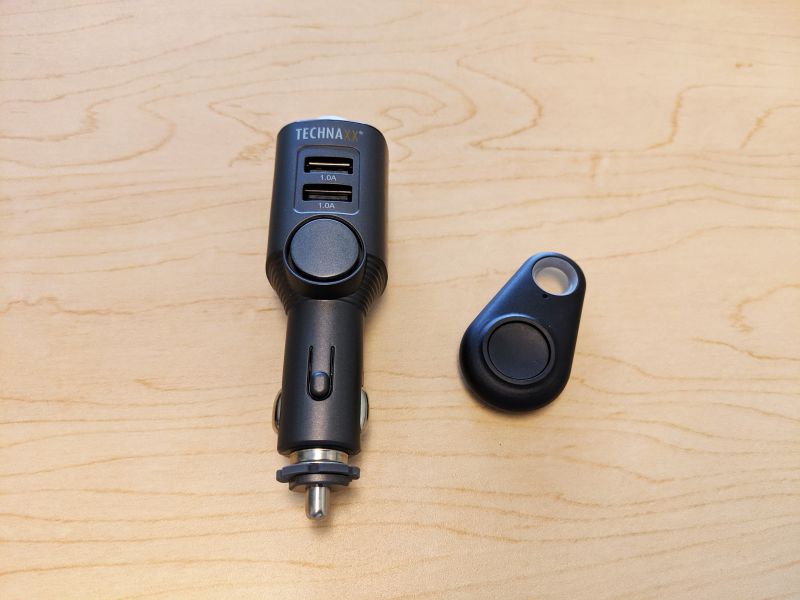 Design and features
The TX-100 doesn't have a very sturdy build quality, both the unit and the remote control feel very light and quite breakable. Both are made of lightweight ABS plastic and are gray in color.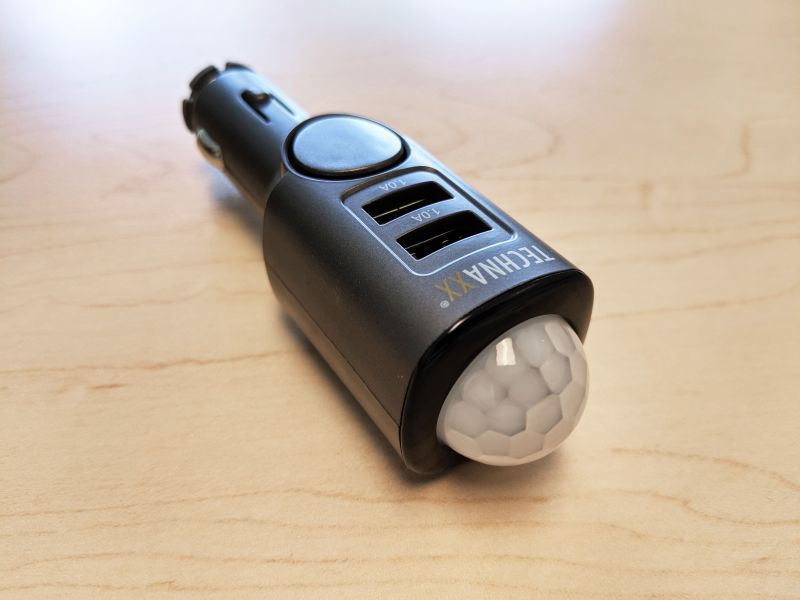 One clear indication that this isn't a normal everyday USB car charger is the large shiny plastic PIR dome on the end of the unit.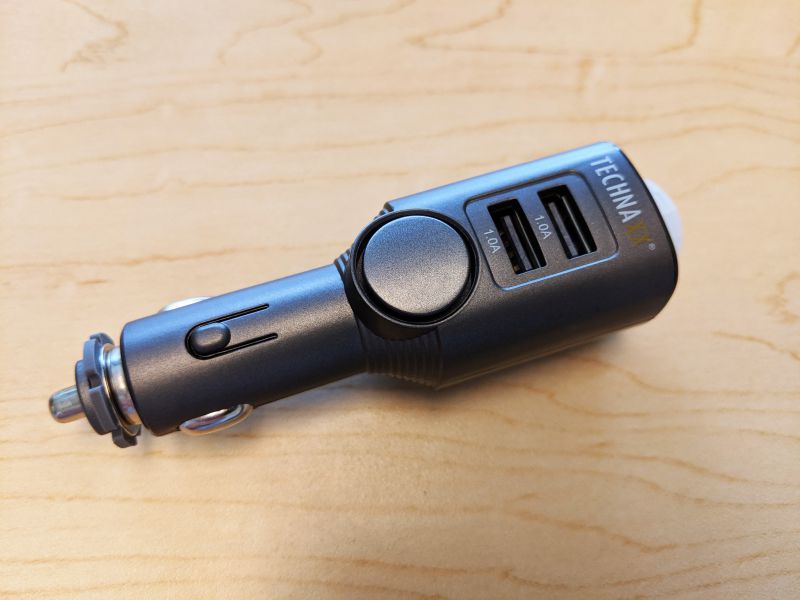 The other tip-off is the round siren slot located just below the 1A USB charging ports.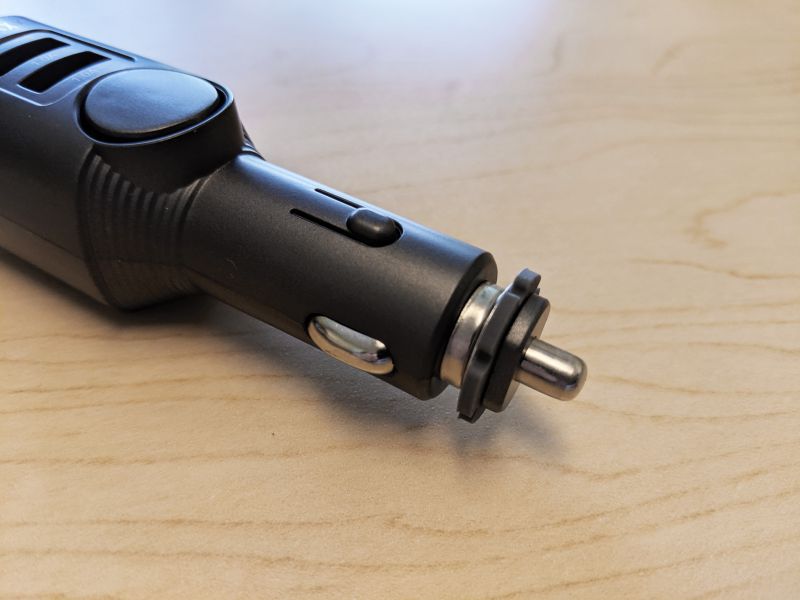 The only metal on the device is the charging tip which is inserted into your car's cigarette lighter socket.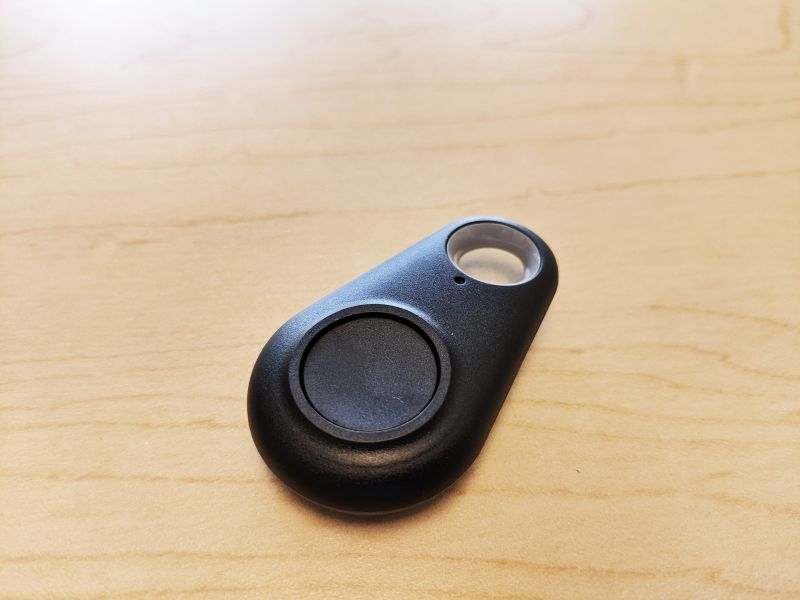 The remote for the TX-100 resembles a typical car alarm fob, just a bit smaller and lighter and with only one button.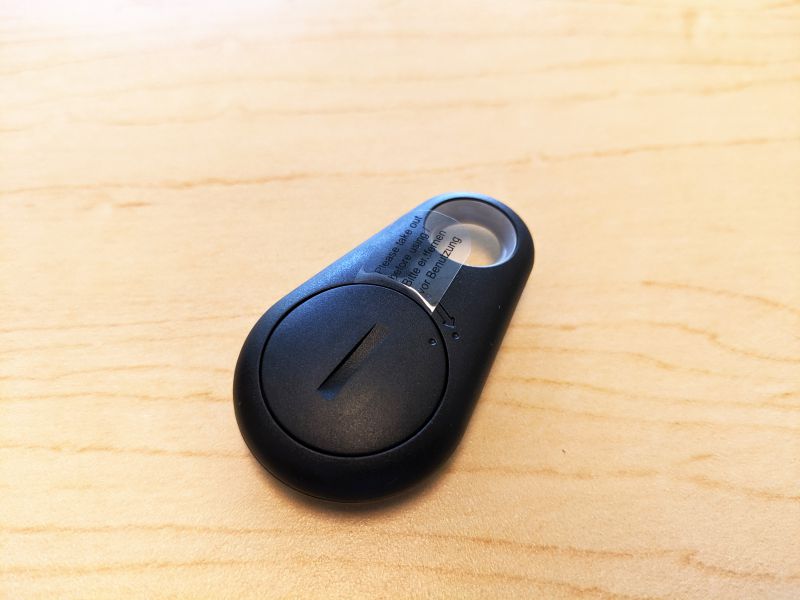 The remote comes with a CR2032 battery already installed, to activate the battery you need to pull out a thin plastic tab.
The remote also has a small status indicator light at the top. The light blinks each time the remote button is pressed.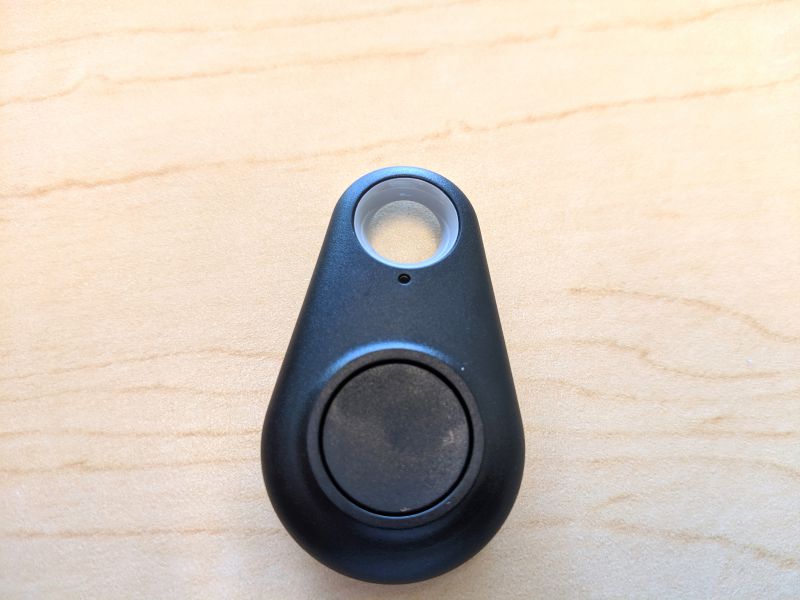 Setup
The initial setup instructions require you to charge the TX-100 fully before its first use, and this was my biggest problem with the unit.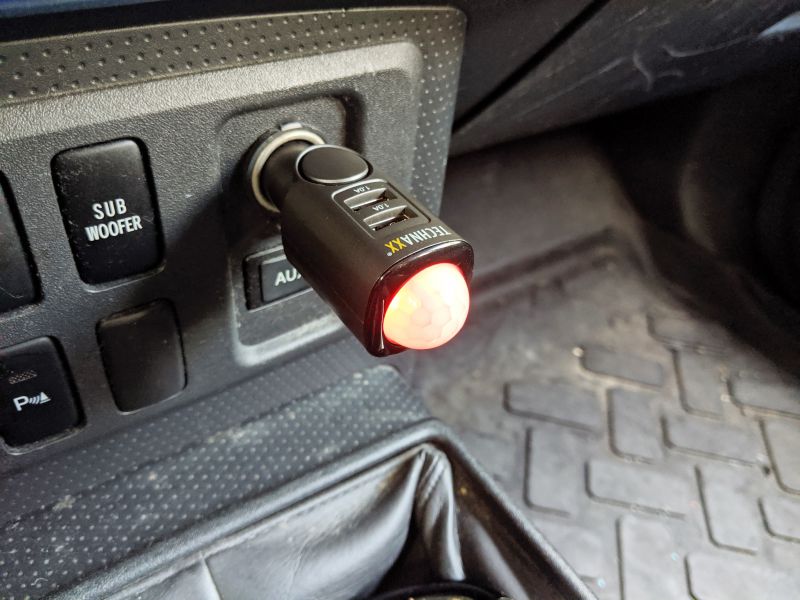 See, the TX-100 take 3-4 hours to fully charge and the ONLY way to charge the unit is via your car's cigarette lighter or an external cigarette lighter power adapter. And since I, like most people, don't have an external cigarette lighter adapter, it took me about five days of commuting with the TX-100 plugged in before it was fully charged and ready to use.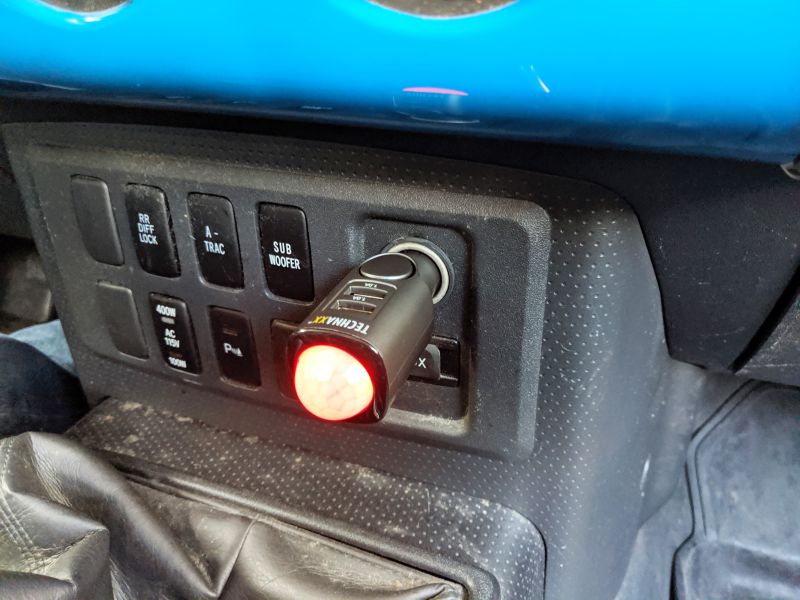 There's no reason why this unit couldn't be designed with a micro USB charging port or the ability to take a charge via one of the USB ports. It was extremely frustrating to have the TX-100 plugged in and glowing red, indicating that it was still charging, for close to a week before I was able to properly test it. I have about a 35 minute commute to work each way, so depending on the length of your daily commute, the TX-100 will charge faster or slower.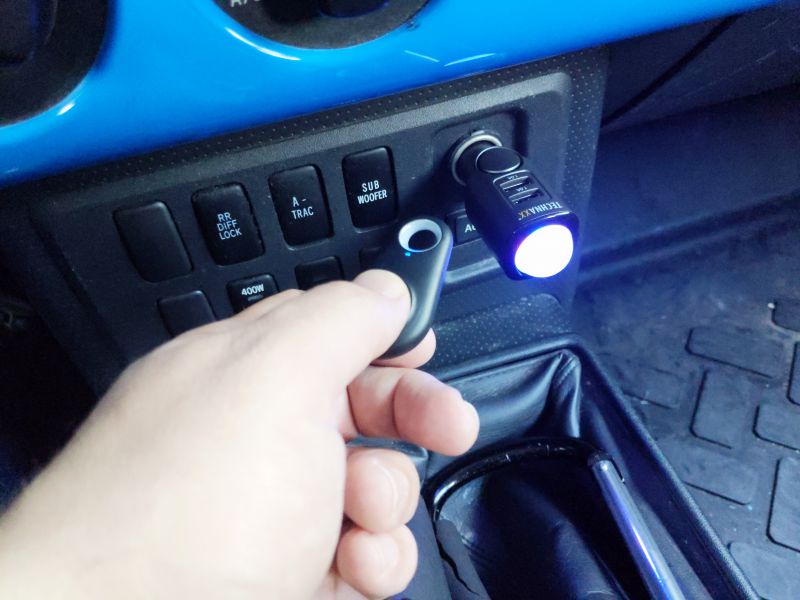 Once the TX-100 is finally fully charged, the red light will shut off and the first thing to do is pair the remote. Pairing is only possible in the first five seconds after you plug the fully charged TX-100 into the cigarette lighter socket. Press and hold the button on the remote until you hear four beeps. The light will blink blue and after you hear the beeps, the remote will be paired with your car alarm. If you want to, you can pair one remote control with more than one TX-100.
Performance
In my testing, the two USB 1A charging ports proved pretty inefficient for charging iPhones or Android Pixels. I'm not sure if this was because newer phones require more than 1A to charge effectively or if charging the internal battery of the TX-100 simultaneously affected the ports' ability to provide power.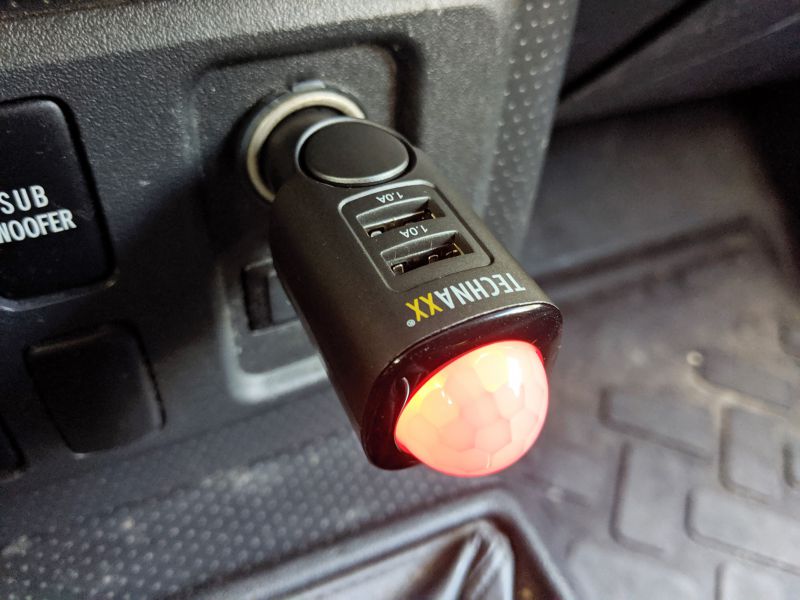 The TX-100 did work great as a car alarm though. Granted, there were no attempts to break into my car during my testing, as far as I know, but each time I opened my car door while the TX-100 was activated, the siren was triggered immediately. I was worried that the TX-100 might get triggered by movement outside of the car windows, but despite my best efforts, I couldn't trip it without opening the car doors.
It was also easy to activate the alarm once I left my car because the TX-100 provides an audible confirmation beep and a five second activation window. I did occasionally forget to deactivate the alarm before I got into my car each morning because I'm used to just using the car's key fob to unlock it and having to remember to then hit the car alarm fob as well was too much for my sleep deprived brain to handle.
When the TX-100 is armed, the blue light flashes every five seconds. If activity is detected, blue light flashes quickly and the siren sounds continuously for about two minutes. In theory, a thief could immediately snatch a triggered, screaming TX-100 from the cigarette lighter socket, throw it to the ground, and smash it pretty quickly. But for the price point, that's a chance you need to be willing to take.
Since the unit runs off the internal battery while the car is off, the battery needs to recharge. My daily commute time proved just enough to top the battery off each day for it to be able work overnight. To conserve battery power or to store, it is possible to completely shut the unit off by pressing and holding the remote button for four seconds.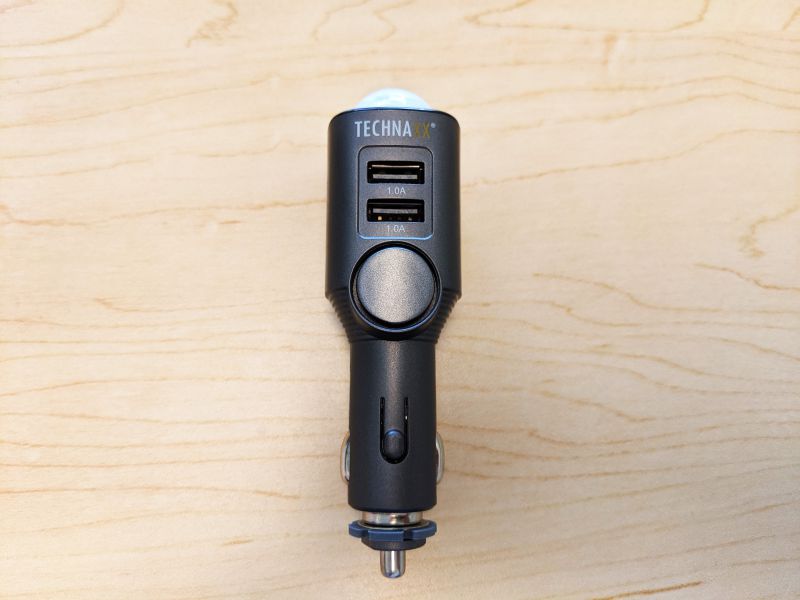 What I like
Affordable alarm for late model cars
Easy to operate
Works reliably
What I'd change
Takes way too long to charge initially via cigarette lighter, should be able to charge with a USB cable as well
Poor build quality
Charging ports are low-powered and inefficient
Final thoughts
The Technaxx TX-100 Car Alarm is an ingenious, affordable, and reliable way to secure your car and possibly prevent theft. Although, the small size of the unit and the fact that can be easily spotted and removed has me questioning its ultimate practicality. An additional charging option would be useful and the construction of the unit is a bit lacking. But, at $49.99 this item might be a good preventative measure for those who have late model cars and live in areas where car break-ins are common.
Price: $49.99
Where to buy: Amazon
Source: The sample of this product was provided by Technaxx.