We use affiliate links. If you buy something through the links on this page, we may earn a commission at no cost to you. Learn more.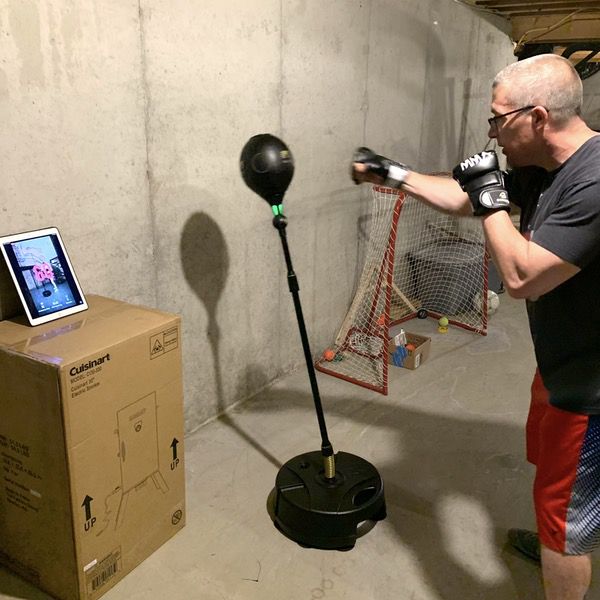 CROWDFUNDING REVIEW – Boxing is a great way to both build up your cardio and develop coordination, but in can be a bit intimidating for newbies (like myself). We're checking out the MoveItSpeed Smart Reflex Punching Bag Indiegogo campaign this week. It combines motion sensing technology with an integrated app that makes the process fun, but still gives you a great workout. Let's go punch some stuff!
What is it?
It's a Bluetooth punching bag and motion sensors. It integrates with an app that provides video instruction, progress monitoring, gamification, and social elements to make the whole process fun and engaging.
What's in the box?
I'm testing one of the Indiegogo packages that includes the punching bag and a pair of MMA-style boxing gloves. This pic shows the app as well, which we'll discuss shortly.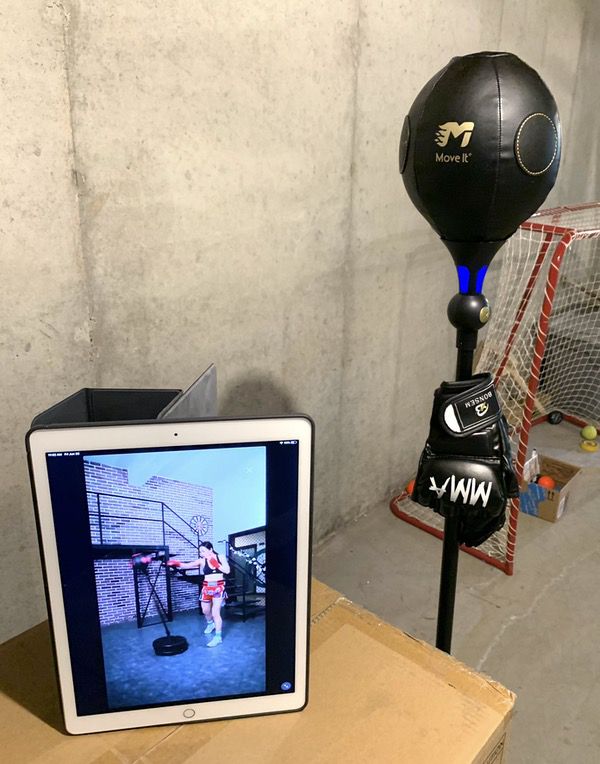 Hardware specs
PVC and leather bag construction
ABS plastic & metal stand construction.
Adjustable height
Adjustable rebound speed
6-axis gyroscope sensor
Weighted base (you fill it with water) with suction cups for stabilization
3.7 KG shipping weight
Removable, rechargeable control element with MicroUSB port
Design and features
The MoveItSpeed is a reflex punching bag, designed for all levels of experience. The bag itself is made from PVC and Leather, which you inflate when you get the package. While it's great for newbies and light strikers, the multilayered design and base construction is also tested to take a whomping from serious brawlers as well.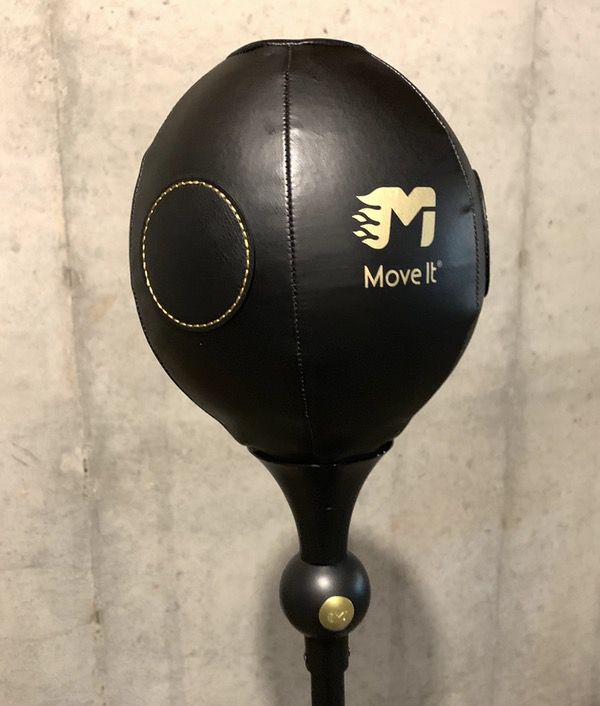 Just below the bag is where the technology happens. LED indicators ring the bag base, and the orb below that contains the gyroscope, power/connect button, and Bluetooth interface.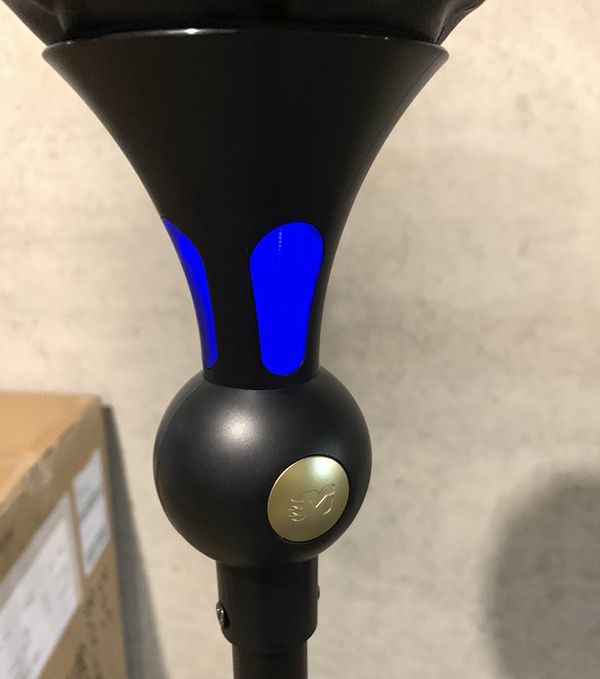 The charging module pops off the back of the base for recharging via MicroUSB cable, included in the package. You'll get roughly 6 hours of continuous use between charges.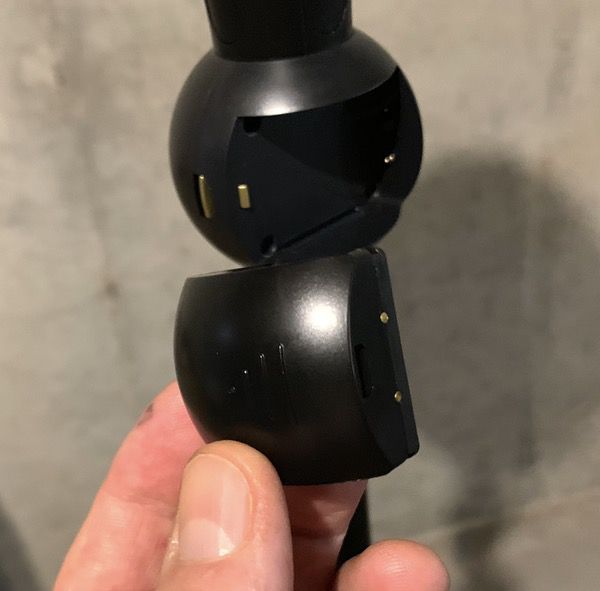 The bag height is adjustable up to 68″ with a twist-lock below the sensor. The whole thing installs with a couple of connector poles in just a few minutes.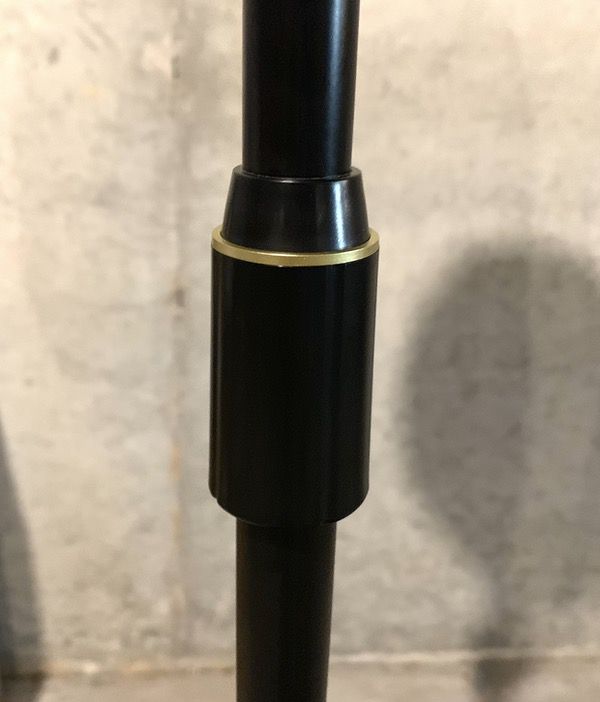 The base is weighted with water, which you fill through the cap on the rear of the base. It adds 13KG to the total unit weight and, in combination with the suction cups on the base, keeps the whole unit stable while you are whacking away. A twist adjustment on the base allows you to change the rebound speed, which is handy as you are developing your skills and coordination.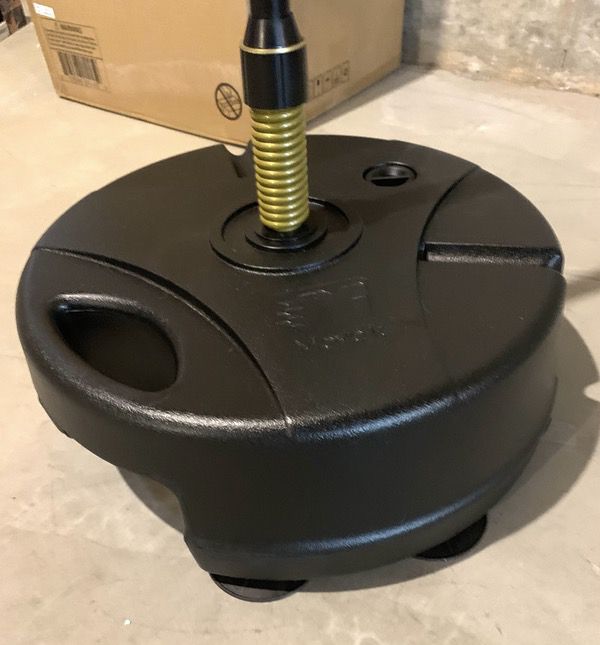 The smart functionality comes from the unit's ability to detect a clean strike based on the workout you are running. When you score a direct hit, the unit lights up green to indicate a good shot.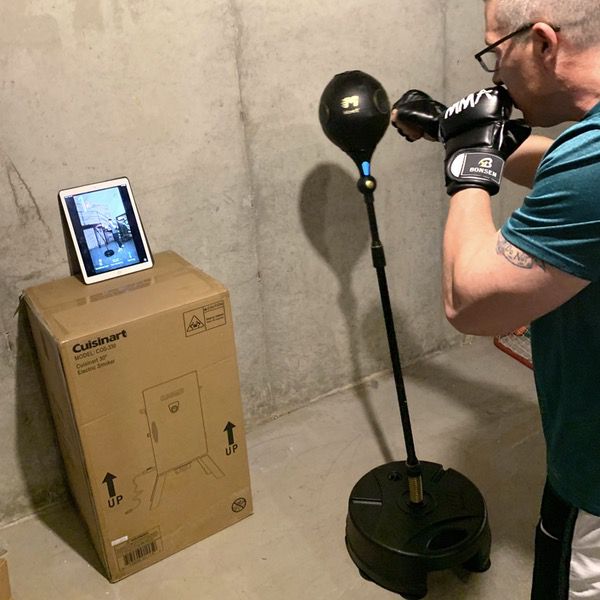 If you're shot is off, the LED's light up red. I think I missed the blink in this shot, but trust me when I tell you it's there.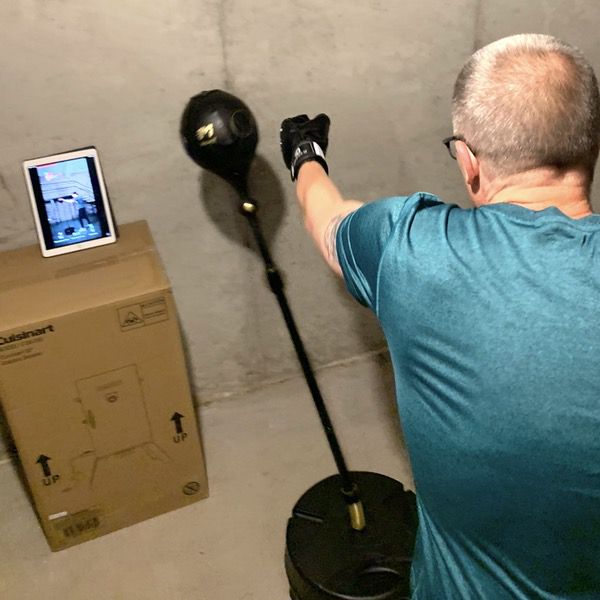 That's the basics of how the unit works. Let's go check out the app!
Using The App
Move It is a fitness app that is designed to use with a variety of smart exercise equipment. You'll download the app to get started. I'd recommend loading it on a tablet if you have one, as the app integrates instructional videos to your workouts.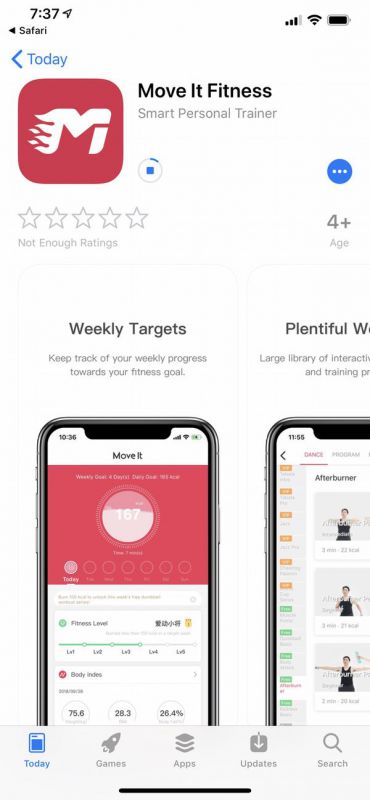 You'll start by building your profile, and outlining your fitness goals. The app will retain this information to track your progress, using gamification elements to add a scoring system to the exercises.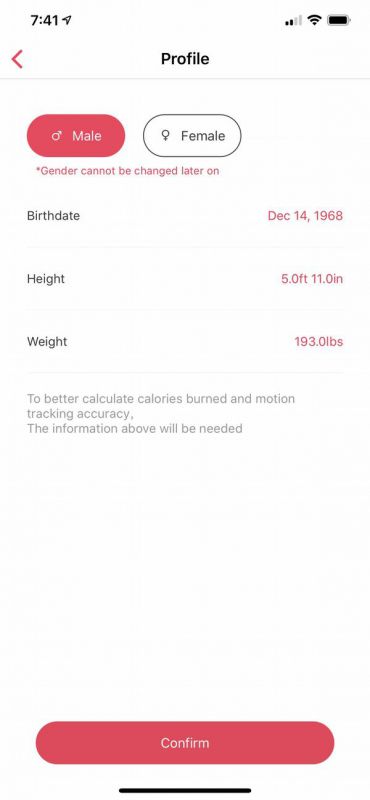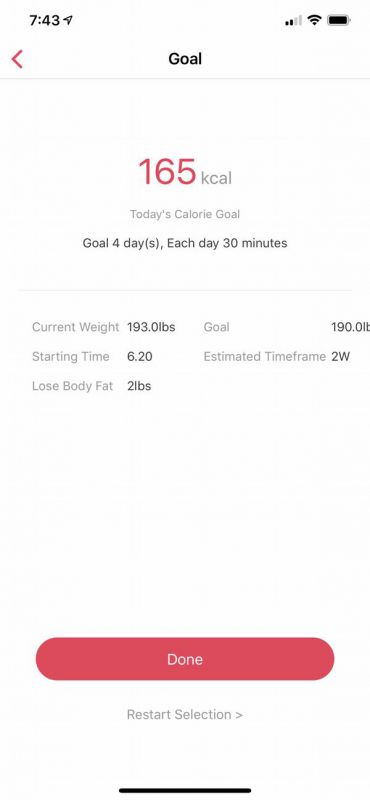 Once you've set up the basics, you pair your bag to the app. Note that Move It supports a number of devices as seen below.  Pairing is quick and easy.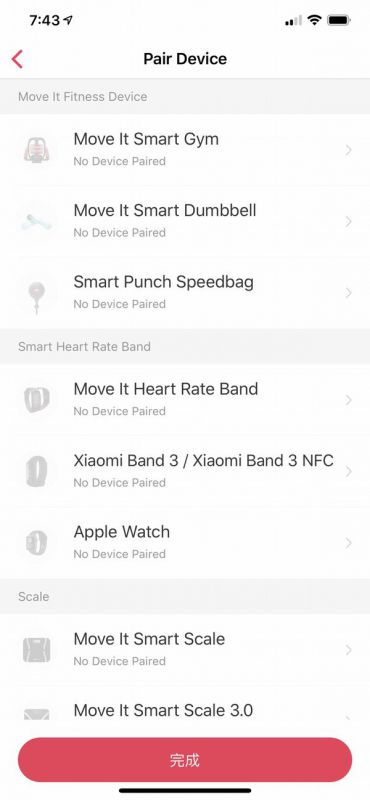 Getting To Work
So we've set up the app and paired the bag. Let's go hit something!
When you go to the punching bag section of the app, you'll be presented with a series of programs to choose from. These start with basic boxing moves like jab and move up to more advanced techniques like different punches, blocks, and body movement. If you want to get really fancy you can also play with MMA-style routines that include knee strikes and the like. I decided to avoid those on my first practice rounds, but they look darned impressive.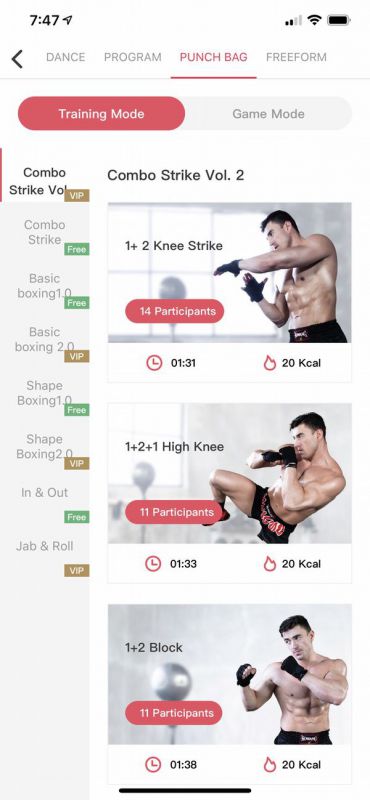 One of the nice things about the app is that it provides instructional videos that teach you the moves. It uses music to set a rhythm, and the videos include text instructions so that you can follow and rehearse the moves. Here's the video for basic punching techniques.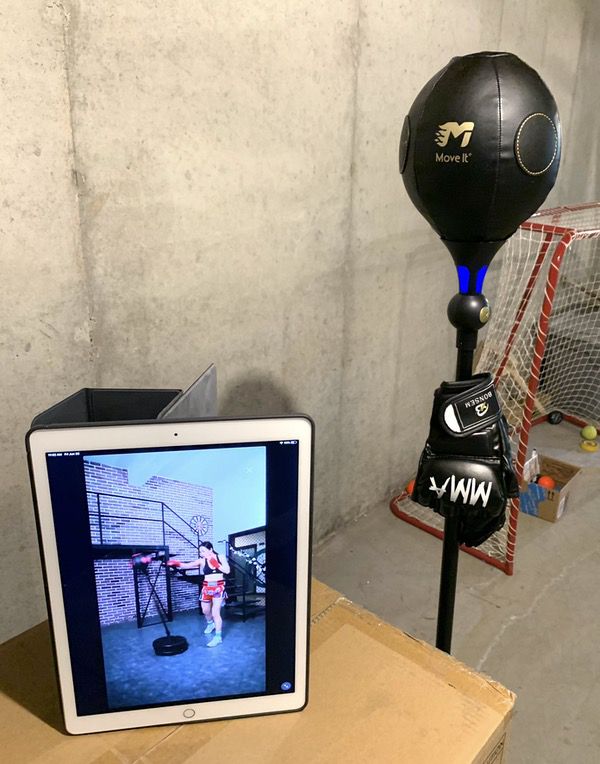 When you start the exercise the same video plays to allow you to sync your movements and to remind you of the proper form. The goal is to keep the rhythm of the model in the video and strike the bag correctly (a smooth, straight on hit in this case). If you strike correctly, the bag light flashes green and the score adjusts on the app.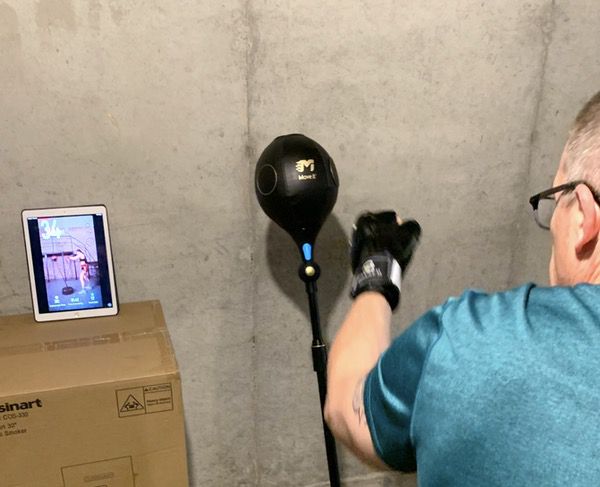 Here's a close up of the app in action while I'm punching. It's counting each correct hit as well as how often I am successfully completing the sequence. It's kind of got an old-school video game vibe, right? The cool bit here is that its accuracy, form and precision are more important than power to successfully complete the activities. It teaches you how to execute the moves the right way rather than just pounding on the thing.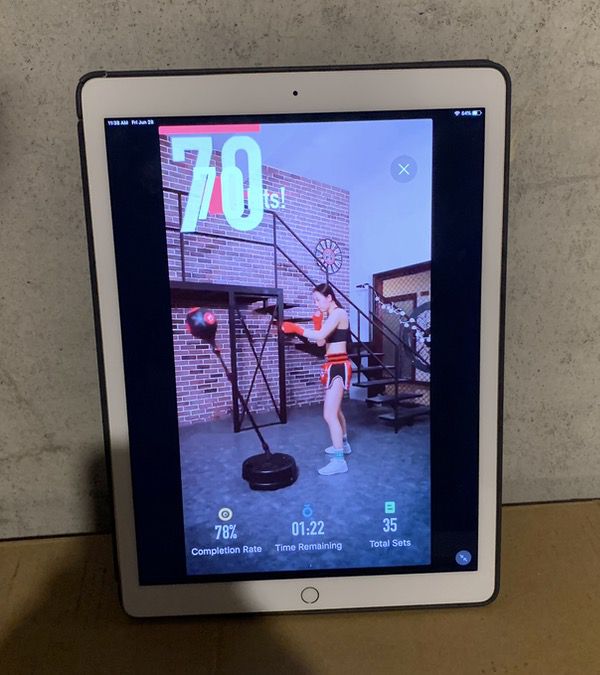 You will be able to progress through a series of exercises that advance your boxing skills with things like hooks, uppercuts, hit & dodge routines, and more. You can also get into more advanced stuff like incorporating MMA moves (elbows and knees) or full-body movement workouts that integrate lunges and burpees. Note that more exercise packages are included with a VIP monthly subscription service.
As you advance, the app keeps track of your progress and daily use. You'll get info on the calories you are burning, and you can update your weight as you go map out exercise to monitor how you're doing against your fitness goals. You'll also get little awards and badges as you hit milestones in your progress. If you're using multiple devices, that will all get integrated in tracking your progress.
Now… you may just want to burn off some steam and hit something. Move It has some integrated games for that, too! This one is my favorite so far: Super Shoruken. You get to whomp away on a cartoon bad guy… you can also upload a picture to replace the face if you like. Go into game mode, choose the game, and blast away for 60 seconds.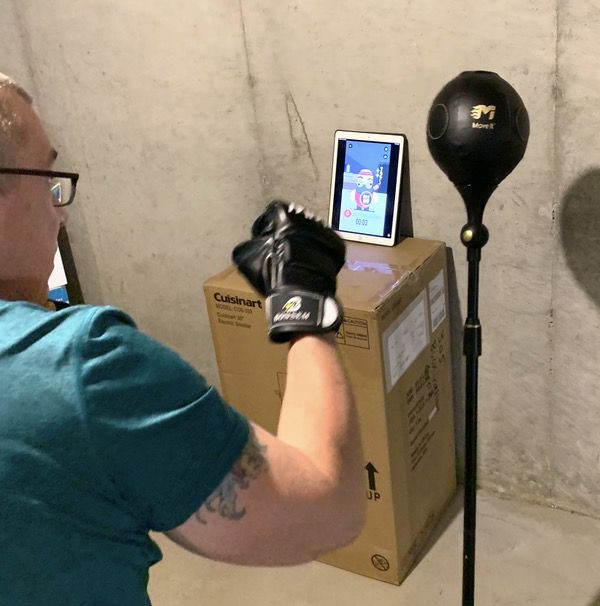 Successful strikes score higher points against your virtual sparring partner. Here's a closeup of the screen for reference from my session. I didn't add a custom picture, but you can if that helps with your stress relief.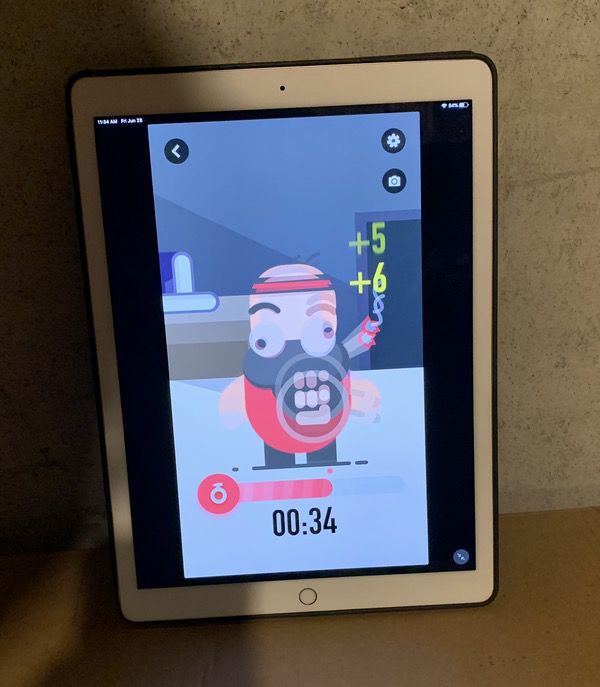 The games are pretty limited at this point, and include some multiplayer games that look like they are in development.
My big takeaway after using the app for a few weeks has been really interesting. You could just whomp on the bag, but it really rewards timing and precision in your strikes over power. It takes some practice to learn how to correctly hit for scoring which can be a bit frustrating at first… but the scoring system rewards you as you get better. You can then dial up the punching power if you like, or change the rebound speed to make it more challenging.
I really like the gamification elements of the app overall. It rewards progress and motivates you to keep going. Since you can calibrate the level of workout to your skillset, it's great for newbies and experienced pugilists. There's also a social element to the app that allows you to build a profile, see how others are participating in the programs, and see notifications when other members hit badges in their progress. I haven't explored the social elements too deeply yet, but it looks like a nice setup that promotes motivation. You can also ignore that aspect completely if you want to.
Of course, the app would be kind of useless without good equipment backing it up. And the punching bag itself is a solid piece of gear that works as a standalone punching bag even if you don't use the app. Add the app to the mix, and you have a really fun and useful package.
What I like
Well made punching bag & stand made for stability and durability
Excellent, well-rounded app interface
Great video tutorials
Great for both beginners and experienced boxers
Gamification & social elements add fun & promote continued use
What needs to be improved
Some learning curve to get used to striking correctly, but that gets rewarded over time
VIP subscription access required for advanced exercise routines
Final thoughts
I really am enjoying the MoveItSpeed Smart Reflex Punching Bag. It works great as a standalone exercise tool, and is made even better by the well-integrated app. The final product will retail at a starting price of about $200 when it hits production, but you can jump in on the Indiegogo now and get an early bird price starting at about $100 plus shipping (depending on how quick you move). Move It is also providing an assortment of prizes and giveaways for backers and referrals. Check out the link below for more information. The project closes at the end of July.
Price: About $200 retail, prices vary for different Early Bird backers in pre-release. Accessories like the MMA gloves are also available.
Where to buy: Indiegogo.
Source: The sample of this product was provided by Move It.