We use affiliate links. If you buy something through the links on this page, we may earn a commission at no cost to you. Learn more.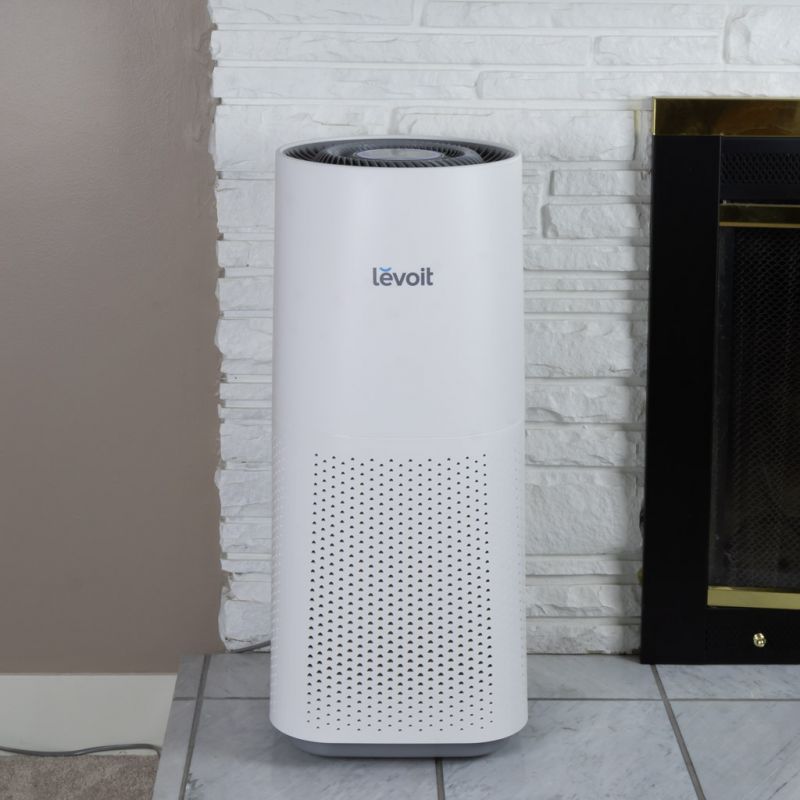 REVIEW – When you combine a pet with a wife that has asthma, you'll find yourself in need of air purifiers. The chance to review the Levoit LV-H134 Air Purifier came along and I couldn't wait to give it a try.
What is it?
The Levoit LV-H134 Air Purifier is a large air purifier with a true HEPA filter that is capable of filtering a very large room.
What's in the box?
Levoit LV-H134 Air Purifier
Power cord
Quick Start guide and warranty info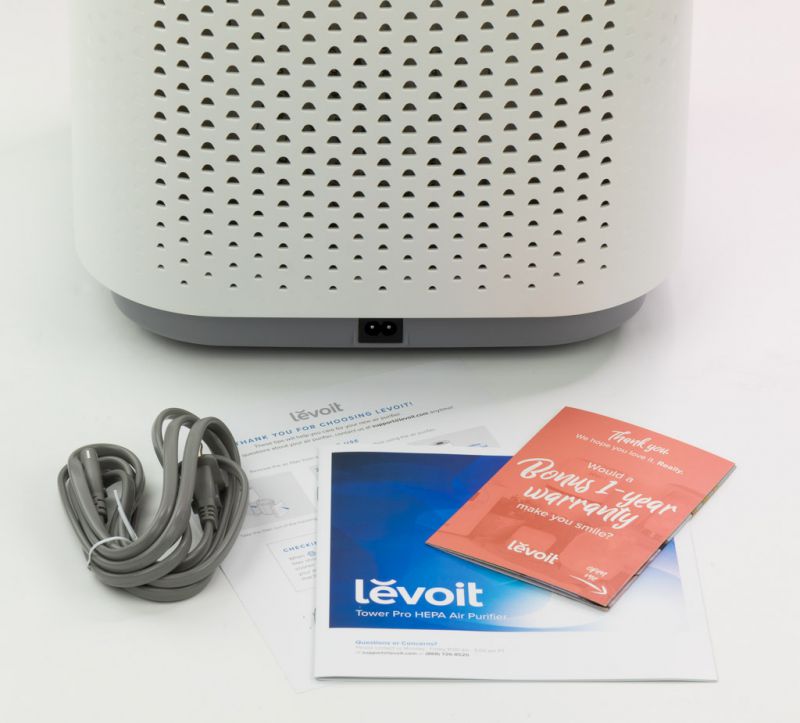 Hardware specs
Rated Space: 710 ft2 / 66 m2
Air Flow: CADR rating of 312 CFM (530 m3/h)
Item Weight: 27.7 pounds
Dimensions: 12.5″ W x 12.5″ D x 29.5″ H
Design and features
The Levoit LV-H134 Air Purifier is certainly a large unit, and as such, it can filter a lot of air without making as much noise as smaller units. Unlike smaller units that I've had, this one moves so much air at the high fan setting that you can actually feel the airflow in the room, something my wife really likes. At 29.5″ tall, it will be primarily a floor based unit for most people, however, I found that putting it on my fireplace mantel was a nice location for it. The unit has wheels on the bottom to make moving it easier, although I didn't feel as though it was so heavy that it would require it.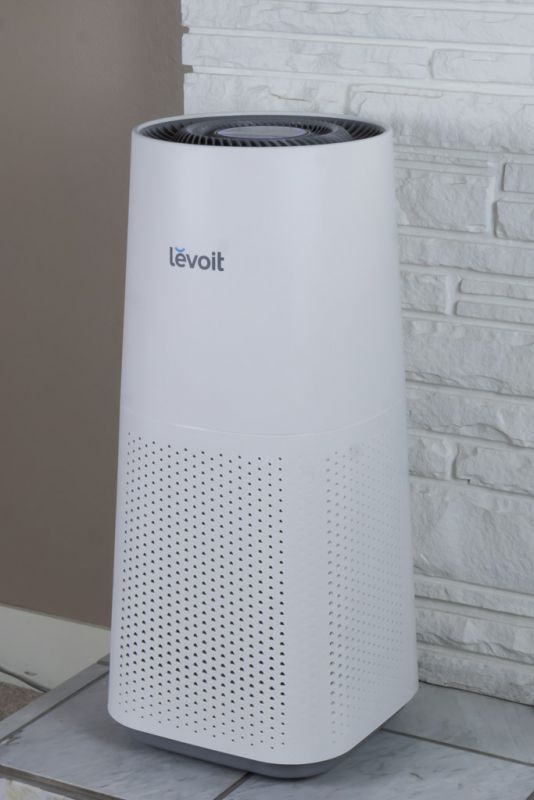 The filter is 14″ (35.56 cm) tall and 10.5″ (26.67 cm) in diameter, its installation was as easy as pulling the door open, sliding in the filter, and popping the door back on. This is a large filter and the unit is designed to take in air 360°, fully utilizing the cylindrical filter design. The filter is rated to remove 99.97% of airborne particles as small as 0.3 microns including Allergies and pets, smokers, mold, pollen, odor, mold and dust. The filter construction has a fine screen on the outside to trap large particles such as hair, dander and dust. The main part of the filter has a true HEPA filter, and the inside has activated carbon to handle odors.
One of the neat features of this unit is that it has an indicator ring on the display that changes color based on the quality of the air. Red = Bad, orange = moderate, green = good, and blue = very good. During use, it has run at blue most of the time and only occasionally displaying green. The laser sensor for this feature seems to be located after the air has been filtered and detects the number of particles in µg within a cubic meter within 30 seconds for real-time air quality feedback.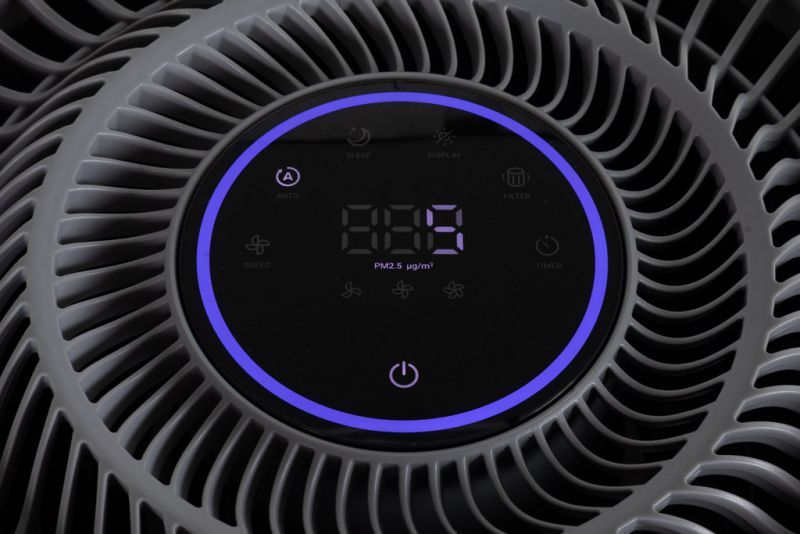 The touch display makes operation easy, a light touch is all it takes to change settings. It has three fan speeds, an auto setting, a sleep setting, display brightness, filter replacement warning, and a timer function that will turn off the unit in 1 to 12 hours.
The lowest fan speed only produces 25dB noise that you can hardly hear. The auto mode adjusts the fan speed settings automatically according to the real-time air quality while saving energy. The top of the unit features a fin design that optimizes airflow throughout the room. The unit draws in air at the bottom and expels filtered air out the top.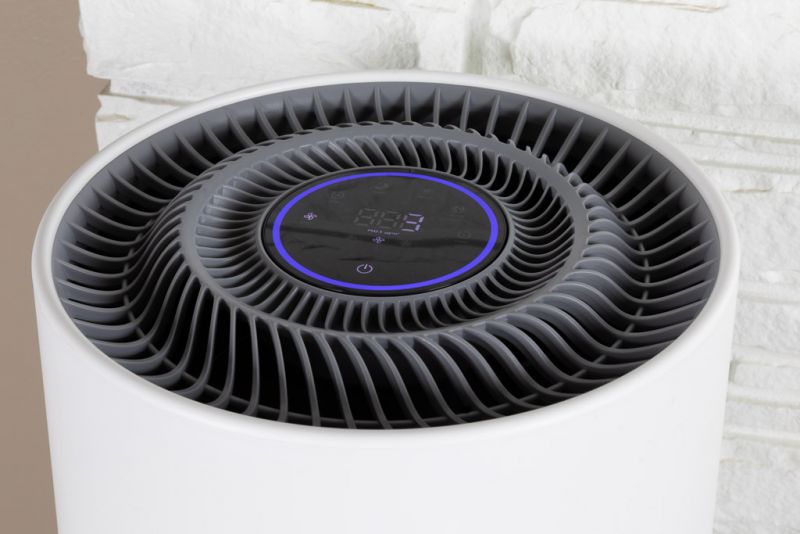 I've got several smaller air purifiers, but they don't move nearly as much air and are not as easy to operate as the Levoit LV-H134 air purifier. I'm so happy with it that I'll probably get one of their smaller units for our home offices.
The filters are rated for about 6 months and currently cost $64.99.
What I like
Moves a great amount of air
Air quality display
Large filter
Ease of operation
What needs to be improved
Nothing that I can think of.
Final thoughts
I'm really pleased with the Levoit LV-H134 air purifier. It really helps clean the air as well as move air around the room to keep it from feeling stagnant.
Updates 11/25/19
After six months of use, my Leviot air purifier started reading very high levels on the air quality meter. Eventually, the replace filter light came on. I was not too surprised about this, as I have a dog. I vacuumed the filter even though it did not look dirty, but that did not help. I reluctantly ordered a new $65 filter, replaced it, and reset the light – same air quality reading of 995.
I wrote the Levoit e-mail support and promptly received a reply to "try gently blowing on the sensor to clear any large particles that may have gotten stuck." What I thought was a speaker for the beeps was the air quality sensor.
After blowing on the sensor and restarting the unit, the air quality went to 4. Awesome! Being the curious type I am, I put the old filter back in, and it also read 4 to 5. So I didn't need a new filter after all.
Price: $399.99
Where to buy: Amazon
Source: The sample of this product was provided by Levoit.