We use affiliate links. If you buy something through the links on this page, we may earn a commission at no cost to you. Learn more.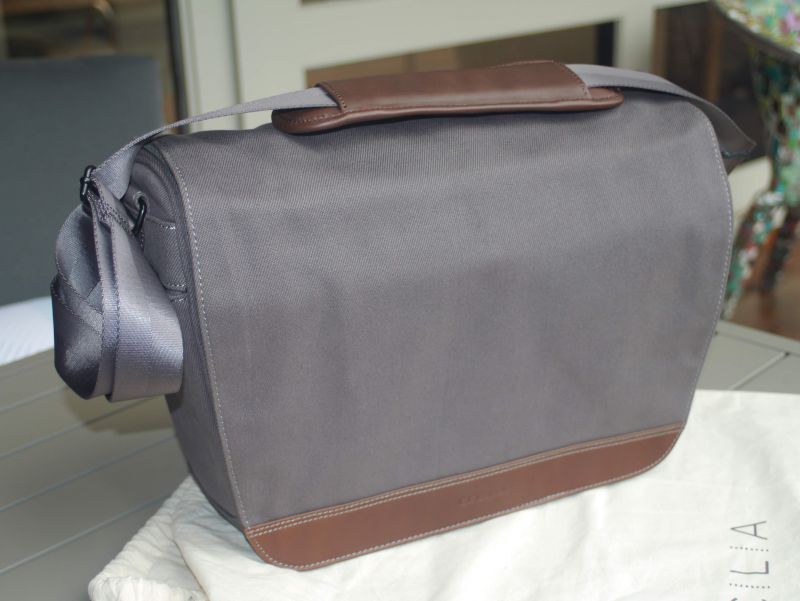 REVIEW – My ideal travel camera bag is a messenger/satchel style bag. Whether I'm walking, cycling or riding a motorcycle, this style of bag allows me to easily swing the bag around, get out my camera gear, take the shot, replace my camera and then swing the bag back around. Much easier than having to remove a backpack, open it, get the gear out, close the backpack, put it somewhere, take the shot, replace the camera gear, close up the backpack, put the backpack back on….you get the idea.  In the past I've just used standard messengers (e.g Timbuk2) so when Cecilia offered to sent one of their line of camera bags I put my hand up to review. How did it work out?  Read on:
What is it?
Cecilia is an American company with a 160-year heritage in the leather industry, which shows in the quality of the quality materials used in its products. For their camera messenger line, they offer two options: the Tharp 8L  or the Lambert 12L.  Of course, you don't have to use it as a camera bag, it can also be used as an EDC, something I've been doing for the last few weeks during the week and then as a camera bag on the weekends. In the end, I opted for the Lambert as the larger size made it just a little bit more flexible.
Lambert Specification
Exterior: 10.75″H x 15.25″W x 5.75″D (27.3cm x 38.7 x 14.6cm)
Interior: 10″H x 14.75″W x 4.25″D (25.4cm x 37.5cm x 10.8cm)
Weight: 2.75 lb (1.25 kg) (Cotton twill)
Weight: 2.8 lb (1.27 kg) (Leather)
What's in the box?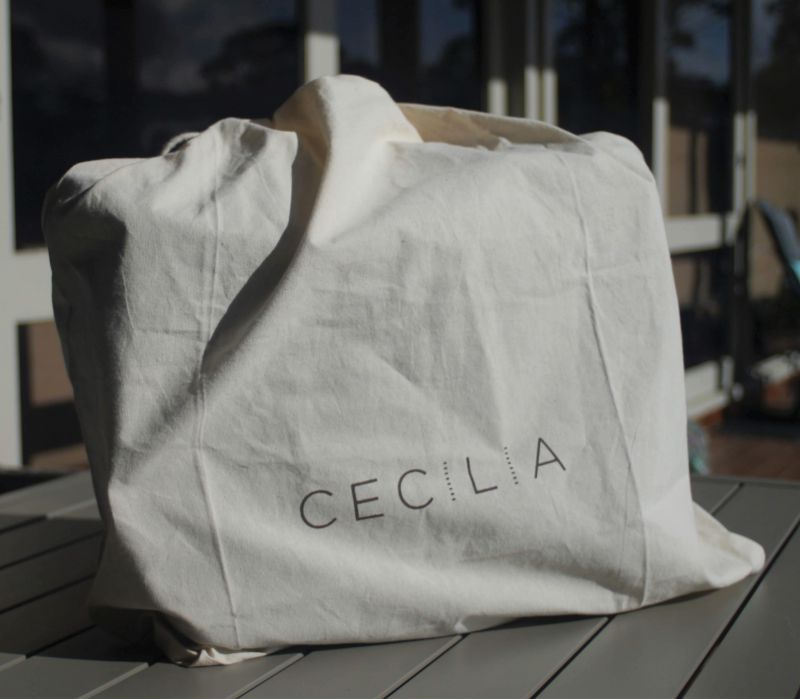 The Lambert came in a nice reusable cloth bag.  It was really nice not to get something in a plastic bag that's just going to be thrown away (recycled). I'm sure I can find a use for this bag somewhere in the future.
Design and features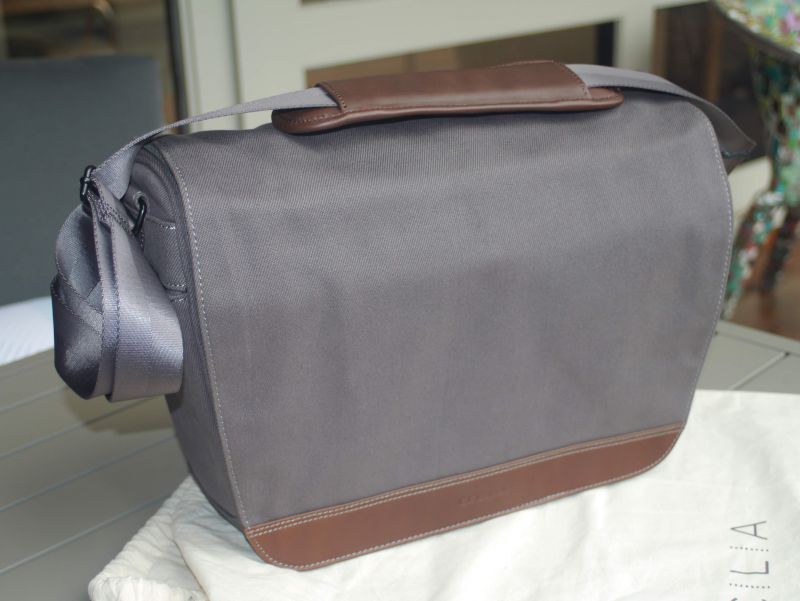 Given their heritage in leather they offer both lines in either a black or chestnut leather and also a charcoal cotton twill. I decided to go for cotton twill as I really like cotton/canvas type bags and I thought it was (to me) more aesthetically pleasing with its charcoal twill and chestnut leather trim. The leather trim on the main flap and on the shoulder pad really offsets the charcoal twill nicely.  The strap is nice and strong and all hardware is painted metal.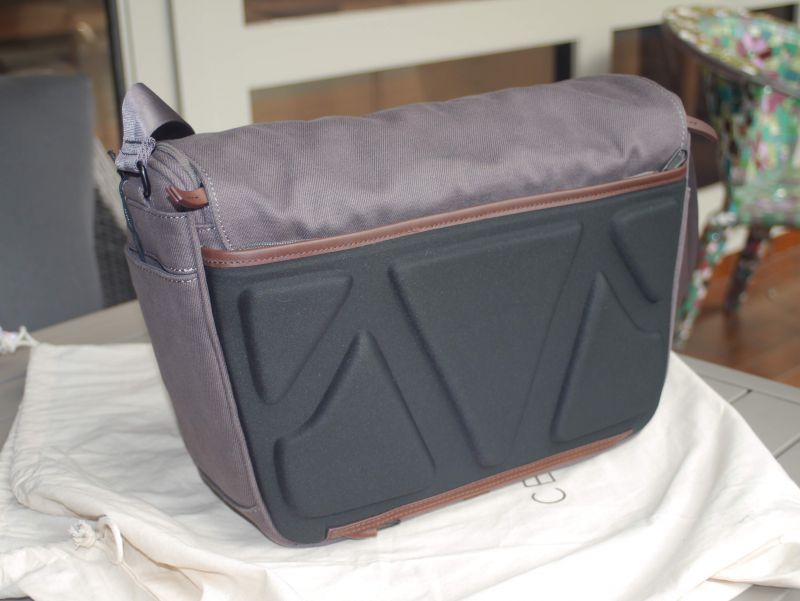 On the back is a nice closed cell foam pad for both comfort and or airflow.  On the top of the pad is a zip so that you can use it as a pocket to store say documents or magazines but if you also open the bottom zip then it becomes a pouch to put on the handle of your roller luggage.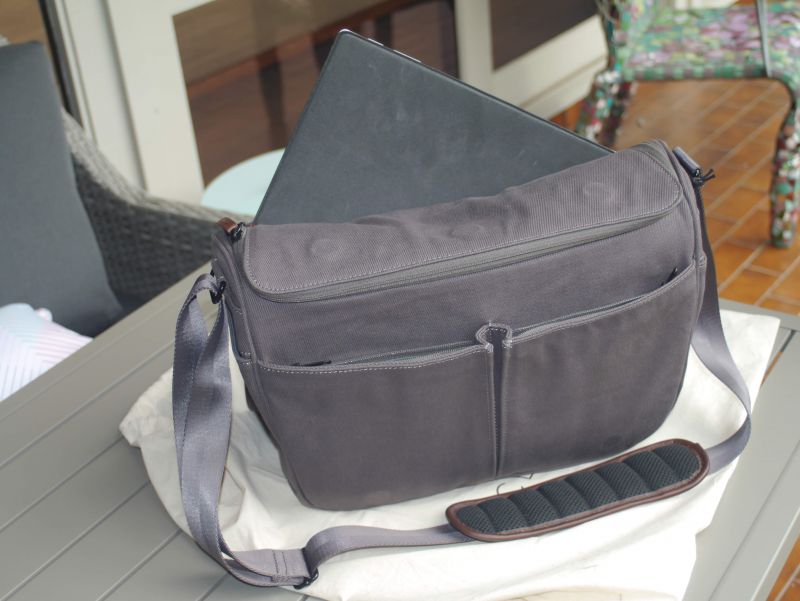 Open up the flap and there are 2 big pockets on the front.  Perfect to store all those little bibs and bob that you don't want tumbling around in the main compartment or that you want easy access to.  There's also some airflow padding on the shoulder pad.  On the back is a laptop/tablet sleeve for up to a 13.3″. The positioning of this is very handy because you can just open the flap and get your notebook out, especially useful if you're going through the x-ray machine at the airport.  You don't have to open the main compartment to get your laptop out for scanning.  When closed the main flap is held in place with magnets.  You can see the two magnets on the bottom of the front pockets. This is great as, while velcro is probably stronger, you don't get that "RIIIIP" sound when you open the bag.  Nice and discrete especially if you're taking photos or using the bag in a quiet environment.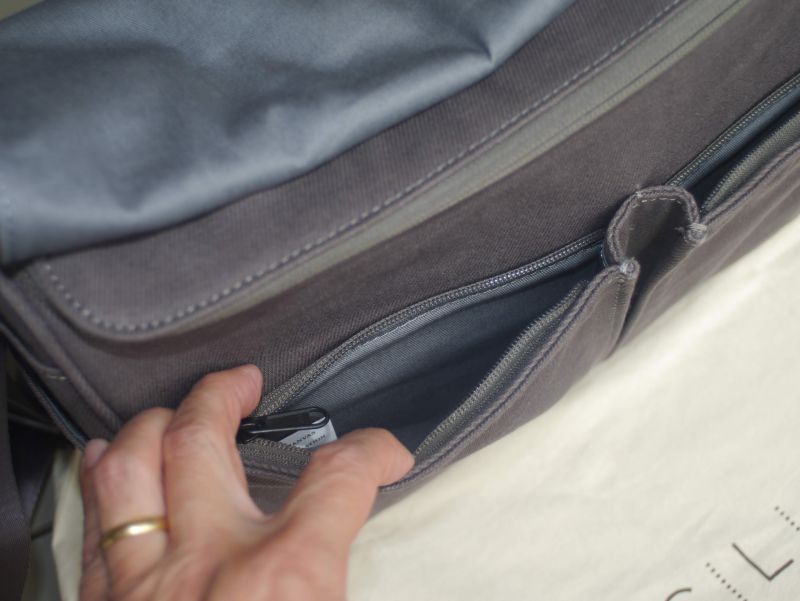 The front pockets are nice and big and zippered so things won't fall out. They're perfect for things like battery packs or sd cards, a pen, a notebook or similar. For me, they're big enough that I can fit my whole hand in if I need to "rummage" around in the pocket to find something small.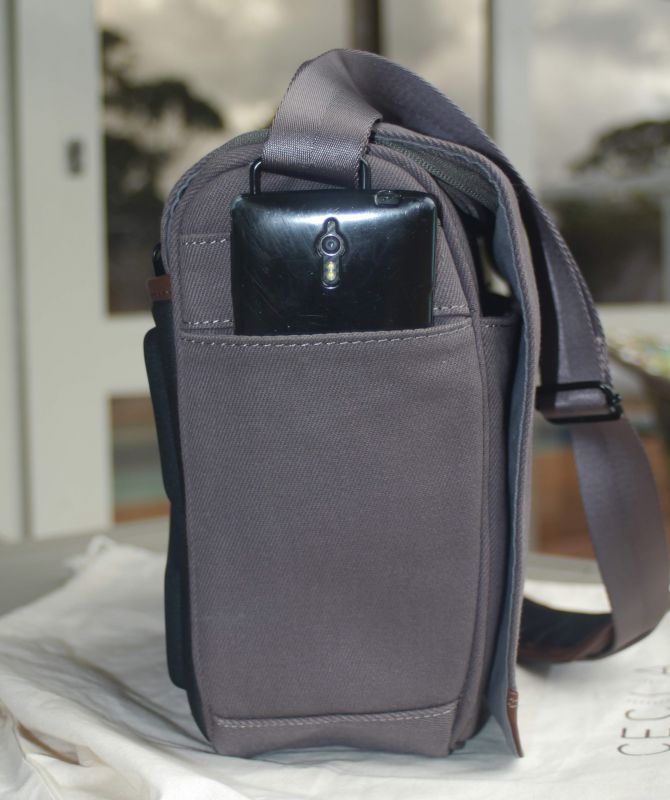 There are also two pockets on the sides.  They are quite deep and not overly expandable so ideal for a small notebook or your phone.  You wouldn't want to put something too small in there though as they'd drop to the bottom and would make it hard to get it out.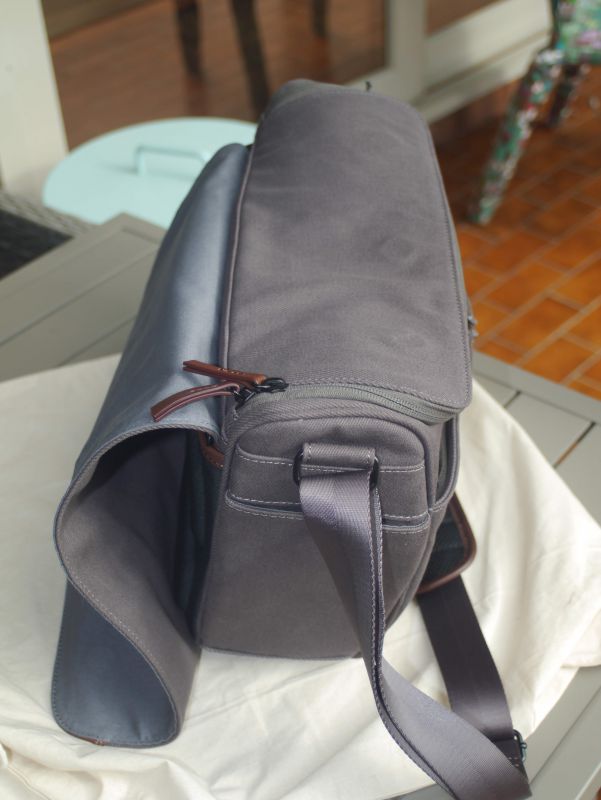 The bag comes with two "modes". Firstly there's secure mode.  Do up the main zipper and no matter what you do nothing will come out of the main compartment.  Again your notebook is in the back of the bag and can be easily accessed in this mode without opening the main compartment.  Also, note the two leather tags on the zippers which makes it easy to access the zippers. Note the 3 round magnets on the top of the main compartment.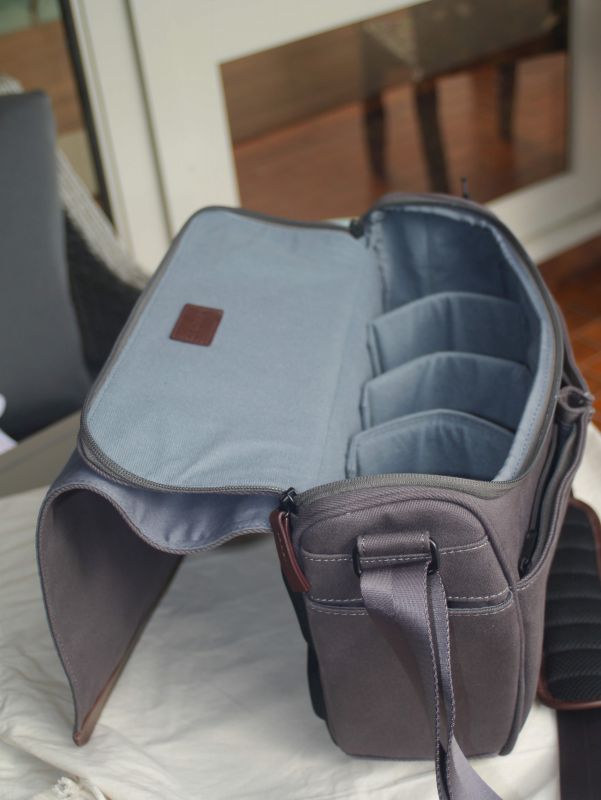 The other mode is "shooting" mode.  This is where the magnets indicated above come into play.  With the main compartment unzipped, the corresponding magnets on the flap mean that opening the flap also opens the main compartment.  This is great if you're in a situation where you're putting your camera in and out of the bag frequently. You get quick access to the main compartment and your equipment without having to muck around. The inside is nicely padded and has a soft fleece lining. Because of the foam padding the bag stands by itself.
Equipment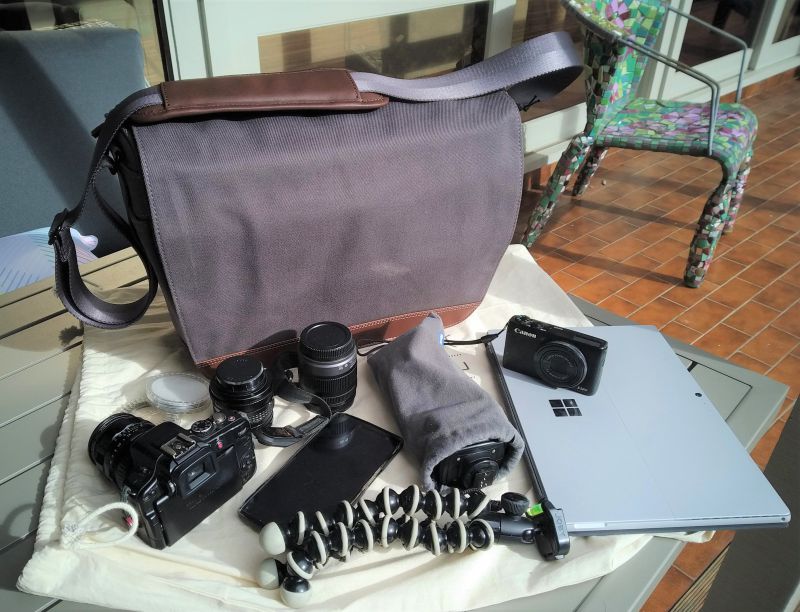 So there's my collection of camera gear I normally carry around with me: a Panasonic G3 micro 4/3rd mirrorless,  2 Takumar circa 1970s prime lenses passed down  to me from my father ( 50mm/f1.4, 25mm/f2.5)  the standard Panasonic 14-90 zoom, a Nillkin flash (hardly use), my Gorilla pod  and a Canon S120.  A bit of a sad collection of (old) gear for a Gadgeteer to have, but they do the job and do it well.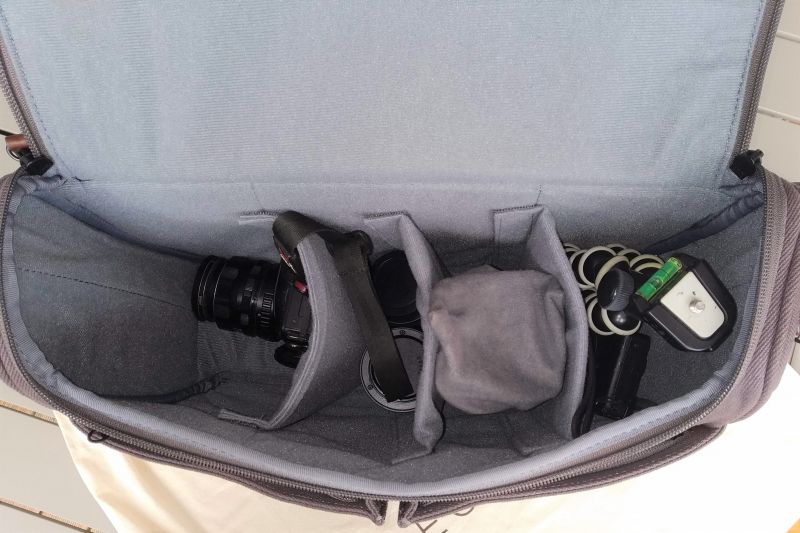 Inside is three removable velcro attached dividers. When I use a messenger, everything just "rattles around" in the main compartment meaning I have to rummage around to find what I want. In this system, everything in its place and a place for everything.  Additionally, the bag being padded means that I can put all my gear in "naked" whereas with a standard messenger each component goes into some sort of individual protection. This makes it quicker and easier to grab and use something and then put it back in the bag.
What I like
I really do like the cotton twill with leather trims.
The foam back pad makes it comfortable to carry.
The compartments and padding make it easier to store and use my equipment.
The "secure" and "shooting" modes are really convenient.
It's easy to get access to your notebook/tablet.
The bag stands by itself.
When used as an EDC rather than a camera bag, it limits how much I carry (12L).
What needs to be improved
With my previous canvas/cotton bags, the bottom corners tend to be the first to go. Given their heritage of leather, perhaps some leather corner protectors would add some additional protection and longevity.
Having a briefcase/grab handle would make it just a little bit more versatile on the go.
While the twill is coated to make it water resistant, if it got caught in a big downpour, your expensive camera gear would get soaked and water would stay in the padded foam.  A (built-in?) rain cover would protect

against this.

 

You can see the magnets are imprinting on the twill. Not sure what will happen longer term.
Final thoughts
As mentioned, I've been using this as an EDC for work during the week and carrying around my Surface Pro, an umbrella, my lunchbox, and various little bits and pieces.  As an EDC, this is a great bag for that.  However, because it's a fix shape and size as an EDC for me it's not flexible enough. Often a package might arrive or I need to take some additional stuff to or from work so I need a more flexible size/shape bag.
During the weekend however, it's been used as a camera bag.  My biggest disappointment is that I don't have enough gear to properly fill the bag 🙂 That being said, the smaller amount of gear makes it much easier to see, grab and use the correct gear.
These aren't the cheapest bags around but they're well thought out and well made, and if you're looking something a bit fancier than that old ballistic nylon bag these certainly fit the bill.
Price: $289 – Cotton Twill / $439 – Leather
Where to buy: Direct from Cecilia
Source: The sample of this product was provided by Cecilia.