We use affiliate links. If you buy something through the links on this page, we may earn a commission at no cost to you. Learn more.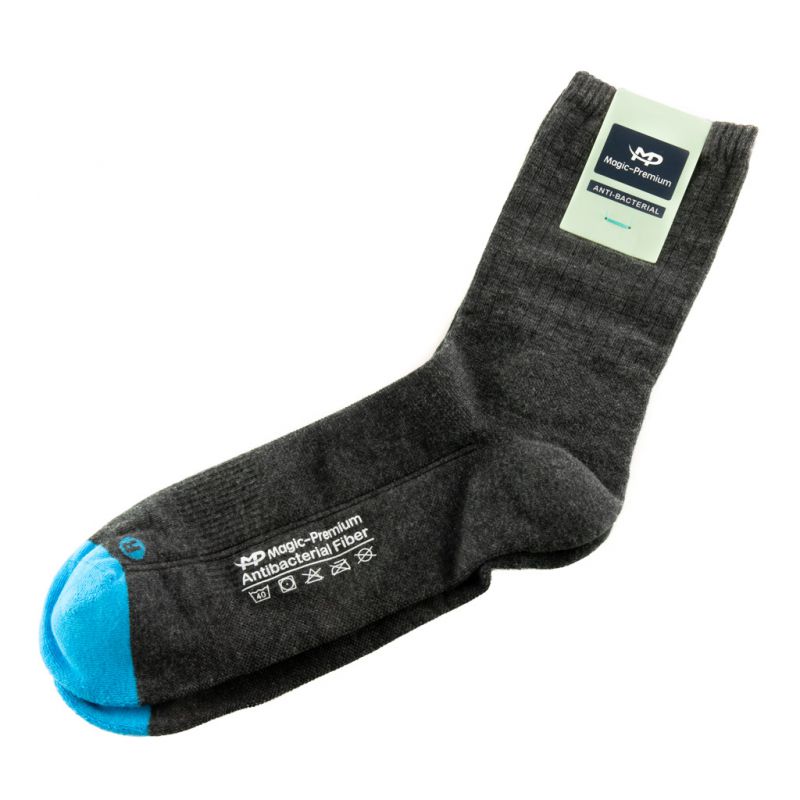 REVIEW – I'll admit it, I was skeptical about writing a review for these MP Magic-Premium socks. I mean, what can you really say about a pair of socks? It's just a tube of cloth right? Well, I was wrong.
What is it?
The MP Magic-Premium socks are just as they sound, premium socks. If you've never had really nice socks, then read on and find out what you're missing!
What's in the box?
1 pair MP Magic-Premium socks
Design and features
I know what you're thinking: "What's so magical about these socks?"
I'll admit it, I was skeptical about the MP Magic-Premium socks when I first took this review. I have sweaty feet. They sweat when they're hot, they sweat when they're cold. When it comes to clothing, I'm fairly casual and not very fashion conscious, so I'll pretty much wear or try anything, especially if it aims at comfort.
The MP Magic-Premium socks boast a nice feature list:
24-hour comfort
Antibacterial
Odorless
Japanese fabrics
Italian knitting machine
Fast moisture wicking
Cushioning for protection
Customized Left & Right
100% money back guarantee
The first thing I noticed about these socks was the stitching. It was obvious that these were very high quality. MP team has chosen to use the finest cotton from Japan and the high-quality Santoni Italian knitting machines capable of 200 needle count knitting which produces items with tiny details perfectly.
It may sound strange, but I looked closely at the stitching of the sock and was quite impressed with not only the quality of it but the design. It appears as though each and every part of the sock has a purpose and the stitching varies based on what they want it to do – it's more than just a tube of cloth.
The socks are infused with silver, copper, and zinc which are known for their anti-bacterial properties. This is a big plus, just ask my wife. After wearing them for the day I really do think they helped with odor. Yes, there was the obligatory "smell my feet".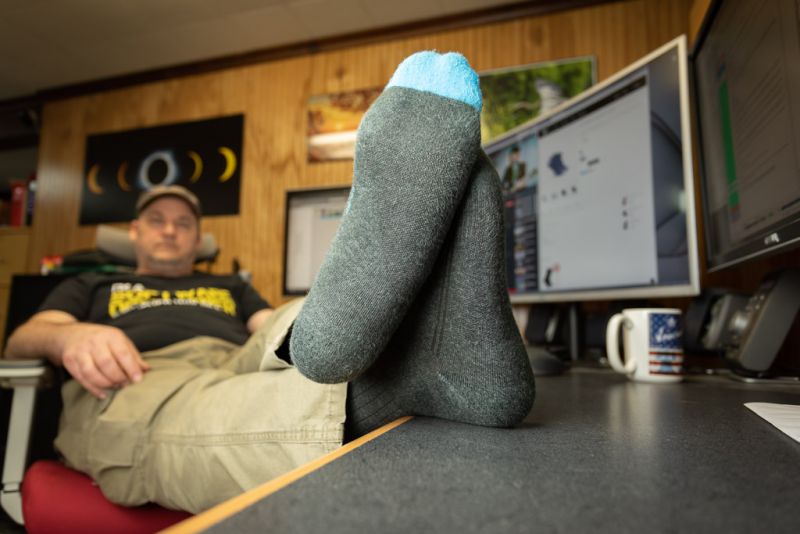 Although the MP product page lists Cushioning for Protection, Chafing Prevention, and Shock Absorption the socks are not overly bulky or poofy. The "cushioning" is minor and more of a thicker weave than a layer of cushioning that you might expect when hearing that.
Here is the feature that intrigued me the most, moisture wicking. There are times that I change my socks two or three times a day because of my sweaty feet. The moisture wicking ability of these socks is outstanding. The convection effect is noticeable, you can actually feel your feet being cooled as the moisture evaporates.
The socks are thinner than my other cotton socks, almost like some of the thin dress socks. They have a more pleasing cotton feel as compared to polyester dress socks.
What I like
Comfort – these are really comfortable socks
Odor control
What needs to be improved
Needs an ankle high version and color selection in white (colors not yet specified)
Final thoughts
I wish I had more pairs of these socks! I scrounged around the house for stuff to wash just so I could wash these and wear them again. My feet stay noticeably drier and cooler.
Price: Pricing not yet announced
Where to buy: MP Magic-Premium
Source: The sample of this product was provided by MP Magic Socks.