We use affiliate links. If you buy something through the links on this page, we may earn a commission at no cost to you. Learn more.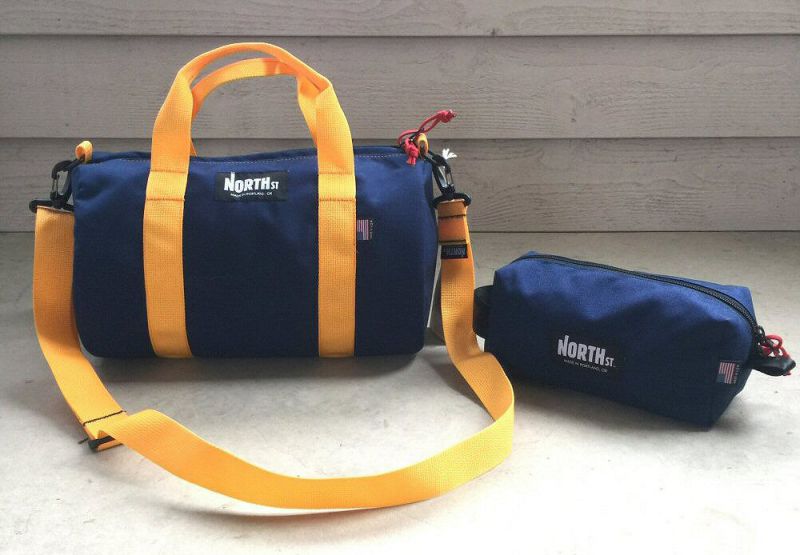 REVIEW – Back in June 2018, I had the opportunity to review the North St. Bags Scout 21 VX Duffle and I was pretty impressed with its water resistance and durability.  North St. Bags recently did an update to their Scout Duffle designs and when they offered to let us try one out, of course I agreed.  Plus, they not only included the updated Scout Duffle in CORDURA fabric, they also included one of their Dopp Kits.  Let's check 'em out!  Gadget on!
What is it?
The North St. Bags
Hardware specs
Scout 15L Duffle
Dimensions:  14″ long x 8″ diameter
Capacity: 15 Liters
Materials:

Exterior – 1000 denier CORDURA® nylon
Interior – 210 denier nylon lining
Handles – heavy-duty nylon webbing
Waterproof zipper

Shoulder strap included
Interior zipper pocket and lanyard with spring hook
Made in USA
Dopp Kit
Dimensions: 9.5″ wide x 3.5″ deep x 4″ tall | 24cm x 9cm x 10cm
Capacity: 2.5 Liters
Materials:

1000 denier CORDURA® nylon
#7 Lenzip Zipper
1.5″ seat belt webbing handles

Made in USA
What's in the package?
North St. Bags Scout 15 Duffle
North St. Bags Dopp Kit
Design and features
Scout 15L Duffle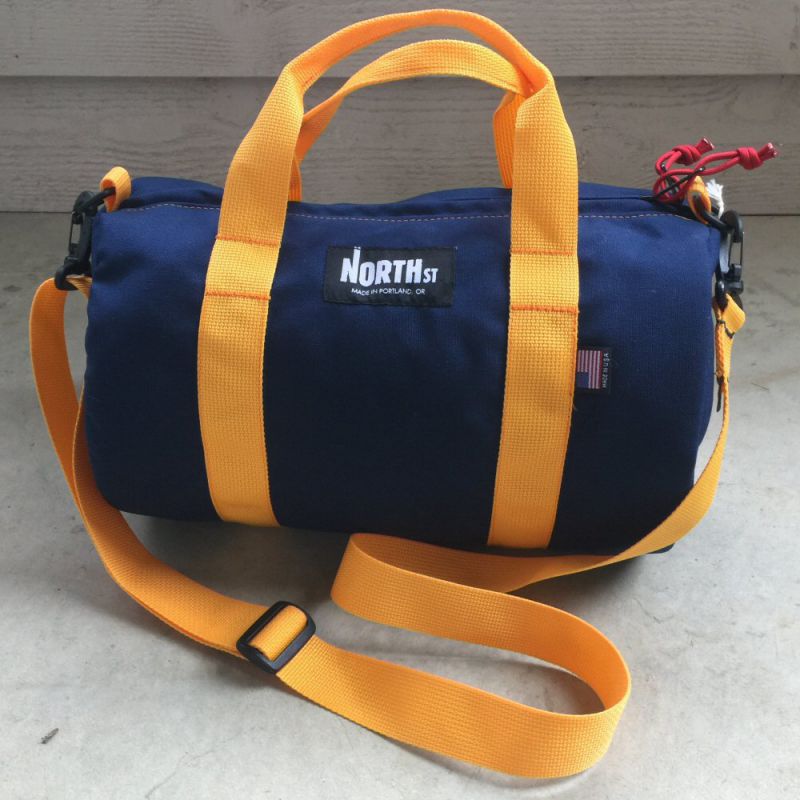 The Scout 15 Duffle is a classic "barrel" style duffle with a cylindrical shape.  It is a small- to medium-sized bag and build from high-quality materials.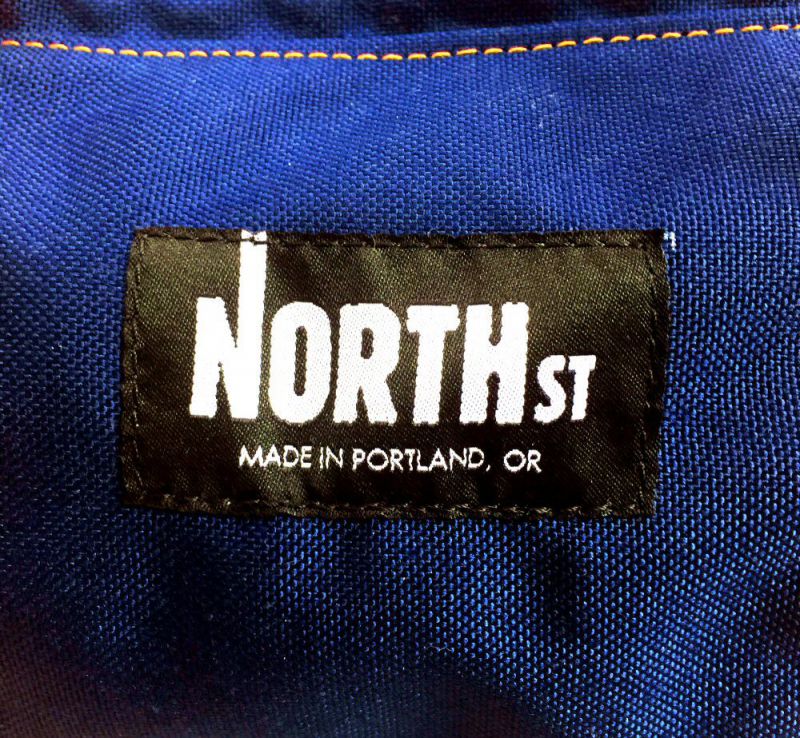 The Scout 15L Duffle's exterior material is 1000 denier CORDURA® nylon Outer Shell.  Also, the North St. Bags logo tag proudly indicates that their products are made in Portland, Oregon, USA.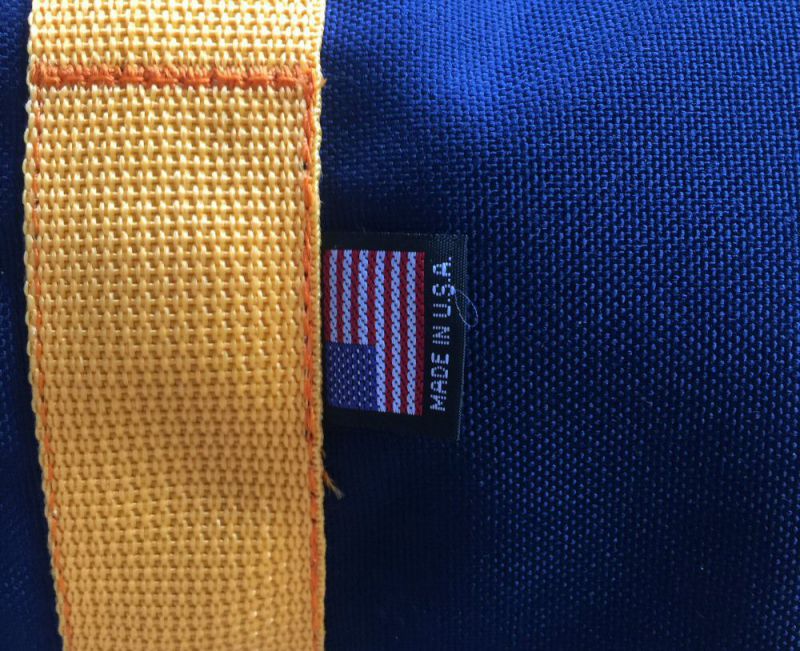 In addition to the small tag with US flag indicating that this product is made in the USA, in the image above you can also see a closeup of the Scout 15L's handle material, which is a substantial nylon webbing.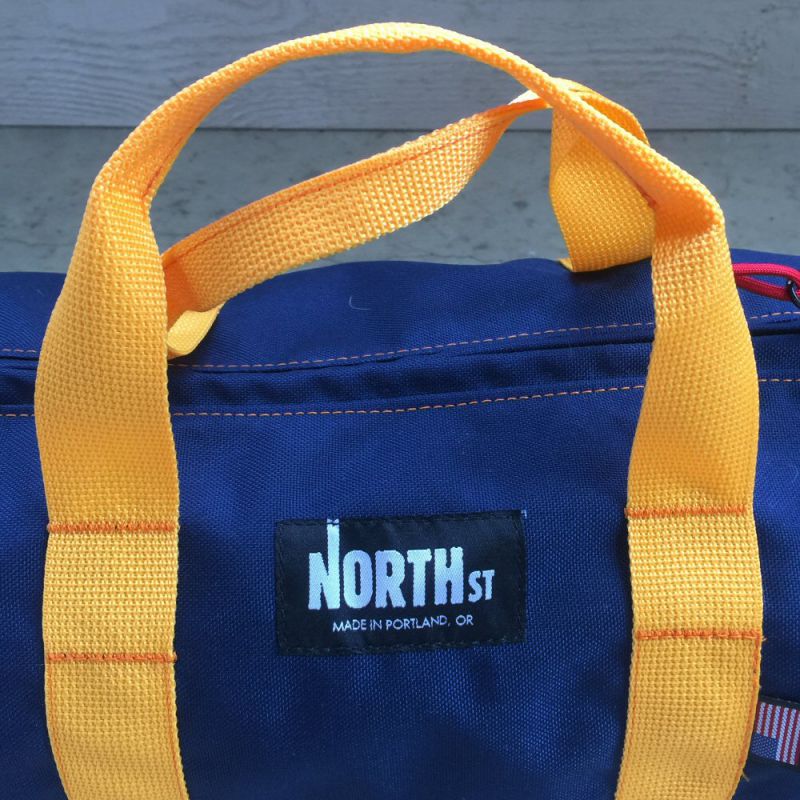 In the image above, there are two features of the Scout 15L's handles to note.  First, the tops of the handles have been folded over and stitched, which helps prevent the handle's strap material from cutting into your hand; it's still not the most comfortable handle, but this does help.  In addition, you can see that the Scout 15L's handles have been stitched to the main body of the duffle in such a way that they each have a short segment that can be used as attachment points for carabiners or other items.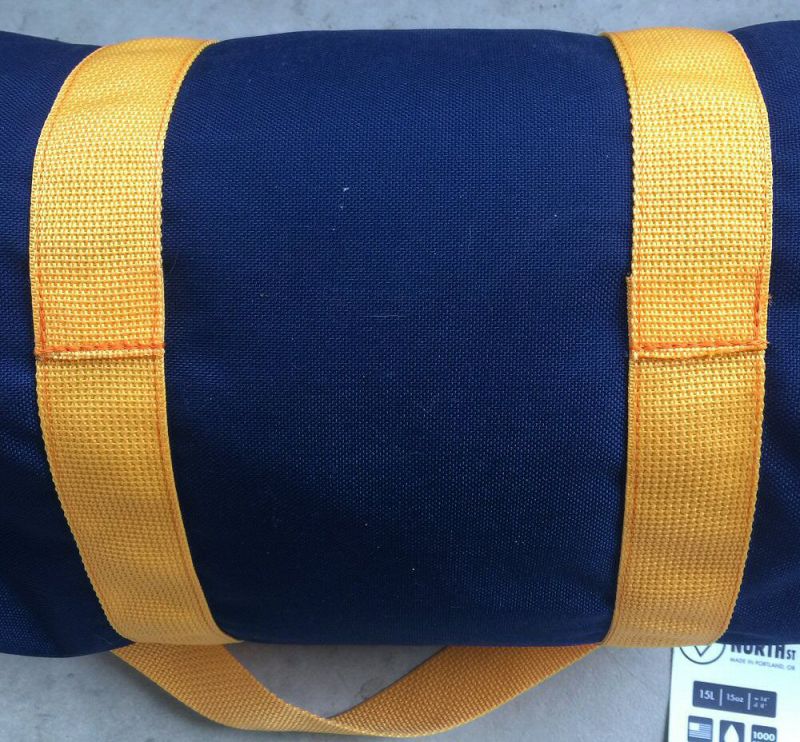 The Scout 15L's handles wrap around the bottom of the duffle and are securely stitched double-stitched at their overlap point to provide strength to the entire duffle.  For optimum strength, I would think that a single, continuous length of webbing would be used around the entire bag, but this probably works quite well also, unless you are carrying a lot of weight for a long time in the bag.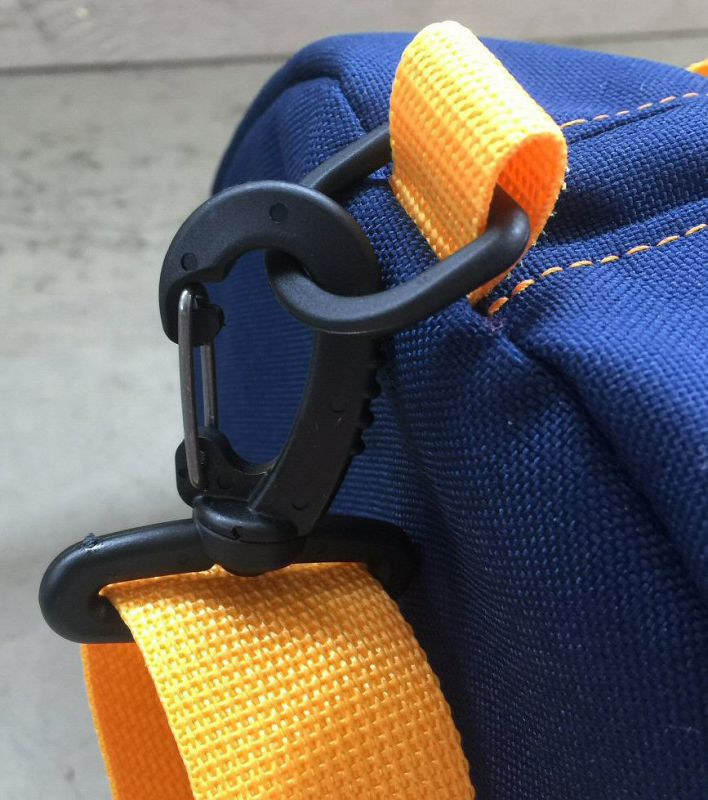 Although the shoulder strap hardware is not metal, it feels very solid and durable.  Each end of the shoulder strap includes a spring clip for attachment to the plastic D-rings on either end of the Scout 15L Duffle.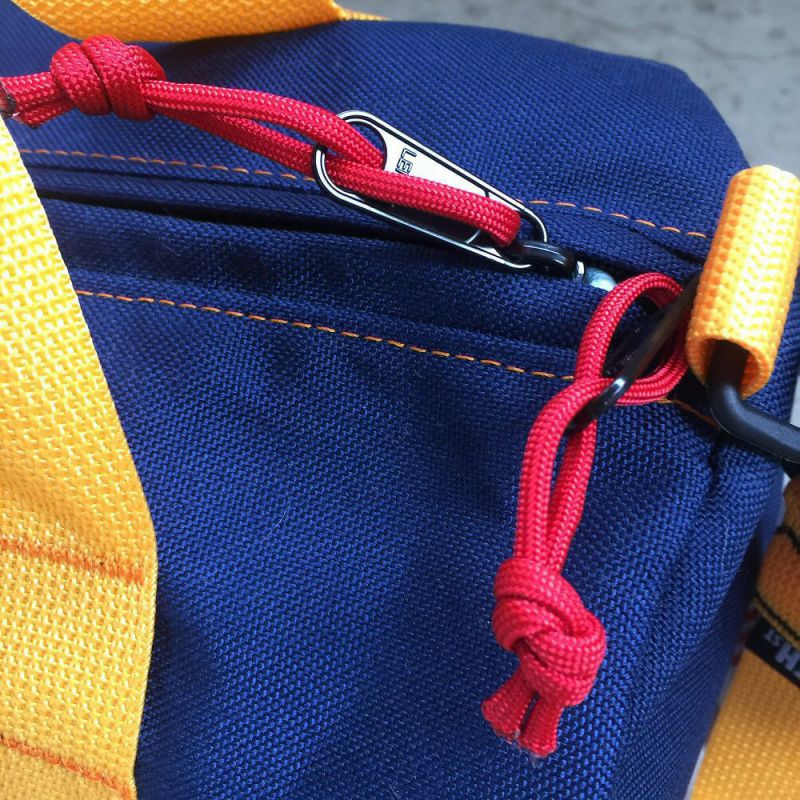 The Scout 15L's main zipper is a two-way style, and protected by a small flap over the top of the zipper's teeth, which helps prevent moisture and dirt ingress.  The zipper pulls also have a short, knotted length of 550 paracord attached to them, which aids in gripping and operating the zipper, especially if your hands are wet or you are wearing gloves.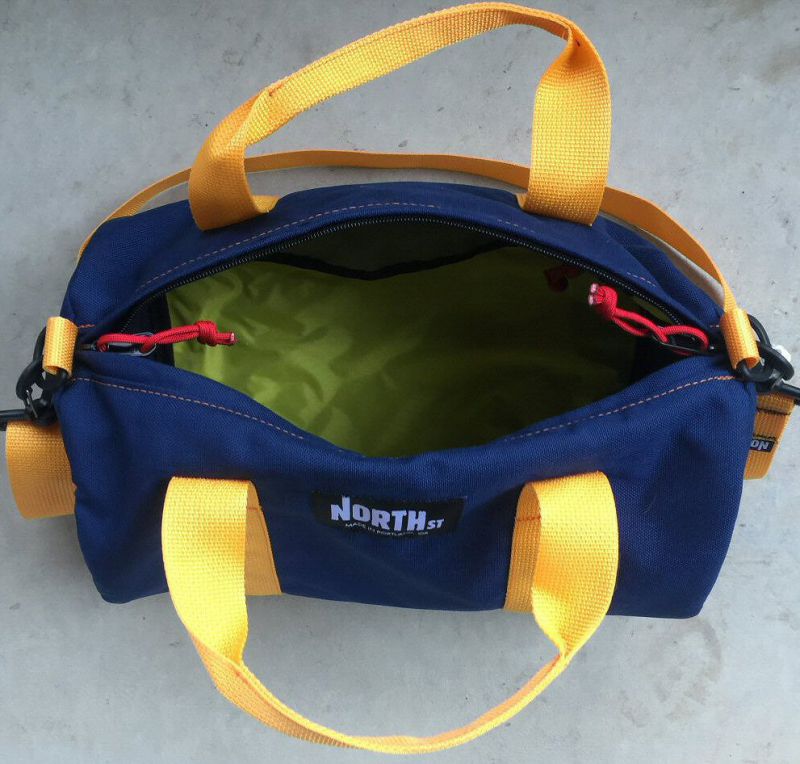 The Scout 15L Duffle's interior is lined in high-visibility yellow/green, soft 210 denier nylon lining.  This not only helps protect its contents from bumps and moisture, but the brightly-colored lining helps to be able to visually locate items inside the bag, especially in lower-light conditions.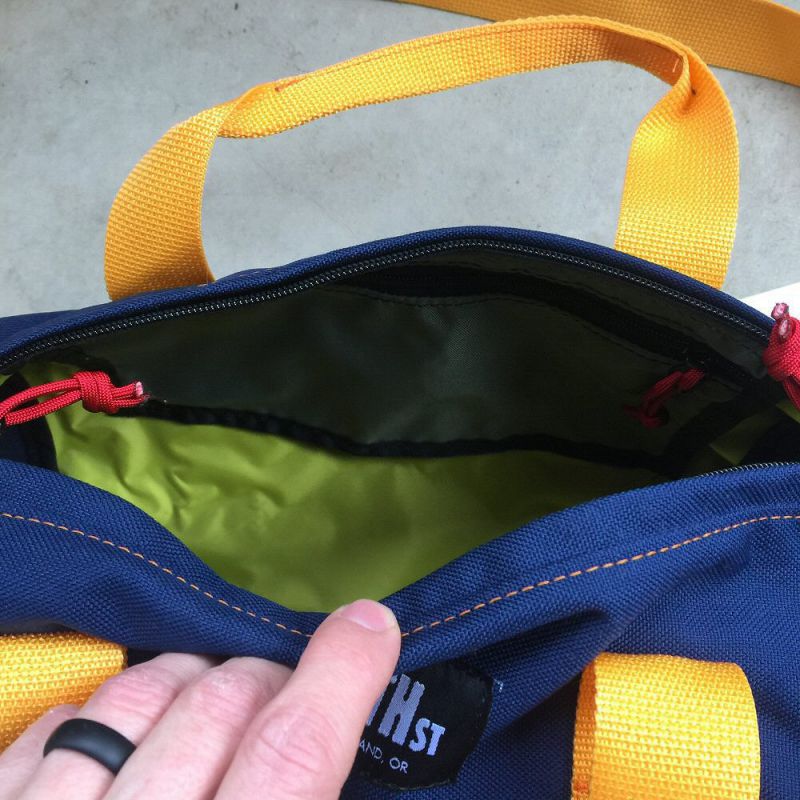 Peering along the inside of the Scout 15L Duffle, you can see its internal pocket hanging off to one side. More detail on this pocket below.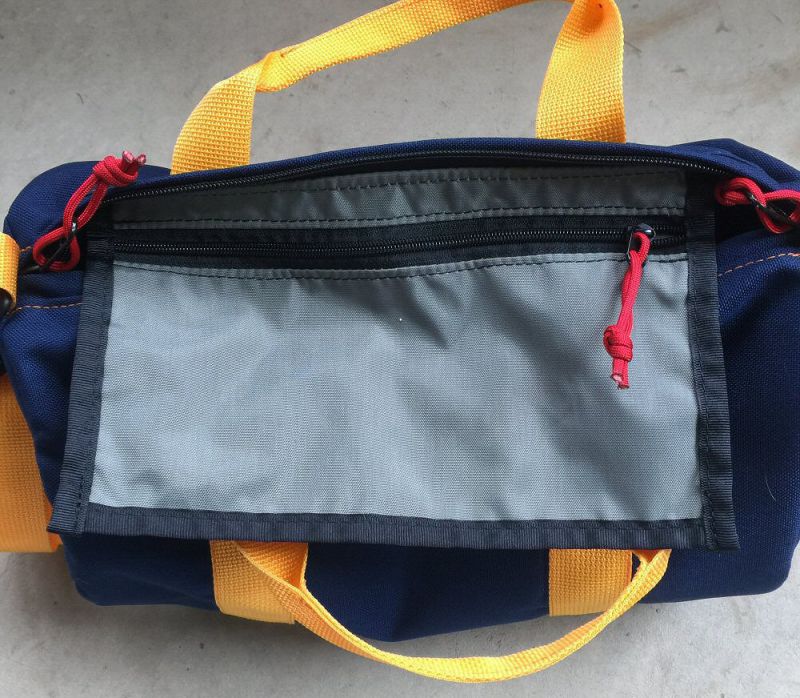 The Scout 21's internal pocket is stitched to the inside of the duffle at the pocket's top, so it basically hangs inside the duffle rather than being fully sewn directly into the bag, which I understand is an upgraded feature on the latest version of the Scout 15L Duffle.  I like this because it allows me to grab the pocket itself and maneuver it a bit more easily if I want to unzip it, retrieve or replace and item, then re-zip it.  Also, this pocket's zipper pull has a length of knotted 550 paracord that is identical to the ones on the Scout 15L's main zipper described above.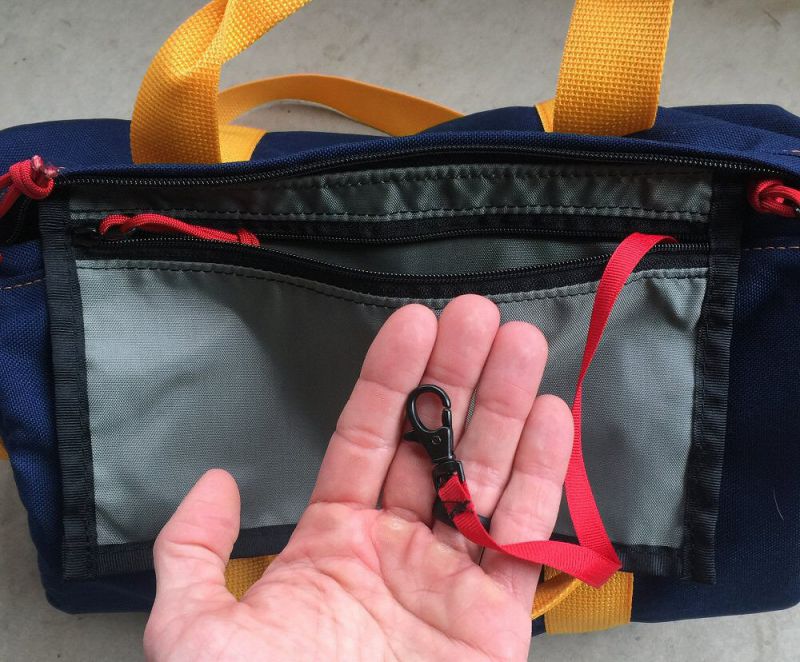 Sewn into the Scout 15L's interior pocket is a length of webbing that has a metal spring-hook attached to its end.  This hook is most likely intended to securely hold keys, but could also help secure lots of other small items.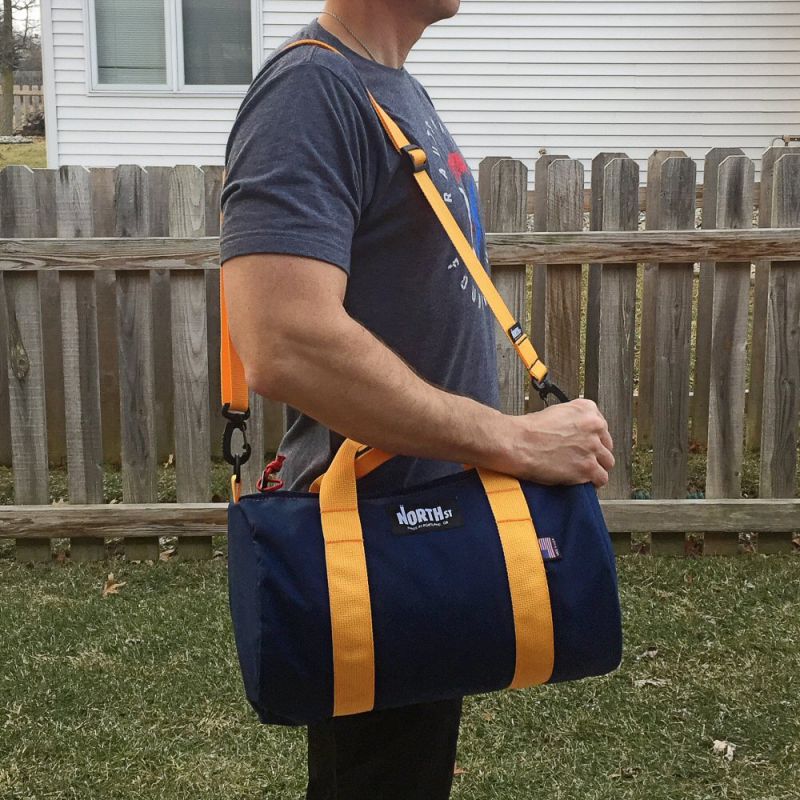 As seen in the image above, the Scout 15L Duffle is a small/medium-sized bag, probably not something you are going to carry a week's worth of clothing and gear in.  However, as an overnight bag, an airline carry-on bag, or a daily gym bag, it is probably a good size.  I am currently evaluating the Scout 15L as my daily gym bag and it is just a bit smallish for that task for me.
Dopp Kit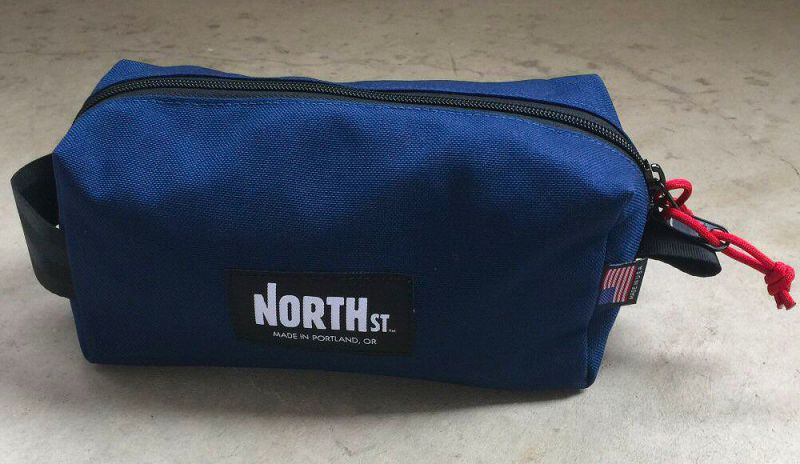 In addition to the Scout 15L Duffle itself, the North St. Bags folks thoughtfully included one of their Dopp Kits in Midnight color that matches the duffle.  This Dopp Kit is a really nice size for travel or for carrying EDC items and like all of North St. Bags' products, is build from durable materials.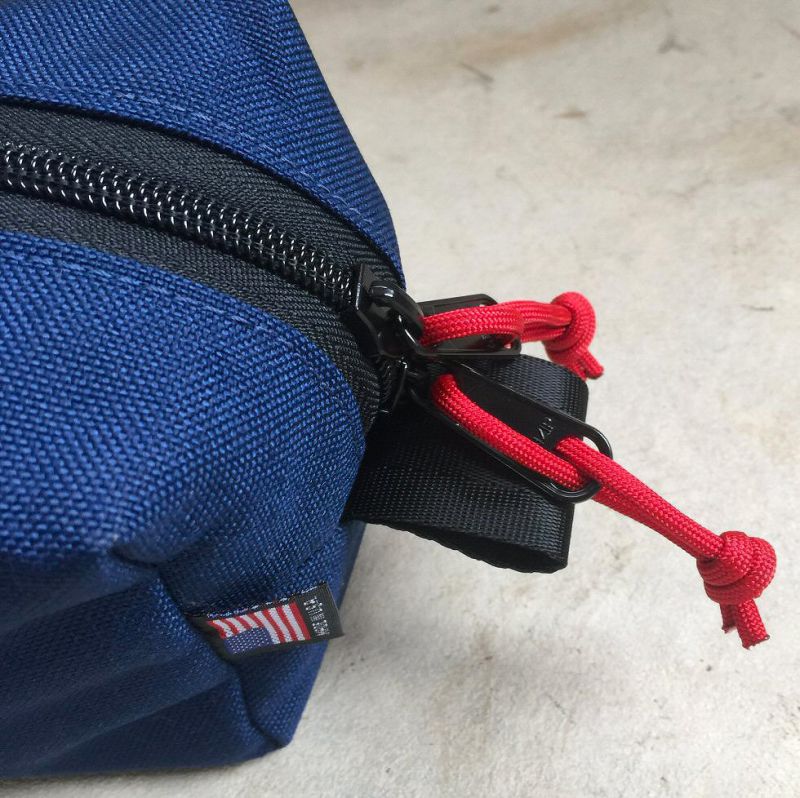 Like the Scout 15L Duffle above, the Dopp Kit's exterior is made from super durable 1000 denier CORDURA nylon.  The Dopp Kit's two-way zipper has knotted lengths of 550 paracord attached to the zipper pulls for improved grip, similar to the Scout 15L Duffle shown above.  There is also a short loop of super-strong 1.5-inch side seatbelt webbing that can be used as an attachment point.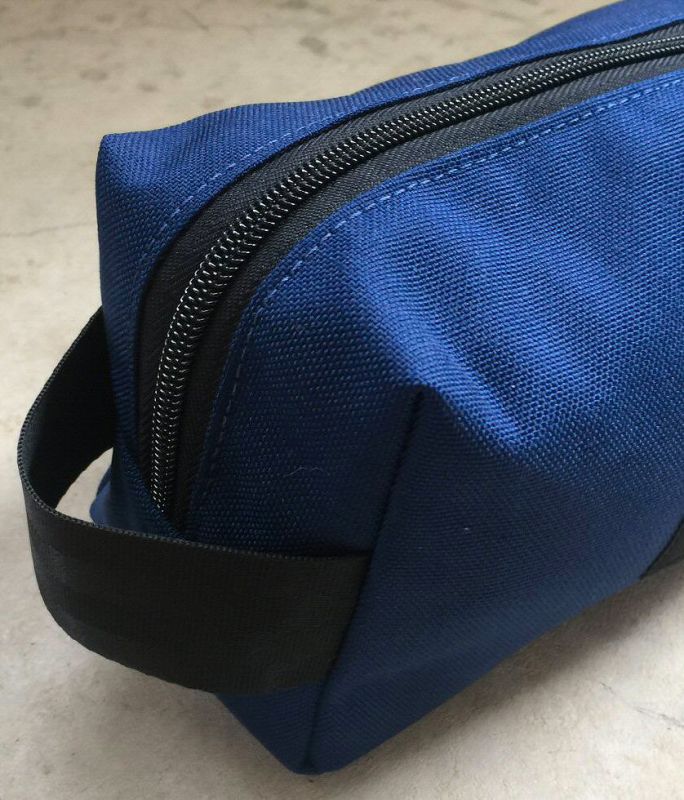 One end of the Dopp Kit also includes a longer length of heavy-duty seat belt webbing that can be used as either a carry handle or to hang up the Dopp Kit on a hook or to a carabiner.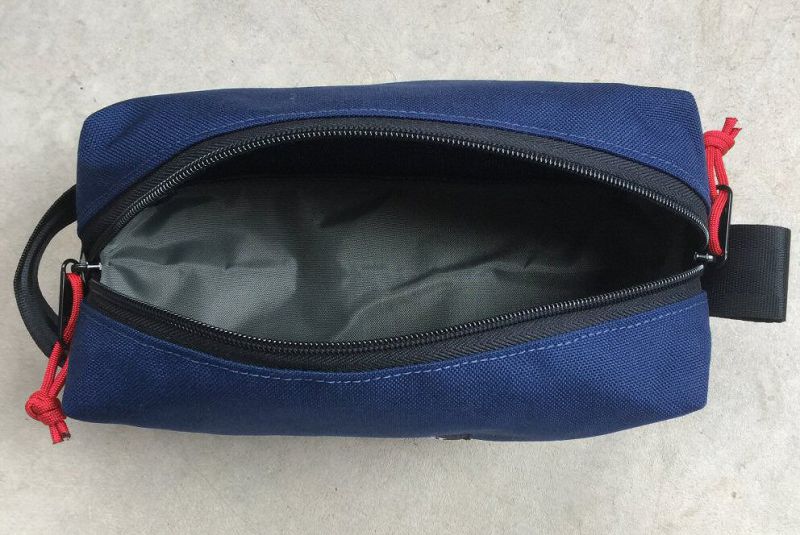 The interior of the Dopp Kitt is lined with gray fabric.  I was a bit surprised that the Dopp Kit's lining fabric color did not match the high-visibility yellow/green of the Scout 15L Duffle above, but this is certainly not a deal-breaker for me.
What I like
Very durable materials but very lightweight
Includes a sturdy shoulder strap
Simple but classic and useful design
What needs to be improved
Just a bit, but actually probably a good investment in what you are getting: well-designed and high-quality, made in USA bags
Final thoughts
The North St. Bags Scout 15L Duffle and Dopp Kit in CORDURA material, like their Scout 21 VX  Duffle that I reviewed previously, are made from high-quality materials throughout and have classic, utilitarian designs.  With the Scout 15L Duffle at $79.99 and the Dopp Kit at $29.99, for USA made products built from super-durable CORDURA fabric that will probably outlast many other, less expensive bags in both materials and construction these products might be a good investment for travelers, gym goers, commuters or anyone who could use a good small- to medium-sized duffle bag and Dopp/small accessory pouch that will likely last them a long time.
Update 6/26/20
Although the North St. Bags Scout 15L Duffle and Dopp Kit were very well-made, I found the 15L size of the Scout Duffle to be too small to be practical for hauling my gear to and from the gym.
Price:
Scout 15L Duffle = $79.99
Dopp Kit = $29.99
Where to buy: northstbags.com
Source: The product samples for this review were provided by North St. Bags.