We use affiliate links. If you buy something through the links on this page, we may earn a commission at no cost to you. Learn more.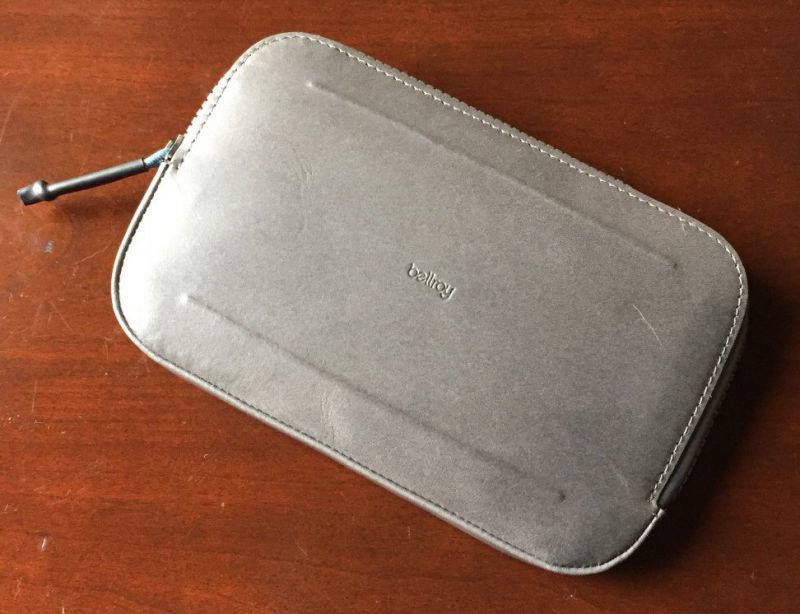 REVIEW – For a while, I've been searching for a product that will carry and help me organize me some of my essentials while traveling (and maybe on a daily basis, too).  I wanted it to hold and organize my wallet items and travel documents and have room for some other items as well.  Maybe something that I could stuff into my travel bag and an airplane seat pocket.  I've been a pretty big fan of Bellroy's wallet's for some time, having reviewed several of them here at The Gadgeteer, and their Elements Pocket Wallet remains one of my all-time favorites.   Bellroy discontinued their Elements line and replaced it with their All-Conditions line, and while browsing the collection I stumbled upon the Bellroy All-Conditions Essentials Pocket, which looked like it might meet all of my requirements.  How did it do?  Let's find out!  Gadget on!
What is it?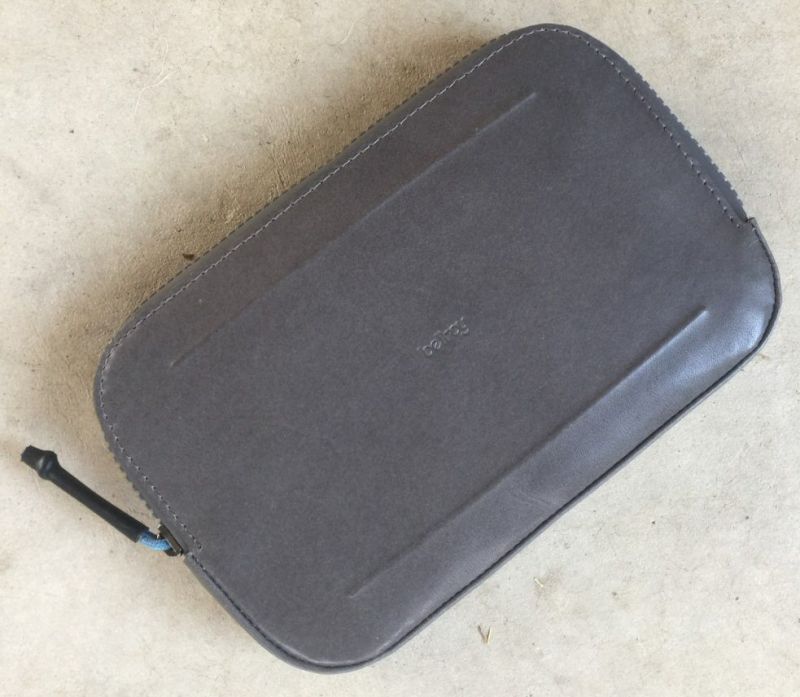 The Bellroy All-Conditions Essential Pocket is a bit challenging to define succinctly.  It's a wallet-like zipper pouch with a weather-resistant leather exterior that's large enough to carry a Plus-size smartphone inside and also includes organization slots and pockets that can hold several other small essentials.
Hardware specs
Available in two water-resistant exterior materials:

All-Conditions 100% full-grain leather in Black, Charcoal, or Burnt Orange colors for $139 each
All-Conditions woven in Charcoal color for $89

Interior: Nylon
Holds 4 to 12+ cards
5 internal pockets for coins, keys, folded bills, cables, etc
Fits a passport and p to a Plus-size iPhone
184mm x 120mm (7.2in x 4.7in) footprint
Includes a Micro travel pen with refill
3-year warranty
Packaging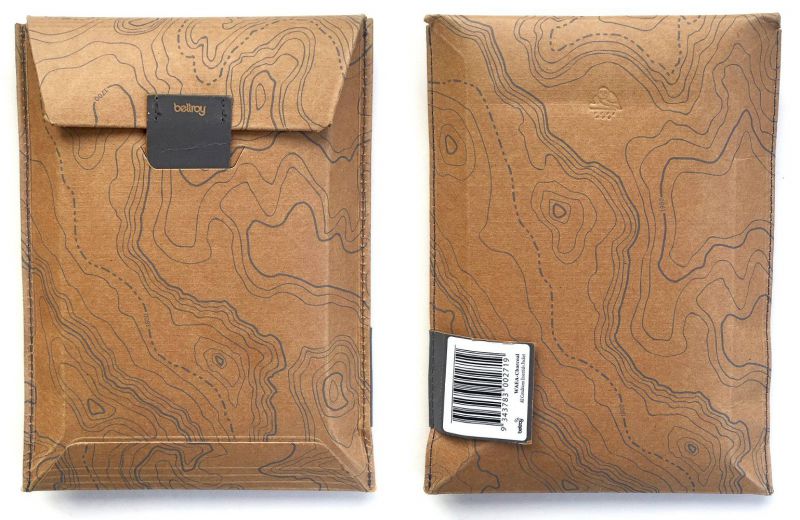 I always appreciate Bellroy's packaging, and the All-Conditions Essentials Pocket's packaging is no exception. It's an envelope/pouch made from heavy-duty cardboard and printed on its exterior is what appears to be a topographical map, implying travel and adventure.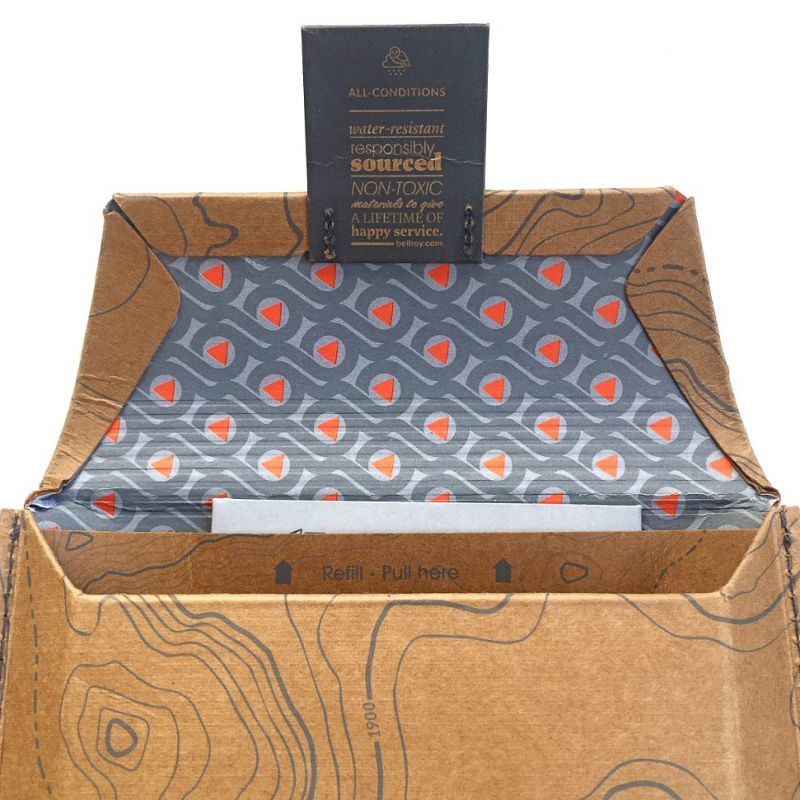 The underside of the package's flap closure tap reads, "ALL-CONDITIONS | water resistant | responsibly sourced | NON-TOXIC Materials to Give A LIFETIME OF happy service."  Also, note what appears to be a small piece of paper just above where it reads "Refill – Pull here" with two arrows.  This is a cleverly-placed small envelope containing a refill for the included Micro travel pen.  More on this below.\
What's in the package?
Bellroy All-Conditions Essentials Pocket
Micro Pen refill inside small envelope
Cardboard insert (not shown)
Design and features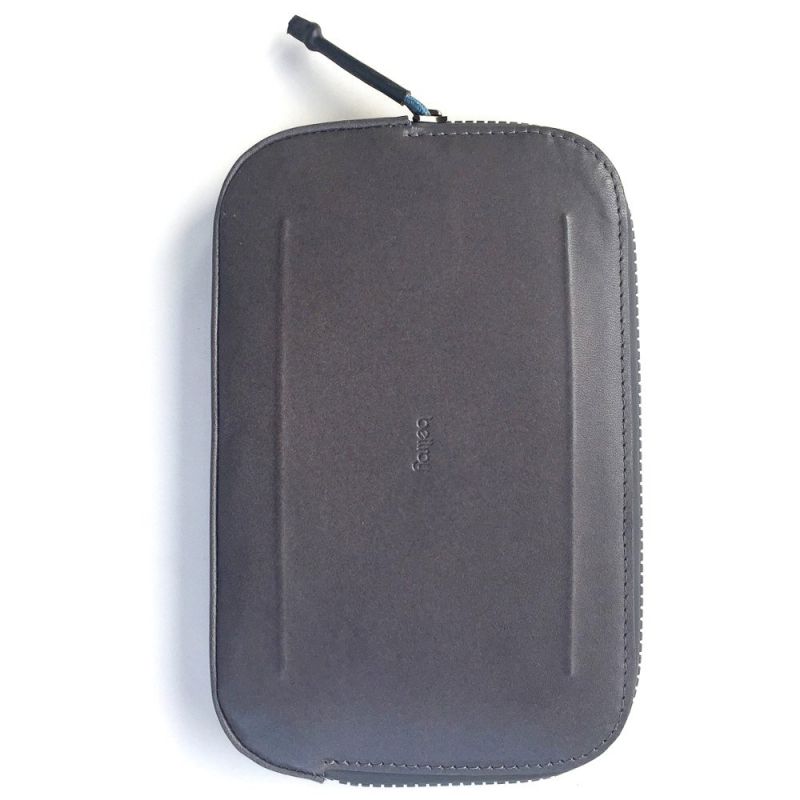 My initial impression of the All-Conditions Essential Pocket was that it has a very cool, minimalist look, and feels like it is built from high-quality materials and manufacturing methods.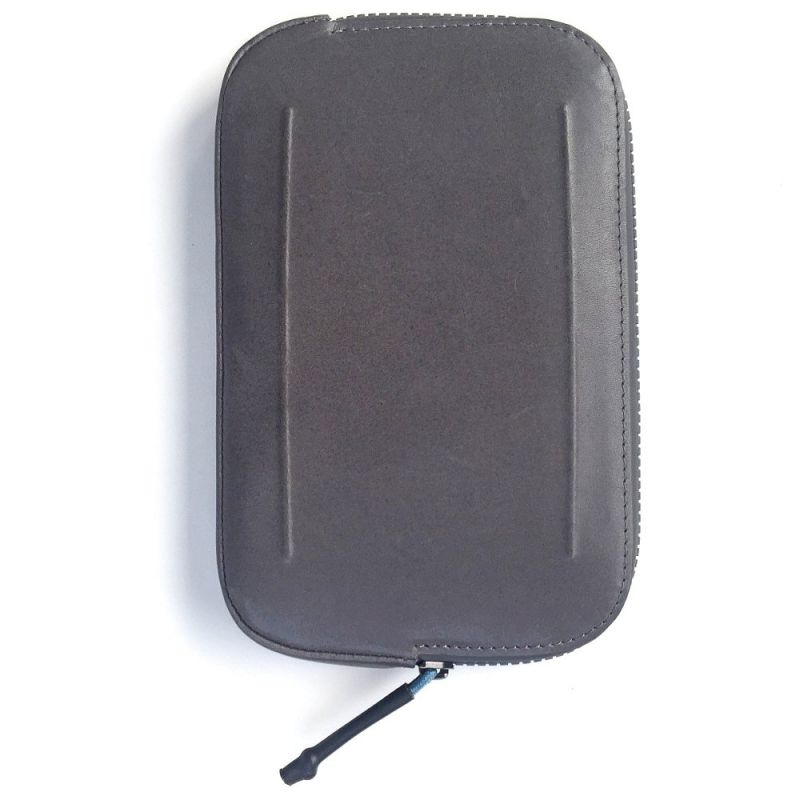 The exterior material looks and feels like leather and has a soft yet durable feel.  However, it doesn't have any of that characteristic leather smell that you would expect from a brand-new leather wallet.  It wondered if this was because this leather material is perhaps treated with some type of moisture-resistance process that may dull that new leather smell.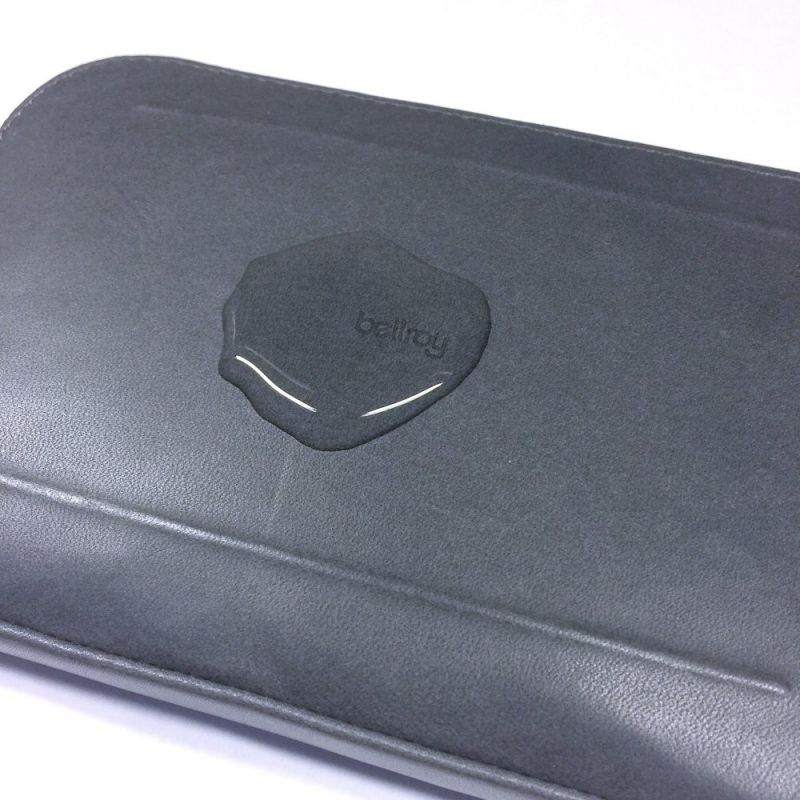 Because the Essentials Pocket is part of Bellroy's All-Conditions line of products, and because they tout the durability and in particular the water resistance of this leather, I decided to perform a simple "Farmer John" type test, as seen above.  I poured a bit of water on the Essentials Pocket and it immediately formed a bead and did not soak in.  I let it sit like this for several minutes before wiping the water off, and there was no evidence that water had even been present.  I have yet to be caught in the rain with the Essentials Pocket, but if I do, the results of this quick test give me some confidence that whatever I place inside it will stay dry.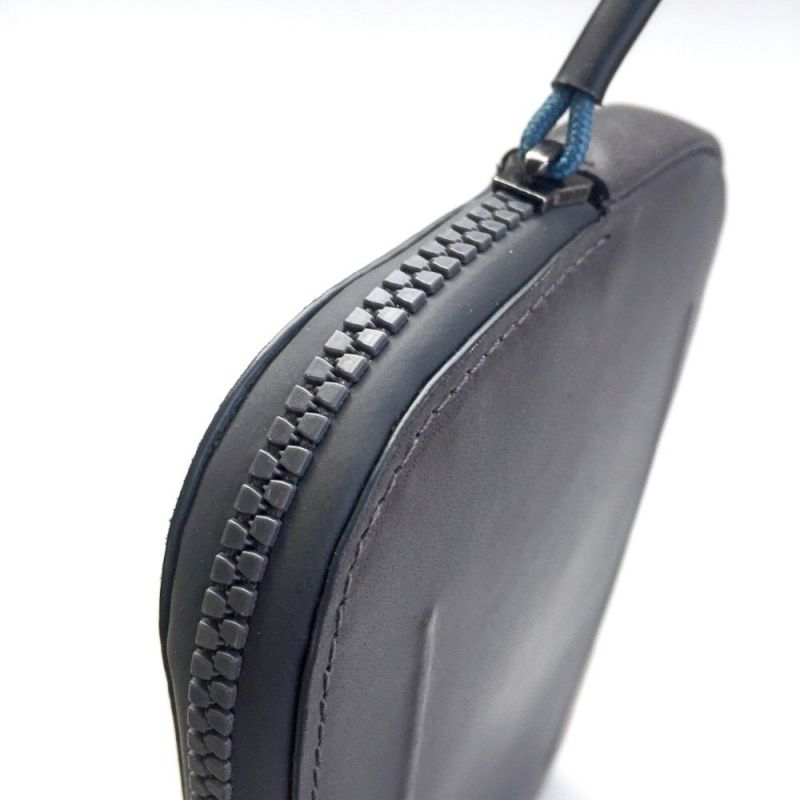 In addition to the moisture-resistant exterior material, the Essentials Pocket is equipped with a water-resistant YKK zipper.  This zipper has plastic teeth that are attached to a plastic or rubberized material.  Although the teeth are plastic, they do mesh together and I had no issues opening and closing it.  The teeth mesh in such a way that helps contribute to the overall moisture resistance of the Essentials Pocket.  Another subtle feature is that it zips a bit shy of halfway around its perimeter.  This is actually a really useful feature because, on the closing end, the zipper comes up a bit higher, which helps somewhat capture and prevent items from falling out of the Essentials Pocket on that end.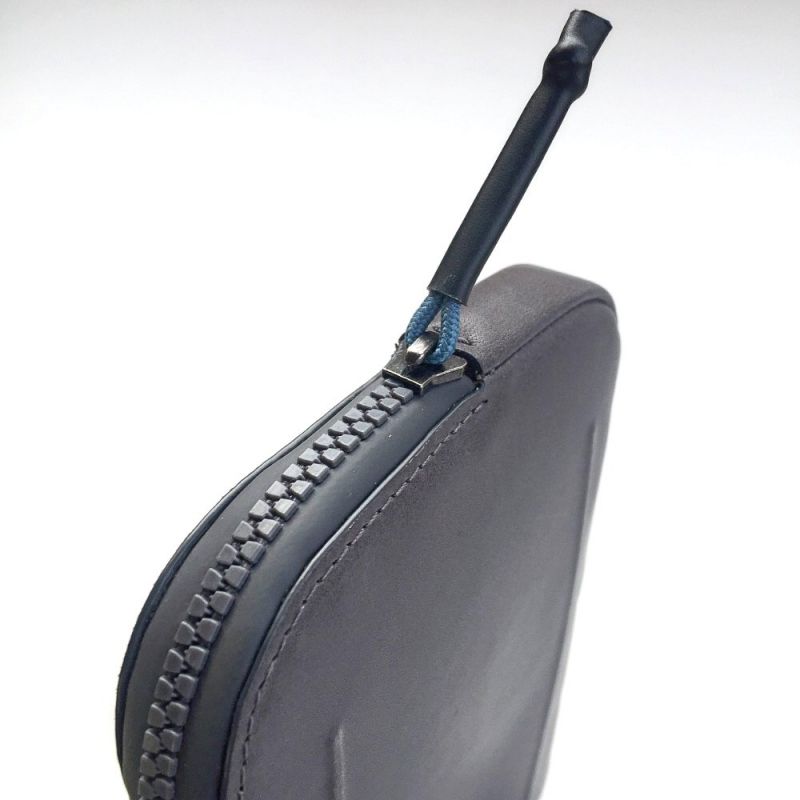 In addition to the zipper, the Essentials Pocket includes a fairly unique zipper pull that consists of a short length of cord with a knotted end and a length of shrink-tubing over the cord.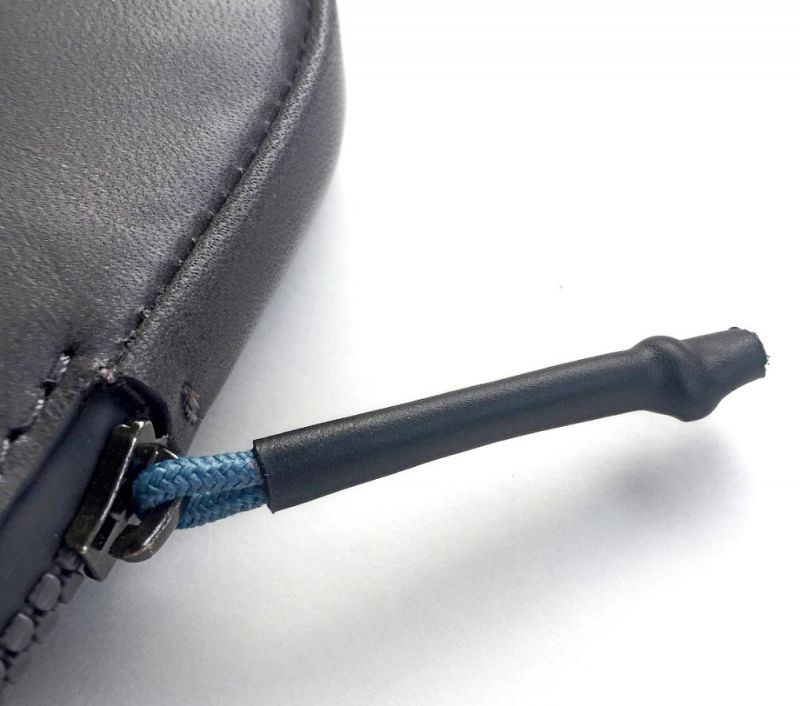 The cord's knotted end and the shrink tubing combine to make this zipper pull easier to grip than a standard zipper pull, even while wearing gloves or with wet hands.  The first time I encountered a zipper pull like this was when I purchased my GORUCK GR1 rucksack several years ago.  Note also the color of the zipper pull's cord, which is color-coordinated with the Essentials Pocket's interior; more on this below.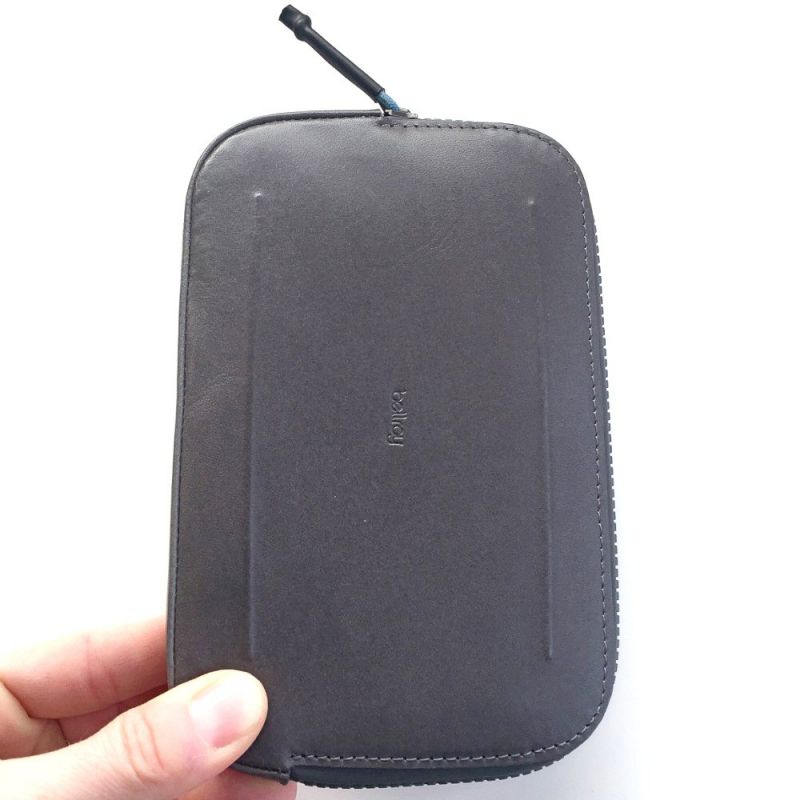 One of the aspects of the All-Conditions Pocket's design that is quite obvious immediately is its size.  I'm not going to lie to you—it's big.  However, there is a caveat to this.  While the Essentials Pocket looks and largely acts as a wallet, I suspect that there is a good reason that Bellroy dubbed this a "pocket" and not a "wallet," and that is because it is much more than a wallet, as will be described in detail below.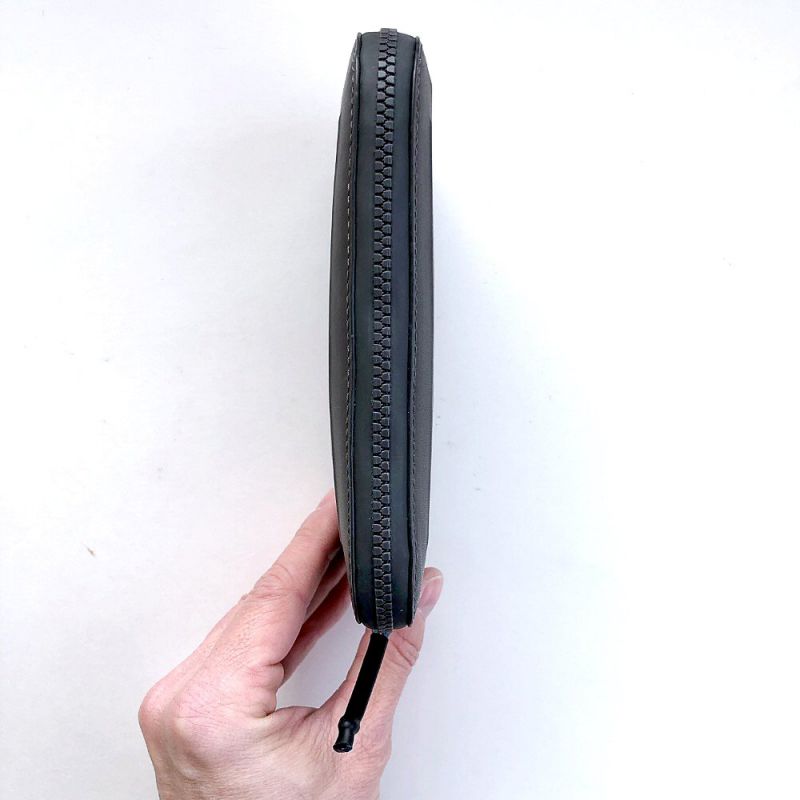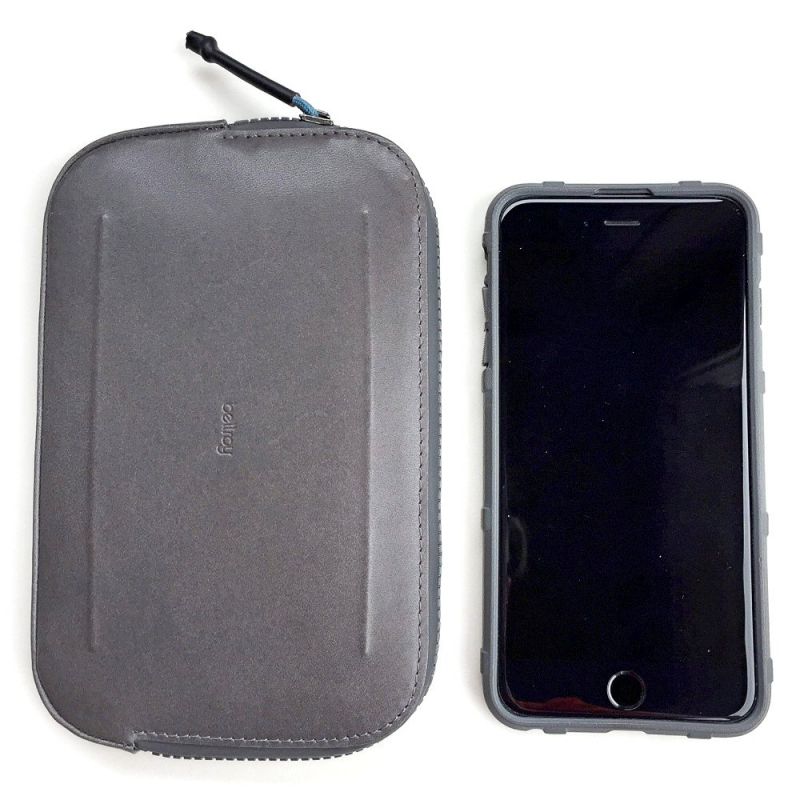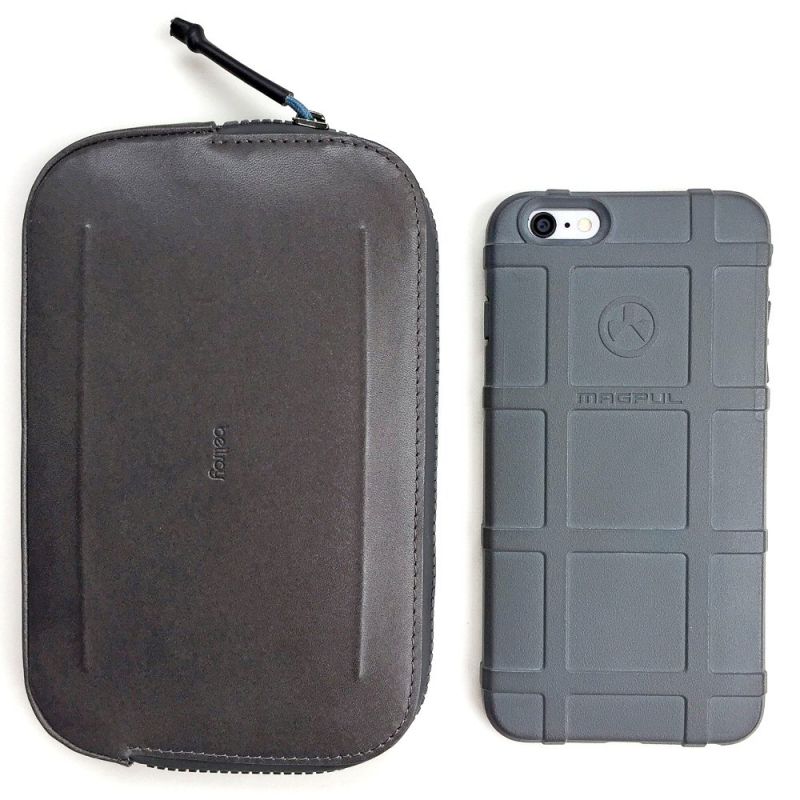 To give a further idea of the Essentials Pocket's size, in the photos above I've placed my iPhone 6 Plus in my Magpul Field Case to the right of it.  As you can see from the photos, the Essentials Pocket's footprint is large enough to accommodate the iPhone within the case.  However, is the Essentials Pocket actually wide enough for this?  Read on and find out.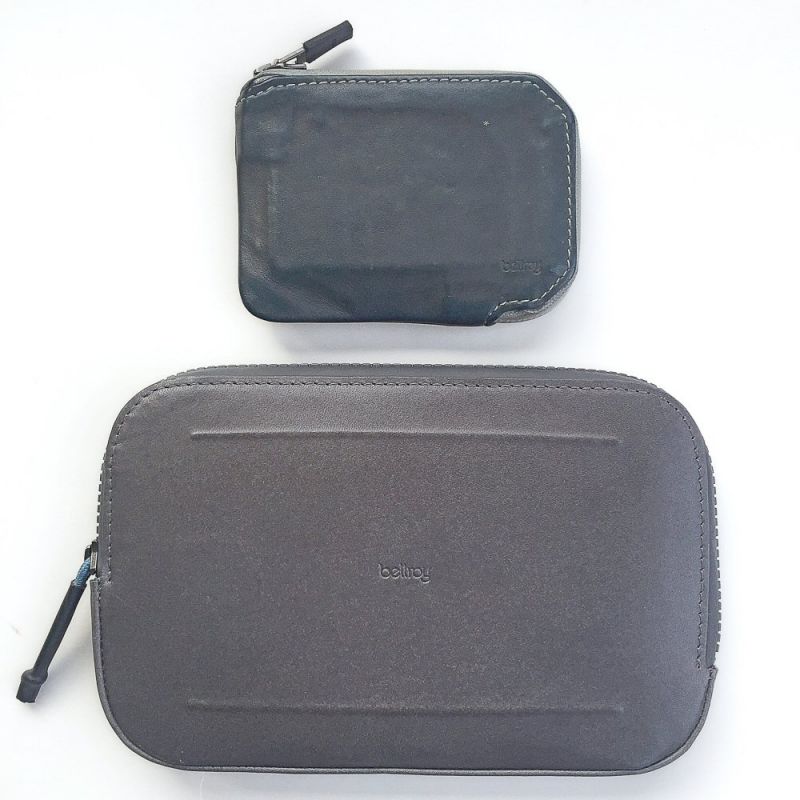 In the photo above, I've placed my Bellroy Elements Pocket Wallet above the Essentials Pocket.  The Elements Pocket Wallet seems to be made from the same or similar material to the Essentials Pocket, and that's a good sign because the Elements Pocket Wallet has held up very well over time and near continuous use.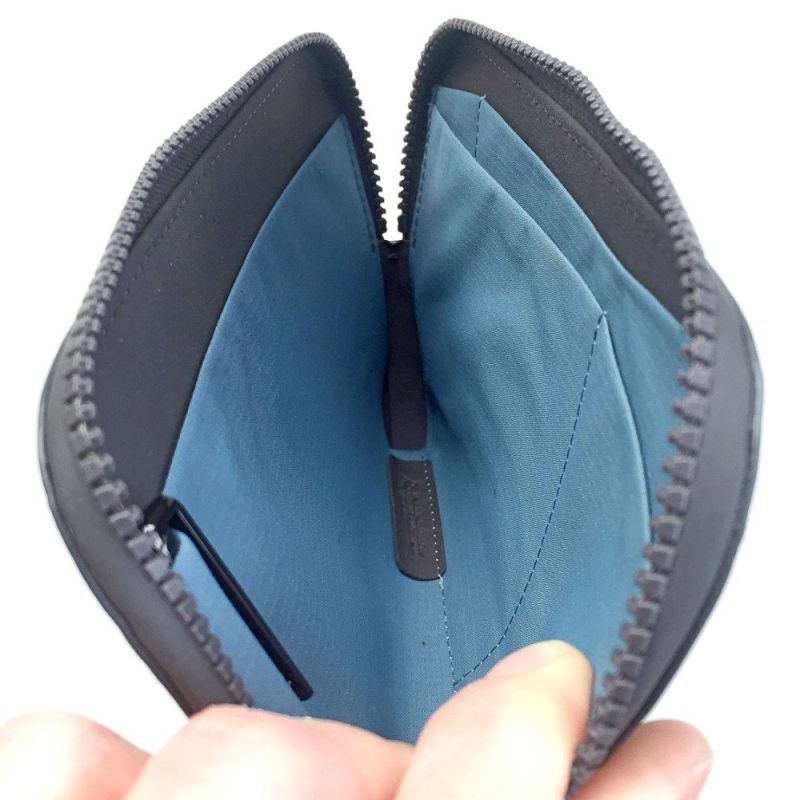 Next, let's take a look inside.  The interior is made from a different fabric than the exterior, and in a sort of medium blue color.  Also, lots of space in here.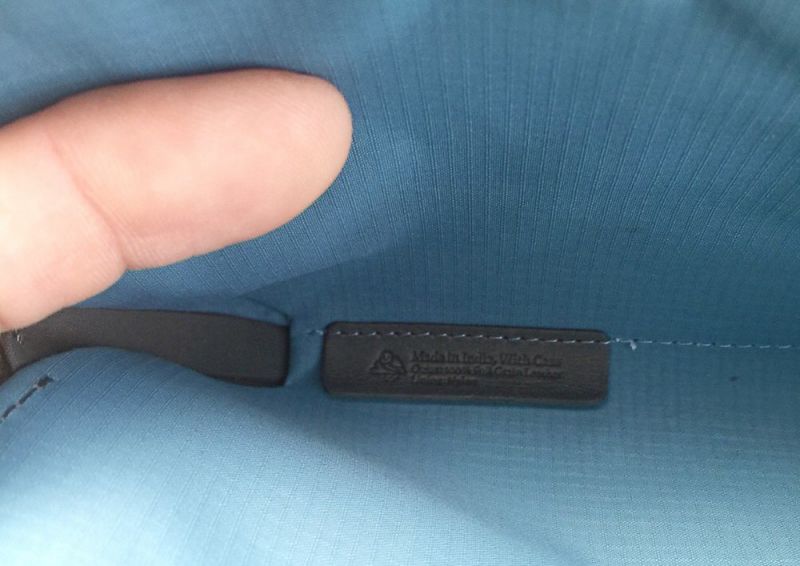 The bottom of the interior has a small leather tag stitched into it that reads "Made in India with Care.  Outer: 100% Full-Grain Leather.  Inner: Nylon."  This interior nylon fabric is more cloth-like than the exterior water-resistant leather.  It is medium blue color (color-coordinated with the zipper pull cord), which helps see items down in the pockets in lower-visibility situations and also has a very faint grid pattern.  The material is fairly heavy and flexible (but not stretchy), feels durable, and is carefully stitched.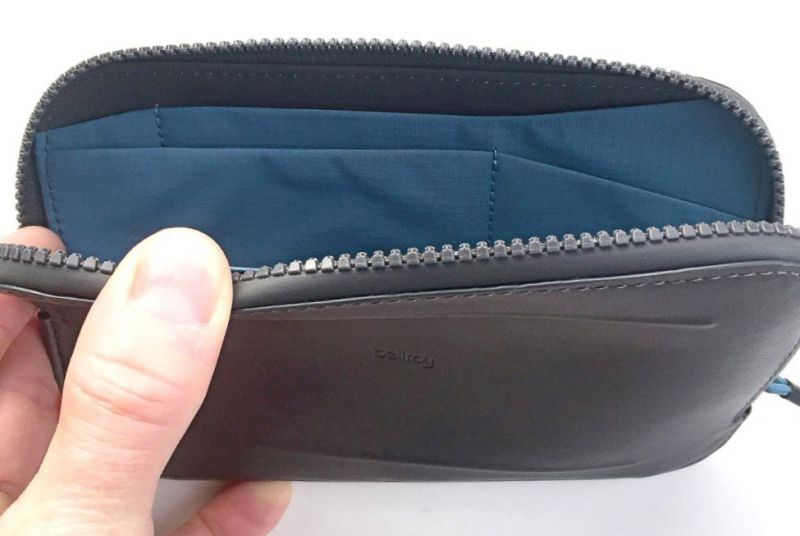 One side of the interior has two layers of pockets.  The outermost layer is a bit odd—it has a deep, narrow pocket on the left end, and along the remainder is a long, shallow pocket that runs rest of the entire length of the Essentials Pocket.  The innermost layer has two deep pockets, one that is about 2/3 the length of the Essentials Pocket, the other's length is the remaining 1/3 of the overall length of the Essentials Pocket.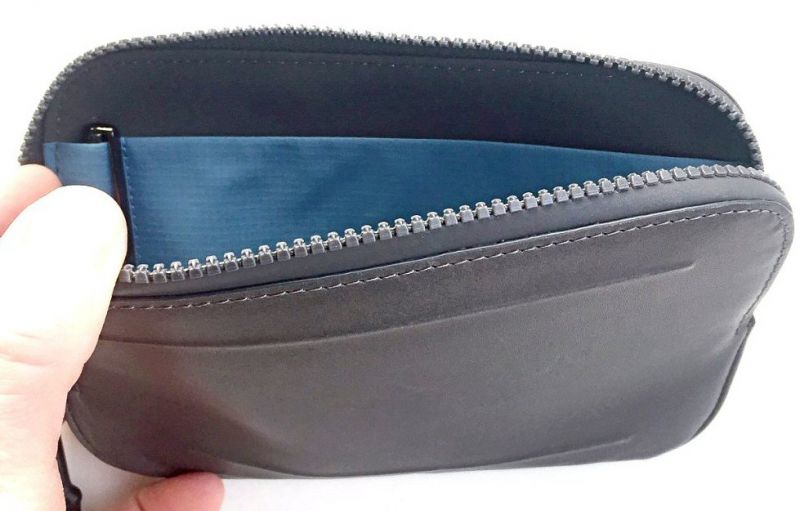 The other side of the interior has a small, narrow pocket on the left end that holds the included Micro travel pen.  The other pocket is a very large pocket that can hold a passport or a notebook.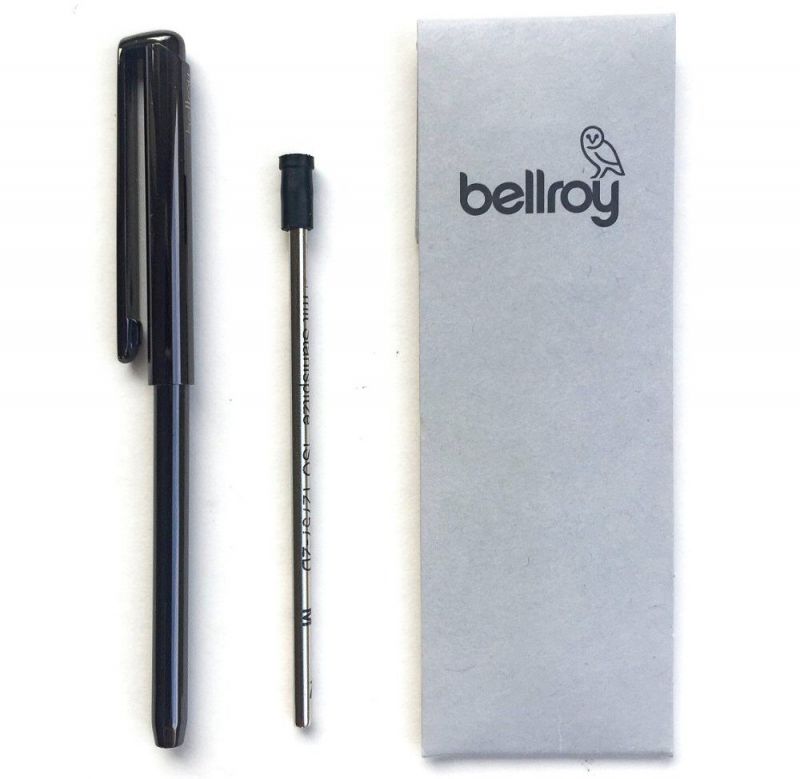 Let's take a look at the Micro travel pen.  As mentioned above, Bellroy has also included a refill in a small envelope.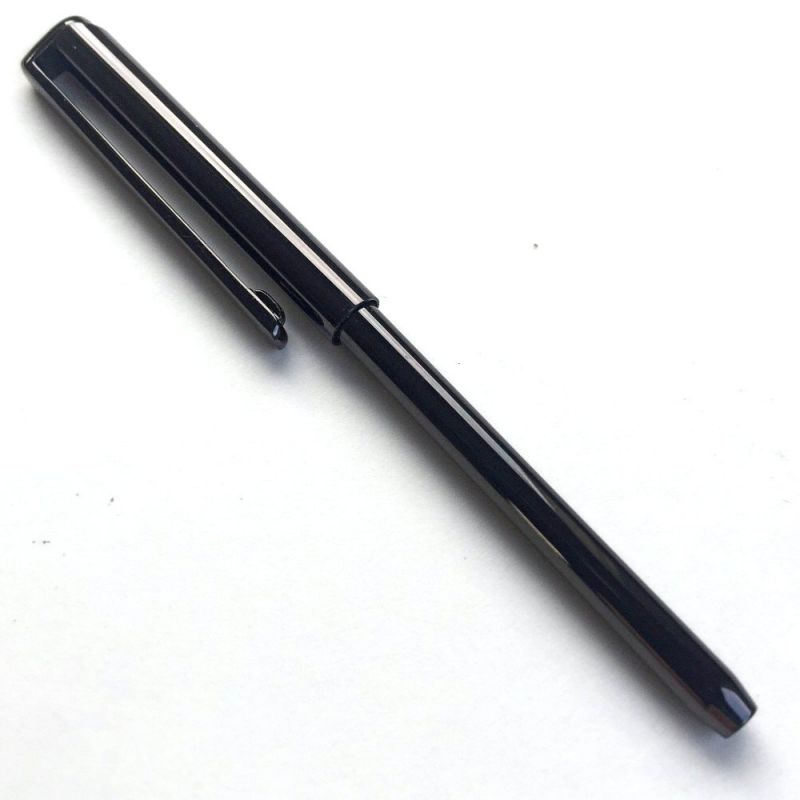 The Micro travel pen has a sort of black chrome color and includes a clip to secure it into the Essentials Pocket.  It is quite slim and small, which helps it fit into the Essentials Pocket and not take up much space.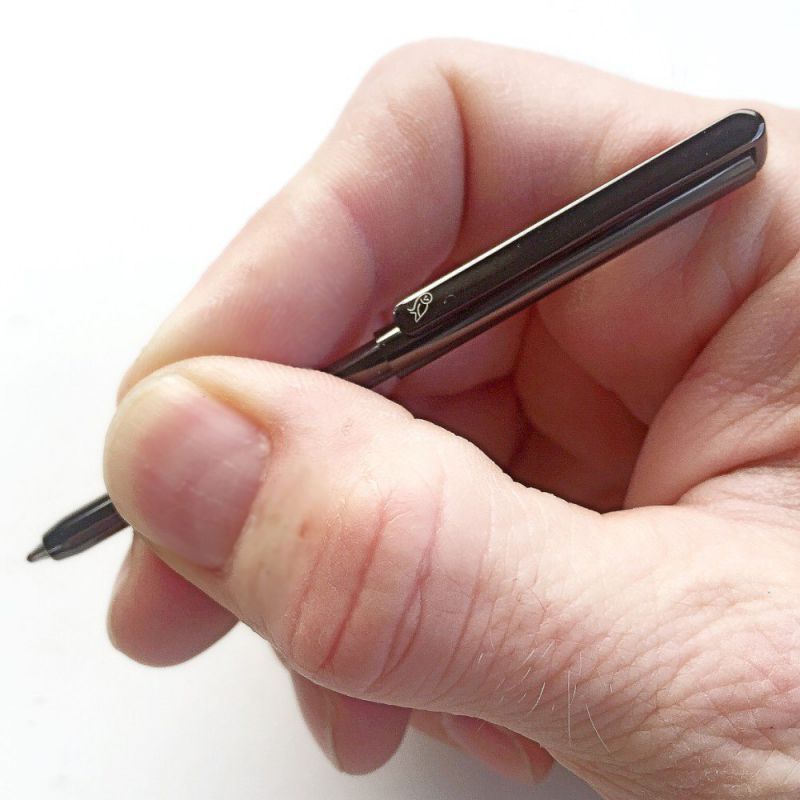 The Micro travel pen is operated by twisting the cap which extended the ink cartridge.  There is also a very small Bellroy owl logo on the clip.  It does feel a bit flimsy and because of its small size, the Micro travel pen is not particularly comfortable to write with, but for short-term jotting of notes or for filling out those landing cards, it works just fine.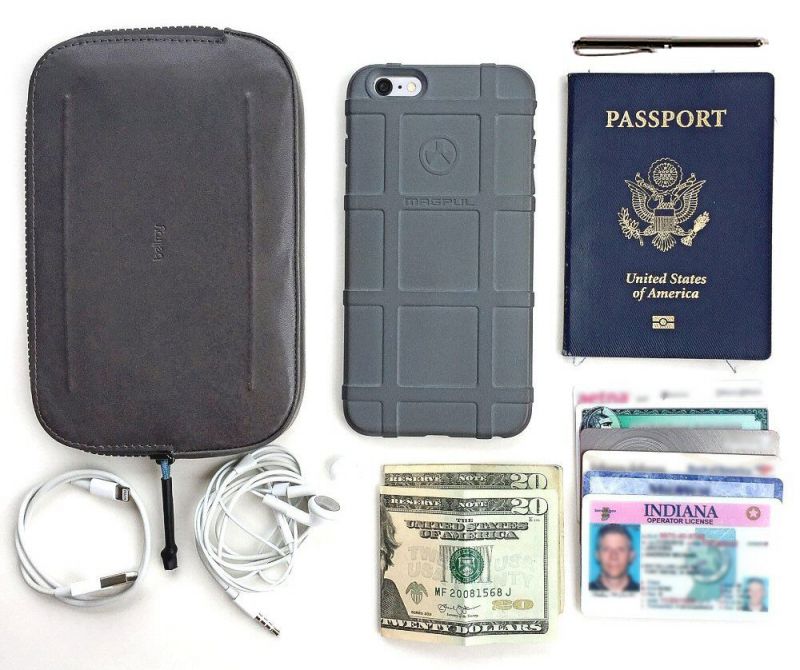 Next, let's load up the Essentials Pocket and see how it does.  To simulate what I might be carrying during an international trip, I loaded it up with my iPhone 6 Plus inside the Magpul Field Case, my passport, a short Apple Lightning cable, a set of iPhone earbuds, a few cash bills, and 6 cards.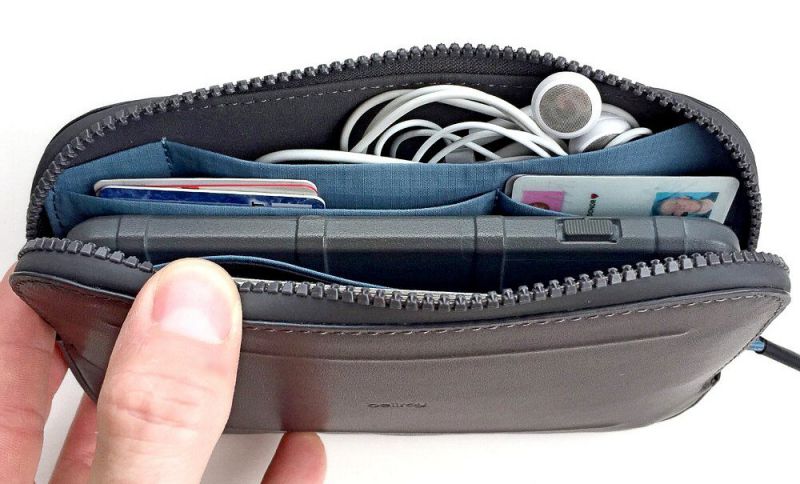 The cards and cash fit in the innermost layer of pockets with some room to spare.  I coiled the Lightning cable and the earbuds and placed them into the long, shallow, outermost pocket—not much room to spare in this one.  I also placed the iPhone 6 Plus in Magpul Field Case into the main open space and it did fit—so far.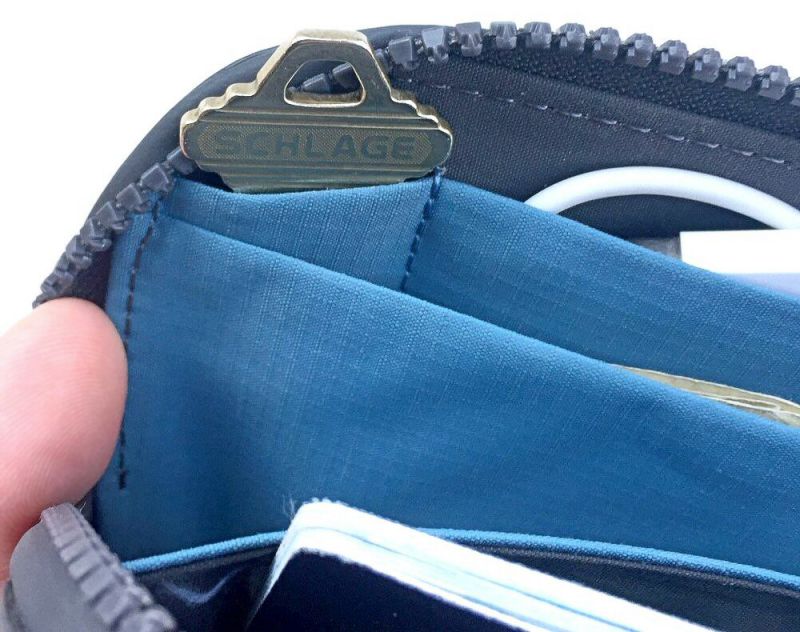 Quick side note on that deepish, rather narrow pocket on the left side.  I thought that it might be sized for a key, so I tried to place one of my keys in it.  As seen in the image above, it really didn't fit, or at least a key of this shape wouldn't fit or not without some fairly serious gyrations.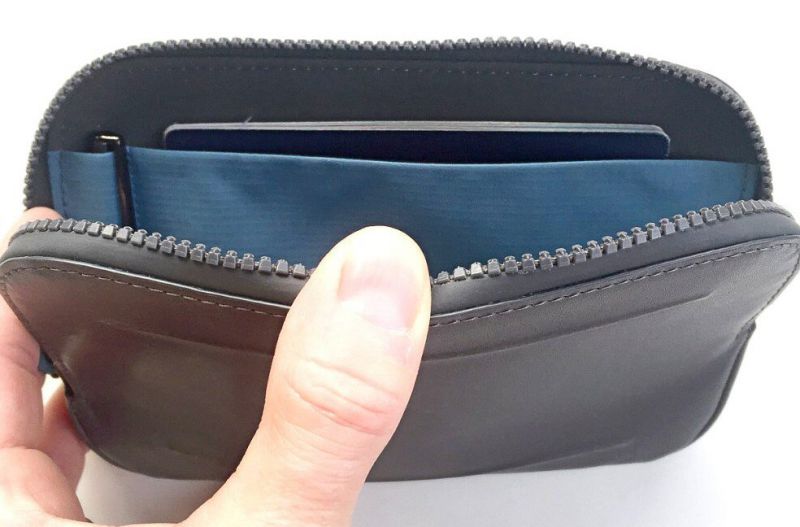 Next, let's look at the pockets on the other side of the interior.  Starting on the left, the Micro travel pen sits securely in its little pocket.  To the left of this, I've placed my passport, which fits quite well with room to spare.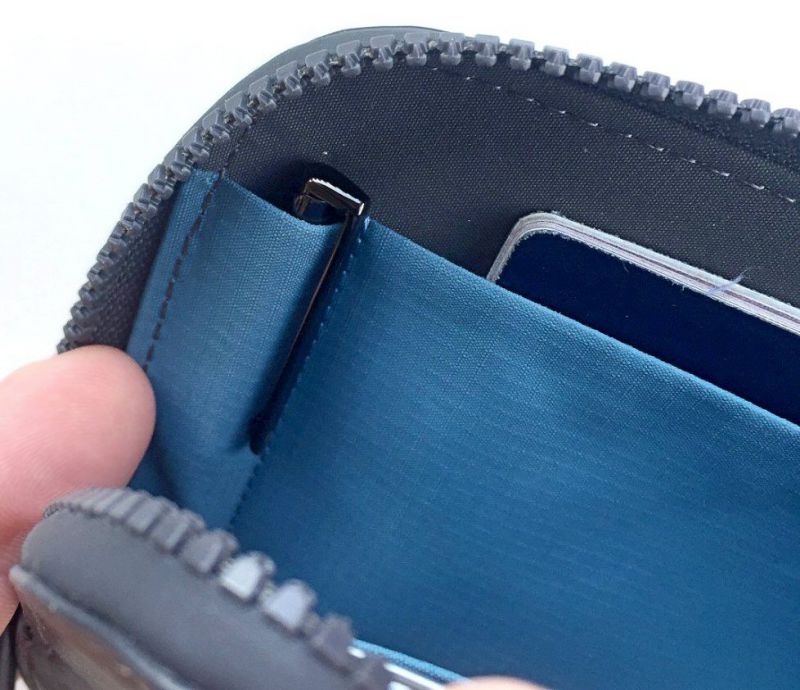 Above, a closeup of the Micro travel pen in its special pocket right next to my passport.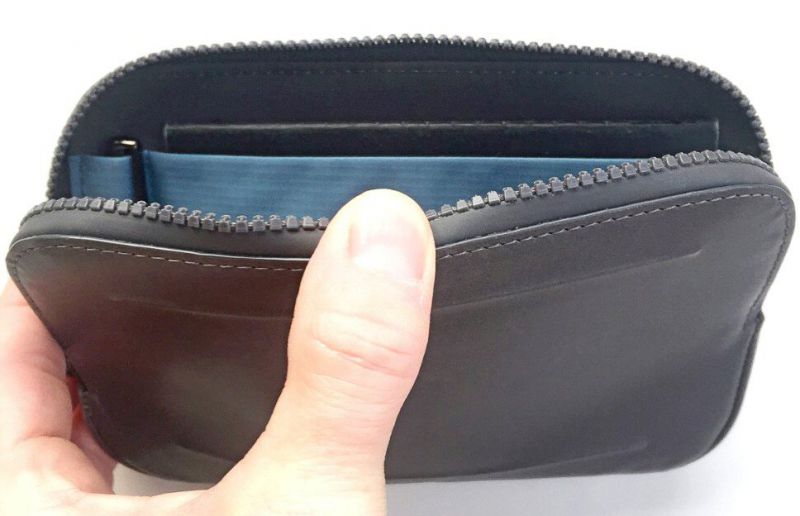 Just for fun, I slid a Moleskine Pocket Cahier Journal into the passport pocket.  The Pocket Cahier Journal is 3.5in x 5.5in, which is slightly larger than a US passport, and it also fits in this pocket just fun.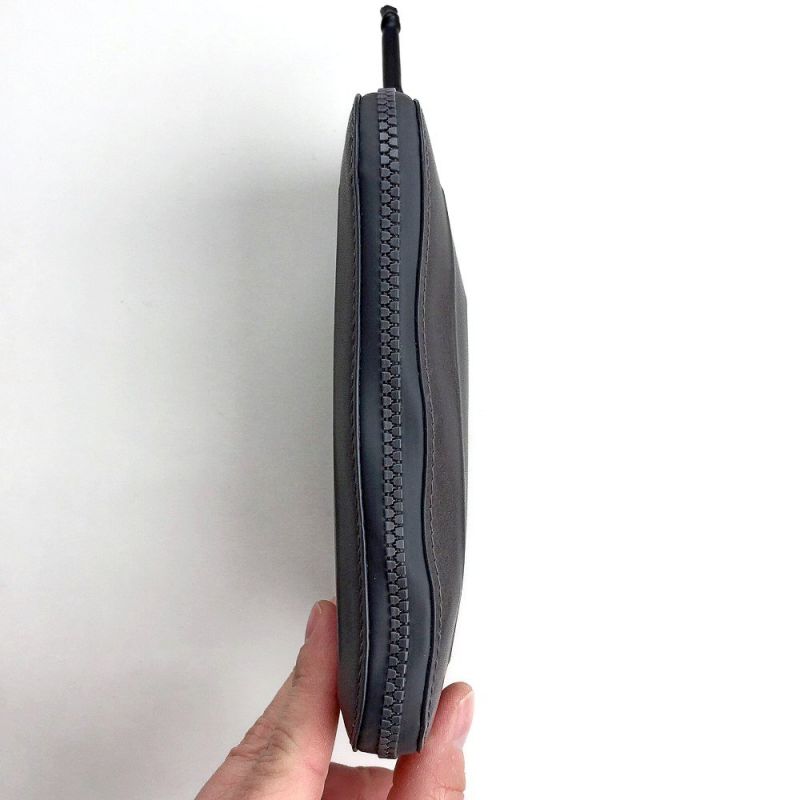 In the photo above, all of the gear above (with the exception of the key and the Moleskine Pocket Cahier Journal) has been loaded into the Essentials Pocket and zipped it up.  As seen, it's a bit crowded, but it does still zip closed.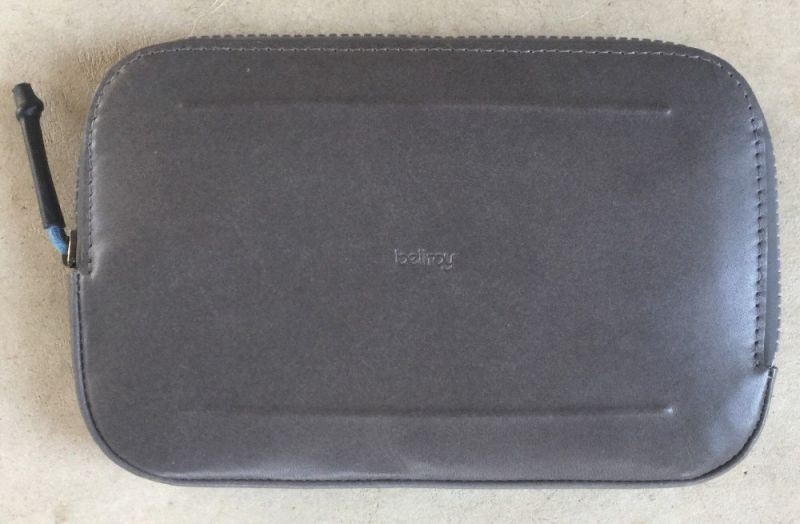 One more thing about the All-Conditions Essentials Pocket: it's effectively too big to fit into any pants pocket—it will stick quite far out of a back pocket and has almost no hope of fitting into a front pocket—unless you are wearing pants with side cargo pockets, which will probably fit fine.  However, keep in mind that, as discussed above, the All-Conditions Essentials Pocket is really not a wallet, but an essentials organizer, so it stands to reason that it probably won't fit well into most typical wallet-carrying places.  It fits fine when tossed into a bag or backpack, however.
What I like
Looks cool
It holds a lot of items, including a passport or notebook and a Plus-size iPhone
Exterior material and zipper are durable and moisture-resistant
Zipper pull is easy to grip and pull
Lots of organization features inside
What needs to be improved
It's…big.  Too big to fit into most pants pockets, unless you are wearing cargo pants, but should fit fine in a jacket pocket or bag.  However, I can accept this, because, although the Essential Pocket looks like a wallet, it is really an organizer pouch.
Final thoughts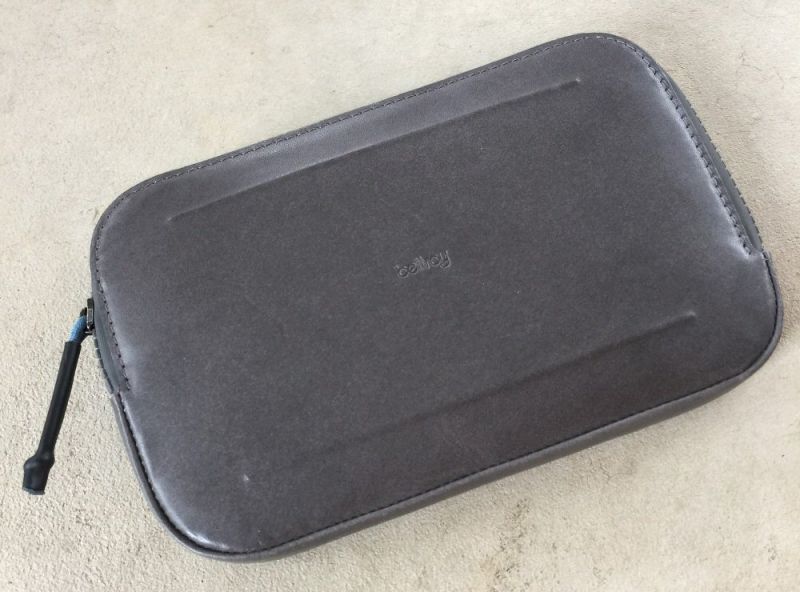 I've reviewed several Bellroy products here at The Gadgeteer, and I'd been intrigued by their All-Conditions line and especially the largish All-Conditions Essentials Pocket.  And, like the previous Bellroy wallets I have reviewed, the All-Conditions Essentials Pocket did not fail to impress.  It has impressive moisture resistance due to its exterior material and zipper, and internally it has multiple pockets that can be used to organize and carry several EDC-type items, including a passport and Plus-sized iPhone.  It's a large item, but it needs to be kept in mind that it's not actually a wallet, it is more of a rugged organizer pouch, and it probably won't fit into most pants pockets, but will probably fit fine in a jacket pocket or in a bag.  If you are in the market for a smart-looking, durable organizer pouch with Bellroy's reputation for the quality of materials and manufacturing, then the All-Conditions Essentials Pocket is worth a look.
Update 6/26/20
I continue to use the Bellroy All-Conditions Essentials Pocket, mainly for travel. It securely holds a handful of small, travel-essential items and when I get to my seat on a plane I can grab the All-Conditions Essential Pocket, shove my bag under the seat, and have my in-air items handy in the seat-pocket right in front of me.
Price: All-Conditions woven model is $89, All-Conditions leather models are $139 each
Where to buy: Visit Bellroy.com or Amazon to order
Source: The product sample for this review was provided by Bellroy.