We use affiliate links. If you buy something through the links on this page, we may earn a commission at no cost to you. Learn more.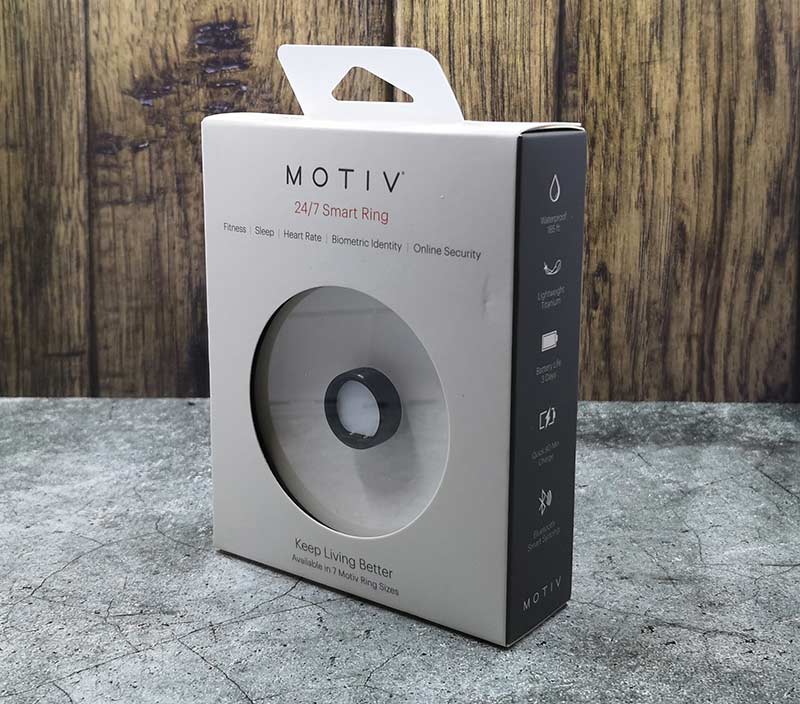 REVIEW – Over the years I've reviewed a LOT of fitness trackers. The vast majority of them have been trackers that clip to a belt or ones that you wear on your wrist like a watch. Only recently have we started to see fitness trackers that are small enough to fit on your finger like the ŌURA Ring that I reviewed over a year ago. I loved the idea of a finger wearable fitness tracker, but the original version of the  ŌURA Ring was just too large and uncomfortable for me to wear 24/7. Another smart ring fitness tracker that was on my gadget radar during that time was the Motiv Smart Ring but they ignored my requests to review one. Fast forward to a month ago when I was looking for gadgets to gift to myself for Christmas. The gifts that I ended up buying were an Apple MacBook Air, a 2018 11-inch iPad Pro, a DJI OSMO Pocket camera, and a Motiv Smart Ring. I ended up returning all of those gifts except for the Motiv Smart Ring, so I guess you can say that I like it. Let's take a closer look.
What is it?
The Motiv Smart Ring is a truly ring sized fitness tracker that you wear on your finger 24/7 to track your activity, steps, sleep, and heart rate.
What's in the box?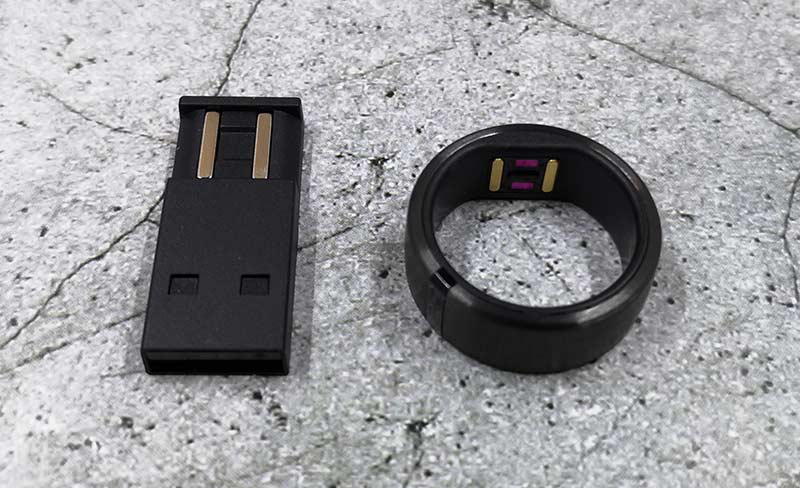 Motiv Smart Ring
USB magnetic charging dock
Design and features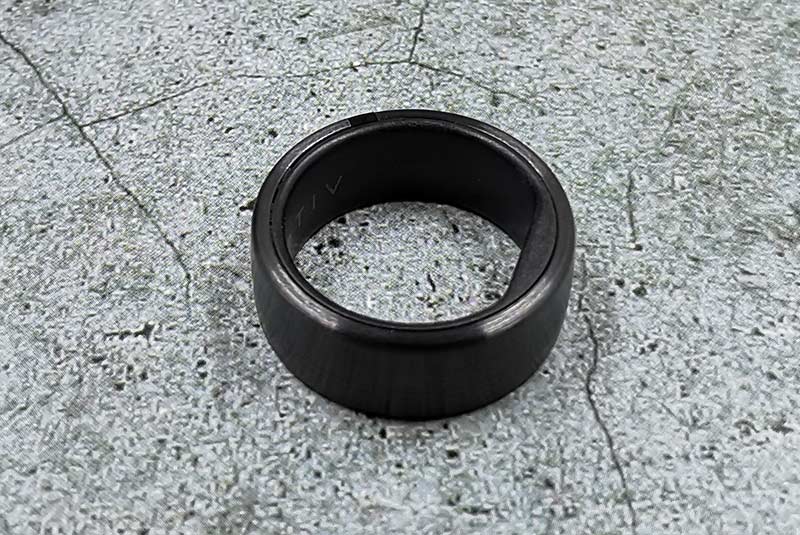 Anyone who sees you wearing this smart ring will have no idea that it's nothing other than a regular piece of jewelry as it takes a close look to see the electronics. First of all the ring has a titanium shell with a scratch resistant coating and is available in silver, rose gold, or black. I bought the black version that has a very subtle brushed matte finish.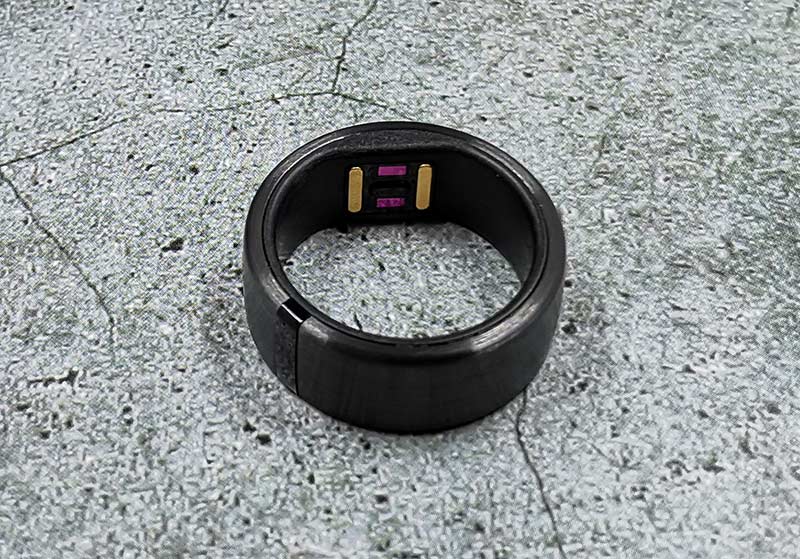 The ring is ultra comfortable because it's lightweight and there's nothing noticeable that presses against your finger when you're wearing it. You can see the flat part of the ring inside the medical grade plastic band which is where the steel and gold plated electronic contacts are located, but you don't really feel it while wearing the ring.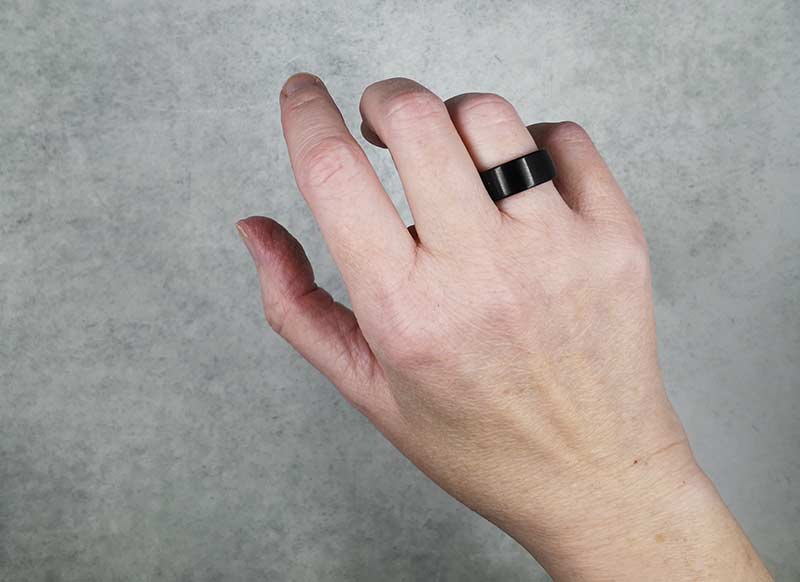 When you order a Motiv ring, you'll be sent a box of 7 plastic sizer rings that range from size 6 up to size 12. You're instructed to wear the best fitting ring for at least 24hrs before you submit your ring order. Not that anyone cares, but I ended up with size 7 for my ring finger on my right hand.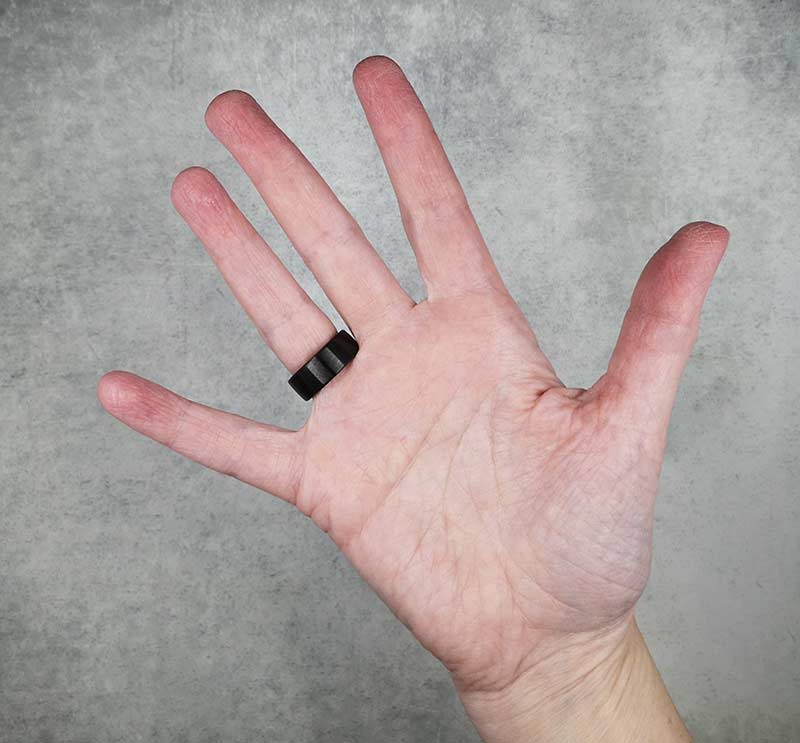 The actual working smart ring fit identical to the sizer ring, so my delivered Motiv ring fit perfectly which is what you'll want because you're able to wear this ring 24/7 because it's waterproof to 165 feet. That means you can swim with it, shower with it, workout with it, wash your hands with it, etc.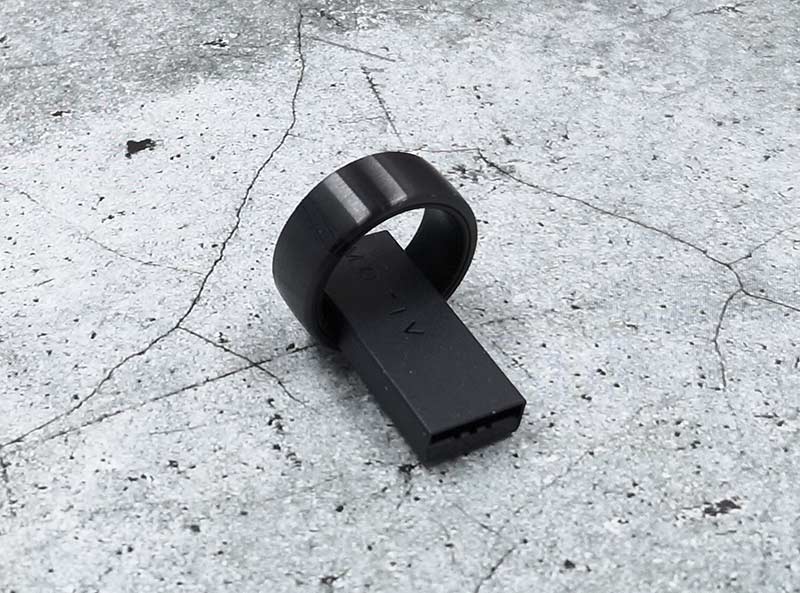 But before you can start using the ring, you'll need to charge it. Luckily, that's a simple and quick task. The ring comes with a magnetic charger that plugs into a USB port and quick charges the ring in about 90 minutes. You'll also be happy to know that the Motiv Smart Ring has a 3-day battery life so you won't have to charge it every day.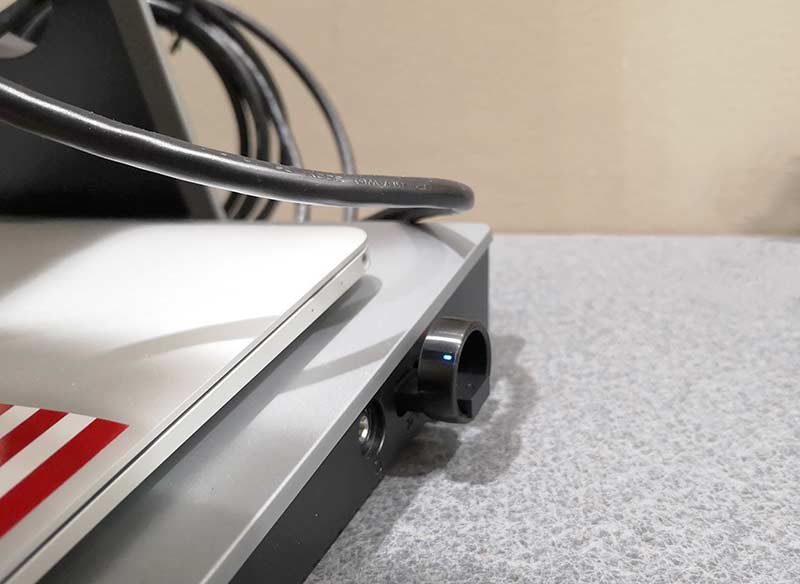 While the ring is charging, a small LED hidden in a strip on the ring will glow red while charging and will glow green when fully charged. Once in a while, you'll also notice that the LED on the ring is flashing blue which means it's syncing data with your phone. Note, that you don't have to have your phone always with you to make sure you don't lose your fitness data. The Motiv Ring has enough onboard memory to keep your stats safe for up to 3 days.
Motiv app
The Motiv app is available for iOS and Android. I have been using the Android version of the app with my Pixel 2 XL. The app's interface is easy to understand and navigate. The dashboard screen shows your accumulated stats for the day which include how many hours you slept the night before, your active minutes for the day, steps for the day, miles traveled, calories burned, last heart rate, and a scrolling list of your activities.
The settings screen shows the current battery status and lets you customize your profile info and link to your Google Fit account.
The Motiv Ring doesn't take a heart rate reading every minute like the VivaLNK Vital Scout continuous wellness monitor wearable patch that I reviewed recently, but to help save battery life, it senses when you are active.
We optimized our system to sample heart rate when it matters most, in order to maximize battery life. When we sense step activity, the heart rate sensor activates. For all those times you're not generating steps, we check your heart rate every few minutes and if your heart rate is elevated, the Motiv Ring will engage the sensor to track continuously those times you are active.
As for step tracking, I found to be within 100 or so steps of the Google Fit app on my phone.
What I like
Comfortable to wear 24/7
3-day battery life and quick charging
What needs to be improved
Better heart rate graphs with the time of day so you can see when the rates were elevated or lowest
Add recovery rate
Better sleep tracking graphs that show the times during the night when you were awake, etc
I'd like to see contactless payment features added
Final thoughts
Right now, the Motiv Ring is my favorite fitness tracking wearable. When I put it on I forget about it because it is comfortable to wear all day and while sleeping. I only take it off when I put lotion on my hands or when I need to charge it. The only downside to the Motiv Ring is the price, but I'm hoping they add more features to it to justify the expense. They already have a 2-step security feature for iOS and you can request access to the open beta for Android if you want to test it – this is something I haven't done yet.
There has also been talk of a contactless payment feature later this year that uses your heart rate to identify you. That's a feature I'd love to have so I don't have to take my phone out of my pocket when buying something. Unfortunately, it won't come to existing rings and will require that I buy a new one. But even as it is now, I'm still a fan of this ring. So much so that I bought one for myself.
Updates 03/12/19
I've been wearing this ring 24/7 since I got it in December and I still consider it the best fitness tracker I've ever had. It's comfortable to wear and I don't have to worry about getting it wet. I have one tiny scratch on it that you can barely see so I'm not even sure if it is a scratch or if it's been there since I got it. Either way, I don't care. I love it.
Updates 04/08/19
In the last few weeks I've started to notice that most of the time when I go into the Motiv app to check my stats, the ring is not connected and the stats haven't synced. If I try to manually sync it by rotating the ring on my finger, it doesn't always work and I'll have to force quit the app and relaunch it to get it to sync the past data. The app has had several updates so I don't know if that's the problem or it's a problem with my ring, but at this point I'm starting to get annoyed with it.
Price: $199.99
Where to buy: Amazon
Source: The sample for this review was purchased with my own funds. You can read more about it at mymotiv.com