We use affiliate links. If you buy something through the links on this page, we may earn a commission at no cost to you. Learn more.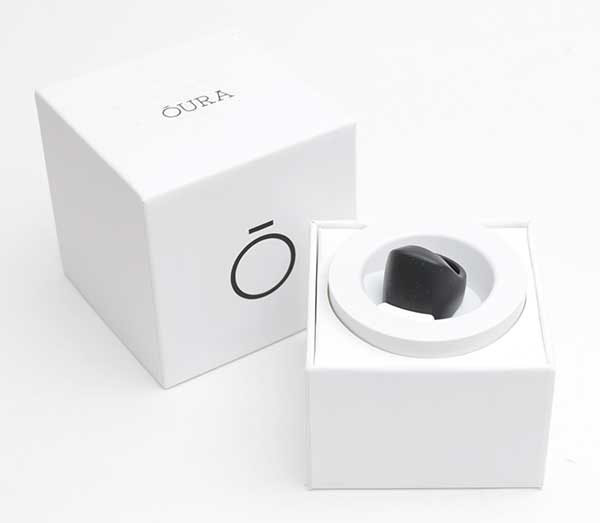 The majority of fitness trackers on the market have been designed to be worn on the wrist like a watch or worn at the waist clipped to a belt. But today, I am going to show you the ŌURA fitness tracker that is worn on your finger like a ring. 
What is it?
ŌURA is a ring with sensors inside the band that tracks activity like steps, sleep, respirations, and heart rate info.
What's in the box?

ŌURA ring
Charging dock
micro USB cable
Quick start guide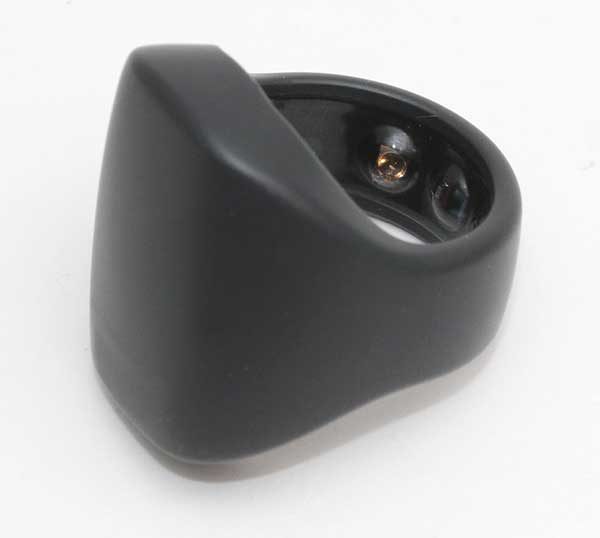 The ŌURA ring is made of scratch resistant ceramic zirconia that is 100% non-allergenic. While it might look like a plastic ring in the images, it feels very hard and smooth like something made of ceramic. It's also waterproof to 50m /164 ft, so you can wear it while showering and swimming.
The ring is available in stealth black like the one sent to me, arctic white, and mirror black.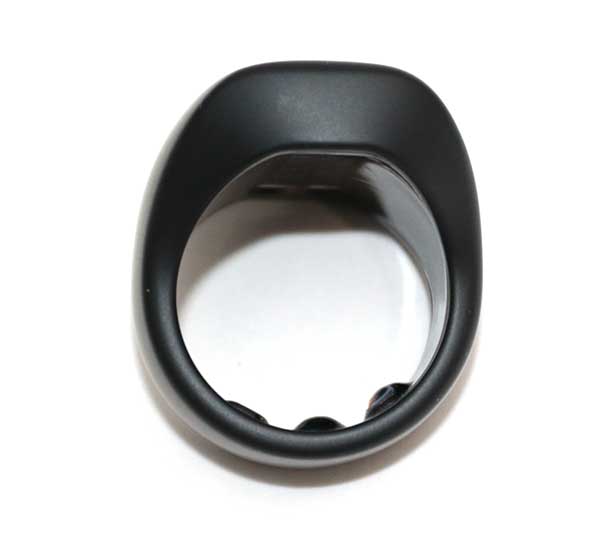 The shape and size of the ring remind me of a guy's high school class ring. The ring does have some weight to it, but not enough to be bothersome.
As you will notice in the image above, the part of the ring that touches the underside of your finger, has three raised sensors. According to ŌURA, these sensors:
Senses the arteries in your finger, just like the hospital pulse oximeter
Captures 250 samples per second for a constant flow of reliable data
Detects blood volume pulse, body temperature and activity level with advanced sensors
Determines sleep stages with precision comparable to clinical sleep labs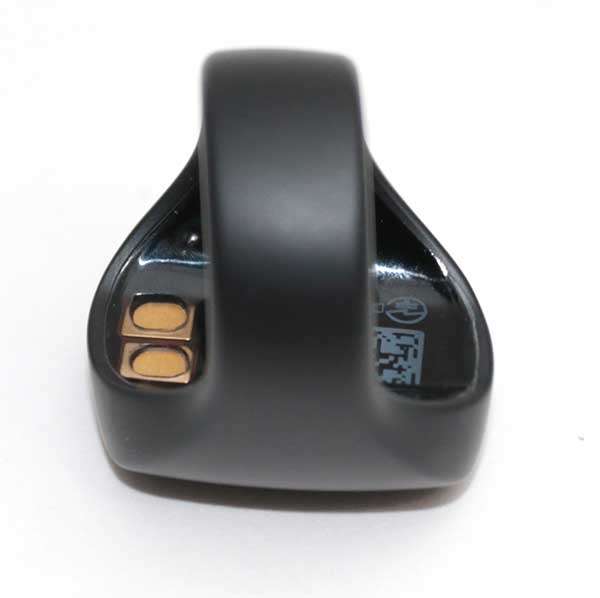 There are also two flat contacts inside of the top of the ring that are used to charge the ring's internal battery.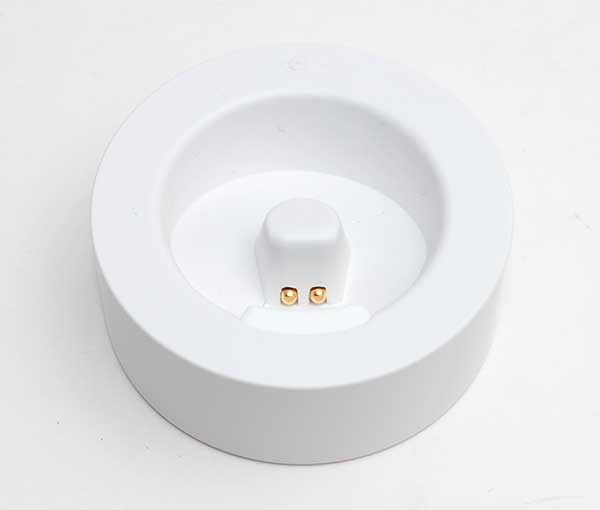 Included with the ring is a small white charging dock that has two spring loaded electrical contacts.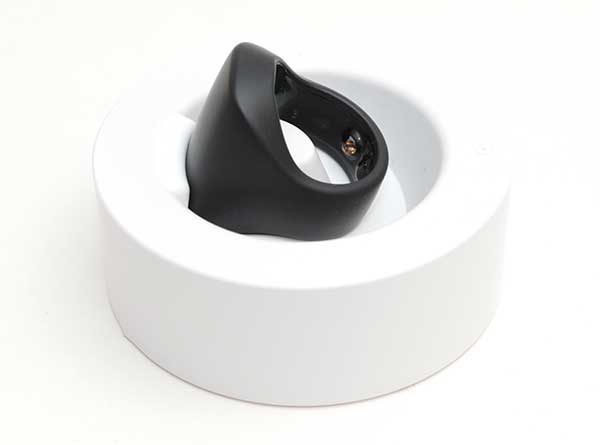 As you probably have already guessed, the ring is pressed down on the post in the center of the dock. When it's seated properly, a yellow LED on the dock will pulse to let you know that the ring is charging. When charging is done, the LED remains steady.
How do you know what size ŌURA Ring to buy?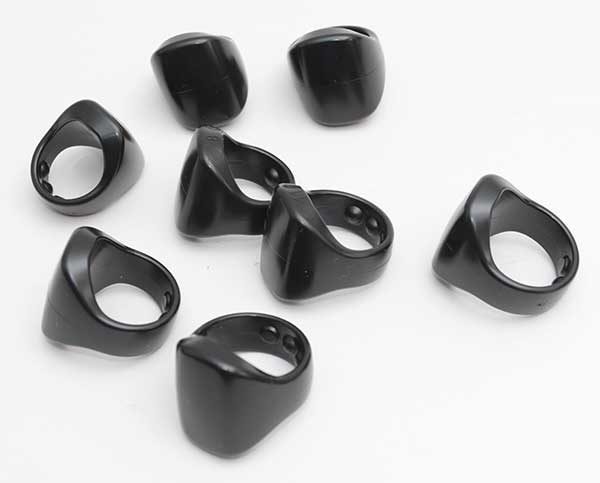 With most fitness tracking devices, you don't need to know your exact wrist size to order one. But with ŌURA, even if you do know your ring size, you might not want to buy the ŌURA in that size due to the sensors that stick up from the bottom of the band.
How do you know which size to order? ŌURA will send you a free ring sizing kit which includes a set of dummy rings of the sizes that they offer. They suggest that you wear the size you think you want to buy for 24hrs to make sure it's the right size for you. Everyone's hands and fingers can swell during the day or night and you don't want to buy an ŌURA ring that is so large that the sensors don't make good contact with your finger or too small that the ring gets stuck on your finger.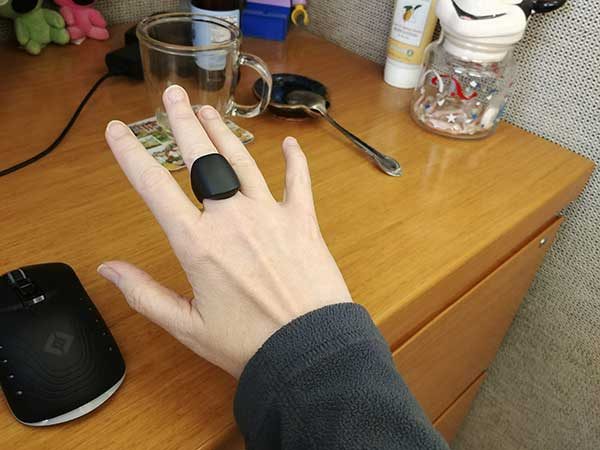 The only ring I wear is a silver wedding band. The ŌURA ring is definitely on the large side for a ring that I would want to wear 24 hours a day, 7 days a week.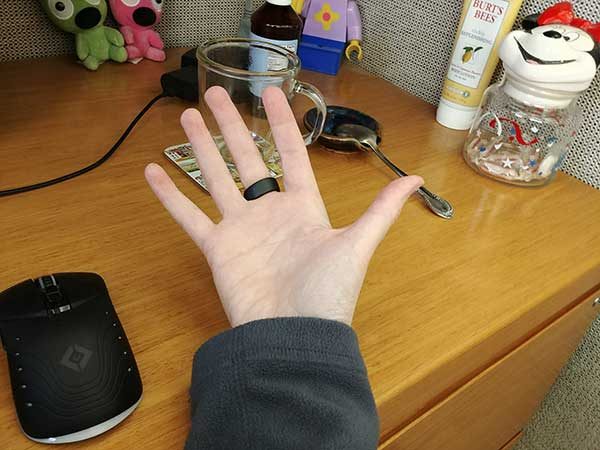 It took me a little while to get used to wearing the ŌURA because the band is wider than what I'm used to. But if you already like to wear larger rings, it probably won't be a problem for you.
If I'm going to wear a fitness tracking device, I'd rather it be on my finger than my wrist. I can understand that this is a personal preference, but the ŌURA ring felt less in the way of my everyday activities than wrist worn trackers which tend to rub my wrist when I'm typing which is what I do all day long.
It's also less annoying to wear at night compared to a wrist worn tracker for sleep tracking.
The only time I took off the ŌURA ring was when I was working out on a TotalGym because the skin on my finger would get pinched between the ring's band and the TotalGym handle.  If you don't know what a TotalGym is, it's a cable style exercise machine that has handles that you pull to do various exercises.
Tracking your stats with the ŌURA ring
First of all, what stats can ŌURA track?
During the day when you're awake, the ring tracks the timing and intensity of your daily activity (and inactivity) and at night while you sleep, it tracks your pulse waveform, heart rate dynamics, body temperature, and movement to identify the different stages of your sleep.
You can read about the accuracy and how it works here: https://ouraring.com/the-science/
Since the ring does not have any type of display to show you how you're progressing towards your goals, you have to install the iOS or Android ŌURA app on your mobile device. The ring uses Bluetooth to sync the data with your phone or tablet.
The app has an easy to read interface that is arranged into a dashboard, sleep, activity, and readiness screens.
The activity tracking screen shows info like the number of steps you walked, distance traveled, active time, and how long you were inactive each day. All of this data is used to determine your daily activity score. You can use this information to improve your health by consciously getting up and moving more.
The readiness tracking screen uses info about your sleep from the night before, your resting heart rate, body temperature, and more to create a score that lets you know if your body is ready for your next epic workout or if you should take a nap instead.
The sleep tracking data captured by the ŌURA ring provides a lot of good info on how restful your sleep is (or isn't) by showing how long you were in each sleep level, how long you were awake each night and your resting heart rate. Just like with activity, ŌURA gives each night a sleep score.
A dashboard view shows your overall scores on one screen.
The app is pretty good, but it is missing one obvious feature, which is a live view of your stats. Although the ring tracks your heart rate, your body temp, and respiratory rate, you can't check to see your current reading for any of those stats.
There's also no way that I've found to export the data, but it does sync with Apple Health.
Battery life
Since the ring is small and it's collecting data 24/7, it shouldn't be a surprise that you'll need to charge the ŌURA ring more often than other wearable trackers. During my review period, I was charging it every 2-3 days. The good news is that the ring charges pretty quickly, so you can put it on the charger when you get home from work and it will be ready to wear and track again in about an hour.
Final thoughts
There are 100's of fitness trackers on the market, but I've only seen two fitness trackers that are rings and the ŌURA ring is one of them. Maybe that's why fitness tracker rings are so expensive. That's the biggest issue that I have with the ŌURA… the price. Most people don't have an extra $299 – $499 to spend on a wearable fitness tracker. If you don't mind the price, this is a really cool activity tracker and makes me hope that it will spark a trend for more smaller wearables like this one.
Source: The sample for this review was provided by ŌURA. Please visit their site for more info and Amazon to order.

Product Information
Price:
$299 – $499
Manufacturer:
ŌURA
Pros:

Truly wearable
Waterproof
Easy to use

Cons:

Expensive
No live view of heart rate, body temp, respiration rate
Large ring for smaller hands
No display on the ring