We use affiliate links. If you buy something through the links on this page, we may earn a commission at no cost to you. Learn more.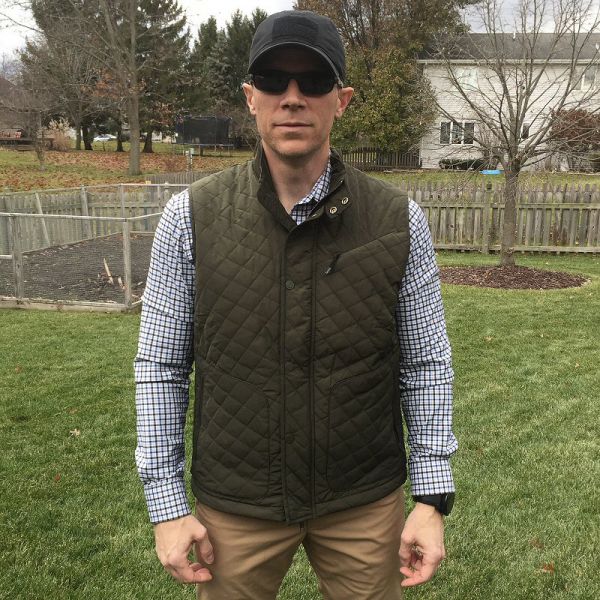 REVIEW – I'm a big fan of Bluffworks.  Several of their clothing items have become part of my office and especially travel staples.  For example, their dress shirts and pants are super comfortable, have just the right amount of stretch, and are nearly impossible to wrinkle, and the same goes for their jacket and slacks.  When I found out that Bluffworks was releasing a vest and that I might have a chance to try one, I was very excited; besides my respect for Bluffworks' existing clothing, I am also a big fan of vests because if their versatility.  So how did I like the Bluffworks Horizon Quilted Vest?  Let's find out!  Gadget on!
What is it?
The Bluffworks Horizon Quilted Vest is a quilted, lightweight travel vest that has seven (7) pockets to carry your gear and can be dressed up or down depending on your other wardrobe choices or needs.
Specs
Available colors: Olive Green (reviewed here) and Dark Sapphire
Available sizes: XS, S, M, L, XL, XXL
100% technical, breathable, quick-dry polyester shell that's treated with a water-repellent finish.
100g PrimaLoft® synthetic insulation made of 60% post-consumer recycled material.
Lightweight travel vest with pockets; 3.95 oz. per yard.
Washing machine friendly. Line or tumble dry.
7 hidden pockets designed to protect your wallet, passport, keys, etc.
Durable, matte buttons that won't fall off or stand out.
Open armhole for greater range of movement.
Full zipper and double-snap stand collar for form and function.
What's in the package?
Bluffworks Horizon Quilted Vest
Design and features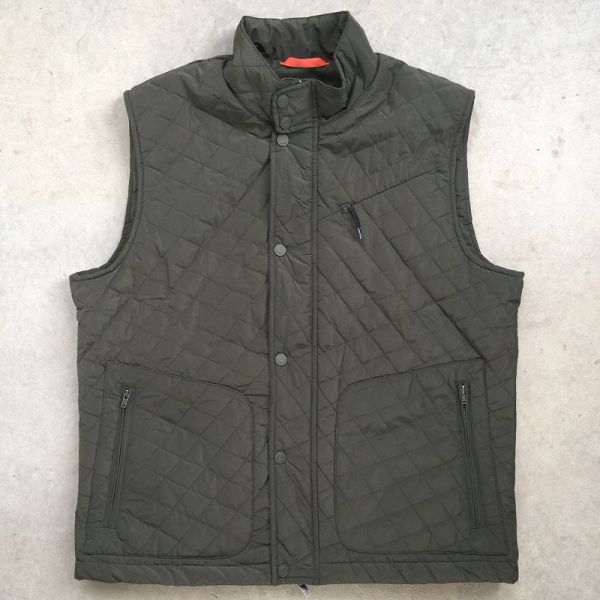 First impressions: The Bluffworks Horizon Quilted Vest looked and felt very high quality, like all of the other Bluffworks items I have tried or own.  This is the 'Olive Green' color, and I really like it—it could have an almost military look, or a hunting/forest look, or an urban on-the-go look, and the color is such that it can complement many other items.  The materials from which the Horizon Vest are made are also solid.  The "100% technical, breathable, quick-dry polyester shell that's treated with a water-repellant finish" actually has a really nice look and feel.  Although Bluffworks calls it "technical," it doesn't have the "sheen" that a lot of "technical" fabrics have. Also, the "100g PrimaLoft® synthetic insulation made of 60% post-consumer recycled material" keeps you toasty, but along with the shell is quite breathable and very compressible for packing.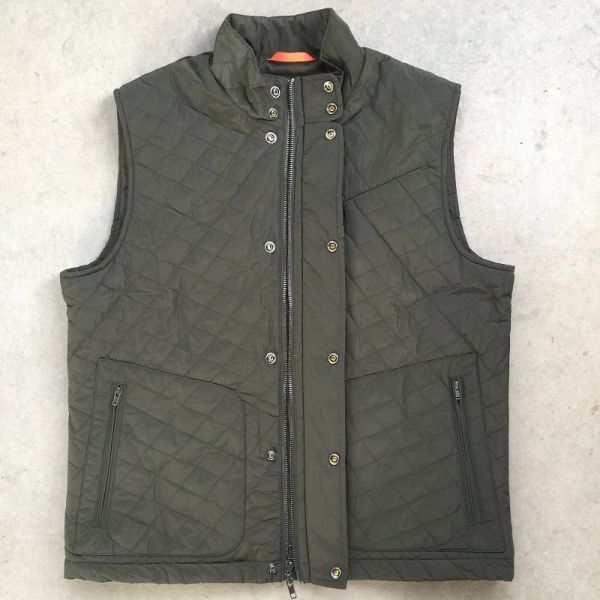 One of the first features I noticed was that the Horizon Vest has a zipper as well as a snap-down flap over the zipper, as seen in the image above.   I found that this "snap flap" (see what I did there?) can serve two purposes, both related to the wearer's temperature.  One is to keep cold air from penetrating the zipper and inside the vest, keeping you warmer.  The other is a way to close the vest without having to use the zipper, which could be useful to allow air inside the vest to keep you ventilated and cooler.  I will say the one downside to the snaps is that they rattle around a lot if you don't have them snapped, which can be a bit annoying.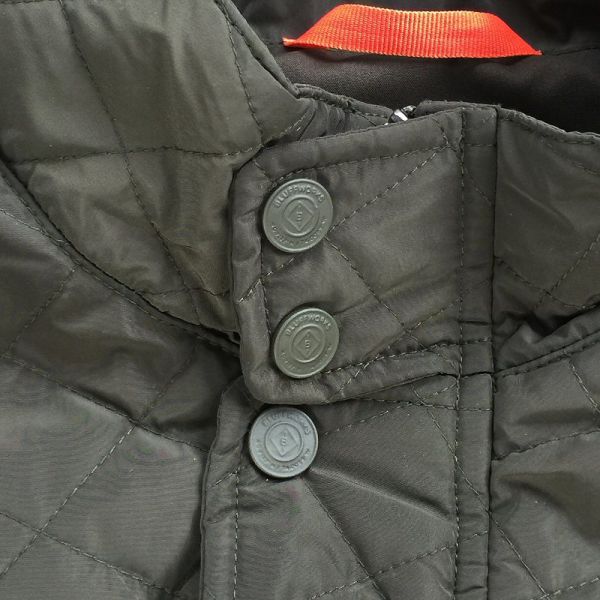 Speaking of the snaps, the above photo shows a closeup of them and you can see that they have been color-matched to the vest color (I love this—very subdued) as well as having a custom Bluffworks logo imprinted on them.   The photo above also shows how the snaps are arranged in the neck area.  Bluffworks calls this a "double snap stand collar" and if you snap both collar snaps, it forms and nice seal around your neck to help seal in your body heat, handy if you find yourself in colder conditions without a scarf.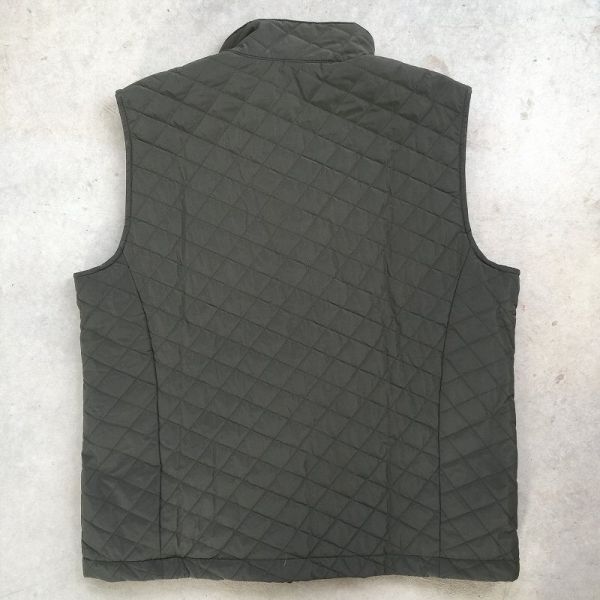 As seen in the photo above, the Horizon Vest's seams have a bit of a tapered cut, which helps give it a more fitted look when wearing it.  I also really like the quilting pattern.  It's not straight vertically/horizontally oriented, which would make it look like a grid or checkerboard, it has a slight tilt which gives it a diamond-like pattern.  A great look, subtle but classy.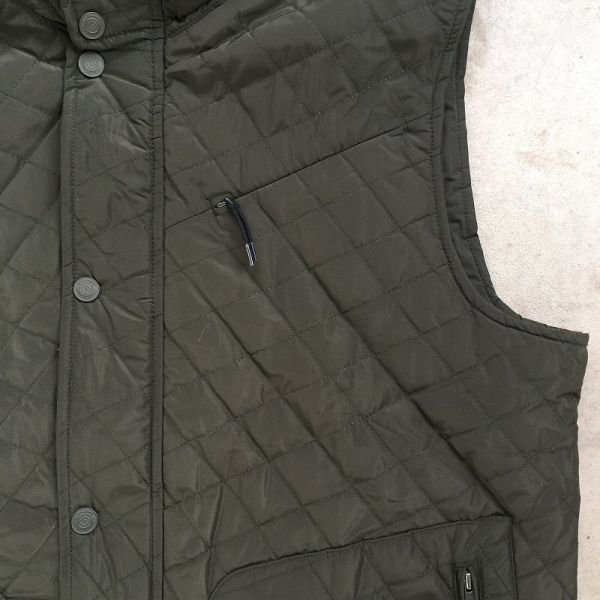 The front of the Horizon Vest has three zipper pockets.   In the photo above, the zipper pocket located on the top left is shown.  I really like this pocket because it is almost totally hidden—all you can really see is the zipper pull.  This pocket is in a nice location to hold a phone, which I suspect is its main purpose, but is large enough to hold other items for quick access as well.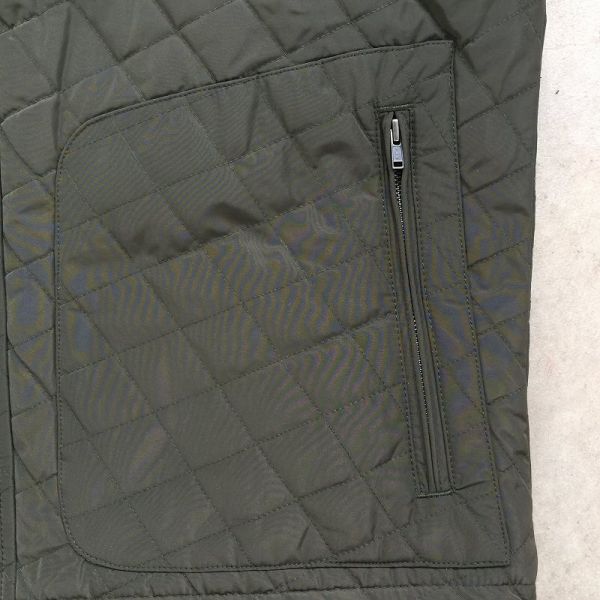 The Horizon Vest also includes right and left zippered hand pockets, an example of which is shown in the photo above.  I really like that Bluffworks chose to make these zipper pockets as I tend to have thing fall out of my pockets, which is bad and especially bad when traveling.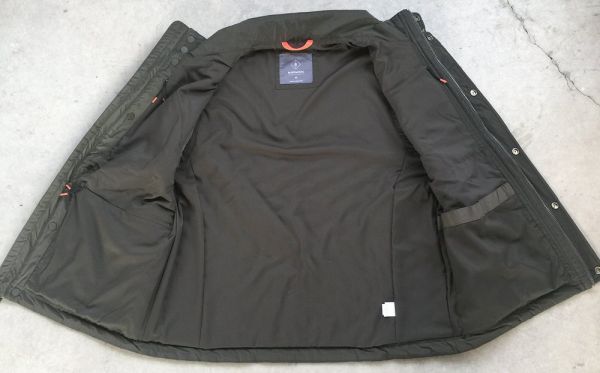 Next, let's check out the interior.  You can see in the photo above that there are a total of four pockets inside, which we'll look at in more detail below along with some other features.  For now, let me state that the Horizon Vest's lining almost like a microfleece—it is super soft and comfortable, so much so that I actually look forward to putting it on.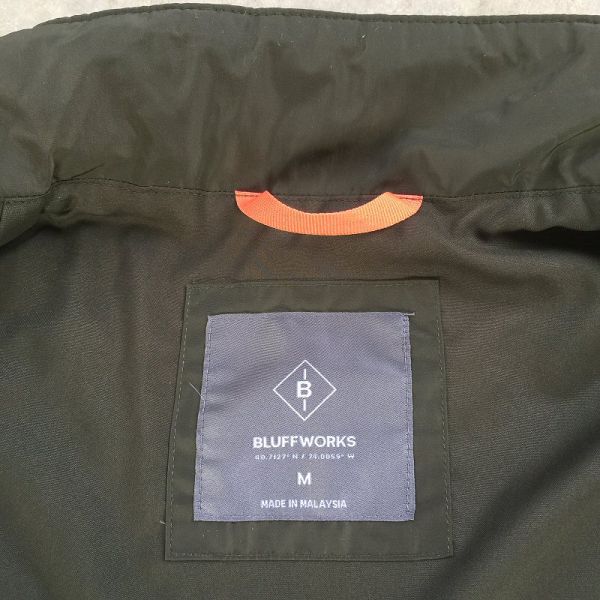 Starting at the top of the interior, Bluffworks has included a high-vis, hunter orange strip of strong webbing from which to hang the vest.  This may seem like a minor feature, but is a very useful one and I always appreciate it when a company includes one of these.  Also, I dig the Bluffworks tag sew inside the lining.  Bluffworks has made the exterior of all of their clothing item conspicuously inconspicuous in that they don't litter them with logos or unnecessary trim.  This gives it a very classy and classic look.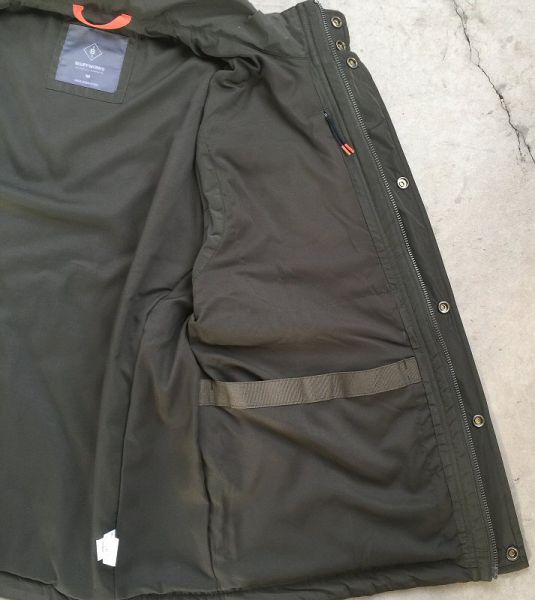 Next, let's take a look at the inside of the left front of the Horizon Vest.  There is a zip pocket at the top and large open pocket below the zipper pocket, both of which we'll look at in detail below.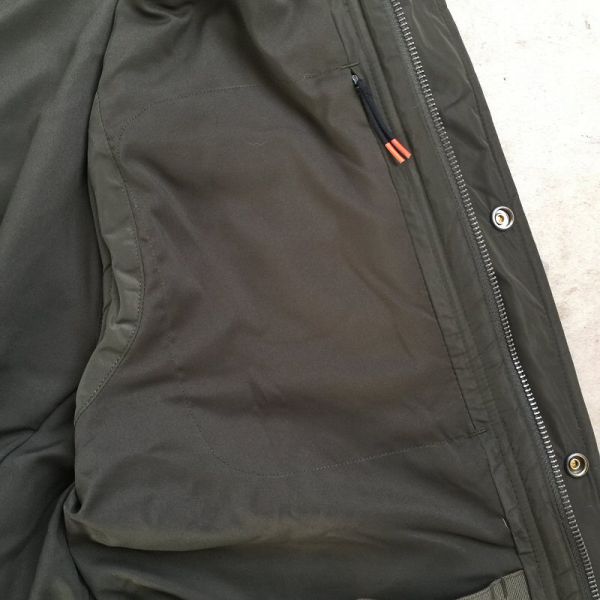 The above photo shows the inside zipper chest pocket on the left inside of the Horizon Vest (there is also a mirror-image one on the right inside).  Like the upper zipper pocket on the outside, Bluffworks has done a fantastic job of "concealing" this pocket and hiding the zipper right in one of the interior seams—if you didn't see the zipper pull cords with their high-vis, hunter orange tips, you might not ever even know these upper inside pockets were even there.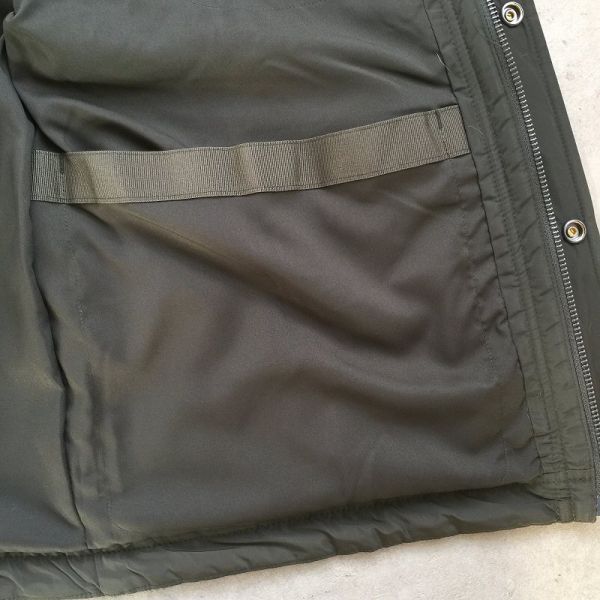 The photo above shows the lower pocket on the inner left side of the Horizon Vest.  It is a large pocket with an open top, a really handy place for stuffing a pair of gloves or hat, but you may want to avoid placing smallish items in here that might bounce or slide out.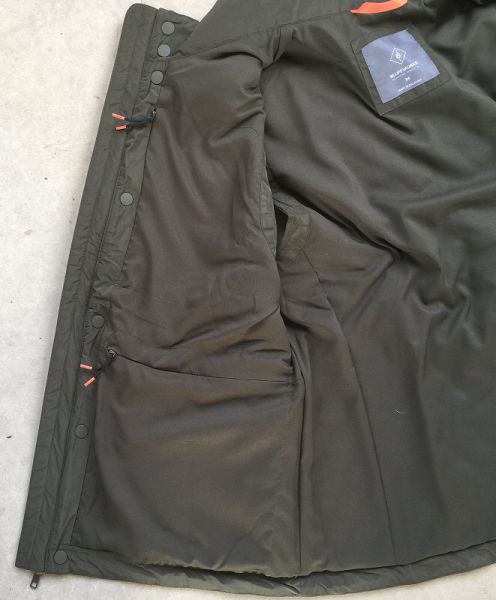 Next, let's take a look at the inner right side of the Horizon Vest, as seen in the image above.  As mentioned above, at the top there is a mirror-image of the zippered pocket that is on the top of the inner left side of the vest, and below that is a larger zipper pocket which will be described below.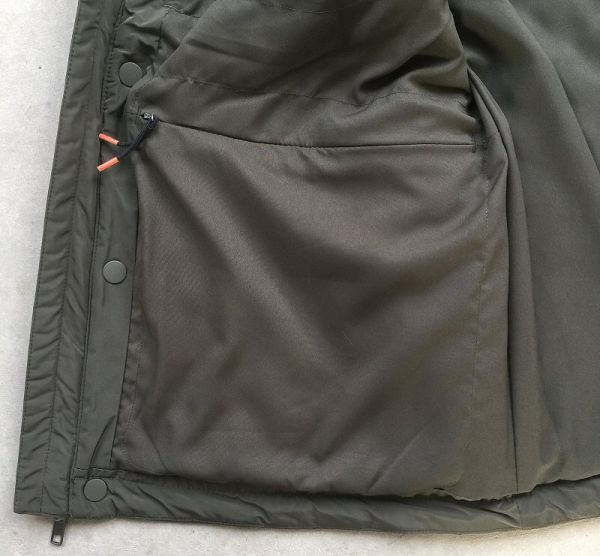 Above, a close-up photo of the lower pocket on the vest's inner right side.  Like its opposite on the left side, this pocket is quite large, but has a zipper closure.  Because of this, the pocket can be used to hold all sorts of things securely.  It is almost large enough to fit a standard-size iPad, but not quite.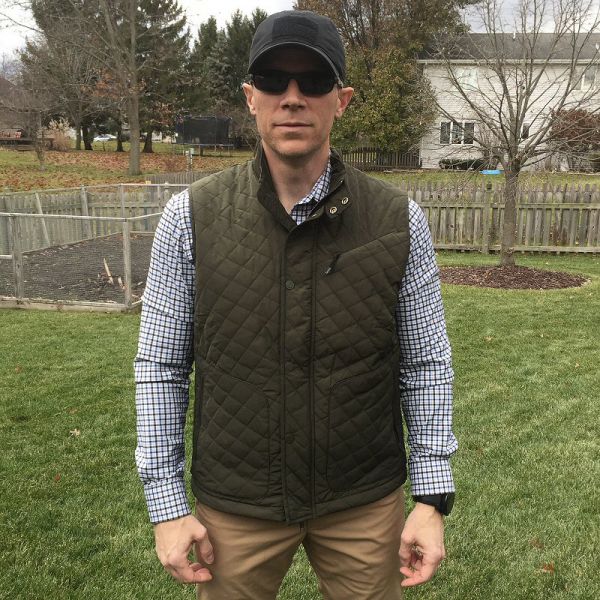 Finally, a few shots of some goofball wearing the vest, to give some idea of fit, sizing and so forth.  The vest reviewed here is a size Medium, which is what I typically wear for most shirts, jackets, and so forth.  I was a bit concerned that it would be too snug due to my build, which is just a bit outside the norm due to fitness activities (weightlifting, etc).  However, the Horizon Vest fit me very comfortably—not too loose (which I hate), and not too tight (which is uncomfortable).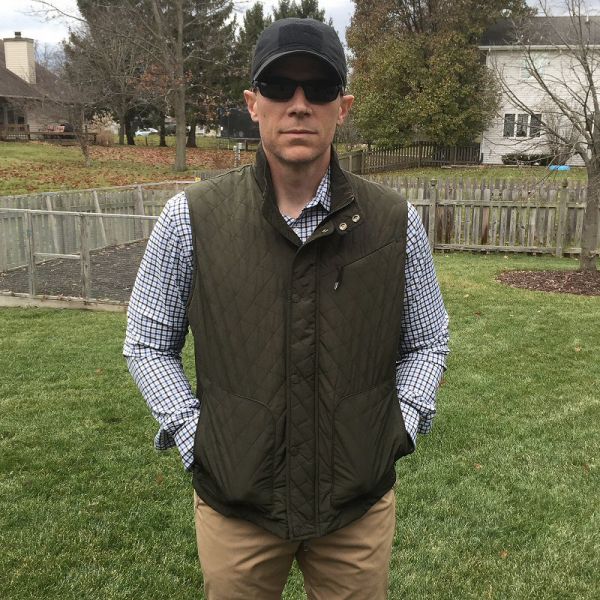 Full disclosure: I am also wearing my Bluffworks original Meridian Dress Shirt in Highland Grey Check and my Bluffworks Chino Pants in Khaki plus GORUCK Tac Hat in these photos.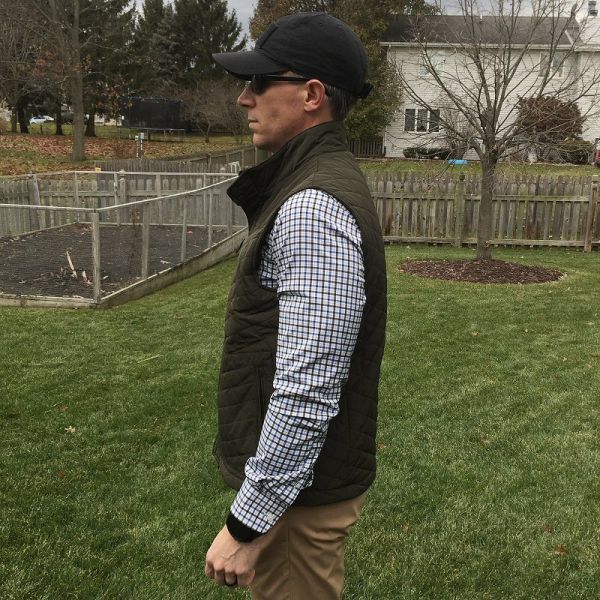 One of the design aspects that Bluffworks incorporated into their Horizon Vest is "open armholes."  This is a useful feature because it helped the vest fit me almost perfectly and also allowed for even wider freedom of movement, plus layering items under it becomes that much easier.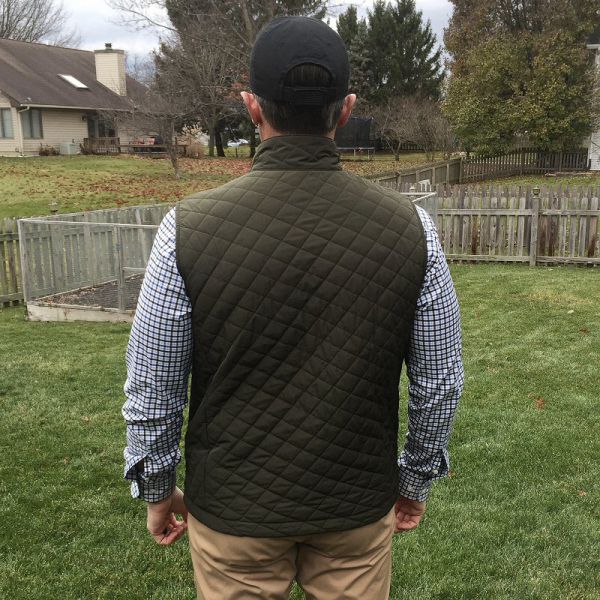 In the above photo, you can see the slightly tapered construction of the Horizon Vest, which I think is subtle, yet helps to produce a bit of a slimming effect.  Nice, clean lines throughout, like all of Bluffworks' items.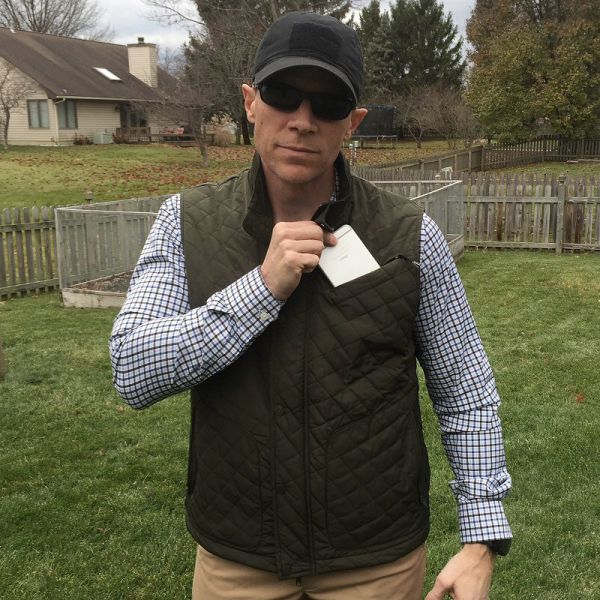 Above, I'm placing my iPhone 6 Plus in the outer zippered chest pocket (located on the left side).  This pocket can easily hold a "Plus" or "Max" sized iPhone (even in a case, though I had removed mine for these photos), or one of the larger-format Android phones.  I like that Bluffworks placed a zippered pocket in this location, but I will say that the angled pocket does make it a bit more difficult to access than a vertically-oriented pocket that most garments have included.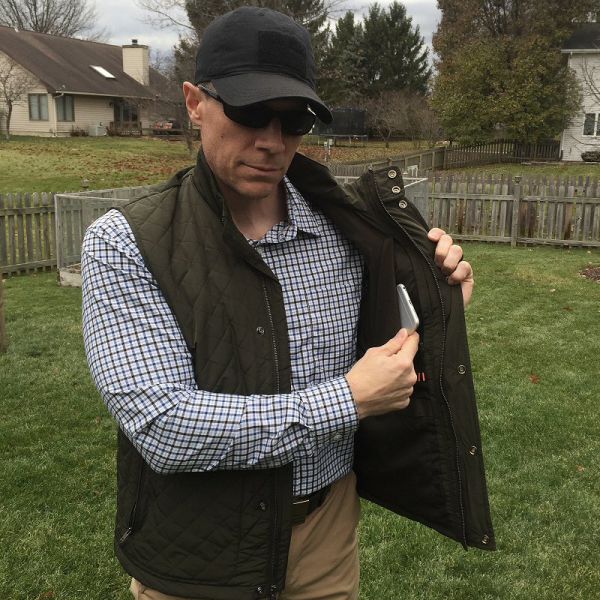 Above, I'm placing my iPhone 6 Plus in the inner, upper, zippered pocket on the left side.  Great spot for a phone, in fact, this is where I typically place mine, rather than in the outside pocket.  These two inner, upper, zippered pockets are snap to access and having them inside the garment provides an additional level of protection.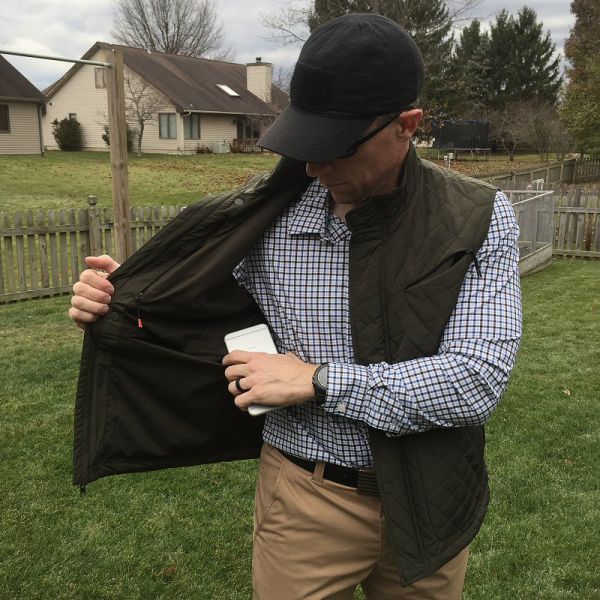 Above, I'm attempting to show the lower right inner zippered pocket, the really large one.  I found myself thinking about all the different things I could put in here, especially while traveling.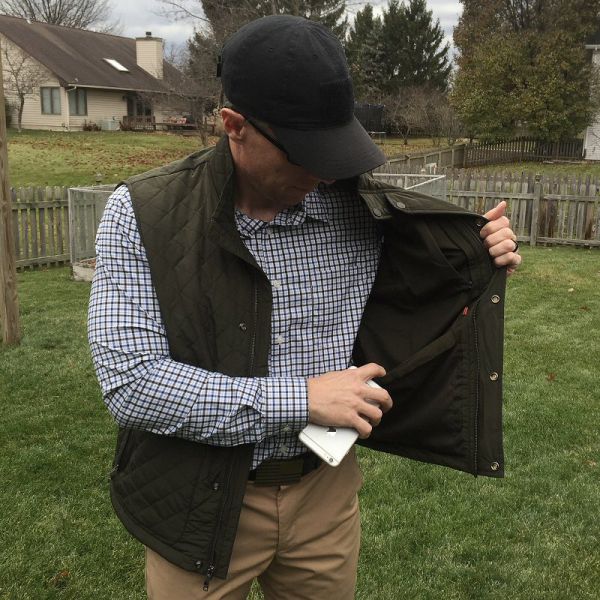 And last but certainly not least, in the photo above I'm attempting to show the large inner left open pocket.  Again, a great pocket that I used to hold my hat and gloves when not using them.
What I like
The style is great–can be outdoor, urban, dress up, dress down, and layerable with many other clothing items
Color is subtle but rich and can complement many other clothing items
Seven pockets total, all but one zippered, provide lots of storage spaces for your gear
Super comfortable–soft interior as well as the fit/cut make me WANT to put it on
Looks and feels very durable and constructed from high-quality materials
Machine-washable?  Heck yeah!
What needs to be improved
Might want to think about re-orienting the front pocket to a vertically-oriented one rather than the angled one, but this is still a very useful pocket as-is
The snaps can be a bit "rattly" but this is far from a deal-breaker; eventually, I stopped noticing it
Final thoughts
As mentioned above, like all of the other Bluffworks items I have tried, I became enamored with the Horizon Quilted Vest immediately, and I now wear it just about every chance I get.  I've basically been wearing the Horizon Vest to the office and around town so far, I plan to do some actual travel with it in the future and I'll report back here when I do.  If you have been looking for a vest to either wear on its own or layer with other items and you'd like one that can have a versatile look plus is loaded with concealed pockets for all your gear, I would highly recommend taking a look at the Bluffworks Horizon Quilted Vest.
Update 6/14/20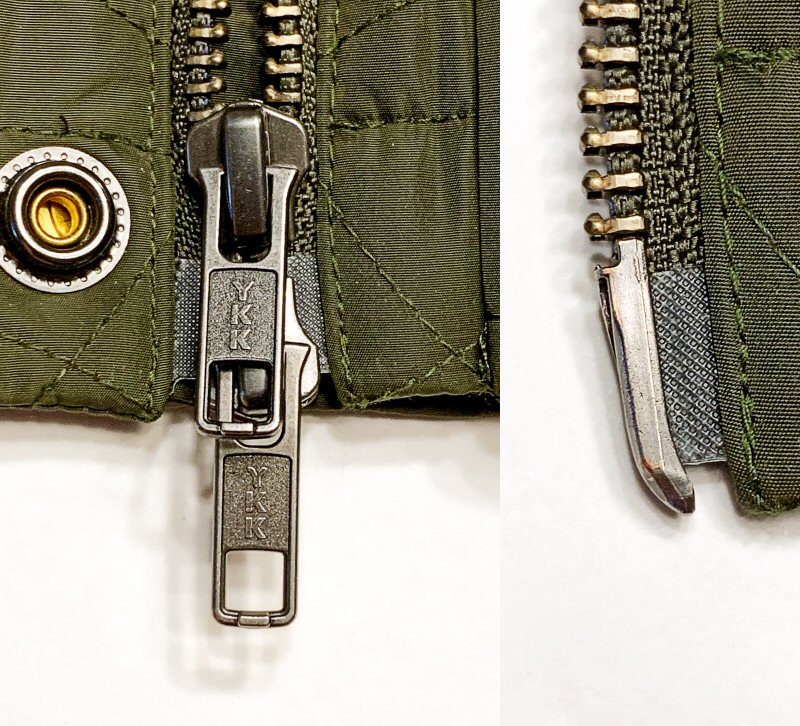 All of the Bluffworks products I've reviewed to date have been outstanding in terms of design, styling and quality, and I really like the color, style, and multiple pockets of this Horizon Quilted Vest. There is one feature that has been a fit frustrating, which is the zipper. It's a two-way style, which gives it added functionality, and I actually wish that other clothing makers would incorporate this into their clothing designs. However, the zipper gradually frustrated me more and more, because it has a kind of "hook" on the leading edge that is difficult to align with and the two sliders. I have to actually look down at it every time I zip it and I've never gotten used to it to the point where I can do it without looking. I did contact Bluffworks to ask about it possibly getting a replacement vest, and they claimed it was a "feature" of the vest, which I found a bit difficult to believe. Maybe it is a feature, maybe it isn't, but I did notice recently the Bluffworks put all of their Horizon Quilted Vests on clearance.
Price: $155.00
Where to buy: bluffworks.com
Source: The product sample for this review was provided by Bluffworks.