We use affiliate links. If you buy something through the links on this page, we may earn a commission at no cost to you. Learn more.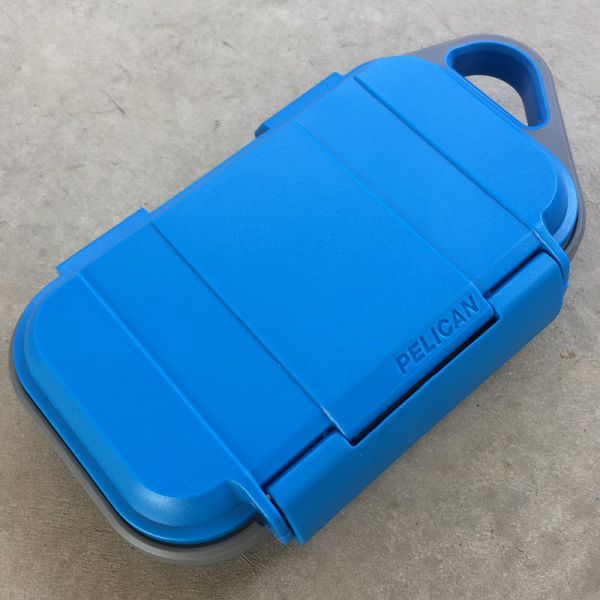 REVIEW – We all have our EDC essentials and some of us lug them into environments that are potentially a bit more harsh than average.  If you are one of the aforementioned folks, then you probably already know that Pelican has been making hard cases that are water- and drop-resistant for a long time and are arguably the gold standard for such containers.  Pelican's most recent product in the personal hard case space is their Pelican Go G40 Case.   It not only has many of the features that have made Pelican's products successful for many years, but also has a few additional features for EDC fans.  How did it fare?  Let's check it out!  Gadget on!
What is it?
The Pelican Go G40 Case is a water- and drop-resistant personal hard case that is designed to hold and keep save several small items in potentially extreme conditions.
Hardware specs
Colors: Anthracite/Grey, Blush/Grey, Lime/Green, Surf Blue/Grey (reviewed here)
Dimensions: 7" x 3.5" x 1.6"
Material: ABS plastic
Waterproof rating: IP67 (Submersible for 30 minutes in a depth of up to 3 feet (1 meter))
Exterior: Equipped with a rubberized bumper, easy carry handle and secure closure latch to protect even the smallest valuables.
Interior: Cushioned EVA Lining in Lid and Base to keep cellphones and valuables safe plus Organization Tray with built-in credit card pockets and cord management strap
Warranty: Pelican lifetime warranty
What's in the package?
Design and features
Fends off dust, dirt, sand, and water up to 1.5m deep for up to half-an-hour.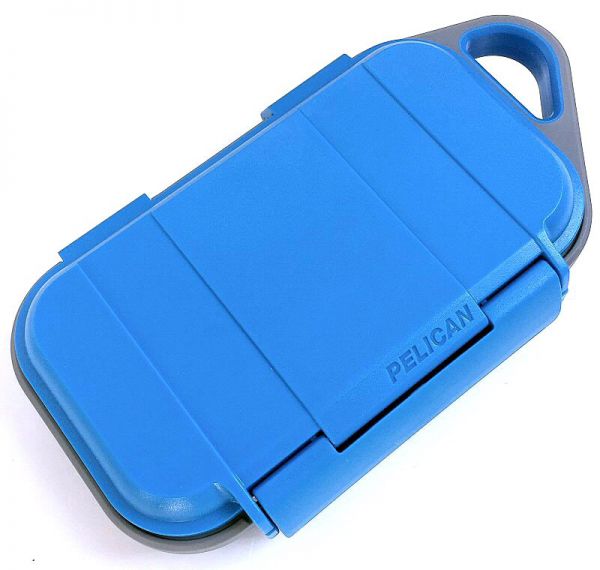 I actually already own two Pelican cases, both their 10xx and 1050 cases, which I purchased through GORUCK, and I have been very happy with them; they have protected my cell phone, wallet, car keys, and several other items through all sorts of adventures and harsh conditions.  When I first saw a photo online of the Go G40 Case, my initial thought was, "Hey, where's the transparent lid?"  I was a bit skeptical, but the Go G40 Case's other features intrigued me enough to want to review it.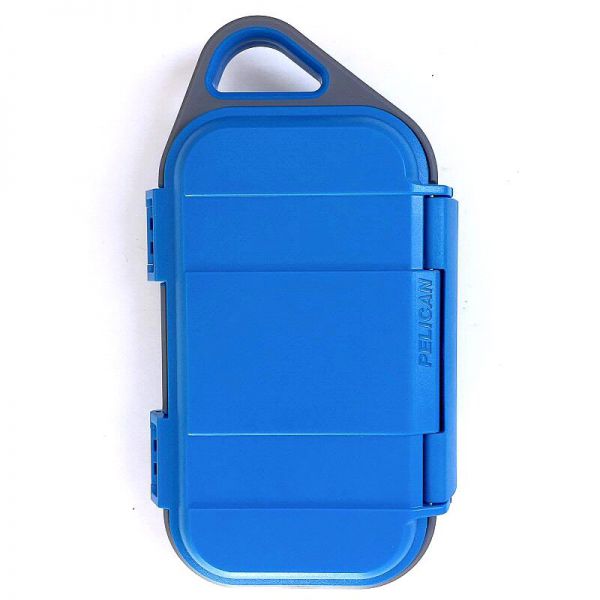 Other than the lack of a transparent lid as mentioned above, the Go G40 Case does share many similar features to existing Pelican cases, each of which will be covered in more detail below.  For starters, it looked and felt very rugged and durable.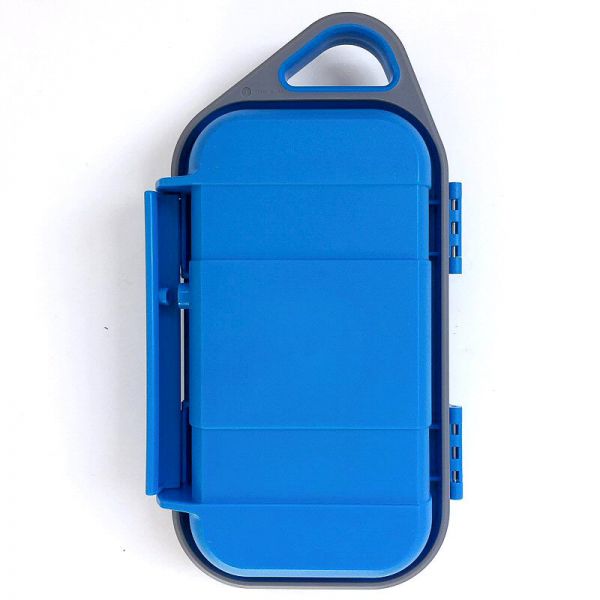 Another thing that I noticed about the Go G40 Case immediately was its matte finish.  Most personal Pelican cases that are sized similarly to the Go G40 Case have a high-gloss finish.  While this has an appealing appearance initially, I've found this to be a bit problematic over time, because if you are actually using your Pelican case at all, it is likely that the case is actually coming into contact with other objects, which tends to scratch and scuff that appealing gloss finish.  I think the matte finish of the Go G40 Case is a serious improvement.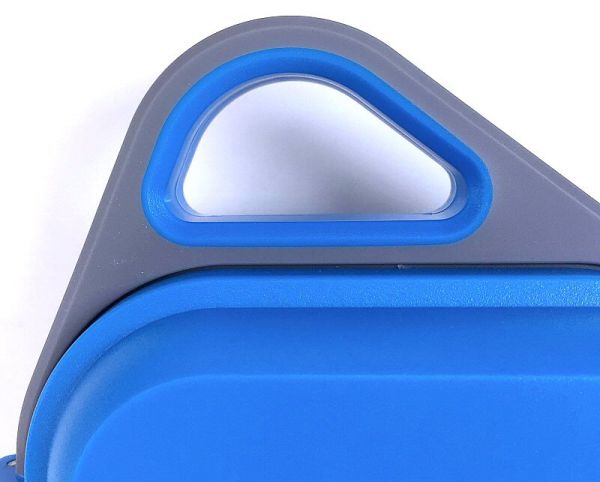 One of the more obvious external features that I appreciated immediately was the generously-sized loop that can be used to attach the Go G40 Case to things, such as a backpack.  Loop-type features are present on most hard cases of this type, but I've found most of them to be quite small and I've always been concerned that they might break off and I'd lose my hard case.  Not so here.  As mentioned, the loop on the Go G40 Case is very generously sized, thick, and integrally molded directly into the exterior of the case.  This thing is solid—good luck breaking this off without basically destroying the case.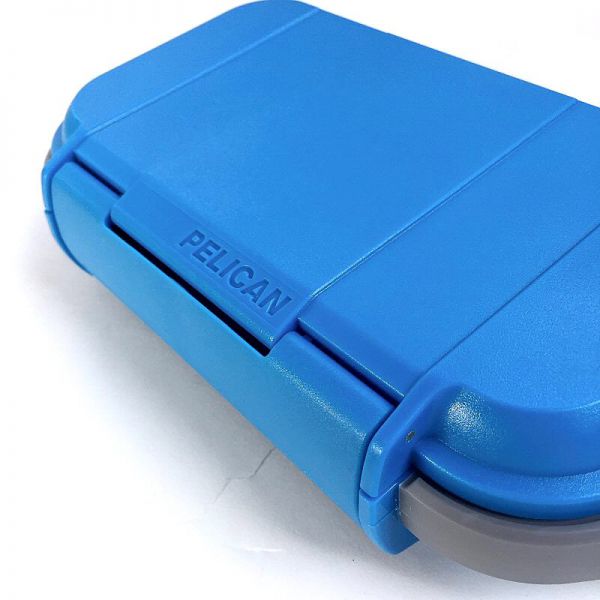 The Pelican Go G40 Case, like many of its predecessors, has a single latch mechanism that locks down the lid and seals the case tight.  Like the loop described above, this latch is big, beefy, and provides a very positive tactile and auditory feedback when locked down.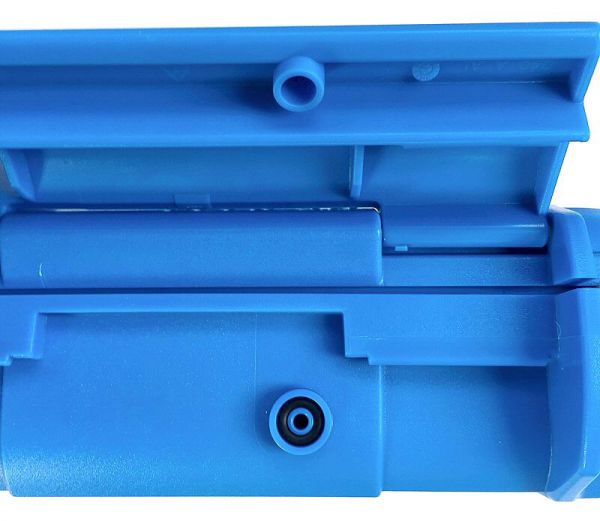 The latch includes a valve that is similar to other existing Pelican case models.  This valve is intended to help equalize the pressure inside the case with the ambient pressure outside the case, such as at higher altitudes.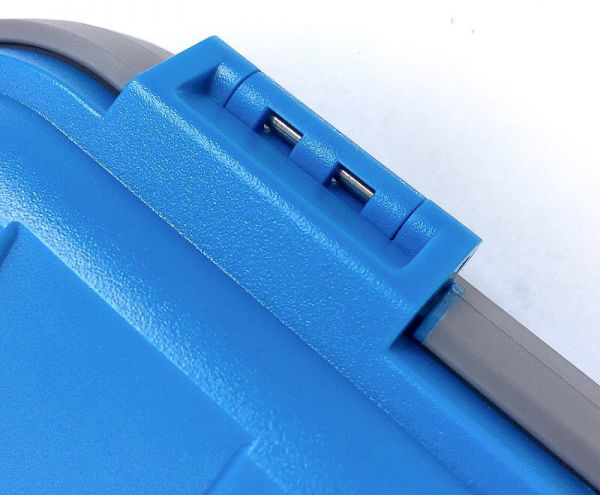 Moving to the other side of the Go G40 Case, the lid is attached to the main body of the case with two very solid hinges that have durable metal core pins as shown above.  This is yet another reason why Pelican is considered a gold standard for personal protection cases.  In addition, the gray strip running around the outside perimeter of the Go G40 is actually a rubber bumper that helps protect the case (and its contents) from shocks and drops.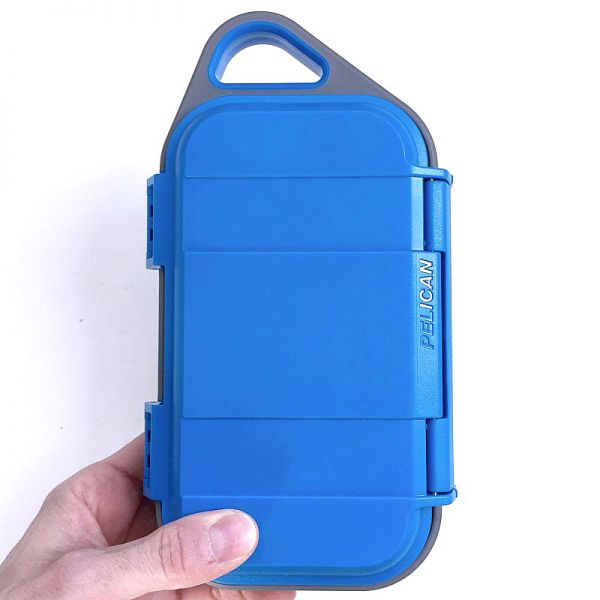 The Pelican Go G40 Case is a decently compact size, while still being able to hold a fair amount of EDC-type items, as you will see below.  Above, I'm holding the Go G40 Case just to give an idea of scale.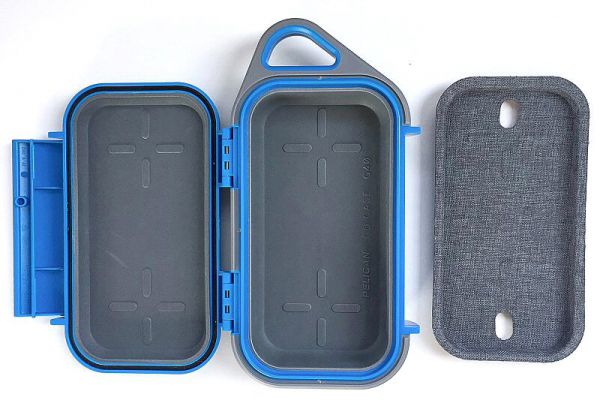 Next let's look inside the Go G40 Case, where there are some additional new features, such as the lining and tray.  More on these features below.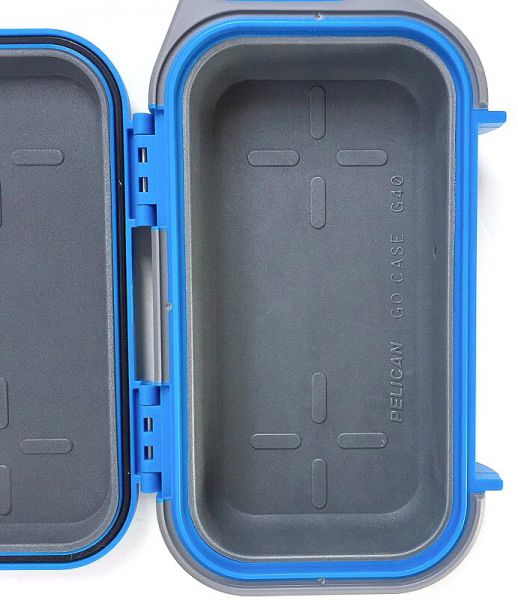 First, let's take a look at the interior of the case itself, and focus on the bottom of the main compartment.  The inside of the Go G40 Case is lined with a soft EVA material that helps both cushion items placed inside as well as reduce the risk of scratching them against the inside of the case.  There are also two cross-shaped features that are very slightly raised from the bottom.  These are to prevent items from getting "stuck" to the bottom of the case.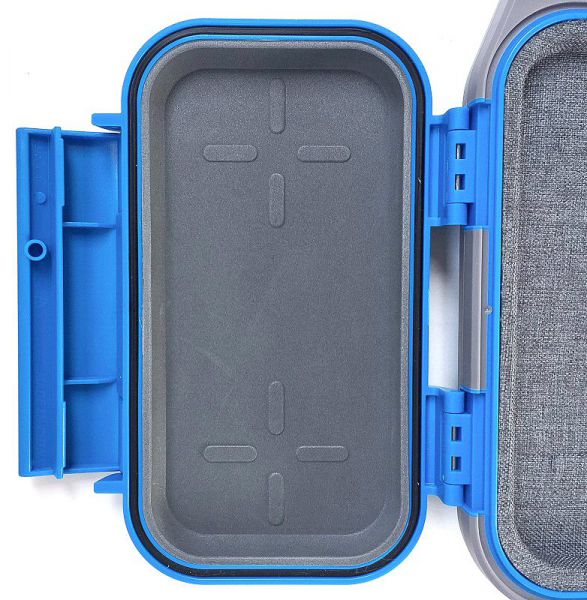 Similar to the bottom of the case, the inside of the lid also has the same soft EVA material to help protect items placed inside it.  In the photo above, you can also see the black rubber O-ring that sits down in its own groove and runs the circumference of the case's lid.  This rubber O-ring is key to the Pelican Go G40's IP67 waterproof rating, which allows it to remain submerged in water to a depth of 1 meter for up to 30 minutes.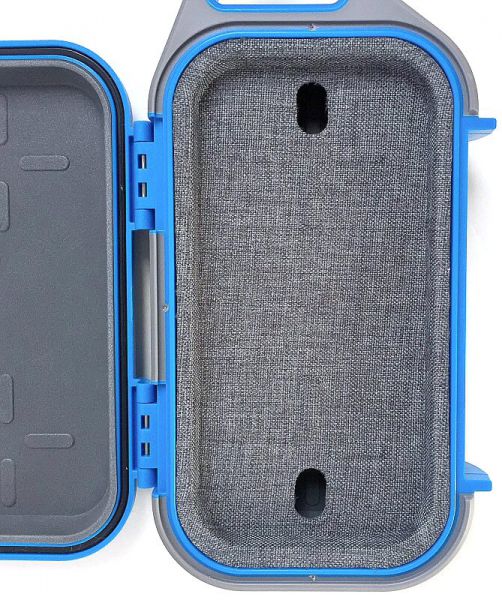 Next, let's check out the Go G40's Case's internal tray.  This tray is specially sized to lay into the lower portion of the case, but stay elevated above the bottom; it rests in a ledge that is built into the circumference of the lower portion of the case's interior.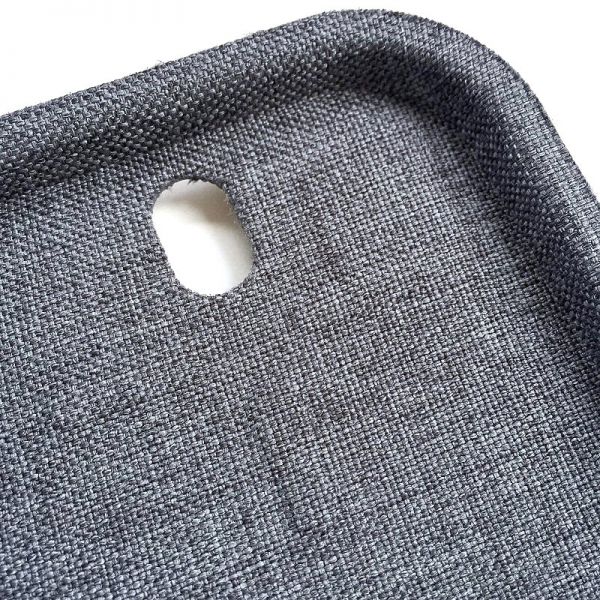 This tray is molded to specifically fit into the lower portion of the Go G40, but the tray's exterior is a fabric-type cloth, the texture of which is shown in the close-up photo above.  There is also an oval slot on either end of this tray, with I think is simply to help remove the tray from the Go G40 and to prevent the tray from getting "stuck" in the Go G40.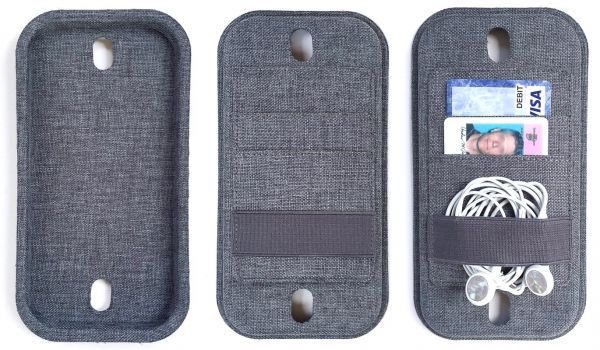 The tray serves two purposes.  First, it provides a space for your mobile phone to sit that is separated from any other contents in the lower portion of the Go G40 (see photo below).  Additionally, the underside of the tray has two card slots as well as a strip of elastic that can be used for cable management.  In the photo above, I've placed a debit card and my Driver's License, along with a pair of iPhone earbuds.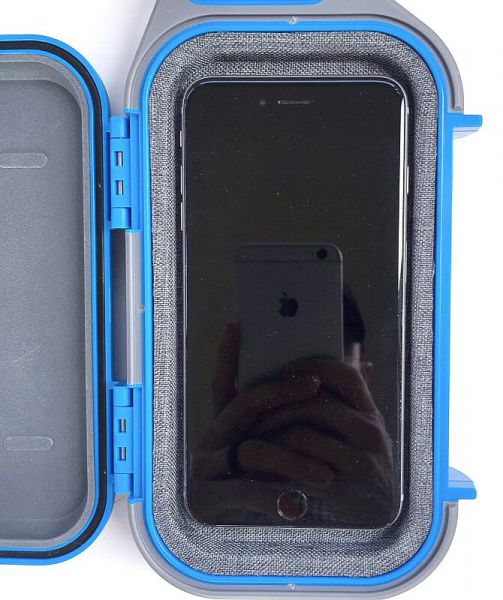 Above, you can see that my iPhone 6 Plus fits perfectly in the tray; however, I did have to remove the Magpul case I that I typically have on my iPhone.  Smaller phones will fit fine in the tray, but if you have a larger phone, you may have to remove it from its case, or use a very thin case, in order for it to fit in the tray.  (Please ignore the goofball reflected in the iPhone's screen. 😉 )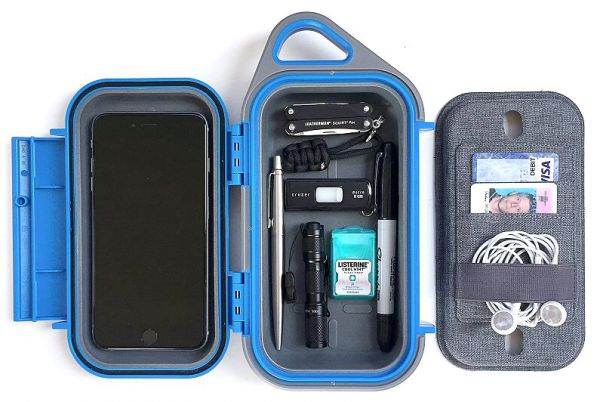 Above, I've placed a handful of my essential EDC items into the Go G40 Case, including my naked iPhone 6 Plus (which will actually sit down in the cavity in the tray as seen in the photo above and below), my Leatherman Squirt PS4 multitool with a 550 paracord fob, a Sandisk USB flash drive, a Sharpie pen, a Parker Jotter ballpoint pen, a Lumintop Tool AAA flashlight and a pack of Listerine Breath Strips.    Also included are the two cards and iPhone earbuds in the underside of the lid.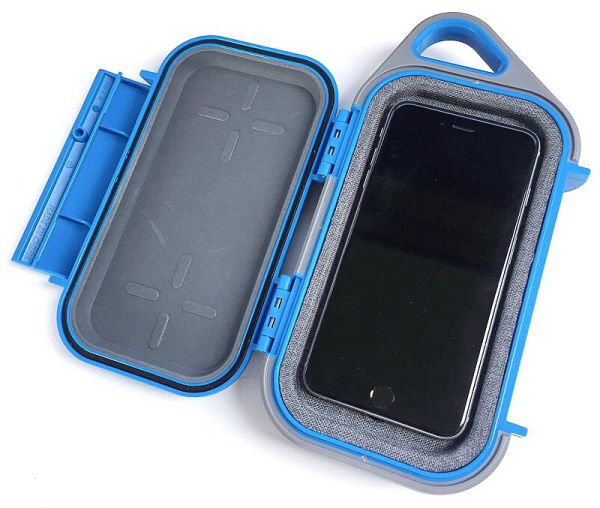 Above is the Go G40 Case with all of the items shown above placed inside it.  Everything fit well and the latch closed fine.  In fact, even with the items above placed in the lower portion of the Go G40 Case, there was still room for a few more small items if I arranged them all to fit.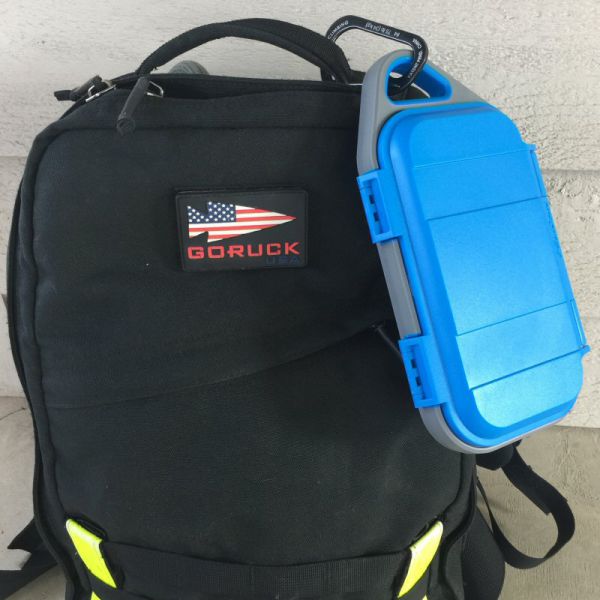 In the photo above, I've used a carabiner to attach the Go G40 Case to the grab handle of my GORUCK GR1 rucksack as an example of how you might carry this case securely on the outside of a bag.
What I like
IP67 water resistance rating
Matte finish doesn't show scratches, scrapes or smudges
Thick, tough carabiner loop
Exterior rubber bumper for added shock protection
Interior lined with soft EVA material
Interior tray separates phone from other items and also includes card slots and elastic strap
What needs to be improved
I had to remove my iPhone 6 Plus from the case I typically use in order for it to fit into the tray
Final thoughts
I really like the Pelican Go G40 Case.  It provides an excellent level of water- and shock-protection for small valuables and its interior tray that holds your cell phone is a great new feature.  If you work or frequently spend time in a harsh environment, or plan to visit such an area, I would encourage you to take a look at the Pelican Go G40 Case as a way to secure your important personal items.  In fact, I plan to use the Go G40 case to protect my wallet, phone, watch and a few other items on my next GORUCK Challenge, which is a really good testbed for protective hard case like this, because it is very likely that will be banged around around a lot, and also to be submerged in water.  Interestingly, the Pelican Go G40 Case is currently only available at REI, so if you are interested, check their site for more info or to order (see links below).
Price: $39.95
Where to buy: REI.com
Source: The product sample for this review was provided by Pelican.