We use affiliate links. If you buy something through the links on this page, we may earn a commission at no cost to you. Learn more.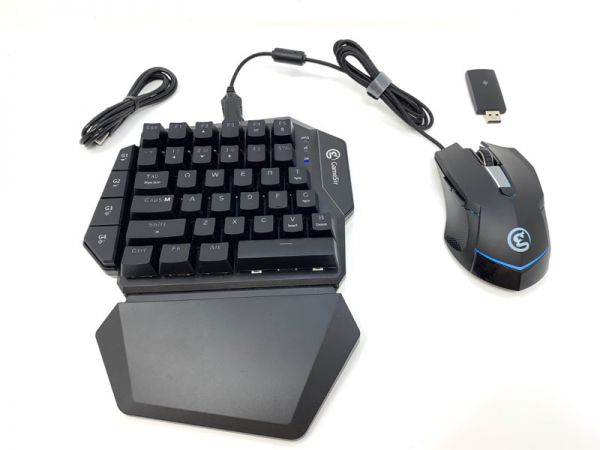 REVIEW – Not long ago my preteen son and I built a gaming PC together, and I came across this half-keyboard thing. Since most PC gamers use the left side of the keyboard with the left hand, and the right hand on a mouse, this combo from GameSir caught my attention. There was a lot more this thing did than I had anticipated.
What is it?
The GameSir VX looked like all the lookalikes I've seen on Amazon except this one was wireless. Well that's pretty neat, I thought, except why did it come with a wired mouse? It turns out the USB mouse plugs into the keyboard, and the pair communicates wirelessly to the included USB dongle… and is compatible with game consoles such as the Xbox One, Playstation 3/4, and Nintendo Switch.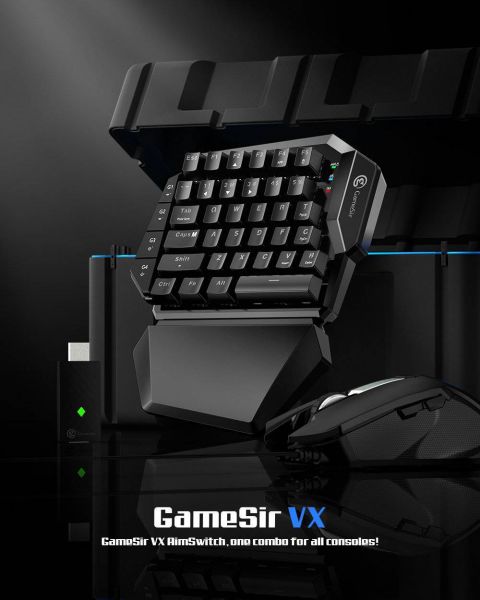 Hardware specs
Mechanical keys (blue clicky)
MicroUSB rechargeable (cable included)
Works with PC, Xbox One, PlayStation 3, PlayStation 4, Nintendo Switch
What's in the box?
In the box, you get the keyboard, a detachable wrist pad, USB mouse, wireless dongle, microUSB charging cable, and instructions.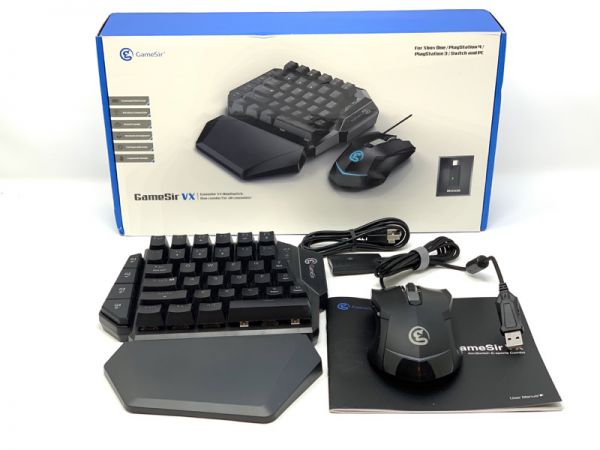 Design and features
The keyboard looks like someone chopped a mechanical keyboard down the middle. The wrist pad slides on with a very satisfying rat-tat-tat ratchet sound.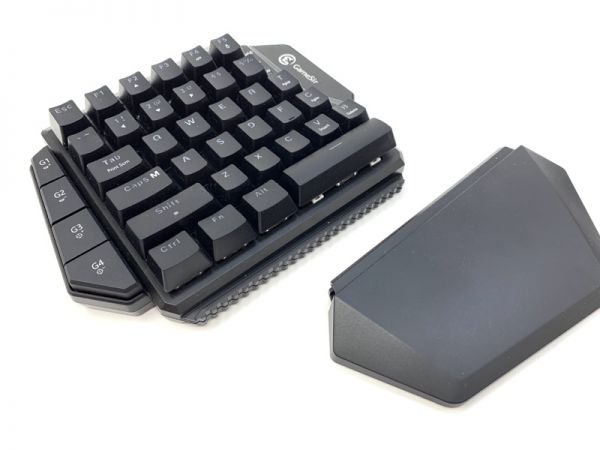 Speaking of sounds, you'll be immediately drawn to the blue mechanical keyboard switches, which produce a very satisfying (and very audible) click-click-click noise. This is not for stealth gaming sessions.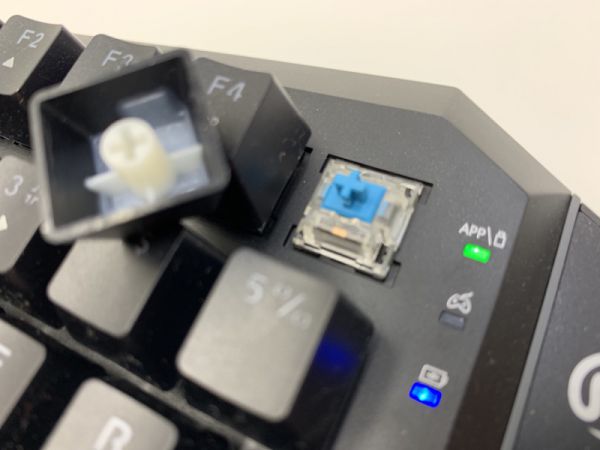 The backside features some rather large, grippy pads… even on the wrist pad.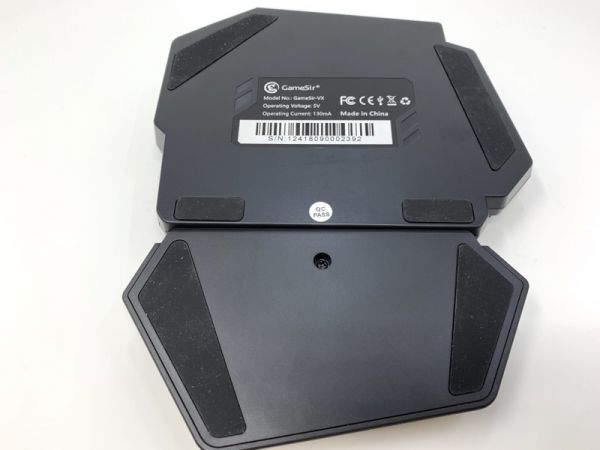 On the top end, you'll find the full-size USB port for the wired mouse, microUSB for charging, and the power switch.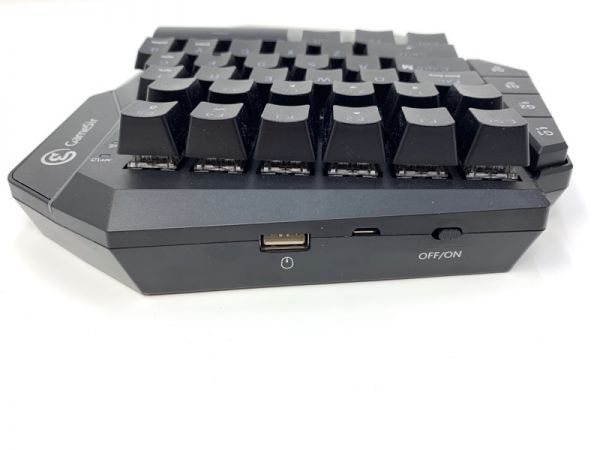 There are four "G" buttons on the left (not mechanical switches). In PC mode, they correspond to keys 7, 8, 9 and 0. For console games, they are for "HIP sensitivity adjustment" and "ADS sensitivity adjustment", according to the manual. Apparently they keys are configurable but I didn't find any documentation other than this YouTube video.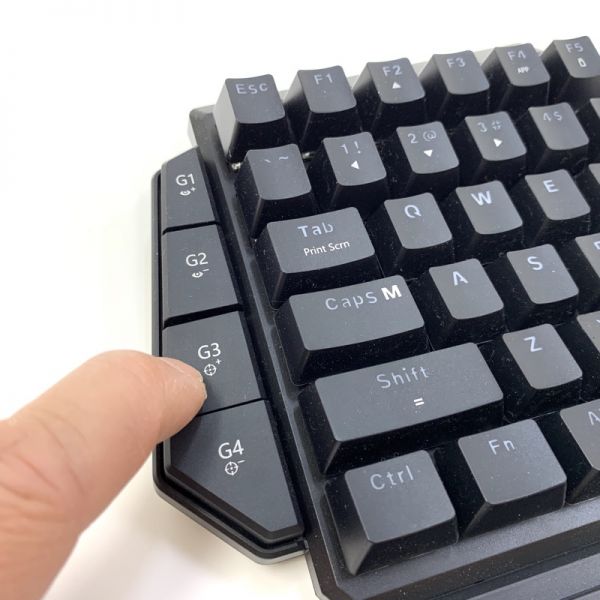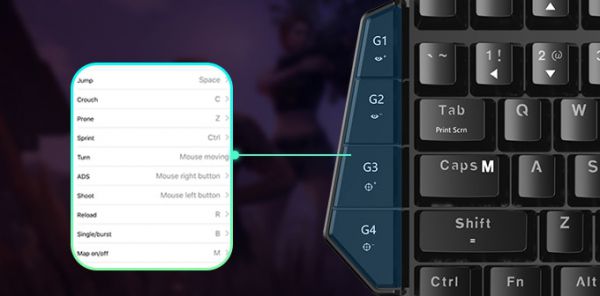 Here's my hand over the keyboard, for size reference.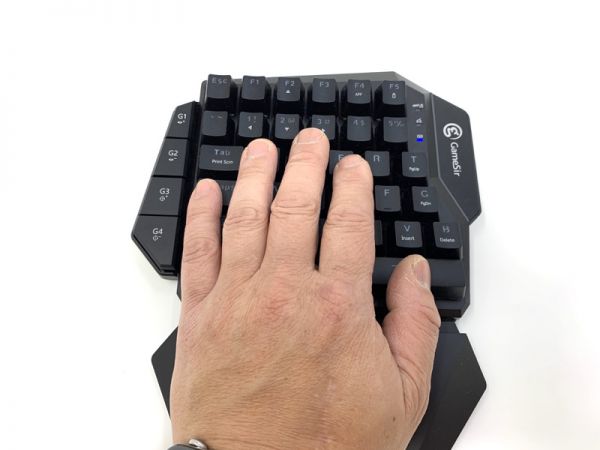 In the box is a gaming mouse I found… not to my liking. Too many sharp angles and creases. If you're a gamer, maybe this is your style. I found two buttons on the left side, a DPI adjust button on the top, and a scroll wheel on top. The backlight glows different colors when you switch DPI.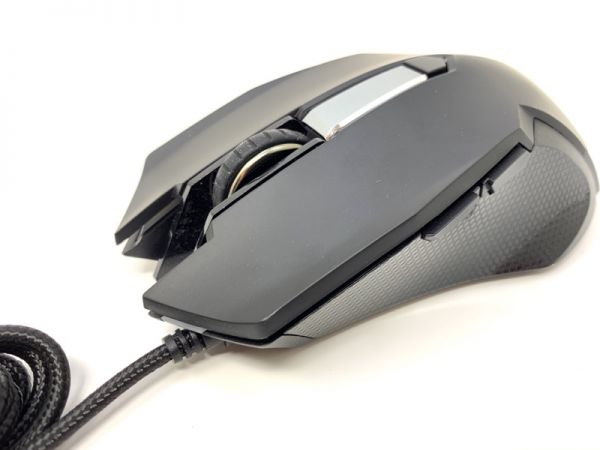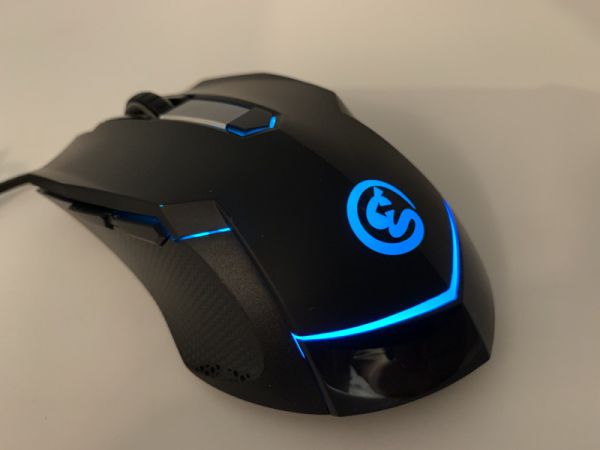 Finally, a wide USB dongle rounds out the kit.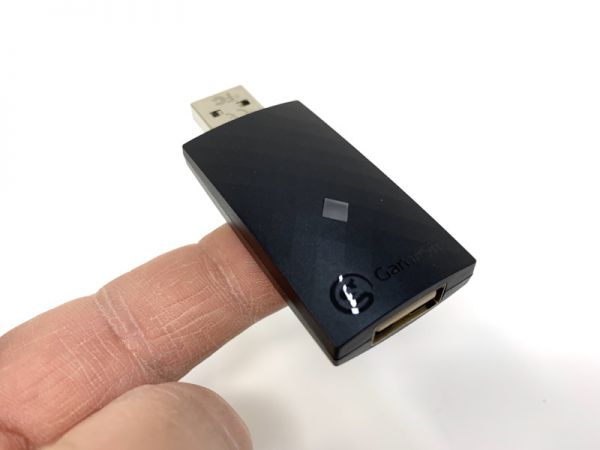 Setup
There are ways to connect the kit to the Xbox, Playstation and Switch, but I don't have either of those.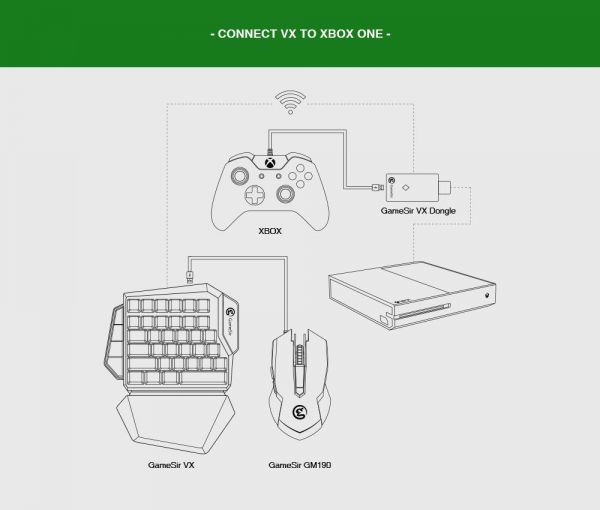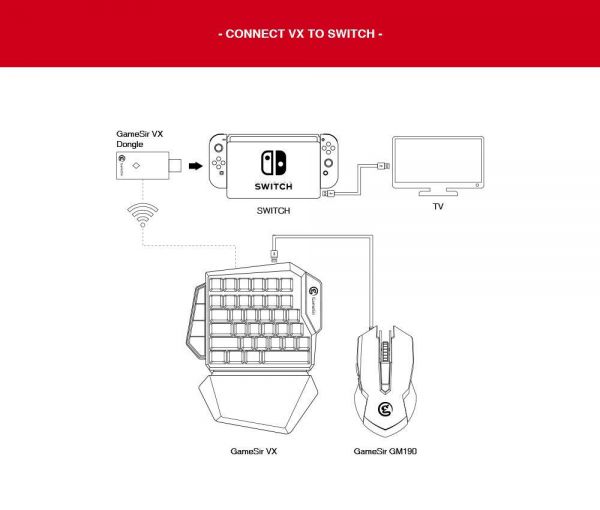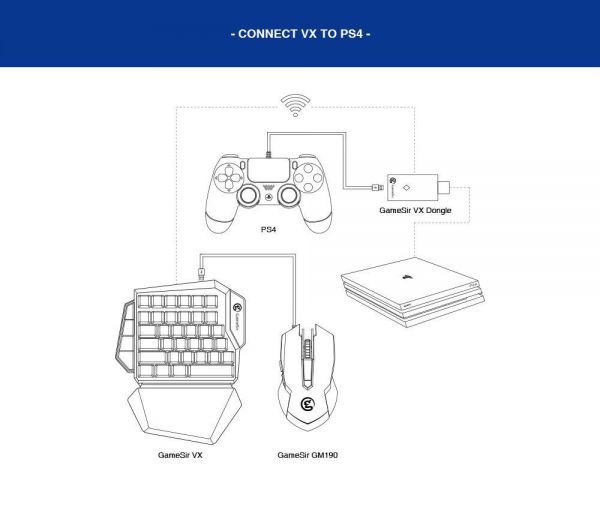 Instead, I simply plugged the USB dongle into a USB port, and Windows just recognized the GameSir VX as just another keyboard.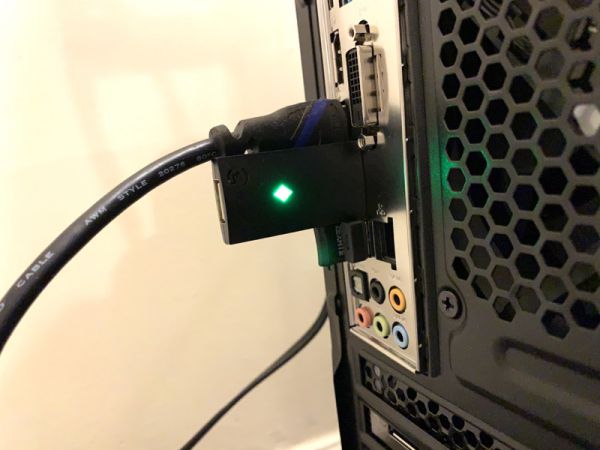 Performance
I set my son loose on the GameSir VX and his game of choice (Fortnite). He opted not to use the included wired mouse since it was a little large for his smaller hands.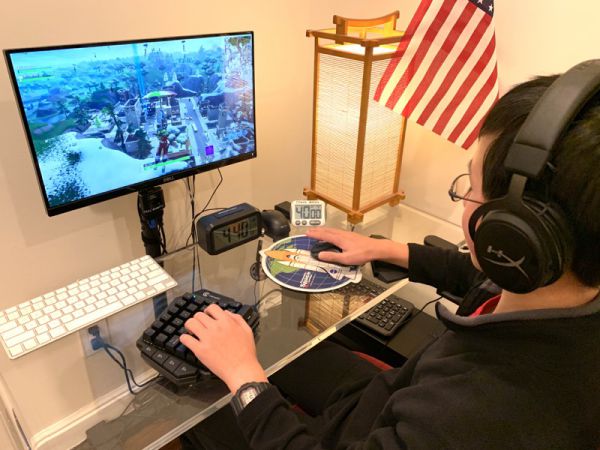 What I like
He liked the wireless freedom of not being tethered to a conventional wired keyboard. It also took up a lot less room than even a tenkeyless keyboard. I found it interesting he chose to remove the wrist pad. He just felt more comfortable without it. At least it's an option!
What needs to be improved
I was really surprised to hear his chief complaint. "It's too noisy" and "It's too tall". He was used to flatter, laptop-style membrane keyboards. As for the noise issue, he's certainly right about that. The blue keyboard switches are VERY audible. In my experimentation with mechanical keyboards, a lot of the noise is from the keys bottoming out. That can be softened with the addition of rubber O-rings, but you still have the tactile click of the blue switch itself.
Final thoughts
Despite my son's misgivings about the mechanical switch noise, this is probably a godsend for those craving keyboard-mouse connectivity for consoles such as the Xbox One, PS3/4 and Switch. But if you have housemates or kids who are picky about noise, you may wish to look for more silent options.
Price: $99.99
Where to buy: GameSir and Amazon
Source: The sample of this product was provided by GameSir.