We use affiliate links. If you buy something through the links on this page, we may earn a commission at no cost to you. Learn more.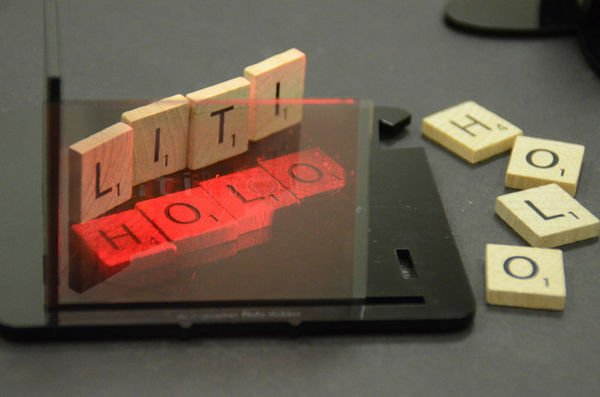 NEWS – While R2-D2 may make producing a hologram look easy enough, in reality, it is a technically challenging procedure. A laser and a recording plate must be set up to capture the interference pattern that occurs when an object is illuminated with a laser. The laser and object being recorded must not be moved more than a micrometer. Normally a laser lab is required in order to provide the power to the laser, the precise optical arrangement and the motion isolating apparatus. A few years ago, Janet Cloninger reported that a DIY Litiholo kit was available on the Litiholo website. Now, this home laser holography kit is available from Amazon and Barnes & Noble.
Not to be confused with a mirascope which uses parabolic mirrors to create a holographic illusion or a 3D hologram pyramid for your smartphone, the Litiholo is a real laser hologram. The Hologram Kit is an invention of Paul Christie, an MIT Media Lab grad. Christie says "Our research lab was doing amazing things with holograms…but the equipment would take up an entire basement, and you had to be an MIT student to understand it!" Christie created the Hologram Kit because he wanted a way for individuals to make their own holograms without all the complexity and cost of a lab.
The Hologram Kit creates real 3D laser holograms and is a fun and educational experience for both kids and adults. Each kit can make up to 20 holograms and provides a step-by-step guide through the process as well as additional background on the science of holography. The Hologram Kit is being carried in 330 Barnes & Noble stores across the US and retails for $129.99. The same kit is also being sold on Amazon for $110.00 while supplies last.