We use affiliate links. If you buy something through the links on this page, we may earn a commission at no cost to you. Learn more.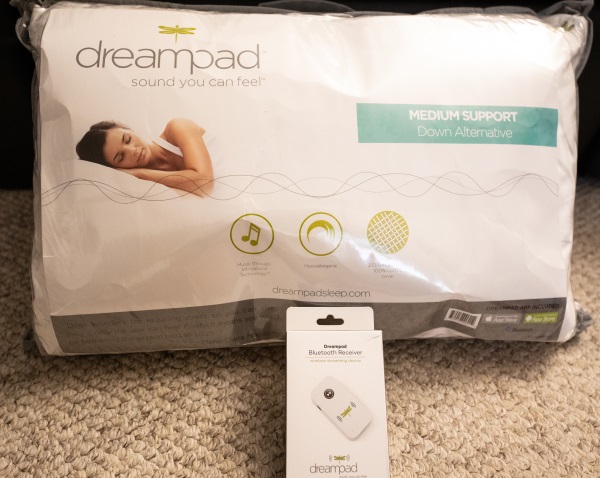 REVIEW – For many years, I have struggled with getting a good night of sleep and it usually starts with difficulty falling asleep. I have tried many things including sound machines, but I have found that listening to Contemporary Jazz music that I love gives me the best chance to easily fall asleep. The problem is that although my wife enjoys that type of music as well, she needs the room to be quiet when she is really ready to sleep. So, what do I do? The Dreampad Memory Support Pillow with Music & Sleep Technology validated by SleepScore Labs seems like a possible solution.
What is it?
The Dreampad is a 20" x 28" pillow that utilizes embedded transducers to deliver music through gentle vibration that only the user can hear and will not disturb anyone sleeping nearby.
What's in the box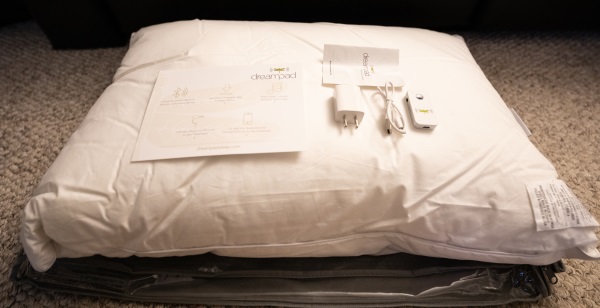 1 x Dreampad Pillow
1 x AC Adapter and Micro USB Charging Cable
1 x Bluetooth Adapter
1 x Quick Start Guide
Design and features
The Dreampad pillow is covered in a very soft and smooth white cover that is 100% cotton. There is a zipper on one side that reveals a pocket that includes a built-in wire with a 3.5mm plug that connects to the Bluetooth adapter. They also include an extension 3.5mm cable so that you have the option of a wired connection to maybe a larger radio or music source on your nightstand or otherwise some distance away.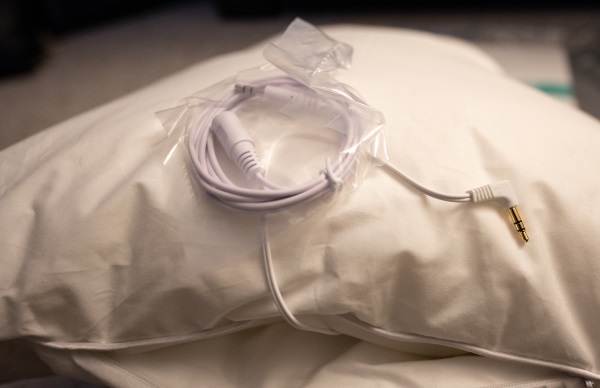 The Bluetooth adapter connects to the micro USB cable to be charged and has a touch plower/play/pause button on the front.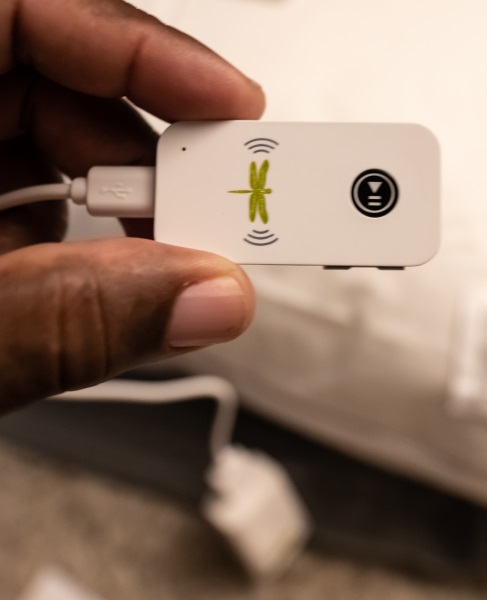 On one of the thin sides, it has a volume up/down control.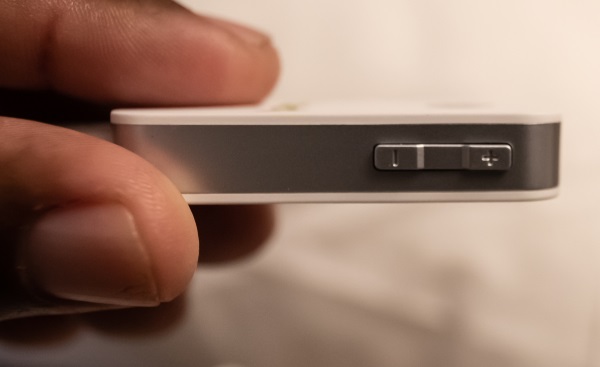 On the other side if the 3.5mm port for connecting the adapter to the pillow.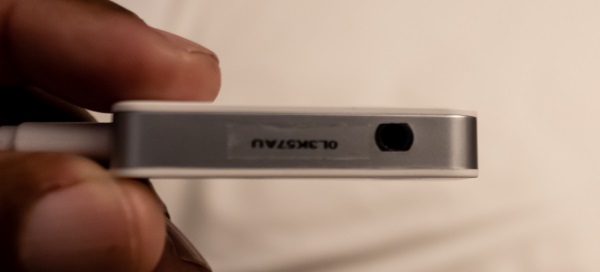 Performance
The Dreampad is very easy to set up and you can quickly start to enjoy the benefit of it. The Bluetooth adapter arrived with some amount of charge and I charged it the day before I started using it. Once I turned on the adapter, it showed up in the list of the available Bluetooth devices on my phone as Dreampad. The pairing was easy, and it was ready to go. My first test was to play music wirelessly from my iPhone. At first, I could not hear anything, then I realized that it is designed to be used with very little to no ambient noise and that for me, I could only really hear it with my head turned to the side with an ear on the pillow. If I was lying flat with the back of my head on the pillow, I could not hear it. Maybe someone with better hearing than I have might. This was not a big issue for me since I tend to sleep on either side but rarely face up with the back of my head on the pillow. I was also able to test the pillow using a transistor radio with a 3.5mm output auxiliary jack since you can use the 3.5mm cable that is built into the pillow to connect directly to the music source as opposed to the Bluetooth adapter. I went back to my iPhone, and I opened my Pandora app and started playing my Contemporary jazz selections, and soon dozed off to sleep. For me, it is a very soothing experience and it does help me to fall asleep easier and faster. One important point to note is that I decided to purchase a zippered pillow cover to cover the Dreampad and then I put the pillow cover on. I did this to keep the Dreampad clean and to protect it in case I spill water on it while taking a sip during the night and especially so if I fail to completely close its zipper. I am not sure how water resistant it is.
APP
The Dreampad also can be managed via a mobile app, that can broadcast any selection of music or sounds you select. It comes with 10 songs that are designed to specifically support sleep. The app also features volume control, play time control, and an alarm. The following are some screenshots from the app: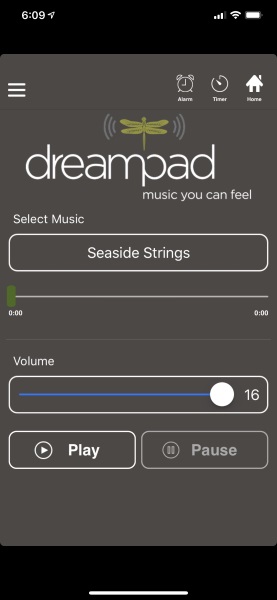 What I like
The quality of the pillow
The design and capability to connect to various audio sources and in multiple ways
What can be improved
Final thoughts
When I first heard about the Dreampad, I was not certain that I would actually use it regularly, but I was willing to try it because of the difficulty I have sleeping. While it does have its limitations, it actually works quite well and succeeds at helping me to drift off to sleep. I do think that it is the kind of product that you will either use regularly if you like it or not at all if you are on the fence about it. Having said that, I personally like it. However, the sample I received is the medium support version, and  I do need it to be much firmer for me to use it as my only pillow. I checked the ordering process on the website, and they do offer a selection of levels of firmness that includes a firm support version, and apparently a variety of material types that includes memory foam. I use the Dreampad almost every night along with another pillow, even when at times I fall asleep before actually connecting it to music.
Price: $127.20
Where to buy: SleepScore Labs
Source: the sample for this review was provided by SleepScore Labs.