We use affiliate links. If you buy something through the links on this page, we may earn a commission at no cost to you. Learn more.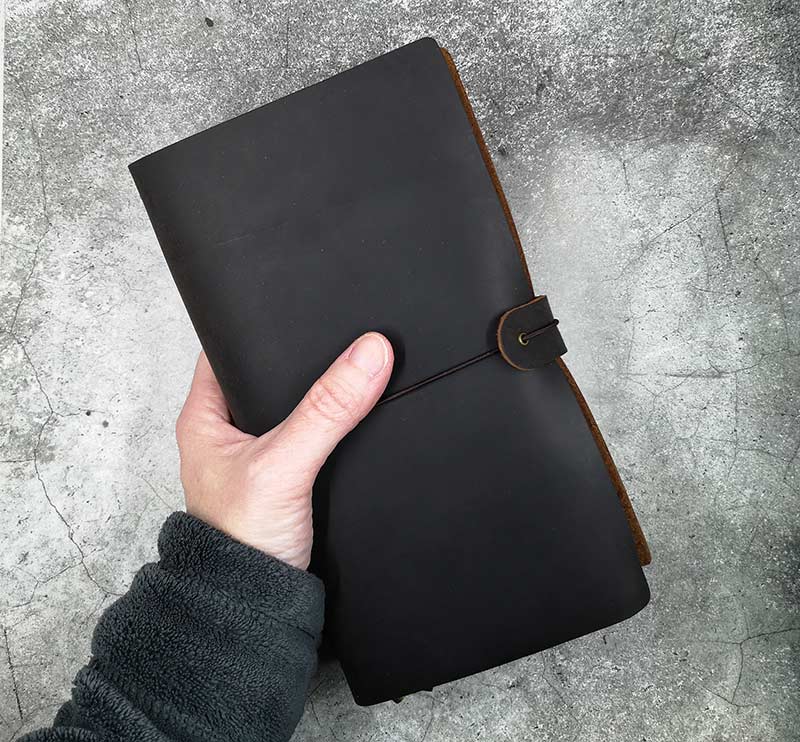 REVIEW – Over the years I've tried countless task and todo apps like Google Keep, Todoist, Wunderlist, and more. I start out excited to go digital with my task tracking, but I always end up going back to using a good old pen and a notebook because manually writing the task with a little box next to it is something my brain needs as an incentive to actually finish the task at hand. Why? I want the satisfaction of drawing an X in that box and tapping a box with my finger in an app doesn't work the same for me. That was a long-winded explanation for why I love notebooks and why I also love to review them. The latest notebook on my testing bench is the Traveler & More notebook. Let's check it out.
What is it?
The Traveler & More notebook is a simple leather notebook cover with multiple notebooks and inserts inside. It borrows the design and style of the popular Midori Traveler's Notebooks from Japan which I reviewed many years ago and even made a pocket-sized Traveler's Notebook DIY version of my own.
Design and features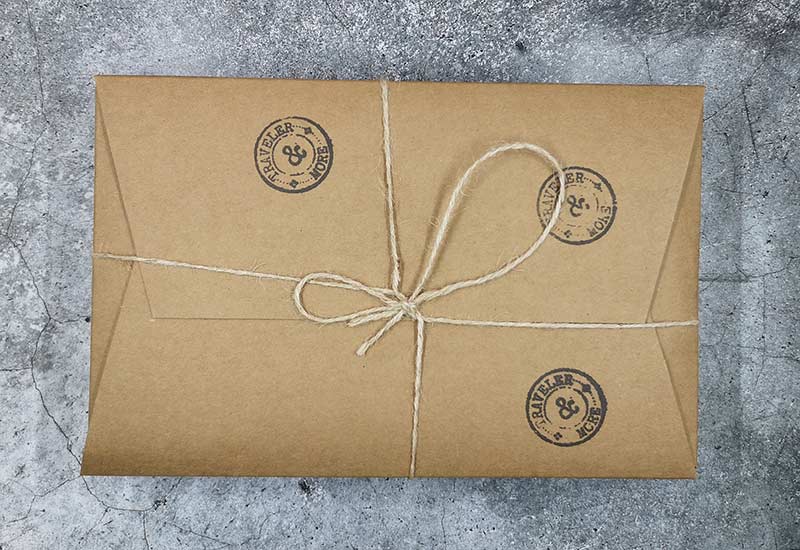 The Traveler & More notebook arrives in a simple thick craft paper package tied with string. I am a fan of minimalism and often get annoyed by flashy packaging that ends up in the trash. The Traveler & More packaging is minimal and will end up in the recycle bin.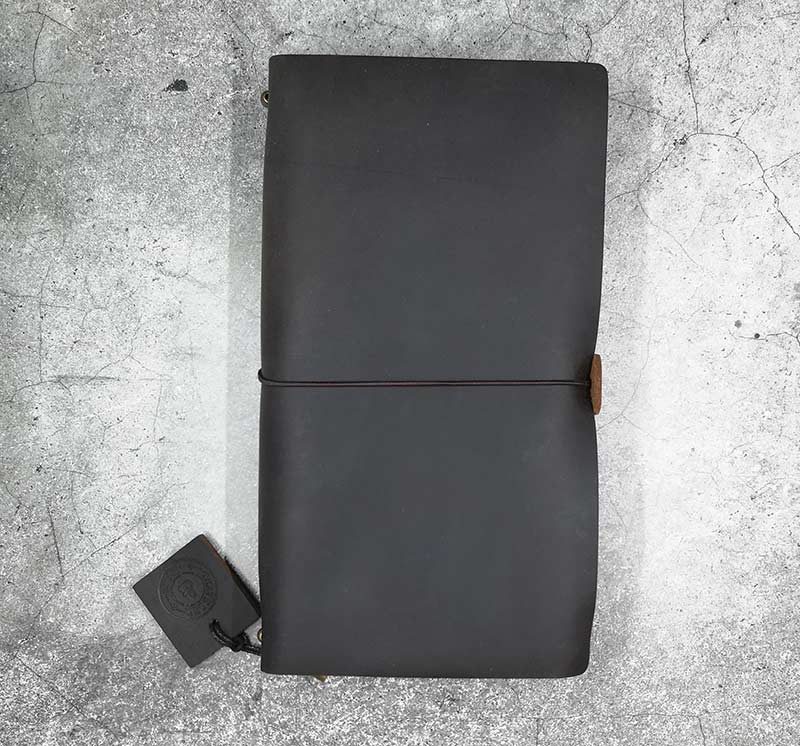 The notebook is the spitting image of the Midori notebooks and features one piece of leather that folds around the inserts to create a simple 8.7 x 4.9 x 1.6 inch cover. The leather used to construct the Traveler & More notebook cover is crazy horse leather which has been dyed a rich dark chocolate brown. I still have a Midori Travelers Notebook and find that I like the feel of the Traveler & More leather better because it's softer and more supple. It even smells better 🙂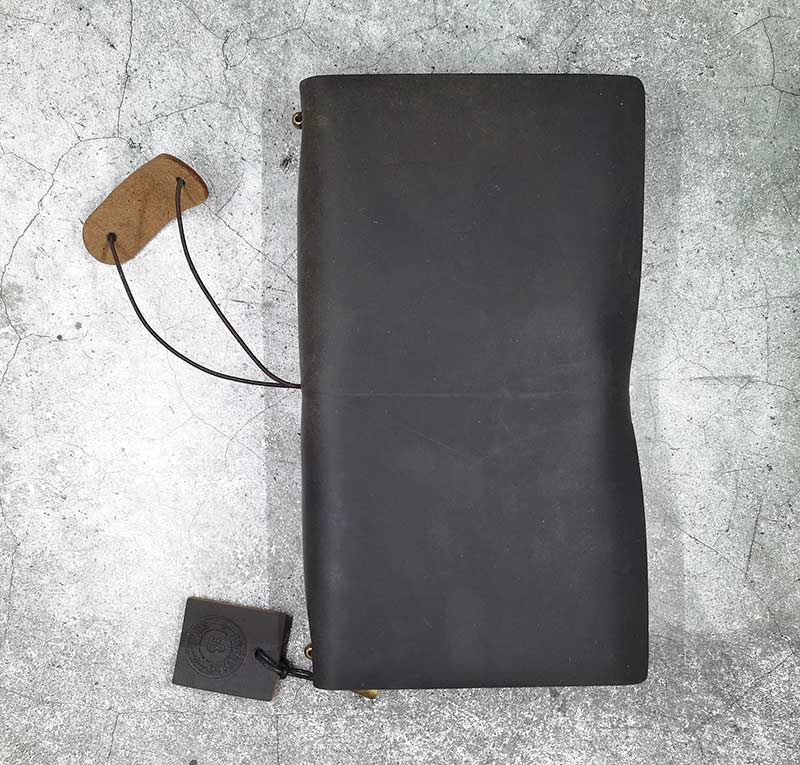 The Traveler & More notebook uses elastic bands to keep the cover closed, and a narrow strip of leather protects the edges of the cover from being deformed by the thin elastic cord.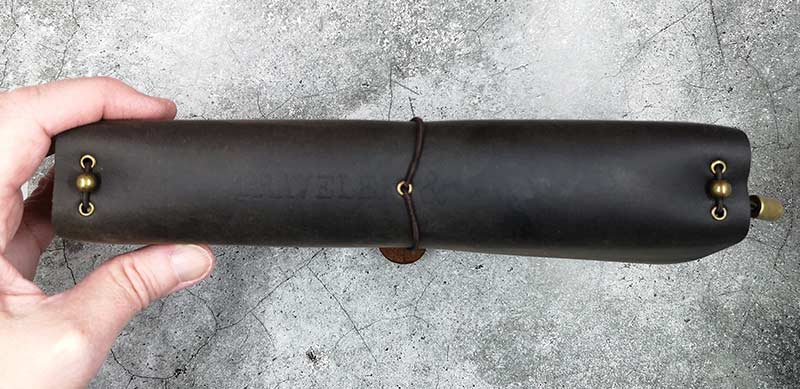 The Traveler & More cover's elastic band is attached to the spine of the cover instead of the back cover which I never liked with Midori covers. And as you can see from the image above, all the holes in the cover have been reinforced with metal eyelets which not only look a lot nicer but protect the leather. You'll also notice in the image above, that the Traveler & More logo is stamped into the spine of the cover. Luckily, it's not too noticeable.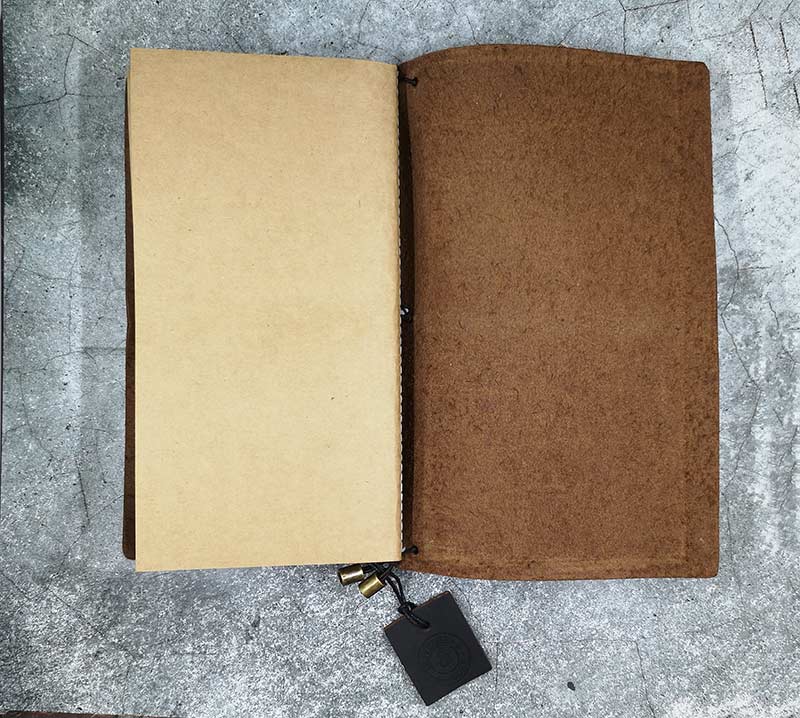 The inside surface of the covers is raw leather which does shed a little bit. At least mine has since I've been using it for the past couple of weeks. Not that it's a big deal, but I thought it was worth mentioning.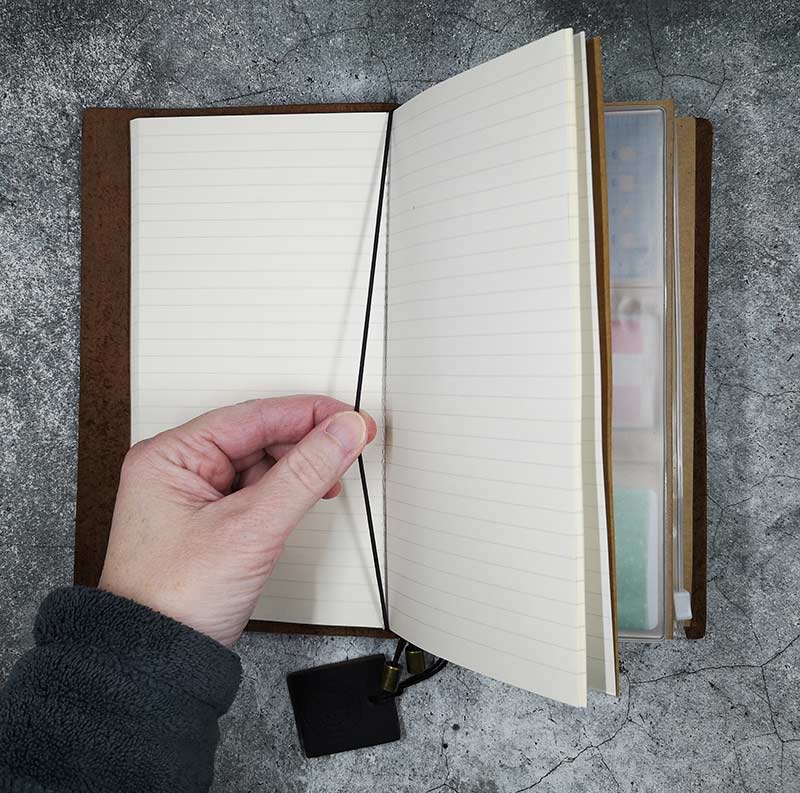 Each Traveler & More notebook comes setup with 4 separate notebooks and several inserts. The notebooks and inserts are held in the notebook by elastic bands. It's a simple system, but it works great and is secure. There isn't a worry that the notebooks or inserts will fall out.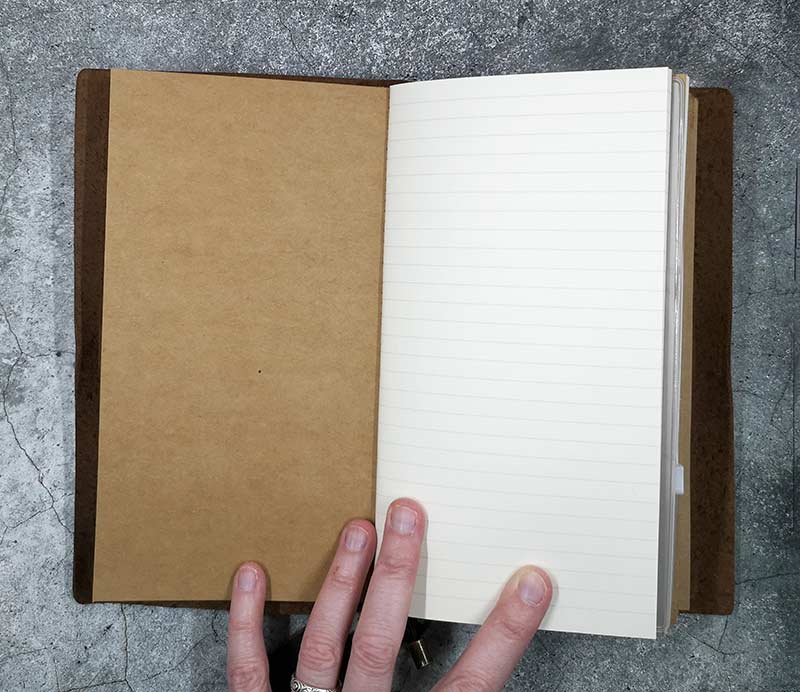 The 8.5 x 4.5 inch notebooks all have the same brown kraft paper/cardboard cover, sewn binding, and 40 sheets/80 pages that have a light cream color. You get a lined notebook, with faint light grey dotted lines.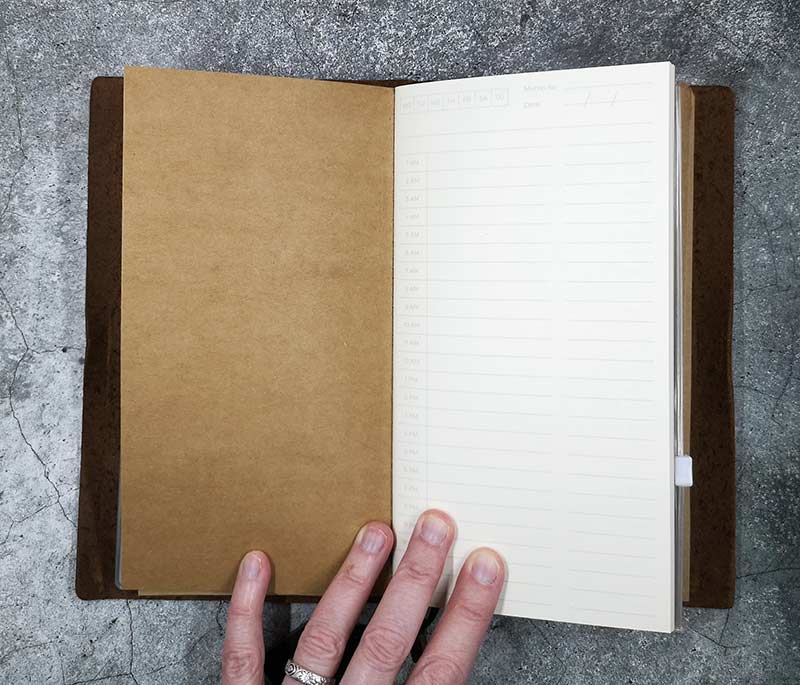 There's also a planner or memo style notebook that has a section at the top where you can mark the day of the week and date along with an agenda style list for the rest of the page with 1am – 12pm slots.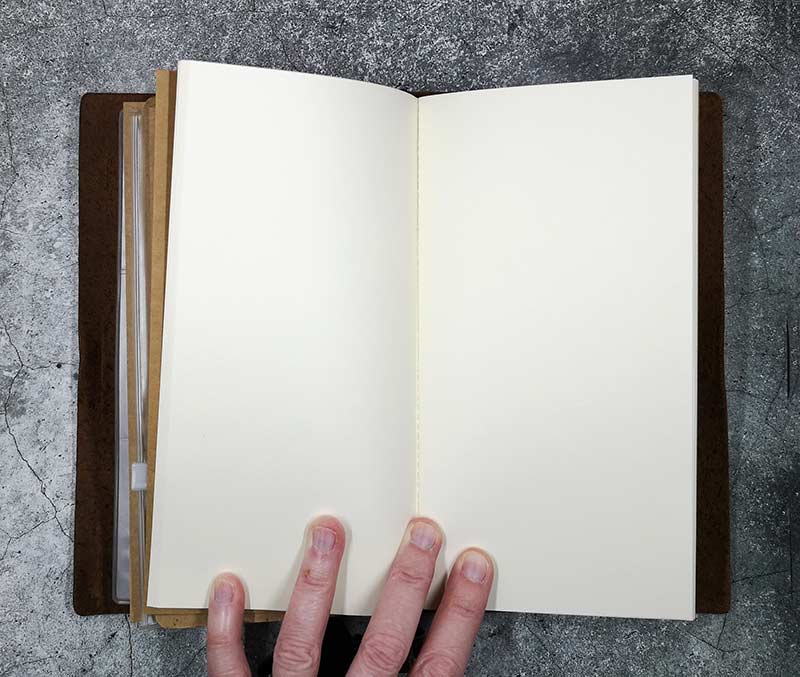 The Traveler & More notebook includes a notebook with plain pages for people who like to draw or who just like to have blank pages for their own layouts.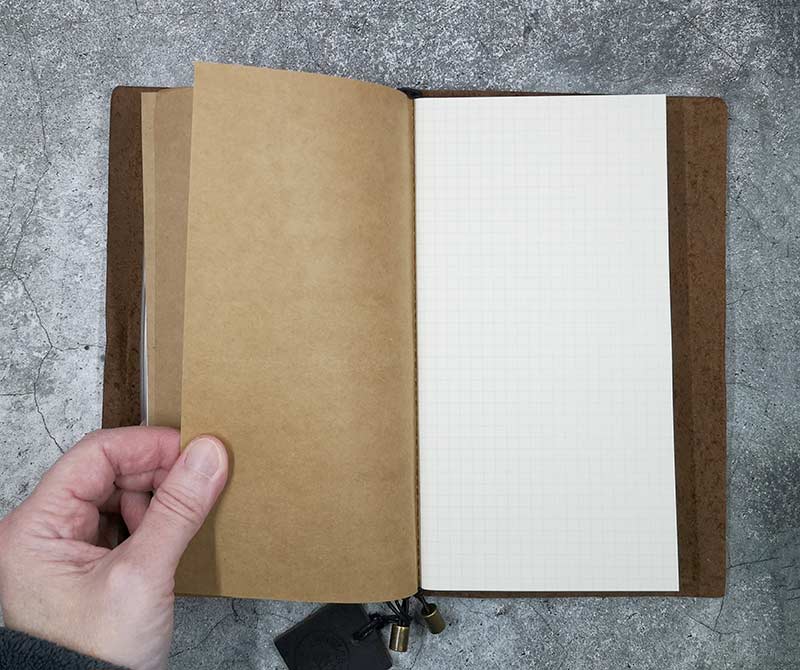 Last but not least, a square grid notebook is included. The paper used in the notebooks is 100GSM paper and it feels pretty thick. I don't use fountain pens, but I do use ink, both rollerball, and gel pens, and markers, and didn't notice any issues with the ink bleeding through the pages.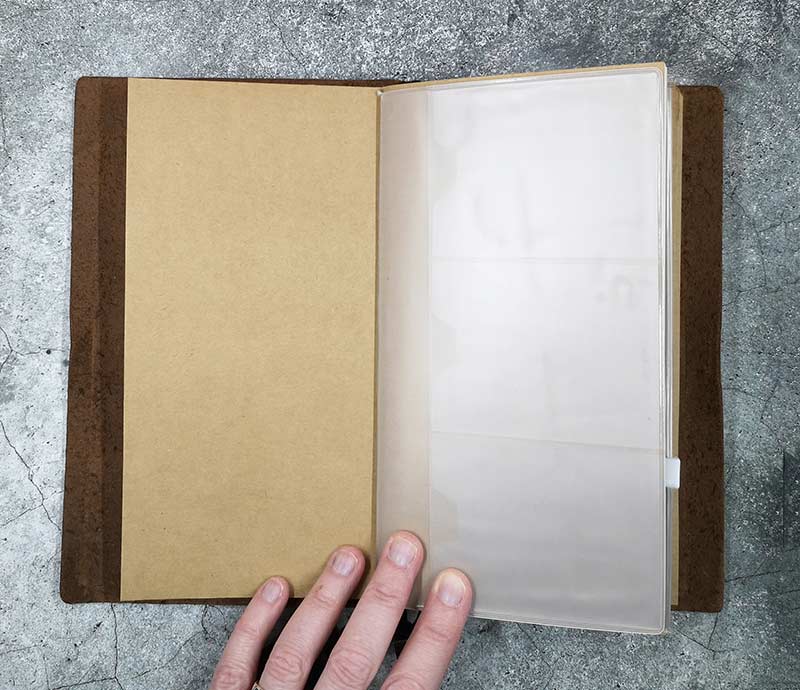 Other inserts include a vinyl card holder that has 1 large slot on top and 3 slots on the back that are sized to hold typical credit cards, business cards, etc.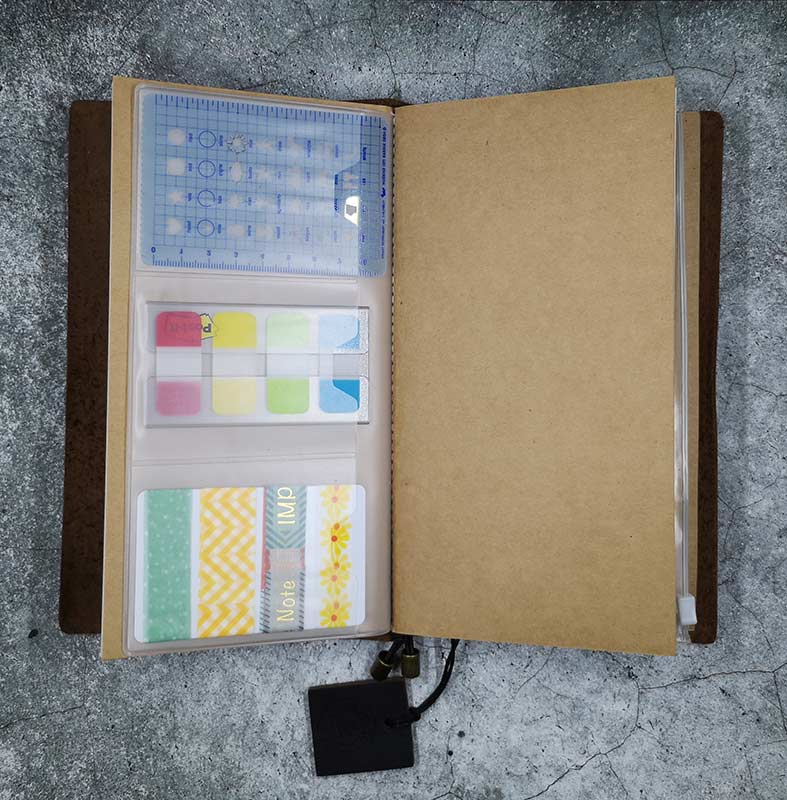 I'm using mine to hold some journaling tools.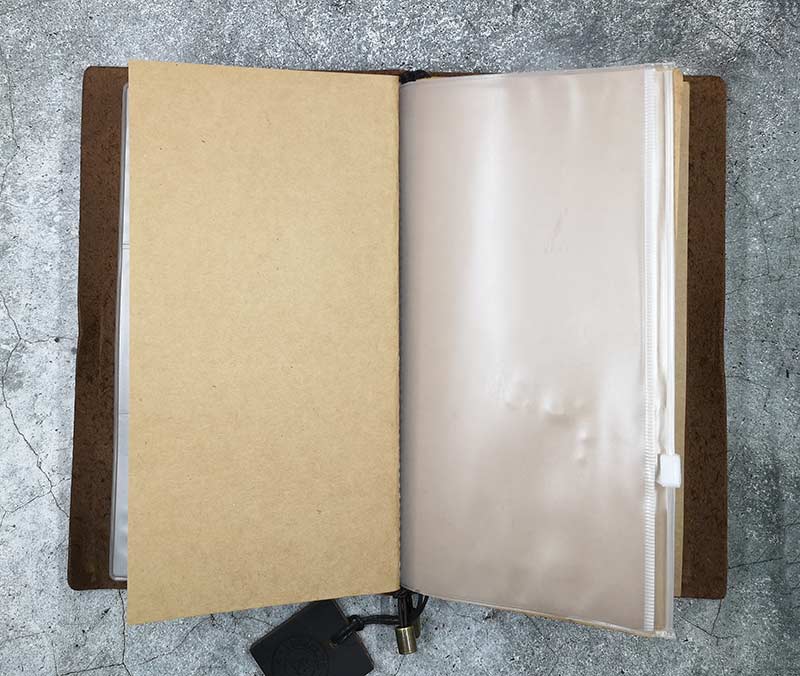 There's also a zipper pouch that you can use to hold small flat items like stickers, stamps, receipts, etc.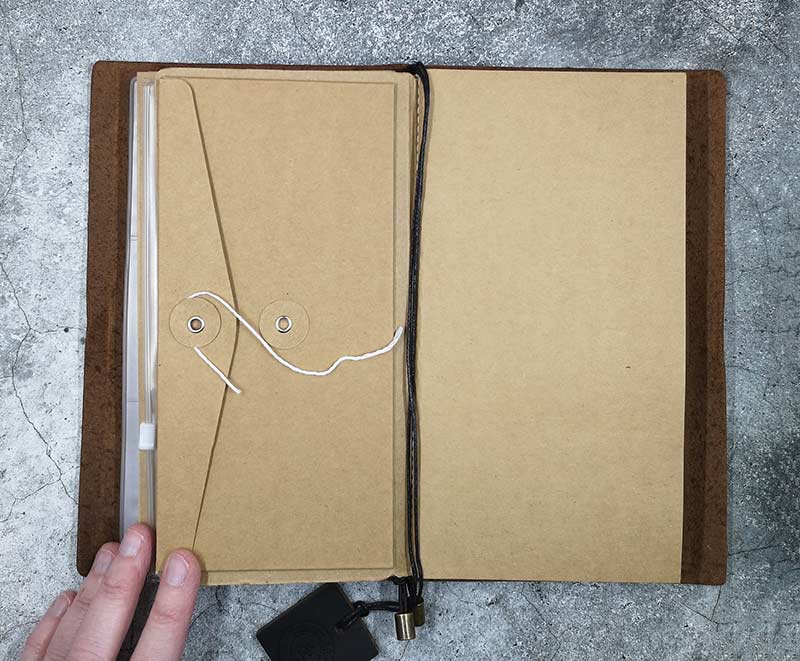 Other storage options included in the notebook are a craft paper envelope.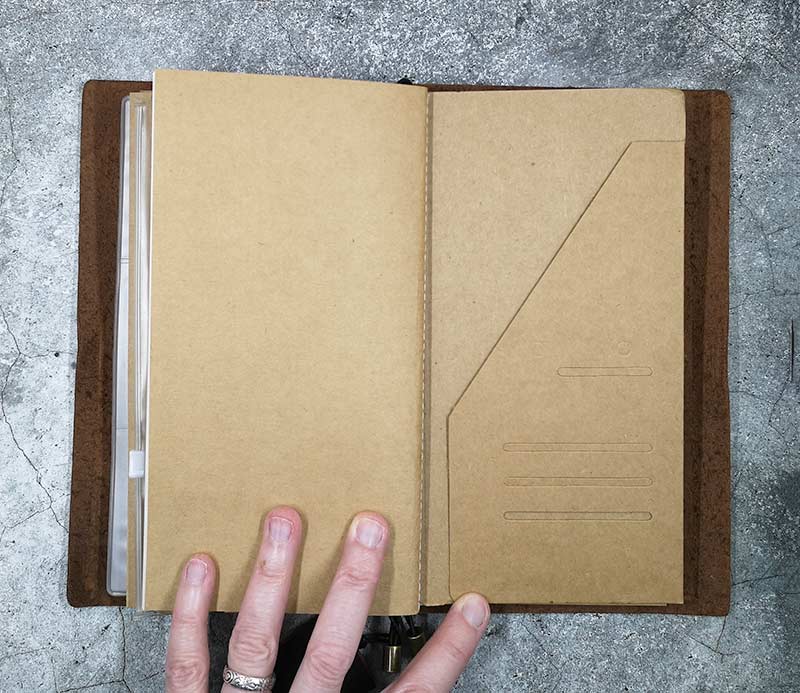 And a craft paper folder with card slots.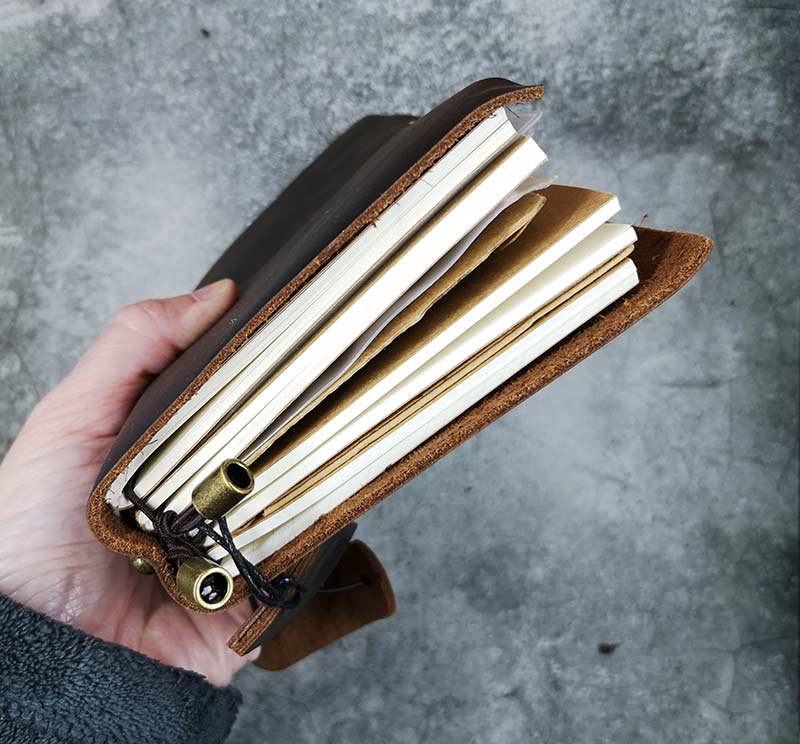 With 4 notebooks and the inserts, the Traveler & More notebook is a pretty chunky setup.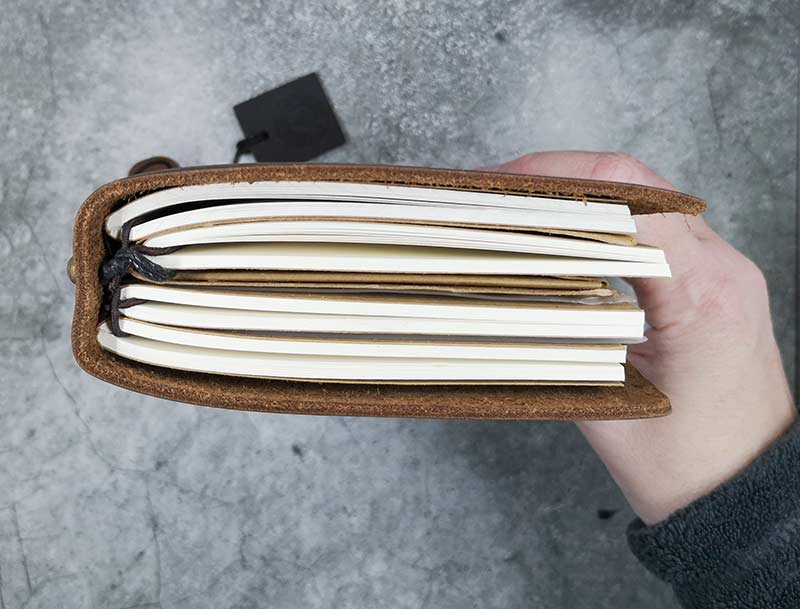 The leather notebook cover is sized large enough to hang over all the edges a bit so nothing sticks out. Some people will not like a notebook this chunky/thick and others seek out notebooks like this one so that they can use each notebook for a different topic. So like many of the products that we review, it's all about personal preference.
I don't mind a thick notebook, but I do find that it takes a little more effort to stow it in my bag when I'm taking it to and from work.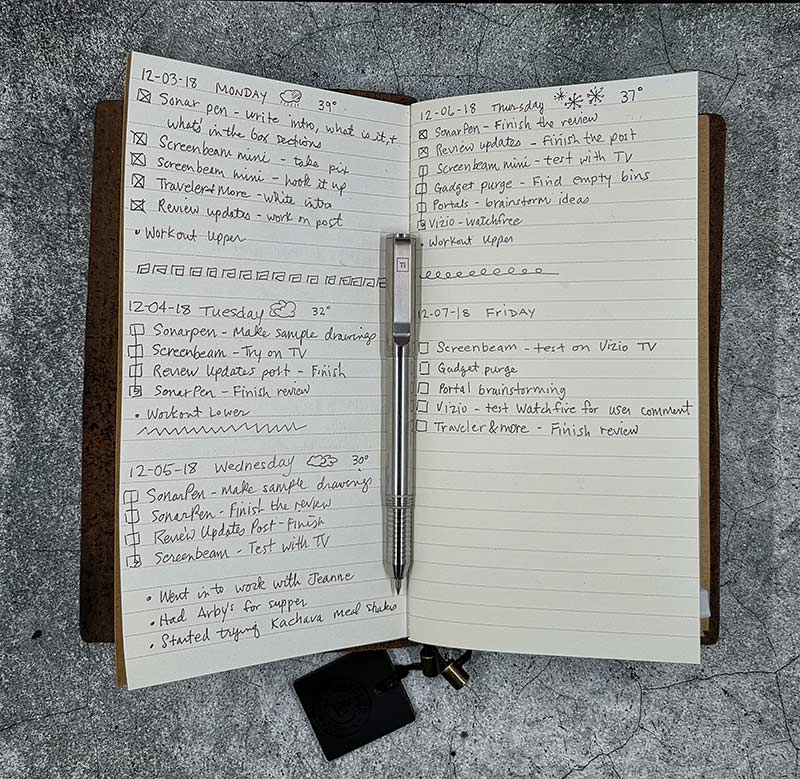 One feature that is a must have for me when I'm shopping for a new notebook, is that the notebook has to lay flat and stay open to the page that I'm working on. If it flops closed by itself, or if I have to constantly try to smooth down the pages, it will annoy me pretty quickly. The Traveler & More notebook doesn't lay perfectly flat but it does a pretty decent job of staying open to the page I'm writing on and I think that with use, it will get better as the notebooks get broken in.
What I like
Comes with 4 notebooks and inserts
The leather cover is soft
Price is very affordable
What needs to be improved
Would be great to offer other sizes like A5 or pocket-sized versions
Final thoughts
If you enjoy a rustic looking notebook that you can refill and customize, the Traveler & More notebook is a steal at $32 because it comes with 4 notebooks and inserts that will help you keep "stuff" organized. It's well made, will only get better looking as it lives with you through your adventures and everyday wear and tear. If you've wanted to buy a Traveler's notebook but didn't have the money for the brand name version, look no further than this one from Traveler & More. In my opinion, it's better in every way and significantly less expensive.
Price: $32.10
Where to buy: Amazon
Source: The sample for this review was provided by Traveler & More.