We use affiliate links. If you buy something through the links on this page, we may earn a commission at no cost to you. Learn more.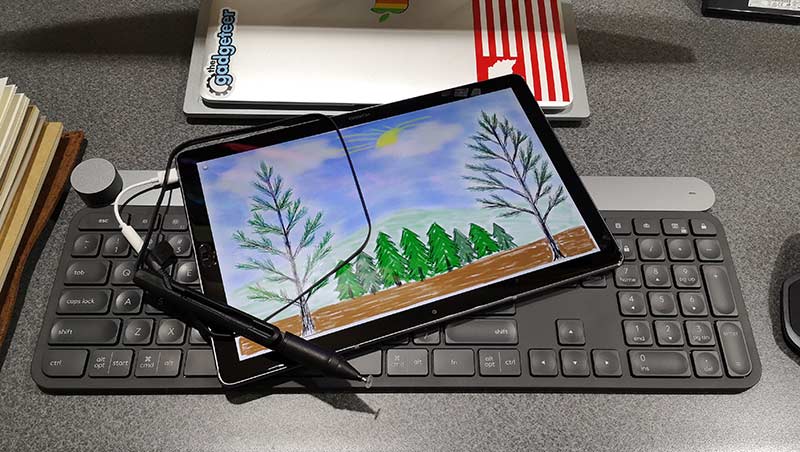 REVIEW – Creating art on an iPad or an Android tablet is a lot easier if you do it with a stylus, but high-quality styluses tend to be expensive, use Bluetooth, and require frequent charging. The SonarPen skips past those issues, but is it a better choice than other styluses? Let's check it out.
What is it?
The SonarPen is a pressure sensitive stylus for iOS and Android devices that plugs into the 3.5mm headphone jack instead of using Bluetooth for pairing.
Device compatibility
The SonarPen works with all iPads (except the 1st gen iPad), iPhones, and most Android devices that run on Android OS 4.4 and above. If the device doesn't have a 3.5mm headphone jack, you'll need to use an adapter like a lightning to 3.5mm adapter, or a USB-C to 3.5mm adapter.
What's in the box?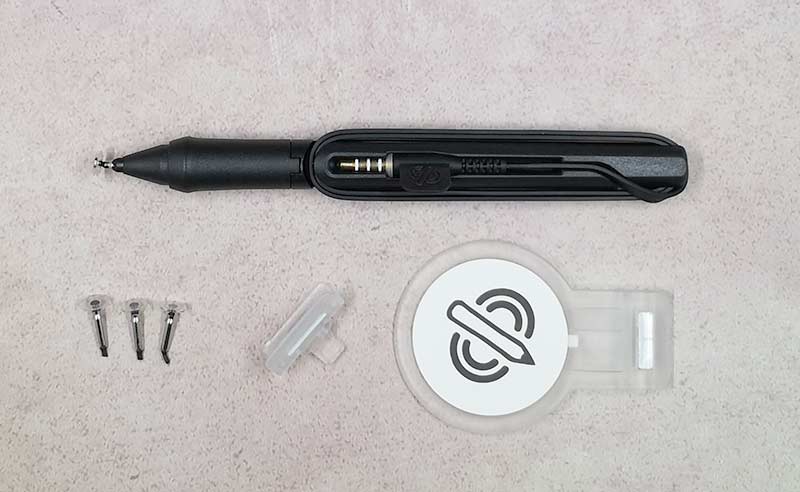 SonarPen stylus
3 extra stylus tips
1 lightning port stylus holder for iPads and iPhones
1 stick on stylus holder for other devices
Design and features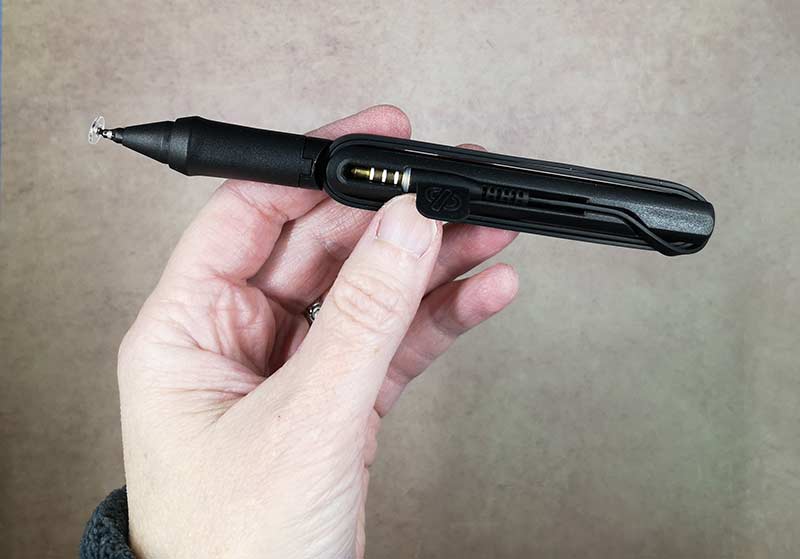 The SonarPen looks like a typical stylus with a disc style tip, but you soon realize it's not typical at all when you notice the flat cable with a 3.5mm plug that is built into the stylus.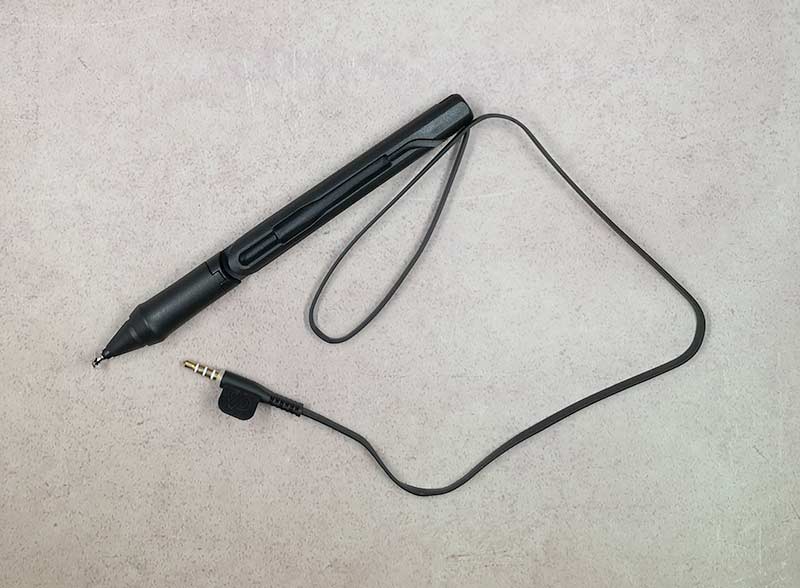 The cable wraps conveniently around the handle the stylus when it's not being used and unwraps to an approximate length of 19 inches from plug tip to the end of the stylus barrel.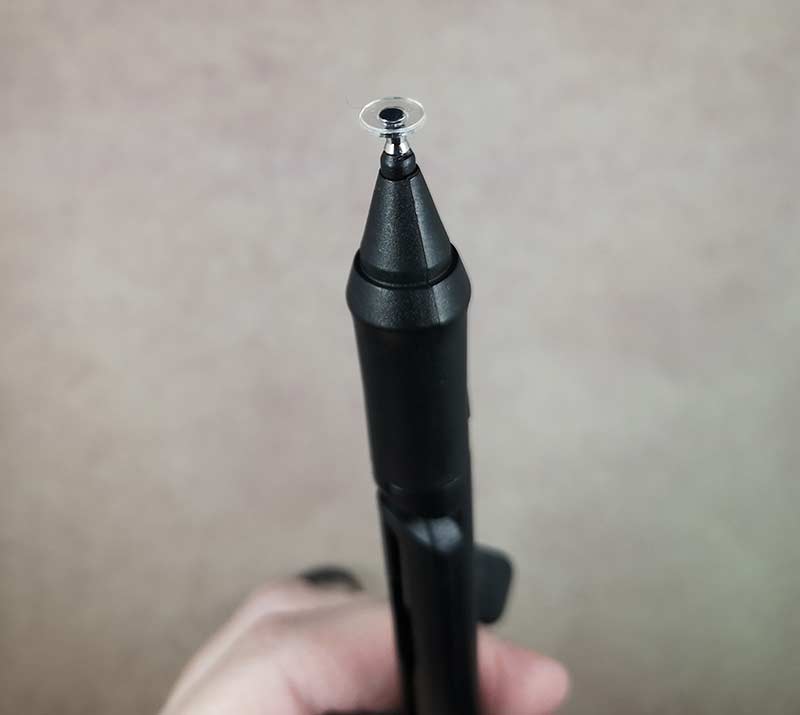 As mentioned, the stylus has a clear plastic disc tip/nib that is approximately .25in across and can move freely in all directions. Three extra stylus tips are included in the package and you can purchase additional sets of 3 nibs for $14.95 from Amazon.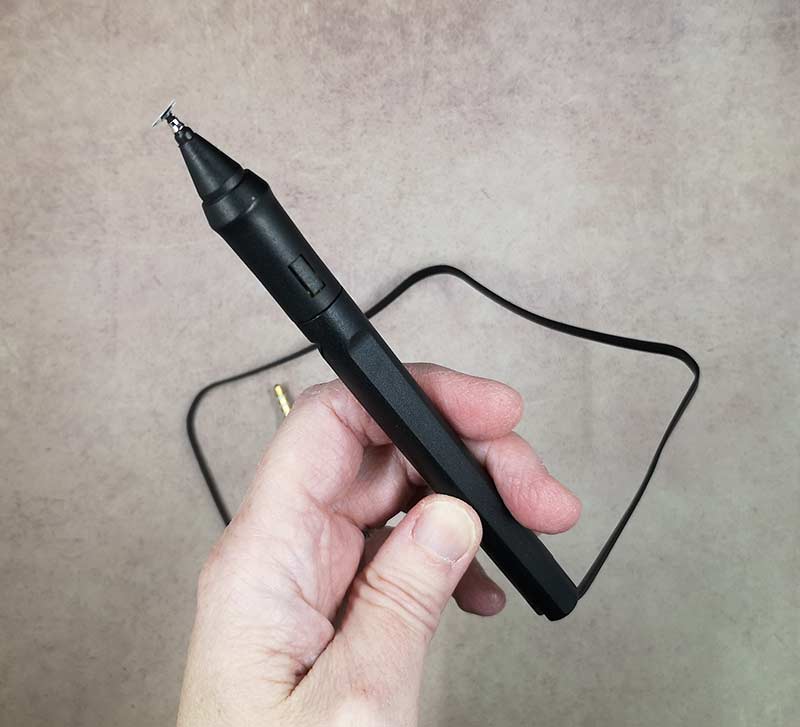 The stylus has a shortcut button on the barrel whose function is determined by the software being used with the stylus.
The SonarPen does not have to be charged or paired with your device. You just have to plug the 3.5mm plug into the headphone jack on your phone or tablet. If your phone doesn't have a headphone jack, you can use a lightning or USB-C adapter to 3.5mm adapter.
I tested the SonarPen with my Pixel 2 XL, a Samsung Galaxy Tab S3, and a Huawei MediaPad M5. The only one of those three devices with a headphone jack was the Samsung tablet and the SonarPen worked perfectly with it. For the other two devices, I used a USB-C to 3.5mm adapter. I'm sorry to say that I was unable to get the SonarPen stylus to work with my Pixel 2 XL, but it did work fine with the Huawei MediaPad M5.
App support
This stylus will work fine with any tablet or smartphone even if it's not plugged in. But plugging it into a device and using an art program that supports it, is the only way you can take advantage of the different pressure levels and the shortcut button.
If you plan to use the SonarPen with an iOS device, you have a variety of app to choose from, but when I checked the compatible app page on the SonarPen site, I didn't recognize any of the art and note-taking app names. Then when I checked the Android apps list, I was disappointed to see that only 1 compatible app was available. That app is called ArtFlow. It's free, which is good, but it does have some features (extra brushes, more undo levels, etc.) that prompt you to buy the full version or watch an advertisement in order to unlock the premium features for a limited time.
Let's draw!
Since I only had one choice, I tested the SonarPen with the ArtFlow app which is a pretty simple to use drawing and painting app for Android devices. I'm not going to go into a lot of detail about this app as it's not the point of this review.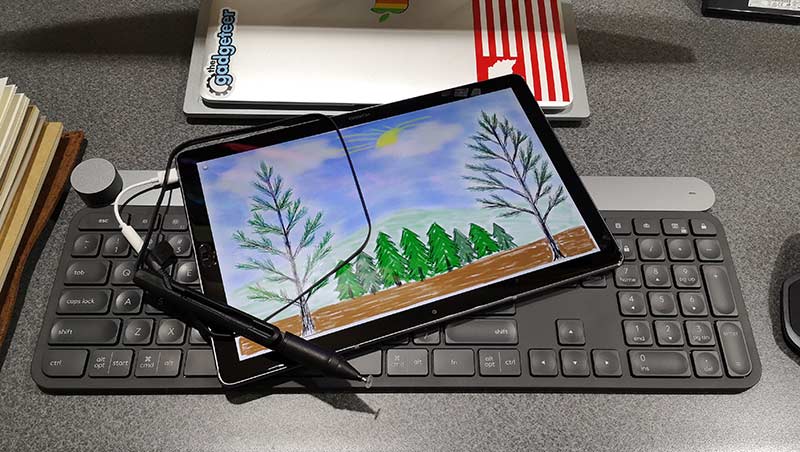 Once the SonarPen was connected to the tablet and enabled in the compatible app, using it to draw and write felt no different than many other styluses that I've used in the past that have the same type of disk tip. The tip glides easily and smoothly across the glass display with no skipping or studdering and the "ink" point is directly under the center of the stylus tip instead of at an offset.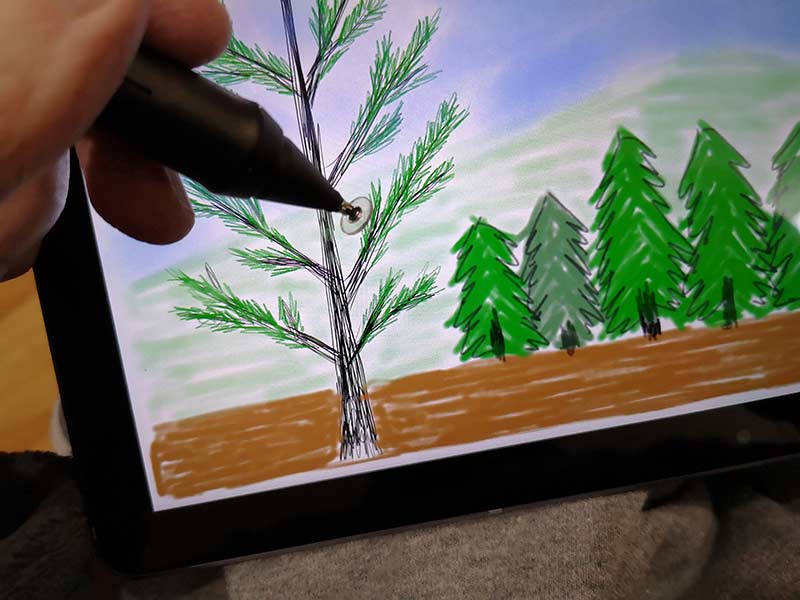 Where the SonarPen shines is with the pressure level feature as it makes you feel like you're truly drawing or painting with a pen or brush on paper. The lighter you press the stylus on the display, the lighter the line and of course the harder you press, the heavier and thicker the line will be. There isn't any info on exactly how many pressure levels the SonarPen can do, but they say it's more than other styluses.
I've used Bluetooth styluses before and most of them feel laggy when drawing. That's not the case with the SonarPen. The speed is just like an analog stylus. No lag at all that I noticed.
I was a bit bummed that the ArtFlow app that I had to use to test the SonarPen did not support palm rejection. That's a feature I was really looking forward to trying and the SonarPen is supposed to support it.
What I like
Does not need to be charged
Does not need to be paired via Bluetooth
Comes with 3 extra tips
Provides many pressure levels and a shortcut button (in compatible apps)
No lag
What needs to be improved
Cable gets in the way
Doesn't work with all devices (Pixel 2 XL)
Special features only available in a small selection of apps
Final thoughts
The SonarPen has some good things going for it like no charging and no Bluetooth pairing headaches. But I found that the attached cable got in the way a lot of the time. I also wasn't thrilled with having only one choice of art app to use with it on the Android platform. I'm not sure I would feel any better if I were an iOS person as my favorite art apps on that platform aren't supported (yet) either.
I think the SonarPen makes drawing feel more analog and true to life with the pressure level feather. The price is pretty nice too. As long as you don't mind having to use a certain selection of apps with this stylus and you don't think the cable will bother you, the SonarPen is worth trying.
Price: $34.50
Where to buy: Amazon
Source: The sample for this review was provided by SonarPen.