We use affiliate links. If you buy something through the links on this page, we may earn a commission at no cost to you. Learn more.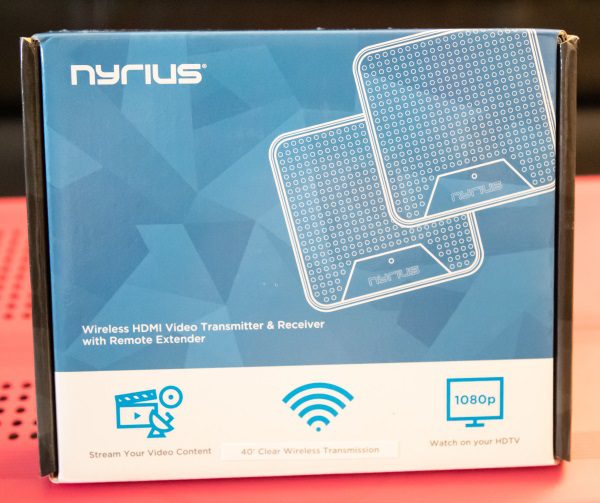 REVIEW – Devices with wireless capability have become an assumed feature in today's technology word. However, some wireless capabilities present more challenges than others. The ability to transmit audio and video wirelessly from source to a display has usually been offered with a large price tag attached to it. The Nyrius ORION streaming device promises the same capability but with a reasonable price tag. Let's see what it delivers.
What is it?
The Nyrius ORION streaming device is a component package consisting of a transmitter and receiver and offers 1080P HD wireless transmission of video and any associated audio between the two components up to a 40′ range within line of sight.
What's in the box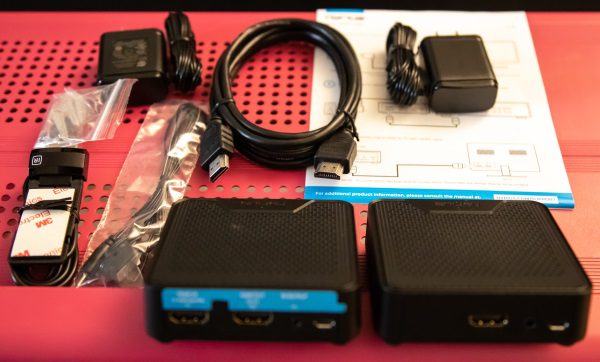 1 x Digital Wireless HD Transmitter
2 x External IR Remote Extender
1 x Digital Wireless HD Receiver
2 x AC Power Adapters
1 x 5ft HDMI Cable
2 x Screws/Screw Anchors
1 x Instruction Manual
Design and features
Specifications
Supported Video Resolution: 1080p, 1080i, 720p, 576p, 480p (will support 4K content that has been downscaled to 1080p by source device)
3D Compatible: Yes
Audio Formats Supported: PCM 2CH, Dolby 5.1
Transmitter Ports: HDMI input, HDMI Loop-Through (Output), Micro USB (for power), 2.5mm Jack (for IR Emitter)
Receiver Ports: HDMI Output, Micro USB (for power), 3.5mm Jack (for IR Emitter)
Wireless Range: 40ft (streaming line of sight results in maximum range)
Transmission Frequency: 802.11 a, b, g, n; 5.8GHz (Band 1 & 4)
System Latency: Less than 500ms (average 150ms)
IR Frequency: 30-60 KHz
Wireless Technology: ORION GigaXtreme
Source Compatibility: Any source containing an HDMI output port
Display Compatibility: Any high-definition television or projector with HDMI input
Wall Mountable: Yes, Transmitter and Receiver have built-in keyhole slots
Multiple Receivers: Yes, Maximum of 4
Adapter Compatibility: Nyrius does not recommend using Digital to Analog Adapters with their Orion products. However, HDMI to mini-HDMI/micro-HDMI adapters are compatible
TX/RX Channel: 1 TX / 4 RX
This system consists of one Transmitter and one Receiver device that accept HDMI connectivity. They are identical in size, and measure approximately 3 1/4″ x 3 1/4″ x 1″. On the connectivity side of the receiver as shown below there is the HDMI Out port, an IR In port and a micro USB AC adapter port. The HDMI Out connects to an external display.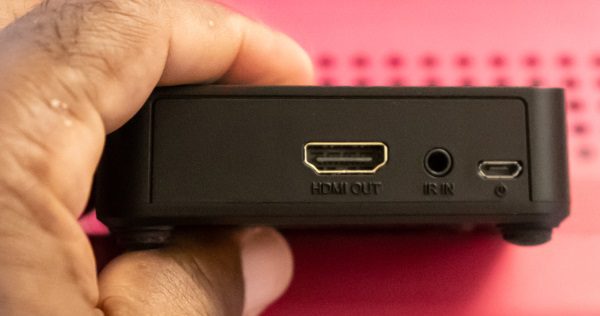 On the Transmitter as shown below, there is the HDMI In port, the HDMI Out port, an IR Out port, and a micro USB AC adapter power port. The HDMI In port is used to connect the source device to the transmitter and the HDMI Out allows for the direct connection to another monitor/device. This is a loop-through feature.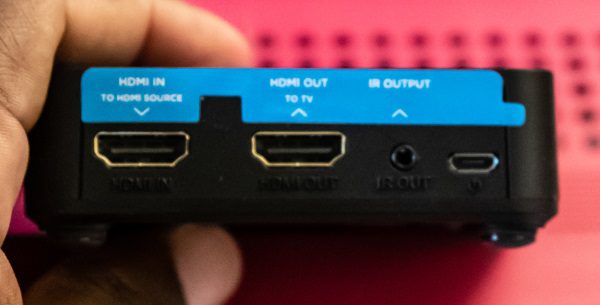 Both components have the pairing button as seen below that you press to make the connection between them.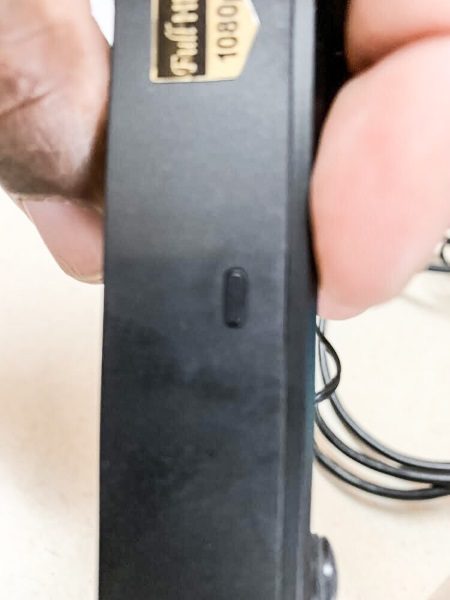 Performance
The connection of these devices was straightforward and easy, and within a couple of minutes, I was transmitting wirelessly between my laptop and an external monitor.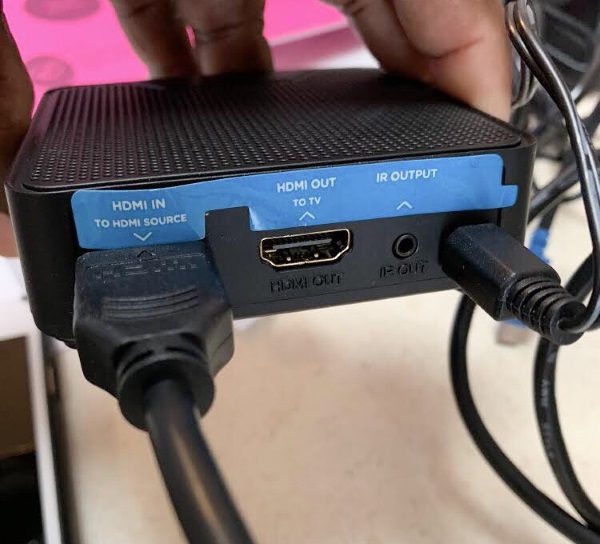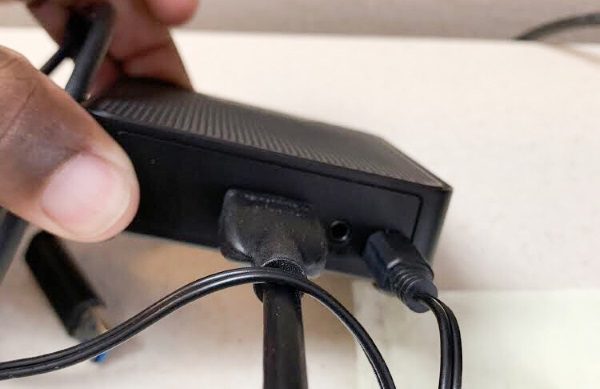 When the Receiver is connected to the output display, the screen below is displayed as it awaits a signal from the Transmitter.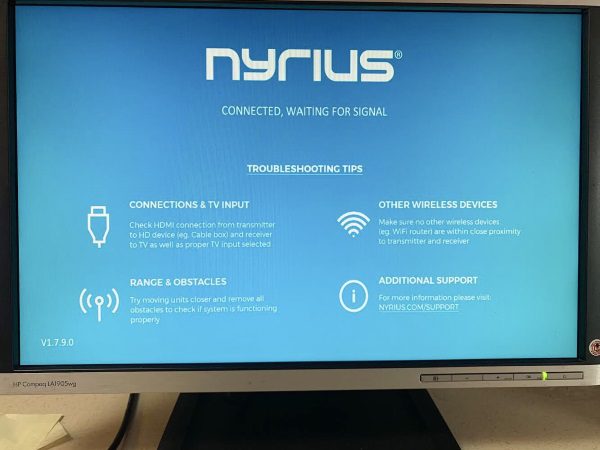 The LED indicator on each component lights steady white when the 2 are successfully connected and blinks red when they are not.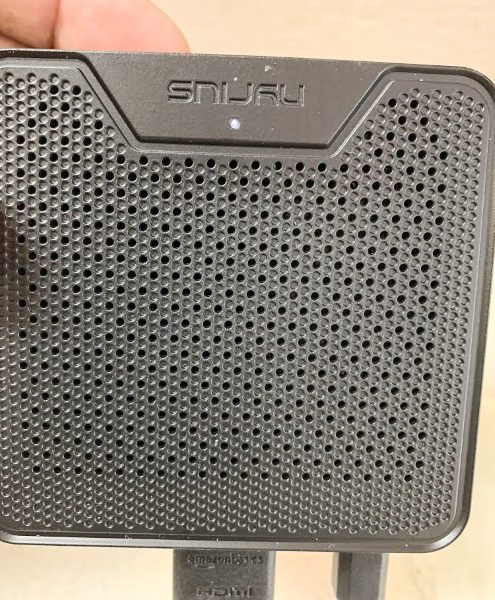 There is a slight lag between the source video and the remote display and there tends to be a bit more lag the further away from the source you are. Overall, it works quite well especially within the 20′ to 30′ range that I was able to perform my tests. I tried it on streaming devices, a PC laptop, and a MacBook.
If you are streaming from a media source that is in a different room than your display and you are receiving the audio/video signal with no problem, the IR extender feature allows you to control your streaming/media device like a streaming box from the display, by simply pointing the media device remote and the IR Extender and using the remote as you would when in front of your media/streaming device.
What I like
Size of Transmitter and Receiver
Operational range
Eas of set up and connectivity
Consistent connectivity
What can be improved
In terms of its specification and what it promises to do, it works as intended.
Final thoughts
The Nyrius ORION streaming device seems to be perfect for sitting on your couch with a laptop or even another streaming device and watching the content on a larger display without having to run wires between the source and the display. The fact that it is able to do so while displaying content at 1080P HD is also a nice feature. While there is a bit of lag, it is not noticeable if the output display is not compared to the input via another display that is connected to the source or the loop-through port, so this is really not an issue. The Nyrius Orion certainly has its niche, and for the features, the price, and how it performed during my tests, it is a good value.
Price: $149.99
Where to buy: Nyrius website and Amazon
Source: The sample for this review was provided by Nyrius.