We use affiliate links. If you buy something through the links on this page, we may earn a commission at no cost to you. Learn more.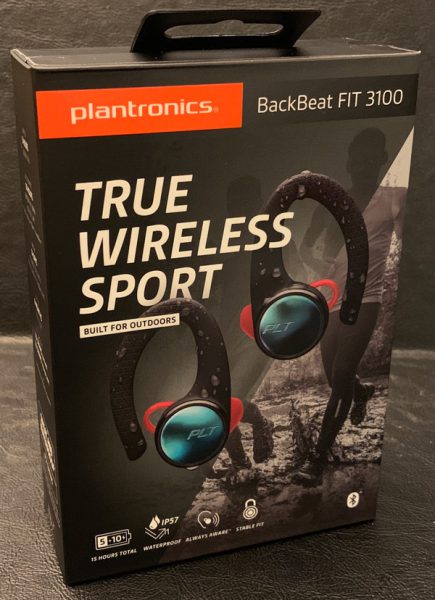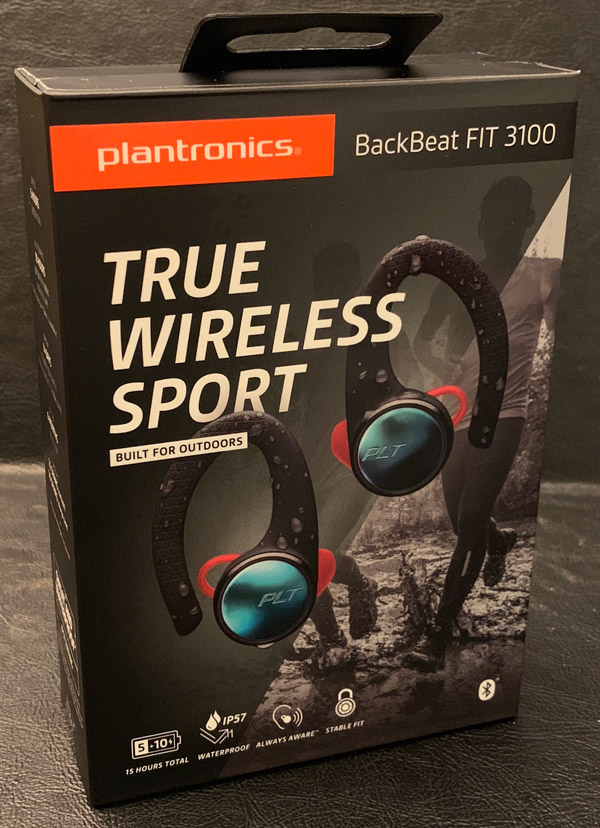 REVIEW – Bluetooth sport-centric headphones have been around for years. Typically these early "wireless" earbuds were pretty big, relatively bulky, ill-fitting, and needed a cord connecting the two to power and communicate with each other. In the past few years, totally wireless earbuds have become the norm rather than the exception. They have become smaller, lighter, better fitting, and more secure…all the while sounding better and better along the way. In this case, Plantronics have created a somewhat larger, retro-design in their first attempt at a totally wireless set of sport headphones…the BackBeat FIT 3100 True Wireless Sport headphones that are "built for the outdoors".
For this review, I have been using the BackBeat FIT 3100 True Wireless Sport headphones exclusively for a couple of weeks. Thus far I have ran, done elliptical, stairs, weightlifting, pushups, and even chopped firewood with them several times each at a minimum.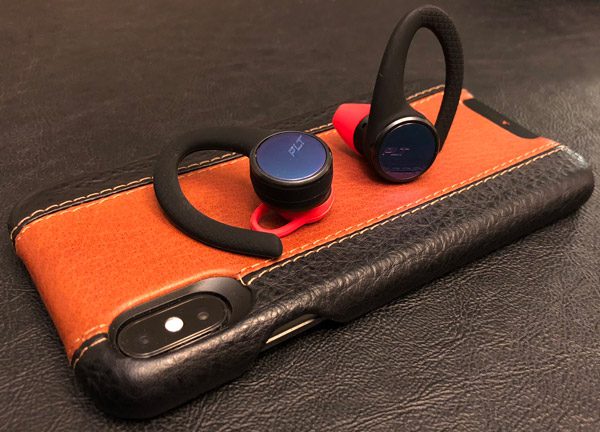 What is it?
The Plantronics BackBeat FIT 3100's are completely cordless, hardened against moisture/sweat, and are meant for runners, bikers, and other (outdoor) sports enthusiasts. These bluetooth 5.0 earbuds are designed to fit just inside your ear with very little noise isolation allowing ambient sounds (aka traffic) in for better situational awareness.
Design and features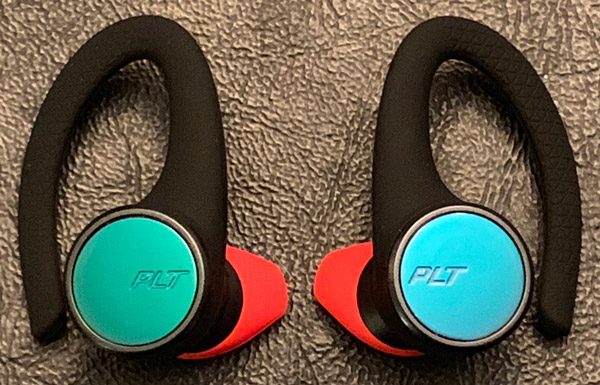 The BackBeat FIT 3100's are well made from hard plastic, rubber, and metal. They're held securely in place by a combination of several design choices. Each earbud has a hard rubber hook the wraps around the top of ear.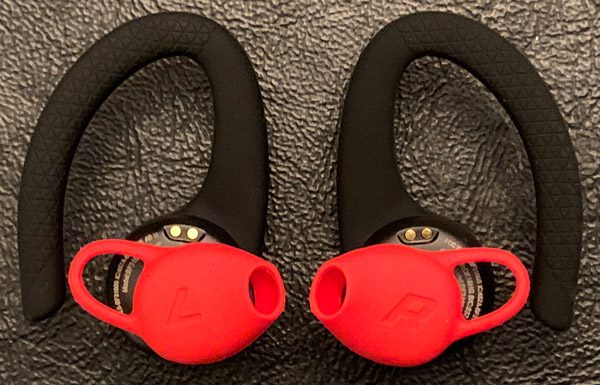 There is also a soft rubber wing that goes over each speaker that helps hold the earbud within the outer part of your ear and also focuses/funnels the sound into the inner portion of your ear canal. Plantronics has used this combination of design elements for awhile now.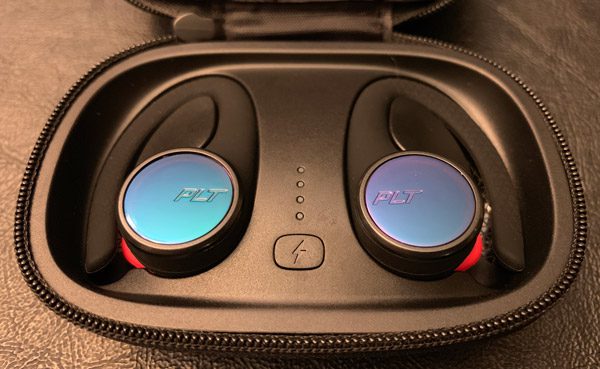 The charging case is medium-sized, black, and well made, with the shape of a pillbox/MiFi device. It is meant to not only charge the FIT 3100 earbuds but store, transport, and protect them as well.  The center button and four small LEDs are meant to let you know when it needs to be recharged, is charging, or fully powered up.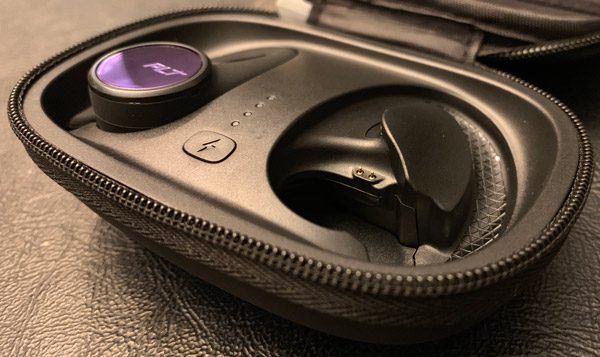 The case has two perfectly form-fitted slots that the BackBeat FIT 3100's slide into. Due to the snug fit, it takes a bit of practice to get the earbuds into and out of the case. Here you can see the copper pins that charge the 3100's while stored in the case.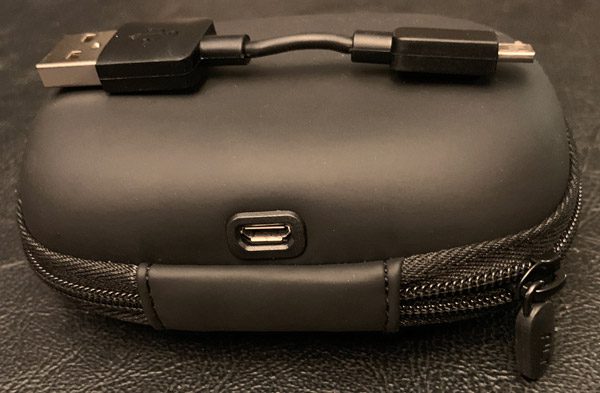 The case is powered by a microUSB charging port on the back. Plantronics includes a pretty short/puny charging cable meant to connect to the side of a laptop. Though I used a longer cable I had lying around when using a wall plug. Plantronics promises 5 hours of use before needing to be recharge. The storage case has an internal battery with two additional charges before the earbuds + case need to be recharged. If your earbuds run out of power and you want to use them on the fly, a quick 15 minute charge gives an hour of listening, long enough for most runs, commutes, phone calls, YouTube videos, etc.
Specifications
| | |
| --- | --- |
| Weight | 22 g/ .78 oz |
| Wireless range | Up to 33 ft/ 10m |
| Bluetooth technology | 5.0, HFP 1.7, HSP 1.2, A2DP 1.3, AVRCP 1.5 |
| Harmonic distribution | <3% |
| Speaker driver size | 13.5 mm |
| Frequency response | 20- 20,000 Hz |
| Sensitivity | 94 dBSPL @ max volume |
| Microphone | MEMS microphone with DSP |
| Listen time | Up to 5 hours (earbuds only) and up to 10 additional hours with charge case |
| Talk time | Up to 5 hours |
| IP rating | IP57 sweatproof and waterproof |
| DeepSleep | Up to 6 months |
| Quick charge | Up to 1 hour of listening time with a 15-minute charge |
| Battery capacity (earbuds) | 90 mAh |
| Battery capacity (charge case) | 740 mAh |

The BackBeat FIT 3100's case is relatively large compared to other truly wireless earbuds on the market. Here you can see it next to the Jabra Elite Active 65t and Elite Sport cases. It is also larger than the JayBird RUN True case as well (couldn't find those for these comparison pics).

Like its case, the BackBeat FIT 3100's are the largest earbuds I have used in a long time (aka years). The earbuds themselves are about the same size as many of the others. But the earloop gives them a much larger form-factor than many other brands. Plantronics is definitely bucking today's sport-centric earbud trend of smaller, very snug fitting, passive sound isolation designs that you jam deep into your ears.
Fit and comfort: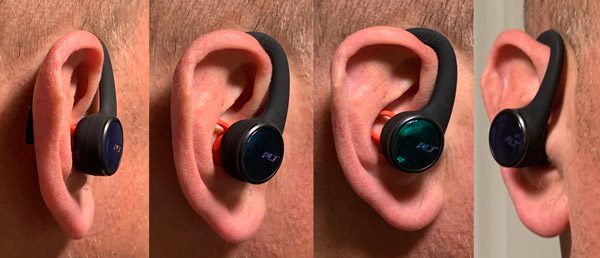 The fit and feel of the BackBeat FIT 3100's is, without a doubt, not the norm these days. They sit just inside your ear, with the funnel going into your ear canal, with the back fin holding everything in place. While many other earbuds are engineered to jam into your ear, the BackBeats wear very non-intrusively yet still stay securely on your ear. Like I mentioned above, I have done all sorts of workouts with them and they remained in place, even upside-down on my inversion table, surprisingly well.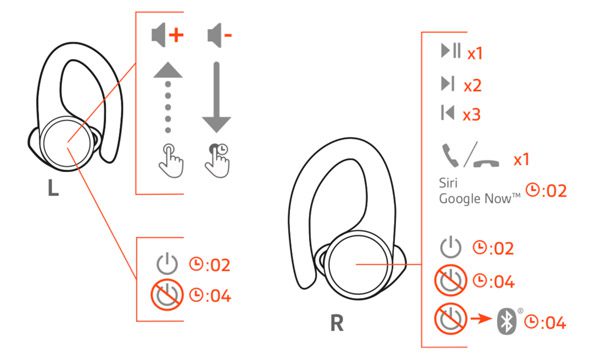 On the outside of each earbud are the control buttons. The left earpiece controls volume, press the exterior of the earpiece to raise volume and press and hold to lower it. The right "context-sensitive" button controls: power on/off, play/pause music, answer/end calls, Siri/Google Assistant, and previous/next track.
Sound Experience:
Since the FIT 3100's are not meant to be inserted deep into your ear canals, they do not blockout much ambient noise. The listening experience is good but not as worthy as other bluetooth sports earbuds I have tried. The 13.5mm drivers produce decent enough sound though they don't have over-the-top bass by today's standards. But overall the FIT 3100's deliver a good and relatively clear listening experience. They are engineered with "Hear your surroundings with Always Aware eartips for safer workouts" and would have to be turned up some in a loud environment.
Call Quality:
The call quality was very good. I tested calls in the office, walking in the hustle and bustle of downtown Seattle, driving in my car, and while working out on our elliptical machine…I and the folks I was talking to could hear hear and understand each other without issue.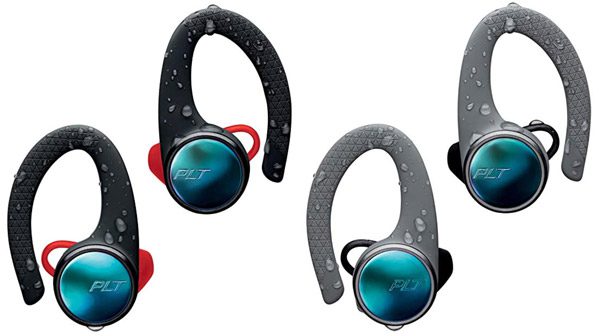 In addition to black, the BackBeat FIT 3100's are also available in grey. Even though these sports earbuds are hardened against sweat and moisture, I was not able to find how long Plantronics warranties the 3100's. I would assume at least a year.
Positives
Well made
Comfortable, secure fit / soft, flexible and secure-fit earloops offer comfort and stability
Good sound & call quality
IP57 rating (sweatproof and waterproof)
Can hear ambient noise/sound for better situational awareness
Designed for runners and bikers
Negatives
Can only be connected to one device at a time (aka no multipoint technology)
Final thoughts
Plantronics did not engineer the BackBeat FIT 3100 to completely seal out the outside world. They're designed to let in ambient noise, so you can hear traffic while you're pounding pavement or biking along city streets or country roads. Their sound quality is good but do not expect pounding base or incredible clarity. That said, they get the job done as promised…providing a solid music, video, call experience during an epic workout, long run, or while just hanging out.
Price: $149.99
Where to buy: Available from Amazon or directly from Plantronics.
Source: The sample of this product was provided by Plantronics.