We use affiliate links. If you buy something through the links on this page, we may earn a commission at no cost to you. Learn more.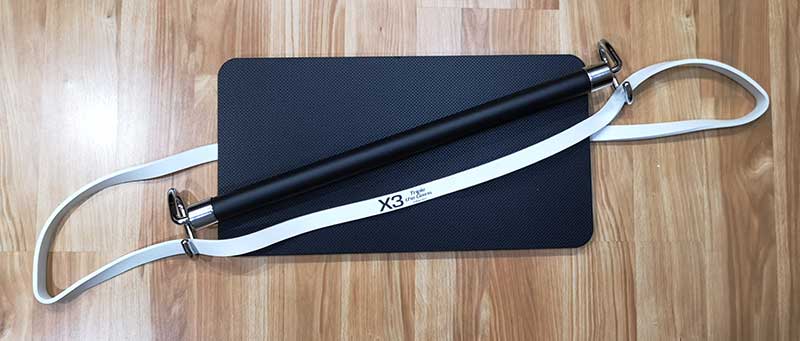 REVIEW – How can you build muscle without spending hours in a gym each week and spending money on monthly membership dues? Sure, you can work out at home with your own fitness gear, but that can get expensive too and there's the matter of all the time you have to devote several days a week to do the actual workouts. Then there's the X3 Complete Home Gym that claims to build muscle by only spending 10 minutes 4 days a week. There has to be a catch right? Let's find out.
What is it?
The X3 system is a home gym system invented by Dr. John Jaquish, a biomedical engineer. The portable workout system uses three parts. There's the ground plate, the bar, and a set of heavy-duty latex bands.
What's in the box?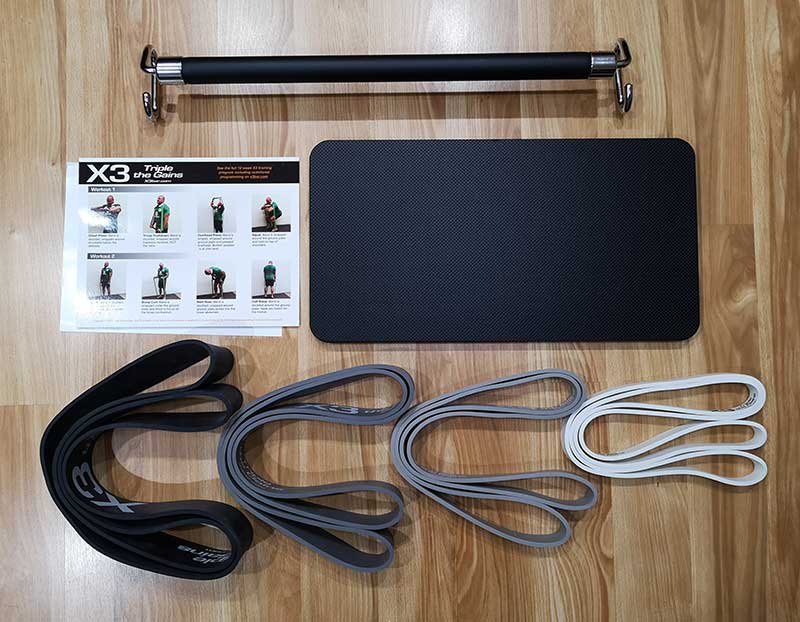 X3 bar
Ground plate
4 bands
Exercise charts
Design and features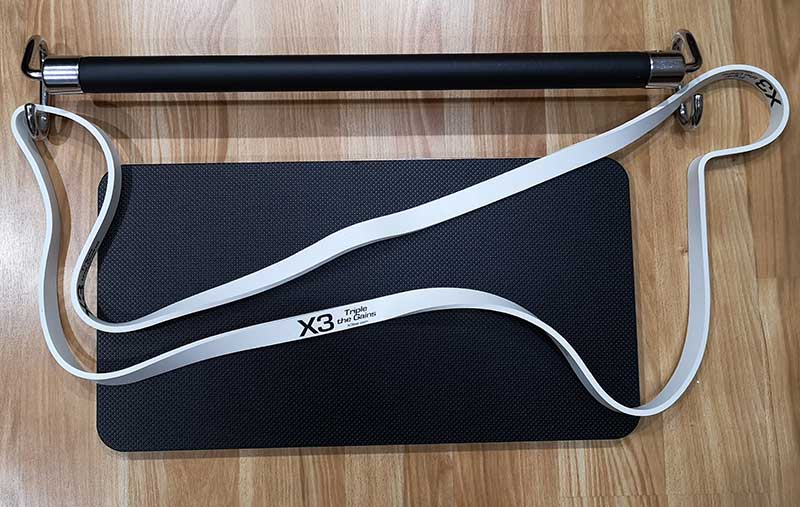 The main and most important component of the system is the X3 bar. The 23.5 inch bar is made of stainless steel with a special hook design to hold the exercise bands and ball bearings that allow the hooks to rotate freely for wrist comfort.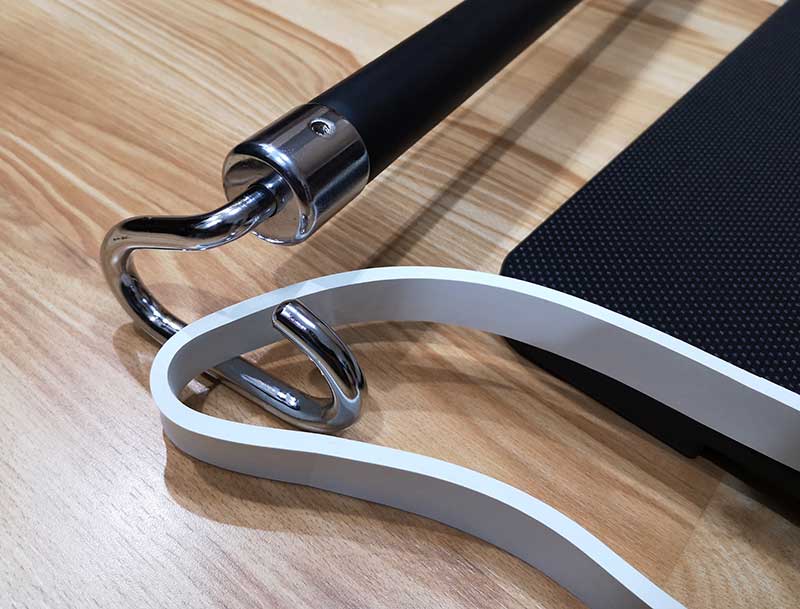 The bar has a well made substantial feel. There's no way this thing is going to break or bend. I bet you could even run over it with a truck and it wouldn't be any worse for the wear. I wouldn't advise testing that theory though.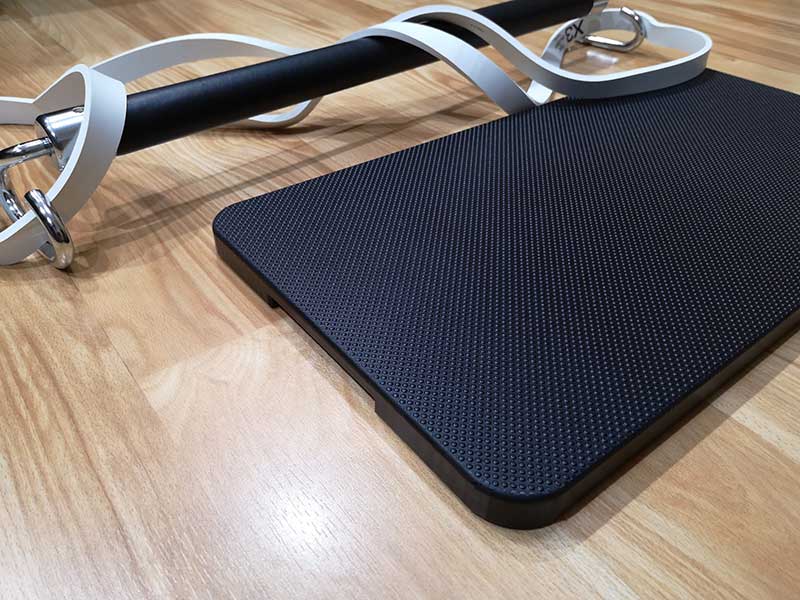 The biggest part of the X3 system is the ground plate which is a CNC milled high-density polyethylene 19 x 10-inch plate that has been designed to stand on for some of the exercises. The top of the board has raised dots that keep it from being slippery but you'll want to use the board on a non-slippery surface and not a bare hardwood floor like I'm showing here.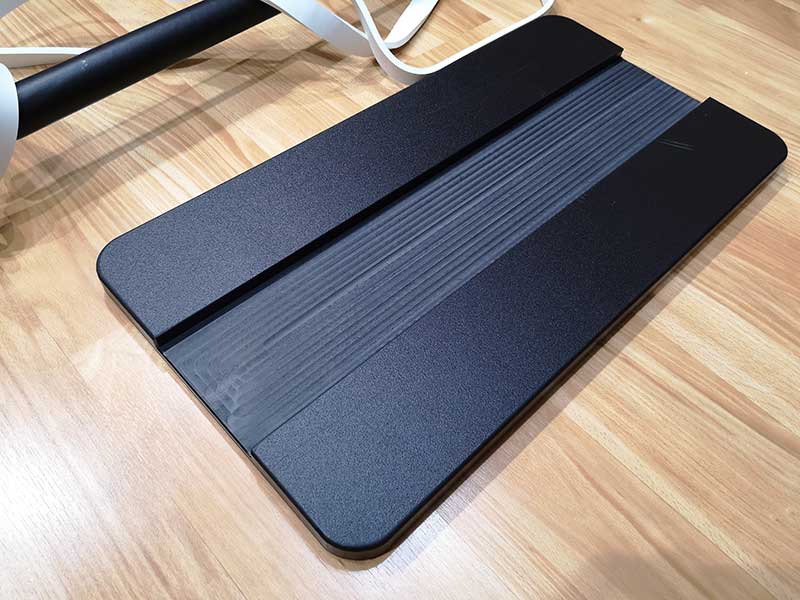 There's a wide routed slot on the bottom of the ground plate which allows the exercise bands to fit under the plate while you're standing on it.
X3 bar + bands + ground plate = let's build some muscle!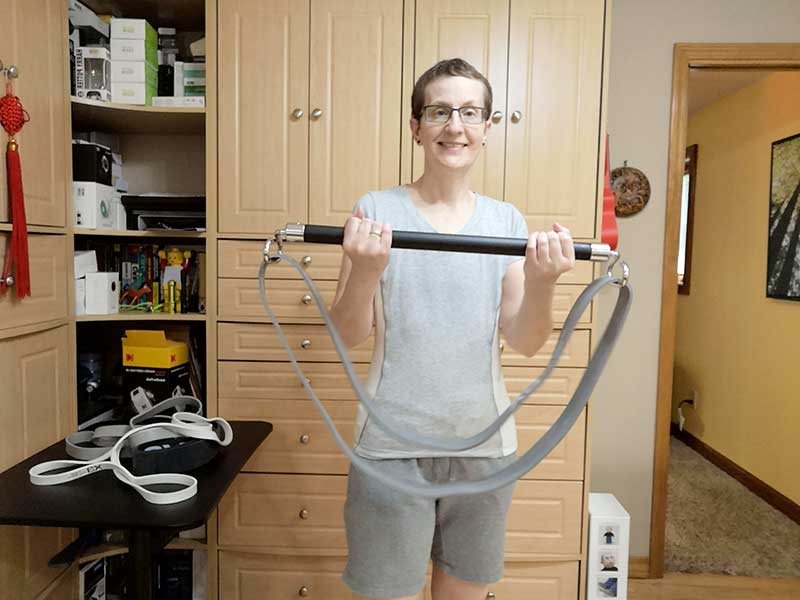 Let me start out by saying that I'm not that strong. I'm a 5'6″ 129lb female that had a double mastectomy back in 2011 due to a fun-filled adventure with breast cancer which left me with some minor range of motion and upper body strength issues.
I work out 3 times a week on a lower tier priced Total Gym system, but I am a sucker for workout gear and thought the X3 looked interesting with the claims of building 3x the muscle working out only 10 minutes a day 4 times a week.
The X3 website outlines a 12-week workout program with videos that explain how to do the exercises which consist mainly of
Chest press
Tricep pushdown
Overhead press
Squat
Deadlift
Bicep curl
Bent row
Upward row
Calf raise
In the videos, Dr. Jaquish also talks about nutrition info and medical research info that backs up the system that he's created. Actually, he talks a lot in his videos and I kept wishing for videos that were less talk and just demonstrations of the exercises that I could follow along with while doing my daily workouts.
The X3 bar ships with 4 latex bands that are different widths which translates into different strengths or weights.
The extra-lightweight band – 10 to 50 lbs, then doubled over 100 lbs
The light weight band – 25 to 80 lbs, then doubled over 160 lbs
The middle weight band – 50 to 120 lbs, then doubled over 240 lbs
The heavy weight band – 60 to 150 lbs, then doubled over 300 lbs
You have to choose the band that is right for you for each exercise so that you can do the exercise with the proper form for as many reps as it takes to get to total fatigue.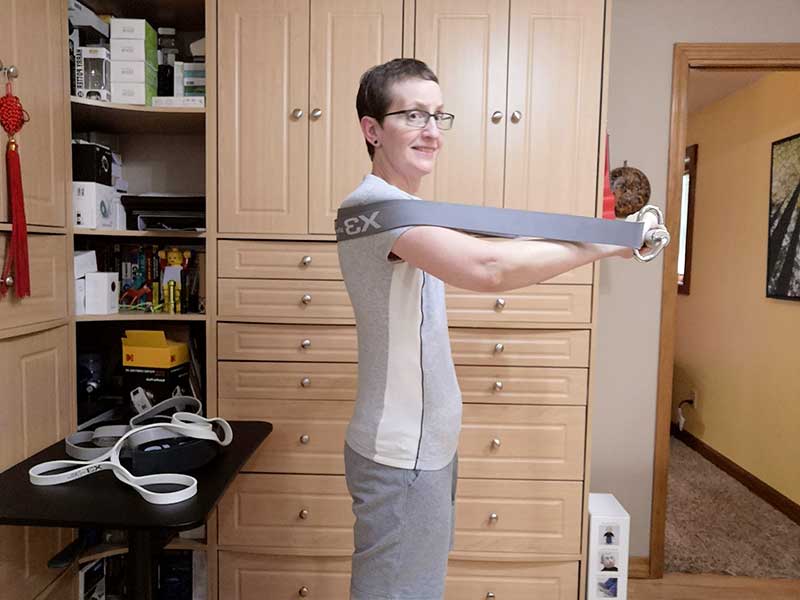 The X3 workout system has two different workouts for each week. One workout is done on Monday and Thursday and the other workout is done on Tuesday and Friday. Each workout only has 4 exercises and you only need to do 1 set of each exercise. That hardly sounds like a workout that will build muscle right? Well, trust me when I say that you will work up a sweat because you have to do each exercise to fatigue. That means you do reps until you can't do another one. That's all there is to it but it's not quite as easy as it sounds, especially if you're not all that strong like me. I had problems with a few of the exercises.
The exercises are done with the band hooked in the bar hooks or looped around the ground plate and the X3 bar. In the image above, I'm doing a chest press with a band doubled around my shoulders. This is one of my favorite X3 exercises because it's easy to get into position, but sometimes the band separates around the back of your shoulders. It would be nice if there was a clip that could keep the band doubled and stacked correctly.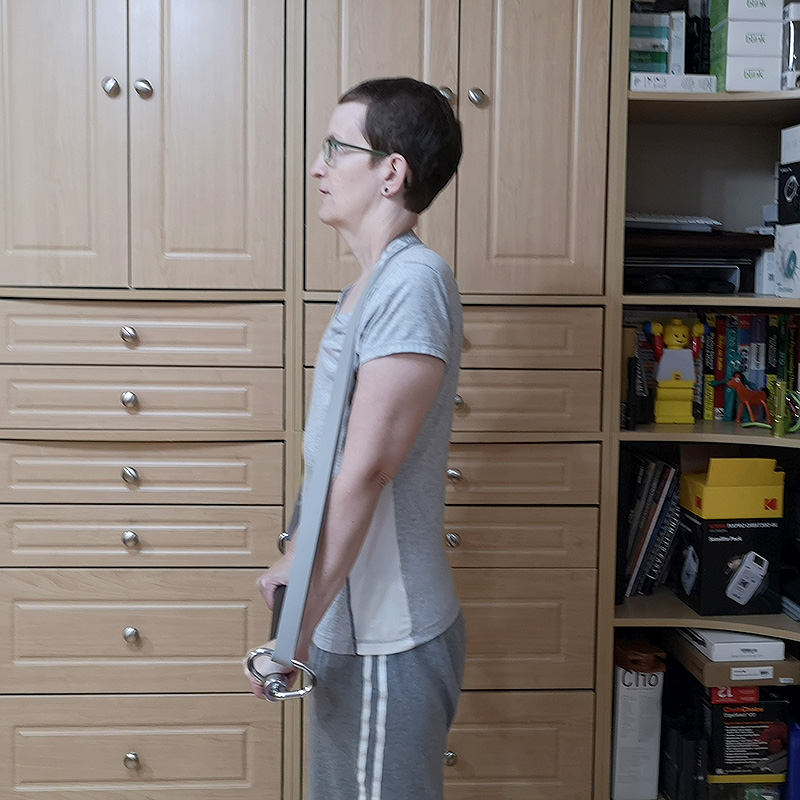 This is the triceps pushdown position and while I enjoy working triceps, this particular exercise can be uncomfortable because the band needs to rest across your trapezius muscle and not your neck. If you don't have a big trapezius muscle (I don't), it can feel awkward and painful especially if you try to use a band that is too strong for you. I have to use the 2nd weakest band for this exercise and sometimes I feel like it's going to snap my collarbone. You can also do this exercise with the band around the back of your shoulders similar to the chest press exercise, but I find that to feel even more awkward for me.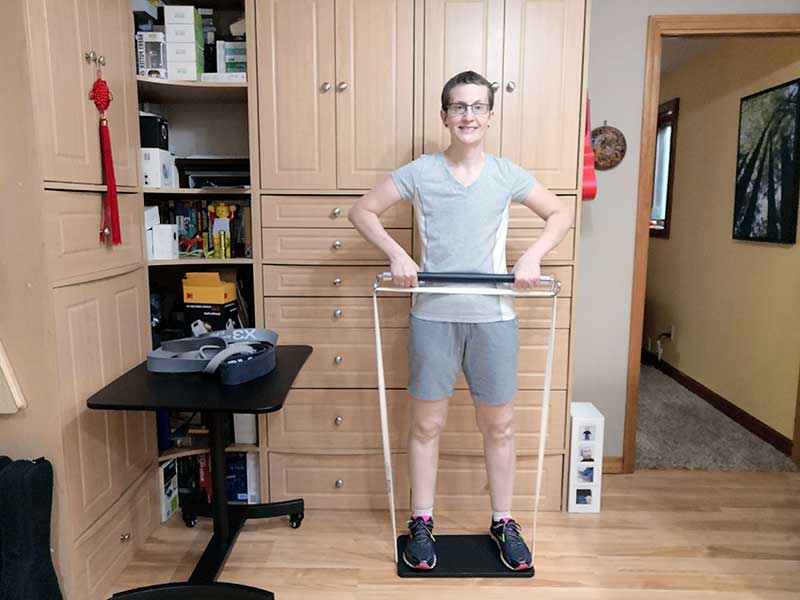 And here I am demonstrating an upward row with the band under the ground plate and looped once through the X3 bar.
The main X3 exercise that I have trouble with is the squat. For that exercise, you're supposed to put the band under the ground plate and through the bar as you see above, but then you are supposed to rest the bar across your arms in front of your shoulders/pectoral muscles. Well, I don't have a chest at all now. I'm completely flat like a 12yr old boy, so I don't have anything to balance the bar across and it's a bit painful to have the bar across the tops of my arms when there's not a lot of padding there. You can see what I mean by watching Dr. Jaquish demonstrate that exercise.
Why is this type of workout equipment effective?
The X3 exercises use variable resistance and stabilizing muscle firing which means that the tension on the muscle is not constant throughout the exercise and puts less stress on your joints where you're weaker and more stress where you're strongest. According to Dr. J, exercising this way will cause an increase in the release of human growth hormone which has a lot of health benefits for your whole body including helping your muscles grow.
What I like
Compact/portable system
10 minute workouts 4 times a week
What needs to be improved
Expensive
Can be difficult for beginners to do all the exercises
Safety concerns  with some exercises like overhead press, tricep pushdowns, and squats
Final thoughts
In all honesty, I hated the X3 bar the first time I tried it because I found it awkward to use the bands because they would separate or twist across my back. I also had problems with some of the exercises due to my own strength and body shape. After the 3rd or 4th workout, I started becoming more accustomed to getting the bands in position and began liking the workouts a little more. I've now used the X3 bar about a dozen times and I definitely feel stronger. I can almost even do a real pushup now (sorta). Don't laugh but it's been a goal of mine to be able to do a real pushup for the past 2 years and only just in the last week have I been able to do one. I can only go down about 4-5 inches, but I couldn't do that at all before and I think the X3 system has made the difference.
Does the X3 system help you build muscle? Yes, I truly believe that it does. But you can get the same results from other workouts and equipment. That means you have to decide if you're willing to spend $500 on this system. I actually prefer my existing Total Gym to the X3 system because I can do a lot more exercises with it. But that equipment requires a lot more room than the X3 system and I've been using that equipment for years and am seeing more results now using the X3 for 10 minutes a day 4 times a week vs. the Total Gym for 30 minutes 3 times a week. I plan to continue using the X3 and the Total Gym so I can have a variety. I'll update this review in a couple of months as I continue to use this system.
Price: $499.99
Where to buy: X3bar.com
Source: The sample for this review was provided by X3.