We use affiliate links. If you buy something through the links on this page, we may earn a commission at no cost to you. Learn more.
REVIEW – When I'm sticking to a budget and needing to buy something, I sometimes look at the least expensive model from a high-end company rather than the top model from a more middle-range company. That way, I figure I'm getting a better made product at a similar price. That's the theory I would apply to the new 600 Series speakers from Bowers & Wilkins. While the B&W 607 speakers are the least expensive speakers in Bowers & Wilkins' line, they are still B&Ws. But does the 607 speaker live up to B&Ws reputation?

What is it?
The Bowers & Wilkins 607 is a 2-way vented, passive bookshelf speaker. It is sold and priced in pairs.
Specs
1 in. aluminum dome high-frequency tweeter
5 in. Continuum cone bass/midrange
Nominal impedance: 8 ohms

 

Recommended amplifier power: 30-100 W
Dimensions 11.8 in. (H); 6.5 in. (W); 9.1 in. (D)
Net Weight: 10.25 lb.
Finishes: Black/black; White/gray

Design and features
Let me start with an admission: I am unfamiliar with Bowers & Wilkins' speaker line. However, I am familiar with B&W's headphones and Bluetooth speakers, from the P5 wireless and P7 headphones to the iconic Zeppelin wireless speaker. It's from these reviews that I came to recognize what some call the "B&W sound."
My first introduction to the 600 series was at B&W's east coast headquarters in Boston last June. I reported on the visit here. The 600 series speakers consist of the 607, as well as the more expensive (and larger) 606, 603 speakers as well as the HTM6 center channel speaker and a choice of 3 subwoofers. The 600 series are passive speakers, so a power source (receiver or amplifier) is necessary. The 607 is both small and light in weight—a true bookshelf design. 
I chose to review the least expensive 607 speaker for a couple of reasons. They are the most affordable home speakers that B&W makes and I could easily connect them to existing equipment without any issues (there were none). Let other audiophiles write about how the 607 speakers sound with top-rated amps, receivers and turntables. There are plenty of detailed reviews that say it better and in more detail than I can. I wanted to see if the 607 speakers can live in an "everyday" environment with equipment that any normal person might already own—like me.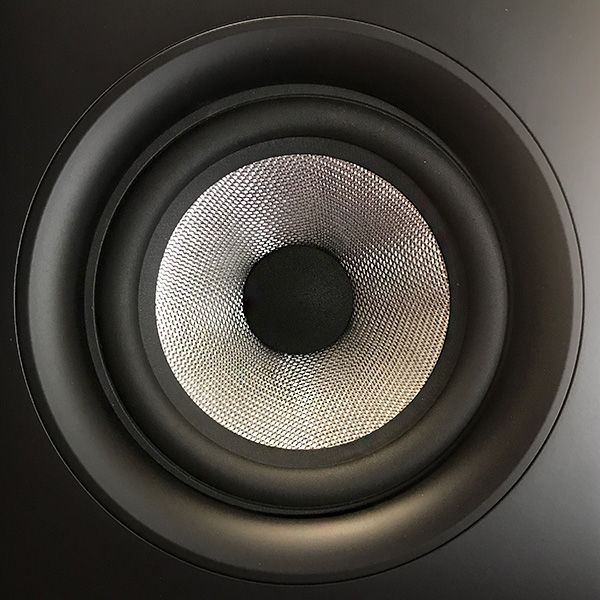 The 600 series benefits from a "trickle down" approach. Speakers  that were made of Kevlar have been replaced with a Continuum Cone base driver—a more rigid and accurate driver borrowed from the more expensive B&W speakers. They also upgraded the delicate dome tweeter as well as its protective metal mesh cover. While in Boston, I was able to hear a direct comparison between the older and new 600 speakers. As I said in my report, the improvement was subtle at best. If you already own an older 600 series speaker, there is no need to upgrade.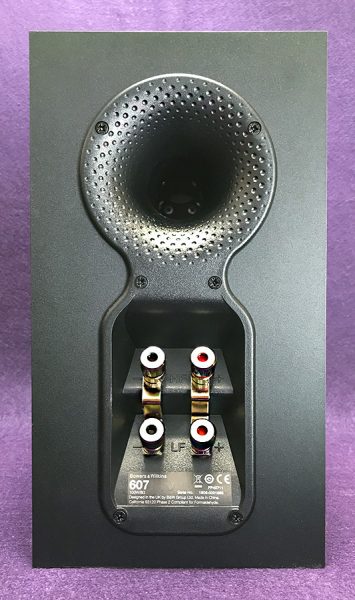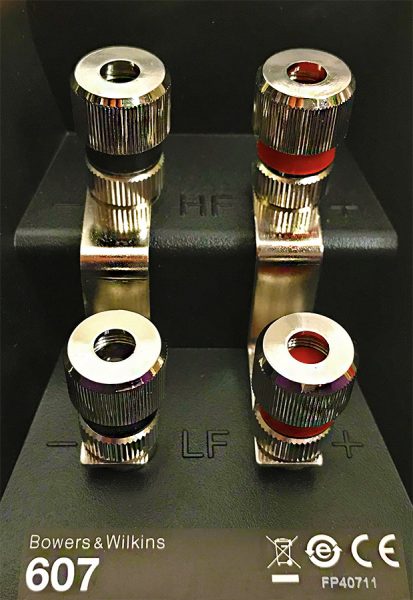 Connecting the speakers can be achieved in two ways, conventional or bi-amplification (or bi-wiring). Bi-amplification is more complicated, but can result in more resolution in low-level detail. But since this is an "everyday" review, connecting to single L and R posts will be fine. B&W includes small, self-sticking rubber pads for the bottom of the speakers. These help the speakers stay in place and can help eliminate unwanted vibrations.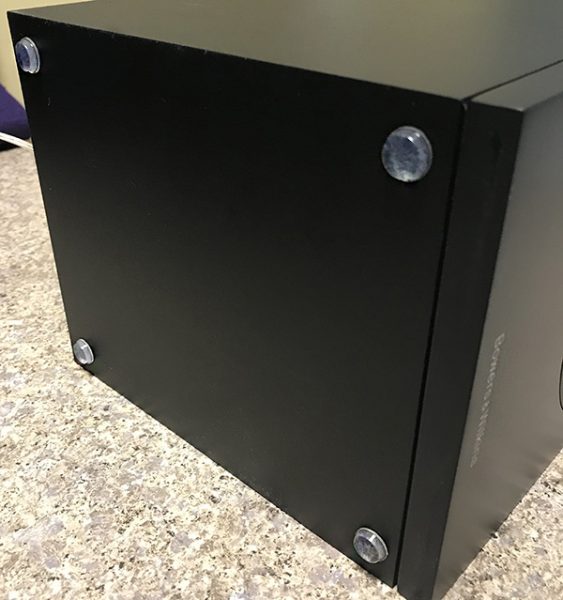 The 600 series is exactly that—a series. Even though I'm reviewing the 607 speakers by themselves, they can be seamlessly paired with a matching center channel, subwoofer and two additional 607 rear channel speakers for a complete home theater experience. It's something you can build as budget allows.
The 607 speaker cabinet comes in either black or white. There are included removable grills for those who want a cleaner design. I prefer the "naked" speaker look and left the grills in the box.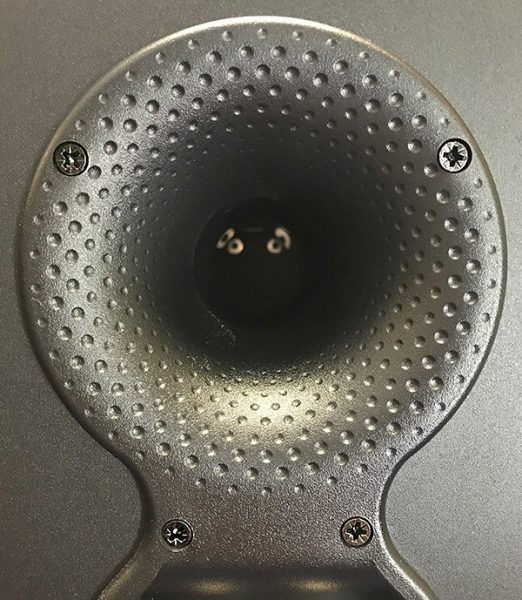 The 607 dimpled bass port has been redesigned and moved to the rear of the speaker. It's larger then the previous front port which helps deepen the sound, especially if the speakers are moved closer to a wall. The port design is similar to the rear ports on the Zeppelin speaker.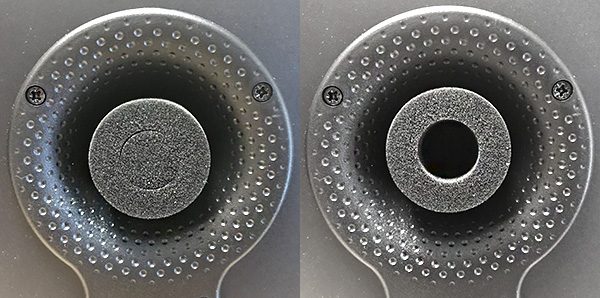 Bass can also be controlled by some included foam plugs that fit into the ports—an interesting low-tech solution to lessen bass. I'm not sure why anyone would want to lower the bass impact coming from the 607 speakers. Sure, bass is present and perfectly tuned for these speakers but I wouldn't call it powerful. These are small speakers and physics is physics—you're going to get much more bass from larger speakers or a subwoofer. If the room is small, the 607's bass output is plenty. But if your room is larger and budget allows it, I would recommend getting a subwoofer, even if it does almost cost as much as a pair of 607 speakers.
There's also plenty of treble from the 607 speakers. A few songs bordered on harsh, but I blame the recording and not the speakers. Generally, I leave any EQ settings on flat, but slightly toning down the treble EQ smoothed things out on problematic songs.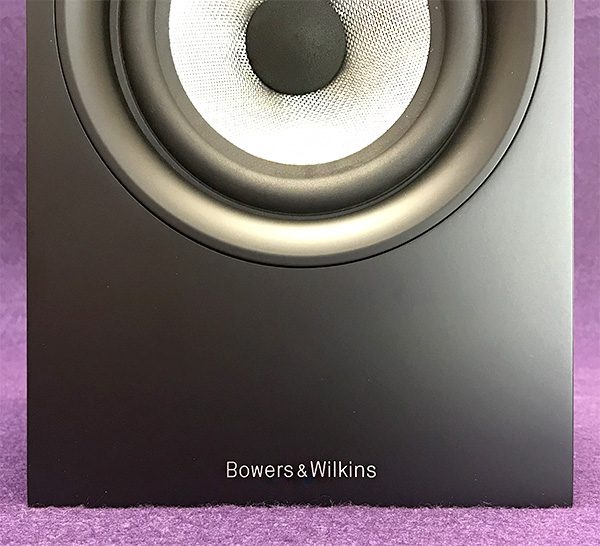 One thing I appreciate about the 607 speakers is how intimate sounding they can be. For instance, Van Morrison's "Into the Mystic" sounds incredible. There's a lot going on in this song, such as subtle percussive things and strings coming in and then disappearing. But it's Morrison's voice that's magical. You can hear every intonation he makes and his emotions come through with a fine clarity. It's close to a live sound on these speakers. There's an airiness to the song that's missing on headphones or lesser speakers. And I'm not even a fan of Van Morrison!
That intimate sound also comes through on Brian Eno's "Some Words" from his "My Squelchy Life" album. Eno's singing sounds almost reluctant as if he would rather someone else do the vocals. But then heart-wrenching strings and beautiful synth keyboards come in and add an emotional context to the song's second half. The 607 speakers exhibit the necessary detail within the song by allowing each instrument its space, yet letting them blend beautifully. 
It's this sense of space that make the 607 speakers fun to listen to.
What I like
 The 607 speakers are great as stand-alone stereo speakers, but can also be part of a more complete home theater system later on as budget allows.
Expressive detail and sheer musical enjoyment are built into this speaker. It's a cliche, but the 607's sound quality matches or beats many other speakers in this price range and above.
What needs to be improved
Nothing of note.

Final Thoughts
Sure, the more expensive B&W speakers will sound better and also have more of this or that, but the Bowers & Wilkins 607 speakers do an admirable job of living up to the B&W name. At $600/pair, they are not cheap, but they are not expensive either when you consider how long people normally keep speakers. The one caveat to owning the 607 speakers is that you may find that you will eventually want something better and that something will probably be better and more expensive B&W speakers. 
Price: $599/pair US
Where to buy:
Source: The sample for this product was provided by Bowers & Wilkins.