We use affiliate links. If you buy something through the links on this page, we may earn a commission at no cost to you. Learn more.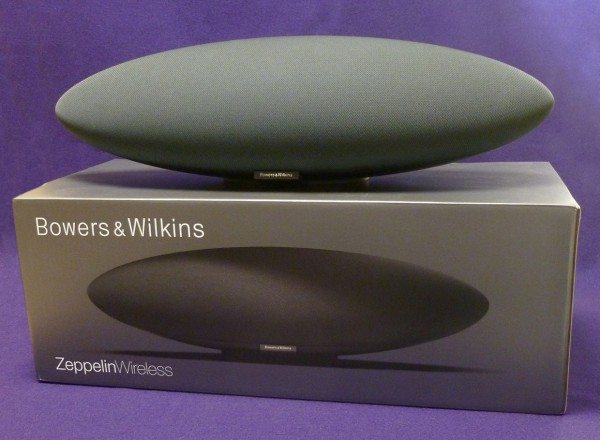 Back in 2011, I reviewed the then new Bowers & Wilkins Zeppelin Air Speaker/Dock. It was—and still is—an incredible speaker that blows away most wireless speakers. After the review, my wife "helped herself" to it, so it now sits on top of her piano facing the kitchen where she can use Apple Airplay to stream her favorite music. It's still a great looking speaker, but now that it's half hidden behind open music books, few people ever see it, but they can certainly hear it. Well, there's a new elongated football-shaped kid in town and I'm keeping this one for myself. Meet the new B&W Zeppelin Wireless speaker.
DON'T MISS: Bowers & Wilkins P5 Wireless headphone review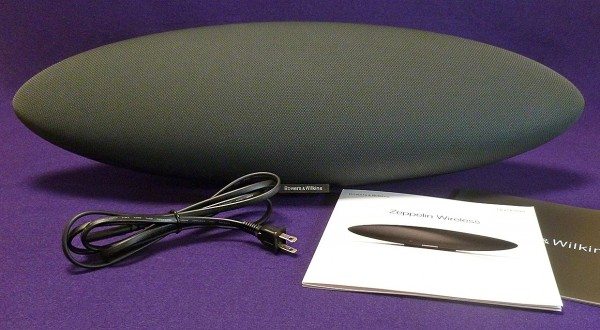 Two things become apparent when studying the Zeppelin Wireless speaker. The most obvious change is the lack of a dock. A little history: Less than one year after the Gadgeteer review of the Zeppelin Air, Apple changed their iPhone docking port from the successful 30-pin connector (that the Zeppelin Air dock matched) to the new—and still used—lightning connector. The traditional iPod never adopted the new lightning port and was finally discontinued in 2014. This change rendered the 30-pin dock version of Zeppelin Air obsolete. The writing was on the wall—adapt or die.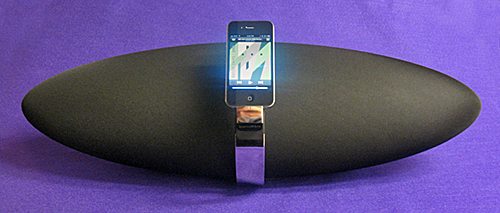 Zeppelin Air w/30-pin Dock

As a result, Bowers & Wilkins ditched the dock mentality and went totally wireless. Now, in addition to Airplay, the Zeppelin Wireless incorporates Bluetooth and Spotify Connect.
Airplay has always had the advantage of CD quality audio with an impressive 100+ ft. range. Airplay also has the disadvantage of requiring a wifi network. Plus, Apple levies a surcharge to any speaker company that licenses Airplay. This, among other reasons, is why Bluetooth dominates the wireless airspace.
Bluetooth began as a convenient way to play music wirelessly, but was infamous for its terrible audio quality, frequent dropouts, ridiculously short range and pairing difficulties. That was then. Bluetooth 4.0 along with aptX have improved things dramatically. So much so that Bowers & Wilkins took notice and put their name behind a growing number of Bluetooth products: The T7 portable speaker, P5 Wireless headphone and now the Zeppelin Wireless. There's no reason to feel guilty anymore about streaming music.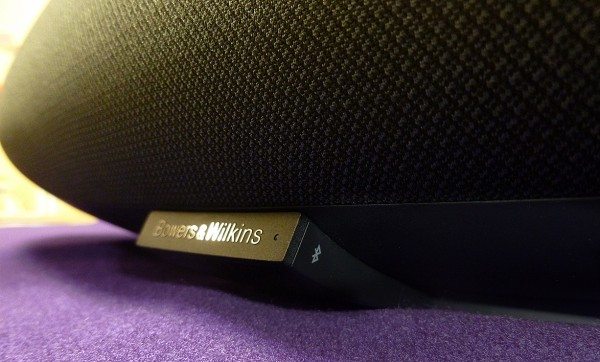 The Zeppelin Wireless also incorporates Spotify Connect, which is similar to Airplay. It too relies on Wifi, allowing it to stream higher bitrate files at a range limited only by the wifi connection. The downside is that Connect requires the paid version of Spotify. Using Connect with the Zeppelin is as easy as with any other music app. Once the link is done, it's a painless process.
In typical B&W fashion with revising products, the new Zeppelin was tweaked a little. Well, okay—they tweaked it a lot. The list of improvements over the previous Zeppelin Air are numerous:
2 double dome tweeters are borrowed directly from B&W's CM line of speakers.
2 Midrange speakers now use what B&W calls "Fixed Suspension Transducer" (FST) driver technology. This same tech is used in their uber-expensive 800 Series Diamond speakers, helping vocals sound more  clear. This is an upgrade you can hear.
The subwoofer has been enlarged from 5 in. to 6.5 in. and now has an ultra-long voice coil. This allows the bass to be played at a higher volume with no vibration or distortion. It works as advertised. More on that later in the review.
As wIth previous Zeppelins, five speakers have their own Class D amp each—four 25 watt (tweeter and midrange) and one 50 watt (subwoofer).
The Zeppelin Wireless incorporates proprietary digital signal processing which helps keep it from distorting at higher volume. B&W claims this version is twice as powerful as previous versions for more accuracy.
The cabinet has been strengthened using fiberglass reinforced ABS. The thickness has been increased 50 per cent with additional bracing for more rigidity. This difference is apparent1 when handling both the Zeppelin Air and then the Wireless.
Okay, so the Zeppelin Wireless has all these whiz-bang improvements—but does it noticeably improve the sound quality? You bet it does.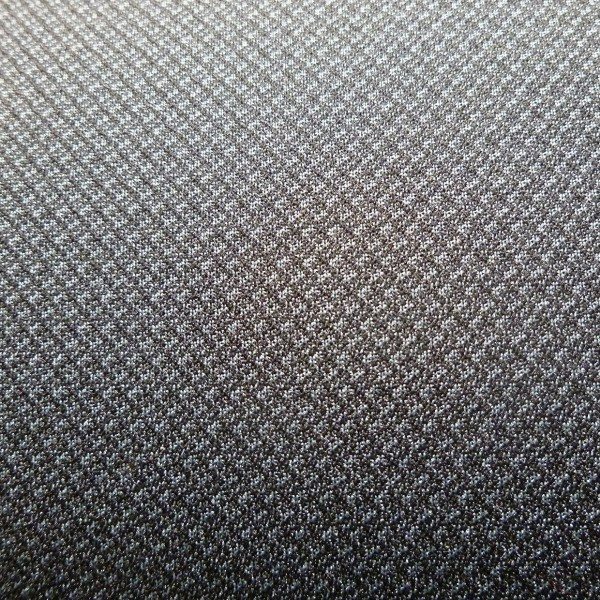 Let's begin with how it directly compares to the older Zeppelin Air. Visually, the Wireless is stark in its beauty. Gone is the shiny black rear cover as well as the chrome band which held the dock. Without the dock to break up the look, the Wireless reveals nothing but an elegant looking gray/black fabric front with flat-black rear cover. Below the speaker at the front is a small block with a printed Bowers & Wilkins logo that contains a discreet wired/AUX touch panel on the left and Bluetooth pairing on the right.
Also gone is the remote. B&W (correctly) figured out that in any wireless strategy, a remote is redundant. People just use their smartphone to adjust volume and play/pause. The unused remote that came with the previously reviewed Zeppelin Air collects dust. It won't be missed.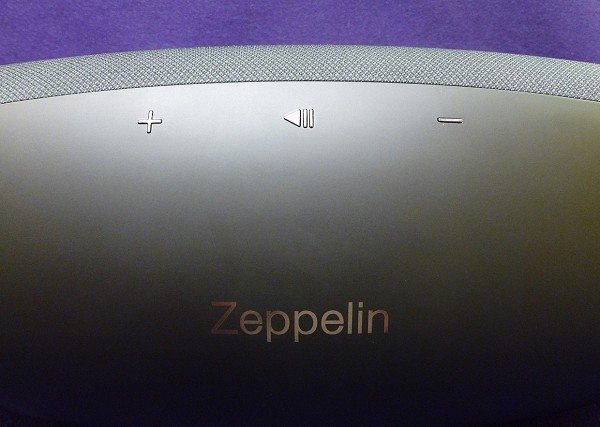 The top panel on the Zeppelin Wireless has Volume Up and Down buttons on both sides of PlayPause. The rear panel features an On/Off button, ethernet port for firmware upgrades, power port, AUX/in for hard wiring, mini-USB for servicing and a tiny reset button for setting the Zeppelin back to factory settings. One thing missing from the back panel are two rear open-hole bass ports. Common sense would say that bass should be weaker without these ports, but that isn't the case. The former port holes have been replaced by a few hidden vents that allow air movement within the speaker cabinet resulting in a tighter and more accurate sounding bass.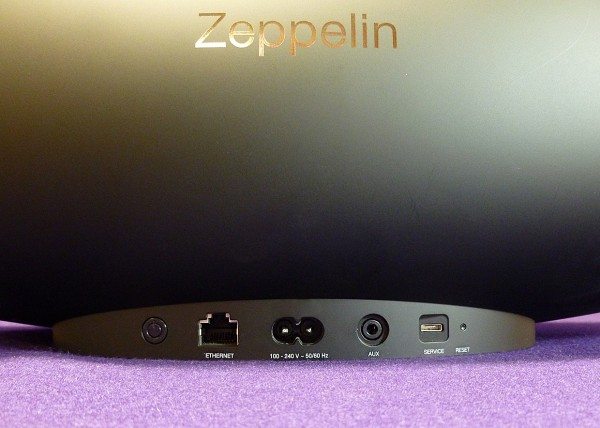 The Zeppelin has never been portable and the Wireless is no exception. It also has to be plugged in—there's no battery. If you're looking for B&W in portable form, there's the B&W T7 Bluetooth speaker. Of course, the T7 can't compare to the Zeppelin's sound quality, but it is portable.
Setting up the older Zeppelin Air was an exercise in frustration. Plus, many times I had to reconnect Airplay when the Air hadn't been used for a while. Those frustrations are now gone. The new setup app for Apple iOS is much improved. After following the prompts, I was quickly connected via Airplay. Bluetooth was even easier, since it's just a matter of pairing. There is no Android app for setting up the Wireless, a PC or Mac is a good alternative.
Once setup is done, hearing the new Zeppelin Wireless for the first time opens your eyes—and your ears. In comparison, bass in the older Air sounds upfront and a bit boomy. Don't get me wrong, the Air still sounds great, but the Wireless just blows it away. The improvements to the subwoofer are immediately apparent. I asked Bowers and Wilkins about this difference and was told that it's because of the new long-throw subwoofer. Not only is the bass cleaner and much sharper, it goes lower than the bass on the Air, although how much lower is audibly more subtle than obvious.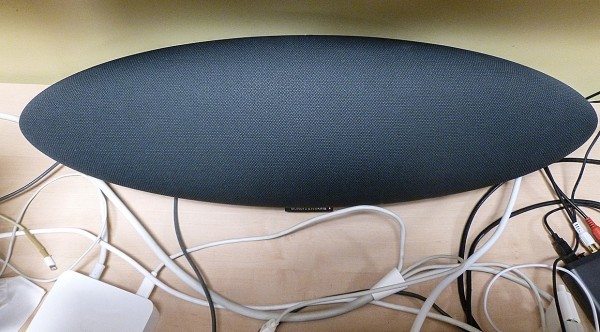 For a few weeks I positioned the Wireless directly behind my iMac among all the wires. This ignominious (but temporary) placement revealed a wide stereo separation considering that the Zeppelin is a single unit. However, stereo separation is all but lost at a fair distance from the Zeppelin especially as you walk around the room.
The digital audio convertor (DAC) in the Wireless upsamples all files to 24bit/192kHz. This means that any music file will sound the best it can despite its original resolution. What's striking is how much better music sounds. Using Bluetooth and Airplay, I was able to switch from older Zeppelin to newer Zeppelin using many different genres of music insuring a fair comparison. It didn't matter what I played—Talking Heads, Kate Bush, Beethoven, Pink Floyd or Punch Brothers. All the music had more presence with sharper distinctions among the instruments and vocals. There was less of a mushing together effect and more of a "there" quality.
What was also refreshing was how great vocals sounded. I was impressed how some songs seemed to have a live and more intimate quality to them. This highlights how much care B&W took with the midrange speakers using the FST drivers.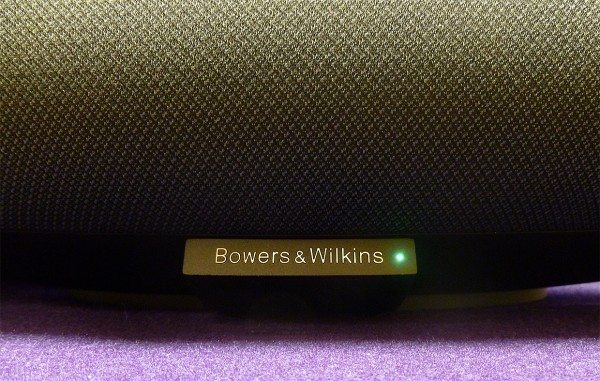 However, all this audio goodness comes at a price. The Zeppelin Wireless sells for an eye-watering $700. But know this: If you want stylish, yet great-sounding speakers for an apartment, home office or bedroom, you can't beat the Wireless. Compared to two stereo speakers in the same price range, the Zeppelin Wireless takes up less room, will sound as good or better and look phenomenal doing it.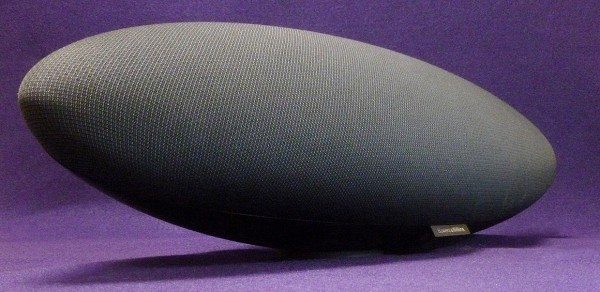 The Zeppelin Wireless has the unusual distinction of being a background wireless speaker that can double as a serious "sit down and listen" speaker. Bowers & Wilkins were able to borrow pieces and ideas from their more expensive line, yet completely avoid producing a Frankenstein product. With the Zeppelin Wireless, B&W has managed to instead create a stunning beauty in both sight and sound.
Source: The sample for this review was provided by Bowers & Wilkins. Please visit bowers-wilkins.com for more information and Amazon to order one.

Product Information
Price:
$699.99 US
Manufacturer:
Bowers & Wilkins
Retailer:
Amazon
Pros:

Amazing audio
Every component upgraded
Each Zeppelin revision just gets better and better
Three wireless connection choices: Bluetooth, Apple Airplay and Spotify Connect
Setup App vastly improved
Elegant design

Cons: