We use affiliate links. If you buy something through the links on this page, we may earn a commission at no cost to you. Learn more.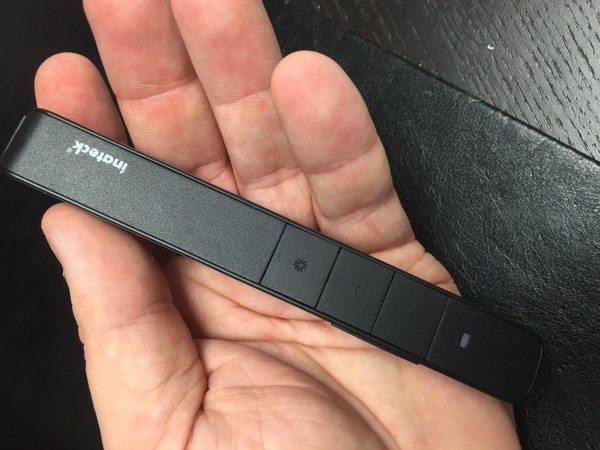 This review is for the Inateck WP1003 2.4G Wireless Presenter and Red Laser Pointer.  If you give presentations in either PowerPoint or Keynote you need a remote, or presenter, to advance through your presentation.  A presenter that doubles as a laser pointer would be even more ideal.  This device from Inateck functions as both.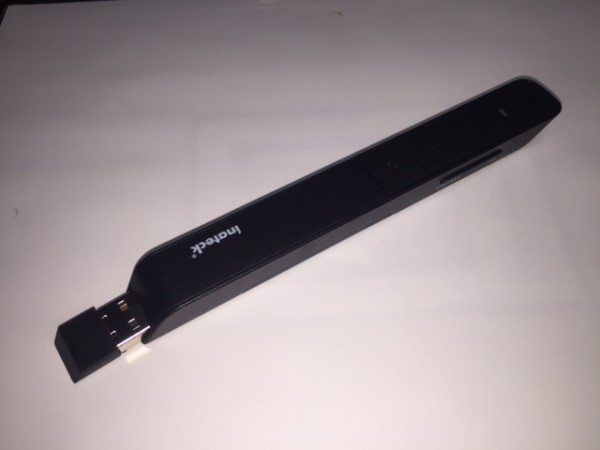 This small device weighs just a couple of ounces and fits nicely in the palm of your hand, a mere 5″ long x  3/4″ x 1/2″.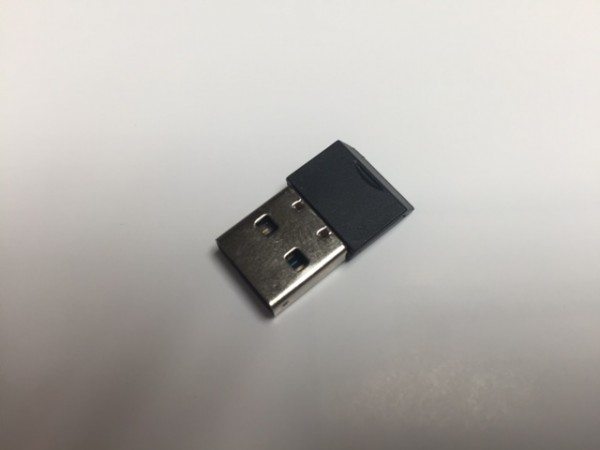 Like most wireless devices that connect to your computer, the device has a small wireless receiver that fits in one end.  You simply place the receiver into the USB slot on your computer and it hooks right up with no problem. Just plug and play, no drivers or software installs are needed.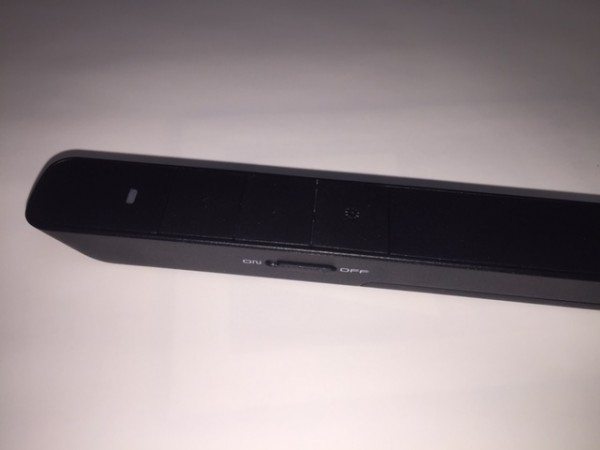 On the top of the unit are three buttons, page up, page down and a button for the red laser pointer.  One side has the on-off button while the other side has a button labeled as Tab (to "select" a hyperlink) and Enter (to open the hyperlink). You simply select the hyperlink on your page and then ht "enter" to open the hyperlink.  I could not get the unit to differentiate between TWO hyperlinks on a page, so you need to stick to one hyperlink per page in your presentations.
One "AAA" battery operates the remote.  You can stroll up to 50 meters away from the receiver during your presentation, and the laser can reach up to 200 meters, but DO NOT point it at any airplanes!!!:)
Never miss one of our posts again. Sent MON, WED, and FRI with the latest gadget reviews and news!
I had a presentation at a church this past Sunday morning and the unit worked flawlessly.  It fits easily and discreetly into your hand.  The only suggestion I have is to make the page up, page down and laser buttons a different color than black so they stand out a bit more (and can be photographed better for reviews!)  I use Keynote, which you can operate from your iPhone, but I find a dedicated presenter like this WP1003 to be much easier and more convenient to use during a presentation.  You can easily operate it without looking at it at all!
Costing a mere $14, this is a great option for those of you out on the lecture circuit!
Source: The sample for this review was provided by Inateck. Please visit their site for more info and Amazon to order.