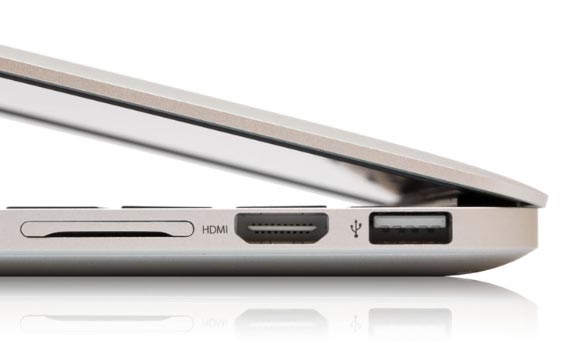 My main computer is a 13″ Apple MacBook Pro. I enjoy using it because it's portable, has a retina display and great battery life. One thing I don't like so much about it is that the disk space is not upgradable. Adding extra space for applications, music, photos and other files after the main disk is full isn't easy to do. Sure, you can hang a USB hard drive off the MacBook, or insert a SD card into the side, but both of those solutions ruin the looks and portability of the computer. Not to mention that neither option seamlessly increases your storage into one integrated bucket like the TarDisk Pear 2.0. The TarDisk is a solid-state expansion drive that looks like an aluminum SD card that has been chopped in half. Yes, I know we've seen these types of MacBook SD cards before that fit flush into the SD card slot on the side of the MacBook. But the TarDisk adds as much as 256GB more storage by merging with the MacBook's existing hard drive creating one hybrid drive. To do so, the product automatically allocates files between the solid-state expansion drive and the MacBook Pro or MacBook Air's internal hard drive; more frequently used files are maintained on SSD hardware for speed optimization. TarDisk Pear 2.0 is available in 128GB ($149) and 256GB ($399) on TarDisk.com.
Support The Gadgeteer
:
We may earn a small affiliate commission from purchases made from buying through links on our site. As an Amazon Associate I earn from qualifying purchases. Learn more.