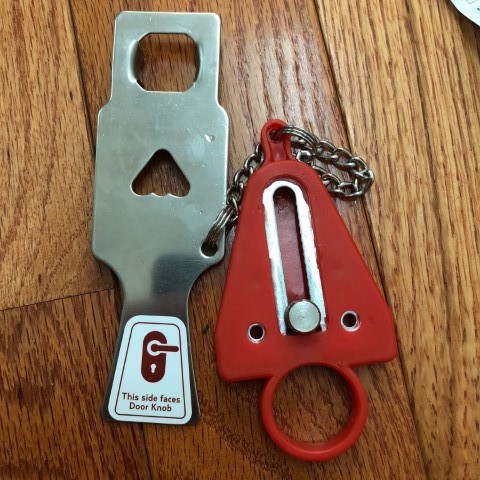 REVIEW – For near 30 years, I traveled the world for work. I've had cause to stay in some less desirable places, sometimes losing sleep worrying if someone might gain access to my lodging while I slept. On one occasion, one of my coworkers woke to find a hotel employee in his room in the middle of the night. I took to carrying a door wedge with me, but the Masterbolt Travel Door Lock is a far better option
What is it?
Masterbolt Travel Door Lock is a simple two-piece mechanism that when properly deployed, renders it extremely difficult to open a door from the outside, even when in possession of the keys.
Hardware Specs:
7 x 3 x 1.1 inches
4 ounces
Portable – Masterbolt is easily packable and comes with its own pouch to place in your suitcase or backpack to provide additional security when you travel
Installs in seconds – No tools required. Protects you from unwanted intruders
Travel security – Use at home, hotels, Airbnb, hostels, rentals, and anywhere you travel and need added security
Perfect for students – Use in your dorm, while travel, or for internship apartment stays during the summer
Protect tour children – Prevent toddlers and small children from leaving the house unsupervised
What's in the Box?
Two-piece lock chained together
Storage pouch
Instruction sheet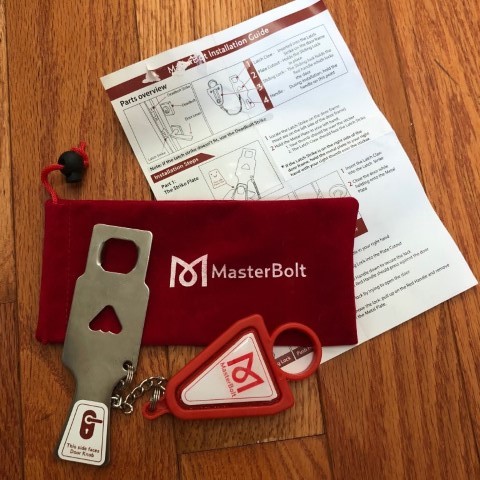 Design and features:
The Masterbolt lock arrived in a simple white cardboard box. It's refreshing to receive something that is not over packaged.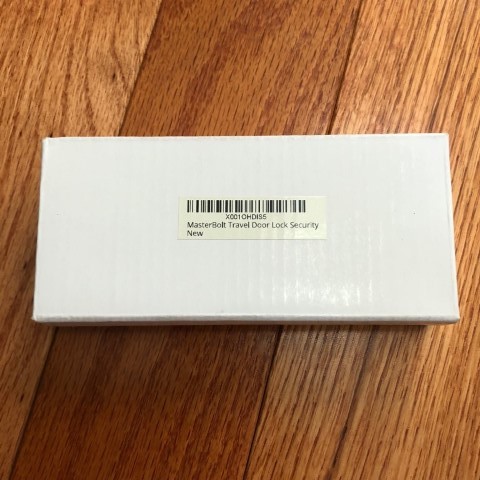 The design is elegant, simple and fiercely effective – two pieces, chained together is all that's needed. After practicing a few times, it literally takes seconds to deploy and remove.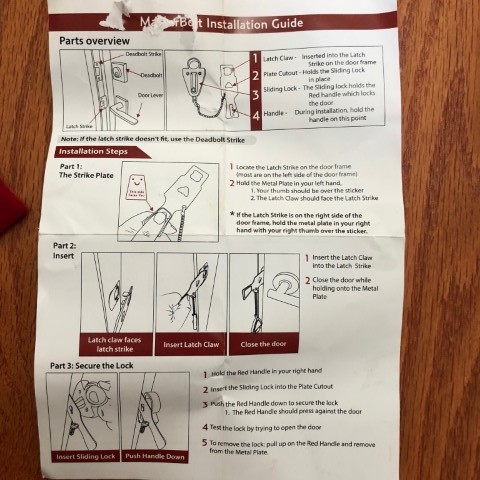 First, the long metal part's tabs are placed into the strike plate on the door frame.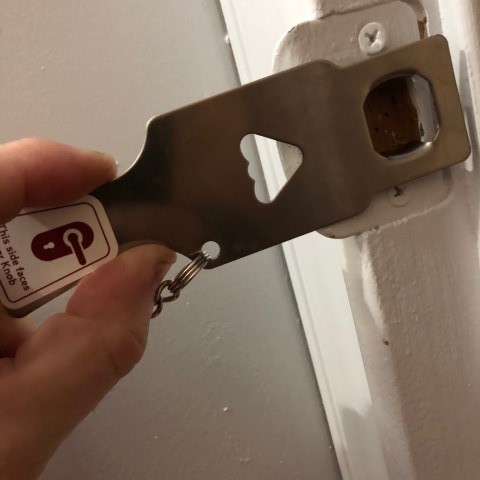 The door is closed and the latch bolt protrudes through the hole in the Masterbolt plate.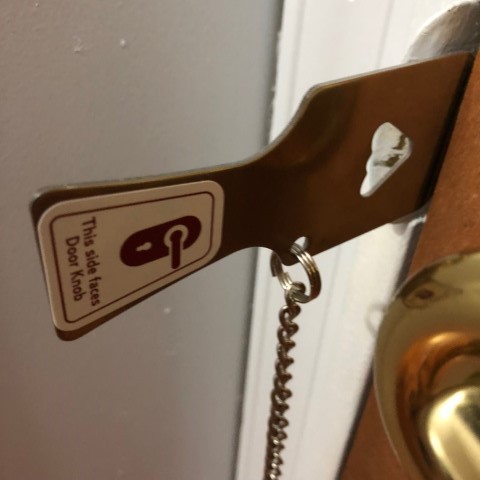 On the knob side of the plate, the sliding bolt on the red part is placed into the triangular hole in the metal plate. The edge of the red part rests against the door. That's it – secure.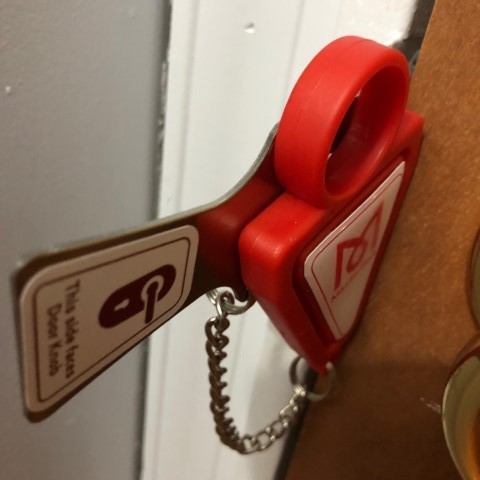 Once the Masterbolt is installed, the door is VERY securely locked, whether the door is locked using the knob or not. I tried, hard, to dislodge the Masterbolt. If the strike plate is properly anchored, only an extreme amount of force is going to breach that door.
Pulling on the doorknob in an attempt to open the door resulted in flexing and distortion of the entire door frame. The stronger the door and frame, the better the Masterbolt is going to work. I'm confident that nothing short of a sledgehammer, SWAT breaching tool, reciprocating saw, or vicious kick by a mule is going to get that door open.
What I like:
Small size
Simple, effective design
Easy to use
Inexpensive
What needs to be improved?
Final thoughts
Masterbolt's Travel door lock is one of those "I wish I had thought of that" products. It's tough and, in my opinion, works better than described. I was genuinely shocked at the stability and security this lock provides. Gone are my days of frequent travel, but I'll be using the Masterbolt Lock every time I will be sleeping in an unfamiliar location.
Price: $19.95
Where to buy: Amazon
Source: The sample for this review was provided by Masterbolt.
Support The Gadgeteer
:
We may earn a small affiliate commission from purchases made from buying through links on our site. As an Amazon Associate I earn from qualifying purchases. Learn more.