We use affiliate links. If you buy something through the links on this page, we may earn a commission at no cost to you. Learn more.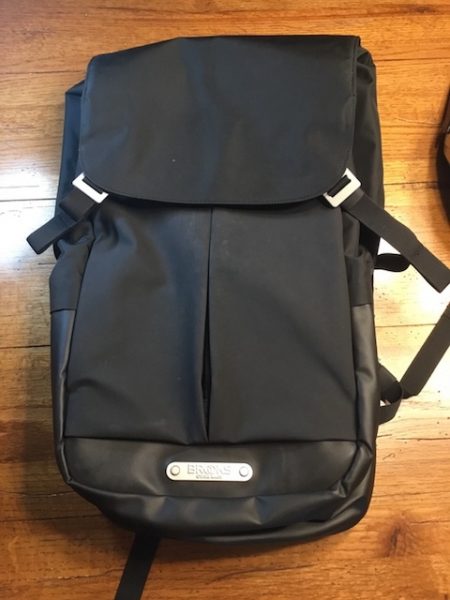 REVIEW – What's defines heritage? How about a company that's been making cycling and equestrian gear since 1886! Today I'm reviewing the Pitfield Backpack from Brooks England, and it's a beauty. Let's take a ride!
What is it?
It's an all-weather backpack designed for biking that has the capacity for all of your daily essentials… including your bike helmet.
Hardware specs
12.6" wide by 21.6" tall by 6.7" deep
2.9 pounds
24-28 liter capacity
Waterproof PU Coated Nylon 66 & Cordura
YKK Aquaguard Zips
Padded Compartments
High Grade Aluminim Hardware
100% Recycled Lining
Design and features
The Brooks Pitfield Backpack is a sneaky operator. It's a working bag designed with the cyclist in mind, but the clean & understated profile looks good enough to rock in the office. At a 24-28 liter capacity, it's a bigger bag but feels smaller due to its streamlined profile and some very clever pocketing design. It's kind of like a stealth bomber.
The Brooks Pitfield Backpack is built to handle the elements. Water resistance comes from a combination of waterproof PU coated nylon, Cordura, and YKK Aquaguard zips. An interesting combination of textures combined with Aluminum hardware add subtle style. It will take a downpour, and look good doing it.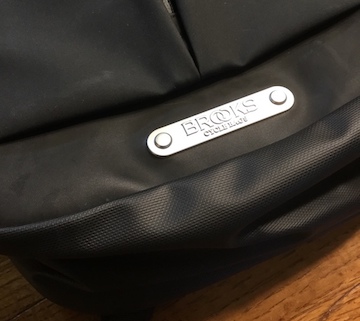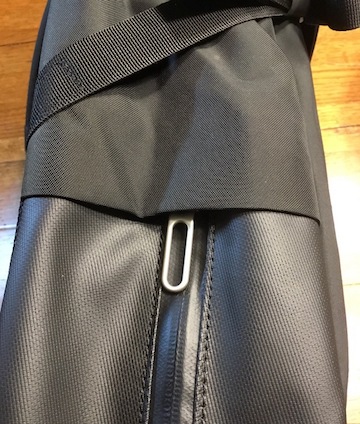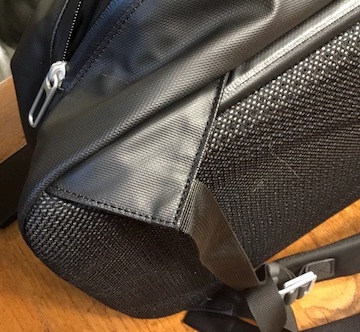 The interior lining boasts a cheeky pattern that pays homage to Brooks England's heritage. I love little details like this!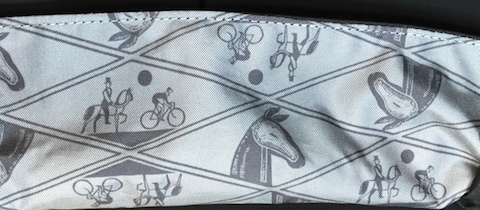 Your laptop rides in its own padded 18" by 12" compartment that sits on your back, and has a separate side zip for access. A 15" laptop fits easily in there along with a tablet.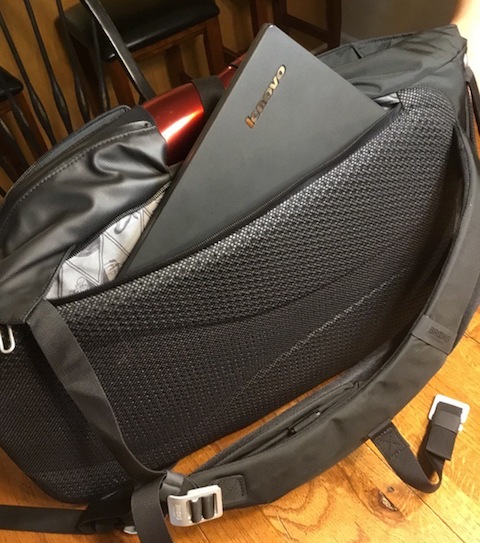 The main compartment is positioned in the center of the bag, accessed from a flap-over lid that is closed with two sturdy aluminum hooks that connect to loops on the flap. Adjustable straps allow you to cinch-down or expand the compartment based on what you're carrying. There's also an 8" deep divider at the bottom of the compartment to help organize your stuff.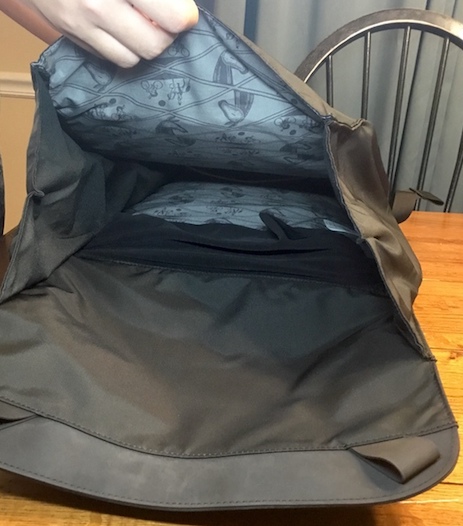 Those locking straps are actually set at 45-degree angles to the front face of the bag, to accommodate the Pitfield's most unique feature: an 11" by 15" front panel compartment that stretches to accommodate larger items like a bike helmet!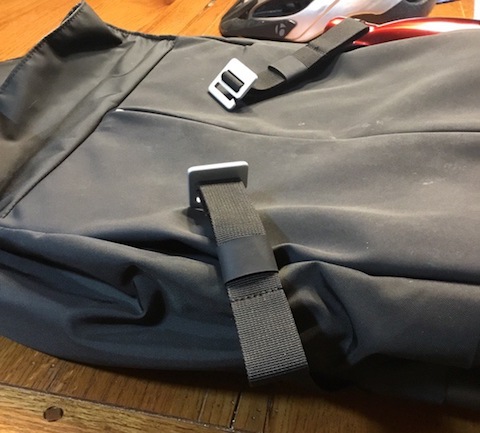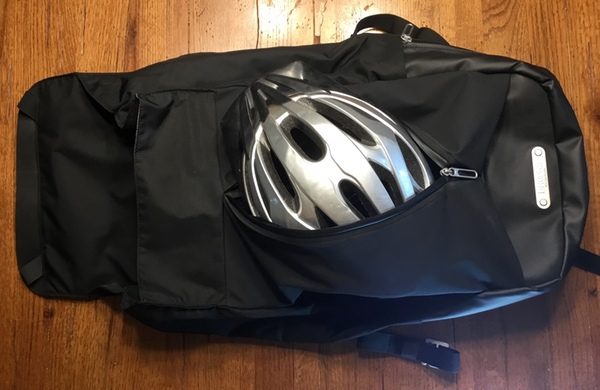 A vertical zip opens this compartment, which also includes two small stash pockets (3-1/2" by 6" and 4-1/2" by 8-1/2" respectively) with zips built along the centerline for easy access when the main pocket is opened. A 7" deep open pocket at the bottom of the space wrangles loose items, while a hanging loop at the top of the compartment gives you a place to dangle your keys on a strap or carabiner.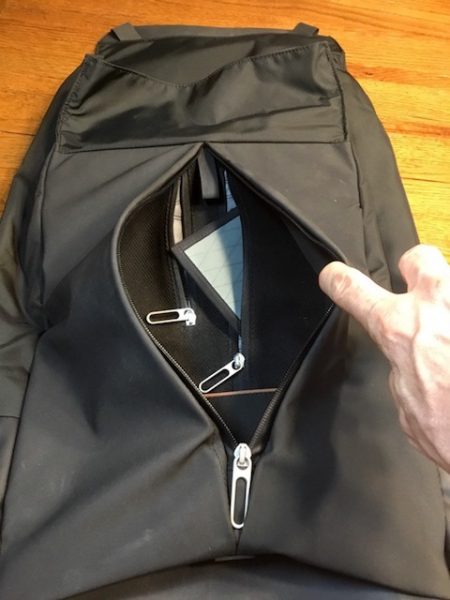 There's an additional pocket on either side of the bag, accessed by vertical zippers. The left pocket is 9" by 6", perfect for your smartphone or wallet. The right pocket features a pop-out elastic water bottle net that fits oversized bottles. I'm seeing this on a lot of packs these days, and it's a great feature that tucks away neatly when not needed.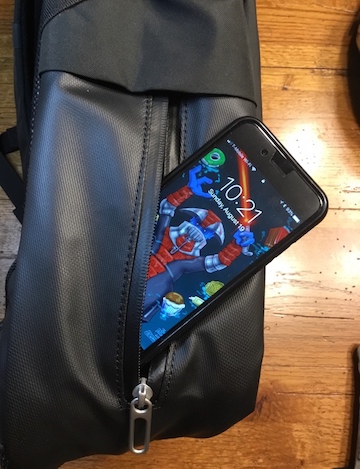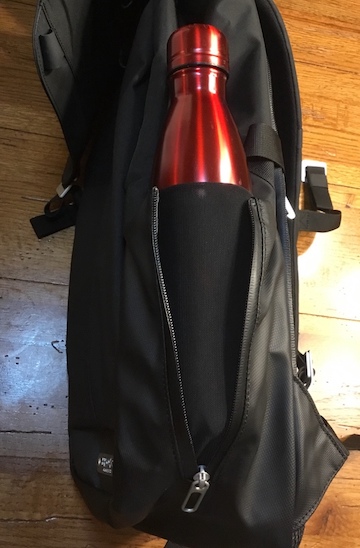 Finally, there's also a 10" by 4" horizontal pocket accessed from a zip under the top carry handle, made from a stretchy mesh material.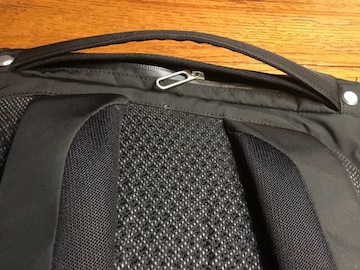 The carry system features moderately-padded straps that are curved for comfort & fit. Custom aluminum buckles on the adjustment straps use a double-loop strap insertion method and curved profiles to prevent unwanted slippage, and a built-in sternum strap adds some stability to your ride. The back panel padding is marvelous, with deep perforations to promote air circulation. It won't slip and slide around on you, either.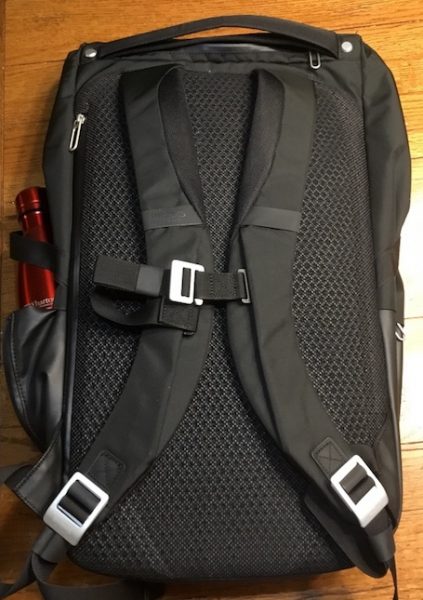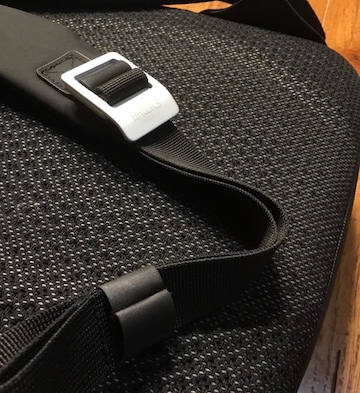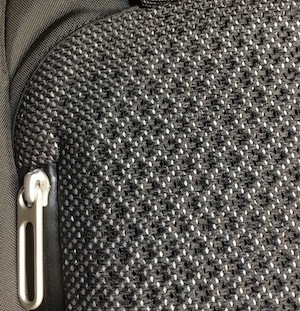 The build is full of little quality details. External zips are hooded to prevent leakage in the bag. Every strap has a sliding collar to lock down extra flappy bits when adjusted. The zips don't quite run the length of the pockets, creating a nesting space in each pocket so things don't tumble out when they are opened. Every seam is reinforced. It's a nicely detailed build, backed by a 10 year warranty that shows Brooks England's commitment to quality.
Performance
I am not a cyclist, but I tend to favor bike-oriented packs for daily use for comfort, weather resistance, and overall usability. The Brooks Pitfield's design is so well executed that it works just as well on or off the bike. It's ridiculously easy to live with.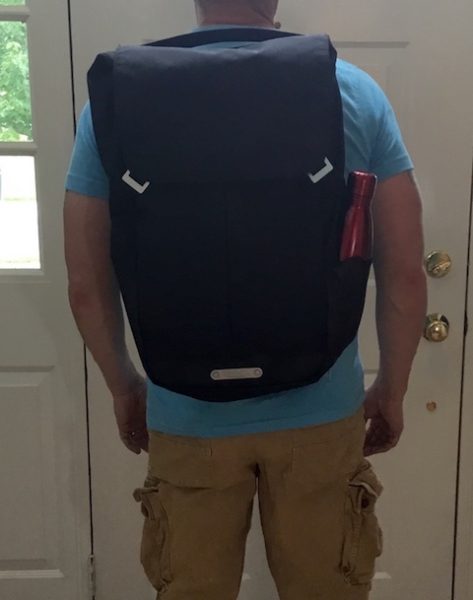 The Pitfield is on the bigger side of a daypack, but it doesn't feel like it. The tall, wide format of the bag may be an issue if you have a smaller frame, but check out how nicely the profile compresses!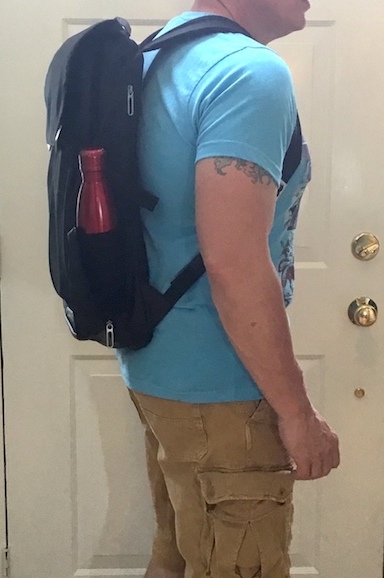 I love the streamlined harness system. While it looks fairly light, it's actually super-comfortable to wear all day, even when you've maxed out capacity on the bag. It also an office-friendly: slipping the bag on and off is easy, and you're look is not dominated by massive shoulder straps if you're dressed up. The whole system hugs the body well and provides excellent balance. Despite the larger size, I don't feel that a waist stabilizer is required here.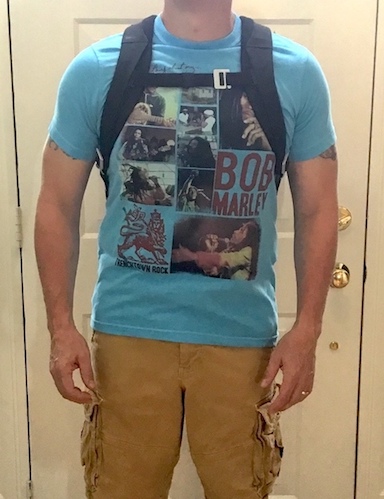 Pocket design is a delight. You have just enough of a variety of places to organize your less-used stuff (like chargers), with secure locations for important stuff (like your wallet) and dump n' grab places for things you need on the run (like sunglasses). I really like the overall accessibility of the external pockets. The beefy zipper tabs make for easy manipulation, and all the pockets are wide enough to get in and out of without straining your fingers. And you won't find a single piece of Velcro anywhere to fight with. I kinda love that.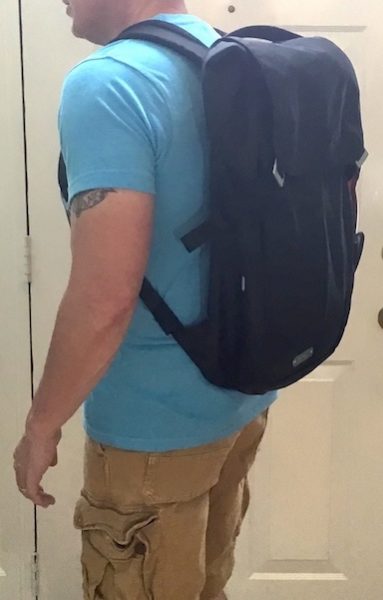 With all of the external compartments for your tech and travel bits, that leaves the main compartment wide-open for a change of clothes, a packed lunch, or groceries on the way home. Those aluminum hooks & loop points are actually very effective here for smooth one-handed operation. The divider in the space is nice to tuck a notebook or tablet in there for easy removal but doesn't get in the way if not needed.
If there is one knock on the bag that I have found, it's that the matte fabrics seem to pick up marks in use. Most of what I've seen so far wipes off easily, but I've collected some scars. I will be curious to see if these marks start to collect over an extended period of time.
What I like
Great build with careful attention to details.
Streamlined, sophisticated profile.
Ready to handle the elements.
Excellent accessibility and pocket design.
What needs to be improved
Some external surfaces may show wear over extended use.
Tall, wide format may not work for people with a smaller frame.
Final thoughts
The Brooks Pitfield Backpack is a stealth warrior that is buttoned-up enough for the office, yet packed with features for tackling the road. The usability is dialed in on this design, making it easy to live with both on and off the bike. It is one of my favorite bags so far in 2018.
Price: $200.00
Where to buy: Brooks England
Source: The sample of this product was provided by Brooks England.