We use affiliate links. If you buy something through the links on this page, we may earn a commission at no cost to you. Learn more.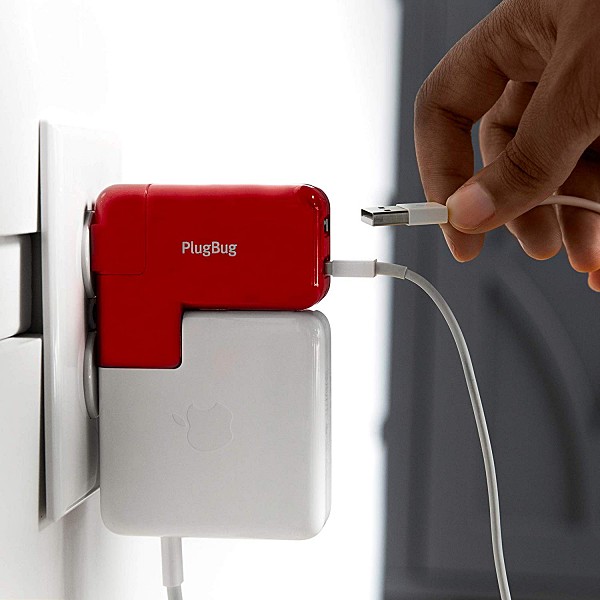 NEWS – I love my MacBook Pro, but because it uses USB-C, it doesn't charge any of my other gear, like my iPhone X, iPad Pro or wireless headphones. That's where something like the new PlugBug Duo from Twelve South could come in handy.
The PlugBug adds back two traditional USB charging ports. This little red charging wonder snaps right onto your MacBook power adapter, no more carrying around extra chargers or buying some crazy dongle.
Now you can charge two USB devices, and your MacBook, simultaneously, with one device. And you get the benefit of 2.1A  rapid-charging for all iPhones & iPads.
PlugBug will even fit onto your iPad Pro power adaptor.
The PlugBug Duo is perfect for dorm rooms, coffee shops, and busy airports where available outlets are usually pretty scarce. Now you can charge all your devices before boarding your flight, all from one outlet.
As an added bonus Twelve South has included five plug adapters so you can convert your MacBook power supply to fit outlets in over 150 countries. PlugBug includes adapters for US/Canada/Japan, UK/HongKong/Singapore, Continental Europe, Australia/New Zealand and China.
https://www.amazon.com/Twelve-South-PlugBug-MacBook-adapter/dp/B07GN6Z5KV/ref=sr_1_1?ie=UTF8&qid=1535061976&sr=8-1&keywords=plugbug&th=1
The Twelve South PlugBug Duo costs $49.99 and is available on Amazon.